Advertisement
Investigate the remnants of these 11 us ghost towns, share this article.
Walking down the street of Rhyolite, Nevada, facades of empty buildings loom over me. Nobody is here but my husband and me — and some wild burros giving me the stink eye. A creepy feeling comes over me as I stand in this empty town that was once full of thousands of gold miners with dollar signs in their eyes. Now, the lights and power have been off for over a century.
The Merriam-Webster dictionary defines a  ghost town  as "a once-flourishing town wholly or nearly deserted usually as a result of the exhaustion of some natural resource." Lots of people like me feel the lure of these empty places, which are most common in the spacious western United States. Make the most of Halloween season by exploring these 11 ghost towns in all their spooky glory.
1 Rhyolite, Nevada
Rhyolite's bottle house. / Photo by Teresa Bergen
Just outside  Death Valley National Park , Rhyolite is one of the best ghost towns I've ever visited. Many buildings are still at least partially standing, including a three-story bank and the old jail. There's a fabulous house made from old bottles and an intact train depot. Watch out for the wild burros.
2 Shaniko, Oregon
Photo by Analise Schallig
Once known as the Wool Capital of the World, Shaniko was shipping over 2,000 tons of wool and a million bushels of wheat in 1903. But after rail lines changed, this north-central Oregon town was bypassed. Water issues prevent large-scale tourism, but many people visit each year to look at the jail, wooden water tower, school, post office, and other Old West-style buildings. And this year, the  Shaniko Hotel  reopened, letting guests step back in time to spend a night in the early 1900s.
3 Bodie, California
Photo by CALChux
This gold rush town on the western slopes of the Sierra Nevada dates back to 1859. It boomed to a population of about 10,000 people and 2,000 structures but started to bust in 1881. Now,  Bodie  is designated a national historic site and a state historic park, which rangers preserve in a state of "arrested decay." There's still lots to see here.
4 Cisco, Utah
Photo by Teresa Bergen
In 1924, people discovered natural gas, oil, and turquoise near this Utah town. But freeways left Cisco behind, and it was officially abandoned in the 1990s. However, artist Eileen Muza has given  Cisco  a new lease on life. She bought the ghost town in 2015 and has been turning the ruins into artwork. I was excited to visit Cisco, but once I arrived, I felt totally creeped out — like I was being watched from multiple directions — and had to leave.
5 Randsburg, California
Randsburg is sometimes called "a living ghost town" because it's semi-inhabited and semi-deserted. In the town's heyday, miners extracted 60 million dollars worth of gold from  Randsburg . Now, if you're lucky, the saloon might be open, and you can get a sandwich or drink.
6 Antelope, Oregon
With a population of about 46 and lots of old buildings, Antelope is an almost-ghost town. This north-central Oregon town feels like it's in the middle of nowhere. Also, Antelope was the nearest town to  Bhagwan Shree Rajneesh's  infamous 1980s commune. Cult members even got Antelope's name changed to Rajneesh for a few years.
7 Old Shasta City, California
Photo courtesy of Choose Redding
Old Shasta,  located in  Shasta State Historic Park  just outside  Redding , was a bustling gold town in the 1850s. Today, its ruins and informative signage make it a top place for ghost town travel. Rumor has it that ghosts haunt the preserved remains of the jail and courthouse.
8 Jerome, Arizona
Photo by Mike McBey
This former copper mining town sprang up in 1916 and went bust in 1953. A few people stuck around to promote it as a ghost town. Now, it's part ghost town, part regular town of nearly 500 people. Visit and stay overnight in the  Jerome Grand Hotel . You can also find  espresso  and award-winning wine — pretty classy for a ghost town.
9 Bisbee, Arizona
Inside the Queen Bee Mine. / Photo by An Pham, courtesy of Visit Arizona
With nearly 5,000 people, Bisbee bills itself as a living ghost town. If you like to balance exploring the ruins of mines with shopping in boutiques and art galleries, Bisbee is a good destination. Take a ghost tour, visit a haunted pub, or have the ghosts come to you by staying in the 1902  Copper Queen Hotel . Best of all, you can go underground and tour the former Copper Queen Mine.
10 Clayton, Idaho
At last count, less than 10 people still lived in  Clayton , which averaged more than a million pounds of lead and silver production per year at the beginning of the 1900s. If you like off-roading, rent an ATV from  Polaris Adventures  for a self-guided tour of the surrounding area.
11 Animas Forks, Colorado
Photo by robert thigpen
Twelve miles from Silverton, at 11,200 feet in the San Juan Mountains, you'll find the ruins of a mining community dating back to the 1870s. The high altitude made it difficult to live here. In 1884, 25 feet of snow fell during a 23-day blizzard. Residents dug tunnels to travel between buildings. To reach the town, you'll need a jeep or other off-road vehicle.  Polaris Adventures  in Silverton can help you make arrangements.
We occasionally recommend interesting products and services. If you make a purchase by clicking one of the links, we may earn an affiliate fee. Outdoors Wire operates independently, though, and this doesn't influence our coverage.
Most Popular
10 luxurious us hot springs resorts you'll really want to visit, race around the world in these 30 destination half-marathons, meet the winner (and losers) of fat bear week 2023, 23 of the best places to see cherry blossom trees bloom in the us, koala facts that will change how you think of these cute animals, protect your skin and the planet with these reef-safe sunscreens, follow a colorado rockies hike to this strange new creation from arby's.
Please enter an email address.
Thanks for signing up.
Please check your email for a confirmation.
Something went wrong.
CNN values your feedback
A Georgia lake's dark and deadly history has some people seeing ghosts
Legend has it the ghost of a long-dead woman roams this lake in a flowing blue dress. Mysterious arms reach out for swimmers from the watery depths. Angry spirits call people home to submerged graves.
These and other spooky tales have haunted Lake Lanier, in the foothills of the northern Georgia mountains, for decades.
To many Georgians the large, serpentine lake northeast of Atlanta is a recreational hotspot, popular for boating and water sports. But supernatural lore and urban legends about the lake have found a receptive audience on social media, where they've found legions of believers.
The lake was created in the 1950s by flooding valley communities that contained a cemetery, fueling beliefs that it's cursed. Historians say some unmarked graves and other structures were swallowed up by its waters.
More than 200 people have died in swimming and boating accidents on the lake since 1994, adding to its dark history. And the Netflix drama "Ozark," which has its own high body count, films scenes at the lake.
The stories about mysterious underwater sightings are eerie – especially at Halloween. But the true backstory of Lake Lanier, built over an underwater ghost town, is just as interesting.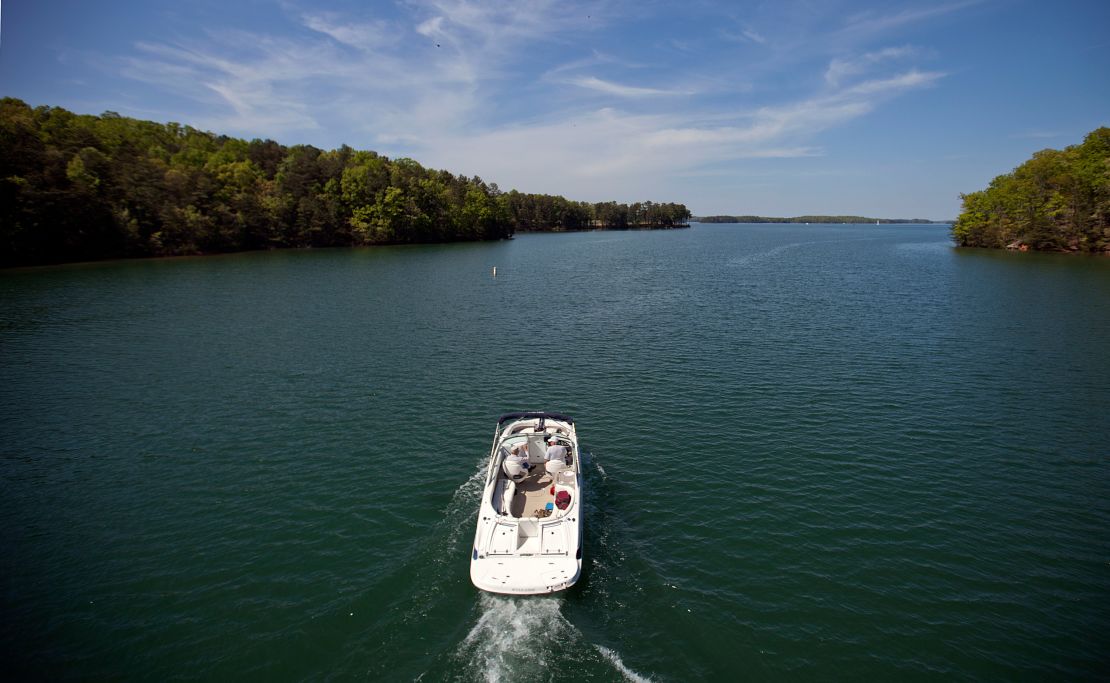 The lake was mired in controversy from the start
The controversy surrounding the lake, as described by author and historian Lisa Russell, started long before its construction.
Before the land was buried in water, it was lush and fertile, with rabbits and squirrels scampering around. Communities thrived, with fancy names like Castleberry Bottom, Russell said.
Then came the US Army Corps of Engineers, which wanted to create a lake to provide Atlanta and surrounding counties with power and water.
The government offered locals money for their farmland. Most of it had been in families for generations, making it almost impossible to put a price tag on it, said Russell , a writing instructor at Georgia Northwestern Technical College and author of several books on the lost towns of North Georgia.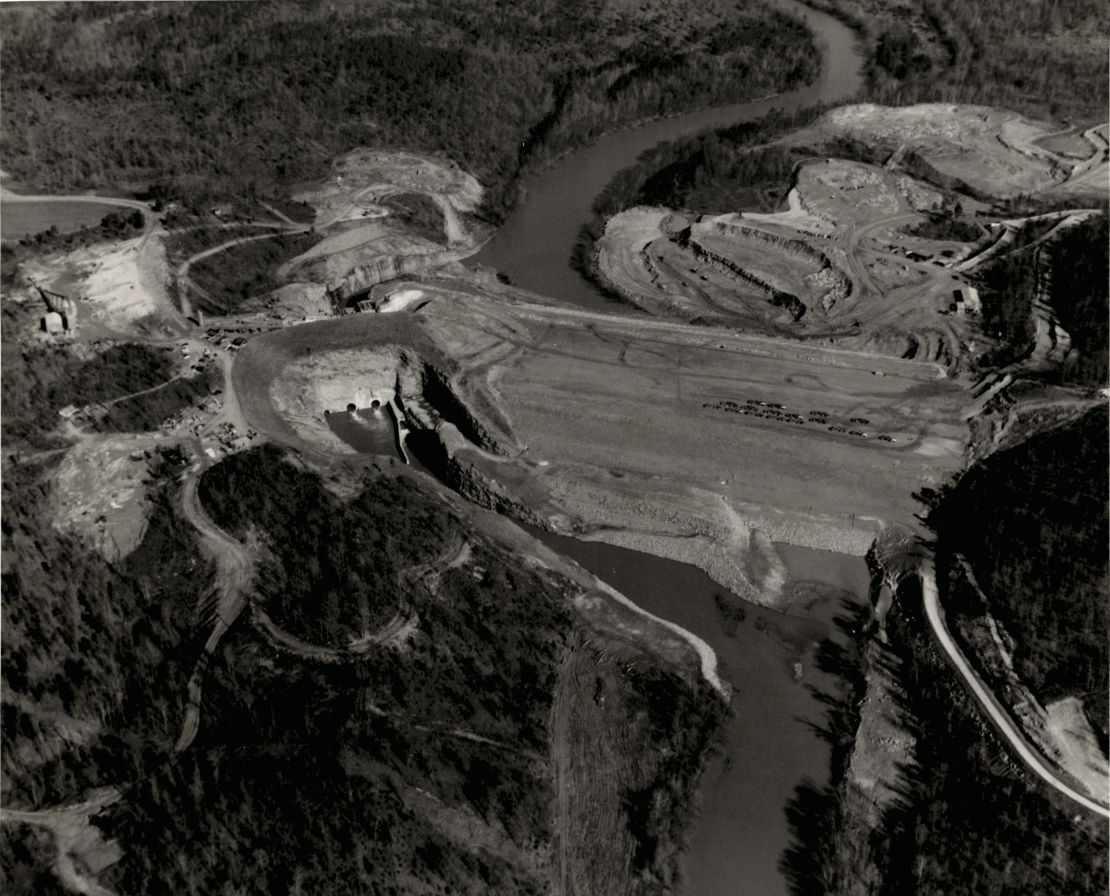 "At first, the government assured land owners that they were being paid for the true value of the land and buildings, but residents found it hard to price generations of memories, hard work and deep roots," Russell wrote in her book, "Underwater Ghost Towns of North Georgia." "A host of emotions accompanied the talk of relocation: anger, resentment, fear, anxiety, bewilderment and apprehension. To them, their land was priceless."
Eventually, some 700 families sold a total of 56,000 acres to the government , which built a dam on the Chattahoochee River to form the lake.
As their land filled with water in 1956, locals jammed roads and bridges to watch as history vanished before their eyes. Whatever they had abandoned was covered by the the rising waters.
Even the lake's naming was contentious, Russell said. Some local officials wanted to name it after Georgia politicians. Others sought to name it after a legendary football coach. Eventually they decided to name it after Sidney Lanier, an 18th-century Georgia poet who wrote "Song of the Chattahoochee."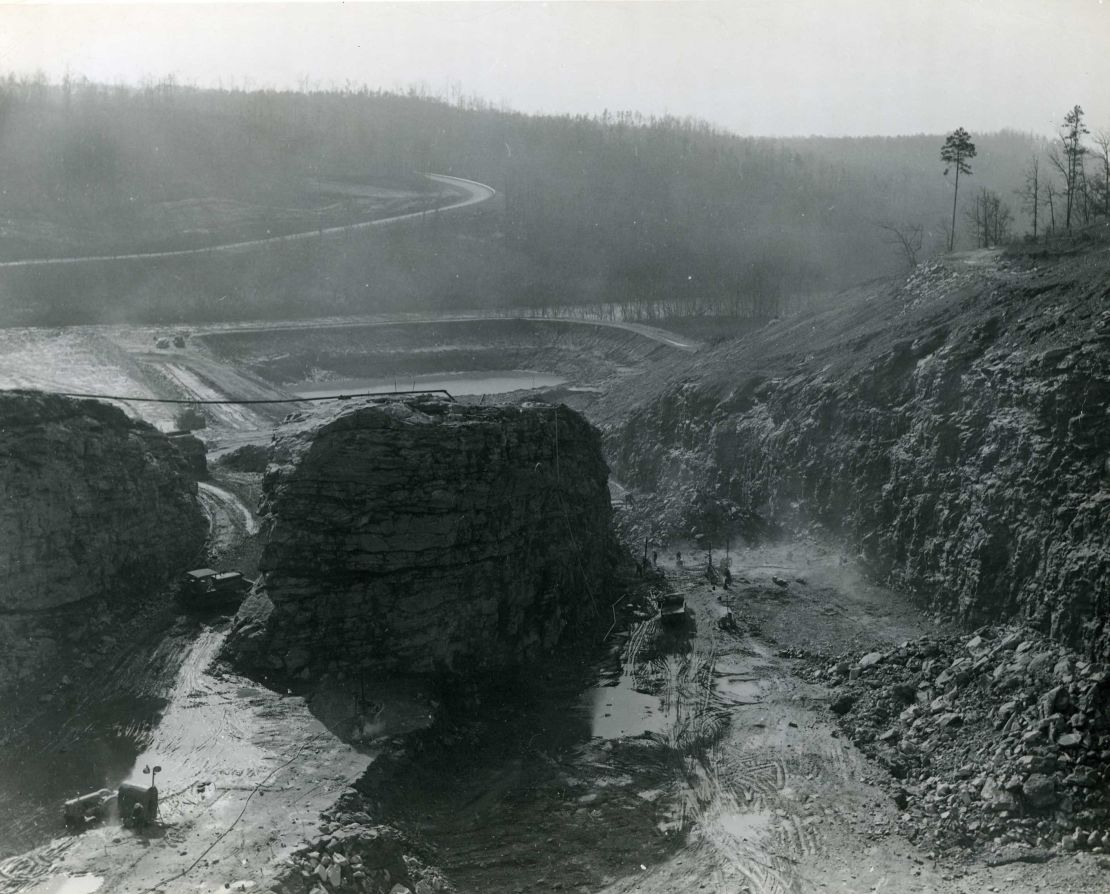 Some families later regretted their decision once they realized they couldn't survive on what the government offered, Russell told CNN.
But the lake brought multiple benefits, including flood protection from the Chattahoochee, which flows west of Atlanta. Today Lake Lanier has about 625 billion gallons of water – the equivalent of 950,000 Olympic-sized swimming pools.
And they yield mysterious stories.
What lies beneath
To prepare the land to be filled with water, the Army Corps of Engineers demolished or moved anything they considered dangerous. They uprooted trees and hauled them away. Barns and wooden structures that could float and endanger watercraft were moved. Major infrastructure such as bridges and water intakes were relocated.
But … the community had a cemetery. While the Corps identified and moved marked graves, it's likely that some unmarked ones were inadvertently left behind, said Cesar Yabor, a spokesman for the US Army Corps of Engineers.
"The technological capability to identify and verify unmarked burial sites through subsurface scanning or other means was far less robust 70 years ago," Yabor told CNN.
"While the Corps made every effort at the time to locate unmarked burials," he added, "the limited capabilities of the time make it probable that unanticipated finds of human remains are possible, whether from the antebellum and Civil War periods or of Native American origin from pre-colonial and ancient times."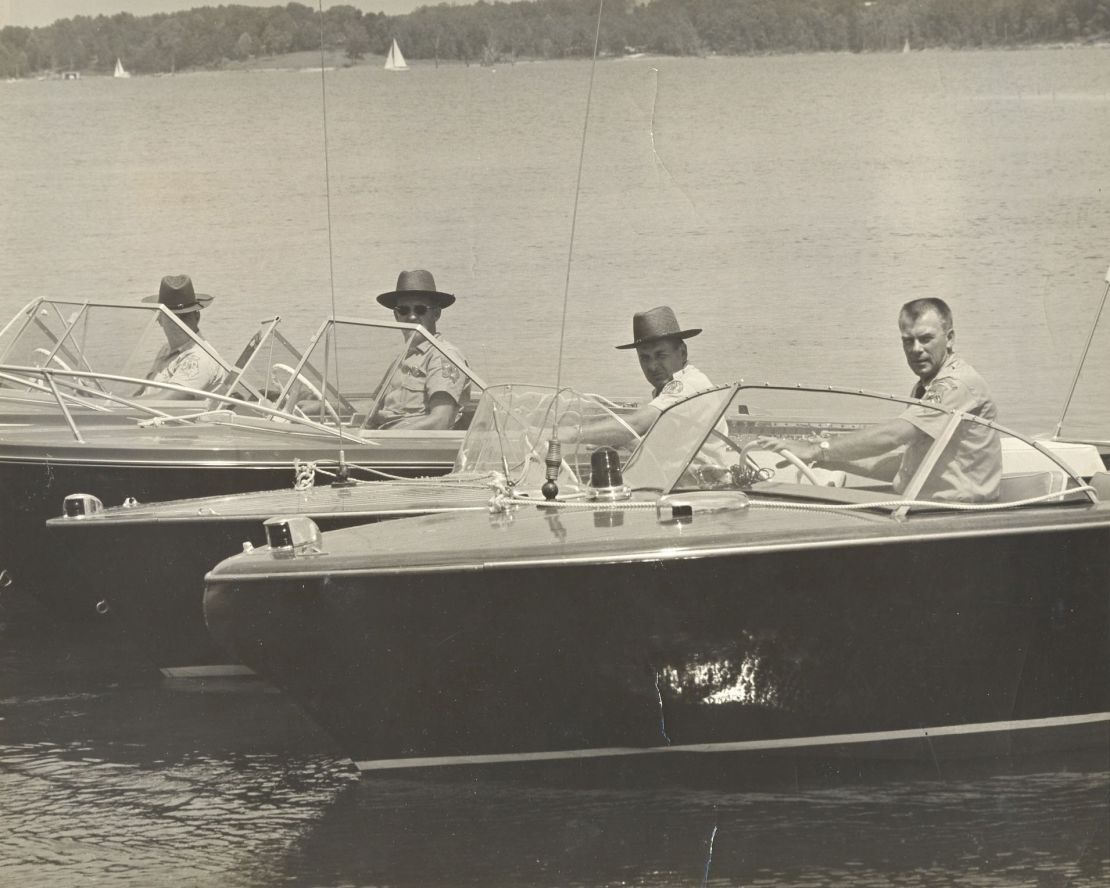 An old auto-racing track near Gainesville was also left behind. It remains at the lake bottom, although the Corps removed its bleachers so they wouldn't float to the surface and cause a hazard for boats, Yabor said.
The concrete block foundations of some small buildings also were submerged, Yabor said.
Some people have claimed to hear church bells from a sunken church. But Yabor told CNN that's not possible.
"No such structure was known to be left behind due to the height issue – if it had a steeple – as well as the floating wood issue," he said.
Over the decades, when the lake's water levels dropped during drought, submerged roads, tire parts and other artifacts have been exposed, said Russell, the historian.
Russell believes unmarked graves also were left behind because they were not easily identified and there was no family to claim them.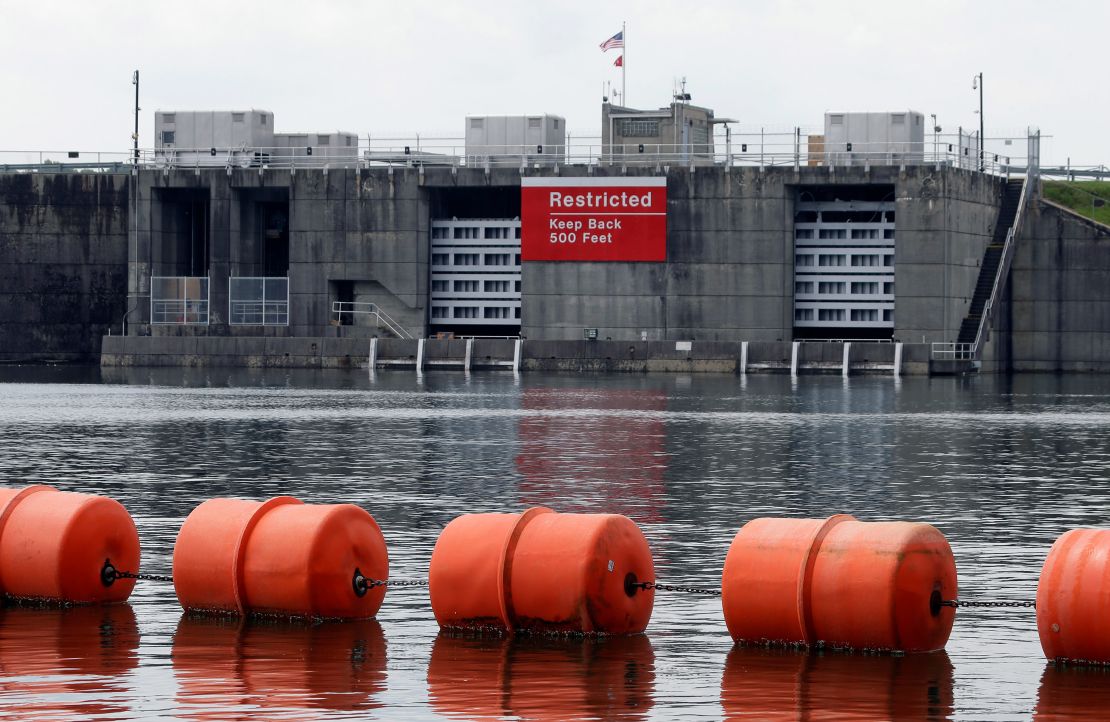 To Russell, the changes wrought by the human-made lake are scarier than the spooky folklore.
"A haunting is sometimes defined as something that is difficult to ignore or forget – something that is poignant and evocative," she said.
"The real haunting in this story is how history has made it impossible to ignore what was done to the land in North Georgia," she added. "Once a land of wild rivers, North Georgia is now broken with dams and human-made bodies of water that changed the ecosystem. Once a land that belong to indigenous people, it is now buried under the water, making recovering of lost culture impossible."
Watery sightings and the Lady of the Lake
Over the years, divers have reported creepy sightings beneath the murky waters. Some tell stories of freaky catfish as big as a Volkswagen. YouTube is filled with divers showing videos of sunken houseboats and piles of debris.
Between 1994 and October this year, 203 people have died in drownings and boating incidents at Lake Lanier, according to Mark McKinnon of the Georgia Department of Natural Resources.
In 2017, longtime diver Buck Buchannon told local media that he sometimes felt body parts in the lake during his many excursions. "You reach out into the dark and you feel an arm or a leg and it doesn't move," he said.
But that has not affected the lake's popularity. With about 12 million visitors last year, Lake Lanier was one of the most-visited Corps-built lakes in the nation, said Yabor of the Army Corps of Engineers, which operates 464 lakes in 43 states.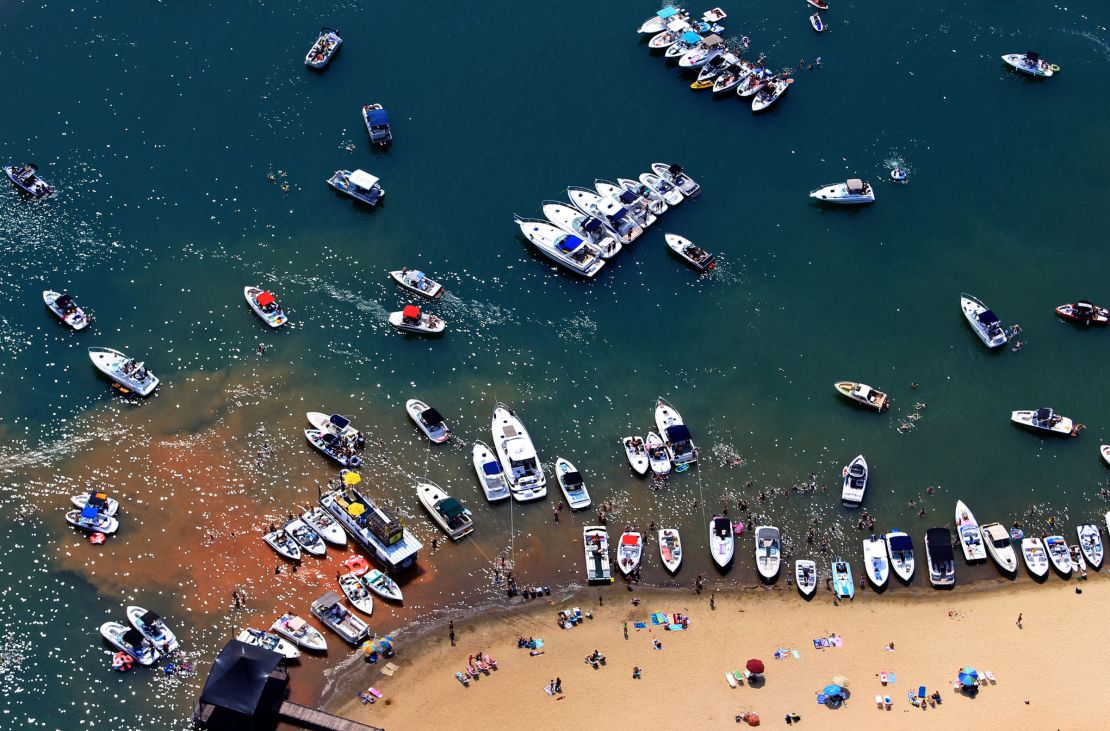 Lake Lanier's size and popularity contribute to the tall tales – and its high visitation rate also means more fatalities, Yabor said.
"While we recognize that urban legends can develop over time … first and foremost is our concern for public safety," he said. "So we certainly do not want to create an inviting atmosphere for the curious to come out to Lake Lanier for urban legend exploration or similar risky acts."
One of Lake Lanier's most popular urban legends involves a car wreck. According to the story, a Ford sedan carrying two women careened off a bridge in April 1958 and tumbled into the lake. Some say the ghost of one of the women, dubbed the " Lady of the Lake ," wanders the bridge at night in a blue dress, lost and restless.
The story of Michigan's most infamous ghost town
Did a witch curse the village of pere cheney.
Ken Haddad , Digital Managing Editor
A Michigan "ghost town" has a reputation for ghostly behavior.
Pere Cheney, also known as Cheney or Center Plains, was a village in Crawford County, Michigan.
It was settled by lumberjacks in 1874. But the village was abandoned by 1917.
How Pere Cheney became a ghost town
After being established in 1874 by founder George Cheney, the village received a land grant from the Michigan Central Railroad Co. to create a stop along the railroad.
The village had a general store, sawmills, a hotel and a post office.
By the 1870s, its population was approximately 1,500 people.
Diphtheria, an infection spread through the air, wiped out much of the population in 1893.
While the village was trying to recover, fires broke out, leaving much of the village damaged. The fires were likely caused by sparks from mills behind the village.
Disease returned again in 1897, and by 1901 the town's population was only 25.
In 1917, with the population under 20, the land was sold in a public auction, and Pere Cheney became a ghost town.
All that remains today is the Pere Cheney cemetery, which some call a literal ghost town.
Pere Cheney Cemetery
The Pere Cheney cemetery is filled with ghost stories. Perhaps the most popular, is the legend of the witch.
Local legend says a witch cursed the village she was banished to the woods, which many blame for the outbreak of disease, and the disastrous fires.
The cemetery itself contains the graves of about 90 people - one of which is rumored to be the witch's grave.
Some say people from surrounding towns set Pere Cheney on fire to prevent the spread of disease. But some believe they were caused by the witch.
She was later hanged from a tree in the cemetery and her body was buried.
Visitors to the cemetery have reported seeing ghosts, figures, glowing orbs, lights and hearing voices.
Some have reported hearing children laughing and seeing handprints on their cars.
The only vegetation that grows in Pere Cheney is moss.
Nycki Moggo, a Grayling, Michigan native , visited the cemetery - and documented what she saw:
Is Pere Cheney Cemetery haunted? I believe that it is but not to the extent others make it out to be. I have probably been there at least 200 times over the years and maybe 10 of those times I have had something strange happen to me and others that were with me. I have had my car radio switch channels for no reason, my car not wanting to start (at the time I had a 1997 Pontiac Grand Prix and this happened in the spring of 1998). A few times we have heard children giggling and laughing VERY close to the car late at night. One particular time there were small handprints all over the roof of my car after we left the cemetery. On Halloween of 2002, myself and three others saw an apparition of a woman in a light colored dress walking through the rear of the cemetery, then disappeared all at once. That's about it. I've never been chased.. I've never seen a witch. I've never felt like someone was trying to lynch me (one of the many Pere Cheney stories--this one involving a large oak tree in the center of the cemetery). The temperature has fluctuated from time to time but it wasn't anything worth writing home about. I do not feel an overwhelming sadness there but I do feel a peculiar energy I cannot fully explain. However, I feel this was when I walk into any cemetery.
Below are some video tours of the cemetery.
I actually visited the cemetery in the summer of 2020, and I have to say, it was a beautiful and peaceful place -- and I did not see any witches or ghosts. If you want to visit, it's a bit of backroad experience, but Google Maps will get you there.
Copyright 2023 by WDIV ClickOnDetroit - All rights reserved.
About the Author:
Ken Haddad has proudly been with WDIV/ClickOnDetroit since 2013. He also authors the Morning Report Newsletter and various other newsletters, and helps lead the WDIV Insider team. He's a big sports fan and is constantly sipping Lions Kool-Aid.
Click here to take a moment and familiarize yourself with our Community Guidelines.
You are using an outdated browser not supported by this software. Please upgrade your browser .
Housing & Real Estate
Living on a Budget
Personal Finance
Camping & Outdoors
Destinations
Vacation Rentals & Hotels
All Cars & RVs
Maintenance
Makes & Models
All Shopping
Beauty & Fashion
Home & Garden
Kitchen & Groceries
All Reviews
All Food & Drink
Beer, Wine, & Spirits
Food Trends & Trivia
Restaurants & Dining
Taste Tests
All Lifestyle
Entertainment
Health & Wellness
Life After 50
All Gift Ideas
Gifts by Interest
Gifts by Price
Gifts for All
Gifts for Her
Gifts for Him
Gifts for Kids
51 Spooky Graveyards Across the Country
PeterTowle / Moment / Getty Images CC
Visit the Old Haunts
Why pay admission to a haunted house  to get spooked, when cemeteries and the paranormal seem to fit hand in glove, especially as Halloween approaches? In every state, there's a graveyard where visitors have seen, heard, or felt spirits or other unexplained phenomena — or fallen victim to some eerie stories and their own imaginations. Almost all these atmospheric, often beautiful cemeteries are free to enter. Have you had a spooky graveyard experience? Share it in the comments. Related:   The Most Haunted Hotels in America
Alabama: Adams Grove Presbyterian Church Graveyard
What brings so many ghost-hunting groups to investigate Dallas County's privately owned Adams Grove Presbyterian Church and nearby cemetery? The abandoned church, now on the National Register of Historic Places, was built in 1853, and ghosts of Confederate soldiers and a former minister reportedly walk the site.  Related:   Abandoned Theme Parks for Thrills, Chills, and Nostalgia
Alaska: Sitka's Russian Cemetery
Decay is slowly taking over at the Russian cemetery in the city of Sitka. It's abandoned and overgrown with moss, and broken crosses mark the landscape. Tree roots have pushed up headstones, making it look every bit like the dead are trying to claw their way to the surface.
 For more great travel guides and vacation tips, please sign up for our free newsletters .
Arizona: Boothill Graveyard
One of the state's most famous cemeteries, Boothill Graveyard opened in 1878 and closed a short six years later. Originally named the Tombstone Cemetery, it holds famous gunslingers and many unmarked graves. Some of the headstones tell short stories, such as: "Here lies Lester Moore, four slugs from a 44. No les. No more." Unidentified figures supposedly have appeared in tourists' photos.
Related: Towns Where You Can Still Experience the Wild West
Arkansas: Mount Holly Cemetery
"The Westminster Abbey of Arkansas," Mount Holly Cemetery in downtown Little Rock is the burial site of state governors, senators, Supreme Court justices, and Confederate generals. Every year during the "Tales of the Crypt" event, local high school students dress up and deliver speeches as one of the dead in front of that person's tombstone.
California: Rose Hill Cemetery
Nortonville is an abandoned coal mining town founded in 1855 by Noah Norton. It is said that his wife, Sarah, has haunted the town's Rose Hill Cemetery since being killed by a runaway horse in 1879. Some visitors to the cemetery claim to have seen her ghost. 
Related: Company Town Horror Stories
Colorado: Silver Cliff Cemetery
This cemetery was established in the early 1880s and is still used. (The Protestant section is called the Cross of the Assumption Cemetery.) Some visitors to Silver Cliff report seeing dancing blue lights in the cemetery at night, not unlike lanterns or spheres, and on some days that's enough to draw several carloads of people looking to experience a haunted cemetery.
Connecticut: Union Cemetery
One of the state's best-known haunted sites, Union Cemetery in Easton has drawn visits from the New England Society for Psychic Research and inspired a book, "Graveyard: True Hauntings from an Old New England Cemetery." The most famous ghost said to wander Union Cemetery is the White Lady, a woman dressed in a white nightgown and wearing a white bonnet — but in 2019 she got competition in terms of fame for the supernatural. In April the cemetery became host to the late Lorraine Warren, 92, co-founder of the New England Society for Psychic Research and inspiration for movies such as "The Conjuring."
District of Columbia: Congressional Cemetery
This cemetery has more than 65,000 graves and at least one irritated ghost on the grounds. Matthew Brady was a Civil War photographer who was promised payment by Congress but never got it, dying penniless. He has reportedly been seen wandering the cemetery, looking for the congressmen who owe him. Other stories are more musical than creepy — some claim the sound of Marine Corps bandmaster John Phillip Sousa can be heard playing his sousaphone can be heard on some evenings.
Related:   Free or Cheap Things to Do in Washington, D.C.
Delaware: Long Cemetery
There is a legend of a man with catlike features who prowls Long Cemetery in Frankford. The so-called Catman is the cemetery's former caretaker, who was buried in an aboveground tomb there, the story goes. Some visitors allege that knocking on the brick wall at the rear of the cemetery summons him.
Florida: Huguenot Cemetery
A stop on ghost tours in St. Augustine, the Huguenot Cemetery near the Old City Gates was in use in the 19th century. Several ghosts supposedly haunt the area, including the ghost of Judge John B. Stickney, whose oddly well-preserved body was exhumed for a move to Washington, D.C., when two drunken men stole his gold teeth, prompting the judge's spirit to stick around searching for them.
Georgia: Colonial Park Cemetery
Savannah's Colonial Park Cemetery is sometimes called "Paranormal Central." The oldest cemetery in the area, it was opened in 1750, and some of its dead are people who fell ill with yellow fever in the 1820s or died after duels. Some believe the paranormal activity is the result of the dead not having received a proper burial. There are more than 10,000 bodies in the area — some outside today's cemetery walls — but fewer than 1,000 tombstones. 
Related: The Most Terrifying Places in America
Hawaii: Manoa Chinese Cemetery
This cemetery on Oahu is the island's largest, and many ghostly tales are associated with the place. They claim that the spirits of buried children come out to play at night and the cemetery's 150-year-old tree may be a portal to the afterlife. 
Related: The Best of Hawaii on a Budget
Idaho: Fort Boise Military Cemetery
Due to flooding in the early 1900s, more than 150 graves had to be moved to the current location of Fort Boise Military Cemetery — potentially disturbing the dead and leading to the appearance of restless soldiers, children, and a woman dressed in a black gown. As late as 1998, an additional three bodies, possibly of Civil War soldiers, were found and reburied.
Illinois: Bachelor's Grove and Resurrection Cemetery
Two cemeteries near Chicago are known for paranormal activity. At Bachelor's Grove, an abandoned graveyard in Bremen Township, there have been reported sightings of two-headed ghosts, black dogs, a lady in white carrying a child, and a vanishing farmhouse. About 15 minutes away in the town of Justice, "Resurrection Mary" supposedly hitchhikes in ghostly white garb to wander Resurrection Cemetery.
Indiana: Stepp Cemetery
In the Morgan-Monroe State Forest, the Stepp Cemetery is still in use and said to be haunted by several spirits. One is the Black Lady, who watches over the grave of her son (possibly along with the family's dog). Other potential hauntings: a road worker, the former groundskeeper, and a woman who watches over her husband's grave.
Iowa: Oakland Cemetery
The 8-foot Black Angel statue in Iowa City's Oakland Cemetery has taken on a darker color as the bronze has oxidized. Some say the darkening is due to abnormal storms, evil spirits, or a connection to the dark arts. The statue is popular on Halloween, when visitors tempt fate by touching and kissing it — an act that is said to risk a quick death.
Kansas: Stull Cemetery
This Douglas County cemetery is believed by some to be near, or perhaps on top of, one of the seven gateways to hell. The Committee for Skeptical Inquiry  traces the tale back to an urban legend invented by a professor at the University of Kansas in the 1950s, but others say the claim is real. Either way, visiting the graveyard serving the tiny town of Stull is now considered trespassing, punishable by a $1,000 fine and up to six months in jail.
Kentucky: Baker-Phillips Cemetery
Reports from Marion's Baker-Phillips Cemetery (also known as Baker Hollow Road Cemetery) tell of a large black dog that guards the grounds — a "Hound of Hell" — along with inexplicable sounds of music, laughter, and screams, and mysterious spirits and orbs of light appearing in pictures.
Louisiana: St. Louis Cemetery No. 1
St. Louis Cemetery No. 1 is one of the best-known (and possibly most haunted) cemeteries in the country. It's the resting place of Marie Laveau, the "grande voodoo queen." The cemetery was closed to the public in 2015 but can still be visited by family members of the deceased and those accompanied by a licensed tour guide. 
Related: Best Cheap Or Free Things To Do In New Orleans
Maine: Pinewood Cemetery
The Pinewood Cemetery in Belfast is considered one of the state's most haunted. Visitors report hearing footsteps following them through the cemetery and banging on the sides of their cars. Glowing lights or orbs also sometimes appear in people's photographs.
Maryland: Antietam National Cemetery
Antietam National Battlefield was the site of one of the Civil War's deadliest battles. More than 23,000 soldiers died over the course of a dozen hours on Sept. 17, 1862. Antietam National Cemetery is the final resting place for many of the soldiers , although some were first laid to rest in mass graves on the battlefield. Visitors report hearing cannon and gunshots out of nowhere, and paranormal groups report ghostly sightings, primarily around dawn and dusk.
Massachusetts: Howard Street Cemetery
Salem's Howard Street Cemetery has ties back to the infamous 17th century witch trials, when Giles Corey was tortured to death in a Howard Street field. He cursed the town before gasping for his last breath, and his spirit is said to haunt the area. No hard feelings from the city's side: It put $78,000 into  repairing and maintaining some 80 of the gravestones  in 2018 — some in rough shape after almost 300 years.
Michigan: Oak Hill Cemetery
Oak Hill Cemetery in Battle Creek is a popular tourist destination because of the famous people buried there, including Sojourner Truth and breakfast cereal magnates W.K. Kellogg and C.W. Post. There are also tales of an odd sight in the cemetery: The statue of the Virgin Mary above a mysterious woman's grave reputedly weeps at midnight on Sundays or during the full moon. 
Related: Famous Gravesites Worth Seeing Around the World
Minnesota: Ferguson's Cemetery
Serving the town of Plato, Ferguson's Cemetery is a small and secluded graveyard allegedly haunted by a young boy who can sometimes be seen peeking over the top of the tombstones. Visitors leave toys and coins at his gravesite.
Mississippi: Garden of Hope Cemetery
Supposedly haunted by a murdered family, Garden of Hope Cemetery in Gautier can be a spooky place to visit. Some say they have seen the long-dead children playing in the cemetery.
Missouri: Old Lorimier Cemetery
Cape Girardeau's Old Lorimier Cemetery is one of the city's oldest (it's on the National Register of Historic Places). There are reports of a "tapping ghost" who haunts the grounds, tapping people on the shoulder and occasionally pulling someone's hair.
Montana: The Garnet Graveyard
The cemetery in Garnet is so small that just five miners are buried there. Little is known about them but their names and when they died. Their home is a ghost town abandoned in the mid-1950s. Visitors and a few volunteers keep the place alive and tell tales of paranormal activity. 
Related: Spooky Ghost Towns Across America
Nebraska: Ball Cemetery
Grafton Ghost Town & Graveyard
Review Highlights
" Its famous for being the backdrop of a few different western movies including Butch Cassidy and the Sundance Kid (awesome movie!). " in 7 reviews
" The nicest of the buildings is where they filmed the scene from Butch Cassidy . " in 7 reviews
" When I found out it was near Zion I made a point to seek it out and it did not disappoint. " in 9 reviews
Location & Hours
Rockville, UT 84763
Amenities and More
Ask the community.
Ask a question
Yelp users haven't asked any questions yet about Grafton Ghost Town & Graveyard .
Recommended Reviews
1 star rating Not good
2 star rating Could've been better
3 star rating OK
4 star rating Good
5 star rating Great
Select your rating
Overall rating
Well preserved ghost town of Grafton [Rockville UT] Drove to Rockville almost close to 10:00p to check out this cemetery and ghost town... we passed a one-lane bridge and once we hit Grafton Road it is a dirt road for about 3 miles. We arrived and there was already another car there with 4 young adults. They were also curious, perhaps crazy, like us. LoL! The cemetery had a gate but we all went in... using our phone flashlights we walked around to view some of the grave markers. It wasn't as creepy since we were not alone. We then headed to the ghost town, just a short distance from the cemetery. What?? There were more cars here, more people including a family with two young kids. There were two remaining buildings, the church and the schoolhouse. We were able to go inside the historic schoolhouse but not the church. The structure was in amazingly good condition. Preservation efforts restored these two buildings. Sadly, the ghost town had its problems with rowdy delinquents. We returned the following day and there were more people now! The wooden grave marker headstones were interesting and so sad that many of them were children who died of disease like Diphtheria and Scarlet Fever. Some of the headstones were well maintained. The grave that was fenced in belonged to Robert M Berry (born February 3, 1841, died April 2, 1866, only 25 years old ... how did he die? It's written on the headstone. (see photo). Back in the day it looked like they had some problems with the Indians. What's really neat about Grafton was that it has been used as a filming location for several old movies including Butch Cassidy and the Sundance Kid. The ghost town is located just outside of Zion National Park. I mean, we could see the high mountains of Zion in the background. The town was established as a cotton mission. Cool place to visit! Review #2383
Just a weird little stop about 20 mins from Zion. There are about 5 buildings here, most of which you can walk into. The nicest of the buildings is where they filmed the scene from Butch Cassidy. It is not necessarily a great destination, but a fun end of day detour if you have the time to visit.
This review is unfortunately years overdue. I was driven here in an 8 person RV - I do not recommend doing this, you should drive on that rocky dirt road with a more appropriate vehicle, but I have no regrets! This is the only ghost town I've ever visited. When I found out it was near Zion I made a point to seek it out and it did not disappoint. The road in is empty, quiet, wide and beautiful. All the browns and oranges of the desert rock lead you deeper into a landscape much less traveled than the roads I'm used to. There was some art on the way in, property owners had decorated their fences with whimsical homemade displays. There is a plaque explaining how the ghost town became a ghost town. Founded in 1862, in 1866 thirteen people died "taken by epidemics, tragic accidents, and by the friction caused when new folks rub up against old". Well damn, alright then. It looks like there is an organization that helps keep up the buildings and graveyard. The buildings are certainly old and without furniture, but they're in good condition. The ceilings were very low and the doorways sometimes crooked. The tombstones had bright flowers next to them. Some belonged to residents of Grafton who had lived much longer than I had expected - George Washington Gibson who was born all the way in South Carolina made it to 71 years. But Joshua Newman Gibson died the day after his 10th birthday. There's a donation box in the graveyard, unlocked. Are you really going to steal the ghost town graveyard money? If there is any more sure fire way to get yourself haunted I don't know it.
See all photos from Lucy M. for Grafton Ghost Town & Graveyard
Great stop with lots of history. Take the time to read the information about the settlers, their homes, and their deaths. You can walk inside most of the homes and even open the barn and see the old wagon. So glad we checked it out!
See all photos from Tracy A. for Grafton Ghost Town & Graveyard
My hubby and I were entered to run the Butch Cassidy run that ends in Grafton, Utah in November so we drove up a day early to relax without the crowds at Zion and then complete the race the next morning. The race begins a few miles outside of Springdale where the sign has you head left towards Grafton. I was excited to see this town as my very good friend has extensive family history with this town and some of her relatives are buried in the cemetery. The town is most well known as some of the movie Butch Cassidy and the Sundance Kid was filmed here. In addition other films have been made here as well (westerns I am sure). On the run, I took a quick side trip and checked out the cemetery looking for my friends relatives. Kinda cool and a little eerie. Once you reach the town, you will find an old school/church and an old house which you can actually tour. History states that some Mormon families settled this little town in 1859. It really is a cute lil town and it was interesting to read about its history. It is located just outside of Springdale so if you have a chance be sure to check it out.
See all photos from Renee N. for Grafton Ghost Town & Graveyard
What: small ghost town (stay to the right at the fork) and cemetery (go to the left). There are a few small houses and school/church that is maintained by an organization. Be sure to leave a few bucks in the donation box, otherwise you will be haunted forever! The cemetery has over 100 graves, but you can only actually see 1/3 of that. Cost: FREE! Location: You go through a residential area (go slow!) and cross a little bridge, then the road is a dusty dirt, unpaved road and you should not go on it with a regular car, sedan or minivan. Best for trucks and Jeeps, etc. It's a good little side trip to kill an hour and we always love a ghost town!
What an awesome surprise! I had no idea this place existed & by luck I searched on Yelp for all near by places to stumble upon Norm K's review! Thank you Norm because we decided to stop & so glad we did. This place wasn't as easy to find so here are specific directions. When you're on the way to Zion you'll pass a little town named Rockville. Look closely for a little street called Bridge Rd on your right hand side & you'll spot a tiny sign that reads ~ Grafton. Take that to the rusty one way bridge & then about a mile or so to your final destination. If you go left you'll be at the cemetery & if you go right you'll spot the little town. This all happened early in the day because I would never have stepped foot there at night. You couldn't pay me to get scared on purpose! Funny timing also brought us here on Halloween so I was even a bigger chicken. I took lots of pics so they'll give you a good idea of the things you'll see & it was so cool to step back into time! There's quite a bit to explore & you can even go into some of the houses which was very cool. The land itself is stunning! So many trees, flowers & the views are spectacular at every angle. If you're ever taking a trip to Zion you shouldn't miss this piece of history. Take the time to read about the people who lived and died there.
See all photos from Ania K. for Grafton Ghost Town & Graveyard
Cool little ghost town near Zion National Park. The ghost town is located off the main road but is easy to find, just follow the signs. It had an old cemetery and buildings which the kids loved exploring. If you are quiet you can definitely hear voices in the wind! We enjoyed this little ghost town and would recommend this to anyone looking for a small off-road adventure. Note there are no restrooms available.
Each year in September, I go to St. George for theatre at Tuacahn and to do some hiking and exploring. Last year, visiting the ghost town of Grafton was high on my list because some of the movie Butch Cassidy and the Sundance Kid was filmed here--most notably the famous bicycle scene with Katherine Ross and Paul Newman. Google Raindrops Keep Falling and the video will be one of the top choices. The first stop you make is at the cemetery. It's really an interesting place to visit. Read the information on the interpretive marker and see the dates of many of the residents who are buried here and the cause of their deaths. The one that hit me was the two young girls who died when riding a swing together and the swing broke. The girls are buried together. There is a fork in the road at the cemetery. Keep to the right the way you came in and you'll see the townsite in a short time. You are free to walk around. Some of the buildings have been rebuilt. The church has had some reconstruction work. On the north side, there is a set of steps that goes up to a window so you can get a look inside. Across the street is an original house with its low ceilings and this one is open to explore. This is very near Zion National Park in Springdale, Utah, and if you like history like I do, this is certainly a place to visit. It is very interesting!
See all photos from Norm K. for Grafton Ghost Town & Graveyard
Incredibly well-preserved town from the mid-1800s. It's clear some restoration has been done to the buildings and cemetery, but the experience is well worth the rocky drive and heat. So fun and exciting! Also really cool to see Zion in the background! (If you visit in the summer, prepare for extreme dry heat. We brought our dog, and he couldn't stand being outside for too long)
4 other reviews that are not currently recommended
Collections Including Grafton Ghost Town & Graveyard
Utah Hiking & Outdoors
By Ashley W.
Utah Date Ideas
By David C.
By Eugenia O.
People Also Viewed
Belly of the Dragon
Little Black Mountain Petroglyph Site
Virgin Town
BLM Visitors Center - Kanab
Town of Apple Valley
Colorado City
Zion Canyon Scenic Drive
Best of Rockville
Things to do in Rockville
Other Places Nearby
Find more Landmarks near Grafton Ghost Town & Graveyard
Find more Local Flavor near Grafton Ghost Town & Graveyard
People found Grafton Ghost Town & Graveyard by searching for…
Ghost Towns Rockville
Haunted Places Rockville
Hiking Trails Rockville
Interesting Places Rockville
Must See Rockville
Western Town Rockville
Browse Nearby
Bike Rentals
Bats Near Me
Landmarks & Historical Buildings Near Me
Lighthouses Near Me
Local Flavor Near Me
Frequently Asked Questions about Grafton Ghost Town & Graveyard
How is Grafton Ghost Town & Graveyard rated?
Grafton Ghost Town & Graveyard has 4.4 stars.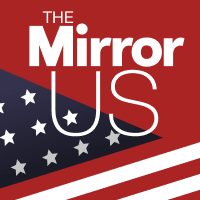 The Mirror US
Mysterious abandoned ghost town with remains of 1,000-seater football stadium
Posted: October 16, 2023 | Last updated: October 16, 2023
Located about three hours from any major Texas city , the ghost town of Doole was once a booming agricultural village, complete with a school, post office, and a football field.
The approximately 1,000-seater stadium was the home to the Doole Red Devils' football and baseball teams, but it may have been built with some large expectations, as the town only ever had 250 residents at its height. Only the ruins of the seats and an old ticket booth remain in the area.
In 2011, Texas Escapes reported: "The stadium is in pretty bad shape and snakes are a serious concern," while others who visited the area say it's very European, minus the cacti, a distinct feature of the Texan countryside . "It's not the Roman Colosseum but it is very Texan. Prickly Pear Cactus adds to the esthetics," writes one visitor.
READ MORE: Israel Hamas war LIVE: Gaza streets 'reek of blood' as IDF vows 'coordinated' attack
"All that remains now is the school and the football field - which has become a sight to see. It has been abandoned for nearly 100 years, and the infrastructure crumbling into nature is reminiscent of any Roman or Greek amphitheater. After World War II, the town began to lose its residential population due to the consolidation of agriculture and the resultant decline of small family farms," says GhostTowns.com.
"The school buildings are gone, but the cement bleachers remain, giving the appearance of the ruins of a Roman amphitheater. Doole can be seen at the intersection of Farm to Market Road 503 with Farm to Market Road 765 in extreme western McCulloch County."
Texas lists dozens of 'ghost towns,' with some of them being fully abandoned, others partially abandoned, and some others that do include residents but have a historic portion that was left unoccupied.
Littered across the US are abandoned towns , left by residents to slowly rot away and for nature to reclaim the land. In some places, the dry climate has perfectly preserved the buildings , meaning visiting these ghost towns feels like stepping back in time to a different era.
Another Texas town draws in a similar crowd of tourists. Once the setting for the successful Chisos quicksilver-mining company, when the company filed for bankruptcy in the 1940s, Terlingua went from a booming hotspot to a nearly deserted ghost town.
Nowadays, it's not fully abandoned and still offers a gift shop, quirky accommodation options, restaurants, and bars. There are also old-town buildings which continue to stand tall, such as the local cinema.
Oh, and foodies may want to bookmark it for the world-famous 'chili cook off' championship, which historically draws thousands of visitors to the ghost town.
More for You
7 Costly Car-Buying Mistakes Almost Everyone Makes
FBI and NYPD on high alert over security concerns in U.S.
The Bittersweet Journey of the Phillies' Playoff Pitching Star
Ukraine War Map Shows Counteroffensive Gains as US M1 Abrams Tanks Arrive
GOP is moving to 'plan b' to elect a House speaker: Rep. Dan Meuser
A guide to every beret worn by American service members
Most obscure Mopar cars ever sold
Justice Department appeals sentences for Proud Boys already to serve decade plus over Jan. 6 Capitol riot
Former US officials ask Pakistan not to deport Afghans seeking relocation to the United States
An 87-year-old deal is keeping a lid on the naval war in Ukraine — for now
Rangers Center Fielder Leody Taveras Made a Catch So Good It Broke an Advanced Statistic
How US Could Respond if Russia Shoots Down Satellites
How often you can take Tylenol? Explaining the safe use of acetaminophen for pain relief
Senate votes to overturn CFPB small-business lending rule
US eases oil, gas and gold sanctions on Venezuela after electoral roadmap signed
Here are all of the Republican elected officials backing Trump's 2024 campaign
Philippines sees no current, future engagements with Taiwan - military chief
Biden's Carriers and Troops Send a Signal of Force If Diplomacy Fails
Magnitude 4.2 earthquake in Northern California triggers ShakeAlert in Bay Area
NFC North trade targets: Lions acquire a CB, while Bears, Packers and Vikings sell
The Story Behind This Ghost Town Cemetery In Nevada Will Chill You To The Bone
More by this Author
Tonopah is easily one of the most fascinating towns in Nevada. Not only was it one of the most prosperous mining camps during the Gold Rush era, but it actually continues to be inhabited by nearly 2,500 people to this day. This living ghost town was never fully abandoned, but the town certainly isn't without creepy reminders of Tonopah's past. In fact, Tonopah's cemetery is considered to be one of the most unsettling graveyards in the state. This ghost town cemetery acts as a reminder of just how rough living in the Wild West really was.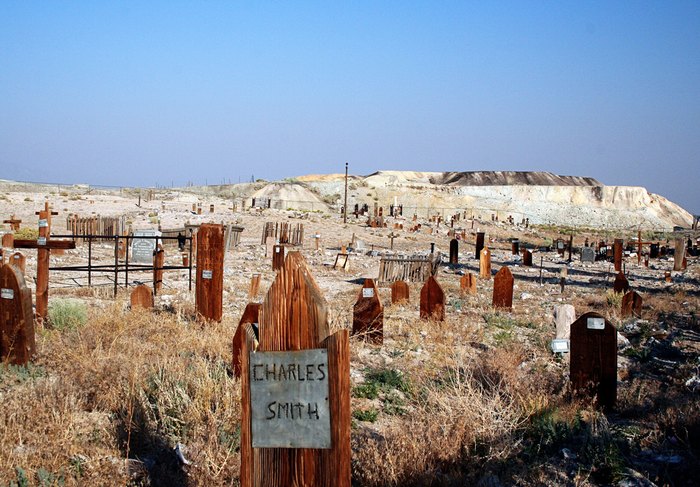 Related Stories
This Unassuming Ghost Town Diner Serves The Best Breakfast In Nevada
This Perfectly Preserved Ghost Town In Nevada Is Unlike Anything You've Seen Before
There's A Hike In Nevada That Leads You Straight To An Abandoned Cabin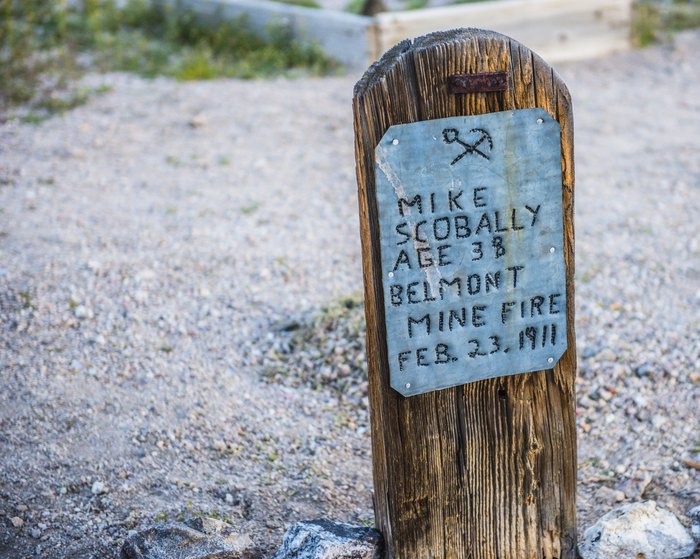 Have you visited this ghost town cemetery before? If you're one of those people that loves the paranormal, you should definitely check out this Nevada Ghost Trail which leads you to some of the spookiest haunts in the state.
OnlyInYourState may earn compensation through affiliate links in this article.
Want more Nevada in your inbox?
Get the latest on things to see, do, and eat around Nevada!
Thank you! You'll receive your first newsletter soon!
An error occured.
Related Articles
You Can Spend The Night In A Ghost Town At This Log Cabin Ranch In Nevada
This Isolated Ghost Town In Nevada Was Destined To Fail But The Remnants Are Beautiful
Nature Is Reclaiming This Abandoned Theme Park In Nevada And It's Mesmerizing
The Small Restaurant Hiding In The Middle Of A Nevada Ghost Town That's So Worth The Journey
This Amazing Hiking Trail In Nevada Takes You Through An Abandoned Train Tunnel
Visit This Most Remote Nevada Ghost Town For A Haunting Piece Of The Past
This Nevada Ghost Town Road Trip Belongs At The Top Of Your Bucket List
This Living Ghost Town In Nevada Has A Little-Known, Sinister History
Explore Nevada
Here I Come Falling – A Ghost Town For A Graveyard lyrics
Post my meaning
Write my explanation new To explain lyrics, select line or word and click "Explain".
Don't understand the meaning of the song?
Highlight lyrics and request an explanation.
Click on highlighted lyrics to explain.
Lyrics taken from /lyrics/h/here_i_come_falling/a_ghost_town_for_a_graveyard.html
Explanations new To explain lyrics, select line or word and click "Explain".
Share link: Embed:
Correct Add song structure elements Click "Correct" to open the "Correction form". There you can add structure tags, correct typos or add missing words. Send your correction and get karma points! Result of your work will appear after moderating. OK, got it!
Midnight Sky Miley Cyrus
​Positions Ariana Grande
Therefore I Am Billie Eilish
Monster Shawn Mendes
Christmas Saves The Year twenty one pilots
Willow Taylor Swift
A Ghost Town For A Graveyard meanings
Write about your feelings and thoughts about a ghost town for a graveyard.
Hey! It's useful.
If this song really means something special to you, describe your feelings and thoughts . Don't hesitate to explain what songwriters and singer wanted to say. Also we collected some tips and tricks for you:
Don't write just "I love this song." Hidden between the lines, words and thoughts sometimes hold many different not yet explained meanings
Remember: your meaning might be valuable for someone
Don't post links to images and links to facts
Write correctly
Don't spam and write clearly off-topic meanings
Don't write abusive, vulgar, offensive, racist, threatening or harassing meanings
Do not post anything that you do not have the right to post
Please note: We moderate every meaning
Follow these rules and your meaning will be published
→ Artist: H
→ Here I Come Falling
→ A Ghost Town For A Graveyard lyrics
Post meanings
Official video.
More Here I Come Falling lyrics
Bad Company Ruins Good Manners
And So We'll Be With The Lord Forever
A Pale Horse And Its Rider
Tell The World Goodbye
The Beast From The East
Put The City To The Sword
Like Sheep Among Wolves
There's A Lion On The Loose
A Ghost Town For A Graveyard
The Sea Gave Up The Dead
Between The Devil And The Deep Blue Sea
Featured lyrics
· Hard Place Lyrics H.E.R.
· Clout Lyrics Offset
· July Lyrics Noah Cyrus
· Broken & Beautiful Lyrics Kelly Clarkson
· Kill This Love Lyrics BLACKPINK
· Boyfriend Lyrics Ariana Grande
· Better Lyrics Khalid
· Rescue Me Lyrics OneRepublic
· Old Town Road Lyrics Lil Nas X
· Lily Lyrics Alan Walker
Write an explanation
Explanation guidelines:
Describe what artist is trying to say in a certain line, whether it's personal feelings, strong statement or something else.
Provide song facts, names, places and other worthy info that may give readers a perfect insight on the song's meaning.
Add links, pictures and videos to make your explanation more appealing. Provide quotes to support the facts you mention.
Request explanation
Thinking in English
Podcast and Blog for English Learners!
'Ghost towns,' 'Drop Dead Gorgeous,' and 'Graveyard Shift': Idioms and Phrases for a Spooky Halloween (English Vocabulary Lesson)
By Tom Wilkinson
On today's episode of Thinking in English, let's learn some spooky idioms and phrases that you can use everyday, not just on Halloween!
You may also like…
14. What is Halloween?
How to Describe Pain in English!! Essential Vocabulary and Phrases (English Vocabulary Lesson)Language Learners Have Accents and Should We Care? (English Lesson)
"Feeling blue," "Crying Crocodile Tears," and "Down in the Dumps": Excellent Sadness Idioms!! (English Vocabulary Lesson)
Tongue Twister Challenge!: English Pronunciation Practice
(If you can't see the podcast player CLICK HERE to listen!!)
On Sunday the 31st of October, people around the world will begin to celebrate Halloween in a variety of different ways. In my country, some may dress up in scary costumes, children may trick-or-treat around their neighbourhoods, pumpkins carved in spooky shapes, and millions will watch Hollywood horror movies. In other parts of the world, celebrations are much more diverse! I recorded an episode last year on Halloween – it was one of my first ever episodes so don't expect it to be the best episode ever – but I'll link it here anyway !
As you probably already know, Halloween is a holiday associated with all manner of scary, spooky, and terrifying things: monsters, ghosts, death, blood, graveyards, and more! So let's learn some idioms and phrases that follow these themes. And luckily for you, all of these phrases and idioms can be used in everyday situations, not just on Halloween! Without any further ado, it's time to introduce today's new vocabulary… I hope they don't scare you!
SKELETON IN THE CLOSET
Do you have any skeletons in your closet ? Don't worry – it doesn't mean having bones where you keep your clothes. Skeletons in your closet is an idiom that means an embarrassing fact or thing that you want to keep a secret. You usually don't tell anyone about the skeletons in your closet : Often it is something from the past that you are ashamed or embarrassed by! If it was revealed, perhaps it would have a negative affect on your personal, social, or even professional life.
"The politician resigned before someone discovered the skeletons in his closet"
BLOOD RUN COLD
When was the last time your blood ran cold ? If a sound, sight, or thought makes your blood run cold, it frightens you very much! You are so frightened that you can feel it all over your body. Similar idioms include make your skin crawl and make your flesh creep. All of these are excellent idioms to describe when you read a frightening news story, or think about an unnerving situation.
"The screams coming from the old, dark house made my blood run cold"
Have you ever been somewhere that seems like a ghost town ? You may think that a ghost town is a town populated by ghosts, but that is not how we use the phrase in English. A ghost town is a deserted place where there are few or no people. A place could be a permanent or actual ghost town , such as an old mining town where everyone left after the mine closed or a town that was never completely finished and the buildings left unsold. Or, a place could be a ghost town only at certain times, often late at night or early in the morning! In this case, we use the phrase like a ghost town .
"My bus arrived in the town at 4am: it felt like a ghost town and I didn't see anyone!"
LIKE A BAT OUT OF HELL
Bats and hell are both common themes found around Halloween. However, the idiom like a bat out of hell is used to describe something very quick and fast, very abrupt, and very sudden. It is often used to describe someone's speed while going somewhere. The phrase apparently comes from an Air Force expression during World War I. It is very similar to the idiom like a shot used to describe speed!
"She ran down the street like a bat out of hell!"
SCAREDY CAT
Are you a scaredy cat ? If so, you are someone who is very easily scared. Scaredy cat is often used to describe children who are too fearful to do something. Someone who is a scaredy cat is scared of things that most people would not be afraid of! You should also know that the phrase fraidy cat can also be used to mean the same thing.
"Don't be such a scaredy cat…. Flying on a plane is safer than driving"
SCARED STIFF
If you are a bit of a scaredy cat, you've probably been scared stiff before. In fact, I think most people will be scared stiff at least once in their lifetime. If you are scared stiff, you are very afraid, to the point where you are no longer able to move! The adjective stiff suggests that it is hard to move, or it could refer to a 'stiff' dead body. Whatever its origins, the phrase scared stiff is very common!
"I was scared stiff before making my acting debut"
DROP DEAD GORGEOUS
Do you know anyone who is drop dead gorgeous ? If so, they are very, very attractive. English has many phrases that use the word 'dead' ironically or as an idiom: drop dead gorgeous is one the most common of these phrases. In this case drop dead is used as an intensifier (just like very or really) to express surprise or amazement about how attractive and gorgeous a person is!
"The actress looked drop dead gorgeous at the movie premier"
DIG YOUR OWN GRAVE
Have you ever dug your own grave ? If you dig your own grave, you create serious problems for yourself by doing something foolish. It is something that will cause you harm, and probably was easy to see or predict would happen. You could dig your own grave by not doing something – like not handing in a university assignment – or you could dig your own grave by doing something wrong or unwise – like staying out drinking all night. Both of these have many potential consequences!
"I'm afraid I'm digging my own grave by turning down that work assignment"
GRAVEYARD SHIFT
Have you ever worked the graveyard shift ? Don't be afraid – it has nothing to do with actual graveyards. The graveyard shift is a work shift that happens overnight, especially after midnight and before 6am. If you have worked a graveyard shift before, you probably know that while it is difficult, usually it is a little more calm than morning or evening shifts!
"The supermarket pays 15% extra wages to employees who do graveyard shifts"
OVER MY DEAD BODY
The phrase over my dead body is used to express that you strongly oppose something or won't allow it to happen. If you will only allow something to happen over your dead body it means that you would never allow that thing to happen. The only way that thing could happen is if you were dead, and then you couldn't stop it. A common and funny response to the phrase over my dead body is to say "that can be arranged."
"I asked my mum if I could get a tattoo… she said 'over my dead body'"
Check out my recent podcast episodes!
266. Are You Too Old to Learn English? (English Vocabulary Lesson) – Thinking in English
266. Are You Too Old to Learn English? (English Vocabulary Lesson) 20:05
265. What is Overtourism? (English Vocabulary Lesson) 27:41
264. Why is the UK Banning Some Breeds of Dog?: The Dangerous Dog Debate! (English Vocabulary Lesson) 21:31
263. The Foreign Language Effect: How Thinking in English Can Improve Your Decision Making and Memories! (English Vocabulary Lesson) 25:59
262. Why is France Banning Islamic Clothes in Schools? (English Vocabulary Lesson) 21:19
Share this:
Host and founder of Thinking in English, Tom is committed to providing quality and interesting content to all English learners. Previously a research student at a top Japanese university and with a background in English teaching, political research, and Asian languages, Tom is now working fulltime on bettering Thinking in English!
Related Post
Controversial episodes from the "thinking in english" podcast, 266. are you too old to learn english (english vocabulary lesson), inception – thinking in english film club, leave a reply cancel reply, the dream restaurant (conversation club), a guide to generic trademarks: brand names and the english language (bonus episode).
Florida tops for ghost sightings with haunted restaurants, I-4 Dead Zone, Disney World ghost
Florida ranked 3rd most spooky state in the u.s..
There are a surprising number of haunted trees in Florida, but the Devil Tree in Oak Hammock Park in Port St. Lucie may be one of the worst.
At Ashley's Restaurant in Rockledge, people have reported flickering lights, salt shakers dropping and dishes breaking, and people getting pushed on the stairs.
Ghostly sightings of soldiers and Native Americans have been reported, as well as glowing orbs inside Castillo de San Marcos in St. Augustine.
Ready to do some ghost-hunting? You're in the right spooky state.
According to casino review site BonusFinder , Florida is the third-most-haunted state in the U.S. based on a review of the number of gravesites, "comprehensive ghost sightings data" and paranormal phenomena.
Florida has fewer burial grounds than No. 2, Maine (we have 3,463 cemeteries compared to their 4,120, the report says) but we have the second-highest number of ghost sightings (1,785) and haunted locations (601).
The scariest place in the U.S.? Not even close. It's Texas , with 13,710 cemeteries, 7,517 ghost sightings and 925 haunted locations. But we're right behind them with spooky lighthouses and restaurants, a cursed highway, theaters with spectral patrons, haunted trees, and even lingering ghosts in the Happiest Place on Earth. It might, in fact, be easier to list the Florida towns and cities that don't have a local ghost story.
Here are some of the most haunted places in the Sunshine State:
Haunted St. Augustine Lighthouse and, really, most of St. Augustine, Florida
Are there any places in St. Augustine that aren't haunted? There must be a tour for that somewhere.
The country's oldest city ranked as the eighth-spookiest city in the U.S. this year, according to travel site Viator, based on the number of spine-chilling tours and experiences available for booking through the company. Ghosthunting has become a big part of the local economy.
There's The Old Jail , which contained — and hanged — some of the city's most violent criminals from 1891 to 1953 and has since been the site of numerous strange phenomena, reports of guests being touched or grabbed, and sightings of apparitions in period clothing.
The Old Mansion on Joiner Street (now a bed-and-breakfast ) reportedly holds the spiritual remains of the wife of a missing Civil War colonel who haunts the place waiting for his return. Residents report seeing the ghost of Elizabeth, the daughter of the gatekeeper in the early 1800s, who died of Typhoid Fever, hanging around the city gates at the north end of George Street. A World War II and Korean War veteran dead of suicide haunts the Plaza de la Constitucion. A 5-year-old boy who fell from a tree in a local cemetery is buried under it and has been spotted playing in the branches. Henry Flagler is said to roam the halls of Flagler College. And there are many, many more.
But people from around the world have come specifically to be creeped out by the St. Augustine Lighthouse and Maritime Museum, which the SyFy channel show "Ghost Hunters" called "the Mona Lisa of paranormal sites." Shadowy figures on the stairs. Furniture moving around. Unexplained footsteps. Sightings of small girls playing on the grounds. A disembodied female voice calling for help.
Some of this, at least, is based on true and tragic tales. During the construction of the tower on July 10, 1873, the foreman's children were playing on a supply cart that was trapped. The two oldest children, Eliza and Mary Pittee, and a 10-year-old Black child died, local tour guide Matt Hladik told the St. Augustine Record in 2014. And on Dec. 5, 1859, Light Keeper Joseph Andreu was painting the tower when he fell 60 feet to his death. Visitors also have seen a "man in blue," supposedly a sailor who hanged himself there, in the basement of the former lighthouse keeper's duplex.
'We don't have ghosts on payroll": Halloween is go time for haunted tours in St. Augustine
The Florida Theater in Jacksonville has a ghost in residence
Joseph Hilton, an organist who worked in the Florida Theater in downtown Jacksonville in the 1920s and who later died from suicide, reportedly haunts the balcony and may have been caught on film by paranormal investigative TV show "Local Haunts" in 2010.
Whether Hilton is attending the theater, the venue wants to stay on his good side. When the seats were replaced in 2020, his favorite seats Balcony E1 and E2 were instead refurbished and put back in .
"We did not want our ghost to be homeless if his or her seat went away permanently," said Numa Saisselin, president of the theater. "They are the only two seats being restored. Every other seat is being replaced. Hopefully, the ghost does not mind being without his or her seat for a few weeks."
Jacksonville is known for a variety of haunts, including the King House built on top of a Spanish graveyard, silent film star Fatty Arbuckle haunting the Casa Marina Hotel and Restaurant, a burlesque dancer occupying her "haunted dive bar" Ginger's Place , and even the unexplained shadows caught on camera at the Jacksonville Beach lifeguard station , which has to be the most Florida supernatural phenomena, ever.
(Like haunted theaters? Check out the Tampa Theater , which boasts the ghost of ticket-taker Robert Lanier found dead in the 1950s in mysterious circumstances, and projectionist Foster "Fink" Finley who continues to roam the balcony.)
Believe in ghosts? Here are the haunted places around Jacksonville and where you might find them
I-4 may actually be out to kill you, in 'I-4 dead zone'
In a quarter-mile stretch of Interstate 4 roughly halfway between Orlando and Daytona Beach leading onto the St. Johns River Bridge over Lake Monroe, commuters have reported a sudden drop in phone reception, static on their stories and CB radios, and the occasional apparition, zigzagging ball of light, phantom trucker or ghostly hitchhiker. And a disturbing number of car crashes and fatalities.
Welcome to the I-4 Dead Zone .
The legend began the day that section of the highway opened in 1963 when a shrimp boat crashed at a certain spot, killing the driver. On that very location, underneath the concrete just before the highway stretches across the lake, are the remains of four German immigrants who perished in the yellow fever epidemic in Florida in 1887 and were buried unshriven, according to Bennett Lloyd, coordinator at the Museum of Seminole County History. The state was supposed to move them but paved over them instead.
A high percentage of traffic fatalities and inexplicable phenomena have been reported there ever since, including unexpected visits by Hurricane Donna (1960, on the day they first dumped dirt on the spot) and Hurricane Charley (2004, when construction was going on near the graves), according to Charlie Carlson, author of "Weird Florida" and grandson of one of the original site's owners.
Is Disney World in Orlando, Florida, haunted? It's a small afterlife after all
Walt Disney World's Magic Kingdom in Orlando is such an amazing experience, some guests (and workers) never want to leave.
The ghost of a dead employee has haunted the Pirates of the Caribbean ride for decades, cast members used to tell the guests. George gets cranky if he is disrespected and will shut the ride down with mysterious breakdowns. Other ghost stories from the cast members include:
A guest who died on Space Mountain in the 1970s will apparently grab empty seats to ride again.
A 4-year-old boy who died on the Mission Space ride at Epcot in 2005 seemingly manifests through cold spots and shuttle doors closing at odd times.
A "bellhop" cast member who reportedly died of an attack in the Tower of Terror at Disney's Hollywood Studios now haunts the ride, causing flickering lights and ghostly appearances in the Platform D elevator.
But the creepiest thing might be the sheer amount of human ashes that guests try to sneak in and spread at the Haunted Mansion to honor a loved one's last, quirky wishes.
"The Haunted Mansion probably has so much human ashes in it that it's not even funny," one Disneyland custodian told the  Wall Street Journal .
Ghosts, ashes and a bride's ring: 5 creepy haunted legends and rumors from Disney World
The Devil Tree in Port St. Lucie, Florida, was the site of gruesome murders
In 1977, a hog hunter stumbled over bones and teeth belonging to two missing Iowa teen girls , Barbara Ann Wilcox and Colette Goodenough, who had been missing since 1973. They had apparently been hung from the tree and then hacked apart, a scene reminiscent of two other sets of murdered teens for which former Martin County deputy Gerard Schaefer already had been sentenced to death. Circuit Judge C.P. Trowbridge, who oversaw the double murder trial, said years later there had been "evidence that (Schaefer) was responsible for about 30 other girls' deaths across the country."
Since then, Charlie Carlson has reported, there have been so many reports of "hooded satanic worshippers dancing around the tree" that a priest was brought in to perform an exorcism in 1992. There have been reports of people hearing screams from the tree and from the women's bathroom in the park, and legends say any axes brought near the tree go dull and chainsaws refuse to work.
Ghost stories: 13 most haunted places on the Treasure Coast and their histories
Gator Club in Sarasota, Florida, may have undead employees
Next time you get served a drink in Sarasota's Gator Club , make sure it's from a living person.
The bar , housed in a two-story brick building from 1913, has at times also offered services outside the law such as bootleg whiskey during Prohibition, illegal gambling and even an upstairs brothel. But Larry Siegel, who bought the place in 2005, has reported lights and a TV getting turned back on, a cash register ringing up dozens of drinks all by itself, and cold breezes where there shouldn't be any.
"There was this cold air, like a fan," Siegel said in 2013, before the bar's 100th anniversary, "that just blew past me."
Giving up the ghosts: Sarasota locales that might go bump in the night
Victim of horrific 1934 murder said to haunt Ashley's Restaurant in Rockledge
At Ashley's Restaurant in Rockledge, visitors and staff have reported flickering lights, alarms going off, salt shakers dropping and dishes breaking, and people getting pushed on the stairs.
As the story goes, on Nov. 21, 1934, the body of 19-year-old Ethel Allen was found on the bank of the Indian River in Eau Gallie, mutilated and burned with a crushed skull and a slit throat. Ethel was last seen at Jack's Tavern, the business that occupied the building before it eventually became Ashley's Restaurant.
Visitors have reported seeing apparitions of a young woman in the bathroom mirror, and one manager claimed to have seen the feet of a woman wearing 1930s-era shoes in a neighboring stall, which was found to be empty.
Stabbed in London, this ghost came with the pub in Delray Beach, Florida
Bertha Starkey , a 19th-century London woman reportedly murdered by her husband for infidelity, was known to haunt a British pub for over 125 years when it was torn down.
But when the Blue Anchor Pub's facade and wood interior were shipped overseas to Delray Beach, her howling soul came with it, according to the owners.
"To this day in Delray Beach, footsteps can be heard at night after closing, candles light and extinguish themselves along with banging pots and pans and the sound of Bertha wailing," the pub's site says .
Be afraid. Be very afraid: The most haunted places around Palm Beach County
Koreshan State Park in Florida once held religious sect, now local legends
Almost 130 years ago, doctor Cyrus R. Teed moved to Estero, called himself Koresh (the Hebrew version of Cyrus), and founded a religious sect of about 200 followers he relocated from Chicago to build a "New Jerusalem." Koreshans believed in a hollow Earth, immortality through reincarnation, and their messiah, i.e. Teed. The Koreshans established their own civilization here , complete with nearly 30 businesses including a sawmill, publishing house, machine shop, general store, art gallery, a symphony and more.
After Teed died in 1908, his followers left his body in a bathtub for five days so he could resurrect, but instead, according to journalist and author Lyn Millner , after three weeks the health department forced them to dispose of the body. Teed's mortal remains were placed in a mausoleum on the beach where they were carefully watched in case of resurrection until a hurricane washed it out to sea 13 years later.
The last four members of the sect deeded 305 acres of their land to the state in 1961, mostly the area containing the remaining buildings, according to the state website , as well as "landscaped grounds that include unique ornamental exotic vegetation from throughout the world." Locals say the spirits of the Koreshans are still watching over the land at Koreshan State Historic Site, and there have been reports of unexplained voices in the buildings, floating orbs of light, and shadows of people on the trails, according to the regular ghost tours .
Castillo de San Marcos in St. Augustine, Florida, stalked by ghostly captives, slain lovers
One more from St. Augustine. The 17th-century fortress Castillo de San Marcos, constructed by the Spanish in 1672, was used by the Spanish and British, and Americans used it to imprison Native Americans, including the Seminole war chief Osceola, according to the national park website .
Ghostly sightings of soldiers and Native Americans have been reported, as well as glowing orbs inside. But the best known, according to the Travel Channel's "Ghost Adventures," is that of Delores Marti, wife of Spanish Col. Garcia Marti, who reportedly suspected her of cheating on him with Capt. Manuel Abela in 1784 during the second Spanish occupation. Delories Marti and Abela mysteriously disappeared, and since then a forlorn female in a white dress has been seen atop the walls.
Contributors: Tom Szaroleta, Florida Times-Union; Wade Tatangelo, Sarasota Herald-Tribune; Dave Osborn, Naples Daily News; Sheldon Gardner, Daytona Beach News-Journal, Maureen Kenyon, Treasure Coast Newspapers
A Place for the Dead
Episode aired Mar 18, 2022
Investigators Tim Wood and Sapphire Sandalo make connections between the bloody history of Anaconda, Montana, and Gunslinger Gulch. Investigators Tim Wood and Sapphire Sandalo make connections between the bloody history of Anaconda, Montana, and Gunslinger Gulch. Investigators Tim Wood and Sapphire Sandalo make connections between the bloody history of Anaconda, Montana, and Gunslinger Gulch.
Neil Fernandez
Sarah Lemos
Sapphire Sandalo
Pat Scalise
See more at IMDbPro
All cast & crew
Production, box office & more at IMDbPro
User reviews
March 18, 2022 (United States)
United States
Discovery+ (United Kingdom)
Ghost town, Anaconda, Montana, USA
Parabolic Films
See more company credits at IMDbPro
Technical specs
Related news
Contribute to this page.
See more gaps
Learn more about contributing
More to explore
Recently viewed