The Brown Hotel
It is the 15th floor, used only for storage space, that is said to be haunted at this hotel. Witnesses say Mr. Brown himself may once have had a suite on this floor, and the elevator often stops at it, called by an unseen presence. Footprints have been seen walking in the plaster dust on the floor, and one guest staying on the 14th floor complained that someone was walking heavily and moving furniture at night in the room above.
If you've had a paranormal experience here, or have any additional information about this location, please let us know!
Rate this Haunted Place
What do you think? Is this place really haunted? Voice your opinion here! Click "thumbs up" if you think its haunted, or "thumbs down" if you think its all just a tall tale.
Geographic Information
Contact information.
Please note: It is your responsibility to acquire appropriate permissions before investigating any location listed on this site. Private property should be respected at all times, as should all posted signs concerning trespassing, hours of operation and other local regulations. Many "ghost hunters" have been arrested because they failed to contact property owners and/or local authorities ahead of time.
Share Your Experiences
Comments (10).
I work at The Brown at night . There's only a few staff members who work over night, all with radios so we are in constant contact. Recently another staff member and I were working at the front desk when we out of nowhere heard what sounded like carpet being ripped up or furniture being cut into. The sound was coming from right in front of us on the other side of a huge Pilar and was extremely loud. We knew mantinence was not there so my co worker shouted "hello? Who's there?" The sound stopped. We waited just knowing someone was there but no one answered. After a minute I walked around from the back office to check the damage and who was responsible,but no one was there and nothing was touched. the sound never started back.
I stayed in a large corner room once with my daughter who was a flight attendant. Her crew was scheduled to stay there so she called me to meet her there so she wouldn't be alone. I flew to Louisville to keep her company. I had absolutely no concern or trepidation at all. After spending the night there, I will never do that again.
Which corner room did you have, because I'm trying to understand something that I experienced yesterday morning in my corner room.
Not sure if my first message was sent. Which corner room/floor were you on. I stayed in a corner room Saturday night and yesterday morning had an experience that I'm trying to make sense of.
Hello my name is Robert. Bob for short. I'm a paranormal guru. I watched the original ghost busters eighteen times. My sister Rifkah stayed at this very hotel. She despises the paranormal life (of any kind) she has never seen ghost busters. The only times she even had the thought of watching it, was because her son said he wanted to see the new one. She didn't even go. She decided to stay at this hotel… Well, not really decided (it was for her job) She works in the medical field as a ponpyatoagist. She told me she heard strange whispers, and things moving on the floor above her. (She was on floor 14) So, she called me up and said, "Hey, bob, I know youre interested in this paranormal stuff, so can you tell these ghosts to shut up?!? I can't sleep!" I replied with a sigh and said, "Only if you watch the original Ghost Busters." She then said, "Bob, c'mon, I need some advice." I hung up on her emidietly, and did some research. (On why the human species have to be so dramatic, not on the hotel.")Three nights later, Rifkah's son (Nathaniel not Damion) told me how Rifkah has been acting strangely, and if I knew anything about it. I explained how she wouldn't watch the original Ghost Busters, that seemed very strange to me. They told me that I knew something about the hotel. I lied and said, "no. I hate her and we don't talk to each other." I didn't think this threw, because they asked me "How did you know she hasn't watched the original Ghost Buster then?" I hung up on them emidietly and did some research (on why human beings have to be so judgmental) Thank you for your time. Best, Robert Lester Zyreppman
Sorry for my dreaded spelling
One day I was staying on the brown hotel and I was staying on the 9th floor it was about midnight and I went to go get a brink from one of the vending machines. As I walked down the hall it felt like the hall was getting longer and longer. When I got to the vending machines I started hearing this wispering it sounded like a toddler I backed away from the machine and it stoped went back and it started again it was really weird because there are no rooms near it and no one was walking around. So I was pretty scared so I ran back to my hotel room locked the door and sat on my bed then I heard this tapping on my door so i found enough courage to go look out the peep hole and I wish I didn't I was what looked like a toddler wearing tourn up clothes.
I came here on a work trip and had no knowledge of the history of the hotel or the owner. I arrived Monday and was woken by at terrible nightmare. I woke up crying and drenched in sweat. I checked the clock to see what time it was and saw it was 3:00am I went back to sleep and didn't think anything of it. Tuesday at lunch my coworker who also stayed in the same hotel on a different floor told me she also had a terrible nightmare and she woke up at 3:00 am. Today is the last day of the trip and I had another nightmare last night that was so real it felt like it was being bitten on my left hand. I woke up checked the time and the clock said 3:12am I am so glad to be leaving here and am curious if my coworker had any nightmares last night again. Needless to say I never went back to sleep and am anxiously awaiting the car to pick us up and take us out of here.
I hate paranormal activity but I seem to attract it. I stayed in room 1239 and heard running in the hallways of 13th floor which I'm told no one stays there. Then one of my chairs picked up in the corner. I never smelt cigar smoke but it was musty smell and bone chilling cold. I didn't sleep all night but had to get ready for work. I just said, Me Brown I'm very cold and need to start getting dressed for work. I haven't slept all night and I really wish you would warm up my room. I've had a hard life, I miss my twin since they passed, I'm finically broken, and I'm hurting from my brain surgeries and neck surgeries so could you please make sure my room is warm before I get out of the shower?? It was as warm as it's ever been in that room during my stay. I don't think they mean any harm but I'm afraid of stuff like this.
Share Your Comments Cancel comment
Your email address will not be published. Required fields are marked *
Your Comments Have a photograph taken from this location? Use the "Browse" or "Choose File" button below to select an image to upload along with your comment.
Disclaimer: The stories posted here are user-submitted and are, in the nature of "ghost stories," largely unverifiable. HauntedPlaces.org makes no claims that any of the statements posted here are factually accurate. The vast majority of information provided on this web site is anecdotal, and as such, should be viewed in the same light as local folklore and urban legends.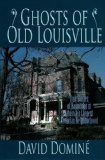 Witchery Art: A Gothic Cabinet of Curiosities and Mysteries
A collection of gothic horror stories, urban legends, ghosts, haunted houses & other curiosities
The haunted Brown Hotel and Theater in Louisville, Kentucky plays host to ghosts, monsters and Blue Oyster Cult
Featured articles (Footer) , Haunted Hotels and B&Bs , Journal , Ohio River Valley , Pubs and Taverns , The South / December 18, 2021 by Todd Atteberry / Leave a Comment
Sitting across the lobby of the Brown Hotel in Louisville, with his back to the wall sat a young man. He slouched in the overstuffed arm chair, looking up towards the balcony of the mezzanine. It was late in the afternoon, and he was killing time till showtime.
The Brown was born upscale in the roaring twenties, to compete with the Seelbach Hotel, just down the street, which was built with the grandeur of the Old World European hotels. The Brown Hotel, and its owner, James Graham Brown, had a tough row to hoe catching up with the Seelbach, which was almost twenty years its senior. It had even been immortalized in F. Scott Fitzgerald's The Great Gatsby .
Living in Great Neck, where Fitzgerald had lived when he started the novel, and based much of it on, the Seelbach might have been a better choice for the young man. Or maybe not, as his tastes ran towards science fiction and the bizarre. And this afternoon, this place was getting its weird on.
Curly haired, decked out in black and still wearing his shades, he recognized the face of the man looking down from the mezzanine. It was plastered all over the hotel. He slid out of his chair and made his way serpentine to the stairs. The gothic cabinet on the landing loomed above him, its carved wooden jesters catching the setting sun, laughing at him, making him question, rightly, his sanity.
At the top of the stairs he was met with a rush of activity. A bridal party was rushing by, elegant and at a great expense. The ceremony was over, the bride and groom were on the way to the Brown for the reception and the guests were streaming in. The young man from Long Island crossed over to the railing, just down from where he'd seen the old man.
He looked out across the lobby. It was all hustle and bustle and no one even noticed the bizarre symbol emblazoned on his chest. Or how when he turned his wrist just the right direction and it caught the sun from the windows, a thin beam of light scanned across the room.
Looking to his left, jutting out from behind one of the columns, he saw a cigar glow, as the owner took a puff. For a moment he caught the profile of the face, and it was James Graham Brown, the man who built the Brown Hotel.
Eric Bloom, of the band Blue Oyster Cult moved from his spot by the the railing to see for himself, face to face, a man dead for over fifty years.
But there was no one there, just an empty space and the smell of a cigar. He looked down into the lobby and into his own eyes, still wearing the shades, but now 77 years old, and staring up at the cartoon character of his younger self, slouching in that overstuffed chair.
Stoned in the lobby of the Brown Hotel
I was dreaming up both characters, sitting in the lobby of the Brown hotel, waiting for Lisa to finish dressing, soaking up the atmosphere. The ghost story has been repeated many times … the old man looking out over the lobby, the smell of a cigar being the only trace when you look for him.
Eric Bloom was on my mind as we were in Louisville to see Blue Oyster Cult at the Brown Theater later that night.
I was sitting across from what appeared to be one of the original check in windows. The setting sun shone on its metal bars, and for instant I realized that this same moment had existed now for about a hundred years. Light from that same sun came through the same window and struck that same piece of steel, day after day.
That's probably when I realized the gummy had kicked in. A bit later, my stoned reverie on Old Louisville ghosts and rock stars was broken as Lisa came down, and we set off in search for food. They serve food in the lobby, but there was a Sicilian joint down the street. We could drink the difference in price.
It was warm for December, and walking with Lisa in downtown Louisville was downright romantic. It was a different world for us. There were young people everywhere, swarming the place. And by young, I mean teen and preteen, dressed to the nines and my mind boggled. I came from an era where in high school the biggest decision you had to make was which band band t-shirt to wear?
And as often as any, that was Blue Oyster Cult.
The dark stain on the Brown Hotel in the fight for racial equality in downtown Louisville of the 20th century
As in most horror stories, the true evil lies within people's hearts while they were alive.
James Graham Brown was born in 1881 in Indiana. He moved to Louisville in 1903 and started a lumber company with his father and brother. But he quickly moved into commercial real estate buildings in the downtown areas. He seems to have eschewed romantic love and raising a family himself, being single minded in creating a vibrant, and architecturally stunning downtown Louisville. Starting with the Brown Hotel and Theater.
But sadly, only for the whites. In the late fifties, as Louisville was moving towards desegregation, he dug in his heels. He did allow black school children to attend performances of The Ten Commandments at the Brown Theater, but refused any other black patrons at any other time.
During a performance of Porgy and Bess on Christmas of 1959, black ticket holders weren't allowed into the theater. Even though the play was performed by an all black cast.
This seems to have been one of the straws that led to the camel's back crumbling, as sit-ins and other demonstrations were held outside the hotel and theater, and spread downtown. These went on for the next three years and the town's reputation was being tarnished. More residents were arrested for protesting segregation in Louisville than in any other American city. A " Buy Nothing For Easter " campaign attracted 75,000 signatures, and the turmoil was taking a heavy economic toll.
And yet Brown refused to allow entry to blacks until the city council changed the laws in 1963, banning segregation. Louisville became the first city south of the Mason-Dixon line to ban segregated accommodation. And Brown fought it as long as he could.
You can excuse him by saying he was a product of his time. But in reality, he was worse than his time.
There's a life size bronze cast of Brown walking his dog outside of the Brown Hotel. He looks more rotund than in the photos that are still visible inside the Hotel. Brown lived in a penthouse suite on the top floor. It's now off limits, and on the floor below, some guests have complained of the noisy footsteps coming from above. When told no one is in the room above, they ask for a new room on a different floor.
Down the street there's a marker, remembering the protests over desegregation, but no mention on it of the protests at the Brown Hotel. James Graham Brown is a name that still has power in Louisville. With no heirs, his fortune, which was extensive, went to his foundation . It's done an amazing job of improving life in Louisville, for people of all races.
That's one thing I've learned … Even good people do monstrous things from time to time. And even monsters are capable of doing good.
Monsters on the prowl in downtown Louisville, waiting for our appointment with Blue Oyster Cult
Blue Oyster Cult redefined what a monster was in the 1970s. They came along as I was transitioning from adolescent to teenager, and got under my skin. I had been a horror film nut, was well acquainted with science fiction as well, and their lyrics alluded to that sort of thing, albeit obliquely.
It's how they became the thinking person's hard rock band. Even if the thinkers were mainly teenagers. They were marketed as the American answer to Black Sabbath. A horror film injected into rock and roll. Blue Oyster Cult created new monsters, replacing wolf men, the reanimated dead and vampires with the new ones … bikers, murderous drug dealers and junkies. People with death in their eyes.
And surprisingly, for a while, had hit singles. Here in the midwest, in the seventies and eighties we had a sweet tooth for hard rock. Blue Oyster Cult was already headlining coliseums without a hit single. Then Don't Fear the Reaper came along and blew things sky high.
We were monsters back then. Probably not nearly as bad as we remember, or for some, maybe even worse, but life felt dangerous, and this was the soundtrack to that era.
As we walked back to the Brown Hotel, I began to see the other monsters. Some were in t-shirts with the BOC logo, easy to identify.
At the Rabbit Hole Bar inside The Brown, they were better dressed, but still unmistakable. The overheard conversations from this upscale crowd were more like dissertations on who were the best bands of the seventies and why.
Drinking above our station in the lobby of the Brown Hotel
Louisville feels like New Orlean's midwestern cousin. Particularly in the summer, you can feel the river here. There are gothic neighborhoods, blocks of bars and restaurants popping up all over the city. It's an old town, with all the old problems we've never dealt with, like poverty, crime and racial divisions. And walking into the Brown Hotel, no matter how you try to justify it to yourself, is stepping into that old, genteel world.
It was rowdier than we imagined it then, and still is now.
The Brown Hotel is a swanky joint, no doubt. You can tell by the price, and also by the fact that there's a telephone right next to the crapper. That's a dead giveaway that where you sit is intended to cradle the asses of people far more valuable than yourself. That makes doing your business there doubly satisfying.
The lobby was a maelstrom of activity. The wedding guests were decked out in tuxedos, giving that touch of high end charm that a place like the Brown Hotel lobby needs to get the full effect. Over to one side, huddled around a TV was a circle jerk of men, watching a college football game. Their wives sat on the couch, wishing their husbands showed as much enthusiasm for their orgasms as they do for a touchdown.
I'd stood out on the street after the sun went down, having a smoke before the concert. When I first saw the band forty years ago, the question was how to smuggle your weed into the venue. Now it's where can you find a place to smoke it before you go in, when you gave up your car for valet parking.
Just down from valet parking was a bush, dim lighting – obviously designed for discreet pot smoking. While I stood there, I heard pounding feet coming towards me. I saw a young girl, maybe thirteen years old, dressed to the nines, her entire top half glittering with blue sequins, running down the sidewalk. Tears were pouring down her face. She didn't fit in with the perfect teens we'd been meeting earlier, no matter how shiny she was.
Above me, red and green lights signaled the oncoming train we call Christmas, adding another element of fervor inside.
The girl came back around the corner of the hotel, still crying, but texting now. She's learning about monsters too, just monsters of a different generation. I'm so old now I'm not even sure I recognize the new ones.
Blue Oyster Cult turns the Brown Hotel's decor from art deco gold to a gothic red and black
Inside the Brown Theater, we were in the balcony, the front row looking out. It's an old world theater, based on the Music Box Theater in New York City. It could work as a Blue Oyster Cult album cover.
The first time I saw the band was in a stadium in 1981, the last year they had a hit. The last time we bumped paths was about eight years ago, in a small town in southern Illinois, whose entire population you could have squeezed into that stadium.
Blue Oyster Cult draws great crowds at events like that. And there's the dichotomy with the band. They can play a bike rally as easily as the Brown Theater. It's a result of singing about the outlaws of society. You develop an audience of outlaws. That they're still drawing crowds fifty years later means that concept has legs.
For me, what the band truly excelled at was what they did right out of the box, creating an atmosphere. That was what made the Hammer horror films, those with Peter Cushing and Christopher Lee so perfect. It was the mood those films set that was truly supernatural.
BOC could take concepts and lyrics – often donated from others, and put them to music in ways which accentuated the diabolical, and made it sound romantic. No other group could play straight rock and roll and make it lock together like a Bach quintet.
It's that ornate edge, that air of the gothic that created a mystique around them, that makes playing on gilded stages oddly appropriate. But senior citizens are seldom gothic icons, unless you're Vincent Price. And so far, no rocker has managed to quite pull that transformation off.
In concert, Blue Oyster Cult is consistently great
I don't write concert reviews. They're like YouTube videos shot on someone's phone at a show. If you watch those, you'd likely to think Eric Bloom's voice is as much a part of history as his laser wristband. But the sound at concerts aren't mixed to sound good on phones. In concert, his voice sounded fine. He didn't sound like he was in his twenties, but his snarl was intact.
Buck Dharma wrote the hits, starting with Don't Fear the Reaper . But he's admittedly, more into creating pop songs, though occasional gothic jewels that invoke the full moon still pops out. He's a bit younger than Eric at 73, and his talents haven't diminished much. Of the guitar gods, he's likely the most melodic.
You could make the point about how amazing it is that people of that age can still play music with that edge. But that's insulting. It's not like Mick Jagger getting more positive reviews for his stamina in prancing on the stage than his singing. These guys still do their job.
It's Eric Bloom's songs that gave Blue Oyster Cult its gravely feel, something that's carried on even to their latest album, The Symbol Remains . It's not a bad album, but I still couldn't help but feel, the only songs that really felt to me like Blue Oyster Cult were the Bloom songs.
It took twenty years for this album to appear. I hope it's not their last. So far, no group, particularly hard rock groups have brought it full circle, returning to the beginning, but seen through the eyes of someone half a century older. They're one of those groups which could surprise you and do it.
It was when I was looking around, tracing the lines of the architecture to a soundtrack of Blue Oyster Cult that I got it. Their music creates aural spaces, and sometimes you find yourself in one of those spaces, with the song that fits it. I still miss the voices from the classic lineup that have fallen away. Those voices created spaces which the band can't go to now. But the tightness of the current band just about makes up for it.
And when you close your eyes, Blue Oyster Cult sounds better than ever.
Back in the lobby of the Brown Hotel, where people are behaving like dogs
In retrospect, we should have just went back to the room after the show. It was the first time I'd broken city limits for an overnighter in over a year. We were celebrating our anniversary after all.
But there were a couple empty seats at the Rabbit Hole bar, so we took them. By now the place was filled with the bleary eyed, and at times, the plastered. You know a gaggle of women are blotto when they all want a cigarette, and none of then have smoked for years. It's a sign of the times when no one at the bar was able to help them.
The music from the ballroom was providing a steady thump on the ceiling. Play That Funky Music White Boy . I scanned the mezzanine for James Graham Brown, certain this would be enough to call him to his post. But he didn't show.
I opted for safe choices at the bar with a couple bourbons from the Bulleit family, and a couple Falls City English Style Pale Ales. A can of Falls City cost eight bucks. My Granny Bert drank Falls City, and would have turned over in her grave at that price.
Lisa went exotic, with a Mojito and Long Island Ice Tea. Our bar tab could have bought us a room in many places, but it was worth it. Sometimes you have to sit in a swanky bar, just like you have to sit in dive bars. When the bar has a ghost, and down here even the Bulleit family who made the bourbon has one, it's worth the tab.
By the time we started up the elevator, the hotel was feeling like the Overlook Hotel from The Shining . Instead of two bloodied girls in the elevator, it was a family from Louisiana, who had brought their young son up to see the concert. The father's favorite song of the night was (Then Came) The Last Days of May , a song about a murderous drug deal. The boy just looked a bit stunned.
Lisa went on to the room. I stopped at the coke machine next to our room. It took credit cards, and I was fumbling by this point. The room across the hall, filled with drunken young wedding guests seemed to have their TV up loud, which made me jittery. The ice machine was humming. The coke machine was beeping and rejecting my advances. I was growing frustrated. The TV behind me grew louder. I heard a woman crying out, arguing, a man yelling "you think that hurt," followed by a pounding, three times on the wall. That jerked me back into reality, for it was when I heard the sound of the wall being hit that I realized the voices weren't from a TV.
Then all was silent, except for the humming of the ice machine. I stood there a minute, listening. Nothing. I went over to their door and listened, nothing.
I got Lisa, told her what happened and drug her out into the hall. Still silence, and I began to wonder if I imagined it all. I thought about it, then called the front desk. It's one thing hearing a fight. It's another when the fight abruptly goes silent.
A bit later security is knocking on their door, I'm watching through the keyhole. There's evidently two young ladies sharing this room, the young man isn't supposed to be in there, the girls are begging the hotel detective not to throw him out. They were hysterical, the young man was silent and finally it grew quiet, the hotel dick left and by then Lisa and I were exhausted.
Fitful dreams and farewell to Louisville
I didn't sleep well. I had that weird feeling I've gotten when staying in places which were truly haunted. In those cases I can usually point to something strange happening, but not here.
The Brown Hotel is a haunting place. It's a space carved out of the humid Louisville atmosphere, gilded and made to feel like you're in another land altogether. It's no wonder the building itself seeps into your subconscious. That was the idea behind the designers.
The same can be said for the body of work created by Blue Oyster Cult. They created structures in sound, spaces inside the mind. Once you've been there, it's easy to find your way back.
In the end, the Brown Hotel is a living hotel. People are always passing by. The lobby can be full of people dining, some of the most well-heeled folks I've ever seen. You might share the Mezzanine and hallways with staggering guests. But in this case at least, you couldn't blame it on the band.
For Blue Oyster Cult fans are after all, blue blooded.
https://www.brownhotel.com
You might find these interesting
Beach at Eaton's Neck, Long Island, encased in ice, where the song Astronomy came together…
Colonial Era Taverns: Side View, Old Talbott Tavern, c. 1779, Bardstown, Nelson County, Kentucky It…
Old County Jail, The Jailer's Inn Bed and Breakfast, c. 1819, Bardstown, Nelson County, Kentucky…
The Union Station Hotel in Nashville is a non-smoking hotel, and the lady needed a…
About the author and artist
The haunted, macabre, the downright peculiar ….the curiously gothic world of todd atteberry.
Gothic horror stories, haunted travelogues, a healthy dose of witchcraft, paganism, stone circles and ancient trackways.
Reader Interactions
Leave a reply cancel reply.
Your email address will not be published. Required fields are marked *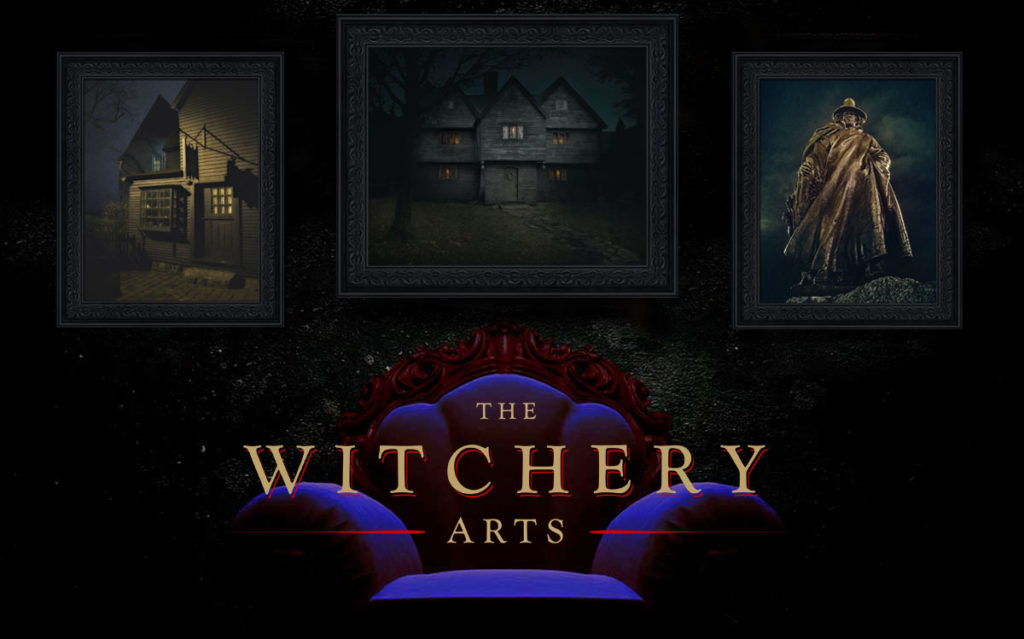 Want curiosities in your inbox?
Sign up to receive emails from A Gothic Curiosity Cabinet.
These 8 Haunted Places In Louisville Will Send Chills Down Your Spine
Meg Archer is an Editor & Newsletter Editor who has called Oregon home for nearly 30 years. She spent her childhood exploring the mountains, forests, and high desert of Central Oregon before relocating to Portland after a brief stint out-of-state for college. She holds an B.A. in English from Cal Poly-San Luis Obispo and a B.S. in Psychology from Portland State University. Meg has worked in writing, editing, and media-related fields for over 10 years and joined the team at OnlyInYourState in 2015. When she's not writing or exploring the West Coast, Meg enjoys playing tabletop games, working on visual media projects, and can always be found in the front row at Portland Timbers matches.
More by this Author
Even if you don't believe in ghosts, ghost stories are pretty fun. Most local legends arise from historical events based on truth, so even if the spirits of the past aren't actually out a-haunting, you can still learn a thing or two from the tall tales. If there's one thing this city has plenty of, it's history, so there are more than a few spooky stories of haunted places in Louisville. Here are eight of the most haunted places in Kentucky – more specifically, Louisville –  that will send shivers down your spine!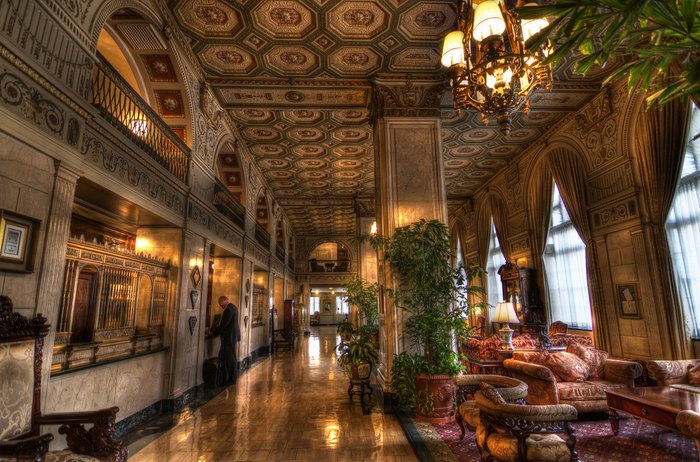 Related Stories
This Overnight Ghost Hunt In Louisville Is The Creepiest Thing You'll Ever Do
8 Disturbing Cemeteries Around Louisville That Will Give You Goosebumps
The Swimming Hole Near Louisville That Will Make Your Summer Epic
Although some of these stories are pretty sad, it seems like many of Louisville's most famous ghosts aren't out to hurt you. Whether the spirits are trapped here or just never left, we're glad they aren't causing trouble. If you are still unconvinced of their presence or just want to gather up some evidence on your own, you are welcome to visit these eight spots around the city – just don't forget to report back to us if you have any unique experiences! What are your favorite haunted places in Louisville?
OnlyInYourState may earn compensation through affiliate links in this article.
More to Explore
Haunted places in louisville.
What are some fun, scary places to go in Kentucky?   
Some people seem to think there's nothing fun to do in Kentucky, but we strongly disagree. Turns out, there are all kinds of fun things to do in Kentucky , especially if you're a fan of the spooky and unusual. We have some favorite spooky places in Kentucky to share in the Louisville area! Some of the best scary places to go in Louisville include our totally epic and unusual haunted places, like the Waverly Hills Tuberculosis Sanitarium. It's among the most haunted places in the United States and might be THE single most haunted place in Kentucky. Another Louisville-area scary spot is actually a bar: Bob Mackey's Music World used to be a slaughterhouse, and there have been many reports of eerie goings-on.   
Are there any haunted houses in Louisville?   
Louisville is home to lots of spooky, allegedly haunted places, much like the rest of Kentucky. One of our favorite haunted attractions in Louisville is the spine-tingling Grim Trails, which is a haunted attraction based on medieval legends and fairy tales – with a dark twist. We also really enjoy The Devil's Attic, which is one of the top rated haunts in the Louisville area, and The American Horrorplex is another award-winning Louisville haunt that's sure to chill you AND thrill you.  
What are some spooky Louisville ghost stories?  
Louisville is one of those places where it seems like ghosts are lurking everywhere. There are lots of unsettling Louisville ghost stories to sift through, like the one about the Lady in White at the Peterson-Dumesnil House, who is a benevolent and kind spirit said to help lost children find their parents. There's a mansion in old Louisville called the Pink Palace that's known for its paranormal activity; once a gentleman's club and casino, it's now a hub of spooky activity, but once again – it seems to be a benevolent spirit, whom they've lovingly named "Avery". There is no shortage of haunted spots in Louisville ; this is just a couple of the many!   
Related Articles
10 Gorgeous Lakes To Visit Around Louisville This Summer
Some People Don't Know That Louisville Was The First To Do These 12 Things
These 9 Amazing Camping Spots Around Louisville Are An Absolute Must See
Everyone In Louisville Should Visit This Epic Flea Market At Least Once
16 Unique Gift Ideas For The Family Travelers In Your Life
12 Unique Gift Ideas For The Beach Lover In Your Life
12 Unique Gift Ideas For The Budget Traveler In Your Life
14 Unique Gift Ideas For The Frequent Flyer In Your Life
Advertisement

The Brown Hotel - Real Haunt in Louisville KY
335 W. Broadway
Louisville, KY
(502) 583-1234

Louisville Palace Theater 0.1 miles away
The Seelbach Hilton Louisville 0.3 miles away
Old Louisville 0.9 miles away
Belle of Louisville 0.9 miles away
Lady of the Stairs - First Church of Christ Scientist 1.0 miles away
Phoenix Hill Tavern 1.6 miles away
[starting address]
335 W. Broadway, Louisville, KY, 40202

Recently Shared Experiences & Comments
Awesome stay.
Bed was perfect, breakfast was even better. 11/10 stay. Highly recommend. Also, the staff were great and patient, but also the architecture was just beautiful! But, I felt cold in spots. Paranormal? I think so. But to me, that makes it all the more better!! Would come back.

1 out of 1 found this review helpful
Headline: Do not use all capital letters. No profanity.
Details: Tell Us About Your Experience(s) at The Brown Hotel. Be specific.
Email Address: Administrative use only. Will NOT be displayed
Did You Have a Paranormal Experience? Yes No Not Sure
Have You Been To This Haunt? Yes No Not Sure
Would you recommended to a friend? Yes No Not Sure
Contact Phone #: (502) 583-1234
Visitors to this page: 6,800 Clicks to Website: 297 Last edit to this listing: 4/28/2017 (2364 days ago)

Things to Do
Restaurants
Holiday Rentals
Travel Stories
Add a Place
Travel Forum
Travel Guides
Travellers' Choice
Help Centre
The Haunted Hotel - Review of The Brown Hotel
United States
Kentucky (KY)
Louisville
Louisville Hotels
The Brown Hotel
The Haunted Hotel
I joke about the Haunted Hotel, but I love the stories that goes with this place. Great service and great food. Rooms are "roomy". Single cup coffee in the rooms are good, good local beer and bourbon at the bar. Good fitness center. This hotel is located next to some great restaurants, bowling, bars and breweries. @runforbeer More
Dear Eddie, Delighted to read a very positive review from a well traveled guest. Thank you for mentioning our large guest rooms and location perfect for visiting the many sites of Louisville. Hope to see you again in the near future. Regards, Brad Walker Vice President & General Manager [email protected]
Excellent service for our meeting of 160 people! The staff was great to work with from the beginning to end. Great location downtown in walking distance of many great restaurants and night life. Would be great for personal or business.
Exceptional staff from the Valet, Front Desk, Gift Shop, Dining, Managers. The Suite was fantastic. Our Anniversary getaway was tremendous because of the staff and the terrific hotel. We dined in the hotel English Grille for dinner and enjoyed a marvelous 4 course meal; very attentive and professional service staff. Beautiful hotel. Thank you.
Dear Guest, Thank you for selecting us for your very important day. Pleased to read that you enjoyed our staff all over the hotel. The English Grill is a wonderful place to celebrate a special occasion. We hope to have you back with us on a future anniversary. Regards, Brad Walker Vice President & General Manager [email protected]
The check-in process was not only welcoming but efficient. I received a call from the front desk within a half hour asking if I found everything satisfactory. Everything was most satisfactory, but I could not find my cell phone charger. I was told someone would bring one to me to use during my stay. I found the charger but was so grateful, had I not found it, that this would be available to me. The service was outstanding, the room spacious and clean and I could not have been happier during my 5 day, 4 night stay at The Brown Hotel I highly recommend this property.
Dear Anita, Thank you for your thoughts - always great to hear "among the best." We look forward to having you back with us. Regards, Brad Walker Vice President & General Manager [email protected]
Our dinner group decided to take a short trip to The Brown. There were 10 in our group and everyone felt the same, it was great. The staff were friendly and very helpful. Our rooms were large and very clean. I would stay there again.
I have always wanted to stay here. Finally got my chance! Loved walking around looking at the furniture. One of the main things we did the first night was to have the Hot Brown. This is where the Hot Brown originated. Being born and raised in Kentucky, I have had a few hot browns. OMG! The hot brown at The Brown is the best of the best! A must have if you stay here. It is a easy walk over to 4th Street Live. The check-in staff were wonderful. Our room faced in the direction where when the drapes were open and lights were out we could see the lights of the planes coming into the airport. (It's the little things). We are definitely coming back - if not to spend the night - to eat the hot brown!!
Ghost Hunt Gift Cards
Kentucky's Haunted Hotels
Haunted Lexington, KY
Louisville KY's Haunted Hotels
Search for:
No products in the cart.
Most Haunted Places in Louisville, KY
The history books would have you believe that Louisville KY, is simply a fairly young river town that was founded by George Rogers Clark. Before going on to game fame for the Derby. However, what they certainly will not tell you is that there is a much darker side to this city. Louisville has more than its fair share of creepy tales to tell!
Let's take a closer look at some of the most haunted places in Louisville, KY:
10 - The Brennan House
The Brennan House is a 3 story Victorian style residence, that was built in 1868 for Thomas and Anna Brennan and their family of 8 children.
This was their dream home and they cared very deeply for it – both in life and after their death! Visitors have reported seeing a number of different apparitions around the house and it is common for the spirits to manifest in photographs taken on the property.
Two of the Brennan girls, Beulah and Mae were musically talented and they have been known to entertain visitors with piano and violin music. Meanwhile, Dr. John Brennan, one of the sons, makes his presence know via the smell of his cigar smoke!
Several visitors have also captured a face in their photographs which looks a great deal like Mr Thomas Brennan himself.
9 – The Brown Hotel BOOK NOW
The Brown Hotel is an impressive building that spans 16 storys and boasts a total of 293 rooms. It was built in 1923 by J.Graham Brown, who also lived in the penthouse suite of the hotel right up until his death in 1969.
In life, Mr Brown believed in offering the very best in customer service and it seems that he has not given up that ideal even following his death!
It is very common for Mr Brown's spirit, to make an appearance during busy times at the hotel including Derby week and during receptions or conventions being held at the hotel.
His apparition usually appears standing in what was his favourite spot, under the arch on the mezzanine, where he is able to survey the hotel ensuring that guests have everything they need.
A number of staff say that they have locked eyes with the ghost at which point he may or may not nod his approval before vanishing leaving behind, the faint smell of his favourite cigars!
8 – First Church of Christ Scientist
The First Church of Christ Scientist, is home to a pretty famous apparition that has come to be known as 'The Lady of The Stairs'.
Those who have seen her describe her as a beautiful young woman. Who is dressed in a white gown and a grey silk shawl. She is usually seen pacing around in a nervous fashion and is often said to appear distraught.
Some witnesses have even heard her crying. It is believed that she is so upset due to a tragic misunderstanding regarding her fiancé.
The pair were said to have planned to elope during the flu epidemic of 1918-19, but he never showed up to meet her.
The girl waited for hours in the cold night air and ironically ended up contracting the flu. Completely unbeknownst to her, the reason her love did not arrive at the designated meeting spot, was that he too had contracted the deadly flu virus and was unable to come to her.
Within three days both of them were dead.
The lady is said to remain at the church, still waiting on the arrival of her sweetheart.
7 – Seelbach Hilton Hotel STAY HERE
The Seelbach Hilton is probably one of the most luxurious hotels in Louisville. It also happens to be one of the most haunted!
The hotel dates back to around 1903 and over the years staff members and guests alike, have encountered a variety of paranormal activity.
One of the most common reports, is of televisions turning on at full volume, at exactly 4am and also the sound of running footsteps when nobody is there!
However, the most well known spirit that is said to remain in residence at the Seelbach Hotel is 'The Lady in Blue'.
There are a number of variations of her story and it is not clear which one is most accurate. But the key points that most people agree on are that her name is Patricia Wilson and that she fell to her death in one of the hotel's elevator shafts.
Depending on which version of the story you choose to believe she may have been pushed, fallen by accident or taken her own life.
Those who have seen The Lady in Blue describe Patricia as a pretty lady with long dark hair and a beautiful blue dress.
She is most often spotted on the eighth floor and close to the mezzanine elevators.
Learn more about the haunted Seelbach Hilton Hotel, Kentucky
6 – The Belle of Louisville
One of the most haunted places in Louisville KY is the Belle of Louisville, a well known steamboat that is considered to be one of the city's crowning jewels.
The ship was previously known as the Idlewind and during World War II, Captain Ben Winters apparently decided to install some gaming tables and slot machines on the ship.
However, it was soon raided by authorities and the Captain suffered a heart attack during it. He passed away in his cabin, but according to employees and visitors he certainly did not leave!
A number of strange occurrences have been reported in the years since his death. Including the main wheel in the pilot house moving on its own. Despite the bridge being locked down and several crew members have seen the Captain in his dress uniform around the ship.
Captain Winters is by no means the only spirit haunting The Belle of Louisville.
There are also reports of a deckhand named Floyd hanging around. Floyd was crushed to death by one of the pitman arms that controls the paddle wheel and ever since the crew say that they can hear Floyd whistling a jaunty tune, just like he was known to do when alive!
5 – Cave Hill Cemetery
Louisville's Cave Hill Cemetery, is the largest Victorian era cemetery, in the United States that remains in a good state of repair.
It was established in 1848 and among those buried there are the earthly remains of both Union and Confederate soldiers.
The cemetery is also considered to be one of the most haunted places in Louisville, KY.
Among the reports of paranormal activity linked to this particular burial ground are sudden blasts of icy cold air, unexplained light anomalies and disembodied whispers when nobody else is around.
Most witnesses who have braved the cemetery at night describe a floating green light, flitting around between the headstones and others say that they have heard a number of strange noises, including what sounds like headstones being knocked over!
4 – Louisville Palace Theatre
When it was originally built back in 1928, Louisville Palace Theatre was known as the Lowes Theatre. These days it is considered to be one of the most haunted places in Louisville KY.
There are a number of different spirits who are said to call Louisville Palace Theatre home. Including a faceless woman in forties attire, a man in thirties style dress and a small giggling child.
However, the most well known spirit that haunts the Louisville Palace Theatre is Fred, the former chief engineer from back when the theatre was known as Lowes. In 1965 he actually died of a massive heart attack in the basement of the theatre, where he had been working for nearly 40 years.
He is seen all over the building dressed in his uniform and a flat top hat. Those who have seen the apparition have confirmed, via photos of the man during his life, that this is indeed Fred Frisch.
He is most often encountered making his rounds in the evenings. Though on one occasion during renovation work, he apparently saved a construction worker's life by waking him up, just before he fell from the scaffolding where he was napping!
3 – Phoenix Hill Tavern
The Phoenix Hill Tavern is another one of the haunted hotspots that Louisville has to offer.
Staff have reported hearing the sound of someone walking down the stairs and footsteps traveling across the floor when nobody is there.
There are also frequent cold spots and staff have frequently noticed strange white flashes in the mirrors!
Perhaps the most compelling reports of paranormal activity, coming out of the Phoenix Hill Tavern is that objects regularly move by themselves or disappear completely!
2 – Old Louisville
Old Louisville is one of the city's most historic districts. This Victorian suburb was built in the 1870s, and it is one of the largest preservation districts in the United States.
It is a beautiful area to visit, but during the tuberculosis epidemic a large number of residents died and many of the homes were burned to prevent the spread of the disease.
That probably explains why so many spirits are seen wandering around the area day and night.
Local police say they have lost count of the number of times they have been called to investigate intruders, seen wandering into houses dressed in Victorian clothing!
1 – Waverly Hills Sanitorium
If you have any kind of interest in the paranormal then you probably know all about Waverly Hills Sanitorium. It is probably one of the most famous haunted buildings in the entire United States, so of course it tops our list of the most haunted places in Louisville KY!
The former tuberculosis hospital has seen thousands of deaths (an estimated 63,000) over the years and has been featured on just about every paranormal themed television show there is!
Ghostly figures, disembodied screams and other unexplained noises have been reported in just about every inch of this hospital.
Of all the paranormal hotspots in the building, the main focal point seems to be the so called 'Death Tunnel', which was used to transport the dead bodies out of the hospital.
Other well known spots include room number 502, which is where a pregnant nurse took her own life and still haunts the building, and there is also a little boy named Timmy who will frequently play with balls and other toys that visitors bring for him.
Learn more about the haunted Waverly Hills Sanatorium
Related Articles
Haunted hotels in lousville, ky.
You've exhausted all your local Louisville haunted houses, attractions, and ghost tours, but you still have a thirst for experiencing something paranormal… Spending the night in one of Louisville's most haunted hotels could be just the treat! Be a brave soul and ask for the most haunted room!
Learn about Louisville's Haunted Hotels
Username or email address *
Password *
Remember me Log in
Lost your password?
KY Spotlight
Your go-to guide for everything kentucky, 7 haunted hotels in kentucky where you can spend the night this halloween.
You don't have to look far to find a Kentucky hotel with a ghost story. If you are looking for a creepy place to spend the night this Halloween, book one of these haunted hotels in Kentucky.
Maple Hill Manor: Springfield, KY
This 1851 Greek Revival is notably one of the best preserved pre-civil war era homes in the state. The home is beautifully restored and sits on a relaxing Alpaca and Llama farm. During the Perryville Battle of 1862, wounded soldiers were brought here where many died. It is said that you can still hear their footsteps roaming the halls.
Click here to book Maple Hill Manor on Expedia.com
The Campbell House: Lexington, KY
This historic hotel is a Lexington mainstay. The story goes that two women were violently murdered at the hotel and that the women still make their presence known today. People claim that a blood stain can sometimes be seen on the stairs where one of the women was stabbed and that the doors on the third floor often open and close by themselves. Click here to book The Campbell House on Expedia.com 
Boone Tavern Inn: Berea, KY
The Boone Tavern Inn in Berea is reputedly one of the most haunted hotels in Kentucky. Witnesses claim the basement of this century-old hotel frequently has paranormal occurrences that shock and surprise unsuspecting visitors.
Click here to book the Boone Tavern Inn on Expedia.com
Benham Schoolhouse Inn: Cumberland Kentucky
If you're looking for a unique accommodation option in Cumberland, or near Kingdom Come State Park, look no further than the Benham Schoolhouse Inn. Housed in a former secondary school, many remnants of the building's past remain. Along with numerous historic photos and original school lockers, guests claim to hear footsteps and children playing and report odd occurrences such as lights mysteriously turning on and off.
Click here to book the Benham Schoolhouse Inn .
Jailer's Inn B&B: Bardstown, Kentucky
This former jail is certainly in the running for the most haunted hotel in Kentucky. Complete with an upstairs dungeon that once held the most dangerous prisoners, it was used as a county jail for nearly 100 years until it was converted to a bed and breakfast in 1998. Guests claim some strange happenings here including unexplained music, sounds of babies crying, whispering and footsteps.
Click here to book the Jailer's Inn B&B on Expedia.com
The Brown Hotel: Louisville, Kentucky
Step back into Louisville's history during a stay at this 16-story, downtown property. The historic hotel open in 1923 and had 600 rooms. The hotel suffered financial hardship in the Depression and flooded in Louisville's 1937 flood and was eventually closed. It was used by the school district as its headquarters for several years until the city renovated it in the 1980s.  Nowadays the property has been returned to its former glory with just over 200 roomy and sophisticated rooms, an opulent lobby and a beautiful melding of both historic and modern features. The hotel was designed by J. Graham Belle who lived in the Penthouse until he died in 1969. Strange footprints, cigar smoke and other odd occurrences have led many to think he never left!
Click here to book The Brown Hotel on Expedia.com
Seelbach Hilton: Louisville, Kentucky
Yet another historic Louisville hotel with a ghost story, the Seelbach Hilton was built in 1905 and features beautiful, upscale rooms and suites with custom-designed furniture. The property is conveniently located a short walk from the Convention Center and just a few miles from Churchill Downs. Don't miss out on trying their 1920's-inspired restaurant, the Oak Room which turns out award-winning dishes year after year. The hotel is said to be haunted by a ghost known as 'The Blue Lady' or Patricia Wilson. Wilson committed suicide in the hotel by throwing herself down the elevator shaft following her husband's death. Since then guests have claimed to see her all over the hotel and have reported a host of other paranormal activities.
Click here to book the Seelbach Hilton on Expedia.com
View all posts
Subscribe to our newsletter and get fun events, things to do and places to see in Kentucky delivered straight to your inbox! 
Thanks, I'm not interested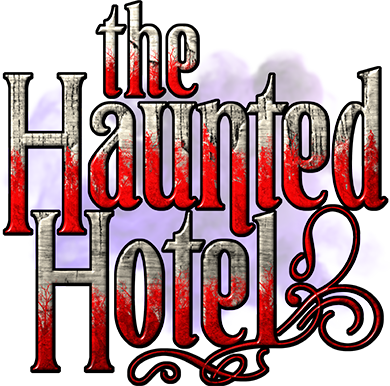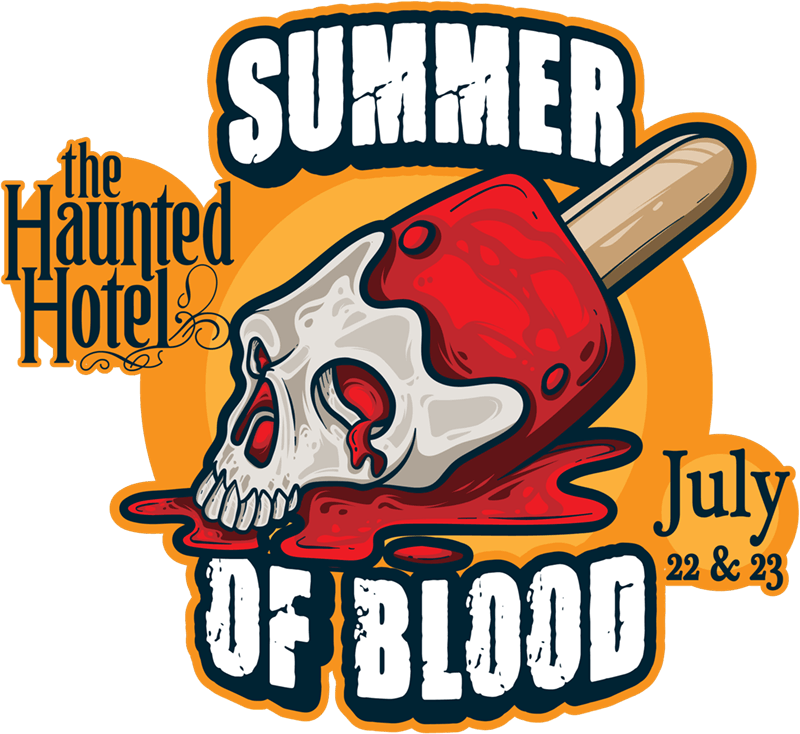 July 22 & 23, 9:00 pm - 12:00 am
"SUMMER OF BLOOD" INTERACTIVE HORROR EVENT!
The Haunted Hotel presents SUMMER OF BLOOD. Haunted Hotels gut wrenching in your face EXTREME SHOW!
Who will you encounter inside the dilapidated hotel? THERE WILL BE BLOOD! Leave your Sunday best at home and be ready for carnage. This is no ordinary event.
We call this a BLOOD SOAKER and you are the main event. You will encounter numerous areas of the Hotel that give you that extra Bloody Attention. Stay home if you are squeamish! Special T-shirts Available!
Don't miss out on this one-of-a-kind experience before we head into the Halloween Season!
CLICK HERE FOR BLOOD SOAKER T-SHIRT INFO
Purchase Tickets now!
Haunted Hotel is an Extreme, Interactive, and in-your-Face touch haunt!
Warnings & Disclaimers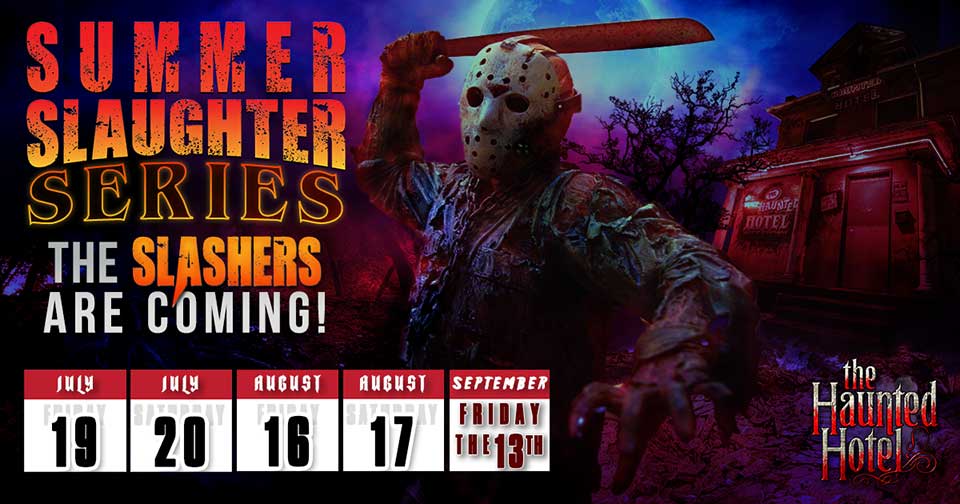 July 28 & 29, 2023, 9:00 pm - 12:00 am
Don't let the summer heat melt away at your love for all things halloween. come enjoy the summer screams at the haunted hotel as we transform the whole house to an 80s summer vibe., join us july 28th & 29th to get your halloween fix. come face to face with the classic serial killers and monsters from the big screens with summertime twist slap on your sunscreen and swim trunks because it's gonna be a scorcher, come see why the haunted hotel is "louisville 's longest standing and scariest halloween attraction.", the haunted hotel: we'll turn the light out for you, there are no limits in our haunted hotel., we've been featured on.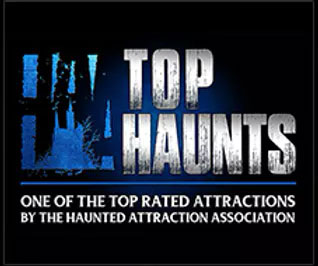 $25-$35 General Admission
+$15 Fast Pass
+$35 Front of the Line
CLICK HERE to find out more about how our Timed Ticketing System works!
Click for Details!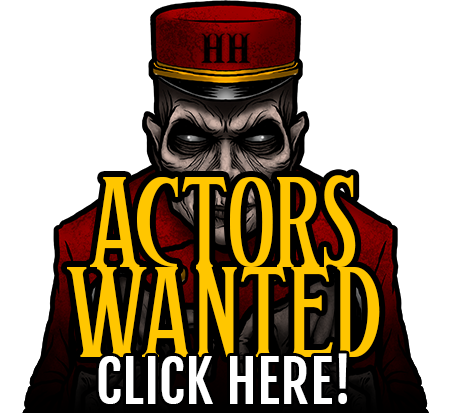 502-708-1983
Haunted Hotel is an Extreme Haunt
Touch haunt · no refunds.

The Brown Hotel
Review Highlights
" I am going to start off by saying the Hot Brown is one of the best things I have ever eaten in my entire life. " in 166 reviews
" We also had the Cheese Plate, Derby pie , Chocolate Striptease, Kentucky Mule and Ali's Smash - all firsts and all delicious. " in 30 reviews
" On a recent visit to Louisville, KY, my husband and I went to The Brown Hotel for an early dinner at the English Grill . " in 16 reviews
Show more review highlights
Location & Hours
335 W Broadway
Louisville, KY 40202
Fourth Street, Downtown
You Might Also Consider
Hilton Garden Inn Louisville Downtown
0.2 miles away from The Brown Hotel
Joan B. said "I recently had occasion to stay at this hotel because I was attending a wedding and they had reserved a block of rooms at a special rate for guests. I had never been to Louisville, KY, period, so it was such a blessing when the…" read more
Frazier History Museum
0.9 miles away from The Brown Hotel
Becky T. said "Great museum with engaging exhibits. This is also the official starting point for the Kentucky Bourbon Trail. We visited in late December and the holiday decorations were beautiful! There was a special exhibit about the White…" read more
in Museums, Venues & Event Spaces, Distilleries
Cleangoodeats Cooking Studio
Looking to embark on a culinary adventure? Look no further than Cleangoodeats Cooking Studio! Our veteran and minority-owned, family operated, farm-to-table cooking classes guarantee an unforgettable experience filled with fun,… read more
in Venues & Event Spaces, Cooking Classes, Caterers
Amenities and More
1 More Attribute
About the Business
A Louisville legend, The Brown Hotel located in downtown Louisville is beloved by generations of guests for its Georgian-Revival elegance and timeless Southern charm. Our luxury downtown Louisville hotel has a unique history and provides guests with a 21st-century style of hospitality, this landmark hotel at the corners of Fourth and Broadway blends breathtaking architectural features with the modern amenities and services today's most discerning travelers expect. From exquisite event space to the city's finest dining, The Brown Hotel infuses every experience with gentility and refinement. Enjoy a boutique hospitality experience in the heart of Louisville at The Brown Hotel. …
Ask the Community
Ask a question
What's the restaurant in the hotel called that has the hot brown that's supposed to be good?
The Lobby bar and grill has it
Is there aThanksgiving buffet this year?
Yes, we ate here last year. The food and service were excellent. They also allow a plate to go for leftover food.
Recommended Reviews
1 star rating Not good
2 star rating Could've been better
3 star rating OK
4 star rating Good
5 star rating Great
Select your rating
Overall rating
464 reviews
Nothing better than a Hot Brown at the home of...whenever in Louisville this is a must stop... food and service were 5Star
I stayed from 8/2-6. I stayed with a group that was paid for by the group and we submitted our credit cards for incidentals only. I was charged for the full cost of the reservation, a duplicate charge ($700 +). Despite being contacted both by the third party that paid for the reservation and myself, they have refused to take any corrective action and essentially hung up on me. I have had to move on to dispute the charge with my credit card company. While it is my inclination to be sympathetic with companies struggling during the pandemic, in light of this I would also highlight that the facilities look like they haven't been cleaned since the first lock down, the fitness center is dilapidated (and dirty) and they were closed for breakfast despite the website stating otherwise. It is a beautiful building and a great location - it is too bad the people there have gone out of their way to make it unpleasant. Our group travels to KY frequently and is unlikely to return to the Brown.
Came to visit from out of town. It was worth the stay. The room was very clean and comfortable. We had the king luxury and doing it for a few dollars cheaper on booking.com. The hotel gets crowded on during the weekend and so does the restaurant. It's a classy hotel with an older crowd and seems to have lots of guest from weddings and meeting events. Though small the workout room has everything needed. The hotel staff was friendly and attentive.
We had a late dinner and LOVED everything from the ambience with live piano music, got the hot brown and it was the best experience ever, it's a MUST! Also, enjoyed the Ali's Smash, reminded me of a mint julep but with pomegranate syrup, sooo good!
The Hot Brown
The outside of the hotel
Enjoyed a terrific stay at The Brown Hotel for a conference. My room was comfortable, quiet, and provided a great environment to work in between meetings. I enjoyed meeting a colleague for breakfast; breakfast was terrific.
So for those of you looking into Louisville I'm sure you've seen the hype about The Hot Brown. Please don't murder me for this but an open faced turkey sandwich smothered in a cheese sauce should not cost $25. I suggest if you want to try this unique dish to bring friends and split it. It was definitely tasty and filling but I don't think I'd ever order it again. We also ordered the lamb sliders and the lobster Mac and cheese. Would would have been happy with just these two... two people split this and it was more than plenty for us. The Mac and cheese had generous portions of lobster in it, could have been baked longer but that's just my own personal preference. The lamb sliders you only got two in an order, but they were delicious. Very flavorful and filling to be sure. Just an FYI the restaurant on the main floor closes early on Sunday's but if you go up stairs there is a bar right there you can order food at.
Iconic hotel downtown Louisville! Excellent food and service! Beautifully appointed decor. Restaurant manager very friendly and had a great convo about Pappy Van Winkle.
This bar serves the Hot Brown Sandwich featured in the New York Times, The Wall Street Journal, Southern Living Magazine, The Los Angeles Times, NBC's Today Show, ABC News with Diane Sawyer, and Travel Channel's Man v. Food. It's really a treat whenever I get to order this open faced sandwich. You definitely don't eat it like a sandwich though...it's definitely more like a casserole. Nothing beats having it late night, at the lobby bar with an Old Fashioned in your hand. I love the textures and richness in every bite. The crunch from the toasted bread meets the moist, roasted turkey breast and then is covered in the creamy, mornay sauce. You simply have to try it yourself at The Brown. The decor throughout the hotel is beautiful and intricate and they definitely do the Hot Brown sandwich right!
The Hot Brown Sandwich / Roasted Turkey Breast, Toast Points, Mornay Sauce, Pecorino Cheese Baked Gold Brown, Finished with Bacon and Tomato
I can't speak to the actual hotel experience, we stayed at a holiday inn express, but the hot brown "sandwich" was absolutely amazing. Cheesy, creamy, delicious heap of goodness which seemed pretty pricey at like $27 but was plenty to feed two people. We still think and talk about this dining experience often.
The Brown Hotel is great! I've never stayed at the hotel, so I can't review the rooms, or what any other aspect of staying there as an actual guest is like; however, I have attended many events here, and they've all been great. I have attended rooftop yoga, which is super fun and an awesome experience; Bourbon Women events, Louisville SWIG, and several other events. All of the event spaces I have seen have been beautiful and the hotel staff is always very attentive. I have also dined at J. Graham's Cafe and The English Grill, and both are great. Depending on the time you're dining, and of course what you order, they can be a bit pricey, but they're worth it. Overall, The Brown Hotel is a great spot to eat, grab a drink, attend an event, or just go take a look at the beautiful structure and see if you can sneak a peek at the city from the rooftop.
26 other reviews that are not currently recommended
Gardens at Ray Eden
13.5 miles away from The Brown Hotel
Raymond B. said "I had the opportunity to check out the Gardens at Ray-Eden as the best man for a wedding being held there. The site is on the outskirts of Louisville off the Gene Snyder. It's a little hard to find since you have to drive through a…" read more
in Venues & Event Spaces
Roots 101 African American Museum
0.8 miles away from The Brown Hotel
Tarryl J. said "A must-see when you visit Louisville. I was super impressed. So much history, it's amazing. Our host was super knowledgeable and courteous. I would highly recommend a visit." read more
in Venues & Event Spaces, Art Museums
Collections Including The Brown Hotel
Bourbon Babes!
By Sarah S.
Bourbon Country Weekend
By Carolyn E.
Bourbon & Beyond
By Carol I.
Louisville: My home away from home!!
Road Trip: Kentucky!
By Carolynne M.
Spooktacular Spots 👻💀
By Ashley E.
Louisville: A Tourist Guide
By Paige M.
Louisville, KY
By Heather P.
Louisville!
By Briana C.
People Also Viewed
The Grady Hotel
Louisville Bourbon Inn
The Seelbach Hilton Louisville
AC Louisville Downtown
Galt House Hotel
Hotel Distil, Autograph Collection
Moxy Louisville Downtown
Hilton Garden Inn Louisville Airport
Best Western Premier Airport/Expo Center Hotel
Omni Louisville Hotel
Best of Louisville
Things to do in Louisville
Other Hotels Nearby
Find more Hotels near The Brown Hotel
People found The Brown Hotel by searching for…
Breakfast Buffet Louisville
Brown Hotel Lobby Bar Louisville
Derby Pie Louisville
Hot Brown Louisville
Hotels And Resorts Louisville
Hourly Hotels Louisville
Lazy River Louisville
Lobby Bar And Grill Louisville
Restaurants Steak Louisville
Rooftop Restaurant Louisville
Sunday Brunch Buffet Louisville
The Brown Restaurant Louisville
Browse Nearby
Restaurants
Things to Do
Hotels Near Me
Pet Friendly Motels Near Me
Related Articles
Top 100 places to stay in Texas
Yelp's Top 100 US Hotels
Related Cost Guides
Town Car Service
Frequently Asked Questions about The Brown Hotel
What forms of payment are accepted?
The Brown Hotel accepts credit cards.
How is The Brown Hotel rated?
The Brown Hotel has 4.2 stars.
What days are The Brown Hotel open?
The Brown Hotel is open Mon, Tue, Wed, Thu, Fri, Sat, Sun.
Bahasa Indonesia
Slovenščina
Science & Tech
Russian Kitchen
5 Russian hotels haunted by ghosts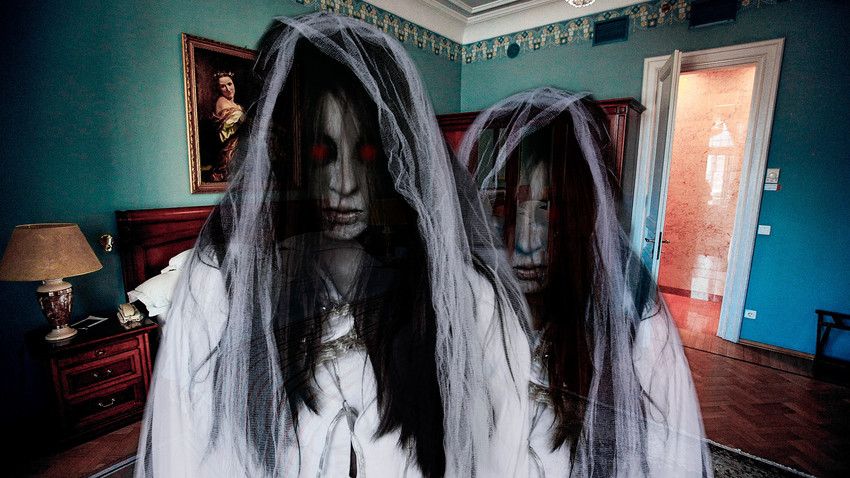 Paranormal activity isn't just something we see on TV - many people believe there are places where ghost sightings are real. Russia is no exception - Grigory Rasputin, Sergei Esenin and even Vladimir Lenin - are just some of the ghosts said to inhabit Russian hotels as well. Would you dare to spend a night there and check if these ghost stories are true?
1. Hotel National (Moscow)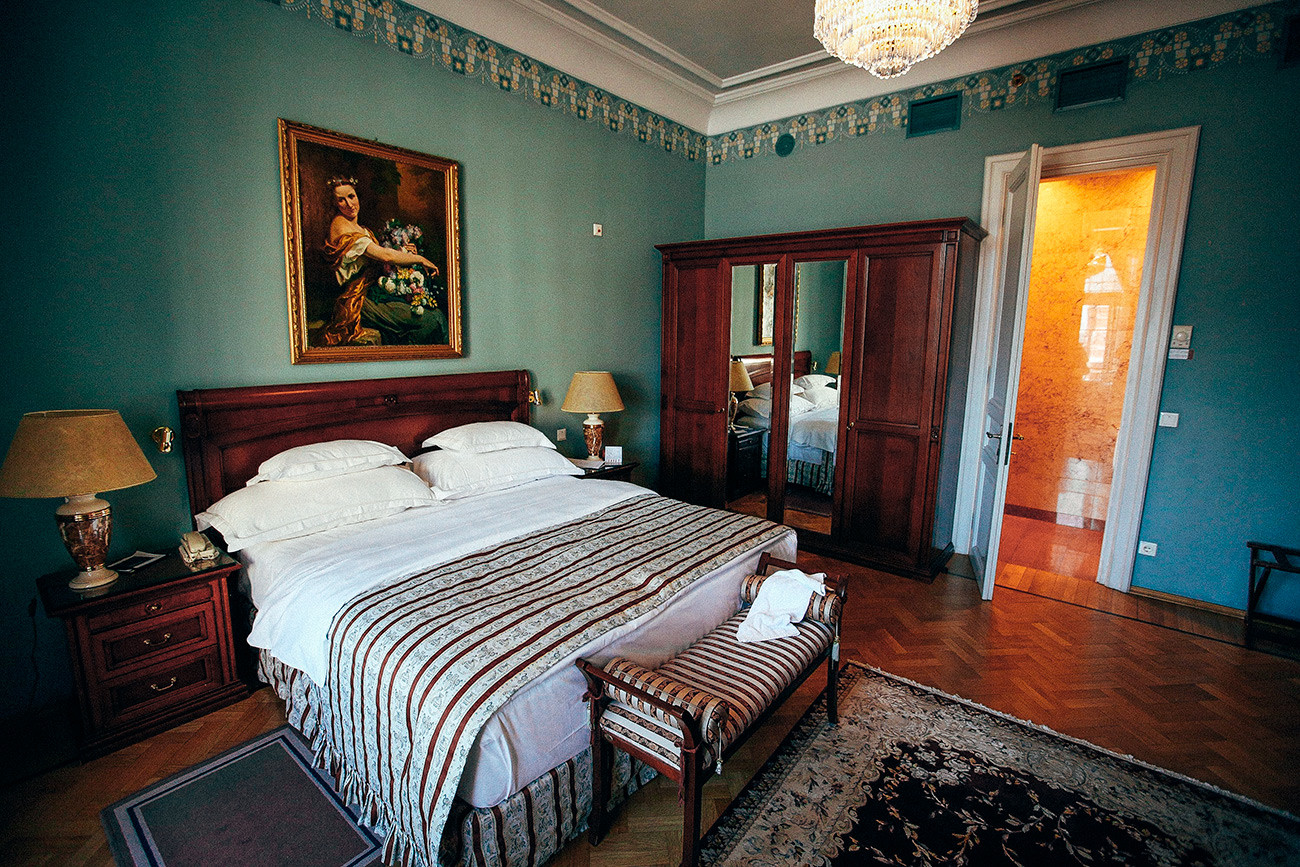 One of the most luxurious hotels in Moscow, Hotel National opened in 1903 and has hosted many well-known names over the years including prima ballerina Anna Pavlova, composer Nikolai Rimsky-Korsakov, French poet Anatole France, English writer Herbert Wells, and American pianist Van Cliburn. The leader of the Russian Revolution and the first head of the Soviet state, Vladimir Lenin, also lived here for a week with his wife - in room 107. According to rumors and the hotel staff's accounts, a figure of a man with a bald head and a beard is often seen at the hotel sipping tea, walking the corridors and turning the lights on and off - it seems the Soviet leader loved it here so much he didn't want to leave the place - even after his death!
2. Apartment Baltapart On Gorokhovaya (St. Petersburg)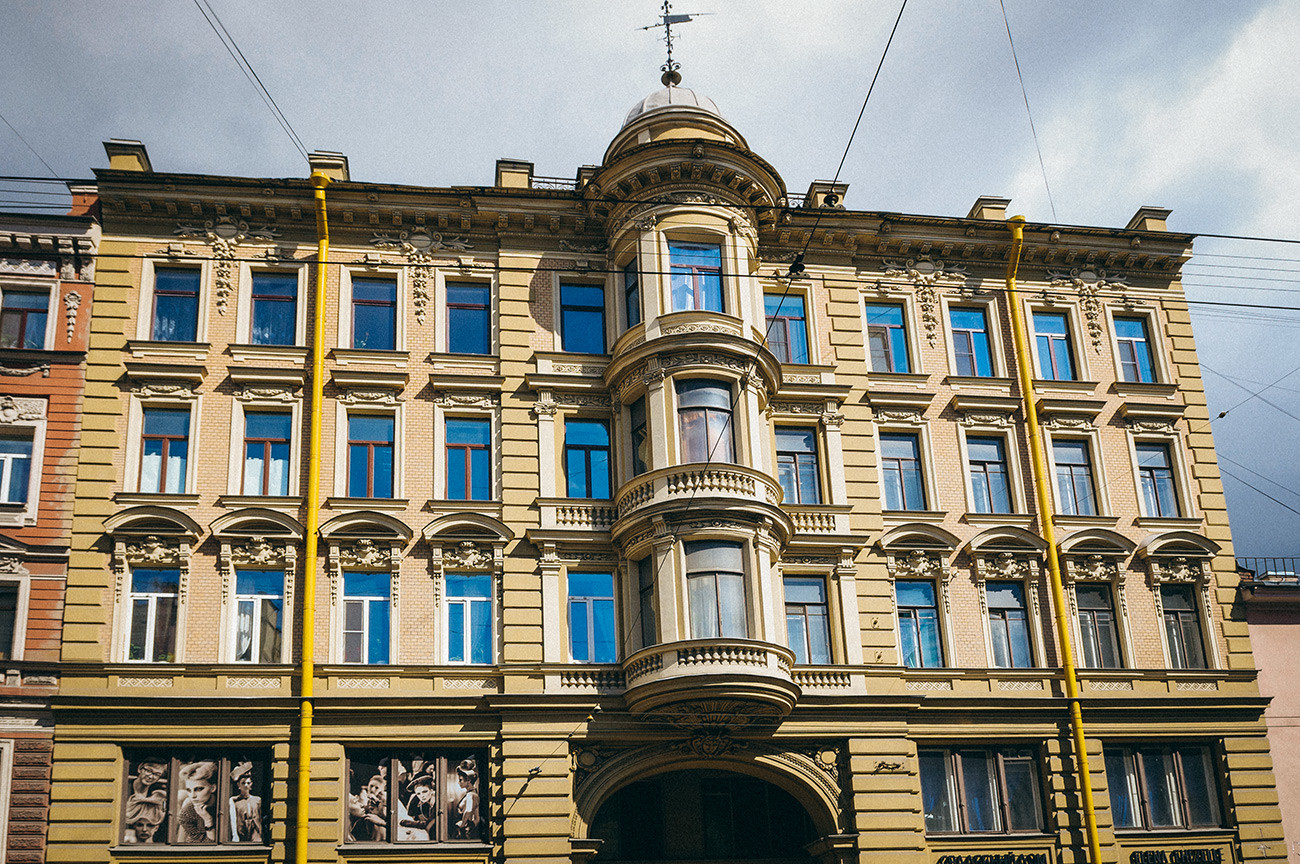 Want to get a glimpse of Grigory Rasputin , the famous mystic and friend of the last Romanovs? Try your luck at the hotel on Gorokhovaya 64 in St. Petersburg, a residential building that dates back to the early 20th century and has, at some point, hosted Rasputin on the third floor. Some of the guests share that they regularly see the white figure of Rasputin roaming around at night. Others think the ghost tends to visit those who are sad or in a bad mood. If he visits a man, he would stroke him on the back at night, or, if visiting a woman, he'd whisper something nice to comfort her.
3. Grand Hotel Europe (St. Petersburg)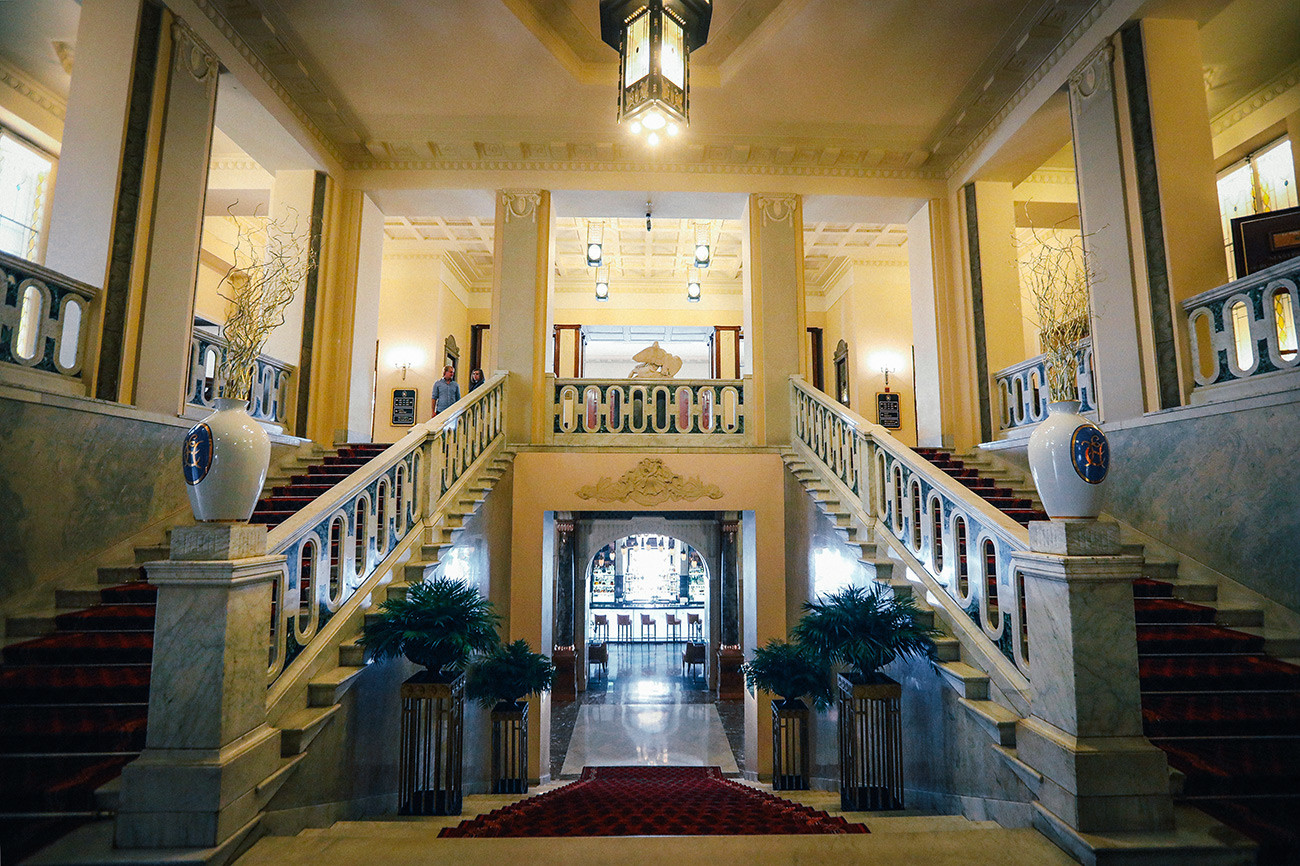 The five-star Grand Hotel Europe opened in 1875 on Arts Square in St. Petersburg. As the legend goes, it replaced an earlier inn situated on the same site - a lodge where since 1706 guests would hear and witness horrifying things like footsteps in the attic, moans, and squeaks. The story tells that once a brave resident went up to the attic once and saw a ghost of the killed officer Belyaev-Tolstoy - a thing that terrified the owner and prompted him to sell the inn. Later, the building was demolished and a new Grand Hotel Europe was built in its place, but it's believed that the ghost moved into the new hotel as well - there are stories of guests sometimes mistaking the ghost for a porter!
4. Angleterre Hotel (St. Petersburg)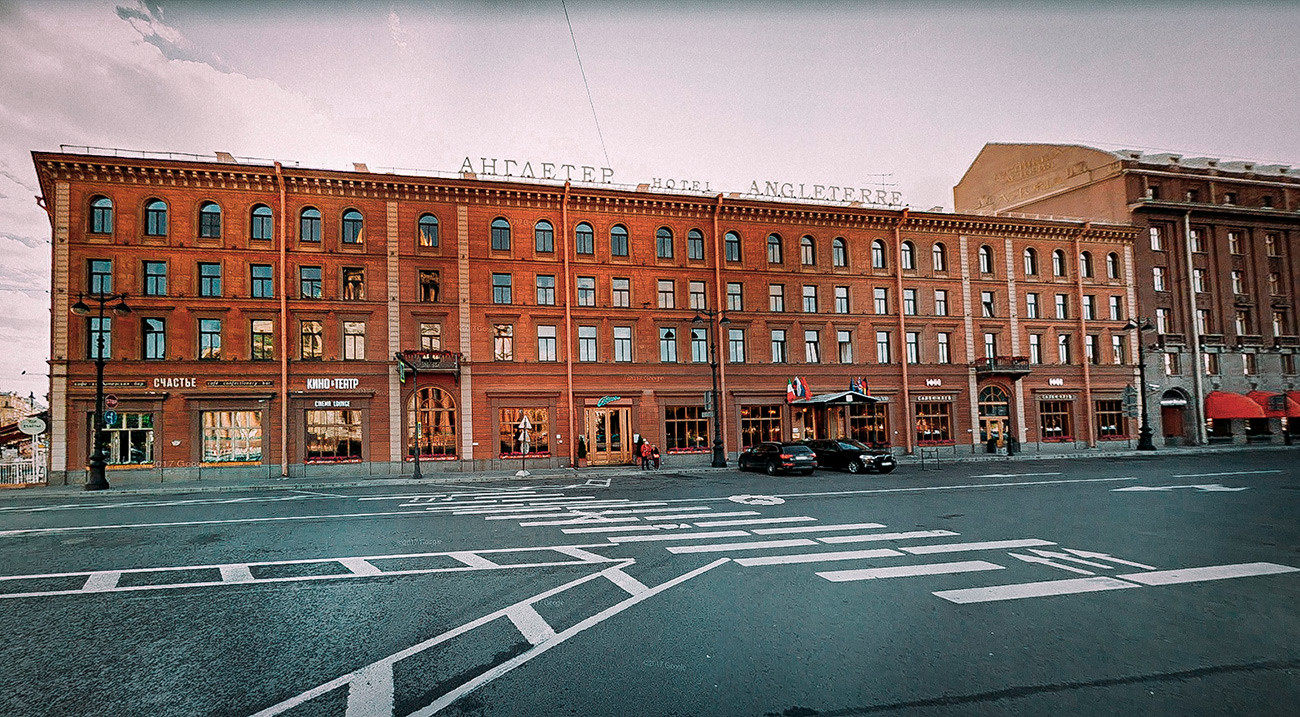 Another place believed to be inhabited by a ghost is the Angleterre Hotel in St. Petersburg - a place where the famous Russian poet Sergei Esenin was found dead in room No. 5 in 1925. Some believe he was suffering from depression and hung himself while others believe it was actually a murder and that suicide was a cover-up. Maybe that's why the soul of the poet has still not found its peace and is still seen within the hotel's walls.
5. Arkhangelskoye estate and sanatorium (Moscow region)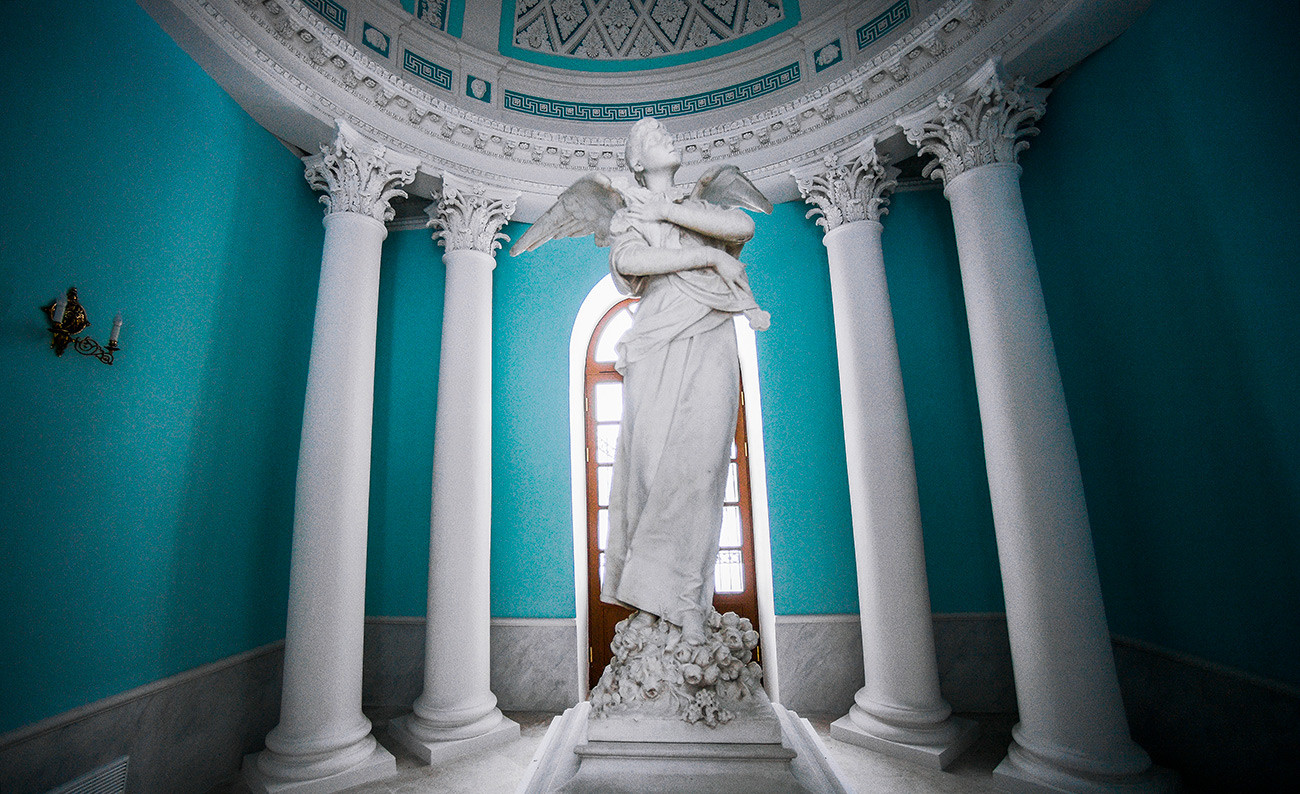 A monument in honor of Tatiana Yusupova in Arkhangelskoye.
The picturesque estate just outside of Moscow, Arkhangelskoye has seen many owners, including the Yusupov family, one of the wealthiest in the country. According to legend, the estate is inhabited by the ghost of Tatiana Yusupova, who died in 1888 at the age of 22 as a result of typhus. Her inconsolable father buried her here and ordered a marble angel to stand over her grave. After he died, the monument was moved to a nearby tea house and since then the ghost of Tatiana has been seen walking around the park searching for her father's present.
If using any of Russia Beyond's content, partly or in full, always provide an active hyperlink to the original material.
to our newsletter!
Get the week's best stories straight to your inbox
11 adventure ideas that will make you book a holiday in Russia in a heartbeat
7 best summer schools to master your Russian in the Motherland
Top 10 most unusual hotels in Russia (PHOTOS)
This website uses cookies. Click here to find out more.
There are 92 rooms of four types in the Golden Apple Hotel including standard and superior rooms. The rooms for non-smokers are available. Standard and superior rooms are equipped with one or two beds (a king size bed in several rooms), individually adjusted climate control, TV-set with cable and satellite channels, direct-dial phone, excess to Internet. Bathrooms are provided with a heating floor and a shower.
Restaurants