There's A Terrifying Haunted Cave Near Denver And It's Not For the Faint of Heart
Laura Konrade
More by this Author
Does the thought of wandering through perpetual darkness in a cold, damp cave send chills down your spine? At Cave of the Winds in Manitou Springs, you can embark on a spooky, historical adventure in a haunted cave in Colorado. You might just discover why this natural wonder is said to be home to "supernatural" wonders as well. Do the Cave of the Winds haunted history tour… if you dare!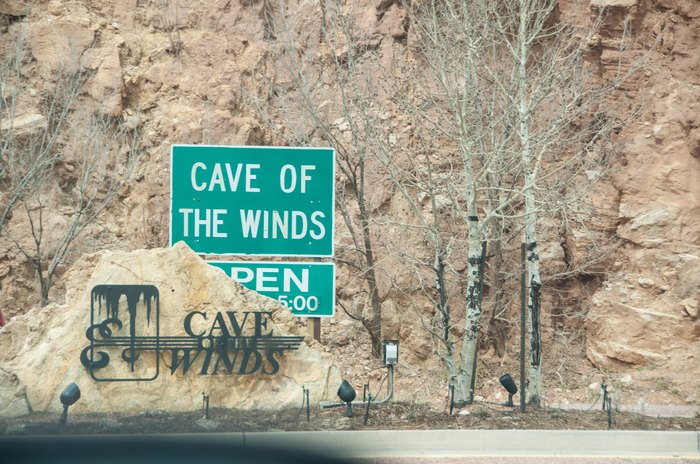 Related Stories
Hike To This Abandoned Dam Near Denver That's Rumored To Be Haunted
Not Many People Know The Haunted History Behind This Old Denver Hospital
This Haunted Denver Pub Tour Is The Perfect Way To Kick Off Fall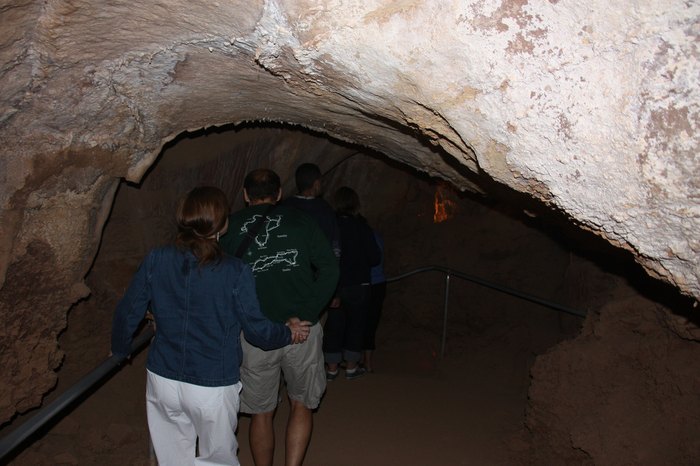 But how will you really know if Cave of the Winds is, in fact, haunted? Well, there's only one way to find out, and that is to experience the eeriness for yourself. The cave – and its spooky Lantern Tour – is guaranteed to both educate and frighten guests. To find out more, check out Cave of the Winds official website.
Have you ever been a part of the Cave of the Winds haunted history tour? Tell us about your experience in the comments.
If you would like to discover more haunted fun in Colorado, check out this haunted restaurant in Colorado that's sure to give you chills. And if you're looking for more exciting things to do in Colorado, it's time to take a cruise through Airbnb Experiences .
OnlyInYourState may earn compensation through affiliate links in this article.
Want more Denver in your inbox?
Get the latest on things to see, do, and eat around Denver!
Thank you! You'll receive your first newsletter soon!
An error occured.
More to Explore
Cave of the winds haunted history.
Is there really a haunted cave near Denver?   
Well, that depends on what (or whom) you believe! Many have said that the Cave of the Winds near Denver is haunted, though of course there are plenty of naysayers to this theory as well. There are plenty of eerie Cave of the Winds ghost stories to go around, and you can even do some spooky lantern tours by night if you want! It's filled with creepy folklore, scary stories, and all sorts of fun urban legends. If you believe in this sort of thing, it's worth a visit... if you're brave enough.   
What are some eerie haunted places in Denver?   
Denver is a beautiful city – easily one of our favorite cities in Colorado ! It's filled to the brim with culture, arts, and fun stuff to do... as well as some spookier options. There are a handful of haunted hotels in Denver , as well as some creepy old buildings and more. Some of the most notoriously haunted places in Denver include places like:
The Patterson Inn,
Colorado State Capital Building
The old Hotel Teatro
The Molly Brown House Museum
Riverside Cemetery!  
Where are some creepy haunted places in Colorado?  
Of course, those ghost stories aren't the only ones; stories of ghosts roaming hallways is a tale as old as time, and Colorado has plenty. Perhaps the most infamously haunted places in Colorado are:
The Stanley Hotel, in Estes Park, is so creepy that it's the place that inspired Stephen King's The Shining.
The beautiful Hotel Colorado , which was built in 1893, is said to be haunted by a wailing woman, as well as electrical oddities like lights that flicker on and off and doors that slam shut on their own.  
Related Articles
The Haunted Trail Near Denver That Will Scare You Silly
This Haunted Museum Near Denver Will Terrify You In The Best Way Possible
Stay Away From Denver's Most Haunted Street After Dark Or You May Be Sorry
The Story Behind Denver's Most Haunted House Will Give You Nightmares
There's No Chapel In The World Like This One Near Denver
Here Are The 8 Most Dangerous Places In Denver After Dark
6 Secret Scenic Hikes Near Denver That Almost Nobody Knows About
8 Scenic Overlooks In Denver That Will Take Your Breath Away
Order a Guide
Accessibility
Garden of the Gods
Attractions
Arts & Culture
History & Heritage
Spas & Wellness
Annual Events
Royal Gorge Region
Cripple Creek
Downtown Colorado Springs
Manitou Springs
Monument & Palmer Lake
Old Colorado City
Woodland Park & Divide
Casual & Family Dining
International Dining
Sweet Treats
Fine Dining
Distilleries
Wine & Cider
Coffee Shops & Tea
Bars & Nightlife
The Crafts & Drafts Passport
Cabins & Cottages
Vacation Homes
Bed & Breakfasts
Hotels & Motels
Campgrounds & RV Parks
Dude & Guest Ranches
Extended Stay
Hostels & Bunkrooms
Vacation Planner
Itinerary & Trip Ideas
Coupons & Deals
Colorado Springs Airport
Interactive Map
Moving to Colorado Springs
Getting Around
Newsletter Signup
Visitor Info Center
Weather & How to Pack
Trip Planner
International Tour Operators
Group Tours
Weddings & Reunions
Cave of the Winds Mountain Park
Cave of the Winds Mountain Park, located in Colorado Springs, is a historic natural landmark filled with amazing formations just waiting to be discovered by you.
This is one of the region's original attractions and is a great year-round choice for family fun and adventure.
Cave of the Winds Mountain Park offers two types of tours: Discovery and Lantern.
The Discovery Tour is great for the entire family and lasts approximately 45 minutes.
The Lantern Tour is available to guests ages 6 and over, and is a more adventurous tour lasting 90 minutes.
After touring the caves, experience William Canyon's dramatic beauty with fun and interactive adventures including the Wind Walker Challenge Course,Terror-Dactyl, and Via Ferrata.
The Wind Walker Challenge Course
The Wind Walker Challenge Course is located on the rim of a 600-foot drop into Williams Canyon! Thrill-seekers of all ages can navigate a challenging maze of steel beams, swinging ropes and ladders, wearing a specially designed harness. Safe & fun for the whole family. Get ready to take to the skies on the Bat-a-Pult, an epic, 1200-foot round-trip aerial attraction high along the wild and beautiful Williams Canyon. Unlike traditional zip lines, our ride doesn't end at the bottom. Instead, our unique system pulls you back to the nest.
Terror-Dactyl
The first of its kind anywhere in the world, the ride sits on the edge of a 200-foot cliff in the Williams Canyon in Manitou Springs . Those brave enough to ride will be launched 200 feet into the canyon at nearly 100 miles per hour! Watch the ladies from the Today Show ride the ride in the video below! Check the website for details about reservations, pricing and the outdoor adventures that are also available.
Watch the Today Show as they ride the Terror-Dactyl at Cave of the Winds Mountain Park!
Via ferrata.
Italian for "Iron Road," Via Ferrata is based off of the WWI soldiers who traversed the front line of Austria, Hungary and Italy. This attraction offers visitors the chance to traverse high above the canyon on limestone cliffs. A two hour guided tour offers visitors an experience of a lifetime with specialized equipment and knowledgeable guides that allow both experienced and inexperienced climbers a chance to experience Colorado's rugged beauty.
Requirements: Participants must be 48″ tall and weigh between 90lbs & 260lbs and must be ages 12 and up. Guests 12-17 must be accompanied by an adult.
Cave of the Winds Mountain Park History
In 1880, brothers John and George Pickett scouted for new caves in Williams Canyon. They discovered a small cave near the limestone archway. They noticed that the flames on their lit candles flickered in the wind coming from somewhere within the cave. They crawled through a small opening and emerged into a large chamber that promised an amazing world of exploration.
That world was structurally opened by George Washington Snider, a stonecutter from Ohio. Soon after the cave's initial discovery, Snider excavated passages and found Canopy Hall. He continued to excavate and soon was giving guided tours. Cave of the Winds Mountain Park in Colorado Springs has been in continuous operation since February 1881 – it is one of Colorado's original visitor attractions!
Cave of the Winds Hours & Ticket Prices
Discovery tour.
Summer (Memorial Day Weekend – Labor Day Weekend): Daily tours from 9 am – 9 pm. Tours leave every 20-30 minutes. Last tour leaves at 8:00 pm. Due to popularity, summer guests may experience a wait of approximately 30-45 minutes between ticket purchase and the start of an available tour.
Winter (September-May): Daily tours from 10 am-5 pm. Tours leave every 30-40 minutes. Last tour leaves at 4:30 pm.
Ages 13 & Up: $26
Children Ages 4-12: $17
Children 3 Years & Younger are FREE
Military pricing available
Lantern Tour
Summer (Memorial Day Weekend – Labor Day Weekend): Daily tours from 9 am – 9 pm. Tours leave on the hour. Call (719) 685-5444 for more information.
Winter (September-May): Tours available daily starting at 11:00am.
Ages 13 & Up: $34
Children Ages 8-12: $24
Children 7 & Under are Not Permitted
Wind Walker Challenge Course & Bat-A-Pult Information
Height Requirements: Must be 48″ tall to participate
TERROR-dactyl
Requirements: Must be 48" tall. Recommended weight between 100-250 lbs.
More information on all Cave of the Winds Mountain Park tours and activities can be found at www.caveofthewinds.com .
Looking for more attractions and activities in Colorado Springs? Check out our Things to Do page and don't forget to order your FREE Vacation Planner !
Located in a beautiful box canyon, the Broadmoor Seven Falls in Colorado Springs is a series of seven cascading waterfalls…
Pikes Peak is America's Mountain.
Voted #1 U.S. Park on TripAdvisor
Don't miss one of the most incredible geological wonders of the world!
You may not be able to go to 55 attractions in 5 days, but we did.
Explore More
Explore dark caves, stay in a haunted B&B, explore haunted museums and cemetery and more
White-knuckled, heart-pumping, push-to-the-ultimate-limit adventure awaits in Colorado Springs. Try these adventurous activities and extreme sports while…
Discover exciting winter adventures throughout the Pikes Peak region.
Make your special day even more memorable at one of our many unique, mountain wedding venues.
Get Your FREE Official Vacation Planner for Colorado Springs and the Pikes Peak Region.
This website uses cookies to enhance your user experience on our website. Learn More
Cave of the Winds Mountain Park
Price & Hours
Facilities 3.0
Atmosphere 4.0
Though these limestone caverns began forming 70 million years ago when ancient seas receded, they only became a tourist attraction in the late 19th century after two intrepid brothers investigated wind blowing from a rocky crevice in Williams Canyon (just north of Manitou Springs ). Since 1881, visitors have flocked to tour the craggy caves to admire crystalized stalactites and stalagmites. More recently, Cave of the Winds Mountain Park has added other fun activities, including an obstacle course, zip lines, climbing wall, gemstone panning, twisty adventure slide and a 40-mph aerial ride across the canyon.
Recent visitors recommend wearing sturdy shoes for the tours, as treks involve multiple sets of stairs and walking over uneven ground; you'll be crouching under rock formations, too. Adventurous kiddos are entertained for hours with the outdoor attractions, but keep in mind that past travelers say lines can move slowly in peak summer months. Many say an especially fun way to visit is to walk the caves by lantern with engaging and animated guides who tell spooky ghost stories while sharing details about the caverns' history.
Cave of the Winds Mountain Park is located about 10 miles northwest of downtown Colorado Springs; it's 2 miles north of Manitou Springs and 3 miles north of Red Rock Canyon Open Space . It's open every day of the year but Christmas. Specific hours vary depending on the season and attraction. Family-friendly Discovery Cave Tours cost $27 for visitors 13 and older and $18 for children between the ages of 4 to 12. The Haunted Lantern Tour is only for travelers 8 and older; tickets cost $34 for those 13 and older and $24 for ages 8 to 12. Pioneer Packages include one entry or ride on each of the above-ground attractions and cost $25 per person (however, panning for gems is not included in the package).
More Best Things To Do in Colorado Springs
#1 Garden of the Gods
U.S. News Insider Tip: Since the park is free to enter, consider exploring Garden of the Gods multiple times during your stay to see the rock formations at different times of day. The light just after sunrise and before sunset makes them especially striking and photogenic. – Kara Williams
It's easy to see how this natural landmark earned such an ethereal title: These magnificent red rock formations look as though deities could've carved them. However, the sandstone pillars are, in fact, the work of geological activity and erosion over millennia. You can learn about the garden's formations at the Visitor and Nature Center, which houses numerous informative displays and hosts daily presentations. You are welcome to explore the park on your own time (either on foot or by bike) or take a guided nature walk from the visitor center for a fee. The park partners with Adventures Out West to provide Jeep, trolley and Segway tours; it works with Amp'd Adventures for guided electric bike tours. (Note: Tour prices vary by vehicle and tour length.) Or, if you're looking for a more authentic Wild West experience, you can reserve your spot on a guided horseback tour offered by Academy Riding Stables .
Explore More of Colorado Springs
Things To Do
Best hotels.
You might also like
# 2 in  Best Places to Visit in Colorado
Salt Lake City
# 12 in  Best Places to Visit in Utah
# 2 in  Best Places to Visit in April
If you make a purchase from our site, we may earn a commission. This does not affect the quality or independence of our editorial content.
Recommended
18 Fall Family Vacation Ideas
Amanda Norcross September 11, 2023
The 26 Best Zoos in the U.S.
Rachael Hood August 11, 2023
30 Fun Fall Weekend Getaways for 2023
Holly Johnson July 18, 2023
The 32 Best Dog-Friendly Beaches in the U.S.
Gwen Pratesi July 14, 2023
The 21 Top Ecolodges Around the World
Mackenzie Roche|Amanda Norcross June 30, 2023
The 26 Best Fall Festivals in the U.S. for 2023
Katie Hearsum|Timothy J. Forster June 28, 2023
27 Amazon Prime Day Luggage Deals You Can Shop Now
Amanda Norcross June 27, 2023
The 34 Best Couples Vacations
Gwen Pratesi June 26, 2023
Carry-on Luggage Sizes by Airline
Amanda Norcross June 26, 2023
Photos: InterContinental Boston
Jill LeGrow June 26, 2023
Cave of the Winds Mountain Park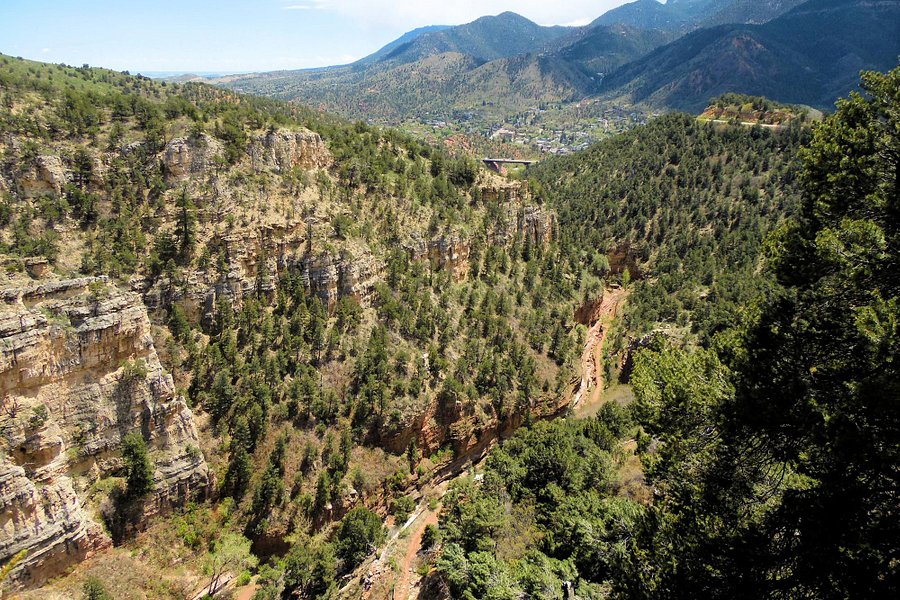 Top ways to experience nearby attractions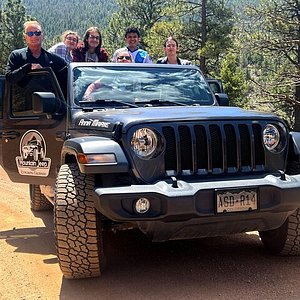 Cave of the Winds Mountain Park - All You Need to Know BEFORE You Go (with Photos)
Sun - Sat 9:00 AM - 6:00 PM
(0.19 mi) The Fountain Creek Inn of Manitou Springs
(0.45 mi) The Cliff House at Pikes Peak
(0.25 mi) Great remodeled Downtown Manitou Springs Home Lic#9244
(0.26 mi) The Historic Allison House on Manitou Ave.
(1.06 mi) Blue Skies Inn Bed and Breakfast Hotel
(0.45 mi) Sahara Cafe
(0.44 mi) Cliff House Hotel Dining Room
(0.45 mi) Border Burger Bar
(0.45 mi) The Loop
(0.63 mi) The Keg Lounge
(0.12 mi) Adventures Out West Pikes Peak Ziplines
(0.13 mi) Rainbow Falls
(0.49 mi) Arcade Amusements, Inc
(0.44 mi) Miramont Castle Museum
(0.49 mi) Downtown Manitou Springs
Cave of the Winds Mountain Park Information

Receive emails and newsletters to keep in touch with I LOVE NY.
Accessibility
Adirondack Attractions
Spotlight: Adirondacks
Spotlight: Lake George
Family Guide
Lake Placid City Guide
Central NY Attractions
Spotlight: Cooperstown
Greater Niagara Attractions
Spotlight: Buffalo & Niagara Falls
Buffalo City Guide
New York City Attractions
Capital Saratoga Attractions
Spotlight: Albany
Albany City Guide
Chautauqua-Allegheny Attractions
Spotlight: Jamestown and Chautauqua-Allegheny
Hudson Valley Attractions
Spotlight: New Paltz
Spotlight: Hudson Valley
Thousand Islands Attractions
Catskills Attractions
Spotlight: The Catskills
Finger Lakes Attractions
Spotlight: Rochester
Spotlight: Syracuse
Spotlight: Finger Lakes
Syracuse City Guide
Rochester City Guide
Long Island Attractions
Spotlight: Long Island
Fall Foliage Report
Leaf Identifier
Land Adventures
Whitewater Rafting & Tubing
Canoeing and Kayaking
Skiing & Snowboarding
Snowmobiling
Excursions by Boat
Motorcoach Tours
Motorcycling in New York
Scenic Byways
Scenic Train Rides
Weekend Getaways
Black History & Culture
History Museums
Underground Railroad
Path Through History Weekend
Architecture and Design
Art Museums
Covered Bridges
Drive-In Movies
People and Cultures
Performing Arts
Buffalo Wings
Cideries and Distilleries
New York Pizza
Restaurants
Maple Sugaring
Amusement Parks
Animals & Zoos
Indoor Water Parks
Outdoor Water Parks
Kids' Museums
Special Events
Wedding Guide
LGBTQ Resources
Shop LGBTQ New York
New York State Recipes
Affordable Getaways
Watchable Wildlife
Natural Wonders
Nature Centers
State and National Parks
Caverns and Mines
Arenas & Stadiums
Auto Racetracks
Horse Racetracks
Arts and Crafts
Farmers Markets
Flea Markets
Malls and Outlets
Senior Travel
Romantic Getaways
B&B / Inns / Farm Stays
Dude Ranches
Cabins / Cottages
Hotels / Motels / Resorts
Festivals & Annual Events
Food & Drink
Film Festivals
Arts & Culture
Expos / Shows & Sales
2024 Total Solar Eclipse
Sports & Gaming
Coronavirus Resources for Travelers
Amtrak Discount
Travel around New York State from NYC
Trip Planner
New York State Welcome Centers
Travel Guides
Offers & Deals
I LOVE NY Mobile App
Stay at New York's Haunted Hotels and Inns… If You Dare!
Oct 18, 2023 by Marta Zielinska and Rachel Dymond
Photo Credit: AmityPhotos.com
Feeling brave? Up the fear factor this Halloween and embark on a supernatural getaway to these 16 hotels and inns that are all part of the Haunted History Trail of New York State . From a quaint inn ranked the best haunted hotel in the country to Victorian manors and elegant mansions filled with paranormal mysteries, check in to one of these historic lodgings and discover why some guests have never checked out.
Masks are encouraged, but optional in most settings per  New York State guidelines . Individual businesses or attractions may require mask wearing. Call ahead and check websites and social media to make sure attractions and amenities are open and available. 
Jump to: Finger Lakes | Greater Niagara | Capital-Saratoga | Catskills | Hudson Valley | Central New York
Finger Lakes 
Fainting goat island inn , nichols.
Chilling encounters await at the cozy and charming Fainting Goat Island Inn. Voted 2023's #1 Best Haunted Hotel in the U.S. for the second year in a row by USA Today readers, this former railroad hotel built in the late 1800s boasts four themed bedrooms with vintage, Victorian, and country comfort touches. The guestbook reads like a collection of ghost stories with reports of moving furniture, footsteps echoing on nonexistent staircases, gumballs spilling in an empty hall, and sheets being pulled off beds. Once daylight breaks, treat yourself to a homemade cinnamon bun and then say hi to the fainting goats and Porkchop the potbelly pig as you wander the expansive grounds taking in the beautiful gardens and dreamy Susquehanna River views. This haunted haven is conveniently located just off Route I86 and just one mile from Tioga Downs Casino Resort .
1867 Parkview Inn , Owego 
The past comes alive in more ways than one at the 1867 Parkview Inn, a charming historic treasure that once played host to notable guests like John D. Rockefeller and Oscar Hammerstein in the heart of Owego's downtown. Its 14 rooms are bright and cheery with river and downtown views, but there's a dark side to add a dash of the paranormal to your stay. Haunted happenings range from ringing bells to moving objects, and you may even bump elbows with some friendly spirits by the handcrafted oak bar at the Duggan House Restaurant and Pub, which serves up comfort foods and Irish pub favorites. A recently-discovered sealed-off room and a basement crawl space with a dark history involving cowboys and murder further add to the intrigue of this haunted haven, where guests receive a complimentary breakfast with their stay. Pet-friendly and ADA accessible rooms are available. 
Belhurst Castle , Geneva 
Experience a romantic getaway with a supernatural twist on the shores of Seneca Lake at the opulent Belhurst Castle. History and hauntings intertwine throughout the beautifully appointed accommodations at the 1880s stone castle, Georgian Revival mansion, and inn, as well as two on-site restaurants, winery, and Isabella Spa & Salon, named after the legendary ghost whose tale weaves through Belhurst's rich tapestry. You may catch a glimpse of her lingering spirit roaming the grounds grieving her lost love. Staff and guests have also reported eerie encounters from showers turning on and off in guest rooms, to bottles and glasses flying around the bar, and the soft strains of a lullaby echoing through the night, according to the Haunted History Trail . 
Miles Wine Cellars , Himrod 
Looking to embrace the spirits of the ghostly kind and those you can drink? Plan a trip to Miles Wine Cellars, where you can stay in the 1802 Greek revival mansion that holds a commanding view of the sparkling Seneca Lake and houses more than just the renowned rieslings synonymous with the Finger Lakes. From echoing footsteps to mysterious sounds and slamming doors, much has happened here that can't be explained. While ghost hunting and disrupting the spirits is discouraged, Miles Wine Cellars pays homage to its supernatural inhabitants with its "Ghost" wine—a delightful blend of Chardonnay and Cayuga that delivers the essence of the terroir and lingering mysteries of this destination with each sip.
The Naples Hotel , Naples 
Find yourself spirited away to The Naples Hotel, located 10 minutes from the serene Canandaigua Lake in the land of wine and grape pies. This boutique hotel with 32 guest rooms, a restaurant, and basement bar is not your run-of-the-mill haunt. Since 1895, many guests have passed through its storied halls and some have never left — with a woman and her phantom children, a Civil War soldier, and a man named Topper among the many ghosts that have taken up permanent residence. Flickering lights, televisions turning on and off, and mysterious whispers are some of the haunted happenings that earned it a feature on Syfy channel's "Ghost Hunters."
Greater Niagara
Red coach inn , niagara falls.
The rushing waters of Niagara Falls aren't the only thing delivering thrills and chills at the Red Coach Inn. The posh, Tudor-style hotel overlooking the majestic Upper Rapids certainly brings the romance deserving of this destination known as the "Honeymoon Capital of the World," but it's also got a few tricks and treats on hand for a boo-tiful getaway. The inn has racked up quite a few ghost stories since opening in 1923 and guests have even reported seeing jewelry move across dressers and hearing mysterious music in the dead of night. For a hauntingly memorable experience, make sure to sail on the iconic Maid of the Mist , get sprayed on the Hurricane Deck of the Cave of the Winds walking tour,and feel the rush of the Whirlpool Jet Boat tour . 
Genesee Falls Inn , Portageville
  photo credit: amityphotos.com.
Brace yourself for an otherworldly adventure at Genesee Falls Inn, a historic bed and breakfast offering more than a comfortable stay. Many have reported a strange feeling as they step into this brick Victorian built in 1870 that has seen its share of the unexplained from footsteps echoing in empty hallways to doors closing on their own. Looking for some ghost-free fun? Letchworth State Park is just a half-mile away so you can explore the "Grand Canyon of the East" before settling in with the things that go bump in the night in one of the inn's 12 uniquely decorated rooms adorned with authentic Victorian antiques. 
Graestone Manor , Gasport 
Graestone Manor Bed & Breakfast offers a chilling retreat for those daring enough to delve into the paranormal with four guest rooms each with their own unique haunting past. Owners Bob Mattison and his wife, psychic medium Heather Rease Mattison, offer overnight paranormal investigations that unravel the haunted history of the 1865 Victorian mansion nestled in the quiet Erie Canal countryside. Priced at $320 for groups of 10, you'll explore "hot spots" and areas with documented paranormal experiences throughout the main house and servants' wing of this beautifully preserved equestrian estate. Guests have reported hearing phantom horse hooves and a carriage, while the ghost of a woman observed in windows and caught on film adds to the eerie atmosphere. Reports of portals attributed to Victorian seances, shadow masses, and lingering scents of cigar smoke and perfume complete the spine-chilling experience at this haunted B&B. Brave souls can also book a Victorian seance or oracle card reading; 2-hour history tours are also available.
Hart House Hotel , Medina 
Experience the spectral charm of the Hart House Hotel in Medina, a historic gem that welcomed its first travelers in 1876. After the original inn shuttered in 1918, the brick building served as a shirt factory for 85 years dressing the likes of Bob Hope, Winston Churchill, and John Jacob Astor before once again finding life as a hotel. With original floors and windows, this trendy Euro-inspired boutique hotel, complete with a cocktail bar and rooms that pay homage to famous shirt factory clientele, exudes a haunted aura. Visitors have reported hearing names called aloud when no one is around and encountering the spirit of a woman in a long flowing dress at the top of the staircase, according to the Haunted History Trail . Whether you tuck into the hotel's uniquely designed rooms or dine at the Shirt Factory Cafe, prepare for a hauntingly delightful encounter with lingering spirits from the past.
Capital-Saratoga
Historic hotel broadalbin , broadalbin .
Hauntings are on the horizon when you book a stay at the Historic Hotel Broadalbin. What started as a glove factory in 1854 turned into a hospital for treating alcoholism in 1895, with questionable methods and often dire consequences. Immerse yourself in the terrifying tales when you dine in the hotel's 1854 Pub & Eatery and if you dare, ask your server about the lamp that was seemingly toppled by an invisible hand. Relax for the evening on the outdoor porch in one of the many rocking chairs or cozy up on the couch before retreating to your room. The nighttime might bring about sightings of soldiers standing atop staircases or figures in windows. Experience the spine-tingling sensations yourself with special haunted events like a Halloween Murder Mystery Dinner Party .
Timeless Tavern Restaurant and Inn , Northville 
Trick-or-treat yourself to a stay in the six-room Timeless Tavern Inn or just stop by for a bite at the restaurant. For the fearless, ask the staff to tell you about the ghostly apparitions, odd occurrences, and hauntings. To give you a glimpse into the ghostly galore, a visiting cable repair man once saw a woman in the basement of the Tavern who claimed she was the boss, while others have returned to dark rooms after knowing they left the lights on. In 2013, a full investigation of the property was conducted by Albany Paranormal and the findings were so strong that one team member hosted her wedding at the Tavern, wanting to say "I do" in a room full of BOO! While you're in the area take a scenic drive just a few minutes down the road to Great Sacandaga Lake.
Burn Brae Mansion , Glen Spey 
Become bewitched at the Burn Brae Mansion, a captivating century-old Victorian B&B steeped in history , natural beauty, and paranormal activity. The mansion sits on over 20 wooded acres enveloped by streams, open fields, and walking trails– one of which leads to the historic Glen Spey Cemetery, the final resting place of the original owners. Enhance your stay when you book a group paranormal investigation or a Murder Mystery dinner, among other special events offered throughout the year. Overnight guests are invited to take a guided tour of the mansion, including the Attic of Curiosities. Additional accommodation packages include a home-cooked dinner and full homemade breakfast. This B&B is BYOB (booze and BOOs!) and when you're ready to decompress from the eerie encounters, take a dip in the outdoor pool, serve an ace on the volleyball court, or play the day away in the game room. As you retreat to your quarters for the night, stunning spiral and grand staircases beckon you to beautifully decorated suites showcasing stained glass windows, Victorian baths, and exquisite sitting rooms. 
Hudson Valley
King house mansion at the tarrytown house estate , tarrytown.
Supernatural splendor surrounds you at the Tarrytown House Estate. Set on 26 acres of lush greenery in the heart of the Hudson Valley, this luxurious hotel features impressive 19th-century mansions – King Mansion, Biddle Mansion, Carriage House and Cottage – as well as a contemporary atrium-style building that houses conference facilities and guest rooms. Whether you're staying for business, leisure, or a ghastly getaway, guests enjoy amenities including a fitness club, indoor/outdoor swimming pools, sauna, racquetball and tennis courts. Make a reservation to dine on-site at the Goosefeather Restaurant and ask the staff to share the mansion's haunted history. If you stay overnight in the King House Mansion, beware as it is believed the spirit of a woman paces the halls of the second floor, lingering near room 293 where she is said to have passed on to the other side, according to the Haunted History Trail . 
The Haunted Shanley Hotel , Napanoch
The name speaks for itself! The Haunted Shanley Hotel, dating back to 1845, is said to be one of the most haunted hotels on the East Coast, so it makes perfect sense that a stay at the Shanley includes a paranormal investigation of the property. Don't want to stay the night? Day tours and non-sleepover mini investigations are also available. This hotel is not for the faint of heart; well known as a paranormal paradise, it has been featured on TV shows like "Ghost Hunters" and "Ghost Lab". Staff will feed your fears (and your stomachs) with continental breakfast included in overnight stays and assorted refreshments served during ghost hunts. Over the years, visitors have reported seeing rocking chairs rocking on their own, mysterious clock chimes, piano music, whistling, the laughing of children, cold and hot spots - even the aromas of cooking when no food is being prepared. Venture there if you dare, where many have seen shadows and apparitions at the Shanley, and report the feeling of being watched. 
Central New York
The beekman house , middleburgh.
You're never alone when you stay at this 1835 Greek Revival mansion, thanks to the ghost of a former resident of The Beekman House Bed and Breakfast who never left his beloved estate. We don't blame him, what's not to love about stunning mountain views, classic comfort, modern convenience, and rooms that include their own downstairs parlour where made-to-order farm-to-table breakfast is served each morning. When you check-in make sure to ask staff about spine-chilling sightings and stories about an old man with a beard who lives under the stairs and a shadowy figure that moves through empty rooms and hallways checking the locks. 
Brae Loch Inn , Cazenovia 
Nestled beside picturesque Cazenovia Lake, the Brae Loch Inn is a warm, inviting (and suspiciously supernatural) Scottish inn. Family-owned and operated since 1946, the inn offers 12 charmingly classic guest rooms (many of which feature canopy beds and jacuzzi tubs), an on-site restaurant serving American cuisine with a Scottish and French flair, and the largest selection of Single Malt Scotch in Central New York, even hosting a Scotch Club bi-monthly that offers tastings. The inn embraces its ghoulish side with Dinner with the Spirits events through October. Guests at the inn have reported seeing a ghostly girl in a long blue dress offering to show them to their room. Other tales include a man and woman walking through closets and light orbs floating through canopy beds. Watch what happened when the Haunted History Trail of New York State paid a visit to the Brae Loch Inn or get in on the action yourself with an overnight stay, if you dare.
The Haunted History Trail of New York State features over 80 haunted locations found within almost every region of New York State. Guided ghost tours, paranormal investigations, haunted dining and overnights, and spine-chilling events are available on the trail, with many of the attractions tying back to New York's local history. For more information, visit:  www.hauntedhistorytrail.com .
Don't forget to post photos of your New York adventures on  Instagram  and  Twitter  with #iSpyNY and tag us on  Facebook !
Author: Marta Zielinska and Rachel Dymond
Marta Zielinska is Managing Editor of ILOVENY.com; Rachel Dymond is the Editorial Project Manager of ILOVENY.com.
Adirondacks (59)
Capital-Saratoga (43)
Catskills (51)
Central New York (41)
Chautauqua-Allegheny (37)
Finger Lakes (67)
Greater Niagara (51)
Hudson Valley (67)
Itineraries (14)
Long Island (53)
New York City (44)
Thousand Island-Seaway (34)
October (10)
September (12)
August (14)
February (14)
January (17)
December (20)
November (10)
October (11)
September (10)
February (3)
January (2)
December (1)
November (3)
October (2)
September (1)
February (4)
January (3)
December (5)
November (8)
October (4)
September (2)
February (8)
January (5)
November (7)
October (6)
September (3)
February (1)
January (1)
November (4)
October (1)
December (3)
November (2)
November (5)
February (2)
January (4)
October (5)
Aliza Kibel and Marta Zielinska (1)
Anna Pakman (20)
Anna Pakman and Ross Levi (1)
Cory Lee (1)
Danielle Lee (9)
David Contreras Turley (3)
David Contreras Turley and Ross D. Levi (1)
Don Wildman (6)
Emma Frisbie (20)
Eric Scheffel (21)
Erin Faherty (18)
Ethan LaCroix (2)
Gavin Landry (1)
I LOVE NY Staff (165)
Karen Kirchofer (3)
Katherine Dunn (15)
Katherine Dunn and Ross Levi (1)
Lisa Soto (3)
Mark Hamilton (1)
Marta Zielinska (18)
Marta Zielinska and Rachel Dymond (2)
Maya Yegorova (1)
Megan Dority (1)
Megan Rooney (1)
Meredith Marsh (1)
Michele DeBella (7)
Michele Herrmann (13)
New York Kitchen (16)
Phoebe Baker (5)
Rachel Dymond (19)
Richard Martin (19)
Ross D. Levi (12)
Ross D. Levi and Richard Martin (1)
Vanessa Ahern (1)
Cookies are used for measurement, ads, and optimization. By continuing to use our site you agree to our  privacy policy .
Skip to right header navigation
Skip to main content
Skip to primary sidebar
Skip to footer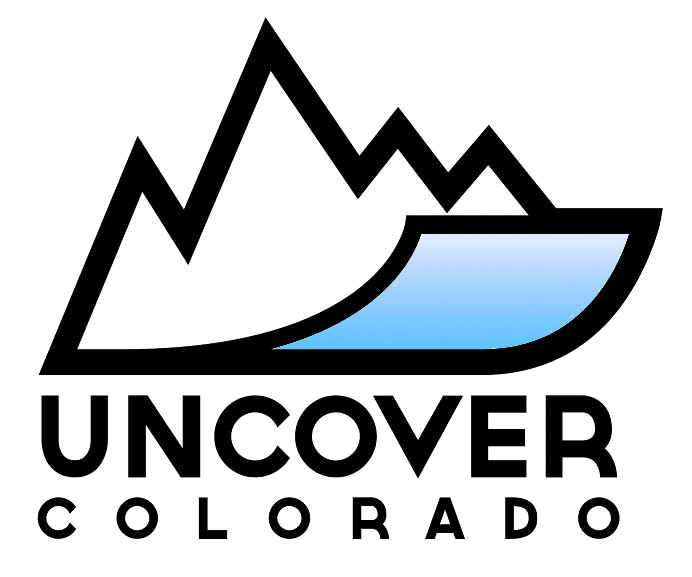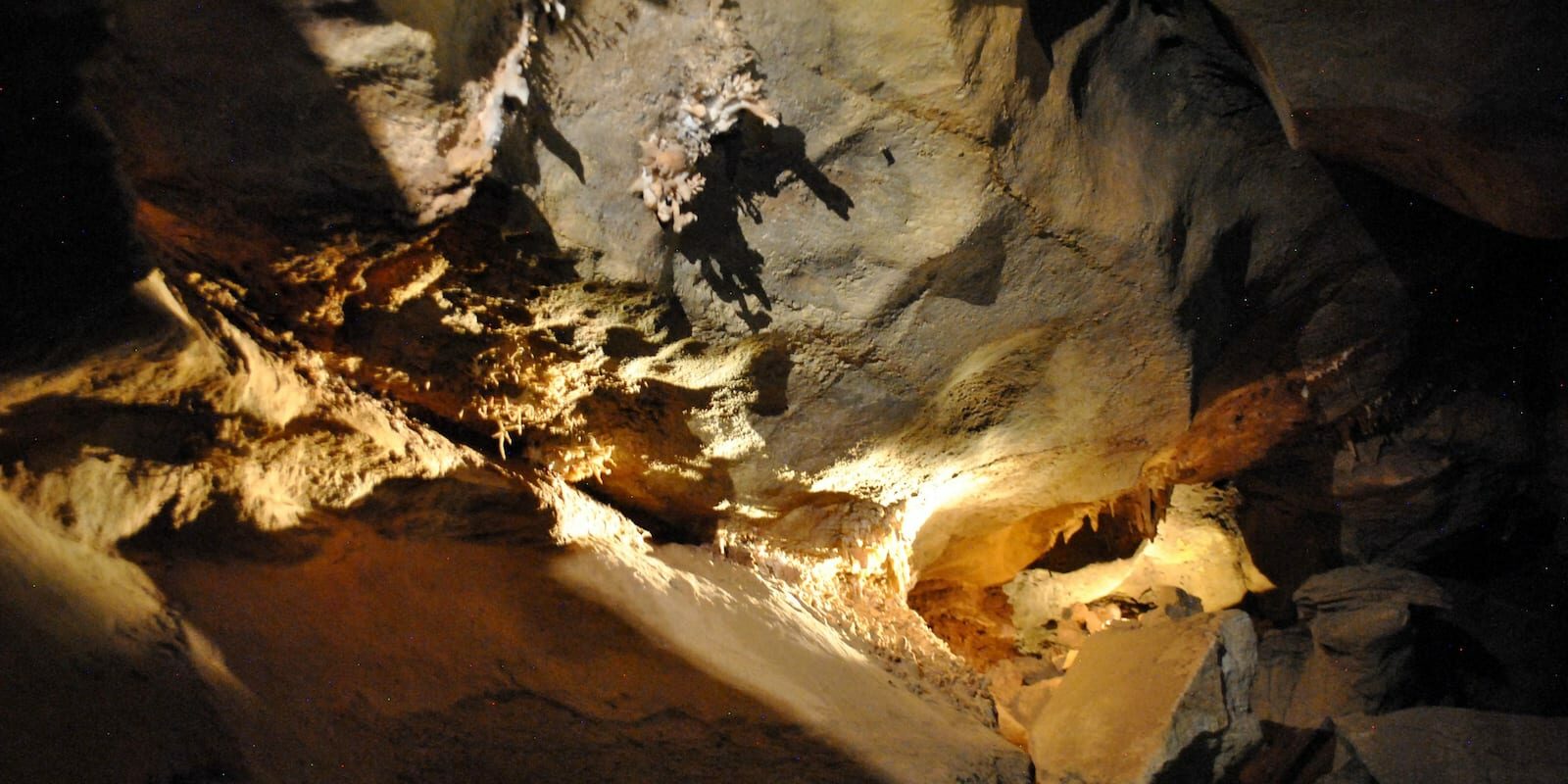 Cave Of The Winds Mountain Park – Manitou Springs
Cave of the Winds is one of America's favorite show caves, located at the base of Pikes Peak in Manitou Springs. On top of cave tours, they offer a slew of mountain activities, including a via ferrata, zip line and Terror-Dactyl among their most known attractions.
There are two ways to explore the cave: a simple walking tour, and a move adventures lantern tour. Strollers, baby backpacks, and wheelchairs are not allowed on cave tours. Children 5 and under are not permitted on Lantern Tours
Cave Discovery Tour
This main walking tour runs 45-60 minutes and is perfect for families and others looking for an educational and fun experience. It winds through nearly a mile of complex caverns and takes visitors into 15 rooms and on 196 stairs. See some of the amazing rock formations inside the cave, and learn about the history and geology of the caverns.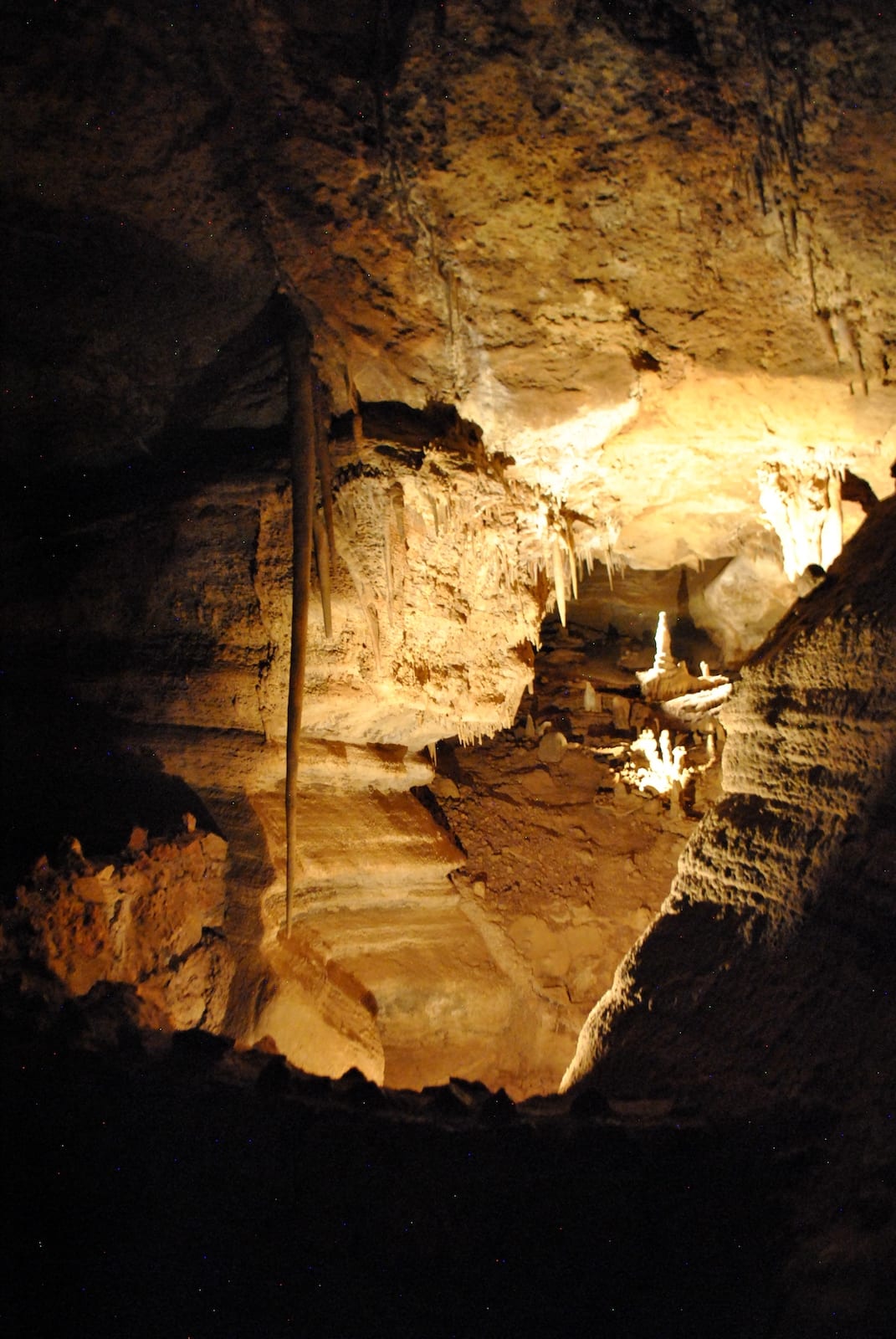 Cave Lantern Tour
A truly unique way to explore the caverns is through lantern light. All participants carry their own lanterns through these rugged caverns just as early explorers did. It's ideal for the more daring visitors. The tour runs for 1.5 hours. Along the tour, the spooky ghost stories and history of the caverns are told, and visitors learn about the mysterious phenomena of the Manitou Grands.
Via Ferrata
Take a memorable Colorado tour like no other with a trek on the mountainous paths above the canyon and along the limestone cliffs with this Via Ferrata adventure. It's an outdoor activity that combines rock climbing, grappling, and hiking all into one. No rock climbing experience is required, as the equipment that you'll be set up with on this course is designed for beginners to do this type of sport.
The expert tour guides will be with you every step of making sure everyone feels safe and capable of enjoying the unique and beautiful views along the journey. The trip ends with some ziplining, which is sure to scratch anyone's itch for a thrilling time.
Even though this tour is perfectly acceptable for people without any experience of this nature, it's still important to dress for this kind of activity accordingly. A helmet, harness system, and gloves will be provided, but wearing appropriate and sturdy footwear is necessary.
Participants must also weigh between 90 and 250 lbs, be at least 48 inches tall, and a minimum age of 12 years old. An adult must accompany visitors between the ages of 12-17.
Terror-dactyl
The Terror-dactyl ride at Cave of the Winds isn't for those with a weak stomach. This thrill-seeking adventure activity has participants get strapped into a swing-seat and sit on the edge of a cliff, looking down about 200 feet into Williams Canyon.
Then, the sitters get launched about 150 feet into the canyon at 100 mile-per-hour, followed by a free-fall and getting swung back and forth over the canyon floor. Not only will you get to feel the effects of G-Force on the Terror-dactyl, but you'll get one of the best adrenaline rushes in the world and see some impressive views of Colorado nature from an exciting point of view.
Riders of the Terror-dactyl must be between 100-250lbs and 48" tall to be able to do the experience. The ride is open from Memorial Day to Labor Day between 9 am-9 pm in the summer. It's available from Labor Day to Memorial Day between 10 am-5 pm during the winter.
Frontier Zip Lines
The Frontier Zip Lines are in the Cave of the Winds Mountain Park and are made up of two zip lines. They give riders a bird's eye view of Pikes Peak and the surrounding area. Visitors take a short ½ mile hike to the starting point after getting all the necessary equipment on at the Gear Shack by Frontier Canyon, so you won't be wasting any time getting suited up where you clip on the line.
The two lines total over a quarter-mile and 80 feet, an activity that is sure to be both thrilling and memorable. This zip line is also a part of the Via Ferrata tour, but it can be purchased separately.
All riders need to be between 90 and 250lbs and at least 12 years old. Minors aged between 12-17 need to be accompanied by an adult. While appointments aren't necessary, they are recommended to ensure that you get to zipline on the day of your visit.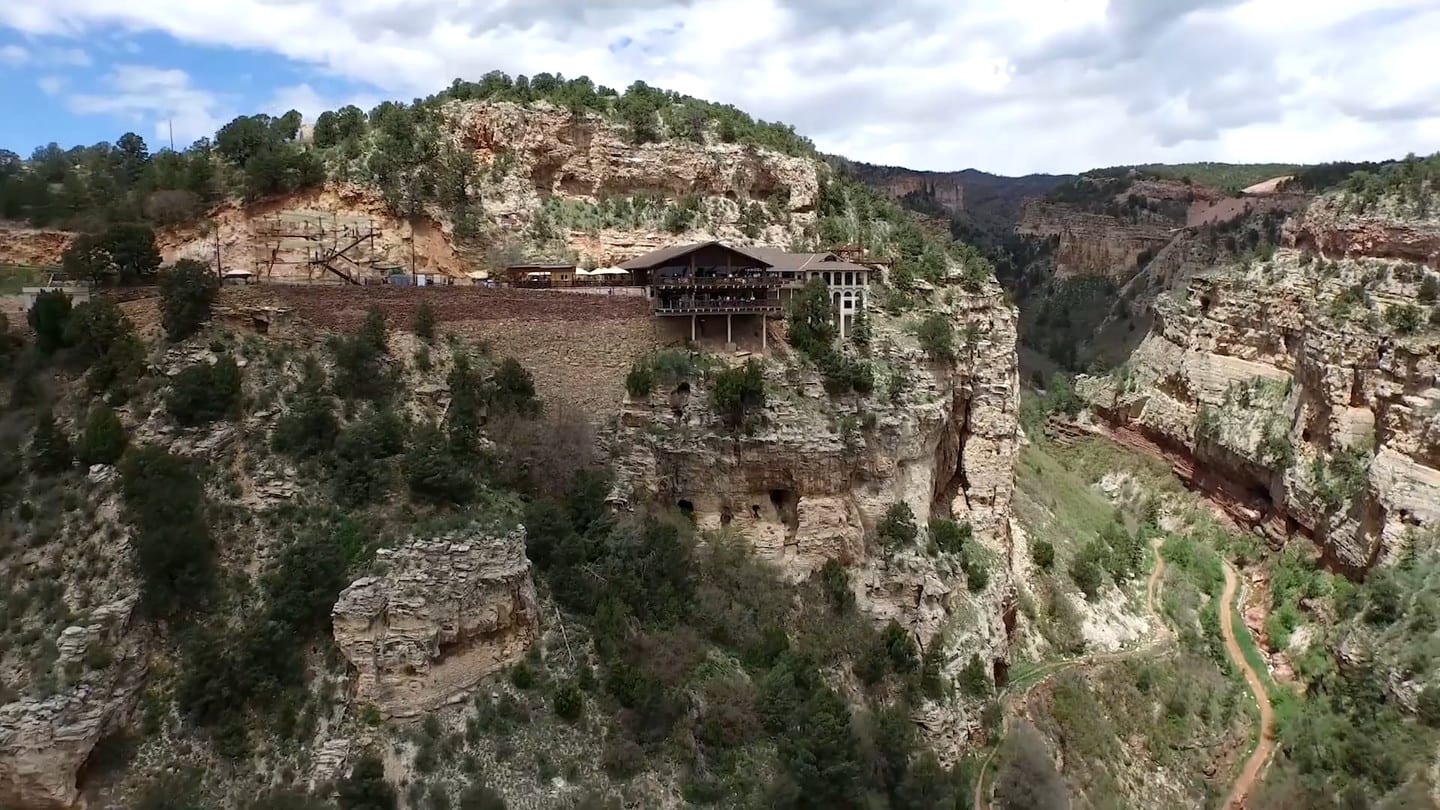 Other Activities
Wind Walker Challenge Course – A 3-story obstacle course balanced on the rim of a 600-foot drop over Williams Canyon. Participants are strapped in a full-body harness and have the opportunity to navigate a maze of steel beams, ropes and ladders. Open March through September.
Cliffhanger Climbing Wall
Geronimo's Leap
Magic Lantern Theatre
Panning for Gemstones
Axe Throwing
Stalactykes Adventure Slide
Caver's Crawl
Visitor Center & Gift Card
Williams Canyon Overlook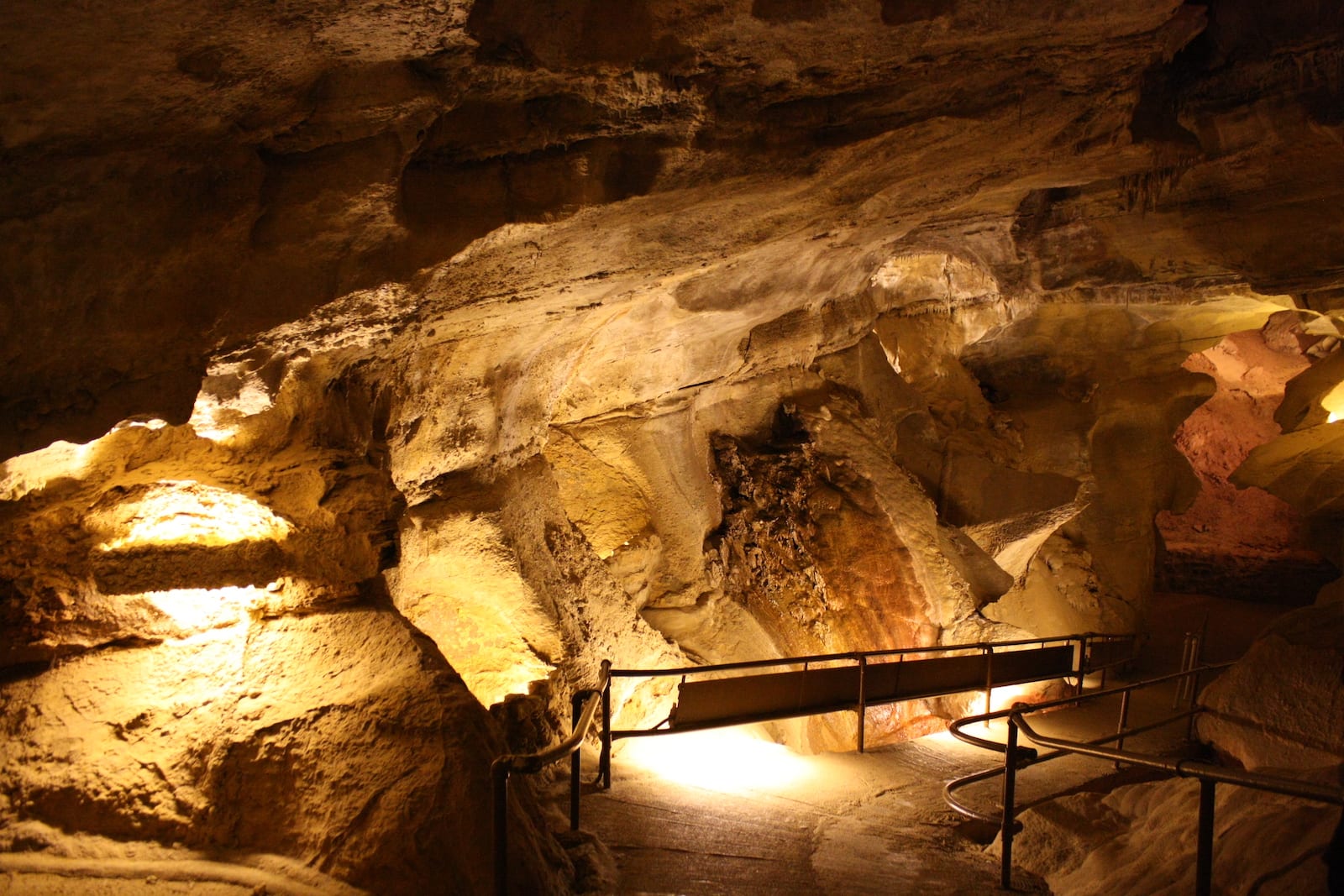 Address: 100 Cave Of The Winds Rd, Manitou Springs , CO
Phone: 719-685-5444
Season: Year round
Hours – Summer 9am-9pm, Winter 10am-5pm
Website: caveofthewinds.com
Latest in Cave of the Winds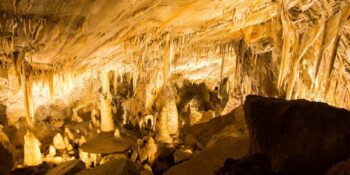 Exploring the Caves and Caverns of Colorado
Some of the most stunning landscapes on Earth are found in Colorado, and for good reason.…
Exploring the Caves and Caverns of Colorado Read More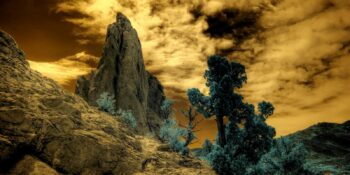 Exploring the 9 Natural Wonders of Colorado
If you've never been to Colorado, you are missing out on some of the most gorgeous,…
Exploring the 9 Natural Wonders of Colorado Read More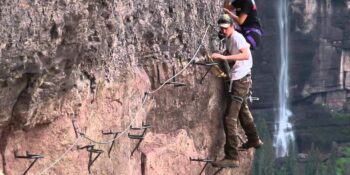 8 Valiant Via Ferrata Courses in Colorado
What's the latest craze in Colorado outdoor adventures? Most likely by now, you've heard the name,…
8 Valiant Via Ferrata Courses in Colorado Read More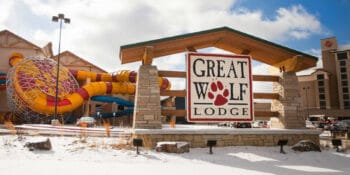 5 Amusement Parks by Colorado Springs
Colorado Springs features a number of fun amusement parks that will suit visitors of all preferences.…
5 Amusement Parks by Colorado Springs Read More
Get In Touch
Privacy Policy
Disclaimer—Terms of Service

Things To Do
Travel Blog
Colorado Activities
Colorado Events
Colorado Towns
Colorado Hotels
Colorado Restaurants
Colorado Transportation
Made in Colorado
Fall Activities
Federal Lands
Ghost Towns
Hot Springs
Ski Resorts
State Parks
Train Rides
Cave of the Winds Mountain Park
Hours updated a few days ago
Review Highlights
" My family and I enjoyed the day ziplining and trying out the obstacle course they have and ended with the haunted lantern tour . " in 226 reviews
" If you have more time to spend at Cave of the Winds, check out the Terror-Dactyl , and the Discover Tours! " in 24 reviews
" Not too much as to get in the way of some of the legends of this historic attraction in Manitou Springs . " in 15 reviews
Location & Hours
Suggest an edit
100 Cave Of The Winds Rd
Manitou Springs, CO 80829
You Might Also Consider
Escape The Place
8.0 miles away from Cave of the Winds Mountain Park
Tami C. said "Five of us conquered the BlackSite KGB captured room in 53 minutes today! The clues were challenging but do-able! Teamwork is a bonus!!!! When I'm back in town for another visit I hope we can go back again. Thanks for a fun…" read more
in Escape Games, Venues & Event Spaces
Bite My Axe Mobile Axe Throwing
We provide mobile axe throwing services for private parties, tailgates, corporate events! We bring the party to you! read more
in Axe Throwing
Amenities and More
1 More Attribute
About the Business
Cave of the Winds Mountain Park is an adventure filled mountain experience in the Pikes Peak region of Colorado. Located just west of Colorado Springs on U.S. Highway 24, near the Manitou Cliff Dwellings, Cave of the winds offers daily tours of the natural caves in this area. In addition to exciting cave tours, Cave of the winds offers many other activities that include obstacle courses, free fall excursions, rock climbing, and zip lines all near Colorado Springs. Whether you're planning a day for the family, or are looking for an educational tour for your homeschooling program, Cave of the winds has all the adventure you need. Call or visit our website to book your next tour. …
Ask the Community
Ask a question
Does the park offer a veteran discount?
Yes they do!!! We found most attractions in the w do. Very vet friendly!
Can you purchase early riser pioneer package and early riser lantern tour at the same time?
Hi Jamie! Yes, you can purchase both for the same time and check in at the same time. The Lantern Tour will start at the time you choose, Once you have your wristbands… more
Recommended Reviews
1 star rating Not good
2 star rating Could've been better
3 star rating OK
4 star rating Good
5 star rating Great
Select your rating
Overall rating
830 reviews
My family and I enjoyed the day ziplining and trying out the obstacle course they have and ended with the haunted lantern tour. IT WAS AWESOME!!! Our tour guide Mariah R. Was absolutely perfect!! She really brought the whole tour in the caves come to life. From scaring the crap out of me and really just keeping us on our toes about the history of the caves. She was enthusiastic and very protective, definitely a 10/10 experience and would definitely ask for Mariah if given the chance. My girl Nelly and Mariah deserve all the flowers and cave kisses!!! also thanks again Mariah for sharing your cave kiss with me now I have an extra 5 years of goodluck
Business owner information
Business Manager
Sep 15, 2023
Thanks for sharing your good luck adventure, we are thrilled you had an awesome good time!
Went on the Lantern Tour and it was one of the coolest experiences I've ever had! Such a great thing to do when it's a rainy day in Colorado. Our tour guide was Madi. Madi is not just an experienced tour guide though, she is a talented storyteller. As we walked through the cave, she shared the history behind Cave of the Winds and its founders and caretakers. She definitely had me engaged the entire time. When I come back, I really hope we'll get Madi again as our guide (I really enjoyed your energy, Madi! Thanks for taking good care of us!) Highly recommend shoes with tread. There were some slippery spots, but if you walk carefully, you should be solid.
Aug 25, 2023
We are so very happy you were able to join us on such a cool and memorable adventure! We can't wait for you to return!
We did the Lantern Tour with Madi N. and really enjoyed the tour. Madi was an excellent story teller and guide. Madi was funny, and nice. She told us about her experiences, and warned us. Madi was an amazing tour guide, and I really enjoyed the Haunted Lantern Tour. --Estelle, age 12
Aug 6, 2023
Thanks Amanda, we surely appreciate your feedback and support!
A group of five of us came by for the lantern tour. We had a really great time and it was definitely worth it. Our tour guide was Jeremy and he did a great job at keeping the tour spooky and fun. We want to come back for the longer tour!
Jul 13, 2023
We can't wait for your return!! Thank you in advance for your awesome support to a great adventure!!
A real neat place just outside Woodland Park, CO on highway 24. We chose the Discovery Tour, and had a very enthusiastic guide named Koda. Plenty of photo ops. Some elderly or out-of-shape people COULD have some difficulty navigating walkways that are sometimes 5' in height, stairs, and/or the darkness. But my wife and I are both 69 years old, and I was wearing an arm brace due to a recent surgery, and we did fine.
Jun 27, 2023
Bob , can we just say how much we appreciate your thoughtful and helpful feedback! Thanks so much for choosing to tour with us, we are thrilled you and your wife enjoyed the experience! Wishing you a speedy recovery!
There were 3 of us doing the Latern Tour Directors Cut. Our guide was Rowan, she's a great story teller. It wasn't scary, like no one jumps out at you, Rowan told us story about past historical Cave of the Wind people, stating that their spirits were still there. The creepiest, for us, was when we turned out all our lanterns and sat in the dark for 10 or so minutes listening to our guide. Your eyes start playing tricks on you.
Oct 17, 2023
Thanks so much for braving the dark mysteries of the Director's Cut, we are so glad to know it was a five star experience for you!!
Took a Director's Cut Lantern Tour with Rowan. Truly an excellent experience and led by a knowledgeable guide and brilliant storyteller! Like others have said, I would recommend wearing boots with a lot of traction as the cave can be quite slippery in some parts. Highly recommend this experience and will likely be back.
Very fun haunted lantern tour. Our guide was Roslyn and she was great. She was funny and had her info down packed. Pretty scary tour. Had me shaking in my shorts!
You made it out alive we take it! Great to know! Thanks so much for sharing your fun lantern tour adventure!!
During our visit to Colorado Springs we thought we would do a little adventure and do the cave tour. Don't remember our guides name but she was very knowledgeable and entertaining. She said something about just calling her Olive because she likes olives. If you head to the Springs definitely consider this attraction. Very fun and very educational.
See all photos from Pete M. for Cave of the Winds Mountain Park
Apr 2, 2023
Thanks so much for your recent visit along with your amazing recommendation, we look forward to your return!
This is a nice little tourist spot located in Manitou Springs. In addition to its numerous attractions, it offers some spectacular views of Pike Peak and other mountain ranges. It is really nice. The cave has many attractions such as a ropes course, a zip line, a snack bar, a small nature center, a gift shop and, gem stone mining, the Bat-A-Pult thrill ride, rock climbing, axe throwing, huge spiral slide, caver's crawl for kids, and different cave packages. They also have a huge dining area that can be used to host gatherings, and patio seating. I just did the basic cave tour. They also host a lantern tour, where you just have a dim lantern to guide you through the cave, just like in the good old days. The cave is well lit and defined. It does have quite a few stairs, narrow passageways, and low overheads that require ducking. You do not have to be in the best of shape, but you should have decent mobility. The tour starts off with a souvenir photo of course. But there is no pressure to buy it. Our tour guide Coda was awesome. He was very knowledgeable, funny, patient, friendly and helpful. He really did a great job. The tour takes about an hour and explains the discovery of the cave, cave formations and gives a pitch dark demonstration. You can not get any darker than a cave with no light source. The cave stays a solid 54 degrees year round regardless of the ambient temperature, so it can operate year round. I would just dress accordingly and wear comfortable shoes. You are allowed to take photos during the tour and you may have to use the flashlight on your phone. This is a tourist trap if I have ever seen one. But that's ok. It works. You can easily spend a half day or more here (and lots of money). There is tons to do here. I recommend exploring their package options if you plan on doing a few things to save a couple of bucks. I really enjoyed my time here. I highly recommend checking this spot out and don't forget to also check out the amazing views from here as well.
See all photos from Tank G. for Cave of the Winds Mountain Park
Mar 17, 2023
Thanks so much for choosing Cave of the Winds Mountain Park, we surely appreciate you sharing such a detailed review of your adventures here with us!!
150 other reviews that are not currently recommended
RWWRENTAL ATV Dirt Bike Colorado Rentals
11.1 miles away from Cave of the Winds Mountain Park
We are just your typical Colorado locals, turning our passion into a fun small at home business! Although we are an at-home business, we are zoned for commercial use and have special permits to operate, so yes! We are a trustworthy,… read more
in Atv Rentals/tours
Breckenridge Nordic Center
Chelsyea M. said "Took a snowshoe tour here and it was so memorable. The tour guide was very knowledgeable and willing to answer any questions that I had. They also offer skiing here as well. I really enjoyed myself. Drank a spiced wine afterwards…" read more
in Ski Resorts, Kids Activities
Collections Including Cave of the Winds Mountain Park
Food & fun for a trip to Colorado Springs!
By Jamie B.
A Day In The Springs
By Chantel B.
Colorado Springs
Rocky Mountain High
By Gourmet G.
The Springs
By Brittany A.
By Justin S.
By Marisa B.
By Laura C.
By Rommel A.
By Margaret P.
People Also Viewed
The Broadmoor Soaring Adventure
Adventures Out West
Pikes Peak Zip Lines
Academy Riding Stables
Enter the Room
Hellscream Haunted House
Bear Creek Nature Center
Seven Falls
Rockhound Atv
Great Outdoors Adventures
Best of Manitou Springs
Things to do in Manitou Springs
Other Challenge Courses Nearby
Find more Challenge Courses near Cave of the Winds Mountain Park
Browse Nearby
Restaurants
Things to Do
Escape Room
Bike Rentals
Challenge Courses Near Me
People found Cave of the Winds Mountain Park by searching for…
Active Life Manitou Springs
Cave Tour Manitou Springs
Fun Kid Activities Manitou Springs
Glenwood Caverns Manitou Springs
High Ropes Course Manitou Springs
Kids Activities Manitou Springs
Lantern Tour Manitou Springs
Outdoor Activities Manitou Springs
Teen Activities Manitou Springs
Terror Dactyl Manitou Springs
Theme Park Manitou Springs
Tourist Attractions Manitou Springs