Our efforts have been rewarded with wide support from the Chemung Valley community, which has enabled the following:
Ongoing Events
Please check out local Eagle Scout Timothy Updegraph's audio-guided walking and driving tours for Woodlawn Cemetery!
October Ghost Walk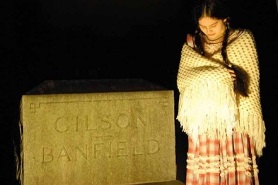 Friends of Woodlawn, in collaboration with Chemung County Historical Society and Elmira Little Theater, host the annual Ghost Walk. Visitors are treated to ghostly visits of historic residents of Woodlawn Cemetery portrayed by the actors of Elmira Little Theatre. Scripts are written by the staff of the Chemung County Historical Society. Check out some of our residents.
"Ghosts" previously featured
Previous events, august 2019.
Commemoration of the Columbarium and Heller Memorial Gardens
Dedication of the Columbarium and Heller Memorial Gardens with live music provided by the Cantata Singers
Yours, for the Oppressed
A play about the conflicting perspectives of the Abolitionist Movement and the
Underground Railroad.
Close to Clemens
A series of monologues, interspersed with Stephen Foster music, about the family and friends of Mark Twain.
Women of Woodlawn
Unveiling of granite sign at entrance to Woodlawn.
100th Anniversary of death of Samuel Clemens (Mark Twain): Re-enactment of his funeral procession and interment
October 2008
150th Anniversary of Woodlawn Cemetery: Re-enactment of John Hendy funeral procession and interment as 1st burial at Woodlawn; Elmira Little Theater actors portrayed "ghosts" living at Woodlawn.
Re-dedication of the Fireman's Statue (in conjunction with Elmira Fire Department)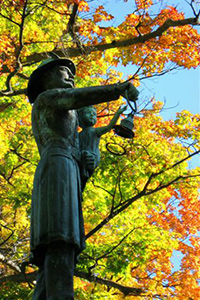 Elmira GhostWalk 2022
Fri Oct 21 2022 at 07:00 pm to Sun Oct 23 2022 at 10:00 pm
Chemung County Historical Society | Elmira, NY
Traditional: All Friday and Saturday tours. Park at the museum and arrive and depart the cemetery by bus.
Accessible: All Sunday tours, including VIP below. Sunday tours meet and begin at Woodlawn's Davis Street entrance. Bring your wheelchairs, strollers, or walkers to follow the same path as Traditional tours.
VIP: Sunday at 5:15 pm only. This fund-raising tour supports the museum's mission. We'll give you Boo-sters a few extras to take home on this tour led by museum staff.
Ticket reservations are required for all events and can be purchased online only. Please call the museum during working hours if you have any questions. 607-734-4167 or email [email protected] directly.
1. All FRIDAY and SATURDAY evening tours leave from the museum. Guests must check in with staff at the museum's reception desk before their scheduled tour to receive their ticket. There is plenty of parking nearby, and the museum is open while you wait for your tour time, we'll have ongoing trivia contests and a museum scavenger hunt. Board the bus at your designated time. We suggest wearing comfortable shoes and plan to walk 3/4 a mile in the dark. At the cemetery you'll be guided as a group to meet the evening's characters. Buses return visitors to the museum. $20 nonmembers, $18 members (Select the blue promo code link that appears at the top of the list of tours.)
2. All SUNDAY dusk tours meet at Woodlawn's Davis Gate for admission to Woodlawn Cemetery. Parking is available on the street nearby. Guests must check in with the staff to find their cemetery guide. Plan to cover 3/4 to 1 mile level-ground during your tour. We've made sure that your wheelchairs, walkers, and strollers can cover the area easily. Note-these tours are open to anyone including those wanting to walk during the day. $20 nonmembers, $18 members (Select the blue promo code link that appears at the top of the list of tours.)
3. **VIP Sunday tour participants park nearby and meet at Woodlawn's Davis Street check-in to receive special instructions. Tour is accessible and follows the same route as the others, but we've added some extra take home items to this tour as a thank you to our dedicated supporters. $40 per person.
TRANSPORTATION:
Friday and Saturday evening tours are bus only. Guests must ride the hired buses to and from the museum in order to attend.
For ALL Sunday tours please check in at Woodlawn's Davis Street gate after parking nearby.
EXPECTATIONS:
We want everyone to be safe! Guests are welcome to wear masks covering their nose and mouth at any time, especially on the buses. Please pay attention to your guides, they are there to help, and we ask you to stay with your ticketed group as you're escorted through the cemetery. Wear comfortable shoes and expect to walk a little over a mile in low-light conditions. This event will take place in rain, shine, or even moonshine. No refunds will be given.
James Hare and John Liquori, 2021 GhostWalk
Where is it happening?
Event Location & Nearby Stays:
USD 20.00 to USD 40.00
Host or Publisher Chemung Co Historical Society
It's more fun with friends. share with friends.
Exploring My Big Backyard
Join me as I explore the Finger Lakes region of upstate New York for hiking, kayaking, exploring museums, experiencing area festivals and so much more
A Walk on the Spooky Side
With Halloween quickly approaching I decided it was time to get into the spirit by taking a ghost walk.
For the past 13 years the Chemung County Historical Society in Elmira has hosted a ghost walk in Woodlawn National Cemetery. This cemetery is home to many notable and interesting people throughout history.
I will be the first to admit I do not do scary. But I do love history so I reserved my ticket, bundled up to keep warm and headed out to the Chemung Valley History Museum.
This ghost walk is only available one weekend each year. They do run it both Friday and Saturday night. Our guide told us they had eight tours each night this year. They sell out fast so make sure you reserve your spot early. I booked my several weeks ago.
We were told to arrive 15 minutes before our 7:35 time slot. I recommend arriving a little earlier so you have time to look around the museum or join in on the local trivia questions being asked in the meeting room. We were able to enter our name in a drawing for a prize for every answer we got right.
At 7:35, our bus was ready to take our group to the cemetery. There were around 20 people in our group. When we arrived at the cemetery we were greeted by a group of people carrying lanterns to guide us around.
Walking through a cemetery at night will give you a little bit of apprehension all on its own. When you mix that with the occational "spirit" wandering by in the distance it is a creepy, fun time.
The guides led us to select graves where there are "spirits" who tell the story of their lives. They are dressed in clothing from that time period. They pull you into the story and truly make you feel like you are transported back to their life at that time in history.
In total we visited four gravesites plus saw various other spirits wandering through the cemetery. We were asked to not have our phones out during the spirit visits so I don't have pictures to share. This is one you will need to see in person. I know I will be going again. It was spooky, good time!
If you would like to check out the spirits that have appeared over the past 13 years you can visit http://www.chemungvalleymuseum.org . They do change it up over the years so you will want to go back again and again.
Thanks for exploring with me – Shelly
Share this:
Leave a reply cancel reply.
Already have a WordPress.com account? Log in now.
Follow Following
Copy shortlink
Report this content
View post in Reader
Manage subscriptions
Collapse this bar
Chemung County Historical Society
Monday, october 21, 2019, ghost stories.
Sounds exciting....the price is right too.
About Local Routes
Local Stories
Full Episodes
View Local Events
Add Your Event
Events Newsletter Signup
Historic Ghost Walk in Apalachicola
The Apalachicola Area Historical Society invites you to join them for their annual Fall Historic Ghost Tour on Saturday, October 28, 2023 from 6:30-8:30 pm at the Chestnut Street Cemetery on Highway 98 in Apalachicola. The theme of this year's event will be "Lost at Sea". All proceeds from the Ghost Walk benefit the preservation of the Chestnut Street Cemetery. 
Adventurous guests are summoned to the Ghost Walk to meet Apalachicola's citizens from the other side and hear legends and lore from the past. Hauntings will abound when local history enthusiasts don the garb and take on the persona of the cemetery's notable inhabitants to tell their tale of life and death in Apalachicola from more than 180 years ago. Visitors are guided through the cemetery along candle-lit paths to meet some of Apalachicola's historic citizens.
Tickets are on sale now and are available in person at the Raney House Museum, online at at  https://aahs.wildapricot.org/events and at the gate. The cost is $10 for adults and free for students. The Raney House Museum is located at 128 Market Street, at the corner of Avenue F in historic downtown Apalachicola and is open from 10:00 am – 4:00 pm Tuesday through Saturday. Although the house is under exterior restoration, the AAHS is attempting to keep it open on its regular schedule. 
The historic Chestnut Street Cemetery is located at the corner of Ave E (Hwy 98) & 8th St in Apalachicola, Florida. Funded in part by the Franklin County Tourist Development Council. For more information: http://www.apalachicolahistoricalsociety.org , 850-653-1700 (leave a message) or [email protected] .
+ Add to Google Calendar
+ iCal export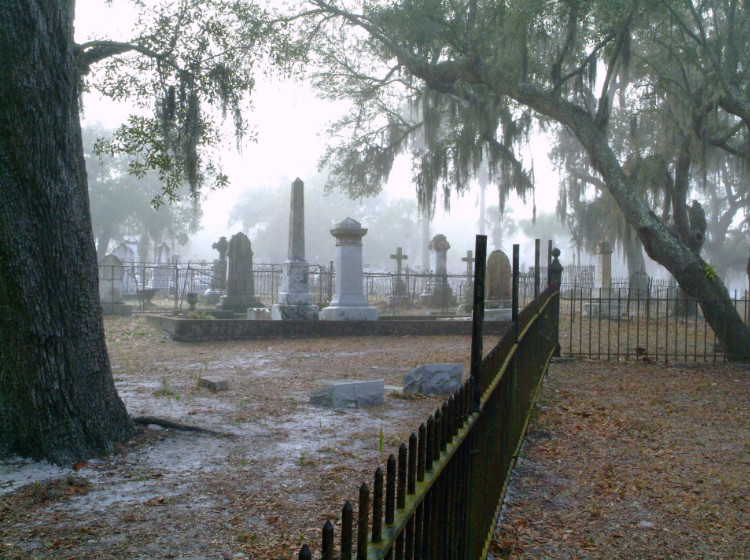 Apalachicola Area Historical Society
Share this event.

Related Events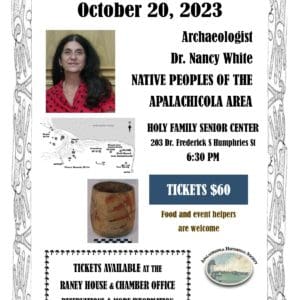 Apalachicola Area Historical Society Heritage Dinner
World Music Trio performs Shalom Rav
Identifying native bee species of north florida.
Historical Society hosts 33rd annual Ghostwalk based on the 1920s
NEW BERN, N.C. (WITN) - The New Bern Historical Society will host the 33rd annual Ghostwalk event on what happened in New Bern during the lively Roaring '20s.
The event will be Oct. 19-21 from 6:00-9:30 p.m. each night and will be family-friendly. Guides will tell stories of New Bern's past while actors act out key scenes and historical figures.
The Historical Society says tickets for the Ghostwalk are good for all three nights and are available through the Historical Society website , by calling 252-638-8558, or at the Historical Society office.
Adult advance tickets are $20 through Oct. 19 and $23 the days of the event. There is a special $15 price for active-duty military, students and Historical Society members. Children under 12 are $5, children under 3 are free. Your ticket is your Ghostwalk map.
For more information, call (252)638-8558 or click here .
Copyright 2023 WITN. All rights reserved.
Pitt County accident sends two to the hospital
UPDATE: Inappropriate touching happened on Edgecombe Co. school bus, according to detective
Pine Knoll Shores aquarium announces death of beloved sea turtle Nimbus
Kinston police find man with multiple orders for arrest
Early morning house fire in Goldsboro
Latest news.
WITN Endzone Week 8 Part 2
NCEL 10-6-2023
NCEL 10-06-2023
WITN Endzone Week 8 Part 1
Megamillions 10-06-23