Your cart is empty
Have an account?
Log in to check out faster.
Item added to your cart
You may also like.
Extended Holiday Returns
Free Shipping on All Orders
Price Match Guarantee
Financing As Low As 0% APR with Affirm
1.866.961.7781

Review: Devialet Phantom I & II Wireless Speakers
Devialet upgrades their phantom series.
After years of success with their Phantom Premier and Phantom Reactor speakers, Devialet has unveiled their Phantom I and Phantom II series speakers and we're here to take the confusion out of the new line-up and break down what you need to know about the changes.
Barely a day goes by that someone doesn't ask us about the Devialet speakers on demo in our showrooms . "What's that?!"... "Whoa, are these speakers?"... "They look so cool, but how do they sound?" Devialet makes some of the most head-turning, conversation-starting, cool-looking speakers out there. Their Phantom wireless speakers are iconic and unmistakable in design and, unlike some other brands out there that may look really cool but sound like crap (sorry), we can confidently say Devialet's speakers really do sound as good as they look. The Phantoms emit ultra-dense sound with physical impact and have been revolutionizing the speaker game since their release as references for acoustical excellence.
So, with the new 2021 line-up Devialet has kept their signature space-age styling but have delivered a refreshed look and made some much-needed technology upgrades to offer better connectivity and enhanced audio.
Devialet Phantom I vs. Phantom II:
First off, Devialet changed the naming conventions of their Phantom line-up. The Phantom Premier will be know as Phantom I (103dB or 108dB) and the Phantom Reactor will be known as the Phantom II (95dB and 98dB). Both units have matching stands with options for the treepod (aka tripod stand) or the tree (a single unit speaker stand). Aside from the name changes, the big story are the upgrades to the Phantom I wireless speaker. Devialet introduced new colorways, an improved next-gen processor, and AirPlay2 and Roon Ready support.
Phantom I upgrades at a glance:
Brand new user experience with intuitive app interface, including Devialet Remote for precision handling.
Enhanced connectivity with Airplay 2, Hi-res on several sources, IP control, etc.
Increased power efficiency with lower energy consumption = high-end, ultra-dense sound with more power, clarity, and precision from infrabass to the most extreme treble.
New, modern colorways available in an exclusive white or black matte finish, with new sets of side panel options.
New side panels: Light Chrome, Matte black, Gold, Dark Chrome
New logo: Devialet tear redesigned and modernized
Next-gen chip: Devialet Intelligence Processor gathering SAM, AHD, Magic Wire, Class A, DAC in a single chip
The Phantom I has new colorways, finishes and packaging, and will also now be packaged with an included sleek, round-shaped remote to control playback. The new speaker comes in two power levels: the 103dB model with a a frequency range of 16Hz to 25kHz is available in light chrome or matte black. The 108dB with a with a frequency range of 14Hz to 27kHz is available with dark chrome or gold side panels. Both the Phantom I and Phantom II have colorway options in Opera De Paris, with luxe gold leaf side panels. The special edition Opera De Paris models were created in partnership with the Paris Opera and inspired by the iconic gilded interiors of the space.
The Phantom I's brand new next-gen processor means thermal dissipation will be "up to 4 times more efficient" which will result in less wear and tear on components and better power consumption overall. This, along with Devialet's Analogue Digital Hybrid (ADH) amp, a proprietary technology the company says can deliver the quality of an analogue amp in a digital-sized package, should allow the Phantom I to provide "best-in-market performance in terms of compactness to power fidelity ratio". Remember what we said above about these little speakers sounding as good as they look? Devialet's entire philosophy is about achieving "high-end ultra-dense sound with power, clarity and precision like nothing you've ever encountered".
And, not to be outdone by it's little brother, the Phantom II, the Phantom I's connectivity was improved with the new Devialet app that allows multi-room configuration between all Phantom models, and support for AirPlay 2 so you can bypass the Devialet app if you choose and stream music directly from your iPhone. Roon Ready support also now allows for Hi-Res Audio streaming. Phantom's open architecture lets you get straight to the music you love: AirPlay 2®. Spotify Connect, Roon Ready, UPnP.
The Phantom II feature set remains largely the same as its predecessor, the Reactor, but will be also now be available in a matte black option, as well as iconic white, and gold leaf.
Like the Phantom I, the Phantom II speaker comes in two power levels: the 95dB model with a frequency range of 18Hz to 21kHz is available in iconic white chrome or matte black. The 98dB with a with a frequency range of 18Hz to 21kHz is available with dark chrome or gold side panels.
To clarify any confusion around the different max volume power levels of the Phantom speaker models, basically, the main difference between Phantom II 95 dB and Phantom II 98 dB, for example, is just that: their power. Phantom II 98 dB can achieve twice the power of Phantom II 95 dB. It all comes down to personal preference... and your budget, of course.
New Devialet Multiroom for Phantom
Both the Phantom I and Phantom II now offer multiroom capabilities. Using the new Devialet app, you have the option for three different playback modes. Multi -zone play lets you play the same music to multiple speakers in different rooms of your home. Single-zone play lets you play to multiple Phantom speakers in the same room. Individual play lets you listen to whatever you want in oh Phantom speakers in different room in your home. Listen to jazz in the kitchen while someone else enjoys a podcast on the couch. Control your volume and manage zones directly in your own Devialet apps.
Stereo Pairing: Two Phantoms is Better Than One
When it comes to stereo pairing with Devialet Phantom speakers, 1 + 1 = 3. Create a stereo pair and gain up to three extra decibels. A pair of Phantom speakers in stereo is a compact hi-fi system that packs a serious punch. With left and right channel synch, it delivers an incredible soundstage in a sleek package.
A Memorable Experience
Founded in 2007, Devialet is a French acoustical engineering company operating at the intersection of luxury and cutting edge technology and a Devialet encounter in our showrooms is one to remember. The space-age design, atop a tabletop or perched on one of the matching modern stands, is, as we said above, a head-turner. One might even call it a polarizing design: you either love it, or you hate it. But, when you listen to these wireless speakers, the spherical shape and purist design becomes so clear and purposeful and the haters usually become fans. The unique design, consisting of 981 parts protected by even more patents, is engineered with a focus on function to deliver sound and even physical impact that is unrivaled from such a compact profile. Devialet stands confidently behind their promise that "0 distortion, 0 saturation and 0 background noise ensure you get nothing but audiophile-grade playback, even at 900W".
The new Phantom upgrades prove that Devialet is still relentless in their pursuit to continue to improve on and deliver an emotional musical experience in a truly unique fusion of engineering and design that impacts your auditory, visual, and even tactile senses.
Devialet Phantom Wireless Speakers
Choosing a selection results in a full page refresh.
Devialet Phantom I review
Space-age opulence.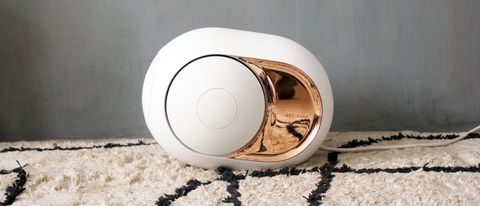 TechRadar Verdict
The Devialet Phantom I is a continuation of the French audio brand's iconic range of wireless speakers, which come with powerful side-firing bass reflex ports that pulse in time to your music. The sound is nothing short of outstanding, and a good range of connectivity options and an easy-to-use app make the Phantom I easy to recommend – if you have a lot of money to spare, that is.
Unique design
Fantastic audio performance
Easy-to-use app
Super-expensive
Quite heavy and large
Why you can trust TechRadar We spend hours testing every product or service we review, so you can be sure you're buying the best. Find out more about how we test.
One-minute review
Devialet's Phantom series of wireless speakers is notorious for its opulent, space age-inspired designs and mind-blowing price tags.
Price and availability
Audio performance
Connectivity.
Should I buy it?
The latest, the Devialet Phantom I, is no different. It sports a Kubrick-esque build, side-firing bass reflex ports that pulse to the beat of your music, and a futuristic puck-shaped remote control.
Oh, and don't forget the 22-carat rose gold-plated sides – which may go some way to explain the speaker's $3,200 / £2,790 / AU$5,490 price. And that's the price for just one speaker, by the way. If you want to pair two for stereo sound, it will cost you double.
Still, the sound is undeniably good. This speaker packs a real punch, presenting a powerful, immersive sound, thumping bass, smooth mids and detailed trebles.
Thanks to the nifty audio tech onboard, including the company's Active Cospherical Engine (ACE), the egg-shaped speaker can diffuse sound in all directions. The soundstage certainly feels wide with excellent separation, which is only heightened when you pair two speakers in stereo mode.
As for connectivity? Well, there's support for Wi-Fi, Ethernet and Bluetooth connections, alongside AUX and optical inputs. For iPhone users, there's AirPlay 2 support. Meanwhile, a handy new Devialet app allows for multi-room configuration between all Phantom models and Roon-Ready support for wireless Hi-Res Audio streaming.
Sound good? Take another look at that price tag before you start clearing a space for the Phantom I. There's no doubt that you get a lot for your money, but it's far pricier than many of the best wireless speakers on the market.
Still, if you have money to spare and you're looking for a truly unique speaker that will do your hi-res music justice, the Devialet Phantom I is the speaker for you.
Devialet Phantom I price and availability
$2,200 / £1,890 / AU$3,690 for 103dB model
$3,200 / £2,790 / AU$5,490 for 108dB model
The Devialet Phantom I is available in two power levels. The first comes in light chrome or matte black, and delivers a maximum volume of 103dB and a frequency range of 16Hz to 25kHz. Costing $2,200 / £1,890 / AU$3,690, it's considerably more expensive than its predecessor, the confusingly named Devialet Phantom II (previously known as the Phantom Reactor 900 ).
For those looking for a little more power, there's the 108dB model with a frequency range of 14Hz to 27kHz. It's available with dark chrome or luxurious gold side panels – and is more expensive still at $3,200 / £2,790 / AU$5,490. This is the version we tested for this review.
That's far pricier than many of the best wireless speakers you can buy today. For comparison, the Sonos One costs $199 / £199 / AU$299. Even the relatively pricey KEF LS50 Wireless II stereo speakers cost $2,499 / £2,250 / AU$4,295 – and you're getting two speakers for your money there. While you can use two of the Phantom I for stereo sound, there's no discount if you wish to do so; you'll be paying double.
Unique looks
22-carat rose gold-plated sides
Side-firing bass reflex ports
The Devialet Phantom looks quite unlike any other speaker on the market (unless you count its predecessor, that is). Like a hybrid between a Kubrick-esque spaceship and a gilded egg, this wireless speaker isn't designed to blend into the background – it's a statement piece that will take center-stage in your home, particularly if you choose to buy two for stereo pairing.
While it does share some aesthetic similarities with the Phantom II, the Devialet Phantom I is larger and heavier than its predecessor. Weighing in at 11.4kg, you won't want to be moving it around your home too much.
The Phantom I comes in matte black or white, with the latter including 22-carat rose gold-plated sides that are emblazoned with the Devialet insignia; they look incredibly luxurious and go some way to explaining its high price.
At the front of the speaker sits the Devialet logo, which is cut into the chassis itself, while each side features bass reflex ports that pump air rhythmically in time with the beat of your music.
Around the back of the Phantom I you'll find ventilation grilles to stop it from overheating, a power button that lights up when the speaker is in use, and a port to connect your power cable.
The Phantom I comes with a rather cool circular remote control, which only adds to the space-age feel of the speaker. This puck-like unit can be rotated to adjust the volume, while a touch-sensitive panel allows you to skip tracks, and play/pause your music. A rubberized ring at the base of the remote means it won't budge if you place it on a coffee table, and its stylish white and silver color scheme makes it more aesthetically-pleasing than your average remote.
Saying that, we'd have loved a continuation of the rose gold motif seen on the speaker itself – and, at this price, we don't have any qualms about being so picky.
Still, there's nothing about the design of the Phantom I and its accompanying remote that leaves you in any doubt of this speaker's luxurious credentials – and, if you want to make even more of a style statement and give your speaker a dedicated home, Devialet sells some stands for a cool $350 / £349 / AU$699 each.
Remarkably powerful
Excellent audio performance
Ability to stereo pair
The Devialet Phantom I is a remarkably powerful speaker, reaching volumes you'd expect from a professional studio setup, without any distortion.
Inside the speaker is a grade 1 titanium tweeter driver, an aluminum medium driver, and aluminum bass drivers.
The Phantom I uses Devialet's proprietary audio tech, including the Analogue Digital Hybrid (ADH) amp, which the company says can deliver the quality of an analogue amp in a digital-sized package. There's also Speaker Active Matching (SAM) signal processing to retain high acoustic fidelity, Heart Bass Implosion (HBI) for powerful bass, and the Active Cospherical Engine (ACE), which allows the egg-shaped speaker to diffuse sound in all directions.
These technologies certainly seem to do the trick. The soundstage feels wide and immersive, with excellent separation, strong bass frequencies, smooth mids, and high-fidelity trebles.
Listening to Jazmine Sullivan's On It, lazy guitar riffs and thumping bass lines complement complex vocal riffs and harmonies, with those iconic side-firing woofers pulsating with every beat.
What really gets those woofers going, though, is Björk's Hyperballad. In the verses, deep sub-bass drones and contrasts with chime-like keys and Björk's tentative vocal, before the song launches into the chorus, laden with industrial dance beats and pulsing synths.
Percussion sounds crisp and accurate in Bjork's Venus As A Boy, with swinging rhythms and cascading violin and vibraphone melodies handled with dexterity.
In stereo, the Phantom I sounds better still. Agnes Obel's Dorian moody cello undercurrents and rolling piano riffs provide a bedrock for haunting vocal harmonies, with each melody coming through with clarity and precision.
Little Dragon's Wildfire boasts subby bass lines that display plenty of power without sounding overpowering – but it's the vocals that are the star of the show, with a clear and smooth presentation. Percussion sounds crisp, while alarm-like synths peel through the mix, with the stereo configuration adding even more immersion and dynamism to the sound.
Wi-Fi, Ethernet, and Bluetooth
Roon Ready and AirPlay 2
Hi-Res Audio support
The Devialet Phantom I has been given some nifty connectivity upgrades over its predecessor, including a new accompanying app that allows for multi-room configuration between all Phantom models, and Roon Ready support for wireless Hi-Res Audio streaming.
Wi-Fi, Ethernet, and Bluetooth support mean you have a few options when it comes to wirelessly streaming your music, with the latter supporting SBC and AAC codecs.
The new app is slick and easy to use, with a sliding volume dial that echoes the design of the accompanying remote control. You can also use the app to turn on 'AV sync', which reduces the audio latency when using the AUX input, and improves audio and video synchronization if you're using the Phantom I as a TV speaker.
If you do want your Phantom I to double up as a soundbar , there's a TOSLINK optical port, although you won't find an HDMI port.
There's also support for AirPlay 2, which means you can stream music directly from your iPhone to multiple AirPlay speakers without using the Devialet app.
Should I buy the Devialet Phantom I?
Buy it if....
You have plenty of money to spare The Devialet Phantom I doesn't come cheap, but if you can afford it, then you're getting a very unique speaker with tons of audio prowess.
You can afford two The audio experience is only heightened by using two of these speakers in a stereo pair.
You're looking for striking design The Phantom I looks quite unlike any other speaker on the market, and if you love the space-age aesthetic, you'll dig this egg-shaped speaker.
Don't buy it if...
You're on a budget It almost goes without saying, but the Devialet Phantom I isn't suitable for those on a strict budget, and you can get almost impeccable sound for less – just look at the Sonos One, for example.
You want an understated speaker The Phantom I won't blend into the background, so if you're all about chic Scandi style, it's not for you.
You're short on space The Phantom I has a rather large footprint and will take up a fair bit of space – especially if you want two in a stereo pair.
Looking for more? Check out the best stereo speakers you can buy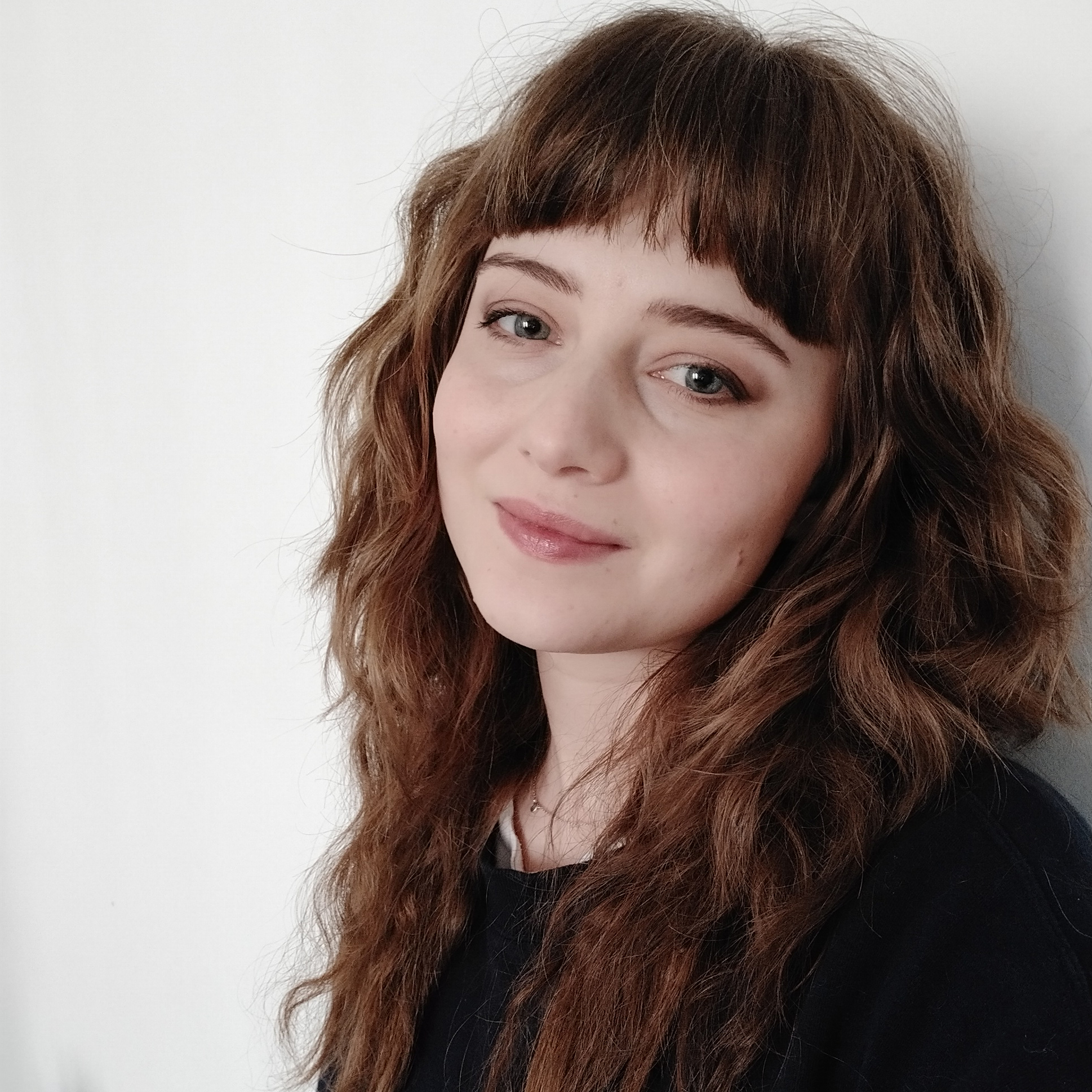 Olivia was previously TechRadar's Senior Editor - Home Entertainment, covering everything from headphones to TVs. Based in London, she's a popular music graduate who worked in the music industry before finding her calling in journalism. She's previously been interviewed on BBC Radio 5 Live on the subject of multi-room audio, chaired panel discussions on diversity in music festival lineups, and her bylines include T3, Stereoboard, What to Watch, Top Ten Reviews, Creative Bloq, and Croco Magazine. Olivia now has a career in PR.
Microsoft CEO: AI is "bigger than the PC, bigger than mobile" - but is he right?
Don't wait for Black Friday – two great iPad deals I recommend buying now
D-Link confirms data breach after employees hit with phishing attack
Most Popular
By John Loeffler October 17, 2023
By Rob Dwiar October 17, 2023
By Luke Edwards October 16, 2023
By Kara Phillips October 16, 2023
By Jake Tucker October 16, 2023
By John Loeffler October 16, 2023
By Mark Pickavance October 16, 2023
By Cat Bussell October 16, 2023
By Allisa James October 16, 2023
All products featured are independently chosen by us. However, SoundGuys may receive a commission on orders placed through its retail links. See our ethics statement.
Devialet Phantom Review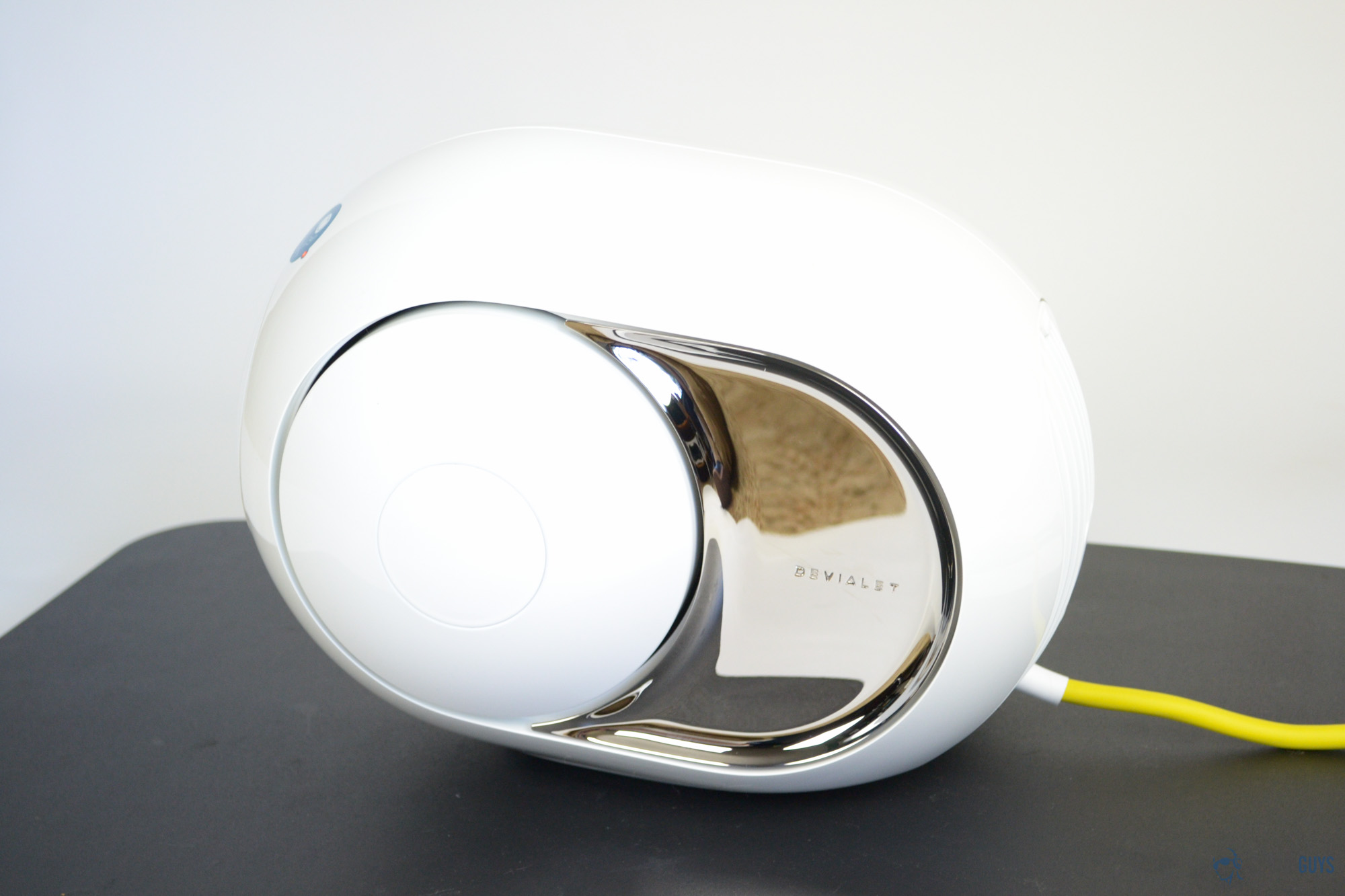 Even though they're a relatively new technology in the grand scheme of things, Bluetooth speakers have reached a point where they're all pretty much, well, the same. Sure you'll find different features and designs, but at their core, different products are all using the same speaker technology as an old transistor radio.
At least, that's mostly the case. The Devialet Phantom is another thing entirely. While it may look slightly similar to other speakers you've seen, on the inside, a whole lot is different. If you aren't aware of this out of the gate, you'll certainly be aware of it once you take a look at the price tag. We're reviewing the cheaper model, and it's still approaching $2,000.
What's In The Box?
The packaging fits with the minimalist style. Open up the box and you'll only find two things: the carefully packed speaker itself, and a (very) small manual.
Build & Design
While some would call the look of the Devialet Phantom futuristic — and it is — our main takeaway is that it's just, well, weird looking. We're looking at the 750 Watt white version, but a 3000 Watt silver version is also available. Either way, they look more like a strange piece of alien technology than a piece of consumer electronics.
Don't expect to be hauling the Phantom around with you. Not only does the company place a sticker on the speaker urging you to handle it with care, but it's simply tough to move. First there is the weight: 28 pounds. Second, something about the shape and the way the weight is distributed makes it awkward to move around.
Devialet claims that the Phantom "replaces all existing systems," but considering the price and weight, you're probably not going to use this to replace your portable speaker of choice.
Connectivity
It was immediately apparent when testing of the Devialet Phantom began that it was anything but plug and play. To even start using it, you'll need to connect to its Wi-Fi to give it access to your Wi-Fi. Once this was complete, the Phantom began to update its firmware. This self-updating feature is actually a plus, but it was a frustrating 30 or more minutes before we were able to begin using the speaker.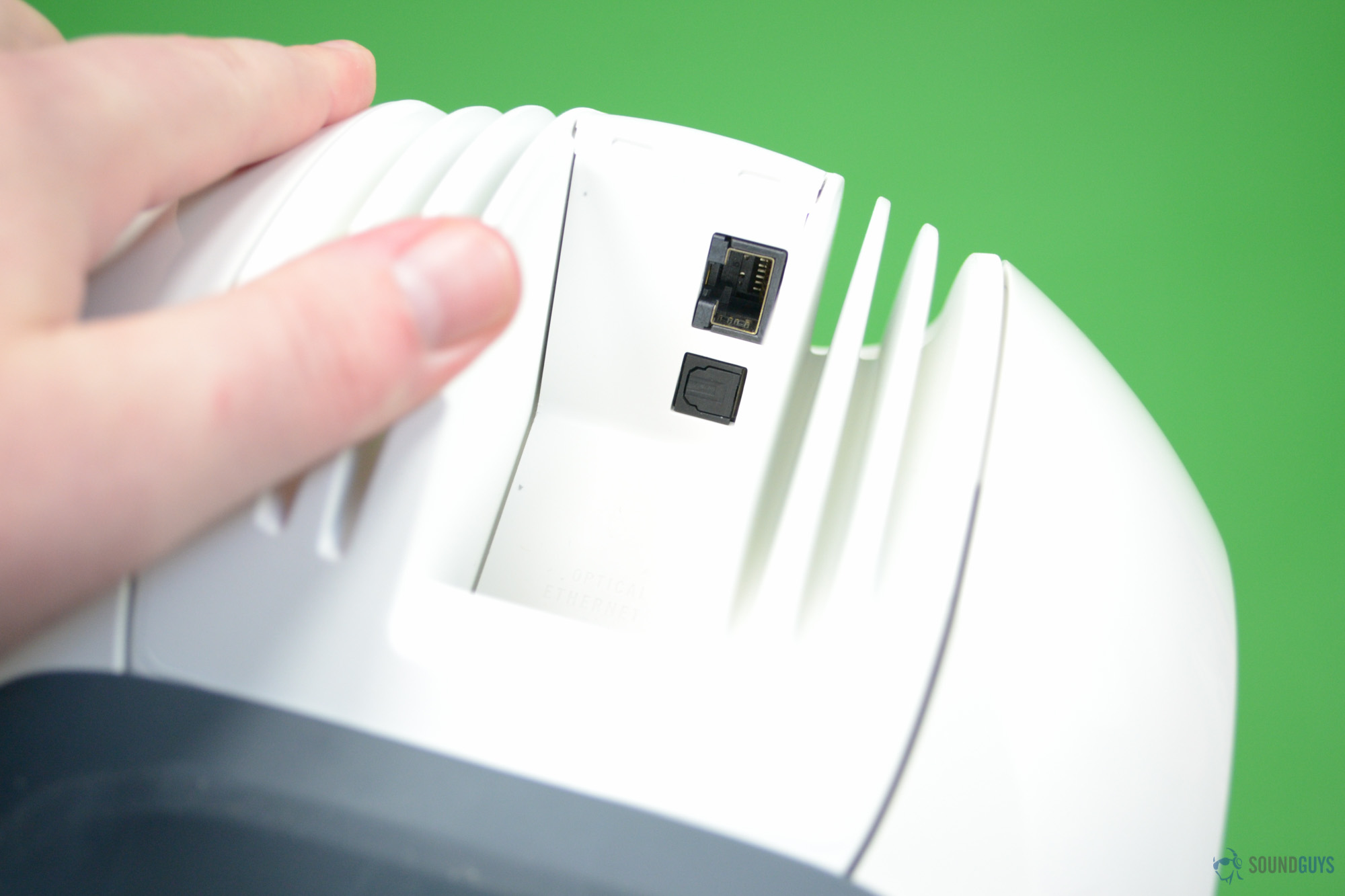 Another thing that was immediately apparent is that Devialet expects most users to also have purchased its Dialog link box, but one wasn't included with our review unit. The Dialog is necessary for stereo pairing, but it also enables Bluetooth functionality. Without it, you're limited to Wi-Fi playback and the few streaming services that the Phantom supports out of the box.
To play your own music files, you'll need Devialet's free Spark software, which is available for iOS and Android as well as Windows and OS X. The software itself is fine, but this could be frustrating if you were expecting the Phantom to play nicely with the music playback software of your choice.
Sound Quality
Hype can be both good and bad for a new product, and here it ended up being a bit of both. We were very excited to get the Devialet Phantom in for review, but because our expectations were set so high, it would have been tough to live up to them, no matter how good the speaker in question was.
Devialet boasts about the numerous patents that have been awarded to the company and throws a lot of terms around — Implosive Sound, ADH HBI — but what it comes down to is that this is a very loud speaker with an impressive frequency range of 16 Hz to 25 kHz. It's definitely impressive to behold, but there are issues.
One area where we weren't let down is the bass. No matter where you put the Phantom, it's going to generate enough bass that you'll be able to feel it through the floor. Crank the volume up, and it gets even better, but it doesn't overpower the other frequencies.
The mids fire loud and clear, with plenty of space around the instruments. Vocals are treated especially nicely, with the subtleties and nuances of the singer translating nicely, even while instruments blare around them.
Considering the sheer amount of volume this speaker can push, Devialet had to be careful that the highs didn't come across as harsh, and the company seems to have met its mark. Highs are crisp and clean, with no apparent distortion.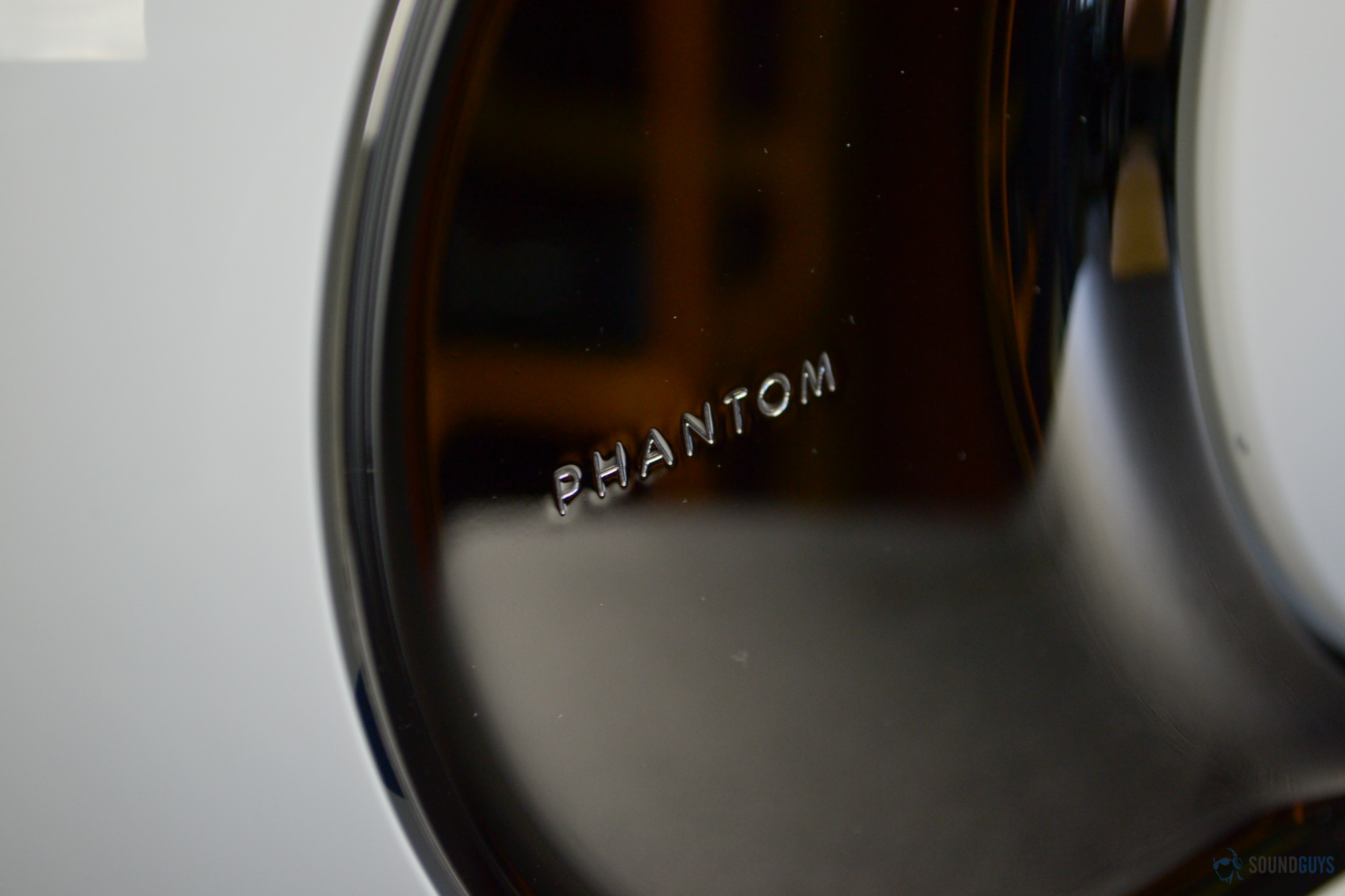 One of the main selling points of the Phantom is that it can get loud, and even though we're reviewing the less powerful model, it certainly does what it says on the tin. The only problem — and it is a problem, albeit one that may not matter to some — is that all that volume is pushed into one mono channel.
If you want stereo, you'll need to purchase another Phantom as well as the Dialog link. Even looking at the cheaper of the two speakers, you're looking at spending near $4000 at that point. You'll end up with an impressive, somewhat minimalist sound system, but it might not sound like $4000.
The Devialet Phantom doesn't feel so much like a product that a lot of people are going to buy now as it does a demo or a first glimpse of a future product that will be really cool. The tech is certainly cool, but we can't help but think of how much you could buy for the same amount — think a multi-room Sonos setup or four Wren V5US units.
There's another thing worth keeping in mind if you're comparing our take on the Phantom to the rave reviews making their way across the internet. We reviewed the (somewhat) cheaper 750 Watt version, while most of the positive reviews are of the 3000 Watt version. If you're looking at buying this, it seems like you might just want to spend the extra money on a top of the line model. Even then, we probably wouldn't recommend it.
Every product is carefully selected by our editors . If you buy from a link, we may earn a commission .
Devialet Phantom Review: The Most Striking Audiophile-Grade Wireless Speaker, Upgraded and More Affordable Than Ever Before
The upgraded Devialet Phantom speaker sounds more like its $3,000 brother, yet costs even less than the original Phantom speaker from three years ago.

What Hi-Fi? Verdict
On the basis that more is more, the Devialet Gold Phantom has more of everything
Clever inside, striking outside
Overwrought specification
Tremendously fulsome sound
Needs greater separation and space to its delivery
Why you can trust What Hi-Fi? Our expert team reviews products in dedicated test rooms, to help you make the best choice for your budget. Find out more about how we test.
When we reviewed Devialet's remarkable Silver Phantom wireless speaker at the end of 2015, we made many and various observations.
One observation we failed to make, given the Silver Phantom is packing 3000W of power, was that it might be in any way short of grunt.
So naturally enough Devialet is back with the Gold Phantom – it's £500 more expensive than its Silver counterpart, and it's got 50 per cent more power.
That's right, 4500W – which is good for a maximum 108dB/m sound pressure level.
To put that into some sort of context, on paper at least, the Devialet Gold Phantom is capable of peak volume levels comparable to those of a modest aircraft. Which, in any domestic situation, ought to be ample.
Devialet Silver Phantom speaker review
Devialet Dione soundbar review
From the outside, very little has changed – the Gold Phantom shares the same enclosure as its Silver sibling, and for the second time in a year we find ourselves struggling to find comparisons for the Devialet's striking looks.
At 26cm tall and 25cm wide, it's similarly proportioned to one of those clever Dyson vacuum cleaners, but at 11.4kg, not quite as easy to tow around the floor.
On the shelf in the showroom (or on one of its elegant, additional-cost support options Tree, Treepod or, for wall-mounting, Gecko), only the 22-karat gold-plated covers on each side of the Gold Phantom set it apart from the Silver. Well, those and the extra £500 on the price ticket.
There are some changes beneath the skin, though. The Texas Instruments DAC of lesser Phantoms has been replaced by a proprietary converter embedded in Devialet's Analogue Digital Hybrid (ADH) technology.
Branded ADHV2, it combines Class A and Class D amplification in an effort to maximise each technology's inherent benefits while minimising its equally inherent shortcomings.
The Gold Phantom tweeter is a titanium dome, a theoretical upgrade on the aluminium alternative used lower down the range. And, of course, there's that whopping increase in peak power.
Despite the DAC changes, the Gold Phantom tops out at the same maximum audio file resolution of 24-bit/192kHz as its Silver relative.
Bandwidth is increased in both directions, though, down to 14Hz at the bottom end (where sound becomes not so much audible as physical) and 27kHz at the top (where sound is of much more use to a dog than to you).
The Gold Phantom is designed as a wireless speaker, of course, and has both Bluetooth and wi-fi connectivity.
But there is also a digital optical socket for legacy equipment, and an ethernet connection for those who value signal stability over decorative minimalism.
And for the seriously monied, multiple Gold Phantoms can be configured to work as everything from a stereo pair to a surround-sound cinema package to as many as 24 discrete zones using the cost-option Dialog hub.
Control of any or all of the Gold Phantoms in your particular set-up is via the Spark app for Android, iOS and Windows.
MORE: 7 of the best wireless speakers
At every turn, there are big numbers attached to the Gold Phantom experience.
As well as those concerning price or power, there's the 1.2 tons of pressure required to hermetically seal the Phantom cabinet and the 30kg of thrust force driving the lateral woofers (this configuration, whereby the hermetically sealed woofers function under tremendously high pressure, is – with no apparent sense of hyperbole by Devialet – called Heart Bass Implosion).
For all its complicated architecture and crowd-pleasing numbers, the Gold Phantom functions as a wireless speaker in the most everyday sense: it's simple to set up and equally painless to control.
Its spherical, omnidirectional nature makes positioning it pretty straightforward (within the confines of its weight and size, of course), and getting the Devialet to a state of readiness is child's play.
MORE: Best multi-room speaker systems
If you think the Gold Phantom looks a little mysterious as an object, it becomes downright dramatic when it starts to do its thing.
We start our investigations with a Tidal -via- LG G5 smartphone-derived listen to Nice Up The Function by Mr Scruff and Roots Manuva and, blimey, the Devialet is a sonic and visual handful right from the off.
Sonically, it's the low-frequency speed, punch and manoeuvrability that's initially most impressive.
This is a tune with a deep, stop/start and fast-moving bassline, and the Gold Phantom handles it with a nonchalance that speaks of unarguable authority and control – the out-and-out substance of the bass it generates is more commonly associated with great big drivers and even bigger cabinets.
It hits startlingly hard, offers tremendous tonal and textural variation even down at the limits of its extension, and displays ballet-slipper poise to go with the iron-glove impact.
Visually, the Devialet is like no other device outside the Phantom range.
MORE: 10 of the world's most expensive speakers
Accompanying the brick-cracking bass is a hectic flurry of movement from the side-firing woofers, the sort of alarmingly visual driver extension that in any other circumstances would have us leaping forwards to reduce the volume and prevent possibly terminal damage.
But this is simply what the Gold Phantom does – it flaps its wings like a creature long since evolved beyond needing to fly, yet retaining a species memory of how it's done.
It's a bit of visual theatre you simply don't get with any other product.
Elsewhere, it's a similarly singular and confident story. Switching to a 24-bit/192kHz file of Leonard Cohen's Slow shows off the Devialet's midrange fidelity.
The variable pitch of Cohen's voice, who was 80 by the time of this recording, is reproduced with the sort of prodigious detail and fidelity that makes his approximate phrasing entirely endearing.
MORE: Best music streaming services 2016
The midrange overall is assertive enough to hold its own despite the low-end onslaught it's riding above, but deft enough to reveal the minutiae of a singer's palate-noises between lines of song.
It's grippy and poised, striking a reasonable balance between attack and subtlety.
The move to a titanium tweeter means the Gold Phantom has greater reach, better management of transients and an altogether crisper high-frequency presentation than that of its more affordable siblings.
MORE: How to choose the right wireless speaker
The relentless ride cymbal and general percussive whirlwind of Elvis Costello & The Attractions' charge through Nick Lowe's (What's So Funny 'Bout) Peace, Love and Understanding is delivered faithfully, the Devialet's remarkable ability to reproduce treble sounds with instant attack and equally accurate decay just adding to the overall propulsion of its presentation.
For all of its forcefulness, though, the GP has the ability to handle the gossamer fragility of Nina Simone's I Got It Bad (and That Ain't Good) with sensitivity.
Such a languidly intense recording is rather at odds with the Devialet's general modus operandi, but it gives the song decent weight of emotion. The timing, and general sense of interplay between musicians, is admirable.
Ultimately, though, it's happiest when delivering a well-controlled storm of action.
The company's website describes the Gold Phantom as capable of "ultra-dense sound with physical impact" which – while hard to argue against – isn't, we don't think, an entirely positive thing.
For all the fidelity demonstrated throughout the frequency range, there's a lack of separation and space to the sound that makes the Devialet sound dense in the manner of fog – everything happens at speed, with an assertion that sometimes borders on aggression, and the small-ish soundstage as a consequence is not so much muddled as crowded.
There's the sense that Devialet has overachieved with the Gold Phantom's bass response, almost to the extent the rest of the frequency range has been supercharged to match.
MORE: Best speaker deals - hi-fi, Bluetooth, wireless
So it's not perfect. But then very little in the world of consumer electronics is, and Devialet's achievements with the Gold Phantom, in engineering and packaging terms alone, are mighty.
Add eye-catching numbers, eye-popping visual impact and ear-grabbing sound, and it's obvious this is a product that will seduce many – even at such a premium price. It's certainly worth seeing.
See all our Devialet reviews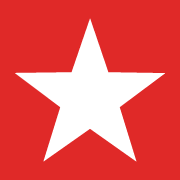 What Hi-Fi?, founded in 1976, is the world's leading independent guide to buying and owning hi-fi and home entertainment products. Our comprehensive tests help you buy the very best for your money, with our advice sections giving you step-by-step information on how to get even more from your music and movies. Everything is tested by our dedicated team of in-house reviewers in our custom-built test rooms in London, Reading and Bath. Our coveted five-star rating and Awards are recognised all over the world as the ultimate seal of approval, so you can buy with absolute confidence.
Read more about how we test
Smart Assistants
Home Security
Home Entertainment
Cord-Cutter Confidential
Now Streaming
Smart Bulbs Best Picks
Cord-Cutting Tips
Streaming Best Picks
Home Security Best Picks
Smart Home Hubs Best Picks
Speaker Best Picks
When you purchase through links in our articles, we may earn a small commission. This doesn't affect our editorial independence .
Devialet Phantom review: Forget everything you thought you knew about speaker technology
Expert's rating.
Incredibly lush bass response
Completely devoid of cabinet resonance
Robust connectivity options
A single Phantom doesn't produce true stereo
Needs added-cost component to enable networking
Currently, no support for network-attached storage
Our Verdict
With a design and performance as unconventional as it is exquisite, Devialet's Phantom will almost make you forget about stereo.
Devialet's Phantom doesn't look like a typical speaker; in fact, it doesn't look like any kind of speaker I've encountered. It certainly isn't designed like any speaker I'm familiar with. Most importantly, it doesn't sound like any speaker I've heard. Like a Mounds candy bar, it's indescribably delicious. But like a box of Fritz Knipschildt's La Madeline au Truffles , it is also very expensive at $1990.
Let's start with the Phantom's cabinet. Single-cabinet speakers certainly aren't new, but the Phantom is a radical departure from the norm. The speaker has an external skin fabricated from a thick wall of ABS plastic that surrounds an inner skin of glass-fiber polycarbonate. This, in turn, is wrapped around an aluminum core. You can play the speaker at any volume and you'll never feel the cabinet vibrate or hear it resonate. Each of its four drivers is completely isolated from the enclosure.
The Phantom is a three-way speaker system consisting of two eight-inch woofers, a one-inch tweeter, and a "ring" mid-range transducer encircling the tweeter that Devialet says is equivalent to a five-inch midrange. The woofers are mounted on either side of the cabinet in a push-push configuration in order to cancel each other's vibration. Motorized domes over the woofers displace air to reproduce extremely low frequencies. These look very strange as they pulsate in and out to the beat of the music, but Devialet says the motors enable the Phantom to deliver bass response all the way down to 16Hz. Most people's ears have difficulty hearing sound at 20Hz, but your body can feel frequencies lower than that and 16Hz is far lower than most dedicated subwoofers can go.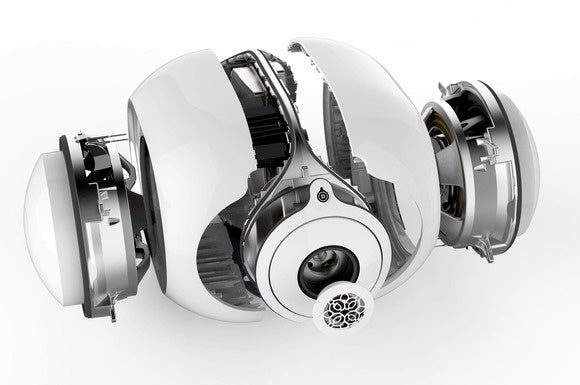 Devialet provided this exploded view of the Phantom so we could better see its internal construction.
The tweeter is mounted in the Phantom's nose, for lack of a better word, behind a very pretty lattice grill, and the mid-range completely encircles the tweeter. All four drivers are fabricated from aluminum, a driver material coveted for its strength. Each of the four drivers has its own dedicated amplification channel, formed by one bridged Class A amplifier and two bridged Class D amplifiers for each driver. The Phantom has four bridged Class A amplifiers and eight bridged Class D amplifiers in total.
I don't put much stock in amplifier power specs these days, because they've become rather meaningless. A modern amplifier producing 20 watts can sound louder than a vintage amp producing 100 watts because the new models have become so much more efficient at converting electrical power into sound (yes, I'm grossly oversimplifying the concept of amplifier efficiency). The way I see it, if an amplified speaker can fill one of my larger rooms with sound—something the Phantom had no problem doing—it's going to be plenty loud for most people.
When I do look at amplifier specs, I prefer to see them expressed as watts RMS, because that's the best indicator of real-world performance. But for whatever reason, Devialet decided to use the "peak power" formula to describe the Phantom amplifier's capabilities, which can be misleading because the typical amp can't maintain peak power output for more than a few milliseconds. So when you hear that the Phantom can deliver an impressive 750 watts of power to its drivers, know that that is a peak power rating for the sum of all four of its onboard amplifiers.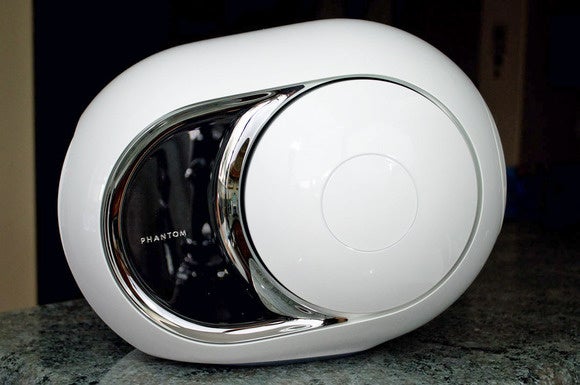 The Phantom has stainless steel plates on either side. The Silver Phantom adds stainless steel to its dome drivers (it also has a larger amplifier).
A single Phantom doesn't produce distinct left/right stereo—it can't because it has just one tweeter and one mid-range mounted in the front/middle of its cabinet. But it doesn't produce a bland mono experience, either. Devialet R&D Manager Jean-Loup Afresne tells me the Phantom uses digital signal processing that "automatically computes the best mix, for each piece of music, to deliver the best possible listening experience from a single acoustic source."
The Phantom's Bluetooth radio supports the A2DP and AVRCP Profiles, and the AptX, AAC, and SBC audio codecs. The Phantom also has a TOSlink fiber-optic connector, and it supports the following audio formats: HE‑AAC (V1), AAC (up to 320Kb per second), WMA, WMA lossless (16-bit only), MP3 (up to to 320Kbps), MP3 VBR, Apple Lossless, AIFF, WAV, FLAC, OGG, and VORBIS. A Texas Instruments PCM1798 24-bit/192kHz DAC handles digital-to-analog conversion duties.
The Phantom is outfitted with a gigabit ethernet port, an integrated powerline adapter, and a dual-band (2.4- and 5GHz) Wi-Fi adapter. But you'll need the optional Dialog router ($329) for most networking scenarios; if you want to produce true stereo from a pair of Phantoms, for example, or if you want to deploy Phantoms in multiple rooms as part of a whole-home audio system. The Dialog enables multiple Phantoms—as many as 24—to form a mesh network (similar to the way Sonos handles networking). You'll also need the Dialog to stream music from the online service Tidal (the Phantom also supports Deezer and Qoboz, but those services are not yet available in the U.S.). You can use a Bluetooth connection to stream from the Tidal app, but it won't be a lossless stream.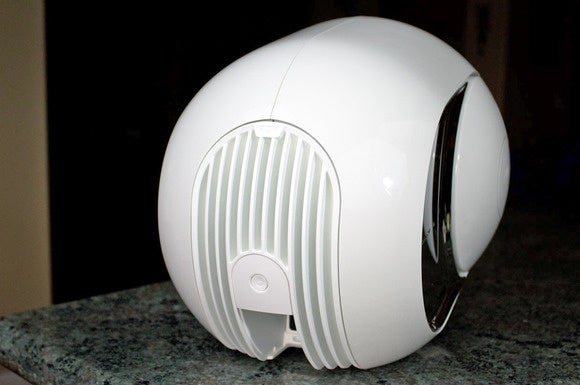 If you'd prefer not to stream wirelessly, the Phantom is equipped with a gigabit ethernet port and a TOSlink port in the back.
One glaring omission on the networking front: You cannot stream from a NAS box, even with a Dialog in place. Devialet tells me this functionality will be included in a future software update. The Phantom doesn't support Apple's AirPlay multi-room audio solution, either, although Devialet describes a kludgey work-around for that.
The Phantom produces amazing bass response, but that single tweeter and midrange do a fine job as well. This speaker sounds great with any type of music, from pop, to acoustic, hard rock and classical If you can swing it, a pair of Phantoms would likely yield the absolute best experience. One's enough, but it sounds so wonderful you'll want that definitive stereo experience.
Trusted Reviews is supported by its audience. If you purchase through links on our site, we may earn a commission. Learn more.
Devialet Phantom 1 108dB Gold Review
An eccentric and expensive wireless speaker
A wireless speaker with an eccentric design and, at times, a thrillingly excitable sound – but it's constrained by the very things that make it unique.
Powerful, energetic sound
Number of connectivity options
Thrilling aesthetic
Can falter when more subtlety is required
Availability
UK RRP: £2790
USA RRP: $3200
Europe RRP: €3200
Canada RRP: CA$4200
Australia RRP: AU$5490
Key Features
Devialet OS Supports UPnP and Roon Ready connections
Heart Bass Implosion An acoustic process that emits low frequencies with depth and impact
Stereo pairing and multi-room Two speakers can joined in stereo pair configuration, and multiple speakers paired in a multi-room set-up
Introduction
Devialet is a French hi-fi company with a taste for the weird and wonderful, and its Phantom speakers are perhaps the weirdest and most wonderful thing it currently makes.
A fusion of high-concept design and technology, the Phantoms are a wholly unique proposition. The Phantom 1 was introduced in 2021 as part of a shake-up of the Phantom family , the smaller Phantom Reactor renamed Phantom II to simplify matters. But, just to muddy the waters, the Phantom 1 models is available in 103dB and 108dB variants.
The model tested here is the Phantom 1 108dB Gold. Like previous Phantoms it delivers a performance that wouldn't be possible without the innovation that's gone into it; but it's also hamstrung by the traits that make it so unique.
Compact, ovoid shape
Side-firing woofers
White or black finish
The Devialet Phantom 1 looks like no wireless speaker you have come across, the kind Tom Cruise would be listening to in the future landscape of his 2013 film Oblivion. Viewed from head on, the speaker takes on the shape and appearance of the moon; from the side it looks like the sort of helmet the now defunct (or should that be de-funked?) Daft Punk would wear.
It's a design that throws up a few questions, like how does it produce sound? Where is the speaker's front? And is that actual gold plating?
The front of the speaker is the face with the tweeter-covered grille, the design of which takes inspiration from French 18th-century gardens and Chladni patterns (look them up). Side-firing woofers add to the visual spectacle of the Phantom 1 once it starts digging into those low frequencies, while around the back is a heatsink and a power cable. Rather inelegantly, hidden behind the cable are the Ethernet and digital optical connections.
With a matte finish that can attract a bit of dirt, you wouldn't want to get the 22-carat gold side panels messy – and at 11.4kg for each speaker, they have a deceptively low centre of mass. The weight raises the thought of purchasing stands, of which there are three to choose from: Tree (the most conventional of the lot), Treepod (a compact stand) and Gecko (a wall-mount). There's also a travel bag called the Cocoon that looks somewhere between a tea cosy and bowling ball bag.
Features a wealth of interesting tech
Various connection options
Intuitive app and remote
It wouldn't be a Devialet product if there weren't any fancy-sounding acronyms – and lo and behold, the Phantom 1 lives up to expectations with ADH, SAM, and HBI.
ADH stands for Analog Digital Hybrid. The analogue amplifier reproduces an unspoilt signal and passes it off to the digital amplifier. In the words of Devialet, this process combines the precision of analog and the power and compactness of digital amplification. SAM isn't a person, but Speaker Active Matching, an algorithm that recognises the speaker's specs and tailors the sound for an optimal performance.
Heart Bass Implosion sounds like a dance album from the early 2000s, and is all about reproducing low frequencies with depth and power – and, in the form of the Phantom 1, that gives birth to some truly prodigious bass extension. Non-acronym features arrive with a more power-efficient system chip, improved energy consumption and reduced distortion through the speaker's signal path.
The 108dB version of the Phantom 1 has at its disposal 1100 watts RMS of power, which is a way of saying this speaker can make a racket. Source connectivity stacks up to Bluetooth, Wi-Fi, AirPlay 2 , Spotify Connect, UPnP, Roon Ready support, and an optical cable (for plugging the speaker into a TV or other device).
You can manage those sources through the Devialet app, which is stable, swift in terms of speed, and intuitive. Within the app, and if you have more than one speaker to hand, there's the promise of linking them up through multi-room or bringing two together to form a stereo pair – a process that's easy to achieve. There's access to music streaming services (Spotify, Qobuz, Deezer , Tidal ), as well as playback functions with track skipping and volume control. If you have a pair, the volume can be controlled independently of each speaker.
A more physical means of control is with the Phantom Remote, a puck-sized controller with buttons for playback, a twist of the rotary dial moves volume up and down. The set-up is a charming process with in-app references to a "new life" being born and the speaker – which pulses during set-up (those side-woofers at it again) – calmed by a touch as if it's a new-born baby. The Phantoms are plenty eccentric, and winningly so.
Sound quality
Lots of power, lots of attack
Condensed soundstage
Can strike an impressively natural tone
For a speaker of its size and shape, there's no shortage of energy about the way the Devialet delivers its sound. Bass beats are seriously impressive in how they're communicated: the size, weight and depth bring plenty of scale to bass-heavy tracks.
And in terms of volume, this is a speaker to be turned up and turned up loud. It isn't fussed about making a din (although maybe your neighbours will), and dynamically there are few shortcomings in describing hushed moments and thundering notes, or the difference between low frequencies and high. There's an elasticity to the speaker's range that convinces.
Also met with confidence are the high notes that sparkle with clarity and detail through the Grade I Titanium tweeter, and it proves good with male and female voices, treating them with a naturalism that makes them sound lifelike. In fact, when listening to the Guardian Football Weekly podcast, a member of the team walking past thought there were more people in the room with me. Mesh that with a sprightly sense of attack and a character that's happy to play a range of music genres – from pop, R&B, soul music, classical to rock – and you'd expect the Phantom 1 to be a dab hand at everything at which it tries its hand.
But the shortcomings of the previous Phantom models don't go away, and unless Devialet comes with up some neat technology, will always be ingrained into their DNA. The width of the soundstage it describes is small, not particularly escaping the confines of its ovoid shape – and this is evident in busy tracks, where the soundstage becomes congested, and detail goes awry. The Prodigy's Stand Up sounds messy and disorganised with a lack of clarity and shape to its presentation, despite the impressively big and meaty bass frequencies.
With Billy Joel's It's Still Rock and Roll to Me, there's an attempt at describing the depth of the track, but his voice and other instruments come across as if they're sitting on each other at times. Stereo pair the Phantom 1 and you get a flat soundstage; Aaron Copland's Fanfare for the Common Man doesn't feel as if it reaches into the room but instead is kept at a remove, and that makes for a less engaging listen.
Latest deals
Should you buy it.
If you lap up eccentricity in spades From its appearance to its sound, the Phantom 1 Gold does things differently and on its own terms. It's also really expensive, and has appeal for those who covet shiny pretty things.
If you favour a more expansive and articulate performance When played songs more its speed, there's no doubt the Devialet offers a dynamite performance, but its small soundstage highlights issues that hamper music playback.
Final Thoughts
The Devialet Phantom 1 isn't the be all and end all when it comes to its audio performance, but when on song it's a wireless speaker with a very entertaining presence. It shows no fealty to the mere whims of conventional design either, and any owner of this speaker will be glad of its outré style.
That is, if you can afford it. There's impressive tech at the heart of the Phantom 1 – there's no doubting Devialet's skill or nous in that regard – but there's something of a contradiction in that heart, boasting technology that's meant to free it from its lovely confines, but which also serves to restrict it. The Phantom 1 can reach thrilling heights, but it can also be shackled to the ground.
Sign up for the Trusted Reviews Newsletter
How we test.
We test every wireless speaker we review thoroughly over an extended period of time. We use industry standard tests to compare features properly. We'll always tell you what we find. We never, ever, accept money to review a product.
Find out more about how we test in our ethics policy .
Tested over two weeks
Tested in single and stereo configurations
Tested with various streaming services and sources
You might like…
JBL Boombox 3 Wi-Fi Review
Astell and Kern Aultima SR35 Review
WiiM Pro Review
Triangle AIO3 Review
Astell & Kern AK HC3 Review
Helm Bolt DAC Review
The Phantom 1 Gold is priced at £2790 / €3200 / $3200 / AU$5490 / CAD$4200
Why trust our journalism?
Founded in 2003, Trusted Reviews exists to give our readers thorough, unbiased and independent advice on what to buy.
Today, we have millions of users a month from around the world, and assess more than 1,000 products a year.
Editorial independence
Editorial independence means being able to give an unbiased verdict about a product or company, with the avoidance of conflicts of interest. To ensure this is possible, every member of the editorial staff follows a clear code of conduct.
Professional conduct
We also expect our journalists to follow clear ethical standards in their work. Our staff members must strive for honesty and accuracy in everything they do. We follow the IPSO Editors' code of practice to underpin these standards.
Devialet Phantom I 108dB - Wireless Speaker (Dark Chrome) › Customer reviews
Customer reviews.
Devialet Phantom I 108dB - Wireless Speaker (Dark Chrome)
Customer Reviews, including Product Star Ratings help customers to learn more about the product and decide whether it is the right product for them.
To calculate the overall star rating and percentage breakdown by star, we don't use a simple average. Instead, our system considers things like how recent a review is and if the reviewer bought the item on Amazon. It also analyzed reviews to verify trustworthiness.
Top positive review
Top critical review
There was a problem filtering reviews right now. Please try again later.
From the united states.
There was a problem loading comments right now. Please try again later.
← Previous page
Next page →
Questions? Get fast answers from reviewers
Amazon Newsletter
About Amazon
Accessibility
Sustainability
Press Center
Investor Relations
Amazon Devices
Amazon Science
Start Selling with Amazon
Sell apps on Amazon
Supply to Amazon
Protect & Build Your Brand
Become an Affiliate
Become a Delivery Driver
Start a Package Delivery Business
Advertise Your Products
Self-Publish with Us
Host an Amazon Hub
› See More Ways to Make Money
Amazon Visa
Amazon Store Card
Amazon Secured Card
Amazon Business Card
Shop with Points
Credit Card Marketplace
Reload Your Balance
Amazon Currency Converter
Your Account
Your Orders
Shipping Rates & Policies
Amazon Prime
Returns & Replacements
Manage Your Content and Devices
Your Recalls and Product Safety Alerts
Conditions of Use
Privacy Notice
Your Ads Privacy Choices
Back to the Future-Fi: Devialet introduces Phantom I
When it comes to Future-Fi, the Devialet Phantom, first launched at CES 2014, is the OG. Its visually-striking dinosaur egg-like shape and low slung bass – firing symmetrically sideways to dip below 20Hz – secured mainstream appeal. A keen sense of transparency and micro-dynamic delicacy meant that audiophiles already hip to streaming (active!) loudspeakers wouldn't turn up their noses. The original Phantom was then spun off into a series of newer variants: the Silver Phantom , the Gold Phantom and the Phantom Reactor .
This week brings news of a Phantom range tidy up: the Phantom Reactor becomes the Phantom II (with '95dB' and '98dB' versions); the arrival of a new model in the Phantom I ('103dB' and '108dB' versions); and L'Opera de Paris Gold Leaf special editions of the '98dB' Phantom II and '108dB' Phantom I:
Zooming in on the all-new Phantom I, we note the continuation of Devialet's H.B.I. bass technology, S.A.M. speaker optimisation smarts and hybrid A.D.H. Class A/D amplification.
So what's new?
Devialet's advances in power efficiency and thermal dissipation have allowed the French company to reduce the size of the Phantom I. According to the press release, its digital signal processing (DSP) and amplification now reside on an SoC (System on a Chip).
The Devialet OS app has reportedly been overhauled once again to bring users a smoother UPnP streaming experience and support for Apple AirPlay 2 has been added. Spotify Connect, Roon Readiness and Bluetooth inputs remain part of the feature set.
The newly designed rotary remote control now features a visual display, is Phantom II compatible and ships with each Phantom I 'package' (presumably a stereo pair).
Bringing vinyl enthusiasts into the scene, the all-new Arch streaming hub makes connecting a turntable to a Phantom system a whole lot easier than it was with previous models. The Arch's back panel RCA sockets will convert an incoming line-level or MM/(MC?) phono signal to digital before streaming those ones and zeroes to a nearby Phantom system. Those same RCA sockets can also be used as S/PDIF inputs for anyone preferring to use a third-party network streamer or CD player.
The Phantom I '103dB' will sell for US$2200/£1890 and the '108dB' version for US$3200/£1890. Anyone serious about imaging, soundstaging or stereophony should double those prices for a stereo pair.
Further information: Devialet
Spec Sheet Phantom II – Consumer + Pro – EN
Spec Sheets Phantom I – EN
Devialet Future-Fi Phantom I Phantom II
Written by John
John currently lives in Berlin where he creates videos and podcasts for Darko.Audio. He has previously contributed to 6moons, TONEAudio, AudioStream and Stereophile.
Darko.Audio is a member of EISA.
Follow John on YouTube or Instagram
Roon 1.8: It's all about you
A short film about the Q Acoustics Q Active 200
2010 - 2023 · Darko.Audio Raydianze.com Web-Design
We use cookies to optimize our website and our service.
Home Entertainment
Services & Software
Credit Cards
Cryptocurrency
Home Internet
Home Security
Kitchen & Household
Energy & Utilities
Yard & Outdoors
Personal Care
Mental Health
News & Culture
Social Media
Misinformation
Internet Culture
Entertainment
Deals & Reviews
Best Products
Shopping Extension
Car Accessories
Car Reviews
Wireless speaker with a bang
The high-end Devialet Phantom wireless speaker has a distinctive, pressurized design.
Ty was nominated for Best New Journalist at the Australian IT Journalism awards, but he has only ever won one thing. As a youth, he was awarded a free session for the photography studio at a local supermarket.
Wireless music systems have been with us for several years now, having been popularized by audio pioneer Sonos. In the past few months we've seen several high-end wireless speakers enter the US market, and it's all coming from Europe. Germany's Raumfeld , Britain's Naim and now France's Devialet have unleashed proprietary wireless multiroom systems each worth over $1,000.
The Devialet Phantom is the most unusual of all of these products: less like a "hi-fi" and more like a "spacecraft" than anything else we've seen. Starting at $1,990, the Phantom is a three-way "stereo" system that not only looks like a bomb but according to its makers, the hermetically sealed design is under so much pressure inside that it almost could "explode if not for all the kevlar and aluminum" used in its design.
All of the drivers are aluminum, with the left and right drivers crossing over at 250Hz to the concentric mid and tweeter. While the outer ring looks plastic, it's actually white paint over the aluminum driver.
The standard Phantom comes with a 400W amplifier while the version we received is the Phantom Silver ($2,399), which includes different cosmetics and a 3,000W (!) power supply. The marketing guys told us that this is the limit for a consumer device because anything more can be "classed as a weapon."
Apart from all of its death-defying audio tricks, the makers also claim this speaker offers not only a ruler-flat response from 16Hz to 25kHz but also zero measurable distortion. Devialet says the highly pressurized cabinet enables this kind of efficiency.
The Devialet Spark app features a charmingly quirky setup, when it works.
The Phantom is controlled by the Phantom Spark app (Android, iOS, Mac), which plays music from your phone as well as Tidal (plus Deezer and Qobuz in other markets) but the company promised us in June 2015 more services are coming.
The speaker also sports an optical input -- tucked awkwardly under the built-in power plug -- and will come with Bluetooth support once it ships in the summer.
When we first received the product we found setup problematic at best, with endless restarts, and the Android version refused to play music at all. Devialet explained at the time the software was 60 percent complete, and the latest updates have made connection much simpler. We turned on the Android app and it found our Phantom straight away.
So how does it sound? Well, like a professional audio monitor. That is to say it appears very bright and detailed with exciting recordings, and while there is also plenty of bass, we found that it could also lack some warmth. It was able to handle most genres, even really poorly mixed rock, without sounding thin or screechy. Due to that three-way system it was vocals that sounded best. If you're a folk fan or listen to audio books this is your kind of speaker.
Due to the apparent lack of distortion it can also go really loud without you even noticing. Despite the company's claim of a wide soundstage, it's pretty much confined to the speaker itself, but you can run the speaker in stereo mode with another Phantom if you're feeling particularly thrifty.
The app that controls the system is clean and relatively logical. However if you are looking for music stored on a network or from any source other than your phone or Tidal you're still out of luck.
If you're looking for something that is an undeniable conversation piece and can go ridiculously loud, then the Devialet Phantom is worth investigating. It will be available from the forthcoming Devialet store in SoHo, New York, as well as 25 different high-end retailers and online. The Phantom is available in the UK now for £1,390 (and £1,690 for the "bomb" version), but availability in Australia has yet to be announced.
Updated October 22, 2015: Added further testing information.

Search forums
WANTED: Happy members who like to discuss audio and other topics related to our interest. Desire to learn and share knowledge of science required as is 20 years of participation in forums (not all true). There are daily reviews of audio hardware and expert members to help answer your questions. Click here to have your audio equipment measured for free!
Audio, Audio, Audio!
Speaker Reviews, Measurements and Discussion
Devialet Phantoms
Thread starter GDK
Start date Dec 9, 2020

Addicted to Fun and Learning
Some quick advice is requested. I want to add a pair of wireless speakers to my family room. They need to be wireless because of the layout, which is part of an open concept main floor of around 1000ft2 (10,000ft3) with a primary listening position of around 10 feet from the speakers. These would not be used for "critical listening", as I have a separate listening room, but I do want them to sound good. They are replacing a small Klipsch bluetooth speaker. I have ruled out the Kii 3's (too expensive), the D&D 8C's (too big for the space available), and the Kef LS50II's (too small for the space generally). I am looking at the Devialet Phantoms as they will be loud enough for the room and form factor is not unimportant. I know from @mitchco 's review on CA that they will be bright. I am less concerned with the boominess as I think the open area will take care of a lot of this. However, in any event I can tame the frequency response with some room correction. My last criteria is that they need to be locally available here in Toronto as I want to support a local retailer. Unfortunately, I can't find any other alternatives that work. Is this a bad idea? Are there others I should look at? Thanks in advance.
Frank Dernie
Master contributor.
GDK said: Some quick advice is requested. I want to add a pair of wireless speakers to my family room. They need to be wireless because of the layout, which is part of an open concept main floor of around 1000ft2 (10,000ft3) with a primary listening position of around 10 feet from the speakers. These would not be used for "critical listening", as I have a separate listening room, but I do want them to sound good. They are replacing a small Klipsch bluetooth speaker. I have ruled out the Kii 3's (too expensive), the D&D 8C's (too big for the space available), and the Kef LS50II's (too small for the space generally). I am looking at the Devialet Phantoms as they will be loud enough for the room and form factor is not unimportant. I know from @mitchco 's review on CA that they will be bright. I am less concerned with the boominess as I think the open area will take care of a lot of this. However, in any event I can tame the frequency response with some room correction. My last criteria is that they need to be locally available here in Toronto as I want to support a local retailer. Unfortunately, I can't find any other alternatives that work. Is this a bad idea? Are there others I should look at? Thanks in advance. Click to expand...
Frank Dernie said: I ordered a pair of silver Phantoms when they were first announced. They took a long time to come but I have had them just over 5 ½ years now. They are not main system either but I find them fantastic. They are not bright in my installation. I sit a bit closer to them but in a bigger room. Mine are hardware incompatible with the latest operating system (they are pre-built in blutooth) so I can't comment on operability nowadays, mine need the Dialog wireless connection box which is no longer needed so current ones should be just the 2 speakers and the software. Click to expand...

andreasmaaan
GDK said: If anyone in interested in how they sound, let me know and I can post some measurements once they are in situ. Click to expand...

stevenswall
Major contributor.
I'd be interested in in-room measurements, or gated close mic measurements. I had a pair of the Phantom Reactors, but the app experience killed it for me. Also, be wary of diffraction... If they are on a shelf, make sure the edge of the base is touching the edge of the shelf. I put mine on square stands and I swear they sounded a little off. Placement on a table was interesting to experiment with as well. I wish they had presets to take care of this. Oh, and even with my Genelec 8260 monitors, I'd used these and buy a pair again if they had regular inputs. There's a custom installer version but I've never been able to get Devialet to get me the pricing on those. They have phoenix connectors and I think may take an XLR signal and not use the app.
A speaker I would like Amir to test.
If anyone would like me to do some close mic measurements, just let me know how best to set it up as I haven't done that before.
GDK said: Here is the same after the REW filters are applied: View attachment 98555 Click to expand...
GDK said: If anyone would like me to do some close mic measurements, just let me know how best to set it up as I haven't done that before. Click to expand...
Zvu said: an improvised stand Click to expand...
Kitchen island is too big and reflective surface. I usually use two speaker stands one on top of the other.
Zvu said: Kitchen island is too big and reflective surface. I usually use two speaker stands one on top of the other. Click to expand...
this looked fantastically flat for a in room response for me, the dips looks more like room modes here?
Devialet Phantoms are fantastic little things! Aside from the stupid interface with cell phone that was when I had them. Extremely bass heavy out of the box, but they are really smooth and comfortable sounding due to that dip in the presence region. Good measurements also; https://www.soundstagenetwork.com/i...oudspeakers&catid=77:loudspeaker-measurements
Absolute said: Devialet Phantoms are fantastic little things! Aside from the stupid interface with cell phone that was when I had them. Extremely bass heavy out of the box, but they are really smooth and comfortable sounding due to that dip in the presence region. Good measurements also; https://www.soundstagenetwork.com/i...oudspeakers&catid=77:loudspeaker-measurements Click to expand...

GDK said: I picked the Phantoms Click to expand...
GDK said: The dealer is just waiting for more supply. Click to expand...
sweetchaos said: Very nice. What dealer did you buy from? Click to expand...
Quick update: the Phantom series are now Roon Ready, although interestingly their maximum sampling rate is 24/48, which is causing some consternation amongst its owners.
Similar threads
Sep 10, 2023
Sep 23, 2023
Audio Equipment For Sale or To Buy
Jun 10, 2023


[ October 12, 2023 ] Kinki Studios Earth Cables for your HiFi are the REAL DEAL. AUDIO
[ October 8, 2023 ] Daniel Hertz AMBER HiFi Audio System Review. Outta this WORLD! AUDIO
[ September 22, 2023 ] This Integrated Amp HAS SOUL. CHoco Sound EMEI. Amplifier
[ September 19, 2023 ] Complete HiFi Streaming and Vinyl System for $1500 Amplifier
[ September 7, 2023 ] The REL Classic 98 Subwoofer Review. Vintage Modern. News
HiFi Review: Devialet Phantom Silver Review. The Future of Serious HiFi is here..
HiFi Review: Devialet Phantom Silver Stereo Pair Review. The Future of Serious HiFi is here..
By Steve Huff
UPDATE! My Devialet Phantom GOLD Review is HERE. 
(Note: This is a HIFi Audio Product review. I do these every few months as it's another Hobby of mine and I came to realize years ago that many camera enthusiasts were also fans of HiFi. So if you do not want to read about audio/stereo/HiFi, this post is not for you 😉 )
Never in 100 years would I have imagined that one day my HiFi Hobby that has been with me for almost FOREVER (since I was 13 or so I was bitten by the Audio bug) would lead me to writing a review of a wireless speaker that is shaped like an egg, smaller than most bookshelf speakers… yet has 3000 Watts of power inside each speaker, with a stereo pair coming in at 6000 watts of  total power. I remember back when I was in High School and I was so proud of my cutting edge 100 WPC stereo system. I thought I had the holy grail then, with massive volume and great sound. I listened to that stereo EVERY SINGLE DAY and spent my allowance as a kid on one new record per week.
Man, I bet if I went back in time to those days I would be so disappointed with my system. Compared to what I have to play with these days that old system was muffled, boomy, and had no "air, space, soundstage or magic" to speak of. But man, did it thump out some amazing ZZ Top with a thumpy drive I remember to this day. If you are new to HiFi terminology..words like "air, space and soundstage" refer to the "magical elements" that gives us HiFi buffs a sound from our music that is not possible with single speakers, a car audio system, Sonos system, etc. Once you experience these things, it is tough to not get hooked on "THAT sound". If you are picky that is.
As I get older, my musical tastes have evolved, as has my tastes in HiFi. When younger I wanted huge speakers, huge power and a stereo to look serious. Today I want refinement, great imaging, a nice wide soundstage and enough power to get my feet tapping but at the same time, Bass performance that is tight, taught and powerful..reaching down to the depths when needed, but without any boom. I also want great off axis listening so I do not HAVE to sit in the "sweet spot" where a stereo was set up to perform its very vest. THAT my friends is tough to get unless you start to get up into the $15, $20 and even $50k systems..and remember, I am talking TWO CHANNEL audio here, old-fashioned stereo. I have listened to systems from one hundred dollars to one million dollars (crazy huh?). While I would never even entertain spending a million on a stereo (even if I had 100 million in the bank which will never ever be a reality) it was interesting to listen to. Remember, diminishing returns is very real in HiFi. The more you spend you get very little back. Usually.
If some of you are not aware, I have been into HIFi for many years (and I started reviewing some pieces a short time ago HERE ), and I have been building a system for 20 years or more, upgrading every now and then as many HiFi dealers allow you to upgrade every year by giving you full credit for what you paid toward a new, better piece. That allowed me to spend years upgrading my system until I assembled what I thought was the best for my room, which is my office in my home that is part-time office, part-time dedicated listening room.
After listening almost daily for the last year to my mega system, we decided we were going to move, to a smaller house, quite a ways from my current home. My system would never ever fit in the new home as it consisted of huge Focal speakers, McIntosh separates and a 40lb Turntable. So I decided to look for a smaller, but still amazing quality system I could live with. I tested out the beautiful and small Naim Muso , which is a soundbar looking device that is one of the best wireless speakers you can buy for $1500, truly. It was and is amazing for its size, cost and what it does. But it did not give me the stereo effect..it was more like a mono speaker and could not fill my room or energize my room for anything but loud background listening. No imaging, no air, no soundstage width or depth. BUT MAN it sounded so good and the bass performance was off the charts (until I heard the Silver Phantoms) For me, that could not cut it as for my whole life I have had a legit, 2 channel stereo and I love music. So while the Naim Muso was an amazing solution for most, I wanted even more.
See the Silvers in my room playing Vinyl on a Marantz TT15S1 – Late night low level listening sounds amazingly gorgeous…
Seeing that I am a huge fan of what Devialet is doing ( and I am a past Devialet 200 owner ) and I remembered the big hoopla when they announced the PHANTOM, which promised to be comparable to $50k systems in a wireless all in one speaker that comes in at $1800-$2900 each depending on the model you go with (normal, silver or gold). You can take 700 watts per speaker, or 3000 or even 4500 in the gold edition. A pair of middle of the road silvers and the $350 piece you will need to wirelessly connect them, the Dialog , will set you back around $5100 + when it is all said and done. That's $5k for 6000 watts of refined stereo power, and the most technologically advanced speaker system I have ever had the pleasure to use, test and now own. Part digital (for the power and overall grunt) and part Analog amplification (for the sound quality). Amazing.
THE PHANTOM WILL BE THE FUTURE OF HIFI…
What I mean by that is that these speakers are so freaking crazy amazing for what they are, I can see others trying to copy and even expand on this kind of tech to the point that I think these have laid the groundwork for future HIFi developments. I've had these two silver beasts set up in my listening room now and have been listening, and sitting here in shock by what I hear in this room. While not the best I have ever heard, it boggles my brain to think these two small, relatively inexpensive (for what you get and compared to other big $$ audiophile products) speakers are delivering this sound in my room. It may not equal a $50k system but I will say right now that what I am hearing from this properly positioned (and on stands) pair of Silver Phantoms is up there with my old best system that consisted of $25k speakers from Sonus Faber (that took me 10 years to build and upgrade to). It may even best it in some ways, and while it can not match the Sonus Faber's organic flow and warmth or magical midrange, it beats them with bass PERFORMANCE and clarity and imaging. Just wow. $5k speakers actually meeting and in some cases exceeding a $25k pair of speakers (that still will need a $$ amp) is beyond WOW.
After having these two Silver Phantoms in my room for a while I am gobsmacked. If only I have tried these a year ago. There are so so so many positives to these over a big bulky system of separates. At the same time, there are things one may miss from a big separates system as these are not miracle machines, though they are close. Very close.
Let me explain…
Each Phantom can be used alone, or in a stereo pair or you can add up to 24 of them throughout your house. One in each room, easily controlled via app for whatever music you need, want..in any room you need or want. They are hefty and around 30+ pounds each, and built to what appears to be a crazy high standard. These are not cheap best buy boxes…these are devices that were millions of dollars ($30 mil) and many years in the making (10). You can move these anywhere in your house, easily. Since they are wireless (just a power cord from each one), and need NO amp, NO dac, NO real physical source…just plop them where you want powerful sound. So versatility is amazing here, and the volume you can get from just ONE silver Phantom is insane. NO one would EVER need more volume.
Bluetooth, WiFi, Optical connections can be made, and you can use an airport express hooked to the optical for Airplay functionality. I use my Sonos streamer into the Optical where I then use Tidal, Deezer and stream my local files.
105 Decibels. That's almost illegal in some countries. That's what the silver puts out. Alone. In a pair it jumps to 108 Decibels. Watch your windows…
Listening to one Phantom reminded me much of the Naim Muso but with a bigger and more impactful sound. When I added in the 2nd Silver Phantom…I mean, WHAT A JUMP in sound quality. It went from a directional mono big beefy sound to a magical performance by the artist right in front of me. Imaging to die for, some of the best imaging I have experienced in my life. Power you feel (when you want to) and low volume night listening is just as good as loud as the bass is still there in low volumes and I have never ever had low level listening sound THIS good and rich. The bass performance of these guys are astonishing, and a part of what makes these desirable.
In my small 12 X 12 room, the bass CAN get overpowering when too loud with some music (electronic mostly) at louder volumes but if that happens I just touch the night mode (in the spark app) which takes off the lowest bass registers. Meant for night listening (as to not wake your house) it also helps cut the bass when it gets too energized 😉
So let's see what positives I have so far before I start to talk about the negatives…
They are small but hefty and very well made. Just as well made as any $20k speaker I have seen.
They are POWERFUL, up to 4500 DIGITAL watts each speaker. You will never want for more volume unless you are half deaf already. 
Amps are BUILT in and are part digital and analog. Digital for the power and analog for the sound quality. Brilliant.
Built in DAC's deliver rich beautiful and yes, AUDIOPHILE quality when set up on stands as a stereo pair.
At the price of $1990-$2990 each (depending on power level) this is one of the best buys in HIGH END HiFi. At the price, I know of NOTHING that can even touch these for what they offer. So they are pricey if you are thinking of them as a wireless boom box, but when you look at them for what they are, a serious modern day audiophile solution…then they become a steal at the price point. You will not need a pre amp, amp, dac, cables, or CD player here…so you are saving a ton while getting amazing sound. Some spend more on speaker cables than a pair of these will cost you!
Easy to place in your room. No expensive cables to buy. Access to almost ANY music via Tidal, Spotify, Deezer or whatever music service you prefer. All from your smart device like your phone, ipad, etc.
Amazing imaging, some of the best I have ever heard for this. Instruments and voices are right where they should be.
The bass is crazy powerful and goes to a crazy low 16hz with the standard and Silver and 14hz with the Gold! Yep, so low we will not hear it but we will damn sure feel it at the right volume in the right room, and I have indeed. 
SO FAR SO GOOD RIGHT? Well, there are some negatives that almost had me give up in frustration and send them back the same day they arrived.
When these two arrived to me via UPS they arrived with the DIALOG which is needed  to connect more than one Phantom together, for stereo purposes. It's basically a WiFi hub that has an optical, USB and Ethernet connection.
I also received the remote which is a thing of beauty and I also wanted to connect a turntable, digitally to see how good these would sound with an Analog converted to Digital turntable using Optical out.
SO I was all set. My office was cleared out of the big guns to make room for the small but deadly Silver Phantoms.
I set them up according to instructions, using the SPARK app. When they were powered on, they produced a musical hum and the "ears" which are the bass drivers started pulsating. I touched the top of each one and they came back with a click and bass driver "pump" to let me know they were found.
The app said they needed to be updated, so I started the update. Devialet always updates their products and improves them for the life of your product. This is awesome as one day you can wake up and have improved Phantoms and sound quality. BUT all was not good as I spent 3 hours trying to update them, only to have the Update download continually error out.
After spending an hour searching online about others with the same issues, I read I had to update one at a time, while plugged into Ethernet on my router. So another hour goes by and they update. Then when I sit down to test them for the 1st time, I only get sound out of  the left Phantom. Time to reset and start over.
I was frustrated beyond belief. Hours later I am sitting here wasting my day trying to get these things to work, and they are having a hard time with it.
After the reset BINGO, they updated and started working.
I pulled open the spark app, pulled up TIDAL (of which I am a member) and played some of my playlists…NO SOUND. Pulled up DEEZER using the Spark app. It showed music was playing but no sound at all. UGGGG.
I then pulled up internet radio using SPARK and sound! But it sounded weak and trebly to me. Much smaller sound  than my Focal Sopra #2's.
Hmmmm. Maybe these were all hype..those were my thoughts.
But since I spent 6 hours working on this, I was not about to give up. I plugged my Sonos Connect base station into the DIALOG via Optical and used the SONOS app to play my Tidal and Deezer music. It worked, and it worked SO WELL. I mean…wow.
So while I still to this day can NOT get these streaming services to produce any audio through my Phantom system using the official Devialet Spark app, I can indeed listen using my Sonos Connect and app. So I am happy as the sound is simply amazing…powerful…impactful..and has many tastes of super high end audio while giving us a taste of the future, of what is to come in the next few years. Technology is getting insane and these are some of the most technologically advanced *ANYTHING* I have come across in life.
So at the end of the day, those 6-7 hours of setting these up was well worth the effort and I am so glad I did not pack them back up to ship them back. These are simply amazing on the next level. No hype, no BS. 
SO TELL ME ABOUT THE SOUND STEVE? 
So after all was settled I left them in the room and played them all night and beyond. As I sat in my listening chair, the same spot I have auditioned super high end pieces from, I was just amazed at what I was hearing. It was as if my brain did not want to accept that these little guys were putting out HUGE HUGE rich powerful sound even at lower to mid volumes. Again, power or volume will NEVER leave you wanting, but we all know if a speaker has all bass and power it usually fails on delicate, intimate listening tests. Most bass heavy speakers muddle up the mis bass as well, making the speaker sound muffled and closed off. It's a balancing act, and one the Focal Sopra #2's do so well. But believe it or not, these do it better.
But can the Phantoms match the sound of my Sopra #2's that come in around $14k? Well, YES, and also NO. Will they match my old $25k Sonus Fabers? Yes and NO. Will they match my old Wilson Beneche speakers? YES with ease.
It's tricky.
While these Phantoms deliver earth shattering impact and power, they are also VERY good at low level listening, with vocals and instruments. I always look for an emotional experience with speakers and audio gear. If I can get that, I know I have something I can live with. By that I mean if I can get pulled into the performance, if I can feel like the artist is in the room with me, or if I feel a huge rock band is playing 10 feet in front of me or if I listen to a great classical performance and it gives me goosebumps….a connection to the music. This is not easy, and for me I have achieved this only a few times in life with my Audio hobby.
One of the best was my Sonus Faber Guarneri Evolution mated with a Line Magnetic tube amp . That system delivered so much magic for vocals and jazz and blues and acoustic instruments (try the album Fingers and Thumbs from Adrien Legg) but they also lacked a bit with high energy music like metal and rock as the bass, while plentiful, did not have "impact" anything like the Phantoms. Not even close. They also did not have the clarity or imaging performance of the Silver Phantoms. The Guarneris though, did sound bigger and looked more beautiful.
So as I sit with these Silver beauties, no matter what I put on…Jazz, Vocal, Bluegrass, Rock, Metal, 70's music or Electronic/Ambient I am blown away by what I am hearing in regards to the size of these guys, and even if they were MUCH larger I would be shocked for what we get for the money. I know I said this already but it can not be understated. If you own ONE Phantom you seriously owe it to yourself to save for two. It takes up the experience 100X. One phantom is "good" for a boombox experience but add two, set them up right and you will be blown away. These need to be taken VERY seriously in the Audiophile world as it will only get better as time goes on.
With one Phantom I preferred the $1500 Naim Muso. With two, I am preferring the pair to some of my best systems I have owned in most ways, but not all.
POWERFUL, BIG, DETAILED but NEVER ANALYTICAL. THESE ROCK.
So did the Silver Phantoms pass my "emotional" test…well, I did not think they would but THEY DID. I mean, they are NOT PERFECT but they do lack in a few areas from my other systems I have owned but I would say that these beat out most $10k speakers, and a few $20k speakers and maybe even fewer $30k speakers. Let's dig in a bit…
SOUNDSTAGE – The soundstage width of the Silver Phantoms could be a little better. They get nowhere close to my Sonus Faber Guarneri's but do match and surpass the Focal Sopra #2 in this regard. Instead of the sound expanding to the side walls, with imaging placed in that sound stage, I am getting a narrower stage..but..BUT…I am getting superior imaging from these over any speaker I have owned or tested. Up to $30k. THAT IS NUTS.
THE IMAGING IS INCREDIBLE –   Instruments are placed right where they should be with no exaggerations or artificial space added by cables or cords. To some this will be bad, for others it will be preferred. With all of this said, there is a soundstage with the Phantoms, but not to the level of $20-50K speakers. They are close. Excellent but not the Holy Grail for those who crave a huge enveloping stage.
AIR – When listening to Enya I do get the huge sense of space and air as the vocals float in front of the speakers in the middle and the sound, the music behind the vocals is rich, full and NEVER weak. Even at low volumes of 20-30 at night. This is quite the feat as some speakers and amps can do vocals magically perfect but the music usually is obscured in the background on some tracks with light bass and weight. These Phantoms deliver it as one solid coherent package. It's an amazing thing to hear, and SEE when you are looking at these robot egg looking  things and making your brain try to accept what is happening.
TREBLE and MIDS: If there is one weakness of the Silver Phantom, and only to VERY picky Audiophiles it would be the treble. To me, the vocals of say Enya, or Flo Morrissey (try "I only like his hat not him" for hauntingly gorgeous vocals on ANY system) sound fantastic and intimate but if I had to be picky I would say the treble could be more refined to add some magic in. Supposedly the GOLD Phantom coming in at around $3k each has changed up the sound signature a tad, and improved upon it with a titanium tweeter. I have not heard the gold but at $1400 more for a pair over Silver, not sure it would be worth it as the Silvers are 95% there. That last 5% will cost you. In comparison to my Focal Sopra #2, the treble on the Phantoms is not as refined or smooth. The mids are 95% as good. But overall, the sound of the Silver's are just flat out amazing (again, in the right room, as a pair and set up correctly).
BASS – Everything you have heard about the amazing bass performance of the Phantoms is true. It exceeds what most think could be possible. These deliver more solid bass  than any speaker I have owned, ever. The sheer amount of bass depth (that you can feel) is amazing. 16hz. Unreal. Low volume listening is never thin, or lacking. It's also never muffled in any way. There is never ANY distortion, never any muddled mix at higher volumes and never a sense of strain, at all, ever. But in my small room (12X12) the bass can be a tad much with SOME electronic music when jammed. If I tweaked the placement more I probably could improve on that. With the Phantom we get the  bass we crave without it harming the mids and treble or muddying up the sound. It's quite the feat.
Also, we just can't blow these guys as there is protection from SAM enabled, Devialets amazing way of making these sound and perform so well.
The bass of the 6L sized silver goes down to 16Hz. This full size 120L speaker goes down to 30hz. Wow. THIS IS THE FUTURE MY FRIENDS!
USING THE PHANTOMS WITH A TURNTABLE?
YES, you can use ANY turntable with the Phantoms, and yes, it's worth it if you love your vinyl. I purposely hooked up a $289 Audio Technica LP 120 with an AT100 cartridge using an Analog to Digital adapter that cost me $11 . This allowed me to plug the TT into the Phantom's dialog box using an Optical digital cable that cost me $8 on Amazon.
So for $300 or so I had a complete low budget TT setup. How would it sound?
To my disappointment it sounded about 85% as good as my $6k turntable. I mean, here I was with a high megabuck TT and this low budget solution was sounding almost as good…not as clean, not as detailed but rich, full, fluid and had me tapping my feet. Wow. It worked well. I then added a $249 phono stage and that improved the detail and sound dramatically. So $460 for a TT that now sounds about 80-90% of my megabuck setup, in my room. Crazy. There goes those diminishing returns again!
This is the best most well made TT I have seen under $900 and while it may not be the be all end all, the AT 120 is a STEAL. A STEAL. Let me repeat that…A STEAL. You can not lose if you want your 1st or 2nd TT or like me, considering dialing back your TT costs. With the Silver's the TT sounded gorgeous. Just as Vinyl should sound. Left me wanting for nothing really though 80% of my listening is through Tidal, Deezer, etc.
I will admit I also put in a Marantz TT15S1 with a Clearaudio Virtuoso Wood and it took me PAST my old $6k Turntable. BAM. It sounded 20% better than my old rig, while coming in at $1300 with cartridge, set up and new. (I have a great local dealer, $1500 at Amazon).
To see what I bought for my TT solution with the Phantoms, see the links to Amazon below (I bought my 120 TT locally for $239 though)
Audio Technica 120 TT
Cambridge Audio Phono Stage
Analog to Digital Converter
Optical Cable from Converter to Phantom Dialog
Added later: Marantz TT15S1 and it is just a perfect match to the Phantoms. I now get that wide enveloping soundstage, with VINYL!
Added: Audioquest VODKA Optical Cable  from A to D converter into Phantom. Also one from Sonos to the Dialog Hub.
So as I have it now, the Phantoms are set up in my dedicated listening space using a Sonos CONNECT to stream Deezer, Tidal, Radio and my own music. I then have the turntable setup above for my Vinyl fix every now and again. That's it. No uber expensive cables to buy, no external components to add, and so far the only frustration and disappointment I had with these was all with the initial setup, which some go through in five minutes.
BOTTOM LINE ON THE DEVIALET SILVER PHANTOM
What can I say? I was shocked at the performance of these Silver Phantoms only due to their size. I NEVER thought they could fill my room with music in such a powerful and intriguing way yet they did. They not only fill my small room but out in my living room which is much larger than my listening room they do just as well and fill the room without effort.
While I am missing that huge wide deep soundstage of my megabuck system, this system was 1/5th the cost and gets 95% of the way there ( Update : With the new TT15 and Virtuoso Cart the soundstage is much improved).
That tells you about "diminishing returns" right there.
These speakers are doing so much right that I can only imagine what the next few years will bring for HiFi. If Devialet can get the setup process as smooth as silk (its not there yet), if they can refine and improve the treble (they may have already in the Gold), and if they can get their Spark app fully functional (I still get no sound from my Tidal or Deezer using their Spark app) then this will be the end game for many and I mean MANY. I used that term before with HiFi but that was before this technology and these Phantoms.
Some will use them solo as a general wireless speaker. Some will use them as computer speakers and some will use them as I am here, as a fully setup 2 channel audiophile solution. As a two channel system they are unrivaled for the money and even if you spend quite a bit more you may not get better sound.
NO they may not have the total refinement of a $50k system but did anyone think they would? Me, I would take these over systems costing up to $20k, all for $5-6K. They are versatile and can be moved easily to any room in your house. They are amazing in sound and performance and the looks…well, some will love them and some may be cold on them.
Me, I feel the treble and midrange needs some work to be truly "magical" and to please most Audiophiles, but again, this may have happened with the new GOLD Phantom that is rolling out now at $2900 or so for each Phantom. After extended listening I find the treble to be somewhat soft, and these lean to the warm side of neutral in my room due to the tweeter and the bass which is not lacking at all.
I'd love to test the Gold's because if the tweeter is improved, and the bass has been tweaked to be less powerful (sometimes it can be too much of a good thing) I feel Devialet will have literally struck gold.
THEY DO look like an Apple product from packaging to presentation. The remote (that you must buy separate) is so worth the cost. It's a thing of beauty with a large weighted dial. To activate it you just hover it over the Phantom. Pairs instantly.
Other than that I would love to see these in a gloss black with rose gold highlights 😉 I see a gloss black Phantom with rose gold tweeter cover while the sides that are now white, silver or rose gold being black, maybe matte black. That rose gold tweeter cover would make them pop and they would look pretty classy IMO. Who knows, maybe Devialet will offer a color choice in years to come.
If you are coming from wireless bluetooth speakers, these will blow your mind. If you are coming from a Sonos speaker system, you will be in disbelief when you hear these. If you are coming from an Audiophile background you will think they need a tad bit of refinement in the treble but when set up carefully and correctly on stands you will appreciate them very much.  Not sure how anyone could NOT be impressed with a stereo pair of these.
I feel these Phantoms are truly giving us a sneak peek into the future of HIFi. There is NO wireless speaker better than a pair of these. There are very few high end speakers from 15-$20k that would be worth the expense over these. If you can deal with wireless audio and a digital turntable solution, take along hard look at these Phantoms, as they are unbeatable for the money. Just put them on a good stand if you want to get the best from them. Devialet offer the TREE here. 
To those picky audiophiles who say these can not be up to par with higher end separates and systems that cost a bit more than the set of Silvers, I say "You have not heard a pair of these set up correctly, in a good room" . These are just as much audiophile as any serious system I have owned and while they are not as refined or transparent as a $40-$50k system, what they do offer makes up for that last 10% of performance (size, no cables needed, sound quality, bass performance, wireless, imaging, cost) in a much smaller, much less expensive package. The Silver Phantoms are amazing and a peek into the future of HiFi and these are what I chose for my new home listening room, and I am thrilled with my choice.
If you do not need the crazy volume and slam of the 3000 WPC Silvers, you can save some cash by going with the standard Phantom.   Me, I am excited to test out the GOLD's if I can get a pair 😉
See more details and specs on all of the Phantom line at Devialet. 
Order the Phantoms, standard or Silver, at Amazon (they ship from Amazon using prime). 
Order the Dialog  (needed for more than one phantom)
Order the Remote
SEE MY GOLD PHANTOM REVIEW HERE
TIP: TO HEAR SOME SERIOUS BASS WITH THESE TRY:
"BARCELONA" FROM HENRY GREEN. 
Related Articles
The denafrips terminator plus dac review..
The Denafrips Terminator PLUS DAC Review. By Steve Huff I have been on a mission for many months, or at least it seems that way. I have been enjoying hearing and evaluating many different digital […]
HiFi: The Raven Audio NIGHTHAWK MKIII Integrated Amp Review.
HiFi: The Raven Audio NIGHTHAWK MKIII Integrated Amp Review. By Steve Huff More about RAVEN Audio HERE Well well, what do we have here? Time for another HiFi Audio review (and more will be coming […]
REVIEW: iFi Pro iDSD Signature DAC, Streamer.
REVIEW: iFi Pro iDSD Signature. Dac, Streamer, HeadAmp. By Steve Huff Buy the iFi on Amazon via Prime HERE. I was pretty excited when iFi contacted me to review their pro level top end DAC. It's […]
66 Comments
Hi Steve, thank you for the post, it's really useful.
Although I'm not an audio expert, growing up with a dad, who is a sucker for great sound, I've read your other post with all the set up and this is exactly what I'm trying to do with my Phantom Gold speakers and dialog and the AT-120LP.
I tried analog -> digital output with the toslink with just the vinyl, I couldn't get a good sound out of it, only one Phantom makes some sound, I have a feeling that I need a better toslink cable. I don't have a huge budget for the setup that you have, so I am considering getting the Sonos connect with amp and a better toslink cable (may be not as expensive as the one you have). Since I already have my TV connected to the dialog, would you be able to recommend a solution for the TV and the turntable with digital output? I tried using a splitter, but it's absolutely useless. I would be very grateful if you can recommend a solution for a simpler set up with the TV and turntable.
Much appreciated!!
For the turntable to sound its best here you will need a dedicated photo stage, do you have one? I use a Vincent tube unit. So turntable to phono stage, phono stage to my Sonos analog in, and the digital out of my Sonos to the Phantom where I use an Audioquest Diamond cable. That is how I run my TT setup. It sounds beautiful.
I don't have a phono stage yet, I am looking into that. I have to consider the set up with the TV as well, so I am wondering if there is a receiver with good phono stage built in would work? If not the same phono stage that you have, is there another one that you would recommend? Thank you!!
A VERY good one for an affordable price: http://amzn.to/2jOH2jq
I had it and it was great, almost kept it (probably should have as it is cheaper than what I went with).
Thank you! I ended up got the Cambridge phono stage. What's your configuration on the Spark and on the Sonos app? I don't seem to get any sound. My turn table is set on Phono, plugged onto the Phono stage, and to the Sonos Connect, with Toslink to the Dialog. I tried before with the Denon Heos 2 instead of the Sonos Connect, I got sound from one Speaker, but the other one is very fuzzy with a lot of noise. I tried with the Toslink to one Phantom speaker, same thing. So I got rid of the Heos and got the Sonos Connect, exact same set up as yours, just can't seem to get any sound. I don't know what I've done wrong. Even if the cable isn't as expensive as yours, I should at least get some sound out of it, but I got nothing. Y_Y
You may have to set up that output using the Sonos app. It's been so long since I set it up, I do not remember exactly but I do know. had no issues at all. Your TT should not have a switch, but if it does you do NOT want to use the built in photo stage of the TT, so turn that off. Then the RCA's go to your phono stage input, then RCA output to the Sonos. Then optical out from the Sonos to the Dialog. Also found this online: "For the optical cable, you will need to activate it within Spark. Spark also have a specific feature named "Autoswitch" which will automatically be played once a signal is push through this cable to your Phantom or Dialog"
Great review, Steve, but I do have a concern. You're saying that switching out digital cables has an effect, but that makes no sense. None. We're talking ones and zeroes here, right? Swapping out digital cables should make no difference, and this has been proven repeatedly in A\B testing, very famously so.
I can understand how the different inputs (wifi vs toslink) might have some variation due to the physical electronics in the speaker, but for this kind of money, that is completely unacceptable.
It seems that you're muddling up the digital and analog domains, and that jeopardizes my confidence in your opinion and reviews.
Have u had the chance to audition the Phantom Gold yet ?
I have a pair and I'm considering if I should sell them for the Sonus Faber Olympica I.
Pls advise! I'm stuck in the "upgradtitis" stage!
No have not had the chance to try them. The Olympic I's are decent, I tested them for a week or so when they came out. They will give a darker sound, and less bass than the Phantoms. The treble is pretty detailed on the Olympica and they are gorgeous to look at, but keep in mind I owned the Guarneri Evolutions and am now happy as can be with the Silver Phantom pair. While the Phantoms are obviously not as good or course, they are 80% there for 1/7th the cost as you do not need speaker cables, amps, days, etc. If you go for Olympica make sure to get good speaker cable, pre amp, amp, dac, etc.
Thanks for your reply. Any idea why every single audiophile is bashing the phantoms ?
Steve… from Sopra 2's to Phantoms. Noooooooooooo say it ain't so 🙂
Oh it is so, and I am 100% happy with that choice. Again, don't knock them until you heard them properly set up, as a pair, with the right stands, and again, set up. They deliver a truly amazing experience. So yea it is 100% so 😉 They may not look as pretty but they are spectacular (again, as a pair, set up correctly, with a VERY good optical cable)
One of the worse sounds I have ever heard came from a pair of these. You should try your Line Magnetic amp with a pair of DeVore 093s or 096s then you will understand what real music sounds like. Because it certainly doesn't sound real coming from these things…
P.S. The amp is not digital. You still need conventional power transistors to drive the speakers. It combines Class A (a few watts) and the rest is class D so the majority of the sound is switched or pulsed to the speaker by an analogue amplifier.
I have tried Devore, I have tried so many systems, amps, speakers, SET amps, the gear, high power SS. If you heard these in my room you would see why I will never sell these (unless i go for the gold). They are AMAZING when set up correctly. Most will not do this. You need a pair, you need the correct stands (some put them on shelves, which will make them sound awful). You need good optical cables (YES there is a difference 100%) and you need the right source. I've listened to systems from $1k to a million and these are absolutely jaw dropping for what they cost, and they are giving me much better sound than some $30k systems I used to own. But if you do not set them up right, like any speaker they will sound like trash. It took quite a while to dial them in, but now I could not be without them.
I auditioned the Gold Phantom today and it really is quite a leap on from the Silver. It has added extra sparkle and verve to vocals, the bass is the same as before but definitely, the extra clarity on the mids, adds to the whole Phantom experience and is to be welcomed.
Although it might seem exaggerated, a Gold mono really is actually, literally, more pleasing to my ears than a stereo Silver setup.
As a wireless setup, i rate the Gold Phantoms at the very pinnacle of what is currently available. I imagine when more clients aspire to own them, the Devialet team will make the bodyshells available in a variety of colours.
So now I went and bought the Gold….. and already it looks like I will have to get a second one fairly soon….. so I guess I will have to wait until 2017 before I get my new Leica M….
When you add a 2nd it goes from good to AMAZING. Totally different experience!
Steve Following yours an other reviews I made the mistake of going to Oxford Audio yesterday so only have you to blame. My Quad 66 system and Ae1's have done me well for 25 years but the pre-amp just died and has been shipped back to quad to be fixed, but it will all be sold shortly, its time to move on – modern digital system, simple, less boxes and wiring. I have just spent the day listing my hundreds of cassette tapes and vinyl.
In short, I took the AE1's and put them through the new devialet 130- It really made them sing, but next to the phantoms they sounded 'boxed in. The Phantoms were astonishing, I just couldn't believe what I was hearing. Tracks had so much more soundstage and detail it was like listening them for the first time. It took two minutes to hook me, an hour and a half listening to favourites and I was lost. I spent half an hour after leaving the shop wandering around but there was no choice, they had been extraordinary, they exceeded everything I had read. I did also pick up a project turntable that is devialet badged with internal phono to digital stage so My Vinyl will stay.
My old system is now in boxes, tapes listed and ready for the bin and Phantom Silvers sitting boxed in the corner awaiting the dialog to be sent…… Thanks Steve – May be no Turkey for xmas, but the music will compensate 😉
Enjoy and congrats!!
Thanks for the review Steve. I have a pair of the 750w and I am very impressed. Do you think the Dialogue will go six channels if I decide to use 6 of the speakers for my home theater? That will be a blast with the good bass from each speaker.
I believe they are now working on that for home theater applications. Imagine 6 of them…NUTS!
Hi Steve, Great review! Have you had a chance to hear the Golds yet? Wondering if they may make up for and deficiencies the Silvers have. Keep up the great work! Bill
Not yet but maybe soon. Im still listening to the Silvers EVERY day and they are amazing. I changed out one optical cable (the only cable) and wow, what a difference. Now I have a soundstage and presence I only have had with $20k speakers. I can only imagine what the Golds would sound like in this setup/room. I'm still in disbelief at what these can do. I, in no way at all miss my old systems. In fact, I prefer this to them in all ways now. These are truly game changers in the world of HiFi.
Thanks Steve! Pretty sure I'm going to replace my D200 and speakers with a pair of Golds and a Dialogue. What optical cable did you change to? I'm looking at Audioquest and Wireworld right now. Interesting that you got this big jump – cables matter! I'm also looking at hooking up my Rega Planar 3 2016 turntable when I get the Golds. Are you using the Spark App or still using the Sonos to stream?
I have tried Audioquest Forest, Vodka and Diamond. I was surprised to see a pretty big change from each. The Forest was shrinking the soundstage and details ,the Vodka brought out details and helped the soundstage a tad but the Diamonds are the best of all worlds. Less hard than the Vodka, and MUCH MUCH more spacious sounding with low level details now audible that were not heard before. Soundstage width and height grew dramatically. I hated it but the Diamond won, easily. I am using Sonos as the Spark app does not work for me, at all. No sound when I pull up Tidal, but with the Sonos I have Tidal, Deezer, Spotify and can use my Turntable which sounds beautiful.
is the turntable wireless direct to the speaker?
No, it goes to my Sonos via analog, which goes to the speakers wireless hub vi optical cable.
Which optic cable have you changed? Whoever goes from Devialet Dialog to Sonos? How have you optimized your power supply, any suggestions? A few more cables you should replace? Thanks for the help!
Audioquest Diamond. I tried Forest, Vodka, and Diamond. All three, somehow, someway, had pretty big differences. Forest was good but Vodka was better and Diamond just opened it all up and made the soundstage grow HUGE. I switched back to Forest from Diamond and it was a substantial improvement. I bought the set of Diamonds from Amazon thinking I would return if it did not make a difference, but it did, and I kept it. Many say these make no difference but they do, and in order to really appreciate it one must have these speakers (or any) set up correctly, on stands, etc.
I'm going to purchase a set of Phantom Golds after seeing ur review ! I hope that it'll sound better than the Silvers. Otherwise I'll be very disappointed ! I heard from somewhere that the golds could be refurbished "whites" as they have the same plastic driver and chrome side plates I am hoping it's not a marketing strategy to clear off their old 700w ones.
Lol, the golds have an upgraded midrange, an upgraded tweeter, new DAC, and a few other new improvements including 4500 watts each. The Gold are NOT the standards, but the silver are the standard with more power. Enjoy.
From Leicas to Hifis, you're my reviewer ! Keep up the good work and can't wait for your Gold Phantoms review.
You're my favourite reviewer from cameras all the way to Hifi. Please keep up the excellent work and I'll be waiting for your review on the Phantom Gold.
I just bought a pair of gold phantoms. Although I find the music to be much fuller than my DynAudio Dm2/7 and Naim Nait 5i, i also feel that the soundstage is not as wide and the imaging is very centralized. Do u toe in your phantoms ?
Congrats on the gold. I ended up with them toed in, yes.
Is there a reason why you connected the Sonos Connect instead of using Tidal directly?
I say so in the review ') Tidal does not work using spark for me, neither does deezer. I can log in, yet no sound, and play button freezes. Connect works for me very well as it allows me to play any streaming service I want, I can use the SONO app which is far superior to spark and I can also hook up my Analog and have it convert to digital and it sounds beautiful. For me, the Spark app is atrocious.
Is there any difference between the white and the silver besides the max output?
Drivers are the same, so all you get is 3000 Watts with the Silver, and the matte silver grille and silver colored woofers. The standards give you 750 Watts and an all white style with a shiny solver grille (sides). BUT there is more to watts than loudness. The more watts, in this kind of scenario, can add to more control and impact so it does change the sound, even at low volumes. From what I understand, these do better at low volumes but the next step up, the gold at 4500 watts each does even better than these. IMO, Standard and Silver are close, but Gold should be a jump with the new drivers. First reports are a more forward midrange and more defined treble with the Gold. So I feel the Silver could be the sweet spot in the line.
Hi Steve,What about comparing the sound versus Devialet 200?
Well, that's a whole other thing! The 200 is fantastic. BUT it will depend on the speakers you use with it. It can either be good, great or wow. I do know that one would have to spend MUCH MORE on a 200 system with speakers and cables than one would on the Phantom Gold even, let alone silver. For $5100 what we get is a full on music system. Add stands (nice heavy stable ones recommended) and you have a setup that when set up correctly (not hard at all to do) will meet or even possibly beat the 200 and speakers up to $10k easily, I feel. So add up the 200 and cables and $10k speakers and you are looking at 4-5 times the cost of these Silvers. While you may gain a bit of the audiophile things with the 200 and speakers like (more dimensional sound, more holographic sound and more "air") those gains will be small in comparison to the money spent, and you will still not have the bass performance of the Phantoms for low level listening or louder listening. It takes a HUGE expensive speaker to deliver bass like these do and can.
So one has to decide if they want that last 5%-10% and to pay $10-$15k MORE for it, or if they can live with these, and me, I could easily live with these as I just can not believe what I have gotten for the money. I am used to overpriced and underperforming in HiFi. NOT this, which is paying less for OVER performance!
Best bet for anyone interested is to take advantage of the Devialet 45 day trial, or even Amazon prime as they offer a full money back policy as well, for 30 days.
Ok…not to be too superficial but am I the only one who rather dislikes the white finish on these?? I wish that at the very least they offered the same speakers in a piano black. Unless you live in an ultra modern home the white really will look a little odd in my opinion.
Heck, it would be easy for Devialet to offer the exact same speakers in a variety of colours: blue, red, black, white etc. Just a thought…
Heard them at 4 different dealers, only the last one would admit what I think is the truth here; nice to have in your kitchen if you are rich, but they do not offer natural sould. Try ProAc for true high end, IMO.
I'd say the same if I were a dealer as it's def more profitable to sell a 20-40k system than some phantoms…
true – a good dealer (of trust) will never let his customers down. When I bought my Adam Column MK 3 the dealer convinced me to hear (for free for almost one year) the active version and in parallel (in case I wanted) the passive version without built in amps. This is how you convince people to buy into your system to at your shop.
One thing is for sure – a well tuned active concept should always win but it has less things to play with – something Audiophiles will definitely dislike – but I was so amazed by am Adam speakers that I bought now 5 of them replacing my previous setup.
Interesting read here and something I will definitely listen to at the next HighEnd fare in Munich next May (in case they are there) – but I will also take a very close look at the Kii Three which has a more compelling technical explanation for me.
Currently I could not be happier than with my Column MK III in active configuration but there is always room for improvement.
The Dr. Heil tweeters are IMHO unmatched by any other system I've ever heard – and I heard also systems the would exceed many life times luxury spendings ,-)
Hi Steve, great review and very informative on these silvers that I've been curious about since first reading about them a year ago. How do we get you to test drive a DAC that decodes High Definition Audio files? The heck with streaming and vinyl, a DSD recording has 64 times more data than CD and blows away vinyl that cannot produce the insane realism you get from HD Audio. You of all people have to give it a whirl!! I know a dealer happy to send you one…….just say the word. -Captain Ethan Lee 56 South Logistics
Ive used a few DAC's in my time and have had high end DSD players and DAC's in my system. I love it all of course but this was to test how these did just on their own, with a low end turntable and source. Once I get settled again I may take you up on your offer. Thanks!
I second that comment on a DSD capable DAC. I bought a Sony HAP-S1 that I use strictly as a DAC and in my opinion it is the bargain of the century….unreal DAC quality, never heard anything like it for $1000.
As for these Phantom Silver speakers….I have to say I'm intrigued. I'm going to check them out at my local dealer in Vancouver.
Yes, these Silvers seem very interesting…….and I only mention the DSD DAC as a simple $500 will make ANY system sound like you just spent $15,000 on it.
I've been using an iFi Audio iDSD DAC "Micro" model ($500) for two years now and have connected it to just about everything….A B&W Zeppelin self contained speaker system, some Bose 301 shelf speakers, various car systems in the many rental cars I use at work…bluetooth self amplified box……. and of course my home system that is Audio Research LS25 MKII (tube preamp) > McIntosh MC601 monoblocks > B&W 802 Diamonds. The little iFi iDSD Micro DAC can even be used as a preamp, in preamp mode, and i connected directly to the McIntosh Monoblocks for super clean sound.
By the way, the software to send the HD Audio files to the DAC are around $48. Amazing sound for just a little cash.
and the results are always the same: OUTSTANDING!
Regardless of the system components, it sounds a hundred times better with high definition audio as the source…..with any decent serious Hi-Fi system the results are simply mind-blowing.
I've been writing Steve Huff photo for a year now hoping he'd write a piece on HD Audio as a source since I know many of the camera nuts (like myself), who also really dig great tunes, would benefit greatly greatly by adding a little $500 to their stereo system. I agree with Steve, somehow cameras and hi-fi go hand in hand, (the wife seems to appreciate photography a little more for some reason). And this HD Audio format is a massive leap forward in amazing quality, a much bigger advancement than when we went from cassette tape to Compact Disc. Anyone who cares about and enjoys music on a regular basis has to ditch the streaming and all the thin souless MP3 media and check this out!
Thx a million for the review Steve. As I am about to buy the 8000 McIntosh plus speakers, sources etc. I'm now officially considering to go your way and save some bucks… Just wondering if the Phantoms are able to give you the goosebumps and emotion I expect when listening to e.g. Lana del Ray or so, or are they just very explosive and clean with no emotion which I'm a little scared of ???
Would be great if you could tell us your opinion on that a little more.
Cheers from your biggest german fan 🙂
Funny you ask! I had a 5 hour listening session last night from 11pm to 3AM. It was addictive as I could not stop listening to streaming, or vinyl. I repositioned my stands and did a full measured set up. I sat in my chair and was literally blown away by what I heard. Here is the difference between say an MA8000 and Soeakers vs These Silvers…
1. MA8000 and GREAT speakers (something like a Focal Sopra #2) will be more transparent and gentle sounding. The midrange of a Sopra will be about 10% more "real". With that said, the "realness" is there with the Silvers, just not as transparent. If the MA and Focal bring me a hauntingly beautiful vocal performance, the Phantoms bring me, with the same recording, less transparency and sweetness in the mids but more than make up for it in the bass and midbass. I am not talking bass power or thump or impact here, I am talking listening at 20-30 volume late night with a beautiful fullness to the sound while being as detailed as I would want with imaging that beats the Focal and McIntosh setup. I achieved a great wide soundstage last night and my vinyl NEVER sounded better, over 15 years. That's no joke or exaggeration. The Phantoms sounded a touch "smaller" in my room but if I go side by side, I realize it would be silly to spend $20-$30k when these get me very close and in some cases improve upon the more pricey system.
If you miss the little bit of transparency lost you will love the gains in the overall sound and detail and imaging while NEVER sounding thin, analytical or like it is missing something. I often missed some heft and punch with my music (when I expected it) even with pricey speakers. Not with these. While they may not be as refined as a $30k set of speakers, for $5k these can not be touched for even quite a bit more.
If I were you, I would give Devialets 45 day trial a run (if they allow a stereo pair trial) but make sure you try a pair, and with stands. I simply can not see anyone being disappointed with these when set up correctly. I am super curious now about the Gold's as well with the new Titanium Tweeter and new Midrange driver. If it is what I think, the Golds may give that extra bit of transparency that one would lose with those higher end much more expensive speakers.
All I know is that I have had Turntables that were priced from $200-$6000 and last night I never heard my Vinyl sound as good, ever…all playing on a table I paid $240 for new, with a $70 cartridge running into a $250 stage and out to an A/D converter then to optical to the Phantoms using an Audioquest $35 forest optical/toslink cable. Yes, my vinyl is sounding better on this system than my bug rig mega system. How? Has to be these Phantoms. Devialet is on to something with these and I can only imagine a few years from now where they will be. Could spell trouble for the megabuck systems.
Some who try these fail to set them up properly though, as many just see them as a wireless speaker or something that plays loud and with huge bass. They are so much more than that and so much better than some "audiophile" speakers out there that cost much more. No expensive cables to buy, no DAC to buy, no power conditioners needed (or wanted with these), etc. If these were made by McIntosh they would be charging $20k+ a pair.
Whatever you do, enjoy it! MA8000 is amazing for an Integrated but requires great speakers, decent cables and a great source to beat the Phantoms.
Thanks for the thorough reply. I was considering getting the "golds" anyway so just in case you have a listen anytime it would be great if you let us know how they perform in comparison and overall. Did you change the power cords or anything like that?
I am going to try to get a pair…hope i can. As for power cords, nope. They are proprietary anyway. But I have nothing exotic in this system. Thank you.
Hi Steve. Nice review. I am looking for speakers that will be child-safe / can be wall-mounted without totally sacrificing the bass/soundstage. How are the Phantoms close to the wall?
(In terms of wall mounting I was thinking of a very solid shelf with an isolation device such as the Synergistic Research Tranquility or Townshend Audio Seismic Platform under the speakers, and padding on the rear wall to dampen vibration)
They do make a great wall mount for these, available at Devialet's site. I found placing them close to a wall closed them off a bit but not nearly as much as a normal loudspeaker.
Excellent review Steve. I auditioned the 750W (white) and i was amazed at the amount of volume this egg can pump out with almost zero distortion. The bass extension was fantastic but i always thought it was an overkill in a small room of 10*11 feet or a 10*15 feet room. But then again i thought the same thing about the KEF LS50 and now i regret not getting them after i thought it was an overkill for a small room too.
The KEF LS50 is in no way overkill for a small room. I tested the LS50's for a month and enjoyed them though the lack of bass was killing me. Other than the bass, the LS50's were sweet. These are different than the LS50's in sound signature. The LS50's will be brighter and more detailed, the Phantoms have a slighty warm sound signature but still have plenty of detail. Thanks!
I went to the local dealer to listen to these I was definitely impressed but I still prefer my 1970s Esl speakers and quad combo and my old ess ls4s with a British amp total cost 600 plus a apple express to stream . I also didn't like the fact you had to buy extras which cost another 1500 in Canada stands and a streaming wifi unit that was it for me reminded me of Sony always making you buy some extra thing other than all that they sounded great ugly but good sound
Quite a different audio world today. From my early teens I built many amps and tuners from kits, but my system stabilized with Dynaco amps and AR3a speakers about 1970, and I've kept and used that system ever since, having repaired woofers and such through the years. So I'm stuck in time, but content with it, along with my Leica and lenses from the same time, and my '73 VW.
I agree with everything but the car. Look at modern crash tests (esp vs old cars) and get out of the VW pronto.
The only thing with any review no matter what the review is about is that the reviewer can only review for his or her own self no two people are alike we are all different, and the other thing is that the reviewer doesn't have it long term so can check reliable
Hi Steve, if you want to go next step with the Phantoms you really should try to optimize the electrical power supply, if not allready done. I changed everything which comes originaly with the combo and it's a huge step in definition with a good main block and cords. I have spend around 1k more on these parts and it's really not excessive for the final difference.
Thanks a lot for your job on the site, I'm reading it two or three times every day. Maybe I will send you a few pictures some day, as I'm also taking (and selling) some pictures.
Oh I had already done that long ago 😉 Thank you!
Now I want to hear that Devialet sound even more 🙂 What stand are you using, as this does not seem to be the Devialet Tree one?
Also, how are you connecting several sources? I need at least 2-3 optical inputs, and the Devialet hub seems to only have one… Thanks!
Enjoyed your review. If I need to downsize from my current large Magnapan speakers and tube gear, I will certainly considers these.
Leave a Reply Cancel reply
Your email address will not be published.
Save my name, email, and website in this browser for the next time I comment.
STEVEHUFFPHOTO 2018

Smartphones
Camera Sensors
Camera Lenses
Wireless Speakers
Test results
Tech articles
How we test
Our company
Our Partners
B2B Solutions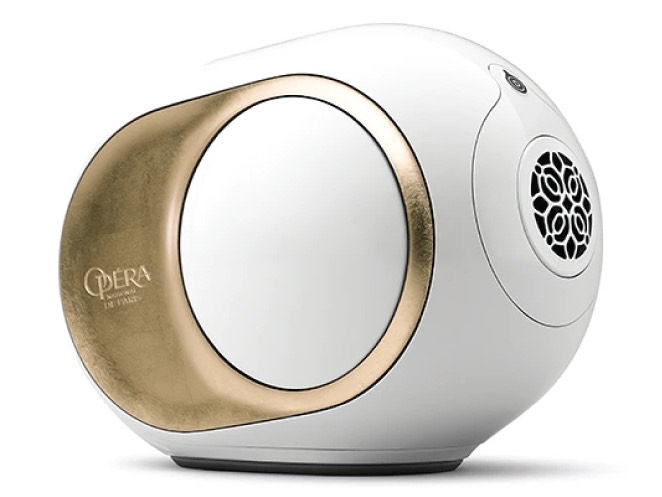 Devialet Phantom II 98 dB Opéra de Paris Speaker test : Nearly artifact-free
in Global Ranking
Test summary
The Devialet Phantom II 98 dB Opéra de Paris speaker has a name that speaks of grand ambitions, and the brand isn't shy about boasting that it will live up tothe standards of the Opéra Garnier, one of the most beautiful and storied opera houses in the world. The stylish, egg-shaped speaker even comes with real gold leaf on the sides as an homage to the gilded interior of the Paris landmark. Not surprisingly, it has a price tag to match.
The Phantom II is the smaller of the two devices in the French manufacturer's just-revamped all-in-one speaker line — the Phantom I is more powerful and more expensive. Here's what Devialet has to say about this compact wireless speaker, which it describes as "insanely powerful." "From 18Hz to 21kHz, feel every note with phenomenal purity, precision and richness. 0 distortion, 0 saturation and 0 background noise ensure you get nothing but audiophile-grade playback, even at 900W."
With all that in mind, our engineers were eager to put the Devialet Phantom II 98 dB Opéra de Paris through our rigorous DXOMARK Wireless Speaker test suite. In this review, we will break down how it fared at audio playback in a variety of tests and several common use cases.
Key specifications include:
Bluetooth, AirPlay2, 3.5mm analog jack, optical, Spotify connect
Width: 157mm (6.2 in), height: 168mm (6.6 in), depth: 219mm (8.6 in)
4.3 kg (9.4 pounds)
Test conditions:
Tested with: iPhone for music, Apple TV for movies
Communication protocol used: AirPlay2 for music, jack for movies
Firmware version: 2.10.0
About DXOMARK Wireless Speaker tests : For scoring and analysis in our wireless speaker reviews, DXOMARK engineers perform a variety of objective tests and undertake more than 20 hours of perceptual evaluation under controlled lab conditions. This article highlights the most important results of our testing. Note that we evaluate playback using only the device's built-in hardware. (For more details about our Speaker protocol, click here.) The Devialet Phantom II 98 dB Opéra de Paris falls into the Premium category  of devices in the DXOMARK Speaker rankings.
Good performance at loud volumes
Excellent artifacts performance
Good tonal balance in quiet environments
Uneven tonal balance
Below-average spatial performance
Dynamics affected by aggressive limiting
With a global score of 133, the Devialet Phantom II 98 dB Opéra de Paris Speaker lands in the upper echelons of the advanced and premier speakers we've tested, but a bit down the line from the top score of 160 achieved by the Bowers & Wilkins Formation Wedge, and a few notches down from the Cabasse The Pearl Akoya and the Naim Mu-so 2nd Generation Speaker, with scores of 144 and 137, respectively.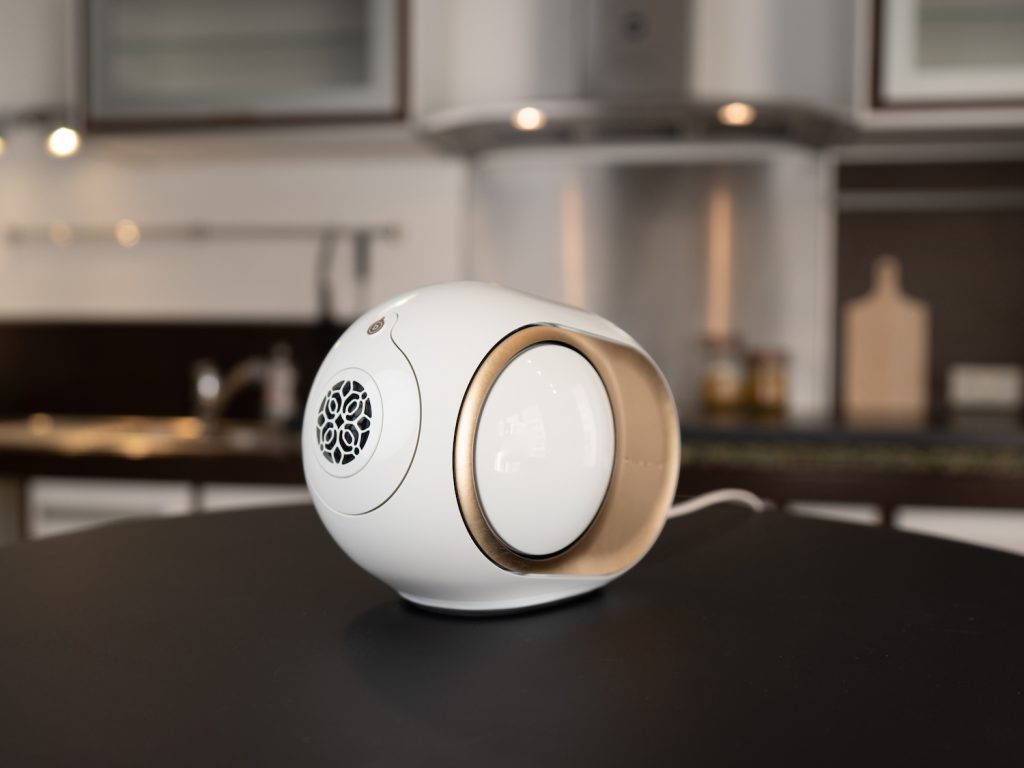 The Devialet Phantom II 98 dB Opéra de Paris Speaker does indeed perform well at loud volumes, as promised, with a very high score in our artifacts attribute (there were no spectral artifacts noted in our perceptual tests, though some modest issues in our objective testing). And the maximum volume is good, if not quite in line with some similarly-priced devices we've tested. The device scored well in our party use-case scenario. In quiet environments, tonal balance is correct: high-mids and treble are more noticeable. While there was an audio/video latency problem when using Bluetooth, the audio latency could be adjusted using the Devialet app for the optical/jack input.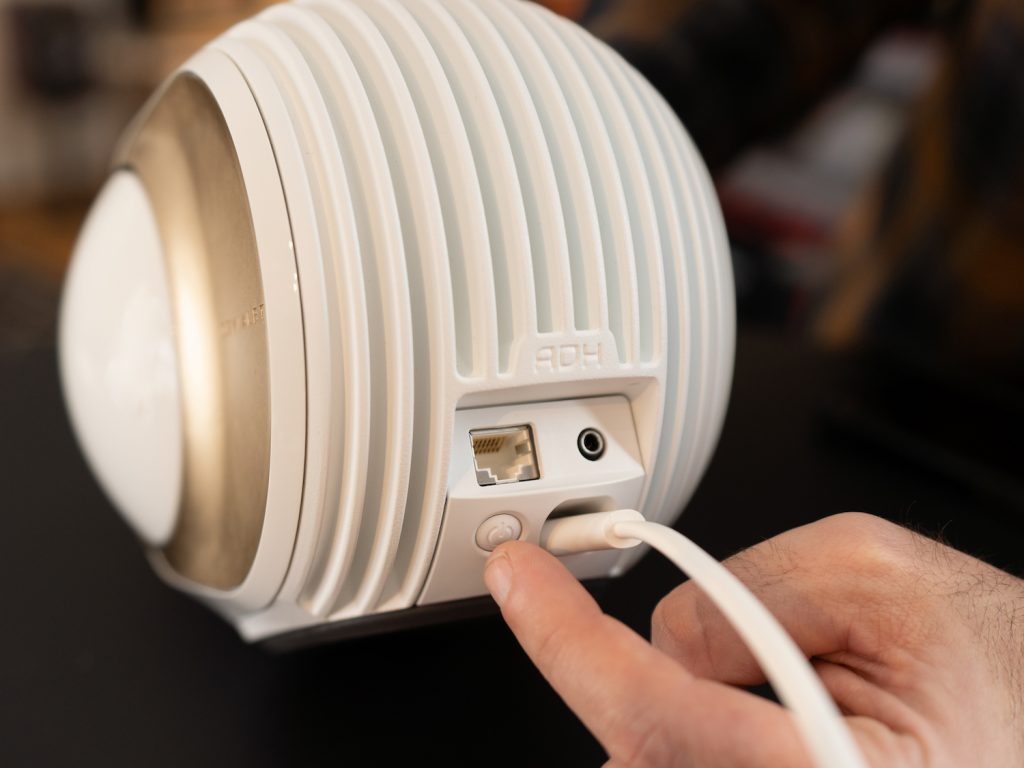 Some of the limitations of the Devialet device are related to its design: it's by nature a mono device, and it has a narrow, front-firing directivity, especially when it comes to treble. Tonal balance is uneven in most use cases, with an intense low-midrange focus and a significant lack of clarity. The dynamics performance of the Phantom II Opéra de Paris is seriously affected by an aggressive limiter, especially at loud volumes. The device lost some points for volume consistency because the last four volume steps all have the same loudness.
Sub-scores explained
The DXOMARK Speaker overall score of 133 for the Devialet Phantom II 98 dB Opéra de Paris Speaker is derived from a range of sub-scores. In this section, we will take a closer look at these audio quality sub-scores and explain what they mean for the user, and we will show some comparison data from two of the device's principal competitors, the Naim Mu-so 2nd Generation Speaker and The Pearl Akoya by Cabasse.
Devialet Phantom II 98 dB Opéra De Paris
DXOMARK timbre tests measure how well a speaker reproduces sound across the audible tonal range and takes into account bass, midrange, treble, tonal balance, and volume dependency.
The Devialet Phantom II 98 dB Opéra de Paris speaker had a good overall timbre performance, though at this price point, our engineers were hoping for more. Tonal balance was uneven in most use cases. With an intense low-midrange focus, the device sounds muddy and boxy. The lack of high midrange and treble, as well as a lack of low-end extension/sub-frequencies add to the mid-forward tonal balance.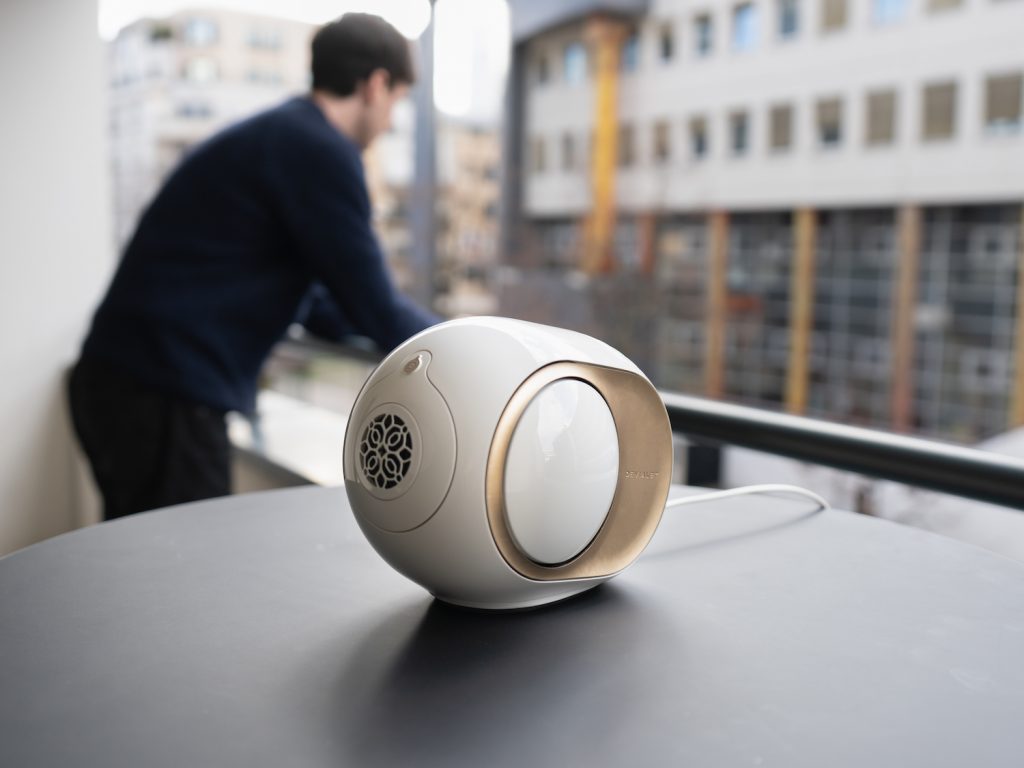 In a quiet environment the tonal balance is better — the high mid and treble are more noticeable. The Devialet device also performs better at loud volumes, with a more precise treble response, and overall timbre that is less low-mid focused.
Our dynamics tests measure how well a device reproduces the energy level of a sound source, taking into account attack, bass precision, and punch.
The Devialet Phantom II 98 dB Opéra de Paris Speaker had an above-average overall score for dynamics, but in many ways it was a mixed bag. The performance was seriously affected by aggressive limiting, especially at loud volumes. In most use cases, attack was not very precise and feels rounded (in that regard, the lack of high mid and top end doesn't help).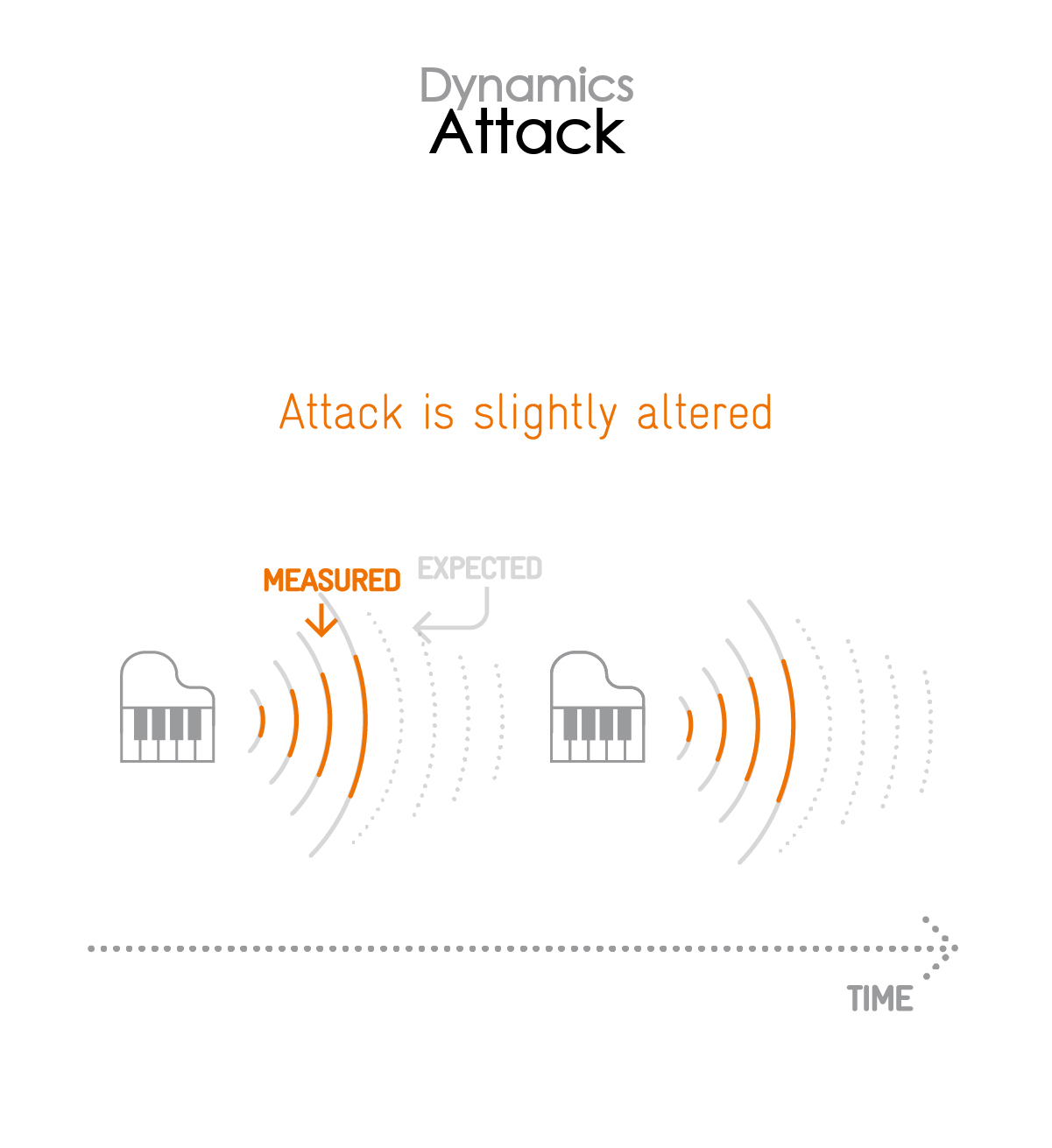 Bass precision is also impaired by compression issues and a lack of low-end extension. Moreover, as the limiter is slow, loud bass hits sometimes lead to overshooting. Punch lacks energy overall, mainly due to intrusive limiting. The lack of low end also affects the performance because bass rendering is quite weak and doesn't bring the needed power to punchy genres (hip-hop, electronic, etc.). In the quieter use cases it performs more effectively (it does very well in the bathroom, for example), but it is still too compressed.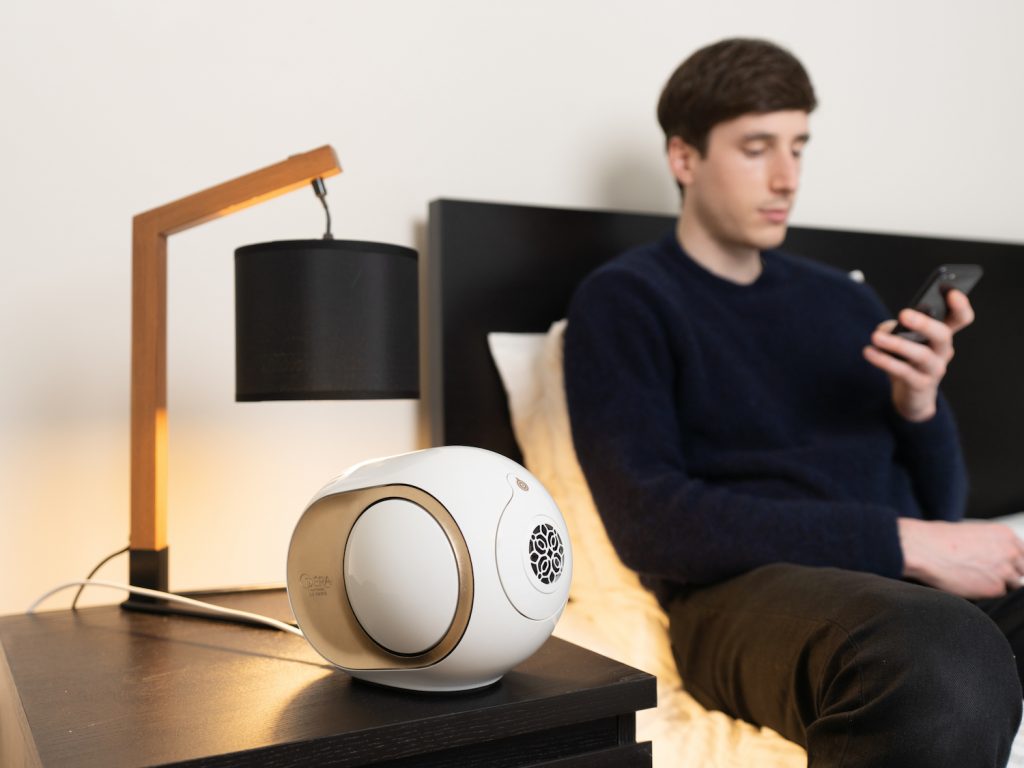 Our spatial tests measure a speaker's ability to reproduce stereo sound in all directions, taking into account localizability, balance, wideness, distance, and directivity. Please note that wideness is 0 on mono speakers and on speakers that cannot deliver a significant stereo effect.
The Devialet device fell short of average in the spatial attribute, in part because it's a mono device, so the score for wideness was zero, but also because of its narrow, front-firing directivity. The tweeter is particularly directive, and the treble response is significantly decreased as soon as the listener moves from being perfectly in front of the speaker. Localizability is impaired by a lack of high-mid and top-end precision.
This lack of treble and high midrange does not help with distance perception. In most use cases, voices are obscured by a muddy/low-mid-focused sound, impairing distance performance.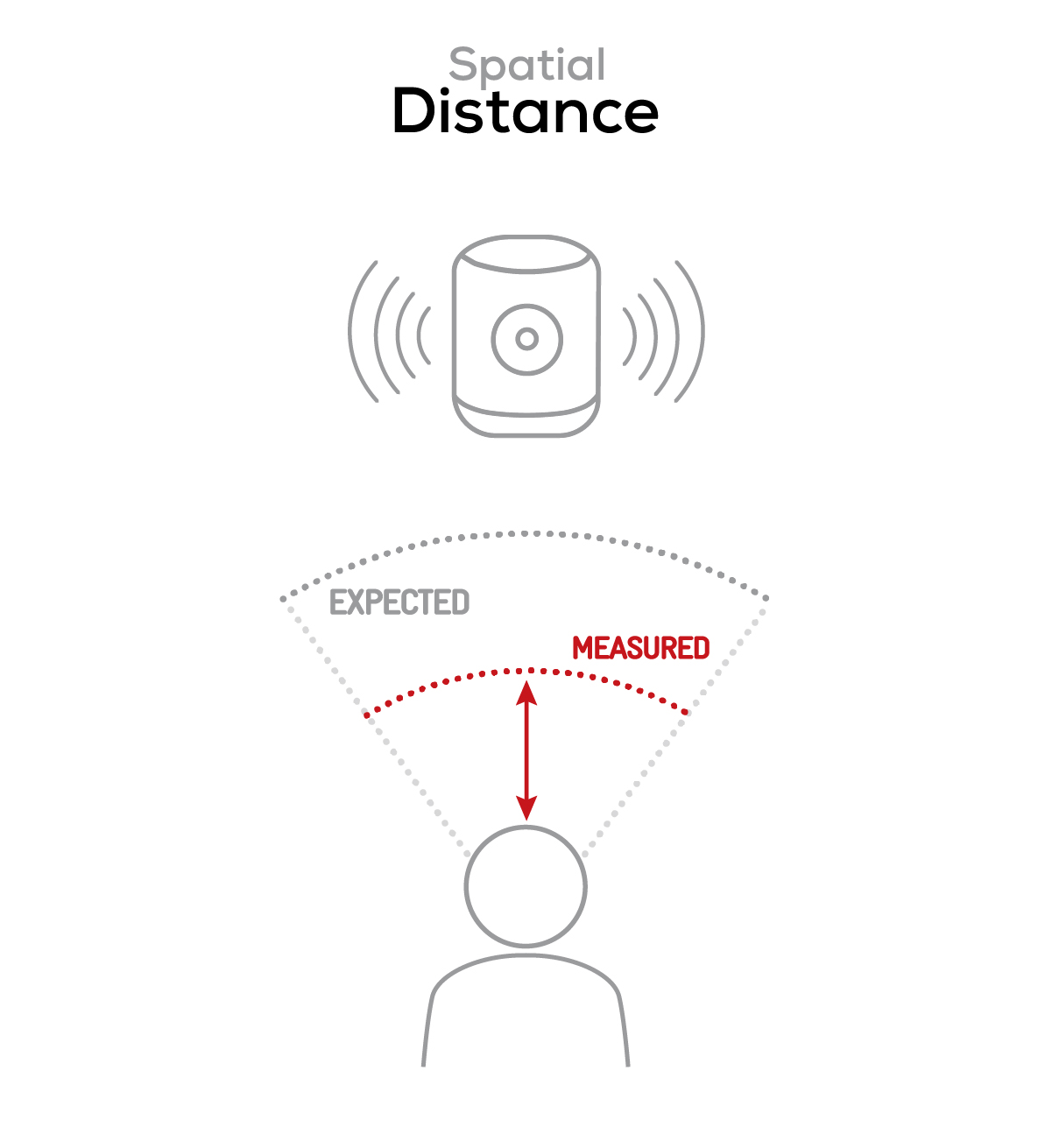 Our volume tests measure both the maximum loudness a speaker is able to produce and how smoothly volume increases and decreases based on user input.
The volume performance of the Devialet Phantom II 98dB Opéra de Paris was good overall, but it lost some points for volume consistency because the last four volume steps are the same because of a limiting issue. Maximum volume is decent, but our engineers noted that some other tested devices at this (high) price point were louder.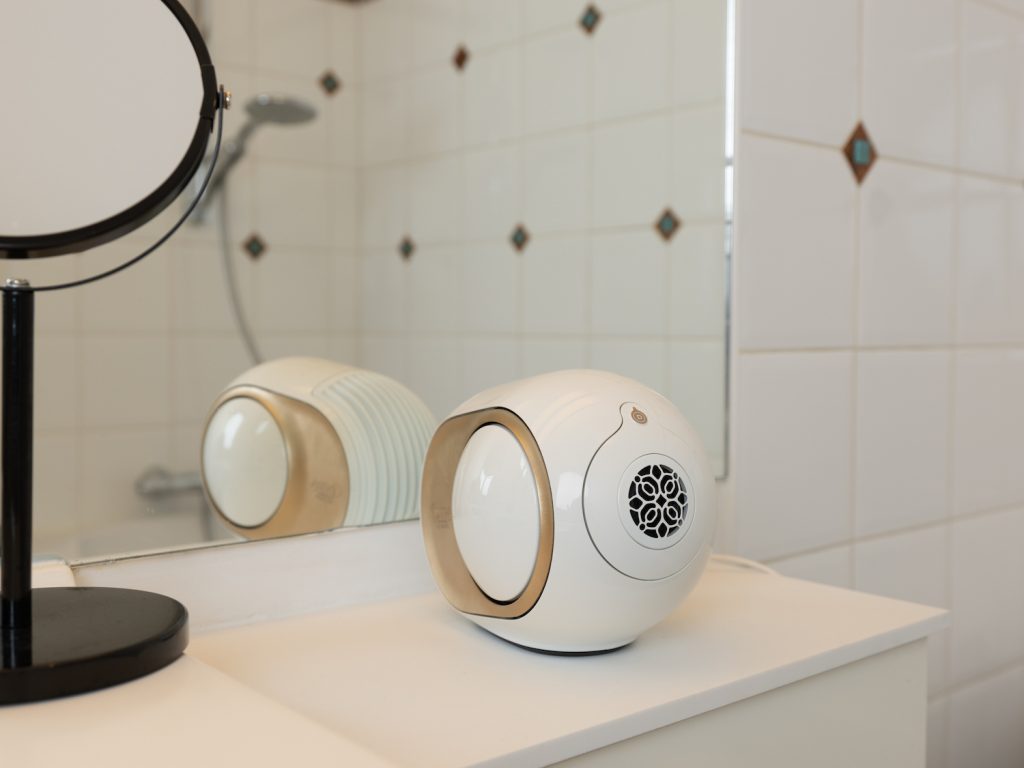 Here are a few sound pressure levels (SPL) we measured when playing our sample recordings of hip-hop and classical music at maximum volume:
Our artifacts tests measure how much source audio is distorted when played back, along with such other sound artifacts as noise, pumping effects, and clipping. Distortion and other artifacts can occur both because of sound processing and because of the quality of the speakers.
The  Devialet Phantom II 98dB Opéra de Paris had an exceptional score in the artifacts attribute, with very few artifacts overall. Some distortion was recorded in objective measurements, but in perceptual testing no spectral artifact was noticed, even at loud volumes. Some temporal artifacts were noticed on content with a strong low-end presence, mainly because of the intrusive limiting.
Audio/video latency when using AirPlay 2 was not bothersome, but with Bluetooth it was annoying, so we do not recommend using it for that purpose. The latency when using the optical/jack input can be modified using the AV Sync menu in the Devialet app.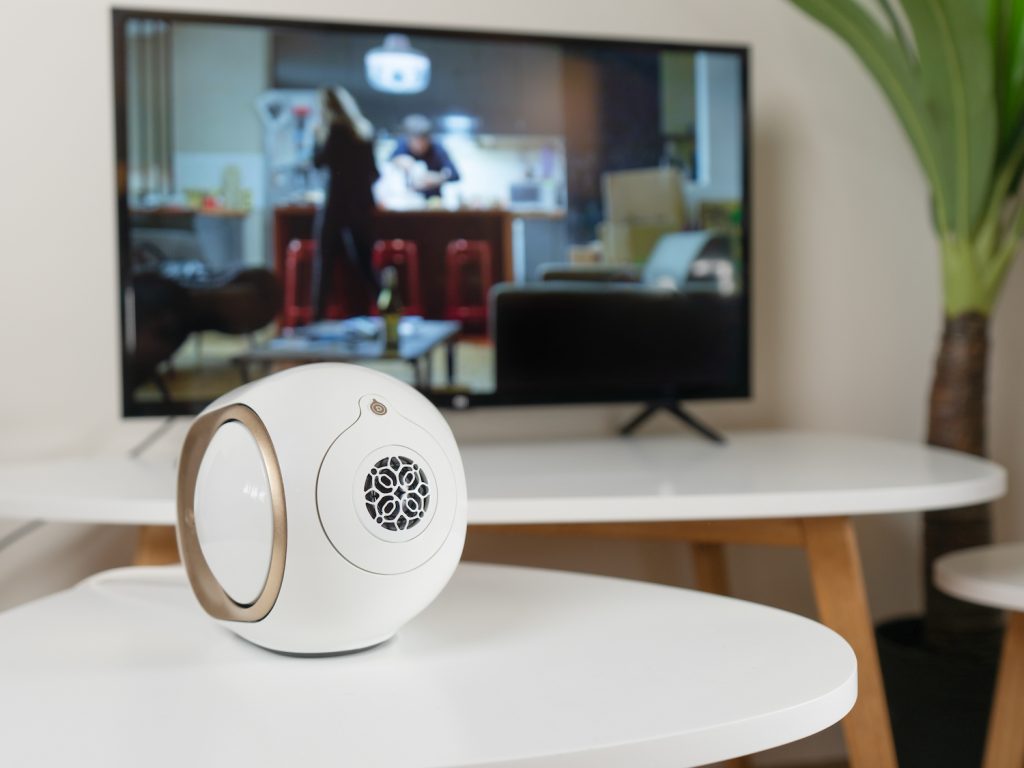 The Devialet Phantom II 98dB Opéra de Paris has some strong points (including an exceptionally good score in the artifacts attribute) and an overall performance that puts it among the better devices we've tested, though a notch down from the very best ones.
Where the Phantom II 98 dB Opéra de Paris falls short is the spatial attribute, in part due to its design and nature as a mono device. It's very directional, especially for treble, meaning that you don't get that surround-sound feeling. This also affected localizability and distance scores. The tonal balance is uneven in most use cases, with an intense low-midrange focus and a significant lack of clarity. The dynamics performance is held back by aggressive limiting, especially at loud volume.
That all said, as promised in the marketing material, the Devialet device performs well at loud volumes, and it does have a good maximum volume. The tonal balance is good in quiet environments, and the makers were thoughtful in making it relatively easy to adjust the Phantom II to minimize audio/visual latency so it can suitably carry the sound while you're watching a movie or TV show.
DXOMARK invites our readership (you) to post comments on the articles on this website. Read more about our Comment Policy .
Facebook Instagram Twitter Youtube
Devialet's Gemini II are the most luxurious wireless earbuds you can get
Devialet isn't like any other tech company — its products are at the intersection of audio engineering and luxury. That's why its new wireless earbuds with active noise cancellation don't look like other earbuds.
This isn't a mass market product. When I covered the product launch at the Paris Opera, the French company's CEO Franck Lebouchard told me that it expects to sell "tens of thousands" of units per year.
Analysts estimate that Apple sells tens of millions of AirPods per year. Devialet hopes it can capture 0.x percent of market share by positioning itself as a high-end alternative to wireless earbuds from Apple, Samsung, Anker — and even Bose and Sony.
So what does a pair of high-end wireless earbuds look like?
I have been using the Devialet Gemini II for the past couple of weeks. Let's be clear, this product is the most extravagant take on wireless earbuds — they cost $449 (€399, £349).
In short, yes, the Gemini II are both extremely good and extremely expensive.
This is the second generation of the company's wireless earbuds. And the good news is that it's a huge step forward compared to the original Gemini earbuds that were released in 2020 .
Let's start with the design. The pill-shaped earbuds are reminiscent of Devialet's iconic egg-shaped Phantom speakers . On the side of the earbuds, you will find an unobtrusive D logo and an elegant plate with metallic coating above it.
Devialet knows you're going to wear these earbuds. That's why the company has three different colors — black, white or gold. The matte black version doesn't stand out as much as the two other versions. It's a good option for people looking for low-key earbuds.
The gold one is a more expensive version called the Opéra de Paris edition. They look just like the matte white ones, but with some 24-carat gold plating. There's an Opéra de Paris logo on the case as well. This version costs $649 (€599, £549) — once again, this is a luxury play, so pricing isn't necessarily logical or rational.
Image Credits: Devialet
The Devialet Gemini II are in-ear earbuds with swappable silicone ear tips. They come with four ear tip sizes in the box — XS, S, M and L. After inserting the earbuds in your ears, you have to turn them slightly backward to "screw" them in place — it works a bit like Sony's WF-1000XM5 earbuds.
It takes a few seconds to find a good seal and it gets easier after a few days. But, overall, the Gemini II have been quite comfortable to wear. Each earbud only weighs 6g and they have never fallen out of my ears. But ears come in all sizes and shapes, so it's hard to say whether they will work for everyone.
The carrying case is quite compact and works like a standard battery case for wireless earbuds, such as the cases of the Apple AirPods Pro, Bose QuietComfort earbuds and Sony WF-1000XM5. There's a magnetic lid at the top of the case that you can open and close whenever you need to pick up or store your earbuds.
At the center of the pebble-shaped case, you will find a metallic-coated central plate. It's a single piece that surrounds the entire case. The two plastic parts above and below the central plate feature an elegant staircase design.
Devialet promises up to 22 hours of battery life with five hours of autonomy in the earbuds themselves. In my testing, battery life has never been an issue. You can charge the case with a USB-C cable or a Qi wireless charging pad.
Image Credits: Romain Dillet / TechCrunch
Fantastic sound quality
Wireless earbuds have become better with each generation. But I have never heard wireless earbuds that sound as good as Devialet's Gemini II. They excel when it comes to sound quality and offer rich and detailed sound.
The most striking aspect of the Gemini II is its ability to offer an articulate rendering of messy tracks. They can handle several layers of bass lines, some high-pitched rattling and a singer at the center of the stage.
They perform extremely well at the low-end of the spectrum. It's impressive that Devialet can get deep bass from small audio devices like those. In fact, they might sound a bit bassy with the default EQ settings but this can be fixed with the in-app six-band equalizer. At the same time, many tracks come to life with the Gemini II as they are extremely generous with vocals.
Devialet uses 10mm drivers with titanium coating. Like on the AirPods Pro, Devialet relies on inward-facing microphones to measure the sound inside your ear canals and adjust it to your ears.
The company uses Bluetooth 5.2 to connect to your devices with multipoint support. It means that you can connect your earbuds to both your smartphone and laptop at the same time. For instance, if you play music on your laptop and someone calls you, it stops the music on your laptop and you can pick up the phone using your earbuds. When it comes to audio codecs, the Gemini II support AptX, AAC and SBC.
Multipoint Bluetooth is such a nice feature when you have it. Sony's earbuds have multipoint connection. Bose only offers this feature on its headphones. Apple relies on your Apple ID to make your AirPods hop from one device to another — but you're limited to Apple devices.
As for active noise cancellation, the Gemini II are very good if you want to block out the background noises involved with mass transit. When you turn it on, chances are you won't be able to hear the bus engine or the metro sounds.
In an office environment, the Gemini II aren't as good as a pair of Bose headphones, such as the Bose QuietComfort 45. You will hear some muffled voices and keyboard sounds. But they perform pretty well compared to the Bose QuietComfort Earbuds II or the AirPods Pro.
You can use Devialet's app to switch between two modes — cancellation or transparency. In transparency, you can hear your surroundings and you can follow conversations. It doesn't feel like you don't have anything in your ears, but it's pretty good for a quick interaction in the office.
The logo on the side of each earbud is a touch surface that you can use for basic interactions without having to open the app. By default, you can put your finger on an earbud for a couple of seconds to switch between transparency and cancellation modes. You can also use this surface to pause music, switch to another track and adjust the volume.
The Gemini II feature two microphones on each earbud. There's an outward-facing microphone behind the grill on the side of the earbud, and a downward-facing microphone for your voice.
The company has improved wind detection with a proprietary algorithm to reduce wind noise. Similarly, Devialet uses a bone conduction sensor to understand when you're talking and improve your voice quality during calls.
The result is… OK. Let's be honest, it doesn't really make sense to expect a great sound quality over Bluetooth with a microphone so far from your mouth. I think Apple has made some real progress on this front, but if you want to use earbuds in multiple video calls per day, you should think about buying a pair of headphones with a boom microphone.
And yet, listening to music with these tiny earbuds is a magical experience. After a while, you tend to forget that you have earbuds in your ears. And you just feel the music going through your head.
When Apple released the original AirPods, the company created a whole new category of wearable devices. It was unclear how much people were willing to pay for those tiny things. Over time, other brands and Apple itself have pushed the limits of wireless earbuds when it comes to features and price.
Of course, $450 for a pair of earbuds is ludicrous. But Devialet's Gemini II earbuds sound great, look great and are a great fashion accessory.
Unlike the original Gemini earbuds, which were flawed in several ways, it's much easier to recommend Devialet's new earbuds. The Gemini II have reached feature parity with other wireless earbuds. The sound quality is just better.