Ghost ASX 5100 review
Well balanced trail ride
Share on Facebook
Share on Twitter
Share on Pinterest
Share on Whatsapp
Share on Reddit
Email to a friend
By Guy Kesteven
Published: September 26, 2010 at 8:00 am
Latest deals
Ghost's ASX 5100 is a competent all-rounder that's elevated above many similar looking bikes at this pricepoint by its sorted suspension and tight pedalling manners. It has a relaxed feel that'll suit technically minded riders.
Ride & handling: Contemporary trail geometry and cockpit dimensions keep the ASX well balanced
The Ghost isn't a bike that'll immediately grab you and fill you with enthusiasm. That said, its overall competence will increasingly grow on you the further and faster you ride it.
The X-Fusion rear shock takes some fettling to feel decent, but while it always stays stiff rather than smooth, it keeps the rear wheel on the ground over the rough reasonably well. More significantly, there's no trace of top-out clunk or the erratic rebound found on some bikes at this price, once you've got it set up right.
The 120mm of rear travel really helps over bigger boulders or long step sections too, allowing the Ghost to carry speed rather than getting bounced off line. Not only that, but the shock creates an excellent pedalling platform, so we never missed not having a lockout lever, however hard we leathered the Ghost uphill.
The long linkage plates and skinny seatstay tops do lead to a noticeable amount of sideways twist and slur when you're really chucking and carving it around, though.
Up front, the RST fork isn't as plush as the best units on other bikes at this price, but it's controlled enough in terms of shock absorption and steering. It can slap down off bigger drops and chokes fairly quickly on prolonged rocky sections, but the firm overall feel is a good match to the bike's rear end.
As a result, the bike is more controlled and predictable than most at this price when you're pushing the pace hard. The fork can also be locked out via the massive lockout lever on the handlebar.
It's the contemporary trail bike handling that really gives the Ghost an edge, though. The relaxed 69-degree head angle stops it snatching and twitching over every bump or steep drop.
Unlike some bikes we've seen, where sticking a long fork into an older frame has meant slack seat angles, the Ghost is properly configured to keep steering weight over the front wheel. The mid-width bar and slightly shorter stem give it enough leverage to place it with reasonable accuracy and immediacy on the trail when you need to.
Frame & equipment: Patient tuning is essential for consistent suspension feel; bar is an odd shape
The chief strength of the ASX 5100's well-proven four-bar suspension design is that the mainframe has the same efficient triangular layout as a conventional hardtail, just with a shock mount on the top tube and another mount for the rocker link on the seat tube.
The seatstays are short and the top ends are attached to the back end of the rocker. Add a rear pivot ahead of the wheel on the chainstay and you've got two big triangles for maximum structural stiffness. There's some flex from the unbraced triangular rocker linkages and skinny forged seatstay bridge, but it's not so intrusive that it spoils the ride.
While the frame format may be old-school, the chassis is up-to-date where it counts. The flared head tube hides an inset headset, while the main tubes are a mix of hydroformed shapes and gusset-reinforced round pipes.
The component menu follows a similar vibe: it's not outstanding but it is well balanced. RST forks and X-Fusion shocks aren't headline grabbers, but they work okay once you've spent time tuning them.
The Shimano transmission is smooth, but it's a splined rather than integrated axle chainset, while Avid's Juicy brakes feel good and are easy to find spares for. The wheels are okay, and the seatpost and saddle are fine in a workmanlike kind of way.
You'll definitely want more secure lock-on grips than the very firm and slippery ones supplied, though, and the bar shape felt weird to most testers. At least it's a reasonable 670mm wide. The 90mm stem keeps the steering light and responsive too, which all helps on the singletrack.
The Schwalbe Black Jack and Smart Sam tyres form a speed-friendly grippy front and fast rear combo that help offset the 14kg weight, but you'll want tyres with more grip when the trails get gloopy.
Product Specifications
Guy Kesteven
Sponsored Deals
Write your own review on the device
Скидки дня
Справка и помощь
Адрес доставки Идет загрузка... Ошибка: повторите попытку ОК
Продажи
Список отслеживания Развернуть список отслеживаемых товаров Идет загрузка... Войдите в систему , чтобы просмотреть свои сведения о пользователе
Краткий обзор
Недавно просмотренные
Ставки/предложения
Список отслеживания
История покупок
Купить опять
Объявления о товарах
Сохраненные запросы поиска
Сохраненные продавцы
Сообщения
Уведомление
Развернуть корзину Идет загрузка... Произошла ошибка. Чтобы узнать подробнее, посмотрите корзину.
Oops! Looks like we're having trouble connecting to our server.
Refresh your browser window to try again.
Ghost ASX 5100
This 2014 Ghost ASX 5100 - Shimano Deore XT is a frame size 48. The bike is suitable for a body size of 147 - 163 cm.
Frame material
Component group
Shimano Deore XT
Frame color

Haßloch, Germany
Bike is not as described? Make use of our free return policy.
Insured shipping right to your doorstep.
Can't wait? Choose the self-pick-up option!
Milage : 2000 - 6000 miles
Service : More than 2 years ago
Previous owners No
Receipt available Yes
Exchanged with an identical part
swapped part
defective part
$ 630 $ 1,470
Questions & Comments
Ask a question to the seller
More comments
You may like:
Your wishlist (0)
You have no bikes saved in your favorites!
Choose country:
Choose language:, make a counter offer.
Pinkbike.com
Register New User
First Looks
Friday Fails
Community Blogs
Places Directory
Enduro Bikes
2012 Ghost asx 5100

Cool Features
Post comment
or continue as guest
Entertainment
London / Europe
Border / Cartel Chronicles
Israel / Middle East
Latin America
On the Hill Articles
On The Hill Exclusive Video
Breitbart News Daily
Newsletters
Fake Conservatives
English Channel
Europe Migrant Crisis
UK Politics
Trans Politics
Russia Accidentally Doxes Its Own Spies, Undercover Buildings, By Publishing Wrong Documents: Report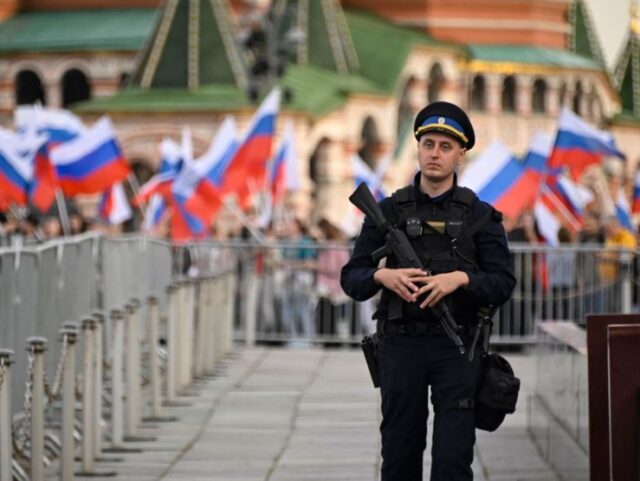 An investigative group opposed to the Putin regime claims the Moscow city authority accidentally uploaded a sensitive document listing "special" buildings in the area, inadvertently revealing the locations of military intelligence operatives, safehouses, and undercover buildings.
A 434-page document of "special list" addresses across Russia, meaning they should continue to receive electricity even during power cuts, has revealed the locations of large numbers of sensitive state employees, spies, and hidden government buildings, the Dossier Centre investigative group claims. Among those 'doxed' by their own government in the middle of a war are officers of the army intelligence branch GRU (Main Intelligence Directorate), locations of offices of KGB successor the FSB (Federal Security Service), and even newly built border posts near Ukraine, they say.
Ukraine Striking Moscow Legitimate, Says Germany… Drone Strikes Launched From Within Russia Itself Says UK https://t.co/ZWOFqQFgl8 — Breitbart London (@BreitbartLondon) August 23, 2023
The document appears to have now been taken down from the website of Moscow City Hall.
As noted in a report of  Le Figaro , the Dossier Centre is an investigative project of the outlawed Russian political opposition, and funded by exiled Russian billionaire Mikhail Khodorkovsky. The group says the bumper PDF was uploaded by Moscow's city government to their own website listing special consumers of electricity to be guaranteed a connection in all circumstances, and most of the content is not secret, as many of the institutions are things like hospitals, police stations, and federal buildings.
Yet other entries in the document reveal "outwardly inconspicuous buildings" harbouring intelligence agencies. Many of these are in ordinary residential buildings, and the detail of the list — the group claims — reveals what may be the true purpose of several mysterious buildings in Russia that have been the subject of past speculation.
Comparing the data with satellite and other imagery, the Dossier Centre concludes that intelligence officers appear to be fond of living or working in historic houses in elite neighbourhoods. In North Ossetia, a Russian Republic in the North Caucasus of Eastern Europe, there are security services outposts on the special list in "almost every village".
Moscow Wakes up to Sound of Drone Strikes Against City, Buildings Damaged in Blasts https://t.co/bRzzZyvMjc — Breitbart London (@BreitbartLondon) May 30, 2023
The regular military was also listed in great detail, with the addresses of "headquarters, barracks, communications center, ammunition depot" of some units laid out.
The release of the list, which the Dossier Centre has published in map form, with potential targets ranked by likely priority for a Ukrainian drone strike with blast radiuses around the addresses illustrated, may present a serious security risk to the Russian government — assuming it isn't itself disinformation. A key feature of Russia's invasion of Ukraine has become a nightly exchange of attack drones and cruise missiles, with Ukrainian forces enjoying some major deep strike successes with British-made Storm Shadows against strategic targets.
The world was provided with a dramatic demonstration of the potential utility of these missiles last month, after Ukrainian forces landed two of them into the headquarters of the Russian Black Sea Fleet at Sevastopol. While initial claims the admiral in command of the fleet was killed in the attack may have been mistaken, it remains the case Ukraine's strikes against the building, and two ships in dry dock undergoing repairs, appear to have caused Russia to disperse its fleet across the Black Sea beyond range.
The moment of a missile hit the headquarters of the Russian Black Sea Fleet Some Ukrainian media are reporting that Russian Black Sea Fleet Commander Sokolov may have been killed as a result of an AFU missile strike. However, there is no official confirmation of this information… pic.twitter.com/j9pSZt03uC — NEXTA (@nexta_tv) September 22, 2023
While this move may protect Russian assets, it also protects the Ukrainian mainland from being attacked by those ships, as they have also put themselves out of range. Russia has dispersed some of its fleet to Novorossiysk, a Russian Black Sea port 200 miles east on the far side of Crimea, beyond the Kerch Strait already, and reports now claim it is seeking to move them even further away.
Reuters reported on Thursday that Russia had signed a deal to establish a permanent naval base in Abkhazia, a breakaway region of Georgia. While the fleet would presumably be safe from Ukrainian counter-strikes there, the port of Sokhumi — where a Russian warship arrived last week — is some 390 miles from their normal headquarters.
This dispersal resembles a " functional defeat " for the Russian Navy in the Black Sea, the United Kingdom said this week, a situation where most ships were still afloat, but were no longer able to meaningfully engage in combat operations.
Please let us know if you're having issues with commenting.
Bahasa Indonesia
Slovenščina
Science & Tech
Russian Kitchen
7 things you should NEVER do in the Moscow Metro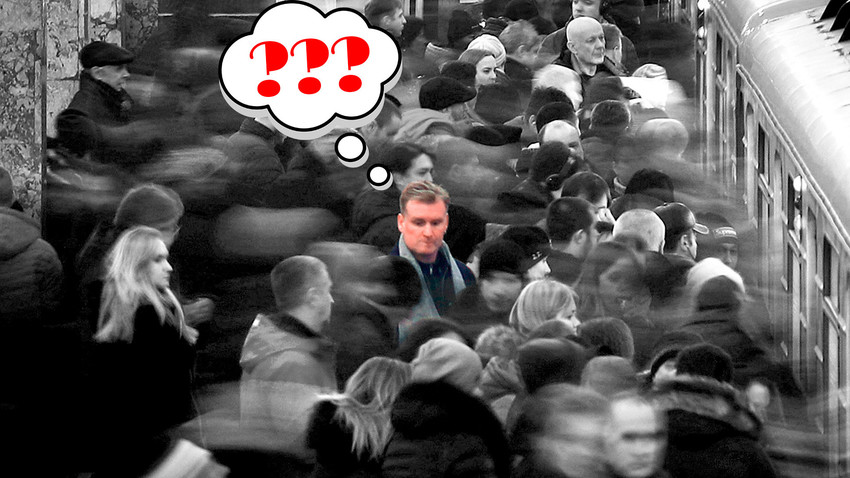 The Moscow Metro is the heart of the city, it's the concentration of urban life. Every day, millions of people go to work and back home. And as on any public transport, there are certain rules – official and unwritten.
1. Jumping over turnstiles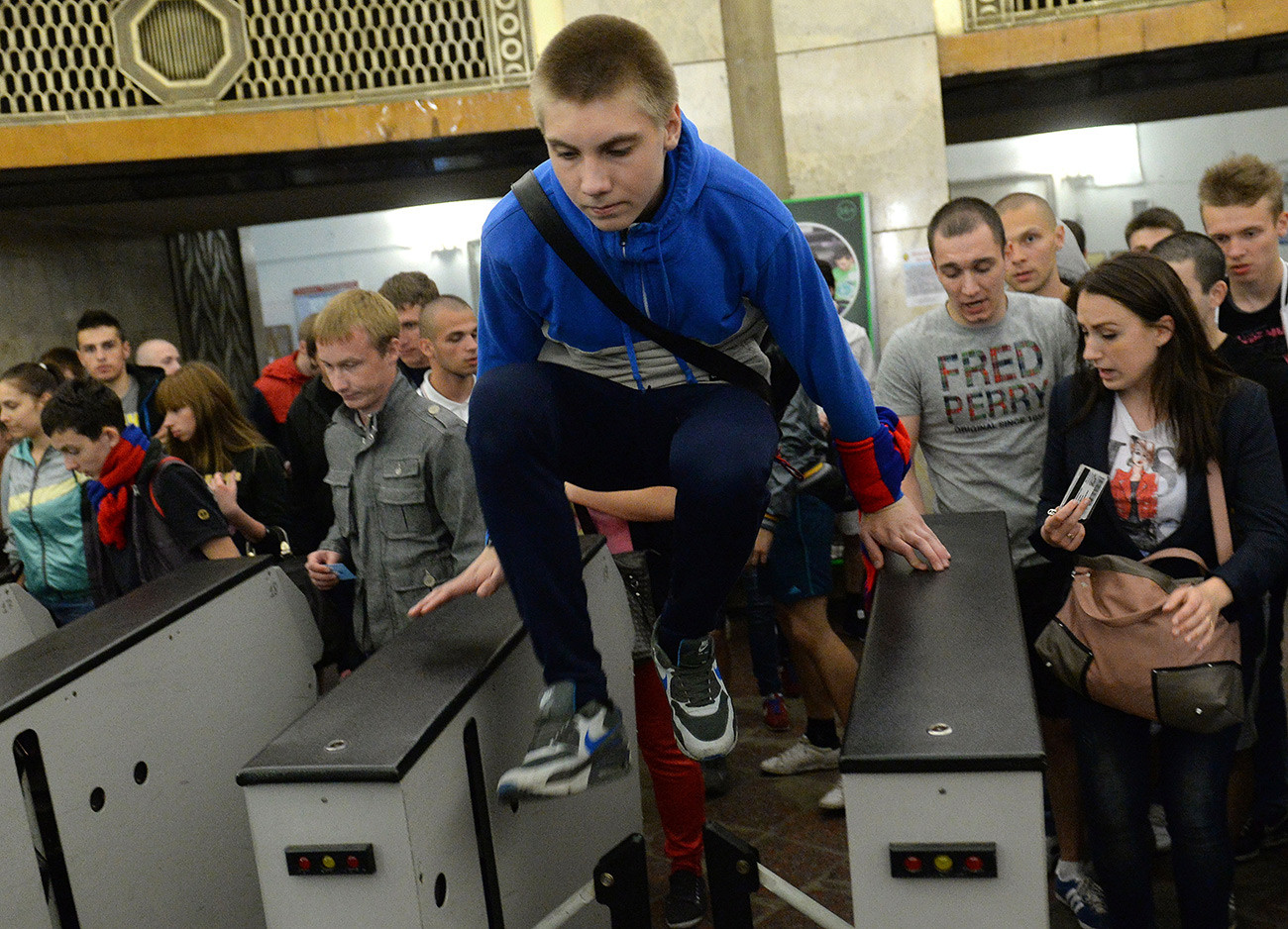 Passing without a ticket is a challenge, really. There are turnstiles everywhere, and even if there's a line for tickets (which cost less than $1!), you can now pay with Apple / Samsung Pay or a regular credit card. However, if you are a fan of extreme jumping, security and police on the other side of a turnstile are always ready to greet you.
And if you just don't know how to buy a metro ticket properly, just check out our guide .
2. Standing on the escalator's left side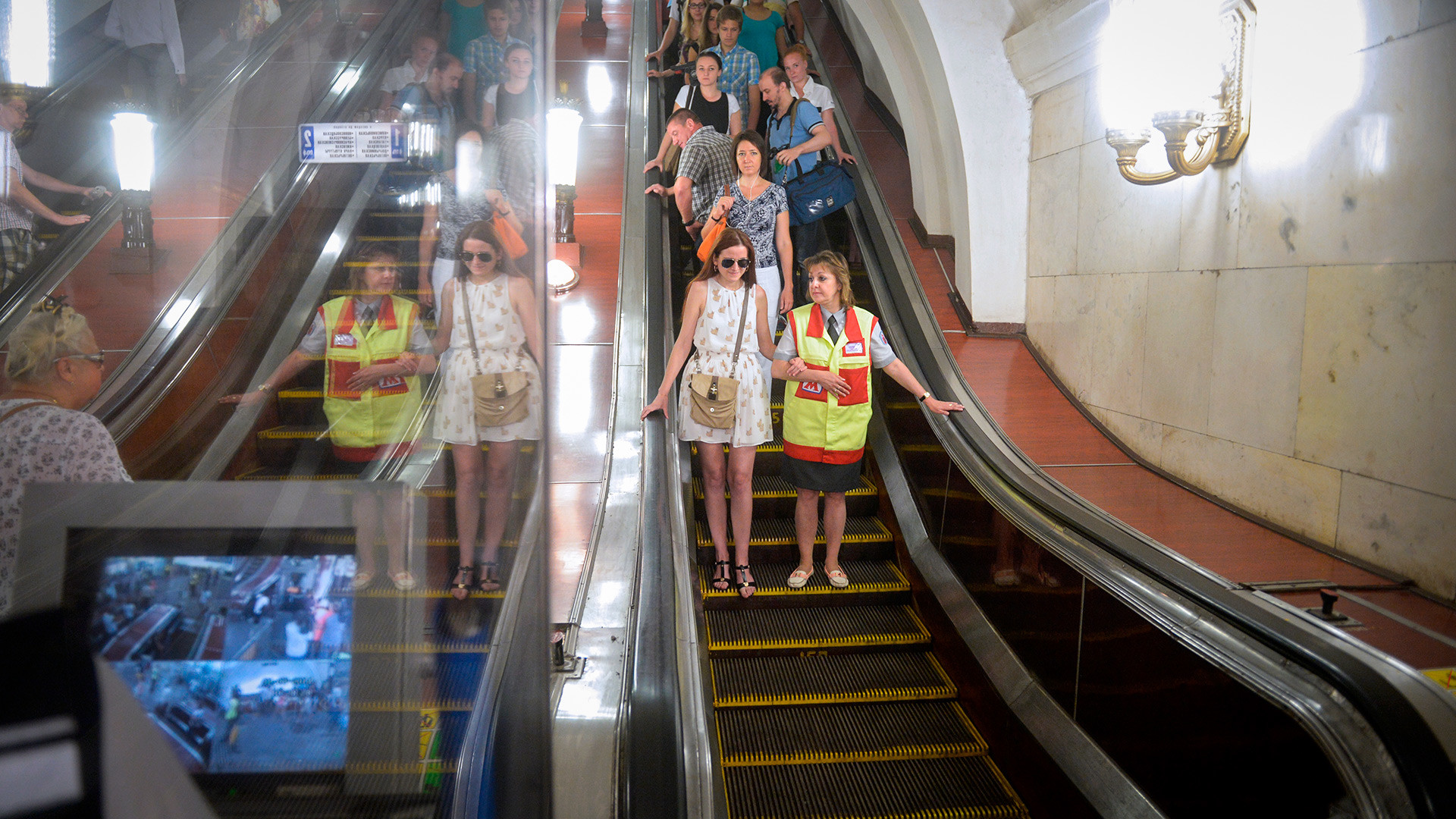 Every Muscovite knows from childhood: stand on the right side, pass on the left side. It's very annoying when people occupy the entire moving escalator, blocking the way for those who are in a hurry. Believe it or not, many people in Moscow are in a hurry! Some escalators can be very long, and passengers often walk up and down not only to save a few minutes and not to be late for work, but also for some much-needed cardio before 8 hours of sitting in the office!
3. Carry a big backpack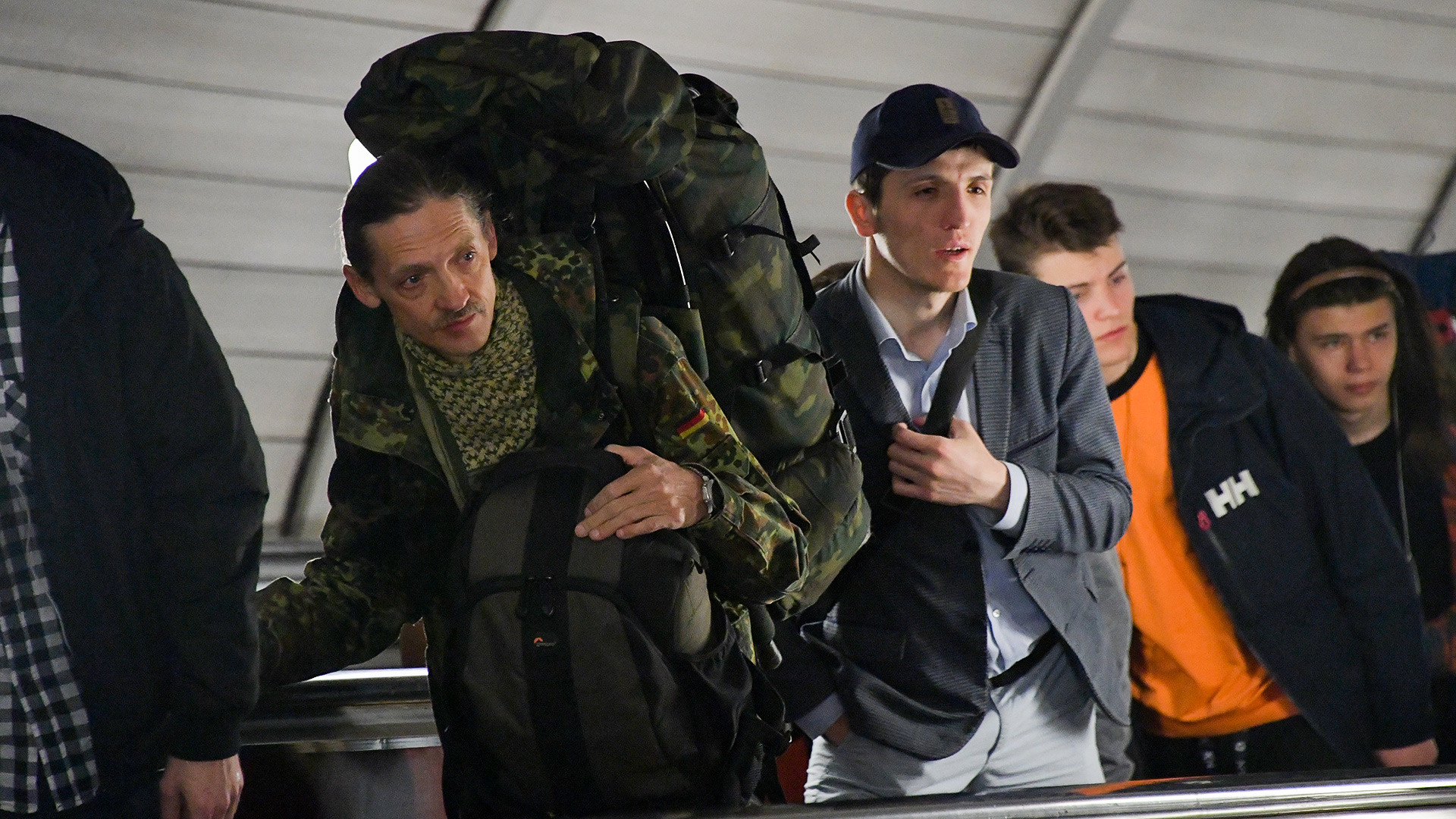 People who think their huge backpack or sling bag is OK to everyone, at least, totally underestimate the type of density passengers can be forced into on the train. So don't think any of them is happy to have to press up against your stuff! At least, try taking it off when entering the metro car, and maybe other passengers will kick you a bit less.
4. Taking two seats at once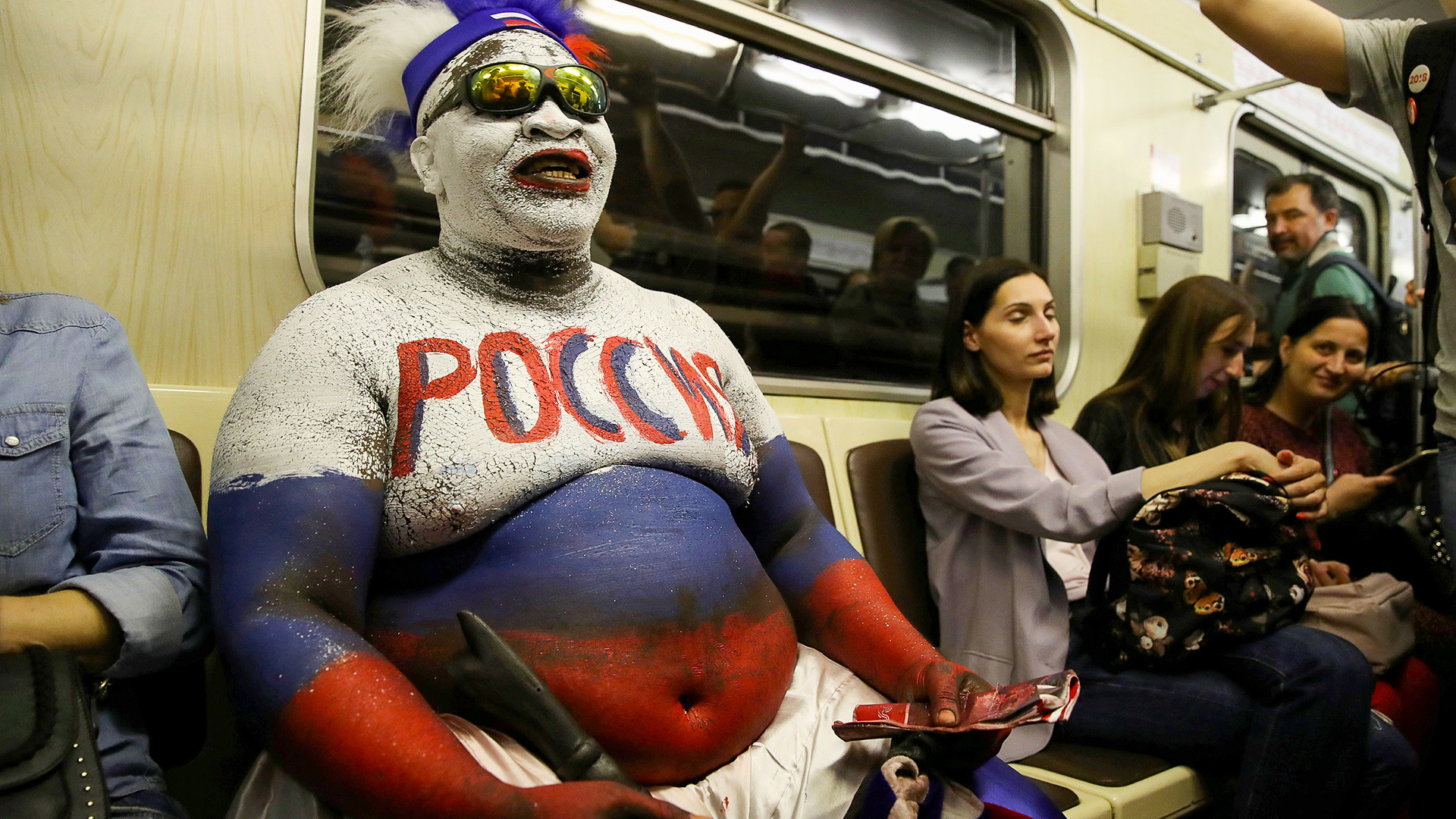 Some people want to take as much space as possible and put their bags on the seat next to them in a full train. Maybe they think they're worth more than 258 other passengers on board? Or that others should stand after sitting at work all day? Whatever it is, it's just rude!
5. Stopping to decide... in the middle of passageways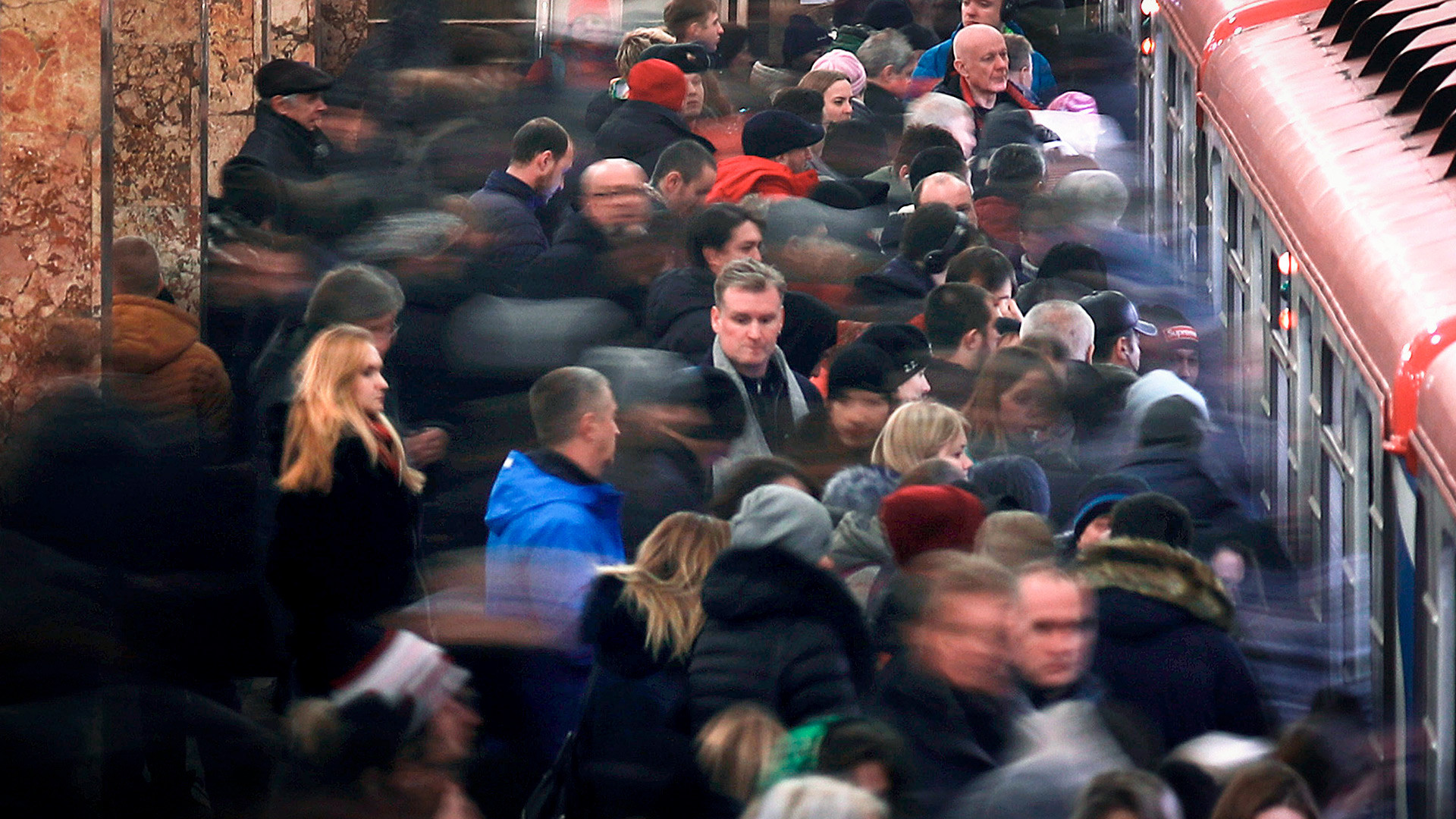 Do you know what infuriates Muscovites the most underground? Imagine being in a crowd getting out of the train and heading for the exit or changing the station. But there's a person who's standing in the very center of the passageway, blocking traffic, and trying to remember where he/she is and where he/she should go. Infuriating!
There's actually a life hack for newcomers! Check our guide to using the Moscow Metro map - in the train or online.
6. Watching/listening to your phone without headphones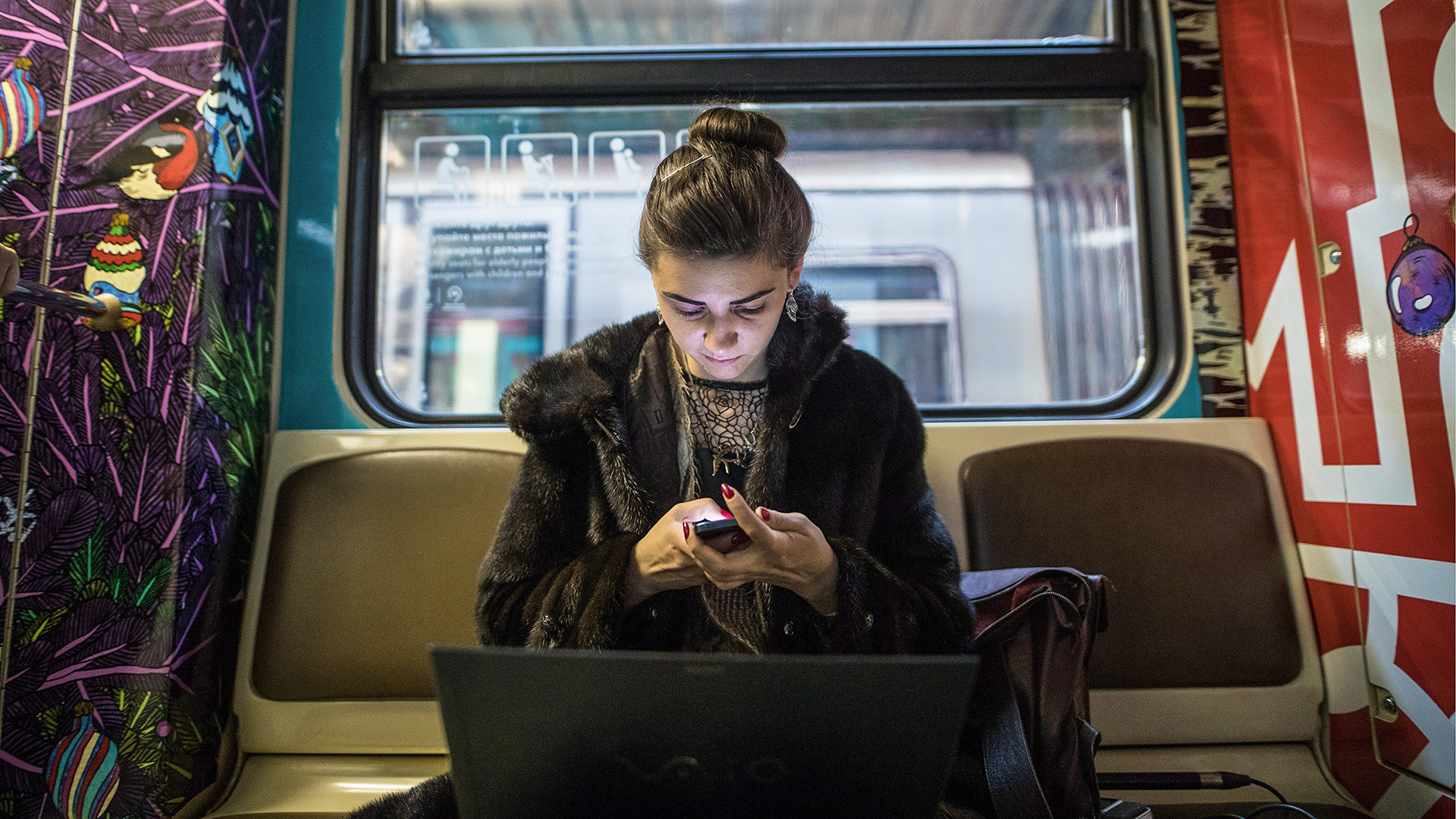 Yes, we understand, headphones are still a bit of a nuisance - even those earpods, but it's no excuse for listening to music or watching movies at full volume without them. Sure, you might think people around you also want to be entertained during the journey. Alternatively, just put your phone away and enjoy the ride, instead!
7. Jumping on a departing train
It happens everyday, especially when you are in a hurry. Trains often stop in tunnels before reaching the next station, but do you know why? When a passenger decides to jump on the train at the very last moment, when the doors are already closing, the driver has no choice but to open them again , thus delaying the train. As a result, there are other trains waiting in a line in the tunnels behind. That's why jumping on a departing train will make you even more late – as well as thousands in the following trains, too. You know, trains run every 90 seconds, so don't panic if you've just missed one! Keep calm and carry on!
If using any of Russia Beyond's content, partly or in full, always provide an active hyperlink to the original material.
to our newsletter!
Get the week's best stories straight to your inbox
How to use a Troika card on Moscow's Metro, and other ways to buy tickets
Why is the Moscow Metro so fast and efficient?
How to navigate the Moscow Metro – a brief guide
This website uses cookies. Click here to find out more.
Integrations
Learning Center
MoSCoW Prioritization
What is moscow prioritization.
MoSCoW prioritization, also known as the MoSCoW method or MoSCoW analysis, is a popular prioritization technique for managing requirements. 
  The acronym MoSCoW represents four categories of initiatives: must-have, should-have, could-have, and won't-have, or will not have right now. Some companies also use the "W" in MoSCoW to mean "wish."
What is the History of the MoSCoW Method?
Software development expert Dai Clegg created the MoSCoW method while working at Oracle. He designed the framework to help his team prioritize tasks during development work on product releases.
You can find a detailed account of using MoSCoW prioritization in the Dynamic System Development Method (DSDM) handbook . But because MoSCoW can prioritize tasks within any time-boxed project, teams have adapted the method for a broad range of uses.
How Does MoSCoW Prioritization Work?
Before running a MoSCoW analysis, a few things need to happen. First, key stakeholders and the product team need to get aligned on objectives and prioritization factors. Then, all participants must agree on which initiatives to prioritize.
At this point, your team should also discuss how they will settle any disagreements in prioritization. If you can establish how to resolve disputes before they come up, you can help prevent those disagreements from holding up progress.
Finally, you'll also want to reach a consensus on what percentage of resources you'd like to allocate to each category.
With the groundwork complete, you may begin determining which category is most appropriate for each initiative. But, first, let's further break down each category in the MoSCoW method.
Start prioritizing your roadmap
Moscow prioritization categories.
1. Must-have initiatives
As the name suggests, this category consists of initiatives that are "musts" for your team. They represent non-negotiable needs for the project, product, or release in question. For example, if you're releasing a healthcare application, a must-have initiative may be security functionalities that help maintain compliance.
The "must-have" category requires the team to complete a mandatory task. If you're unsure about whether something belongs in this category, ask yourself the following.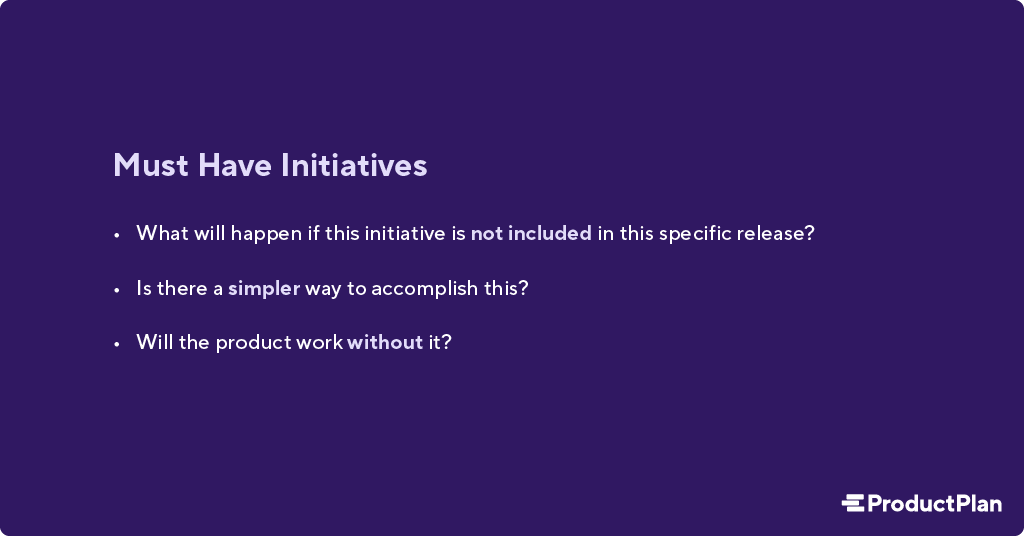 If the product won't work without an initiative, or the release becomes useless without it, the initiative is most likely a "must-have."
2. Should-have initiatives
Should-have initiatives are just a step below must-haves. They are essential to the product, project, or release, but they are not vital. If left out, the product or project still functions. However, the initiatives may add significant value.
"Should-have" initiatives are different from "must-have" initiatives in that they can get scheduled for a future release without impacting the current one. For example, performance improvements, minor bug fixes, or new functionality may be "should-have" initiatives. Without them, the product still works.
3. Could-have initiatives
Another way of describing "could-have" initiatives is nice-to-haves. "Could-have" initiatives are not necessary to the core function of the product. However, compared with "should-have" initiatives, they have a much smaller impact on the outcome if left out.
So, initiatives placed in the "could-have" category are often the first to be deprioritized if a project in the "should-have" or "must-have" category ends up larger than expected.
4. Will not have (this time)
One benefit of the MoSCoW method is that it places several initiatives in the "will-not-have" category. The category can manage expectations about what the team will not include in a specific release (or another timeframe you're prioritizing).
Placing initiatives in the "will-not-have" category is one way to help prevent scope creep . If initiatives are in this category, the team knows they are not a priority for this specific time frame. 
Some initiatives in the "will-not-have" group will be prioritized in the future, while others are not likely to happen. Some teams decide to differentiate between those by creating a subcategory within this group.
How Can Development Teams Use MoSCoW?
  Although Dai Clegg developed the approach to help prioritize tasks around his team's limited time, the MoSCoW method also works when a development team faces limitations other than time. For example: 
Prioritize based on budgetary constraints.
What if a development team's limiting factor is not a deadline but a tight budget imposed by the company? Working with the product managers, the team can use MoSCoW first to decide on the initiatives that represent must-haves and the should-haves. Then, using the development department's budget as the guide, the team can figure out which items they can complete. 
Prioritize based on the team's skillsets.
A cross-functional product team might also find itself constrained by the experience and expertise of its developers. If the product roadmap calls for functionality the team does not have the skills to build, this limiting factor will play into scoring those items in their MoSCoW analysis.
Prioritize based on competing needs at the company.
Cross-functional teams can also find themselves constrained by other company priorities. The team wants to make progress on a new product release, but the executive staff has created tight deadlines for further releases in the same timeframe. In this case, the team can use MoSCoW to determine which aspects of their desired release represent must-haves and temporarily backlog everything else.
What Are the Drawbacks of MoSCoW Prioritization?
  Although many product and development teams have prioritized MoSCoW, the approach has potential pitfalls. Here are a few examples.
1. An inconsistent scoring process can lead to tasks placed in the wrong categories.
  One common criticism against MoSCoW is that it does not include an objective methodology for ranking initiatives against each other. Your team will need to bring this methodology to your analysis. The MoSCoW approach works only to ensure that your team applies a consistent scoring system for all initiatives.
Pro tip: One proven method is weighted scoring, where your team measures each initiative on your backlog against a standard set of cost and benefit criteria. You can use the weighted scoring approach in ProductPlan's roadmap app .
2. Not including all relevant stakeholders can lead to items placed in the wrong categories.
To know which of your team's initiatives represent must-haves for your product and which are merely should-haves, you will need as much context as possible.
For example, you might need someone from your sales team to let you know how important (or unimportant) prospective buyers view a proposed new feature.
One pitfall of the MoSCoW method is that you could make poor decisions about where to slot each initiative unless your team receives input from all relevant stakeholders. 
3. Team bias for (or against) initiatives can undermine MoSCoW's effectiveness.
Because MoSCoW does not include an objective scoring method, your team members can fall victim to their own opinions about certain initiatives. 
One risk of using MoSCoW prioritization is that a team can mistakenly think MoSCoW itself represents an objective way of measuring the items on their list. They discuss an initiative, agree that it is a "should have," and move on to the next.
But your team will also need an objective and consistent framework for ranking all initiatives. That is the only way to minimize your team's biases in favor of items or against them.
When Do You Use the MoSCoW Method for Prioritization?
MoSCoW prioritization is effective for teams that want to include representatives from the whole organization in their process. You can capture a broader perspective by involving participants from various functional departments.
Another reason you may want to use MoSCoW prioritization is it allows your team to determine how much effort goes into each category. Therefore, you can ensure you're delivering a good variety of initiatives in each release.
What Are Best Practices for Using MoSCoW Prioritization?
If you're considering giving MoSCoW prioritization a try, here are a few steps to keep in mind. Incorporating these into your process will help your team gain more value from the MoSCoW method.
1. Choose an objective ranking or scoring system.
Remember, MoSCoW helps your team group items into the appropriate buckets—from must-have items down to your longer-term wish list. But MoSCoW itself doesn't help you determine which item belongs in which category.
You will need a separate ranking methodology. You can choose from many, such as:
Weighted scoring
Value vs. complexity
Buy-a-feature
Opportunity scoring
For help finding the best scoring methodology for your team, check out ProductPlan's article: 7 strategies to choose the best features for your product .
2. Seek input from all key stakeholders.
To make sure you're placing each initiative into the right bucket—must-have, should-have, could-have, or won't-have—your team needs context. 
At the beginning of your MoSCoW method, your team should consider which stakeholders can provide valuable context and insights. Sales? Customer success? The executive staff? Product managers in another area of your business? Include them in your initiative scoring process if you think they can help you see opportunities or threats your team might miss. 
3. Share your MoSCoW process across your organization.
MoSCoW gives your team a tangible way to show your organization prioritizing initiatives for your products or projects. 
The method can help you build company-wide consensus for your work, or at least help you show stakeholders why you made the decisions you did.
Communicating your team's prioritization strategy also helps you set expectations across the business. When they see your methodology for choosing one initiative over another, stakeholders in other departments will understand that your team has thought through and weighed all decisions you've made. 
If any stakeholders have an issue with one of your decisions, they will understand that they can't simply complain—they'll need to present you with evidence to alter your course of action.  
Related Terms
2×2 prioritization matrix / Eisenhower matrix / DACI decision-making framework / ICE scoring model / RICE scoring model
Prioritizing your roadmap using our guide
Try productplan free for 14 days.
2011 Ghost ASX Plus 5700 (discontinued)
Specifications
More products.
2022 Jamis Highpoint A2 Bike
2022 Salsa Rangefinder Deore 10 27.5+ Bike
2023 Marin San Quentin 24 Bike
2022 Salsa Rangefinder Deore 10 29 Bike
2021 Vitus Sentier 29 Bike
2023 Trek Roscoe 6 Bike
2023 Marin San Quentin 1 Bike
2021 Fezzari Wasatch Peak Comp 29 Bike
Mountain Bikes
Ghost Mountain Bikes
2011 Ghost ASX
Most Popular
Rocky Mountain
Specialized
YT Industries
Allied Cycle Works
Black Market
DALLINGRIDGE
Diamondback
Early Rider
EVO Bicycles
Growler Bikes
Guerrilla Gravity
iGO Electric
Intense 951
Juiced Bikes
View all brands
Production Privee
Rad Power Bikes
Rambo Bikes
Riese & Müller
Soul Fast E Bikes
State Bicycle Co.
Structure Cycleworks
Surface 604
Van Nicholas
Vintage Electric
We Are One Composites
Ghost ASX Plus 5700
AUS $ NZD $ USD $ CAD $ GBP £ EUR €
At a glance
- Ghost ASX Plus 5700 Suspension Bike 2011. Bikes Suspension Mens. Our All Mountain Bikes are allrounders
- 120mm for tours, uphill, marathon and downhill. Everything is possible with this bicycle. Low weight, improved stiffness, lower friction and improved responsiveness are all packed into one bicycle. The so …. .
Where To Buy
Specifications
Q: how much is a 2011 ghost asx plus 5700.
A 2011 Ghost ASX Plus 5700 is typically priced around $1,074 USD when new. Be sure to shop around for the best price, and also look to the used market for a great deal.
Q: What size 2011 Ghost ASX Plus 5700 should I get?
No comments on this bike yet. Why not be the first?
Leave a Reply Cancel reply
Your email address will not be published. Required fields are marked *
Want more MTB in your mailbox?
The latest on mountain bikes delivered straight to your mailbox.
More Bikes in Range View All
Ghost ASX 5100
Ghost ASX 5500
Ghost ASX 4900
More trail bikes view all.
Merida eONE-FORTY 8000
Forbidden Druid GX AXS FX 29
KTM Macina Chacana 591 LTD
- Straight-Line-Link (SLL) rear suspension design - Internal cable routing - Includes Bosch 2A Compact Charger - UK price: 3879.99 GBP
Deals View All
View all deals, recent posts view all.
Blackburn Honest Digital Pressure Gauge Review
It's 2020 people. The squeeze and bounce test doesn't cut it anymore (and this is…
Comparing Mountain Bikes
Mountain Bikes are complicated machines. They have parts from hundreds of different manufacturers, come in…
Undomestic Mountain Bikes: Here's what we know
Update March 2020: Undomestic has announced that they are manufacturing frames "at this moment" and…
Send Feedback
Have a suggestion? Looking for a bike that's not on MTB Database? Or perhaps you've spotted an error?
We'd love to hear from you. Let us know with the form below.
This website uses cookies to ensure you get the best experience possible. Learn more.
About MTB Database
Explore, search and compare thousands of the world's best mountain bikes here on Mountain Bike Database.
Compare prices, components, suspension, reviews, images and more on current and past MTB's. You can even share reviews, comments and questions on mountain bikes. View and compare a huge selection of bikes from brands such as Trek , Specialized , Giant , Santa Cruz , Norco and more .
We strive to provide accurate and up-to-date information for mountain bikes on MTB Database. If you've spotted any issues, please let us know . We also include helpful tools, such as our frame size calculator, to assist you in choosing the right mountain bike. Bear in mind that these tools serve as a guide and simply provide a general indication. Refer to information provided by your bike manufacturer for the most applicable information for your bike.
Bikes By Brand
Bikes by year, bikes by riding style, bikes by wheel size, popular bikes.
2022 Specialized Epic EVO Comp
2022 Trek Marlin 6
2022 Specialized Enduro Comp
2022 Specialized S-Works Epic EVO
2022 Specialized Epic EVO Expert
2022 Giant Fathom 29 1
2022 Trek Marlin 7
Latest Bikes
2024 Trek Fuel EXe 9.9 XTR
2024 Trek Fuel EXe 5
2024 Trek Fuel EXe 8 XT
2024 Trek Fuel EXe 8 GX AXS T-Type
2023 Commencal Meta V5 Race
2023 Trek Fuel EXe 9.9 XX AXS
2023 Mondraker Factor 24