#1 Rated Ghost Tour in Boston MA
Boston Ghosts gives you an unflinching look into Beantown's ghastly hauntings. Join us to see how the town's historic past comes to life through eerie hauntings experienced by Boston residents and visitors.
Press here for a bundled tour of Salem, Boston, and the Lizzie Borden House!
Experience the most fascinating historical and haunted locations in the home of the American Revolution. Unveil the  unforgettable true stories of the gruesome events and resulting hauntings that permeate through Boston's streets.
Ghost Tour Meeting Location: Tours meet at 139 Tremont St, at the entrance to Boston Common
Tour Duration: 1hr. across 1 mile
To Order: Press "Get Tickets" for availability.
Ghost tours are held nightly, rain or shine!
The Experiences You've Heard About
Read All Reviews
Martyrs, Mysteries, and the Macabre
Boston has a unique place in American history.  It's famous for Fenway Park, legendary football, baked beans , and craft beer – the American Revolution began and was fought on these very streets.  Given that storied reputation, many people fail to see the foreboding darkness that lurks at the edges of the city's historical working-class surface.
Ghosts have been a part of Boston's legacy since the very earliest days. Book your tour today to get up close and personal with the gritty stories that make Boston so famous.
Throughout Beantown's storied history, the city has collected strange experiences and occurrences that defy explanation. As you walk around some famous and infamous sites in downtown Boston, the city's real history will be revealed.  You will hear about Quaker martyrs who committed to their beliefs only to find themselves paying the ultimate price.  As you explore the area, you will learn about haunted libraries, cemeteries, courthouses, and more.
The people in Boston have charged opinions and strong-held beliefs, and to their credit, they have historically been willing to fight for those beliefs.  But not everyone can win, and those stories of loss, dashed dreams, and tragic misfires, have led to many compelling stories that will thrill and frighten you.  Your trip through Boston's deep history will help you understand that even in one of the oldest and most revered cities in the country, the darkness of human nature will creep into the corners of the human experience.  When the hairs stand up on the back of your neck, and you feel that familiar flutter in the pit of your stomach, you will know the true terror of the Shining City upon the Hill.
Reasons to take this terrifying tour:
Walk the gloomy rows of Puritan graves in King's Chapel and the attached burial ground. Hear the terrifying legend of the innocent person buried alive and their eternal appeals for freedom.
Wander Boston Common at night , keep an eye out for ghostly figures swinging from the trees. One is Mary Dyer, a famous Quaker martyr, waiting for her hanging by a Puritan executioner. The Puritans hated the Quakers believing they were heretics; when Mary refused to abide by Puritan law banning Quakers from Boston.
Tour the atmospheric Old Granary burial ground, last resting place of Paul Revere, John Hancock, and Samuel Adams . Hear unique insight into the nurses' horrible story and the infant grave, last resting place of over 400 lost children.
Why is Boston so Haunted?
For a city that played a large part in forming the American cultural identity, Boston also has a discomforting connection to the supernatural.  Boston Ghosts offers an uncompromising look at what makes Beantown such a compelling haunted location.
As the birthplace of America's revolutionary spirit , many people have ventured to the city in the hopes of being a part of history. What they did not know, though, is that sometimes history deals in cruel ironies.  The blood spilled on these streets in the name of freedom and liberty has left an indelible mark on the area – one that can still be felt today.
Sure, you can read about the tragedy and death that underlie Boston's legendary history, but experiencing its horrifying truth in person at night will help make you feel like you are a part of the city's strange and ghastly history.  Reserve your tour today and experience the side of Boston that you won't see in the history books.
Have a revolutionary haunting tour experience!
Boston Ghosts will take you through 8-12 different sites around the downtown area, each one ratcheting up the ghostly tension. Meet your experienced tour guide by 130 Tremont St. at least 15 minutes before your tour's scheduled departure time. The standard tour takes about an hour and walks you through several landmark locations in the area. If you select the extended tour, you will get another 30 minutes of chilling stories and historical facts!
This tour is perfect for first-time visitors to Boston and seasoned locals alike!
The Boston Ghosts walking route is a great way to see the amazing sites of Beantown while also getting your fill of the ghostly atmosphere of the city's most haunted locations.
This is a family-friendly attraction, so bring everyone—your kids, friends, or a date—to Boston Ghosts! We'll make sure that you have an informative, memorable, and slightly terrifying night, all starting at $19 per person. Keep in mind that tours fill up quickly, so reserve your spot early through our website
The Omni Parker House
Haunted by its first owner and other notable ghostly guests, the Omni Parker House is considered Boston's most haunted location . One room in particular has caused so much trouble, terror, and grief that the hotel was eventually forced to convert it into a storage room, lest they risk another guest suffering from a grisly night's stay in the cursed room. What could possibly drive a hotel to permanently retire an otherwise perfectly good guest room? Discover the details on the Boston Ghosts tour.
Boston Common
This seemingly placid area is the country's oldest park. For a century of its long history, Boston Common was the site of hundreds of hangings . Not all of the victims of these executions managed to escape the park, even after death. The grim ghosts of the hanging victims are the least of your paranormal concerns in the Common. Keep your eyes open and your wits about you whenever you're at this park… or else.
Old South Meeting House | Old City Hall
Witness the birthplace of the Boston Tea Party protest and the very American Revolution itself at the Old South Meeting House. This building is of crucially historic importance, but that's not the only legacy the meeting house is known for. There is a particular specter that sometimes appears. It always acts as a harbinger of impending death. Or perhaps it's no messenger of death at all, but instead directly responsible for the string of deaths that have befallen the unlucky ones who've encountered it. Tread very, very carefully here, and hope you don't end up seeing this fatal spirit.
Old City Hall
This former hub of Boston's local government has since become a bustling mixed-use commercial and office property. Because of its historical significance being covered up with the new polish of redevelopment, at least one ghost exacts its revenge for this perceived disrespect for history on visitors. The Old City Hall may be magnificent looking , but watch where you look inside…
Get the scariest offers and stay current on sales and events.
Read Our Blog For More Haunted History!
Haunted faneuil hall, boston's lady in black, eliza borden and the children in the well.
You are using an outdated browser. Please upgrade your browser to improve your experience.
Ghosts & Gravestones Tour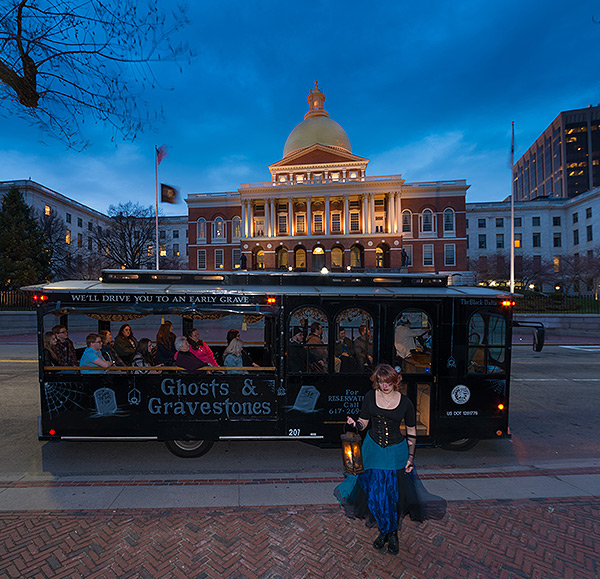 Walk amongst the dead in burying grounds nearly four hundred years old, hear stories of those whose mortal remains lie beneath your feet, and listen to tales of many of the sordid practices that went along with them.
Reservations are required
Explore Some of Boston's Most Haunted Sites…
Walk Amongst the Dead in Burying Grounds Nearly 400-Years-Old
100% Satisfaction Guarantee
Exclusive Night-Time Access into Two of Boston's Oldest Burying Grounds
See Boston's Most Haunted Hotel: The Omni Parker House
Hear all about Boston's darker side! In a city nearly four hundred years old – troubled with war, murderers, strife and the occasional bout of stray molasses, it is hardly any wonder that Boston remains one of the most haunted cities in America and stories of the glory days of Colonial Boston only scratch the surface of Boston's darker side.
Explore some of Boston's most haunted sites… See Boston's most haunted hotel: The Omni Parker House. As you pass by, you'll hear stories of the hotel's more bizarre and permanent tenants. Hear the gruesome saga of the Boston Strangler, and see where his final victim breathed her last.
King's Chapel Burying Ground The oldest burying ground within the confines of downtown Boston; this is the final resting place of many of Boston's first inhabitants. Here you may peer inside a decrepit charnel house which contains the jumbled bones of hundreds of forgotten souls and learn of Ephraim Littlefield and his shocking black-market body trading scandal of the Victorian era. Or perhaps you will hear the tale of King's Chapel's Strangers Tomb and the ghost who haunts it.
Please note: Each tour will visit 2 of the following 3 burying grounds: Copp's Hill Burying Ground, The Granary Burying Ground and King's Chapel Burying Ground.
Go to  Boston Ghosts & Gravestones Schedule .
Length of tour: 1 hour and 30 minutes.
This tour may not be suitable for children under 13 years of age. Due to the loud noises on our tour, children under the age of 6 are not allowed onboard.
Availability in late October is extremely limited.
*Reservations are required. Reservation based tickets are non-refundable. You may reschedule up to 24 hours in advance of tour time.
Birthday MM/DD
Traveling in the next 7 days? Receive this limited time offer!