Protagonists
The Nightmare Before Christmas
Edit source
View history
In the movie, Jack finds the door to Christmas Town while he is taking Zero for a walk. Later, when Jack wants to take off to deliver presents, Zero has to light the way because of the thick fog, similar to Santa and Rudolph. At the end of the movie, Jack and Sally kiss each other as Zero looks at them and flies into the air, transforming into a star.
2 The Nightmare Before Christmas: Oogie's Revenge
3 Zero's Journey
4 Long Live the Pumpkin Queen
The Poem [ ]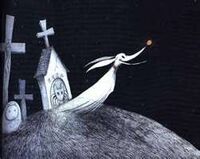 Zero emerging from the graveyard in Burton's illustration for the poem.
Zero first appears in Tim Burton's original poem , who is described as "the best friend (Jack) had". Zero feels sad after going unnoticed by Jack, attempting to cheer him up but coming to no avail. At the end of the poem, Zero turns into a tissue box for Jack to wipe his tears with.
The Nightmare Before Christmas: Oogie's Revenge [ ]
Jack and Zero in Oogie's Revenge .
Zero appears in the sequel video game Oogie's Revenge , where he first appears out from his grave in the graveyard and approached by Jack. He helps Jack find the Hanged Men by flying in the graveyard and barking to alarm him when he sees one. Zero doesn't make many appearances in the game, only assisting Jack in two levels.
Zero's Journey [ ]
Zero returns as the protagonist of the sequel comic book, " Zero's Journey ", where he gets lost in Christmas Town after an accident in Jack's House. He first appears sleeping in the comic, but wakes up wanting to play with Jack. He first gets ignored, but convinces his owner to stay for a game of fetch, where Jack removes his rib bone and tosses it around the room. Zero chases after it and nearly causes a mess in Jack's study, wearing his night cap after falling into a pile.
Jack throws his bone one more time, accidentally bumping into his desk and dropping his portal device. He also incidentally opens up the portal through Halloween Town , which Zero flies through in an attempt to catch his rib. He chases it through the graveyard and into the forest , where he finds the rib in the middle of the holiday doors . Much like his owner, Zero becomes fascinated with the Christmas door and goes through it, and gets lost in Christmas Town.
The reason he appears as the main character is because, according to a message left by creators TOKYOPOP, they "always wished there were more scenes with Zero. He was always there for Jack, floating along, a loyal companion."
Long Live the Pumpkin Queen [ ]
Interestingly enough, it is implied in the movie that Zero still needs to breathe, as when you see him asleep in his basket in Jack's tower, part of his sheet-like body around his chest moves up and down.
When Zero is happy, he can wag his "tail", or flip in circles happily.
It's a common misconception that Zero's nose is a red bulb exactly like Rudolph the Red-Nosed Reindeer, however it was always a small Jack 'O Lantern as is evidenced in behind the scenes images of the original puppet and subsequent merchandise and media.
Gallery [ ]

2 Oogie Boogie
3 Jack Skellington
Zero the Ghost Dog
Zero is Jack Skellington 's ghost dog from The Nightmare Before Christmas. He can make an appearance with Jack if you hold a TNBC-themed party in your café . ( first DMW game )
Gallery [ ]
Home & Kitchen
Home Décor Products
Home Décor Accents
Collectible Figurines
Enjoy fast, FREE delivery, exclusive deals and award-winning movies & TV shows with Prime Try Prime and start saving today with Fast, FREE Delivery
Amazon Prime includes:
Fast, FREE Delivery is available to Prime members. To join, select "Try Amazon Prime and start saving today with Fast, FREE Delivery" below the Add to Cart button.
Cardmembers earn 5% Back at Amazon.com with a Prime Credit Card.
Unlimited Free Two-Day Delivery
Instant streaming of thousands of movies and TV episodes with Prime Video
A Kindle book to borrow for free each month - with no due dates
Listen to over 2 million songs and hundreds of playlists
Unlimited photo storage with anywhere access
Important: Your credit card will NOT be charged when you start your free trial or if you cancel during the trial period. If you're happy with Amazon Prime, do nothing. At the end of the free trial, your membership will automatically upgrade to a monthly membership.
Free returns are available for the shipping address you chose. You can return the item for any reason in new and unused condition: no shipping charges
Learn more about free returns.
Go to your orders and start the return
Select the return method
Other Sellers on Amazon
Image unavailable.
To view this video download Flash Player
Enesco Disney Showcase The Nightmare Before Christmas Ghost Dog Zero Mini Figurine, 3 Inch, Multicolor
Purchase options and add-ons, about this item.
ENESCO FIGURINE: from the Disney Showcase collection
DESIGN: depicts Jack Skellington's trusty side kick Zero, with ghostly fur that glistens and a jack-o-lantern nose
HAND-CRAFTED: from high-quality resin material
HAND-PAINTED: with intricate details
DIMENSIONS: 3.25" L x 1.65" W x 3" H
Customer ratings by feature
Frequently bought together.
Discover similar items
Similar items that may ship from close to you
From the manufacturer
About Enesco
Enesco is committed to bringing joy every day. The premier global destination for high-quality giftware and home décor, our prestigious family of brands includes: Department 56 Village, Things Remembered, Foundations, Jim Shore Heartwood Creek, Disney Traditions by Jim Shore, Walt Disney Archives Collection, Disney Showcase Collection, Disney by Britto, Pusheen, Designs by Lolita, Our Name Is Mud, and many more.
About the Disney Showcase Collection
The Disney Showcase Collection captures the magic of favorite Disney characters, and brings them to life for collectors. These unique figurine collections feature Disney princesses, villains, and classic Disney and Pixar characters as never seen before.
Product information
Warranty & support, important information.
To report an issue with this product, click here .
Compare with similar items
Looking for specific info, customer reviews.
Customer Reviews, including Product Star Ratings help customers to learn more about the product and decide whether it is the right product for them.
To calculate the overall star rating and percentage breakdown by star, we don't use a simple average. Instead, our system considers things like how recent a review is and if the reviewer bought the item on Amazon. It also analyzed reviews to verify trustworthiness.
Sort reviews by Top reviews Most recent Top reviews
Top reviews from the United States
There was a problem filtering reviews right now. please try again later..
Top reviews from other countries
Amazon Newsletter
About Amazon
Accessibility
Sustainability
Press Center
Investor Relations
Amazon Devices
Amazon Science
Start Selling with Amazon
Sell apps on Amazon
Supply to Amazon
Protect & Build Your Brand
Become an Affiliate
Become a Delivery Driver
Start a Package Delivery Business
Advertise Your Products
Self-Publish with Us
Host an Amazon Hub
› See More Ways to Make Money
Amazon Visa
Amazon Store Card
Amazon Secured Card
Amazon Business Card
Shop with Points
Credit Card Marketplace
Reload Your Balance
Amazon Currency Converter
Your Account
Your Orders
Shipping Rates & Policies
Amazon Prime
Returns & Replacements
Manage Your Content and Devices
Your Recalls and Product Safety Alerts
Conditions of Use
Privacy Notice
Your Ads Privacy Choices
Free Shipping on orders of $75 or more! Code: SHIPMAGIC
Restrictions Apply | See All Offers
My Bag ( ) ×
Hakuna Matata. Your bag is empty!
Sign in to view products previously added.
Jack Skellington's ghost dog always has a smile under his luminous pumpkin nose.
Most Popular
Price (low to high)
Price (high to low)
Blankets & Throws
Food Storage
Pins & Pin Sets
Plush & Stuffed Animals
When Sandy Claws' flight is threatened by foul weather, Zero's jack-o'-lantern nose leads the way to save the day. Our plush poltergeist pooch from Tim Burton's The Nightmare Before Christmas always delivers the goods, making Zero a number one favorite.
With the lure of a bone, Jack's ghostly dog Zero from Tim Burton's The Nightmare Before Christmas gives Mummy Boy a lift to the masquerade ball on this collectible cloisonné pin with translucent enamel accents.
Sitting atop Halloween Town's moonlit Spiral Hill, Jack and Sally hold hands while gazing into each other's eyes in this endearing Jim Shore design. Zero the ghost dog floats happily at their feet, not far from his doghouse crypt. This sweet, romantic sculpture will haunt your dreams and nightmares.
Jack Skellington's trusty ghost dog, Zero, will bury your cookies in his gravestone dog house. Chasing evil spirits and ants away, he'll keep sweets safe for snacking trick-or-treaters. A fetching addition to any ghost kitchen!
New from Grand Jester Studios, this levitating figure features Jack Skellington playing fetch with his trusty friend Zero, who magnetically hovers when placed under the tree branch. USB supported power cord included for light-up effect.
Screen Rant
The nightmare before christmas: 10 weird details you never knew about zero.
The Nightmare Before Christmas. Is it a Christmas movie? A Halloween movie? Both? One thing fans will agree on is that it's nothing with Jack's Zero.
The perfect holiday family film doesn't exist – or at least that's what someone might say if they had never heard of Disney's The Nightmare Before Christmas . Follow the Pumpkin King of Halloween Town and his trusty, ghostly sidekick, Zero, as they seek to bring a little bit of Christmas to the land of trick or treat!
RELATED:  Disney: 5 Ways That Coco Is The Ultimate Fall Film (& 5 It's Nightmare Before Christmas)
This topsy-turvy holiday classic is just right for the transition from summer into autumn, and is always a fun choice for any time, from Halloween through to Christmas ! Though it focuses heavily on Jack Skellington and his quest for Christmas, what else is there to learn about his faithful animal friend, Zero?
He Is A Ghost That Breathes
Zero has the face of a dog while the rest of his body takes on the appearance of a children's ghost costume. Jack's adorable companion is clearly meant to be the ghost of a pet pup that has passed on to the other side.
But despite being dead (along with most of the other citizens of Halloween Town ), Zero appears to breathe! In the film, while sleeping in his basket bed, his sheet-like body can be seen rising and falling, as if inhaling and exhaling in relaxed slumber.
He Can Shapeshift
The Nightmare Before Christmas  was based on a poem written by Tim Burton, which was a reimagining of the poem, "The Visit From Saint Nicholas," more commonly known as "Twas The Night Before Christmas."
RELATED:  10 Things You Didn't Know About The Canceled Nightmare Before Christmas 2
While the story is quite similar as far as the basic elements of the plot go, there are a few key differences. One such revelation is that Zero can shapeshift! At the end of the poem, Zero sees Jack crying and swiftly turns into a tissue box so that his master can wipe his tears.
He Has His Own Comic Series
Someone saw that there was a lot of potential in the playful ghost dog and gave Zero his very own comic book series! Published by TOKYOPOP , Zero's Journey serves as the sequel to the movie and is a collection of 20 separate single-issue comics.
The stories focus on the many adventures of Zero, including a secret visit to Christmas Town ... but there will be more on that later!
He Brings To Mind Other Holiday-Themed "Rudolphs"
Zero was inspired by the story and features of Rudolph the Red-Nosed Reindeer , made obvious by his shiny, pumpkin-shaped nose. Why does he have that nose though, and how are the other holiday towns connected to each other in the world created in  The Nightmare Before Christmas ?
RELATED:  The Nightmare Before Christmas: 5 Reasons Why It's A Christmas Movie (& 5 Reasons Why It's More Halloween)
If there is a Rudolph in Christmas Town and a Zero with his own glowing nose in Halloween Town, are there more? A Thanksgiving Turkey with a glowing beak? Of course, the true answer is that it was just a cute callback to Christmas and Zero's future role leading Jack's sleigh, but it is fun to consider.
He Has Gone To Christmas Town By Himself
Zero's Journey explores Zero's trip to Christmas Town. While playing a game of fetch, he chases Jack's rib bone all the way into the forest and straight up to the same holiday-themed doors that his master once found.
Intrigued by the Christmas door, Zero goes through and finds himself terribly lost in the colorful world of Christmas Town, but can he find his way back in time for both Halloween and Christmas in his own world?
He May Be Based On A Dachshund
Zero has a slender, pointed face, and long, floppy ears, followed by an elongated ghost body. Many fans have noticed that he appears to be inspired by the dachshund breed.
This wouldn't be the first time that Tim Burton has been inspired by a specific dog from real life. His short film (and later feature-length stop motion-film)  Frankenweenie was inspired by the loss of his own pet friend when he was only 10-years-old.
His Mood Is Linked To Jack's Emotional State
Watch closely or you might miss it! Throughout the movie, and especially during "Jack's Lament,"  Zero's mood shifts based on Jack's emotions, moment by moment. He is happy when Jack is happy, and sad when Jack is sad.
RELATED:  Nightmare Before Christmas Characters, Ranked By Their Likability
This is likely inspired by the emotional capacity of real-life dogs, and how they seem to understand when their owners are upset by something.
He Is Featured In Many Video Games
Not only a popular movie, poem, and comic book series, The Nightmare Before Christmas franchise has also expanded to video games - and Zero came with them!
Zero is featured as a playable character in the phone game,  Disney Magic Kingdom,  and can be bought with in-game gems. He can also be found in other games, including  The Nightmare Before Christmas: The Pumpkin King , and  The Nightmare Before Christmas: Oogie's Revenge .
He Was One Of Only Three Characters In The Poem
In the original poem written by Tim Burton, there were only three actual characters - Jack Skellington, Zero, and Santa Claus. Zero spends the length of the poem attempting to cheer Jack up.
Helpful, cute, and described in the poem as the best friend that Jack had ever had , it's easy to see why he just had to be included in the full film version.
He Is The Only Main Character That Doesn't Speak
Often by Jack's side or otherwise attempting to help him in some way, Zero functions as a main character in both the poem and in the movie. He is also the only main character that doesn't speak.
Despite his lack of dialogue, the audience can easily understand Zero's emotions and what he is trying to tell Jack at any given moment, thanks to his facial expressions and his actions, brilliantly brought to life by stop motion animators.
NEXT:  The Nightmare Before Christmas: 10 Movies To Watch If You Love It