ADMIN AREA MY BOOKSHELF MY DASHBOARD MY PROFILE SIGN OUT SIGN IN
GHOST FOREST
by Pik-Shuen Fung ‧ RELEASE DATE: June 1, 2021
Occasionally touching but ultimately insubstantial.
Spurred by her father's illness, a Chinese Canadian woman explores her family's past.
When the unnamed narrator is 3, her family immigrates to Vancouver—she, her mother, and her grandparents. Everyone, that is, except her father, who helps them settle in but then returns to Hong Kong, worried that he won't be able to find a job to support them in a new country. They become an "astronaut family": "It's a term invented by the Hong Kong mass media. A family with an astronaut father—flying here, flying there." In very short, matter-of-fact fragments, the narrator accumulates memories of growing up, adjusting to life in Canada, and handling an often difficult relationship with a father she sees only twice a year. These memories mingle with those of her mother and grandmother, which the narrator begins collecting after her father falls ill from liver disease and the family assembles in Hong Kong. Her mother recalls high school basketball triumphs and, later, the process of caring for the narrator's younger sister, born with a blood tumor; her grandmother relates, with impish humor, a childhood spent reading classical Chinese novels by night amid war ("Sometimes we couldn't turn the lights on after sunset or we would get bombed") and the one time she happened to write an opera. At one point in this nonlinear book, the narrator studies abroad in China during college and learns a spare technique of Chinese ink painting called xieyi. "They left large areas of the paper blank because they felt empty space was as important as form, that absence was as important as presence," she tells us. "So what did they seek to capture instead? The artist's spirit." Debut author Fung seems to be describing her own narrative technique as much as this historical style, and its spareness does occasionally lend the narrative a fittingly agile sense of itinerancy. Largely, though, the details come across as somewhat mundane: They never really cohere into something bigger than their sum, and the characters remain unconvincing collections of attributes. As a result, the ending in particular feels merely sentimental rather than moving.
Pub Date: June 1, 2021
ISBN: 978-0-593-23096-1
Page Count: 272
Publisher: One World/Random House
Review Posted Online: March 16, 2021
Kirkus Reviews Issue: April 1, 2021
LITERARY FICTION | GENERAL FICTION
Share your opinion of this book
THE BOARDWALK BOOKSHOP
by Susan Mallery ‧ RELEASE DATE: May 31, 2022
A book begging to be read on the beach, with the sun warming the sand and salt in the air: pure escapism.
Three woman who join together to rent a large space along the beach in Los Angeles for their stores—a gift shop, a bakery, and a bookstore—become fast friends as they each experience the highs, and lows, of love.
Bree is a friendly but standoffish bookstore owner who keeps everyone she knows at arm's length, from guys she meets in bars to her friends. Mikki is a settled-in-her-routines divorced mother of two, happily a mom, gift-shop owner, and co-parent with her ex-husband, Perry. And Ashley is a young, very-much-in-love bakery owner specializing in muffins who devotes herself to giving back to the community through a nonprofit that helps community members develop skills and find jobs. When the women meet drooling over a boardwalk storefront that none of them can afford on her own, a plan is hatched to divide the space in three, and a friendship—and business partnership—is born. An impromptu celebration on the beach at sunset with champagne becomes a weekly touchpoint to their lives as they learn more about each other and themselves. Their friendship blossoms as they help each other, offering support, hard truths, and loving backup. Author Mallery has created a delightful story of friendship between three women that also offers a variety of love stories as they fall in love, make mistakes, and figure out how to be the best—albeit still flawed—versions of themselves. The men are similarly flawed and human. While the story comes down clearly on the side of all-encompassing love, Mallery has struck a careful balance: There is just enough sex to be spicy, just enough swearing to be naughty, and just enough heartbreak to avoid being cloying.
Pub Date: May 31, 2022
ISBN: 978-0-778-38608-7
Page Count: 352
Publisher: Harlequin MIRA
Review Posted Online: March 15, 2022
Kirkus Reviews Issue: April 1, 2022
FAMILY LIFE & FRIENDSHIP | GENERAL FICTION
More by Susan Mallery
BOOK REVIEW
by Susan Mallery
THE ARMOR OF LIGHT
by Ken Follett ‧ RELEASE DATE: Sept. 26, 2023
A treat for fans of historical fiction.
The latest in Follett's Kingsbridge series takes readers to a time of turbulence.
In late-18th- and early-19th-century England, Sally Clitheroe must struggle with personal tragedy in a time of great societal upheaval. After her first husband is crushed under an overloaded turnip cart, she must initially raise her son, Kit, on her own. She is an exceptionally strong woman, both physically and mentally, and is every bit a match for her second husband, Jarge Box. When he strikes his stepson, Jarge learns that he's made a big mistake: "If you ever touch that boy again," Sal warns, "I swear I'll cut your throat in the middle of the night, so help me God." Not that the young are generally respected; this is still an era when a child can be hanged for stealing 6 shillings worth of ribbon for his mother to resell for bread; when criticizing the government is a crime punishable by prison; and when two or more employees are forbidden by the 1799 Combination Act to criticize their employer. But monumental change is afoot with the beginnings of the Industrial Revolution, and it's not all good. New spinning looms require fewer people to operate them, throwing many people out of work. Luddites, followers of Ned Ludd, destroy as many of the new machines as they can, but to no avail. Lawbreakers can sometimes avoid prison by joining the army, which ties into the dramatic set piece of this lengthy novel. When Wellington confronts Bonaparte at Waterloo, the carnage is horrific as cannonballs rip bodies to shreds. Sal and her son are central to the story. They are admirable characters without any obvious faults, but the rest of the cast has many: hanging judges, greedy businessmen, thieves, adulterers, murderers, and a bishop's aide who harbors unseemly ambition. They are all well developed and believable, and readers will love to hate some of them.
Pub Date: Sept. 26, 2023
ISBN: 9780525954996
Page Count: 752
Publisher: Viking
Review Posted Online: June 8, 2023
Kirkus Reviews Issue: July 1, 2023
HISTORICAL FICTION | GENERAL FICTION
More by Ken Follett
by Ken Follett
Discover Books Fiction Thriller & Suspense Mystery & Detective Romance Science Fiction & Fantasy Nonfiction Biography & Memoir Teens & Young Adult Children's
News & Features Bestsellers Book Lists Profiles Perspectives Awards Seen & Heard Book to Screen Kirkus TV videos In the News
Kirkus Prize Winners & Finalists About the Kirkus Prize Kirkus Prize Judges
Magazine Current Issue All Issues Manage My Subscription Subscribe
Writers' Center Hire a Professional Book Editor Get Your Book Reviewed Advertise Your Book Launch a Pro Connect Author Page Learn About The Book Industry
More Kirkus Diversity Collections Kirkus Pro Connect My Account/Login
About Kirkus History Our Team Contest FAQ Press Center Info For Publishers
Privacy Policy
Terms & Conditions
Reprints, Permission & Excerpting Policy
© Copyright 2023 Kirkus Media LLC. All Rights Reserved.
Popular in this Genre
Hey there, book lover.
We're glad you found a book that interests you!
Please select an existing bookshelf
Create a new bookshelf.
We can't wait for you to join Kirkus!
Please sign up to continue.
It's free and takes less than 10 seconds!
Already have an account? Log in.
Trouble signing in? Retrieve credentials.
Almost there!
Welcome Back!
Sign in using your Kirkus account
Contact us: 1-800-316-9361 or email [email protected].
Don't fret. We'll find you.
Magazine Subscribers ( How to Find Your Reader Number )
If You've Purchased Author Services
Don't have an account yet? Sign Up.
Authors & Events
Recommendations
New & Noteworthy
Bestsellers
Popular Series
The Must-Read Books of 2023 (So Far)
Popular Books in Spanish
Coming Soon
Literary Fiction
Mystery & Thriller
Science Fiction
Spanish Language Fiction
Biographies & Memoirs
Spanish Language Nonfiction
Dark Star Trilogy
Ramses the Damned
Penguin Classics
Award Winners
The Parenting Book Guide
Books to Read Before Bed
Books for Middle Graders
Trending Series
Magic Tree House
The Last Kids on Earth
Planet Omar
Beloved Characters
The World of Eric Carle
Llama Llama
Junie B. Jones
Peter Rabbit
Board Books
Picture Books
Guided Reading Levels
Middle Grade
Activity Books
Trending This Week
Top Must-Read Romances
Page-Turning Series To Start Now
Books to Cope With Anxiety
Short Reads
Anti-Racist Resources
Staff Picks
Memoir & Fiction
Features & Interviews
Emma Brodie Interview
Gabriella Burnham Interview
Nicola Yoon Interview
Qian Julie Wang Interview
Deepak Chopra Essay
How Can I Get Published?
For Book Clubs
Reese's Book Club
Oprah's Book Club
happy place " data-category="popular" data-location="header">Guide: Happy Place
the last white man " data-category="popular" data-location="header">Guide: The Last White Man
Authors & Events >
Our Authors
Michelle Obama
Zadie Smith
Emily Henry
Cormac McCarthy
Colson Whitehead
In Their Own Words
Qian Julie Wang
Patrick Radden Keefe
Phoebe Robinson
Emma Brodie
Ta-Nehisi Coates
Laura Hankin
Recommendations >
only murders in the building " data-category="recommendations" data-location="header">Books Like Only Murders in the Building
Books With New TV and Movie Adaptations
Horror Classics You Need to Read
Historical Fiction With Female Protagonists
Best Thrillers of All Time
Manga and Graphic Novels
happy place " data-category="recommendations" data-location="header">Start Reading Happy Place
How to Make Reading a Habit with James Clear
Why Reading Is Good for Your Health
Vallery Lomas' Blueberry Buckle Recipe
New Releases
Memoirs Read by the Author
Our Most Soothing Narrators
Press Play for Inspiration
Audiobooks You Just Can't Pause
Listen With the Whole Family
Look Inside
Ghost Forest
By pik-shuen fung, by pik-shuen fung read by pik-shuen fung, category: literary fiction, category: literary fiction | audiobooks.
Sep 06, 2022 | ISBN 9780593230985 | 5-3/16 x 8 --> | ISBN 9780593230985 --> Buy
Jul 13, 2021 | ISBN 9780593230978 | ISBN 9780593230978 --> Buy
Jul 13, 2021 | 228 Minutes | ISBN 9780593399798 --> Buy
Buy from Other Retailers: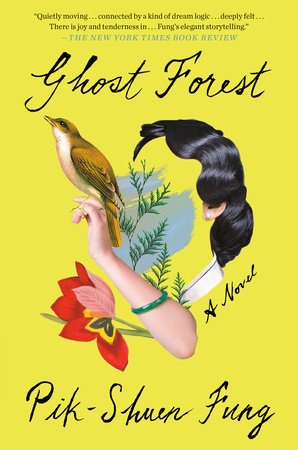 Paperback –
Sep 06, 2022 | ISBN 9780593230985
Jul 13, 2021 | ISBN 9780593230978
Jul 13, 2021 | ISBN 9780593399798
228 Minutes
Buy the Audiobook Download:
About Ghost Forest
This "powerful" ( BuzzFeed ) award-winning debut about love, grief, and family welcomes you into its pages and invites you to linger, staying with you long after you've closed its covers.   "Quietly moving . . . connected by a kind of dream logic . . . deeply felt . . . There is joy and tenderness in . . . Fung's elegant storytelling."— The New York Times Book Review How do you grieve, if your family doesn't talk about feelings? This is the question the unnamed protagonist of GhostForest considers after her father dies. One of the many Hong Kong "astronaut" fathers, he stays there to work, while the rest of the family immigrated to Canada before the 1997 Handover, when the British returned sovereignty over Hong Kong to China. As she revisits memories of her father through the years, she struggles with unresolved questions and misunderstandings. Turning to her mother and grandmother for answers, she discovers her own life refracted brightly in theirs. Buoyant and heartbreaking, Ghost Forest is a slim novel that envelops the reader in joy and sorrow. Fung writes with a poetic and haunting voice, layering detail and abstraction, weaving memory and oral history to paint a moving portrait of a Chinese-Canadian astronaut family. " Ghost Forest is the tender/funny book we can all appreciate after a hellish year."— Literary Hub
Listen to a sample from Ghost Forest
About pik-shuen fung.
Pik-Shuen Fung was born in Hong Kong and grew up in Vancouver, Canada. She has received fellowships and residencies from Kundiman, the Asian American Writers' Workshop, Millay Arts, and Storyknife. Ghost Forest, her first book, won the Rakuten Kobo Emerging… More about Pik-Shuen Fung
Product Details
The Madness of Love
The Bachelor
The Famished Road
Latitudes of Longing
Family Matters
All Together Now
Rock the Boat
Astrid and Veronika
"This is the book I'm excited about. . . . It's about grief but it's . . . light as a feather, and it has to do with how it's arranged on the page. It's almost like reading poetry but it's a novel. . . . The words are beautiful, the writing is gorgeous, but just the way the book is laid out feels extremely refreshing." —Ann Patchett " Ghost Forest is a debut certain to turn your heart. With a dexterity and style all her own, Pik-Shuen Fung renders the many voices that make up a family, as well as the mythologies we create for those we know, and those we wish we knew better. I am madly in love with this book, a kaleidoscopic wonder." —T Kira Madden, author of Long Live the Tribe of Fatherless Girls   "Here, silences speak. Brilliant and pitiless at first, Ghost Forest mutates in the reader's hand, until it shimmers with grace and unexpected humor. A mercurial meditation on love and family." —Padma Viswanathan, bestselling author of The Ever After of Ashwin Rao "Made by an artist who angles her mirror to make room for the faces of others, Pik-Shuen Fung's Ghost Forest resembles a xieyi painting, a place where white space and absence are as important as color and life. Inventive, funny, and devastating." —Jennifer Tseng, award-winning author of Mayumi and the Sea of Happiness   "Like a Chinese ink painting, every line in Pik-Shuen Fung's Ghost Forest is full of movement and spirit, revealing the resilient threads of matrilineal history and the inheritance of stories and silences. With humor, compassion, and clear-eyed prose, Fung reminds us that grief, memory, and history are never linear but always alive." —K-Ming Chang, author of Bestiary "This is a book to break your heart and then fill it to bursting again. What an exquisite, glorious debut." —Catherine Chung, author of The Tenth Muse   "Fung's commitment to this multifaceted take on grief shines through in the moments of lightheartedness and joy that rub shoulders with the novel's heavier themes." —Ayoung Kim interviews Pik-Shuen Fung for Cold Tea Collective   "[A] moving debut . . . Bracing fragments and poignant vignettes come together to make a stunning and evocative whole." — Publishers Weekly (starred review) "Seemingly spare yet undeniably dense with so much unsaid, Fung's polyphonic first novel is a magnificent literary triumph." — Booklist (starred review)
Amazon Canada First Novel Award WINNER 2022
Related Links
Related articles.
Visit other sites in the Penguin Random House Network
Raise kids who love to read
Today's Top Books
Want to know what people are actually reading right now?
An online magazine for today's home cook
Stay in Touch
By clicking "Sign Up", I acknowledge that I have read and agree to Penguin Random House's Privacy Policy and Terms of Use and understand that Penguin Random House collects certain categories of personal information for the purposes listed in that policy, discloses, sells, or shares certain personal information and retains personal information in accordance with the policy . You can opt-out of the sale or sharing of personal information anytime.
Become a Member
Start earning points for buying books! Just for joining you'll get personalized recommendations on your dashboard daily and features only for members.
Point Status This is where you'll see your current point status and your earned rewards. To redeem, copy and paste the code during the checkout process. See Account Overview