October 18, 2023 The F-35 Completely Changed The Mindset For Modern Operations, Italian Air Force Chief Says Italian Air Force
October 17, 2023 U.S. B-52 Strategic Bomber Makes First Landing in South Korea In 35 Years North Korea
October 17, 2023 First All-European Commercial Astronaut Crew Ready For AX-3 Mission To The ISS In 2024 Space
October 17, 2023 NATO Tiger Meet 2023 Wraps Up In Italy Military Aviation
October 16, 2023 Italian Eurofighter Typhoon Completes Meteor BVRAAM Testing Campaign In The UK Military Aviation
The 'Ghost of Kyiv', The Missing Mega-Plane, A Rogue Air India flight and a Samurai: Welcome to the Fog of War
If Truth Is the First Casualty of War, It Died a Quick Death in Ukraine.
No one knows his name, but he is already a legend, at least on the internet. In only a few hours- according to social media, he defiantly took to the skies over Ukraine in his trusty MiG-29 and waged a one-man onslaught against the marauding Russian Air Forces .
According to Twitter and Reddit, the mystery mega-ace now called "The Ghost of Kyiv" singlehandedly shot down "six Russian aircraft" to achieve ace-in-a-day status. According to internet claims, the Ghost of Kiev chalked up six air-to-air kills with no less than two Russian Sukhoi Su-35s, a Russian Su-27 Flanker, a Russian MiG-29 and two Russian Su-25 ground attack aircraft allegedly "shot down". And he's still fighting, at least according to the internet.
There's only one catch: there probably is no "Ghost of Kyiv" and this internet legend is probably not true.
The legend of the "Ghost of Kyiv" is almost certainly an example of bizarre distortions and manipulations of fact or near-fact that are amplified during the chaos of war, especially a new war during the opening hours. These legends sometimes have at least some basis in fact, but as they travel through language barriers and across borders at the speed of light via social media, they become embellished, retransmitted and retweeted as "news". There may have been Ukrainian air-to-air victories in the opening day of the war. There may have even been six total, or some other number. But the likelihood that six of these alleged aerial victories belongs to a singular, gallant "ace-in-a-day" is remote.
At the same time our new hero, the now-legendary "Ghost of Kyiv", was allegedly dropping Russian aircraft like flies, the internet was abuzz with concern over the "Kossak of Ukraine", the massive Antonov An-225 Mriya (NATO reporting name "Kossak") mega-airlifter, the one surviving largest aircraft on earth.
Posts on social media claimed the lone operational An-225 Mriya had been "damaged" during a battle for Antonov Airport, also called "Hostomel" or "Gostomel" Airport. Then Tweets and posts appeared suggesting the aircraft had survived the initial Battle of Antonov Airport intact. One media report claimed the Russians had "Captured the An-225", which could be argued initially belonged to the Russians anyway, and was, in fact, "recaptured" by the Russians from the Ukrainians… but since then more reports have surfaced suggesting the An-225 has once again been "captured" or "re-captured" ("re-recaptured"?) back by the Ukrainians. The only thing that is absolutely certain about the An-225 as of this hour, is that nothing is certain.
While all this was unfolding, the airspace over Ukraine was closed to commercial air traffic for obvious safety reasons as the conflict erupted. Flight tracking apps showed a massive, empty airspace over Ukraine with a conspicuous lack of commercial air traffic, probably to make room for the "Ghost of Kyiv" to continue dropping Russian aircraft seemingly at will.
But then reports surfaced of Air India flight AI121, a Boeing 787-8 Dreamliner en route from Delhi, India to Frankfurt, Germany. According to Twitter, Air India flight AI121 simply barreled through the closed airspace, over the marauding "Ghost of Kyiv", the Battle of Antonov Airport where the An-225 was reportedly changing hands every four hours depending on which reports you believed, and all the other chaos erupting below.
Whether passengers onboard Air India AI121 knew they were the only airliner in the world running the gauntlet of a country newly at war has not been revealed, but it would have been interesting to see passenger reactions when AI121 landed safely in Frankfurt a few hours later.
Finally, back on Feb. 18, 2022, right before all this unfolded, the Ukrainian Ambassador to Japan, Sergiy Korsunsky, decided to don traditional Japanese Samurai regalia and post a photo of himself on Twitter to… well, we're not exactly certain why he did it. Perhaps as a show of defiance against Russia from Ukraine, but dressed as an ancient Japanese warlord.
We know what we are fighting for. How about Russia? 私たちは何のために戦っているのかを知っています。ロシアはどうですか? pic.twitter.com/8FEInU3bWn — セルギー・コルスンスキー駐日ウクライナ特命全権大使 (@KorsunskySergiy) February 15, 2022
And finally, to add to the "fog of war" as the situation in Ukraine becomes more serious, numerous videos and photos have surfaced in social media (and even some supposedly "credible" news outlets) that used images from previous, unrelated conflicts, claiming to be from the current conflict. These old images have added to confusion over what is really happening in Ukraine right now. Some imagery may even be from sophisticated computer wargames using realistic CGI.
And as the tragedy of war for all parties in the region continues to grind on, these bizarre stories are a stark reminder that ultimately, the task of deciding the narrative of history in war usually falls to the victor. As of this hour, no one is quite certain who that will be.
Ghost of Kyiv
Information Warfare
Russian invasion
Related Articles
"We Did Barrel Rolls Around Tu-95s At The Request Of The Soviets": USAF F-4 WSO Explains
Here are some memories from the Weapon Systems Officer who shot the famous photograph of the F-4 flying inverted near a Soviet Tu-95 Bear bomber. Last week we have published a blurry shot of a […]
Aboard Moskva: That Time We Got An Unprecedented Tour Of The Russian Guided-Missile Cruiser
Years ago we had the unique chance to visit the Russian guided missile cruiser "Moskva". And here are all the photographs we took during that unprecedented tour. As explained in detail in a previous article, […]
Everything We Know About The Delivery of Russian S-300 Missile Systems to Syria
Let's analyse if and how the Syrian scenario is going to change after the delivery of the S-300 air defense system to Assad. Images and video of the first Russian S-300 battery being delivered at […]
War is always a tragedy, but fortunately all regular Ukranian forces seem to be surrendering to the liberators. Only the nazis who work with the American puppet dictator Zelensky are taking his side against the Ukranian and Russian peoples.
I am amused that anyone still believes anything posted by broke-brained Hindutva mentalists from India, however. Those characters are the Microsoft phone scams of news.
This Ghost of Kiev story apparently is fake, see here… "This one originates from the trollish Spanish-English language account. This story is not true. Apply logic please, invasion air force always operates in groups, MiG-29 wouldn't stand a chance in missile air fight against a group, let alone several of them. Let alone, MiG-29 can't even carry that much armanent to shot down 5-6 planes." https://community.defconwarningsystem.com/threads/full-scale-russian-invasion-of-ukraine-reports-only.15803/page-25
And the AI121 screenshot was fake too. Go check the flight tracking websites, it flew well to the North like everyone else.
This one originates from the trollish Spanish-English language account. This story is not true. Apply logic please, invasion air force always operates in groups, MiG-29 wouldn't stand a chance in missile air fight against a group, let alone several of them.
Full-Scale Russian Invasion of Ukraine (REPORTS ONLY) | Page 25 | The DEFCON Warning System Community Forum
Comments are closed.
Copyright © 2023 | MH Magazine WordPress Theme by MH Themes Contents of this blog/website may not be used without author's prior written permission. All rights reserved.
You must be logged in to post a comment.
Ukraine admits the 'Ghost of Kyiv' isn't real, but the myth was potent for a reason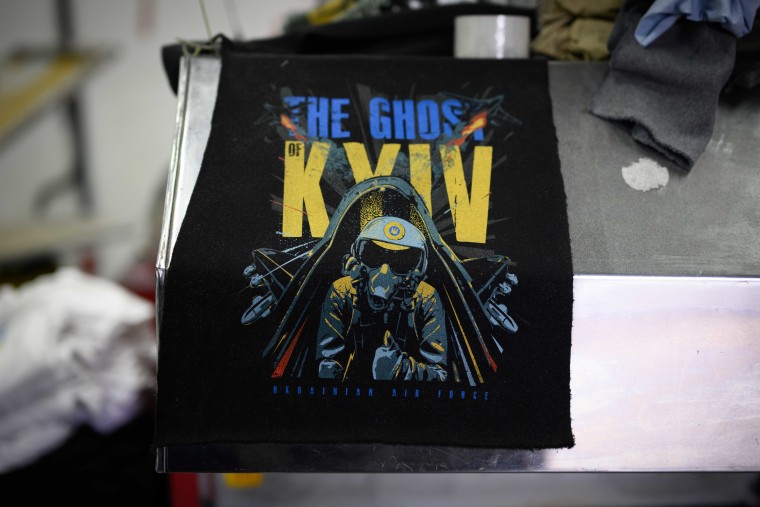 For weeks, an unknown Ukrainian fighter pilot captivated the nation and some of the world with his extraordinary battle feats, becoming a symbol of heroic resistance to Russia's invasion that came to be emblazoned everywhere from T-shirts to NFTs .
Now, the Ukrainian air force says the Ghost of Kyiv never existed. And although the myth is dead, war watchers said its spread raised questions over how information is processed in a war where journalists have struggled to access the front lines.
As with most legends, the Ghost of Kyiv's origin is shrouded in mystery, but it was undoubtedly abetted by former Ukrainian President Petro Poroshenko, who tweeted an image of a masked fighter pilot who purportedly shot down six Russian jets within hours of Moscow's invasion. 
When the Ukrainian Defense Ministry in March tweeted a video praising Maj. Stepan Tarabalka, who died during aerial combat and who was awarded a posthumous medal for courage, the internet connected the dots. As the myth of the ghost grew, so did his exploits, with the single pilot being credited with downing 40 Russian jets. 
Last weekend, however, the Ukrainian Air Force Command wrote on its Facebook page that Tarabalka was not the ghost, nor had he dispatched 40 enemy aircraft. It said the Ghost of Kyiv was a "superhero legend whose character was created by Ukrainians."
But it also offered a sense of why such myths tend to take hold during war. The Ghost of Kyiv wasn't real, Ukraine's air force said, but it was "rather a collective image" of the country's pilots, who have crucially managed to prevent Russian control of the skies in spite of expert predictions.
William Alberque, director of strategy, technology and arms control for the International Institute for Strategic Studies, a London-based research institute, said the ghost myth was designed to boost morale within the country, and, for a time, it succeeded.
"It was a very smart move to have a rallying call behind which everyone could fall, and for me, it was purely for internal messaging for Ukrainians to rally behind the flag," he said. "Plus it's really hard to verify, right? You can say he shot down 100 aircraft, and in the propaganda stage of a war, you don't need to prove it." 
The myth arose within hours of the conflict breaking out and when Ukrainian fears of a total capitulation were at their height. Neither the West nor officials in Kyiv knew how long they could withstand the onslaught.
"They had no idea they were even going to wake up the next day, so they had little time to worry about getting caught out on this one," Alberque said.  
But myths are persistent. The armed forces may have denied the ghost's existence and body count, but it still raises doubts as to whether Ukraine has been exaggerating its gains in the aerial battlefield — an area where Russia should, on paper at least, have supremacy. 
The army said it has shot down or destroyed 187 Russian plans as of Friday. But independent monitor Oryx only has evidence of 26 lost Russian aircraft.
Mark Cancian, senior adviser at the Center for Strategic and International Studies, a Washington-based think tank, said the Ghost of Kyiv saga has had the negative consequence of drawing unwanted scrutiny of official war figures. 
"It's made people much more skeptical about stories coming out of Ukraine regarding battlefield successes," he said. "The kind of legends and stories that people wanted to believe and be inspirational turned out to be false."
Although he stressed he supported Ukraine's fight against Russian aggressions, Cancian said information sourced from its military had been treated with excess credulity since the start of the conflict. 
"When we think about it, we know very little about Ukrainian casualties or losses," he said. 
With most journalists in Ukraine unable to access the war's hot spots, news organizations rely heavily on information relayed back to them in Kyiv or Lviv.  
"It's not their fault, but they are hundreds of miles from the front line, and they are reporting figures that often come from secondary or tertiary sources," Cancian said. "They might be right, but we don't know, and that's a problem." 
Although Russia and its supporters are already using the Ghost of Kyiv as an example of Ukrainian propaganda, the episode "hasn't really resonated in the West yet to the extent that it undermines Ukrainian credibility."
Alberque said there were other examples of unverified Ukrainian claims, such as the reported shooting down of two Russian troop carriers hours into the invasion.
"It could erode trust if it happens again and again, but I'm willing to give a country that's under massive attack from a nuclear-armed army a pass now and then," he said. "Today, Ukraine benefits by simply telling the truth and not embellishing anything."
Patrick Galey is contributing reporter for NBCNews.com, based in France.