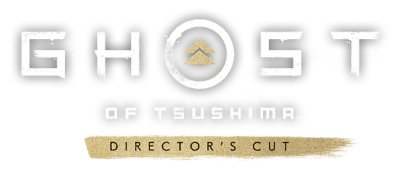 How to upgrade
Ghost of Tsushima: Legends
Patch notes

Ghost of Tsushima Director's Cut
PS Plus required for online play
Supports up to 4 online players with PS Plus
Online play optional
PS5 Version Vibration function and trigger effect required
Game Help supported

A storm is coming. Discover the expanded Ghost of Tsushima experience in this Director's Cut. 
Uncover the hidden wonders of Tsushima in this open-world action adventure from Sucker Punch Productions and PlayStation Studios, available for PS5 and PS4.
Forge a new path and wage an unconventional war for the freedom of Tsushima. Challenge opponents with your katana, master the bow to eliminate distant threats, develop stealth tactics to ambush enemies and explore a new story on Iki Island.
Director's Cut Edition features all additional content released to date, as well as brand new content:
Iki Island expansion: New story, mini-games, enemy types and more.*
Legends online co-op mode.**
Digital mini art book.
One Technique Point.*
Charm of Hachiman's Favor.*
Hero of Tsushima Skin Set: Golden Mask, Sword Kit, Horse, Saddle.*
Director's commentary: The creative team sits down with a renowned Japanese historian to look at the world of Ghost of Tsushima and how it compares to the real-life events that inspired it.
*Unlock in-game items via story progression. **PlayStation®Plus membership required for online multiplayer. PlayStation Plus membership is subject to a recurring subscription fee taken automatically until cancellation. Age restrictions apply. Full terms: play.st/PSPlusTerms.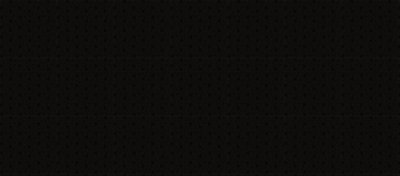 "...AN EXTRAORDINARY OPEN-WORLD ACTION-ADVENTURE GAME..."
"...ONE OF THE BEST BITS OF STORYTELLING IN VIDEO GAMES."
BLEACHER REPORT
"...A SAMURAI EPIC OF TREMENDOUS BREADTH AND BEAUTY."
GAME INFORMER
WEEKLY FAMITSU
"...BEAUTIFULLY CRAFTED..."
GAMING TREND

Entered the Platinum Hall of Fame in the New Game Cross Review of Weekly Famitsu July 30, 2020 Issue (published July 16). The third western game in history to get a perfect score from Weekly Famitsu, Japan's acclaimed gaming magazine.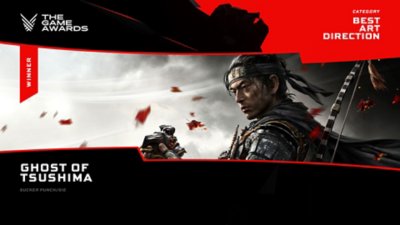 PS5™ features
Stunning visuals : Dynamic 4K resolution* targeting 60fps.
Haptic feedback : DualSense™ wireless controller haptic feedback and adaptive trigger resistance.
Tempest 3D AudioTech on compatible headphones : 3D Audio (with analog or USB stereo headphones).
Lip sync for Japanese voiceover.
Ability to transfer PS4 saved progress to PS5 game.
*4K resolution gameplay requires a compatible 4K TV or display.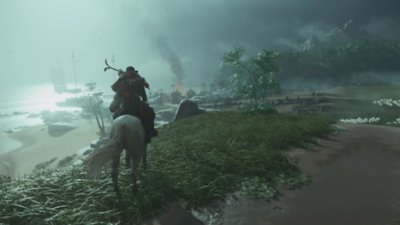 In war-torn Tsushima, ancient beauty endures
Venture beyond the battlefield to experience feudal Japan like never before. In this open-world action adventure, you'll roam vast countrysides and expansive terrain to encounter rich characters, discover ancient landmarks, and uncover the hidden beauty of Tsushima.
Explore meticulously-crafted regions showcasing diversity of life on the sprawling island—from billowing fields and tranquil shrines to ancient forests, villages and stark mountainscapes. Find peace in the quiet moments of natural harmony and solace in the moments you'll share with the people you help along the way.
The rise of the Ghost
Jin was raised and trained in the ways of the samurai. When the Mongols handily defeat the samurai forces, Jin's world is shattered. He is faced with the most difficult decision of his life: honor the tradition and customs of his samurai upbringing and maintain a fight he cannot win, or deviate from his samurai path to protect the island and its people by any means necessary.
In his quest to reclaim Tsushima, Jin must seek the guidance and support of old friends and new unlikely allies. He must break away from tradition, become a new kind of warrior, and protect what's left of his home at all costs.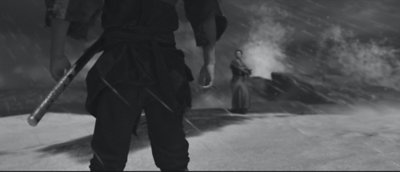 Mud, blood and steel
The Mongol enemy is unpredictable and formidable in warfare and weaponry. Get the upper hand by adapting Jin's skills and learning new tactics to defend the island and protect the people of Tsushima. Challenge opponents head-on in close quarters with your katana for a unique immersive samurai combat experience. Master the bow to eliminate distant threats with lethal precision. Develop stealth and deception tactics to disorient and ambush enemies with surprise attacks. An adaptive landscape and organic approach to combat makes Tsushima the perfect playground for mixing and matching skills, weapons, and tactics to find the perfect combat blend for your play style. As Jin's story unfolds, versatility and creativity will become your greatest weapons.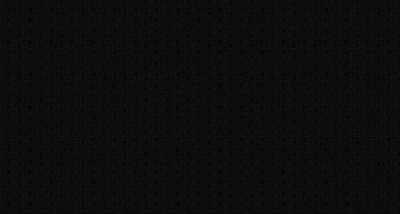 Ghost of Tsushima characters
Meet some of the characters you'll encounter on your journey.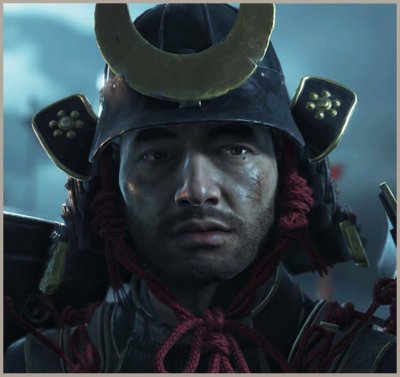 While Jin starts the game as a samurai, he'll learn skills and adopt tactics that are decidedly not samurai-like and begin to form his new identity, The Ghost.  As you play, you'll learn more about Jin, the threats he faces, the allies that help him along his journey, and what he'll have to give up to become this new kind of warrior.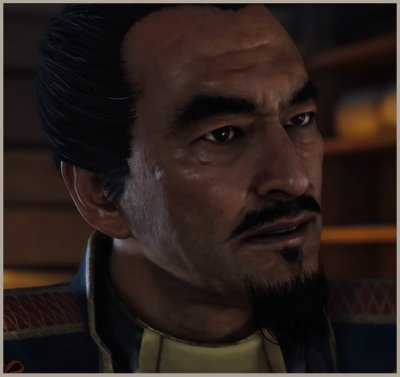 Shimura is the jito (lord) of Tsushima. He is a samurai as well as uncle and father figure to Jin. He's trained Jin since childhood in the traditional ways of the samurai, and grows increasingly concerned by the tactics Jin starts to adopt as he abandons his teachings and becomes The Ghost.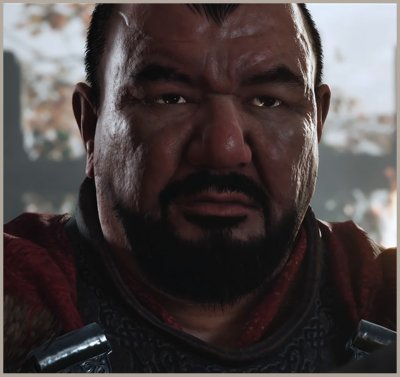 Khotun Khan
Khan is a Mongol general and leader of the Mongol army invading Tsushima Island. Khan is a ruthless, cunning enemy who uses everything he knows about the samurai to try to destroy them. He's a brutal, unrelenting adversary that Jin will quickly learn not to underestimate.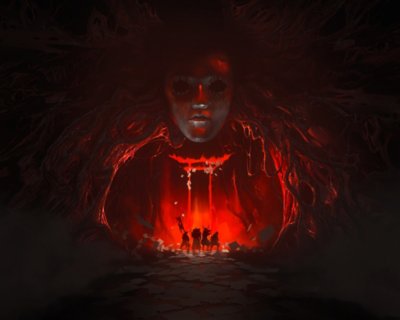 Ghost of Tsushima: Legends, is a cooperative multiplayer* experience inspired by Japanese folk tales and mythology. Choose from one of four classes -- Samurai, Hunter, Ronin, or Assassin – and play with friends or via online matchmaking in a series of two-player story missions or four-player wave-based survival missions. Ghost of Tsushima: Legends is available as a free download for Ghost of Tsushima owners.
*Internet and PlayStation®Plus required to download/play Legends Mode. PS Plus is a paid-for ongoing subscription with a recurring fee charged automatically at the frequency chosen by the consumer at purchase until canceled.
Available on PlayStation Store

Ghost of Tsushima DIRECTOR'S CUT
Iki Island expansion
Legends online co-op mode
Digital mini art book
Director's commentary
One Technique Point
Charm of Hachiman's Favor
Hero of Tsushima Skin Set

Ghost of Tsushima Bonus Content

Ghost of Tsushima DIRECTOR'S CUT (PlayStation Plus)
Buy ghost of tsushima director's cut on blu-ray.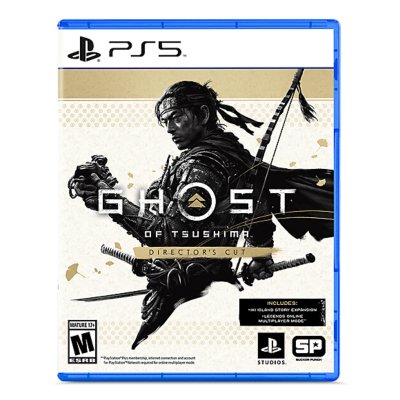 If you already own a PS4 version of Ghost of Tsushima or Ghost of Tsushima DIRECTOR'S CUT, you can get the PS5 Ghost of Tsushima DIRECTOR'S CUT for a discounted price and you do not need to purchase this product. Owners of a PS4 disc copy must insert it into the PS5 every time they want to download or play the PS5 digital version. PS4 game disc owners who buy the PS5 Digital Edition disc-free console will not be able to get the PS5 version for the discounted price. The upgrade path options are as follows:
If you already own Ghost of Tsushima on PS4™, you can upgrade to the Ghost of Tsushima DIRECTOR'S CUT on PS4™ for an additional cost. Visit PlayStation Store for more information.
If you already own Ghost of Tsushima on PS4™, you can upgrade to the Ghost of Tsushima DIRECTOR'S CUT on PS5™ for an additional cost. Visit PlayStation Store for more information.
If you already own the Ghost of Tsushima DIRECTOR'S CUT on PS4™, you can upgrade to the Ghost of Tsushima DIRECTOR'S CUT on PS5™ for an additional cost.  This upgrade is available via the in-game menu.
Owners of a PS4 disc copy can access the Upgrade Pass offer via the in-game prompt on the main menu screen or via the in-game store. The PS4 disc copy must be inserted into the PS5 every time they want to download or play the PS5 digital version. 
PS4 game disc owners who buy the PS5 Digital Edition disc-free console will not be able to get the PS5 version for the discounted price.
If you already own the Ghost of Tsushima DIRECTOR'S CUT on PS4™, you can upgrade to the Ghost of Tsushima DIRECTOR'S CUT on PS5™ for an additional cost. Visit the PlayStation Store for more information.
If you own the disc version of Ghost of Tsushima DIRECTOR'S CUT on PS4™ and a PlayStation®5 console with Blu-Ray disc drive, you can use this Upgrade Pass to get the digital version of Ghost of Tsushima DIRECTOR'S CUT on PS5™ for an additional cost.
How to access and purchase the Upgrade Pass:
Ghost of Tsushima DIRECTOR'S CUT PS4 edition must be installed on your PS5 console.
Access the Upgrade Pass offer via the in-game prompt on the main menu screen or via the in-game store.
Once you have purchased the Upgrade Pass, you can claim the Ghost of Tsushima DIRECTOR'S CUT PS5 digital edition from the Ghost of Tsushima Game Hub or via the PlayStation™Store.
Owners of a PS4 disc copy must insert it  into the PS5 every time they want to download or play the PS5 digital version.
PS4 game disc owners who buy the PS5 Digital Edition disc-free console will not  be able to get the PS5 version for the discounted price.
If you believe you upgraded the game but it is not displaying correctly, please contact PlayStation support or @AskPlayStation on Twitter for more assistance.
Dynamic themes
Enjoy three Ghost of Tsushima Dynamic Themes for PlayStation 4! The codes below will allow you to download Ghost of Tsushima, Jin and Samurai themes for use on your PS4 console. Make sure to redeem the region-specific code for the part of the world where your PlayStation Network account was created, and enjoy!
Americas: 5FM9-5LN6-FCM2
Europe:  4PNM-4RNP-9C92
Asia: J7CG-8DNC-BN6K
Japan: 8FLX-26NE-D9AA
Korea: GHGR-L3N9-3DTQ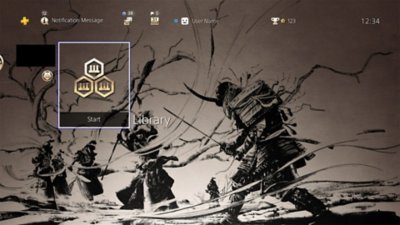 May only be redeemed once per account. Internet connection and account for PSN required to redeem. Codes expire October 3, 2025.
Video and images
Sensitive Content
This media may show violent or graphic content, click/tap here to verify your age.
Ghost of Tsushima playlists
In Ghost of Tsushima's original soundtrack, composers Ilan Eshkeri and Shigeru Umebayashi take listeners on a spirited journey through ancient Japan. Tracks written by Eshkeri serve as the sonic companion to the game's narrative; music written by Umebayashi covers the exploratory, open-world dimension of the game. 
Sound of the Storm  offers listeners a view of that journey through a contemporary lens — the rise of the Ghost, reimagined by some of today's most inspiring artists. This   is a conceptual remix album based on select tracks from Ghost of Tsushima's original soundtrack. The four-song EP features electronic artists Tycho, TOKiMONSTA, Alessandro Cortini, and The Glitch Mob performing their unique transformative interpretations of the game's original score.
Sound of the Storm  available now.
Information submitted to this website is subject to the privacy policy and terms of the website's operator and not governed by Sony Interactive Entertainment's privacy policy and terms.
Ghost of Tsushima x Takashi Okazaki Manga Mobile and Desktop wallpapers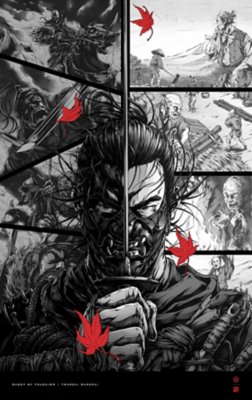 Merchandise
Shop official Ghost of Tsushima merchandise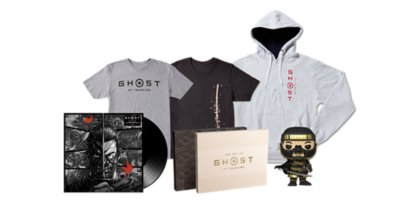 Discover more great PS5 games
Explore a range of stunning titles available now or coming soon to PS5.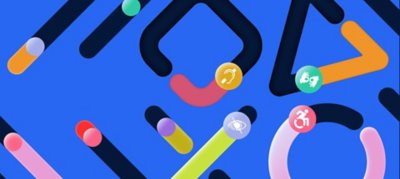 Accessibility features
PlayStation strives to create experiences that fit the needs of players of all abilities. Find out more about accessibility features included in this game, and other titles from PlayStation Studios. 
Discover more games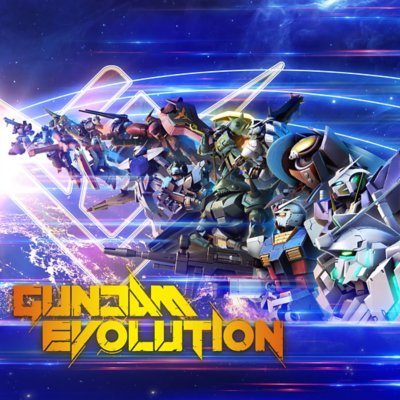 Gundam Evolution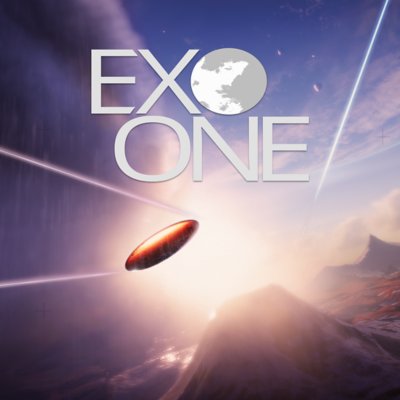 Ghost of Tsushima
Enter your date of birth.
Sorry, you are not eligible to view this content.
Cookie banner
We use cookies and other tracking technologies to improve your browsing experience on our site, show personalized content and targeted ads, analyze site traffic, and understand where our audiences come from. To learn more or opt-out, read our Cookie Policy . Please also read our Privacy Notice and Terms of Use , which became effective December 20, 2019.
By choosing I Accept , you consent to our use of cookies and other tracking technologies.
Filed under:
Ghost of Tsushima review: You've played this before
A great setting let down by rote design
Share this story
Share this on Facebook
Share this on Twitter
Share All sharing options
Share All sharing options for: Ghost of Tsushima review: You've played this before
Ghost of Tsushima , the new open-world adventure from Infamous developer Sucker Punch Productions, has a wonderful asset in the island setting that gives the game its name. This fictionalized version of Tsushima is a vast, beautiful place thankfully not limited by strict adherence to historical or geographical accuracy, but instead tinged with myth and magic.
Unfortunately, the gameplay that takes up your time on Tsushima is overly safe and familiar, resulting in a game that's packed with lovely spots to discover and offers moments of peaceful reflection, yet still struggles to differentiate itself from numerous other open-world adventures.
A bold homage
Ghost of Tsushima begins as an era of stability and prosperity for the samurai ends. The game is set in 1274, the year of the first Mongol invasion of Japan. The intelligent and brutal Mongol chieftain Khotun Khan, a fictional figure positioned here as the grandson of Genghis Khan, aims to use the island of Tsushima as a strategic foothold from which to conquer the Japanese mainland. Though wildly outnumbered, the samurai of Tsushima gather for an all-out assault on the Khan's forces, and most of them meet their deaths.
However, one young samurai, Jin Sakai, is rescued and nursed back to health by a peasant thief named Yuna.
Desperate to save his people, Jin becomes caught between the ideals of honor his uncle has spent a lifetime teaching him, which dictate that a samurai always face his enemies openly and fairly, and the lessons Yuna teaches him, that such honor is a luxury not all can afford, and that to face the Mongol forces head-on can mean only defeat and death. Both lessons are correct, just as both lessons are wrong.
Though we see young Jin being taught that a samurai must control his emotions, he is thankfully no stoic hero. He remains open enough about his feelings that we understand how difficult the path that he follows throughout the game becomes for him. He's assailed both from within, due to his belief that a samurai must conduct himself honorably at all times, and from without, due to the people he loves who still cling to those old ideas expressing their disappointment in his actions.
Jin's first stealth kill is almost traumatic for him, and it's clear that it will be hard for him to live with the dishonor of killing from the shadows. I was performing stealth kills left and right soon enough, however, since games rarely let the feelings of regret shown in cutscenes slow down the violence of the action itself.
Still, we understand the personal sacrifice he is making to break with the traditions he has known his whole life as he assumes the identity of the Ghost, a vengeful warrior who resorts to these "dishonorable" measures — stabbing foes in the back, poisoning their drinks, whatever it takes — to protect and liberate his people. He's doing his best in the fiction of the game, but the only way for him to be effective is to operate in ways that go against every ounce of his training.
Such morally ambiguous heroes are commonplace, of course, but the particular weight of honor and tradition Jin bears allows Ghost of Tsushima to navigate this well-trodden territory in a way that feels distinctive and appropriate to the game's setting.
Jin does what he feels he must to protect Japan from its would-be conquerors, and for it, he ultimately pays a heavy personal price. Ghost of Tsushima 's tale isn't one of unambiguous victory or triumph. The samurai films of director Akira Kurosawa, after all, which Ghost of Tsushima expressly pays homage to, may be a lot of things — funny, thrilling, and often tragic — but they were never comforting stories with upbeat endings.
Right off the bat, in fact, Ghost of Tsushima asks if you'd like to play in what it calls Kurosawa Mode, a black-and-white filter "inspired by the movies of legendary filmmaker Akira Kurosawa," making it clear from the get-go that its vision of feudal Japan owes at least as much to cinema as it does to history. It's a bold claim, but the attention to detail in Ghost of Tsushima , particularly in its world and costumes, is meticulous enough that the game earns the right to name-drop the master. Well, with one small but significant exception.
Kurosawa Mode automatically turns on the game's Japanese dialogue option, with English subtitles. However, with all the dramatic close-ups the cutscenes indulge in, it's impossible to ignore that the characters' lips are synced to English dialogue, not Japanese dialogue.
I wish the developers had taken that extra step and modeled the characters against the Japanese voice-over. Let people who opt for the English dialogue deal with the lip movements being out of sync; after all, it would only contribute to the feeling that you're watching a Japanese film dubbed into English. The way it's handled now is a strange choice considering how hard Sucker Punch worked to create a sense of authenticity in most other areas of the game.
As much of a sucker as I am for a good film-grain effect, though, I didn't want to miss out on the bold colors of Tsushima. I did keep the Japanese dialogue option, however, especially since the actors give their lines the sort of heightened dramatic energy you'd expect from a tale of honor, betrayal, and bloodshed such as this.
An assassin in samurai garb
Jin travels across the island of Tsushima, hoping to save it by gathering what few allies remain to aid him in his battles against a formidable enemy.
Sucker Punch convincingly sells the idea of a small force going up against overwhelming odds. Before many battles, Jin and his allies will scout the enemy defenses, determining how best to use what little military strength they have to exploit any of their opponent's weaknesses.
I appreciated that Ghost of Tsushima took the time to make me feel attached to its characters, so that the stakes of what Jin and his allies are fighting for mean something. I enjoyed the honest, revealing conversation over bottles of sake between two comrades-in-arms the night before an overwhelming siege they knew they might not survive — almost as much as I enjoyed the battle itself.
In fact, it's the moments between characters that I'll remember most about my time with Ghost of Tsushima . There are strings of side quests that give you the opportunity to spend time with your closest allies, and though the combat scenarios that pepper these quests are unremarkable, the conversations between characters as you walk or ride from one spot to the next make them worthwhile.
I valued these quests not for the chance to fight yet another predictable battle, but for the insight they offered into these people's lives and their philosophies. Particularly memorable are a few quests you can do with Yuriko, Jin's childhood caretaker, now an elderly woman he has enlisted for her knowledge of poisonous flowers. Her quests offer an opportunity for reflection on memory, decline, and impermanence, and they tie in beautifully with the natural splendor of the island itself.
With its quasi-historical setting and its open world filled with activities and upgrades, comparisons to the Assassin's Creed games are inevitable, so let's not beat around the bush: Ghost of Tsushima is extremely reminiscent of many entries in the Ubisoft action franchise and other, similar open-world games, both in terms of its combat and its structure. If you like maps with a lot of icons on them offering up things to do, you're going to be very happy with this game.
This is a world that, for better or worse — worse, if you ask me — lays itself out for you like a buffet crying out to be consumed. Everywhere you go, you're liable to hear the telltale chirp of a golden bird, eager to lead you to yet another of the game's hundreds of points of interest, where another collectible or another opportunity for incremental progress toward some upgrade awaits.
Look, I'm a simple woman. If a golden bird wants to lead me somewhere, I want to follow. If there's a question mark on my map, I want to find out what it is. But with those aforementioned birds, who chirp at you all the time — with its genuinely overwhelming number of artifacts, written records, crickets, banners, saddles, sword kits, headbands, masks, charms, and other items to collect — Ghost of Tsushima is overeager, desperate even, to constantly make me feel rewarded or to show me that I'm making meaningful progress. This eats away at my ability to see the world of the game as a world rather than as a collection of things to do and grab and earn.
Among the points of interest the golden birds want to guide you to are hot springs that offer permanent health increases; shinto shrines that provide very Assassin's Creed-style environmental platforming challenges you can complete in exchange for charms that confer passive bonuses; and spots where you compose haiku by selecting lines of poetry via multiple choice to earn cosmetic rewards.
It's all thematically cohesive, and the haiku spots are interesting for the way they pull your focus entirely onto a lovely environmental scene as Jin contemplates death or loss or another aspect of the human condition. However, as sometimes happens with games of this type, you encounter the same experiences and challenges so routinely that they start to feel like cookie-cutter bits of consumable content rather than opportunities organically nestled in the environment you're exploring. The illusion might have been a little stronger if there were just fewer of each activity, making each one more meaningful.
It's a shame that Ghost of Tsushima doesn't put more trust in its setting, because the real reward for exploring Tsushima could have just been taking in all of its picturesque beauty: a tranquil pond overseen by a statue of the Buddha; a dueling circle in which leaves gently fall, red as blood; a grassy field, its gentleness offset by a single, arrow-riddled corpse.
This beauty remains remarkable, but it loses something when the game is always finding ways to say, " Psst ! Over here! More progress toward unlocking your next charm slot awaits," instead of giving you the time and space to stop for a moment and enjoy your surroundings for their own sake. Sucker Punch seems to constantly be trying to lead you away from what the game does well and toward what other media has done well, from the open-world design to the look of the game itself.
Fighting like ghosts to continue living like samurai
Ghost of Tsushima 's combat, too, while full-featured in terms of the assortment of stealthy and more overt combat options on offer, is overly familiar. You'll sneak up on many perfectly positioned enemies to perform stealth kills, then slink back into tall grass that shields you from the gaze of other enemies.
You'll free bears from cages so that they can wreak havoc on their captors and make your work a little easier. You might toss smoke bombs to disappear from sight, or throw a wind chime to distract a nearby enemy. It's not that these elements are bad, of course. They're all handled well here, offering the same familiar satisfactions I've felt in other, similar games in the past, as I've leapt from a rooftop to assassinate an enemy from above or fired an arrow at some explosive barrels. It's not bad — it's just rote.
Games aren't designed in a vacuum; they should be in conversation with each other and seek to build on what came before. The problem is that Ghost of Tsushima isn't interested in doing much building. There's a superficial samurai aesthetic here, and a very good one, but in terms of the rhythms of battle and the feel and function of the tools at your disposal, the combat, with a few cosmetic changes, could have been taken from so many other games, or put into so many other games, that I could never find the particular soul of this game.
Ghost of Tsushima does at least require you to rely on different techniques at different times so that you can't get overly comfortable with a single approach. A covert rescue mission where you sneak into a castle claimed by the Mongols demands stealth, for instance, while a few large-scale cinematic battles see you openly confronting enemy forces with your most trusted allies at your side, hacking and slashing to get through as many soldiers as possible. Jin never really has to choose between his chosen method of combat and the art of "dishonorable" guerrilla war, but must indulge in both styles at different times, using different tactics.
The game's flair for the dramatic also surfaces in the standoff, an option that's available to you when you first approach a group of enemies. It's essentially the equivalent of an Old West gunslinger duel, but with samurai swords. If you opt for it, Jin will call out to his foes, challenging them openly and alerting them to his presence.
One enemy will step forward to face Jin. If you release a button at the precise moment the enemy strikes, you'll fell him with a single slash; if your timing is off, you'll be gravely wounded. Of course, calling out for a direct confrontation with your opponent may be honorable, but it also alerts him and all of his nearby allies to your presence. These are tense, enjoyable moments of death, violence, and honor.
The ghost stance is unlocked at a certain point of the game as well, acting as a mechanical reflection of the legend of the Ghost spreading and striking fear into the hearts of Jin's enemies. After pulling off certain feats — most commonly by killing several enemies in a row without taking damage — you can activate the ghost stance and send nearby foes into a panic that lets you easily mow a few of them down. It's a fine reward for skillful play, elevated by its intensely dramatic presentation as the screen fills with red.
Boss battles are pure, one-on-one duels that strip away all your tools and require you to rely only on observation and precise timing. You have to understand your enemy's attack patterns so you can know when to dodge, when to parry, and when to strike. While most encounters made me feel quite overpowered as I threw kunai and sticky bombs at enemies and fired explosive arrows that gave me an edge even over larger groups, my heart was often racing due to the level of focus demanded by these face-offs with Jin's most dangerous adversaries.
Moments of reflection
Though I've completed the main story in Ghost of Tsushima , done numerous side quests, liberated some Mongol-occupied strongholds, collected tons of cosmetic gear, and done several of every type of activity the game offers, there are still vast swaths of my map that remain shrouded. Do I really want to repeat each kind of mission or challenge over and over, until I've seen it all?
Probably — not because I care to acquire yet another charm that gives me a passive bonus or any other little tchotchke, but because when you strip all that stuff away, the world underneath it is beautiful in its own right, and I want to see what picturesque spots remain waiting to be discovered. I'm playing through the busy work the game presents me for a reward that should have been given much more freely: the ability to just exist in, and enjoy looking at, this gorgeous world.
I also love the way Jin looks in his loose-fitting traveler's attire as he moves across the landscape, his tattered cape blowing in the wind just so, as if he, too, is simply another part of the flow of life and death on the isle.
But as much as I enjoy this game's style, it's not quite enough. The best open-world adventures of recent years do something that sets their gameplay apart so they can rise above the crowd and hopefully mature the genre. Sucker Punch never found anything in the gameplay itself that would allow Ghost of Tsushima to similarly stand apart, and that's its largest failing. It feels like a game that's destined to go on sale, and then perhaps be seen as a slight cult classic as more and more people discover that its derivative play is hiding some serious charm in its visual design and some impressive environmental work.
Ghost of Tsushima has a distinctive aesthetic, after all, but it's only skin-deep. The core game underneath that alluring exterior is a pastiche of open-world game design standards from five years ago; it lacks a real personality of its own. Ghost of Tsushima offers a lovely world to explore, and there's value in that, but it should have been so much more than a checklist of activities to accomplish.
Ghost of Tsushima will be released July 17 on PlayStation 4. The game was reviewed using a download code provided by Sony. Vox Media has affiliate partnerships. These do not influence editorial content, though Vox Media may earn commissions for products purchased via affiliate links. You can find additional information about Polygon's ethics policy here .
Ghost of Tsushima
Prices taken at time of publishing.
In this open-world action adventure, you'll roam vast countrysides and expansive terrain to encounter rich characters, discover ancient landmarks, and uncover the hidden beauty of Tsushima.
Sign up for the newsletter Sign up for Patch Notes
Just one more thing.
Please check your email to find a confirmation email, and follow the steps to confirm your humanity.
Oops. Something went wrong. Please enter a valid email and try again.
Ghost Of Tsushima Guides, Walkthrough, Essential Tips, And Collectibles (Spoiler-Free)
Here's a roundup containing our walkthrough and in-depth guides for Ghost of Tsushima for PS4 and PS5.
By Matt Espineli and Michael Higham on August 19, 2021 at 11:16PM PDT
Ghost of Tsushima Director's Cut is a massive open-world game set in ancient Japan that's packed with plenty to do. While it can be a somewhat straightforward game at times, there's still a lot that's not readily apparent when you first start exploring. To help you survive the Mongol-invaded island of Tsushima and restore your honor, we've assembled a comprehensive collection of tips and guides to help you make the most of the experience. That includes beginner's tips that you can learn before you even start up the game, so you're ready for the early challenges. Given the number of customization options, this is very important.
We also have a full walkthrough for the game, alongside a suite of guides covering all the game's side missions and collectibles--many of which we'll continually add into this article in subsequent days. These side missions and collectibles vary, with some expanding the lore while others make Jin more powerful or give him new options in stealth and combat.
You need a javascript enabled browser to watch videos.
Firearms Expert Rates M16/M4/AR-15s in Games
Welcome to the World: New World: Rise of the Angry Earth
Assassin's Creed Mirage - 6 Things I Wish I Knew
Is Assassin's Creed Mirage A Step In The Right Direction? | Spot On
Nickelodeon All-Star Brawl 2 - Official Azula Gameplay Reveal Trailer
Call of Duty: Modern Warfare III - Official Beta Trailer
The Fortnite Transformers Pack - Release Date Trailer
JoJo's Bizarre Adventure: All-Star Battle R — DLC 6 Reveal Trailer
SWORD ART ONLINE Last Recollection — Launch Trailer
Honkai: Star Rail | "Cloud Knights Martial Doctrine, On Swords" - Myriad Celestia Trailer
Star Ocean The Second Story R - Rena Lanford Trailer
Honkai Impact 3rd - Lunar Vow: Crimson Love Battlesuit Preview
Want us to remember this setting for all your devices?
Sign up or Sign in now!
Please enter your date of birth to view this video
By clicking 'enter', you agree to GameSpot's Terms of Use and Privacy Policy
Now Playing: 9 Things I Wish I Knew Before Starting Ghost Of Tsushima
Also, we won't be discussing or showing off any sort of story spoilers. We've made sure to mark our articles with spoiler tags to ensure you get the most out your time spent roaming about in Ghost of Tsushima. For our full thoughts about the game, be sure to read our Ghost of Tsushima review and Iki Island expansion review . As with our guides, you won't have to worry about it spoiling major plot beats.
Ghost of Tsushima Beginner's Tips
Ghost of tsushima walkthrough, tales of tsushima side-missions walkthrough, mythic tales walkthrough and locations, how to access the iki island expansion, hot springs locations guide, bamboo strike locations guide, shinto shrine locations guide, fox den locations guide (inari shrines), haiku locations guide, hidden altar locations guide, combat guide, resource guide: what each items upgrades and where to get them, all the outfits and how to get them, where to find the black and white dye dealers, hidden trophies guide, how to get ghost of tsushima's toughest trophy.
Ghost of Tsushima is a vast, beautiful game you'll be eager to explore, but even with its traditional open world trappings, you may need a little more than the wind to guide you. Whether it's tips for sharpening your combat or some basics to get more out of the game, here are nine things you should know before starting Ghost of Tsushima.
Get the latest gaming news, reviews, and deals sent to your inbox, FREE!
Do The Character Tales
Character tales are side quests that pop up as you recruit more of the characters who support Jin in defending the island of Tsushima. Once you have them on your side, these questlines will open up. And these are the important ones you'll want to take on. Doing so not only provides more insight into who these characters are, but gets you new gear and upgrades as you progress in them.
It's also worth noting that character tales are written to be played alongside the main story, and if you hold off on them til the late game, these stories won't really hit the same.
Take A Stance
Combat can be challenging, even more so if you don't take advantage of its systems. The game will remind you at times if you're not engaging with the various stances you unlock, and you should heed that advice if not for the first time. Stances work as a sort of rock-paper-scissors match up where a certain stance is more effective against an enemy using a certain type of weapon, allowing you to stagger enemies quickly for easier kills.
One upgrade along the Wind Stance path lets you auto-parry spear attacks when you attack, so get that when you can. While it's not on the Stance skill tree, consider upgrading the Deflection path which lets you parry some unblockable attacks.
Take Out Archers First
When you get into pretty big combat scenarios, you're often overwhelmed by the number of enemies coming after you. There'll be a mix of swordsmen, spearmen, sometimes brutes and archers. Since archers hang back and fire away, they'll often interrupt any sort of combat rhythm. You can predict when they fire by their voice lines, but it's better just to get them out of the way first. They're also easy targets since they don't have the gear to defend themselves up close.
Arrows Straight Through The Dome
You might be inclined to reserve arrows for long-range situations, but your bow can be clutch for thinning out enemies at close range. It's pretty satisfying to activate concentration and line up a headshot to take down an enemy charging at you. Since there's such a short delay between pulling out your bow and putting up your guard, you don't have to leave yourself vulnerable.
Do Optional Objectives When Clearing Camps
When clearing out Mongol camps, you're often asked to do optional objectives in addition to killing the camp leader. These aren't just for the completionists; sneaking around to find the leader and observe the leader before making the assassination is important. Doing so grants an extra point to your Stance unlock progression meter so you can get them quicker--other objectives give you more Legend XP.
Use Those Smoke Bombs
Smoke Bombs are intended to obscure the enemy's vision so you can flee a large mob and make your escape if you're in danger. But actually, this is a prime opportunity to get some easy kills. Smoke bombs essentially put you into a stealth state, and if you have the Chain Assassination skill maxed, you can get 3 easy kills before dipping out or gathering yourself to take on the rest.
Swapping Armor Sets
Each set of attire carries its own unique attributes. That much is clear from when you acquire them and see them in-menu. But it's easy to forget swapping them for the right situation, so this is your reminder. When roaming about, wear the Traveler's Attire to uncover more of the map area as you explore, which can mark key locations from further out and make your controller pulse when collectibles are nearby. If you're going into sneaky missions, swap in the Ronin attire, and if you're going head on into battle, always have your Samurai armor ready. It's a quick swap in the menu that'll give you an edge whatever the situation. More armor sets unlock throughout the game, but these are key ones towards the beginning.
Don't Forget To Actively Set And Reset Your Charms
Major charms offer beefier buffs than minor charms, that much is clear, but you only get two slots for major charms so don't waste them on minor charms. Still, minor charms are very helpful; one of the key location types to seek is Inari shrines, finding these unlock extra minor charm slots. If you see a fox out in the open, follow them to wherever they lead.
One particularly good major charm to find at the start is Mizu-no-Kami, which makes timing windows for parries a bit wider. The shrine for it is quite close to the starting location…here [show the map]. Parrying is probably the most important combat mechanic to master, so this'll only make life easier.
Follow The Wind, Or Not
You can spend technique points to unlock the Guiding Wind perk that'll lead you to important spots that offer upgrades, like the hot springs to boost health or shrines where you find charms. These aren't just things to check off of a list since these have a fairly significant impact on your ability to survive and thrive in combat. But, you know how these things go: you can check all the locations of the hot springs , bamboo strikes , shinto shrines, and more to circumvent the search process altogether if you prefer.
Those are just some of the basics you should keep in mind and make habits in the early goings of Ghost of Tsushima. We also have an advanced combat guide that goes into detail for becoming a top-notch Samurai (or Ghost). You can find all our other Ghost of Tsushima guides below.
Below are links to our spoiler-free walkthrough of the entire game. Consult them for strategies and details on how to get through each of the story missions. Though if you're curious about more specific subjects and items, then chances are we have an article about it coming soon in the guides section below, so be sure to bookmark this page.
Aside from completing story missions and pursuing collectibles, the meat of the game's side activities is its side-missions, which are called Tales of Tsushima. With 61 in total, you're probably going to need help finding them all. Here's the location of every single Tale and details on how to complete them. Be wary; this guide contains light spoilers.
Ghost of Tsushima Side Missions Walkthrough: Tales of Tsushima Locations And Rewards
Mythic Tales are special side-missions that can net you powerful weapons and techniques, further enhancing your ability to take on the Mongol threat. There are six in total to complete, and they can only be unlocked on the map after you've completed enough story and side-missions. We encourage you to regularly complete story side-content, because once you do, you can find Mythic Tales on the map. Here's a walkthrough detailing exactly where you can find them and how to beat them.
Ghost of Tsushima Mythic Tales Walkthrough And Locations
Ghost of Tsushima Director's Cut includes a story expansion that takes you to an entirely new region called Iki Island. In order to access it, you'll need to fulfill a few conditions, which we detail in our guide on how to access the Iki Island expansion.
Ghost Of Tsushima: How To Unlock The Iki Island Expansion
Collectibles Locations And Other Guides
Aside from a full walkthrough, we've also got a ton of guides devoted to specific aspects and collectibles in the game. We've only a few up for now to help as you acclimate to the game's mechanics during its opening hours, but be sure to check back within the day as we start publishing the rest of our guides. Though if there's any other subjects you'd want us to make a guide on, be sure to let us know in the comments below.
Hot springs are special spots on the map where you can rest that expand your maximum health. As expected, it's in your best interest to seek these out. However, their locations are well-hidden across the island of Tsushima. To help you find them all, we've prepared a guide detailing all 18 hot springs locations.
Ghost of Tsushima Hot Springs Locations Guide
Bamboo Strikes are a special side-activity you can do that expands your maximum Resolve--the energy currency that allows you to recover your health. You'll want to track these down above all, as you can never go wrong increasing your total Resolve. But like every other collectible in the game, their locations are well-hidden. To help you find every single one, we've prepared a guide detailing all 16 Bamboo Strike locations.
Ghost of Tsushima Bamboo Strike Locations Guide
Shinto Shrines are probably one of the most entertaining side-activities in the game. They're essentially platforming challenges you can complete that earn you some of the most useful Charms in the game. If you find a Shinto Shrine, you'll definitely want to take some time to explore them. To help you find all 16 Shinto Shrines, we've compiled a guide detailing all their locations.
Ghost of Tsushima Shinto Shrine Locations Guide
Finding Fox Dens increases the total number of Charms you can equip. And once you've unlocked every slot, you'll get new Charms and even increase their potency. To think--all this for following foxes around and honoring their shrines; it's pretty great. Regardless, you'll need to find them all, or you can refer to our guide. Whatever works!
Ghost of Tsushima Fox Den Locations Guide
When you're not fighting, you can always find a place to sit and compose a Haiku. There are key locations where you can do this, which have you creating your own custom Haiku with preset phrases provided as you reflect on particular subjects. A fun diversion, writing Haiku nets you a special headband to further customize your appearance. Here's a guide detailing where to find all the Haiku and the headbands you get.
Ghost of Tsushima Haiku Locations Guide
In addition to the marked shrines throughout Tsushima, you can also find hidden altars that trigger visual flourishes. Find enough of them, and you can unlock a hidden trophy. Here's a list of where you can find 10 ones hidden altars.
Ghost Of Tsushima Hidden Altar Locations Guide
In Ghosts of Tsushima, you'll strengthen Jin throughout your journey, unlocking more tools and skills to make tougher fights easier to take on. Since you can choose different skills that'll affect your playstyle as you level up, here are a few basic and advanced tips around what tactics you should use and skills you should unlock.
Ghost of Tsushima Combat Guide: 8 Advanced Tips You'll Need
As you run through the world, collecting crafting resources, you might wonder what everything does. With the game incessantly telling you to upgrade your weapons and armor--sometimes even when it's not in your best interest to do so--it pays to know what your resources do. Here's a quick explainer detailing the crafting resources.
Ghost of Tsushima Crafting Resource Guide: What Each Items Upgrades And Where To Get Them
There are many cool outfits you can unlock for Jin in Ghost of Tsushima that help fulfill the childhood fantasy of looking like a cool samurai. Not only that, but each one has its own unique perks that help you on your journey. You unlock several outfits throughout the game, so here's a guide detailing them all and when you get them.
Ghost Of Tsushima Armor Guide: What They Do And How To Get Them All
While the merchants in town offer a decent range of purchasable colors for your outfits, you'll start to notice they lack some key colors: black and white. This is because these particular colors are only sold by specialized dealers hidden in the world. If you've got a desire for black or white colorways for your outfits, then look to our guide detailing where to find these dye dealers.
Ghost of Tsushima Flowers Guide: Where To Find The Black And White Dye Dealers
Like all PS4 games, Ghost of Tsushima also has a host of Hidden Trophies that require some hyper-specific actions to trigger. To help all you completionists out there, we've compiled a guide detailing all the Hidden Trophies.
Ghost of Tsushima Hidden Trophies Guide
Ghost of Tsushima is a pretty forgiving game in terms of Trophies, all things considered. Despite there being a ton of collectibles, most Trophies don't require you to find all of them--only the most important ones that usually have a direct impact on gameplay. There are a few hidden Trophies that require you to explore the game a little more, but they're usually not too tough to figure out. And then there's the game's toughest challenge...
How To Unlock Ghost Of Tsushima's Toughest Trophy
Ghost Of Tsushima News
Ghost Of Tsushima Getting "Legends" Co-Op Multiplayer For Free
Ghost Of Tsushima Review - Chaos In The Windy City
Ghost Of Tsushima Mythic Tales Guide: How To Complete Them All
+ Show More Ghost Of Tsushima News Links (2)
Ghost Of Tsushima Armor Guide: All Armor Sets And Locations
Ghost Of Tsushima Walkthrough, Guides, Collectibles, And Tips (Spoiler-Free)
The products discussed here were independently chosen by our editors. GameSpot may get a share of the revenue if you buy anything featured on our site.
Got a news tip or want to contact us directly? Email [email protected]
Join the conversation
Use your keyboard!
Log in to comment
Ghost of Tsushima Gameplay Walkthrough - Main Mission: Ghosts From the Past
Did you enjoy this video, in this video.