Random page
Recent changes
Troubleshooting guide
Editing guide
Sample article
Wiki policy
Maintenance
Assignments
Files policy
PCGW Account
Other communities
What links here
Related changes
Special pages
Printable version
Permanent link
Page information
Page values
Anonymous edits have been disabled on the wiki. If you want to contribute please login or create an account.
Tom Clancy's Ghost Recon
Tom Clancy's Ghost Recon is a singleplayer and multiplayer first-person action , FPS , shooter and tactical shooter game in the Tom Clancy's Ghost Recon series.
General information
Availability
Monetization, dlc and expansion packs, configuration file(s) location, save game data location, save game cloud syncing.
Localizations
Multiplayer types, issues fixed, failed to start game (app already running) error, screen flickering, vsync (enable by default) not working on windows 10, island thunder not available on mac, other information, system requirements.
↑ SafeDisc retail DRM does not work on Windows 10 [2] or Windows 11 and is disabled by default on Windows Vista, Windows 7, Windows 8, and Windows 8.1 when the KB3086255 update is installed. [3]
↑ 2.0 2.1 When running this game without elevated privileges ( Run as administrator option), write operations against a location below %PROGRAMFILES% , %PROGRAMDATA% , or %WINDIR% might be redirected to %LOCALAPPDATA% \VirtualStore on Windows Vista and later ( more details ).
↑ 3.0 3.1 File/folder structure within this directory reflects the path(s) listed for Windows and/or Steam game data (use Wine regedit to access Windows registry paths). Games with Steam Cloud support may store data in ~/.steam/steam/userdata/ <user-id> / 15300 / in addition to or instead of this directory. The app ID (15300) may differ in some cases. Treat backslashes as forward slashes. See the glossary page for details.
↑ Aspyr gets ready to ship four new games - Macworld - last accessed on 2016-7-23
↑ Not Loading in Windows 10; this will break thousands of - Microsoft Community - last accessed on 2017-01-16
↑ Microsoft - MS15-097: Description of the security update for the graphics component in Windows: September 8, 2015 - last accessed on 2018-02-16
↑ 4.0 4.1 4.2 4.3 Vert- behavior in Ghost Recon 1 (4:3, 16:9, 21:9 and 48:9 - Imgur
↑ Verified by User:AlphaYellow on 2023-02-26
↑ Island Thunder™ Mac Tutorial by *DAMN Mauti 9.3.2003
One-time game purchase
Expansion pack
Singleplayer
Multiplayer
First-person
Direct control
Tactical shooter
Contemporary

The Behemoth Mark VI drone was designed by Jace Skell and re-parameterized by Cole D. Walker , tasked with the protection of drone relays scattered in the wilderness of Auroa .
1 Description
4.1 Maunga Nui Island
4.2 Darkwood Island
4.3 Windy Islands
4.4 Golem Island
7 External link
8 Appearances
Description [ ]
The Behemoth is designed to roam isolated wild areas with an almost endless autonomy and to protect strategic Skell infrastructure. Armed with two large gatling guns, a multi-shot mortar launcher, and a SAM launcher, the Behemoth can eradicate just about any threat with its fearsome firepower. Along with it, the Behemoth is well equipped with an anti-EMP device capable of rebooting the drone after system failure.
A special Byleth-variant is found also at various locations capable of dispersing toxic gas from its mortar rounds. The gas will slowly damage the area around the red warning circles, which is about as big as with the standard mortar rounds.
The Behemoth is in BETA development and has low production volume.
Tactics [ ]
Proposed methods for successfully engaging a Behemoth:
Fighting from long range with a .50 cal. rifle, maneuvering to avoid mortars as necessary.
Additional friendlies able to fire rockets or heavy caliber rifles from cover in nearby hills / other high ground expedites the process.
A.I team mates are able to shoot down the Behemoth before it is able to even react to the player with either of the two vehicles' main cannon. However, keep in mind that sometimes the A.I. are not able to level the turret at the target's position, so they will just keep missing the drone just above it.
Helicopters' missiles deal bearly noticable damage to the Behemoth drone and the drone can easily take out the choppers with the guided missile if the player doesn't use cover, such as a hill, though the helicopter is difficulty to handle with precise aiming and often what simply happens is you shoot right past the Behemoth or the missiles hit the hit between you and the drone and at worst case scenario, you'll blow yourself up when hitting the hill.
A human squadmate could use mounted miniguns against the drone, but they probably are not so accurate at long range and also when the pilot has to avoid the guided missiles.
The Behemoth has four glowing blue weak points. Destroying one will cause the Behemoth to shut down for a few seconds. Use this opportunity to relocate or whale on it with armed fire. There is a weak point on all four sides of the Behemoth however they are covered in armor which will have to be destroyed first. Using EMP grenades can also give the same effect as a destroyed weak point.
Do not attempt to run up to the Behemoth as it has the power to instant kill by running you over.
If you are looking for a fight with a Behemoth then you can go to Howard Airfield or a Tactical Relay (The small towers that the  Azraël  and the  Stolas  drones communicate with). There, you will find a Behemoth guarding said location but be careful, the Behemoth at Howard Airfield will be fighting with a camps worth of  Sentinel Corp.  soldiers. There is also a side mission where you must destroy a Behemoth at a city simulation testing ground. Outside of any raids , the arenas where you normally fight the Titan Drones are occupied by Behemoths, excluding the Skell Quantum Computer center which has been sealed during free-roam.
Variants [ ]
Default variant which launches explosive mortar rounds
Byleth variant which launches toxic gas mortar rounds
Same as the default variant, but with the Wolves' paint scheme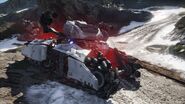 Behemoth Defense Areas [ ]
Behemoths only appear in various unique locations designated as Behemoth defense areas throughout the Auroa archipelago protecting data transmitter towers. The towers include crates containing unique items, such as weapon blueprints and cosmetics.
Maunga Nui Island [ ]
Fen Bog - Howard Airfield (one of the two only locations where the Wolf variant spawns.)
Darkwood Island [ ]
Windy islands [ ], golem island [ ].
Note: Behemoths only appear on Golem Island if the player doesn't engage in a raid and goes to explore the island during freeroam.
Chemical Refinery
Golem Island Testing Zone
Lava Shield (One of the two only places where the Wolf variant spawns.)
Gallery [ ]
The drone is named after a behemoth, a mythological beast whos name has come to be used for any large and powerful entity.
While designed primarily as a defensive drone, Sentinel is attempting to expand the Behemoths offensive capability with urban invasion scenarios.
When free-roaming Golem island outside of a raid, the raid bosses are replaced with the Behemoths.
A sticker on the chassis says the Behemoth is a Mark 3-model, though the collectible says it's Mark 4.
The Drone's tracks uses angled rollers similar to a mecanum wheel which allows sideways movement.
External link [ ]
https://www.artstation.com/artwork/e0vDkY | Joe Gloria page on Artstation, showcasing renders and wire-frame work of the Behemoth.
Appearances [ ]
Tom Clancy's Ghost Recon Breakpoint
2 Tom Clancy's Ghost Recon Breakpoint
3 Ghost Recon
Tom Clancy's Ghost Recon Guide
Welcome to the tom clancy's ghost recon wiki guide..
My fellow gamers, you have just accepted a very dangerous and arduous task. Ghost Recon will test your timing, intelligence, reflex and most of all patience. Like most Tom Clancy games, Ghost Recon has a full and realistic story. Set in 2008, you are part of a leading American infiltration team called the Ghosts. Your goal is to go in before any other troops, perform fast and lethal maneuvers then evacuate before anyone even knows you are there. Your missions will range across Russia and your objectives will be anything from assassination runs to stopping bank robberies. Indeed this will test every skill you have as a gamer. So do the training missions, familiarize yourself with the controls and weapons, then enter our mission guides. It's all up to you and your Ghosts now...
This wiki was automatically converted from the Ghost Recon Guide (PC) guide at https://guides.ign.com/guides/16525/ and may require cleanup. Please help improve this wiki if you can, and remove this notice if appropriate.
Contributor Assistance
Introduction
Walkthrough: Mission 1
Walkthrough: Mission 2
Walkthrough: Mission 3
Walkthrough: Mission 4
Walkthrough: Mission 5
Walkthrough: Mission 6
Walkthrough: Mission 7
Walkthrough: Mission 8
Walkthrough: Mission 9
Walkthrough: Mission 10
Walkthrough: Mission 11
Walkthrough: Mission 12
Walkthrough: Mission 13
Walkthrough: Mission 14
Walkthrough: Mission 15
Hidden Page
Up Next: Introduction
Top guide sections, was this guide helpful, in this guide.
Tom Clancy's Ghost Recon
Table of Contents
Iron Dragon
Eager Smoke
Black Needle
Gold Mountain
Paper Angel
Zebra Straw
Dream Knife
White Razor
This is the first game in the Tom Clancy's Ghost Recon series. For other games in the series see the Tom Clancy's Ghost Recon category .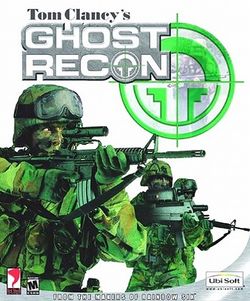 Tom Clancy's Ghost Recon (also known as simply Ghost Recon) is a tactical shooter video game created by Tom Clancy. The game was developed by Red Storm Entertainment , a Ubisoft subsidiary, and published by Ubisoft in 2001 for the PC ; it was later ported to the Mac , PlayStation 2 and Xbox in 2002 and to the GameCube in 2003 . A port for N-Gage and Game Boy Advance was planned, but was canceled. Unlike Clancy's other tactical shooter series, Rainbow Six , Ghost Recon is not based on any of his books. In a 2006 interview with the New York Times, Clancy suggested that the plot for the original Ghost Recon was inspired by a "letter" he had received from a CIA "official." When asked to provide more detail about the "letter," Clancy refused to comment further. Being released in 2001, the game gained notoriety when it predicted many of the events of the 2008 South Ossetian War, between Russia and Georgia.
Ghost Recon's success has spawned two expansion packs, Desert Siege and Island Thunder , as well as numerous sequels for video game consoles and the PC. Ghost Recon's soundtrack is composed by Bill Brown.
Ghost Recon puts the player in charge of a fictional squad of U.S. Special Forces operators from Company D, 1st Battalion, 5th Special Forces Group (5th SFG) stationed at Fort Bragg, NC. Except for the "1st Battalion, 5th SFG" designation, this unit is entirely fictional. They are sometimes referred to as "The Ghosts". Their role is not unlike other real world Special Operations Forces, in that their operations are kept highly classified.
The Ghosts are organized into three fireteams named using the NATO phonetic alphabet: Alpha, Bravo, and Charlie allowing for a distribution of three soldiers per team (the Xbox and PlayStation 2 versions do not have a Charlie team available). However, since the player can only assign a total of six men in a single player mission, it is not uncommon for one of the fireteams to be disregarded, depending on the preference of the player. The player enjoys limited tactical control on the battlefield environment, and can issue maneuver commands as well as rules of engagement for each of the fireteams through a command map.
Desert Siege
Island Thunder
Jungle Storm
Summit Strike
Advanced Warfighter
Advanced Warfighter 2
Ghost Recon (Wii)
Future Soldier
Shadow Wars
Ghost Recon Trilogy
Nintendo GameCube
PlayStation 2
Guides at completion stage 1
Ubisoft Entertainment
Tactical shooter
Single player
Multiplayer
Sony Greatest Hits
Navigation menu

Sign in to add this item to your wishlist, follow it, or mark it as ignored
Sign in to see reasons why you may or may not like this based on your games, friends, and curators you follow.

Ultimate Edition

Year 2 Gold Edition
Season Pass Y2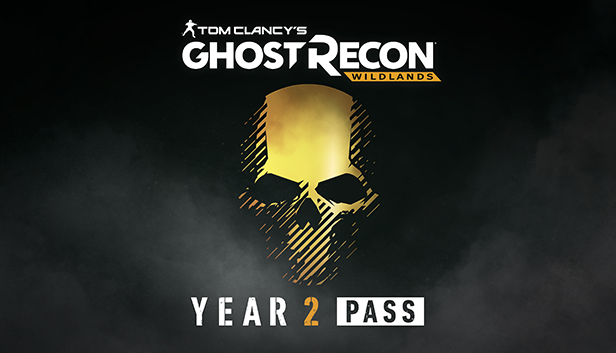 About This Game
System requirements.
OS: Originally released for Windows 7, the game can be played on Windows 10 and Windows 11 OS
Processor: Intel Core i5-2400S @ 2.5 GHz or AMD FX-4320 @ 4 GHz or equivalent
Memory: 6 GB RAM
Graphics: NVIDIA GeForce GTX660 / AMD R9 270X (2GB VRAM with Shader Model 5.0 or better)
Storage: 50 GB available space
Sound Card: DirectX-compatible using the latest drivers
Additional Notes: Game contains EasyAntiCheat (https://www.easyanticheat.net/) anti-cheat technology and Denuvo (https://www.denuvo.com/) anti-tamper technology.
Processor: Intel Core i7- 3770@ 3.5 GHz or AMD FX-8350 @ 4 GHz or better
Memory: 8 GB RAM
Graphics: NVIDIA GeForce GTX970/GTX 1060 or AMD R9 390/RX480 (4GB VRAM with Shader Model 5.0 or better)
© 2016 Ubisoft Entertainment. All Rights Reserved. Tom Clancy's, Ghost Recon, the Soldier Icon, Ubisoft, and the Ubisoft logo are trademarks of Ubisoft Entertainment in the US and/or other countries.
More from Ghost Recon Franchise
More like this, what curators say, customer reviews.

You can use this widget-maker to generate a bit of HTML that can be embedded in your website to easily allow customers to purchase this game on Steam.
Enter up to 375 characters to add a description to your widget:
Copy and paste the HTML below into your website to make the above widget appear

Popular user-defined tags for this product: (?)
Sign in to add your own tags to this product.