Heroes Wiki
-Welcome to the Hero/Protagonist wiki! If you can help us with this wiki please sign up and help us! Thanks! -M-NUva
Marvel Heroes
TV Show Heroes
Cartoon Heroes
Alternate Reality Heroes
Doctors and Scientists
Thrill-Seekers
Superheroes
Martial Artists
One-Man Army
Protector of Innocence
Virtually Resourceful
Sophisticated
Movie Heroes
Deal Makers
Adventurers
Determinators
Localized Protection
Ghost-Spider (Gwen Stacy)
Ghost-Spider (real name Gwendolyn Maxine "Gwen" Stacy ), commonly referred to as Spider-Gwen , is a fictional character and superheroine in comic books published by Marvel Comics .
Created by Jason Latour and Robbi Rodriguez, the character debuted in Edge of Spider-Verse #2, as part of the 2014–15 Spider-Verse comic book storyline. This led to the ongoing series Spider-Gwen that began in 2015.
The character is a variant of Spider-Man and an alternate-universe version of teenager Gwen Stacy. She resides in what Marvel official nomenclature dubs Earth-65, where, instead of Peter Parker being bitten by a radioactive spider and becoming Spider-Man, Gwen Stacy is bitten and becomes the superheroine Spider-Woman.
The character is featured in other alternate universes and appears in other Marvel media such as an animated television series and video games, and in merchandise such as action figures.
1 Biography
2 Powers and abilities
3.1 Animated
3.2 Video Games
5 Navigation
Biography [ ]
In the alternate reality, the radioactive spider bit Gwen Stacy rather than Peter Parker giving her the abilities of a spider. She goes by the name Spider-Woman and much like Spider-Man of Earth 616 used her newly found powers to for more personal gain rather than helping people by becoming a professional drummer. Peter Parker remained a weak individual that Gwen needed to save from bullying.
This made him develop an inferiority complex causing him to create a serum to make himself more like Gwen after she has revealed to him her powers. This causes him to become Earth 65's version of the Lizard and Gwen is forced to fight him. Unfortunately, due to the serum during the battle, Peter dies and she vows to use her powers for good. Additionally, Gwen is blamed for Peter's death and a campaign against her (spearheaded by J. Jonah Jameson) is started.
Gwen is the drummer of a band named the Mary Janes (Which includes Mary Jane Watson, Glory Grant, and an unknown third member) although she is often late for practices and concerts. While out fighting crime she is also targeted by the police force who is being commanded by her own father Captain George Stacy.
Due to Captain Stacy's success against organized crime he a hit is placed on him by the Kingpin who uses his lawyer Matt Murdock to hire hit man Aleksei Sytsevich (who in the regular continuity is the villainous Rhino). Aleksei tracks Captain Stacy down at a Mary Janes concert and attacks him there, Gwen steps in and is able to defeat him but is cornered by her own father. There she reveals to him that she is Spider-Woman and he allows her to escape.
Gwen is recruited to take part in the Spider-Verse event where Spider-Men from every reality is being hunted down by Morlun and his family. She is one of Spider-Man's (616) right-hand members but he is unwilling to risk her in dangerous situations since he couldn't save his own Gwen Stacy. They promise to look after each other's backs.
Powers and abilities [ ]
Spider-Woman is depicted as having similar powers of Spider-Man which originated from a bite by a radioactive spider. These power include sticking and climbing on walls, a sixth sense to danger (that she has yet to master) and being able to lift approximately 10 tons.
She owns web-shooters that were given by her and created by retired crime fighter and billionaire mogul, Janet van Dyne. The mechanisms help filter moisture from the air that help create an adhesive web-fluid that can create web nets, ropes and globs and many other shapes. They also help her swing building to building. The web-shooters do not require refill as long as moisture is present. She also has a possession of a wristwatch that helps her travel to other multiverses due to the "Spider-Verse" events. She is commonly depicted as using her smartphone for superhero equipment.
Being the daughter of police captain, George Stacy, she is depicted as having detecting skills and analytical thinking. She's untrained in fighting and only picked up on fighting from kung fu films. She's also depicted as being skilled at being a drummer.
Portrayals [ ]
Animated [ ].
As Spider-Woman in Ultimate Spider-Man vs. the Sinister Six and Ghost-Spider in Marvel Rising , Gwen was voiced by Dove Cameron, who also played Liv and Maddie Rooney In Liv & Maddie , and Mal in Descendants .
Bailey also voiced the character in Spider-Man: Unlimited , where Gwen is an unlockable character.
In Phil Lord and Chris Miller's Spider-Verse trilogy of films, she is voiced by Hailee Steinfeld, who voices Vi in Arcane and portrays Kate Bishop in the Disney+ series Hawkeye , and also played Charlie Watson in Bumblebee , and Mattie Ross in the 2010 remake of True Grit .
Video Games [ ]
In Marvel Heroes , she was voiced by Ashley Johnson, who also voiced Peter Shepherd in the Jumani tv series, Gretchen Grundler in Recess , Jinmay in Super Robot Monkey Team Hyperforce Go! , Terra in 2003s Teen Titans , Gwen Tennyson in Ben 10 , Ellie Williams in The Last of Us series, and Petra in Minecraft: Story Mode .
In Marvel Avengers Academy , she as voiced by Catherine Luciani.
IN Marvel Ultimate Alliance 3: The Black Order , she was voiced by Allegra Clark.
See also [ ]
Navigation [ ]
Animated characters
TV Animation characters
Superheroes
Marvel's Spider-Man characters
Transformed characters
Marvel Rising characters
Singing characters
Spidey and his Amazing Friends characters
Disney Junior characters
Acquired characters
Disney XD characters
Avengers Campus characters
Characters in Disney parks
Disney Tsum Tsum
Disney Infinity characters
Português do Brasil
Spider-Gwen
Gwen Stacy was created by Stan Lee and Steve Ditko.
1.1 Physical appearance
2.1.1 Ultimate Spider-Man
2.1.2 Spider-Man
2.1.3 Marvel Rising
2.1.4 Spidey and his Amazing Friends
2.2 Marvel Cinematic Universe
3.1 Web Slingers: A Spider-Man Adventure
3.2 Disney Junior On Tour
6 References
7 External links
Background [ ]
Physical appearance [ ].
Spider-Gwen wears a black bodysuit with white areas that form a spider design, a white hood with the interior lining being magenta with cyan web patterns, matching magenta-and-cyan designs on her upper arms, and cyan soles to her boots.
Appearances [ ]
Marvel animation [ ], ultimate spider-man [ ].
A native of Miles' dimension, Gwen Stacy assumed the role of Spider-Woman after Miles was transported to Peter Parker 's dimension. Using technology stolen from her father 's robot program and with the help of her world's version of May Parker , Gwen became a superhero in Miles' absence by simulating spider powers despite having no spider powers of her own. However, due to her activity, she also had to deal with her father's pursuit of vigilantes.
When Miles returns along with Peter, Gwen helps them recover the remaining Siege Perilous piece, which was at the police station. Gwen goes to visit her father in order to distract him while Peter and Miles recover the piece. However, this fails when Wolf Spider attacks the station and soon takes Rio Morales hostage at Miles' home. After rescuing Rio, Peter, Gwen, and Miles confront Wolf Spider in his underwater lair. Wolf Spider claims the Siege Perilous and starts to drain the life-force of every spider-based character in the multiverse. During the battle, Miles and Gwen are claimed in the process, but Peter tricks Wolf Spider into claiming his life, as holding all the life-forces at once proves to be too much for Wolf Spider to handle. Wolf-Spider soon shatters, allowing the life-forces to return to their bodies. The three Spiders then leave the lair but run into Gwen's father who learned of his daughter's superhero life after speaking with Rio. George accepts Gwen's role and the two then reconcile.
Spider-Man [ ]
Gwen Stacy is a student at Horizon High and friends with Peter Parker , Miles Morales , and Anya Corazon. She is voiced by Laura Bailey . She was inspired by her uncle Raymond Warren (later revealed to be the villainous Jackal) to pursue science. She often assists Spider-Man in fights using her quick wits and genetic knowledge.
During the "Spider Island" arc, she was one of the first people affected by Jackal's spider chemicals spread into the air and gained spider superpowers. With her fans calling her "Spider Gwen", she assists Spider-Man in combating criminals until the chemicals cause her to mutate into a Man-Spider. She is later cured when Spider-Man spreads the cure for the city by exploding Osborn Academy.
Marvel Rising [ ]
Gwen appears in the 2018 franchise, with Dove Cameron reprising her role. In this continuity, she is referred to as Ghost-Spider . [1] She first appears as the protagonist of the Marvel Rising: Initiation shorts that precede the animated film, where she is on the run from the police and other superheroes after Ghost-Spider is framed for the murder of Gwen's friend, Kevin. She gains the trust of Ms. Marvel and Squirrel Girl following an encounter with the heroes before Ghost-Spider is inevitably captured by S.H.I.E.L.D. agents Quake and Patriot. However, she escapes with the help of Quake who discerned Ghost-Spider's civilian identity.
She returns in the special Marvel Rising: Chasing Ghosts followed by Marvel Rising: Heart of Iron .
Spidey and his Amazing Friends [ ]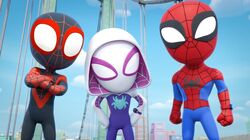 Ghost-Spider with her friends Spidey and Spin in Spidey and his Amazing Friends .
Gwen appears in the Disney Junior animated series, voiced by Lily Sanfelippo . As Ghost-Spider, she defends New York City from villains alongside her friends, Peter (Spidey) and Miles (Spin). Like the Marvel Rising incarnation, Gwen has Gwen Pool's partially dyed pink highlights in her hair. She loves drumming, reading detective novels, and is really good at figuring out clues.
Marvel Cinematic Universe [ ]
Gwen Stacy does not appear in the MCU, but the version that appeared in The Amazing Spider-Man films (played by Emma Stone ) is mentioned in Spider-Man: No Way Home . Gwen's Peter Parker, the Amazing Spider-Man , tells his MCU counterpart about the death of his girlfriend, describing her as "his MJ ", the girlfriend of the MCU Peter. Gwen's Spider-Man explains that he will never forgive himself for his failure in saving her. While trying to move on from the loss and be the hero Gwen wanted him to be, he eventually became rageful and bitter.
Not wishing his younger counterpart to suffer and end up like him, the Amazing Spider-Man watches with fondness the relationship of this universe's Peter and MJ. At the Statue of Liberty, during the final battle of the film, MJ falls off the scaffolding and her Peter fails to reach her because of the interference of the Green Goblin . Horrified that his younger self might suffer the same as he did, he jumps and saves MJ, preventing her to die in a very similar way that Gwen did. Saving MJ from the same fate Gwen endured, makes the Amazing Spider-Man emotional and he almost cries while holding MJ when he safely lands with her on the ground.
Disney Parks [ ]
Web slingers: a spider-man adventure [ ].
There are several references to Gwen Stacy's Spider-Woman in the queue for this attraction where she is identified as a member of the Worldwide Engineering Brigade . Gwen's locker is located within the WEB facility with painted on feminist quotes, science jokes, and the logo for her band The Mary Janes . Additionally, Gwen's skateboard is locked up in the foyer with her Spider-Gwen color-scheme and, "The Mary Janes" printed on it. She is indirectly referenced on a notice-board featuring a poster for drummer-auditions in a punk band called The Gamma Rays which has Gwen's color-scheme.
Disney Junior On Tour [ ]
The Spidey and his Amazing Friends version of Ghost appeared in Disney Junior Live On Tour: Costume Palooza .
Gallery [ ]
Spider-Gwen was planned to be released as a figurine for the game Disney Infinity 3.0 prior to being canceled. [2]
Her appearance in Ultimate Spider-Man is Dove Cameron's second animated role, the first being as Mal in Descendants: Wicked World .
The primary version of Gwen Stacy in the Marvel Comics was the college girlfriend of Peter Parker who was tragically killed during a battle between Spider-Man and the Green Goblin . Her death is considered one of the most iconic moments in comic book history.
Unlike the Ultimate Spider-Man incarnation, her comic version was actually superpowered, hailing from an alternate dimension where she was bitten by the radioactive spider, rather than Peter Parker, who to get vengeance on bullies, transformed into the Lizard . In a battle that left Peter dead, Gwen was devastated, and sought to honor him by being a hero. This depiction of her reappears in Marvel Rising: Secret Warriors , albeit replacing Peter with an Inhuman named Kevin as her best friend.
References [ ]
↑ " Marvel Announces Animated Feature Film Marvel Rising: Secret Warriors ". Collider . Retrieved on December 8, 2017.
↑ " Here is your First Look at the (Now-Cancelled) "Spider-Gwen" Disney Infinity Figure ". Infinity Inquirer (August 24, 2016).
External links [ ]
How Spider-Gwen Became Ghost-Spider - and Why
Across the Spider-Verse's Spider-Gwen rebranded herself as Ghost Spider when she started college. Here's the reason behind the change.
One of the biggest and most beloved superheroes to emerge in the Marvel Universe is Spider-Gwen , the web-slinging Gwen Stacy of Earth-65. The young superhero took advantage of her fresh start in the main Marvel Universe by attending Peter Parker's old alma mater of Empire State University in Earth-616's Manhattan. This led to her taking on the new superhero moniker Ghost-Spider while saving the day during her regular visits from her alternate dimension.
Since then, she's gone on to appear in both Into The Spider-Verse, and it's 2023 sequel, Across the Spider-Verse and has become one of the world's most beloved and recognizable heroes. She went through a lot to get there. When she was originally introduced, Gwen used the moniker Spider-Woman to defend Earth-65 from a variety of threats, including her world's villainous incarnation of Matt Murdock. With her powers failing her, Gwen was forced to bond with her world's Venom symbiote to regain her incredible abilities, defeat Murdock and dismantle his criminal empire.
RELATED: Across the Spider-Verse Fans Are Convinced Gwen Is Trans
Why Is Gwen Called Ghost-Spider?
In order to expose Murdock and his under-handed dealings , Gwen had to reveal her secret identity to the world. As an authorized superhero implicated in the death of her world's Peter Parker while he was transformed as the villainous Lizard, as well as being responsible for violent actions while under the initial thrall of the Venom symbiote, Gwen was convicted and jailed for her actions as Spider-Woman. Her heroic career and key role in toppling Murdock limited Gwen's sentence to one year, which she served dutifully before her eventual release, now with the Venom symbiote under her control.
With her superhero identity public, Gwen decided to focus on attending college at Empire State University to enjoy a more incognito life on Earth-65 alongside the superhero friends she made from previous team-ups. However, complications with the Venom symbiote began to rise, leading Gwen to approach the main Marvel Universe's Peter Parker for help. As Peter analyzed the symbiote, Gwen realized her superhero secret was still a secret from the public on Earth-616 and decided to restart her superhero career on the alternate Earth, albeit with a bit of a dark twist.
RELATED: Amazing Spider-Man Gives Gwen Stacy Her Own Kraven's Last Hunt Moment
The mantle of Spider-Woman is held by several women on Earth-616 -- most notably Jessica Drew, who had teamed up with Gwen previously. To limit the confusion, Gwen decides to drop her own use of the moniker altogether while taking inspiration from her Earth-616 counterpart.
Learning of this world's Gwen and her tragic fate dying during a showdown between Spider-Man and the Green Goblin , Gwen makes the morbid observation that "death loves Gwen Stacy." With that in mind, Gwen sees herself as a living ghost on Earth-616, replacing this world's ill-fated counterpart only with spider-based superpowers. Inspired, Gwen begins referring to herself as Ghost-Spider when disguised as a superhero during her time on Earth-616, while maintaining a low profile whenever she returns to Earth-65.
The Gwen Stacy of Earth-65's superhero career appeared to have been cut abruptly short after her secret identity was outed, followed by her incarceration. However, the possibilities of the Marvel Multiverse have allowed her to continue to use her powers to the save the day -- albeit under a completely different name. Fortunately, even with a new name, the superhero's fan-favorite look and attitude has been maintained, as Gwen balances life on an alternate Earth with all the trials and tribulations of college.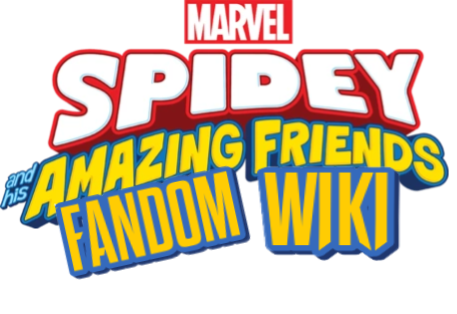 Ghost Spider
Gwen Stacy/ Ghost Spider is one of the two deuteragonists of Marvel's Spidey and his Amazing Friends , alongside Spin . She is the only member that did not change her superhero name in the short WEB-Ster since no one else shared the same alias with her.
1 Personality
2 Appearance
4 Sightings
6 Abilities
Personality
As her civilian self, Gwen loves playing video games with her friends Peter and Miles, solving mysteries and playing the drums with her drumsticks. She also loves cute animals like cats and puppies demonstrated in episodes CAT-astrophe and Puppy Pandemonium respectively. She openly shows her love towards her mother in the episode Mother's Day Mayhem , making a card for her, and wanting to spend time with her.
As her superhero self, Ghost Spider still loves her drums, drumsticks and solving mysteries through following the clues. Like the other members of Team Spidey , she prioritises the lives of people and saves them before stopping villains, knows how to differentiate basic right and wrong behaviours, feels regret over making mistakes and learning from them. She still makes several mistakes from time to time such as competing against Spin in the episode Spidey to the Power of Three which got them into trouble with Rhino, and rushing to catch Doc Ock all by herself in the episode Mother's Day Mayhem which resulted in her card getting ruined. She eventually learns from such mistakes before improvising.
As Gwen, she wears a white shirt with purple horizontal stripes on it, and a purple denim jacket over it. She wears long blue pants that covers her legs, and light pink shoes with dark pink toe caps, white laces and soles and light yellow outsole.
As Ghost Spider, she wears a white hood over her white mask with pink outlines surrounding the eyes. The inner side of the hood is pink with white outlines forming a web pattern. Her suit it mainly purple from her chest to the bottom of her legs, with the exception of the area the light blue spider logo covers, and the blue lines at the back that go from the lower side of her back to her shoes.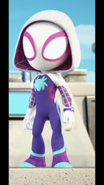 Meet Spidey and his Amazing Friends
Marvel's Spidey and his Amazing Friends
Wall-Crawling: Due to his spider powers giving her sticky hands and feet, Ghost Spider can crawl on the walls by sticking and unsticking like how actual spiders climb.
Spider-Sense: Usually called 'Spidey-Sense', this sense acts as a warning that danger(incoming objects or enemies) is coming or close by.
Spider Proportionate Strength: Despite not being as strong as Hulk, Ghost Spider is still strong enough to move and stop cars by pulling on his webs.
Gliding: Due to her costume having web-wings underneath her arms, she can glide like a flying squirrel.
Skilled Detective: Since her mother is a detective, she has a proclivity for analytical thinking and detective work.
Skilled Drummer: She is very good at playing the drum set with her drumsticks.
However, her superhero identity was absent in the 1994 and 2008 TV Shows.
Similar to the 2017 TV Show Marvel's Spider-Man , Gwen does not come from another universe, originating from the same one as Peter and Miles.
Similar to the Gwen Stacy from the 2018 movie Into the Spider-Verse , Gwen is very good at playing the drums set.
Much like her counterpart from the Marvel Comics' mainstream universe , Gwen wears a headband.
Similar to the Gwen Stacy from the 2018-2019 Marvel Rising animated specials, the bottom strands of her hair are dyed pink.
Whenever she is gliding, her web wings are seen, but whenever she is not, the web wings are not seen. It is still unclear whether this is an animation error or not.
She is the only female member of Team Spidey, since TRACE-E is usually a helper and is technically genderless due to being a robot.
The other members of Team Spidey sometimes call her by her nickname Ghosty.
Her main suit has the most colours compared to the other members of Team Spidey, having a total of four; white, pink, purple and light blue.
Gwen's favourite ice cream flavour is Chocolate Chips, demonstrated in the episode Spidey to the Power of Three .
Gwen most likely got good detective skills due to her mother being a detective, and her herself being a superhero.
She is the only member of Team Spidey that did not get hypnotised by Doc Ock in the episode Swing With a Stomp .
This occured again as she did not appear in Catch and Release nor Construction Destruction .
Miles/Spin is the second member of Team Spidey to be absent in both segments of an episode, as he did not appear in A Syrupy Solution and Little Ant, Big Problem
This changes in the short When Ghosty Met TWIRL-E , as she built her own spider bot, TWIRL-E in that short.
Mini Golf Goof is the first episode where she is the only member of Team Spidey appearing, followed by A Syrupy Solution
She is the second member of Team Spidey to have both her parents seen in the series, following her father George Stacy 's debut in Halted Holiday , the first is Spin with both his parents appearing in the first season.
Spider-Gwen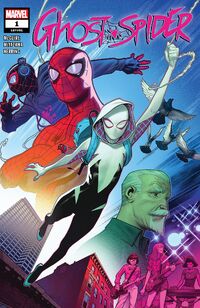 Cover to Ghost-Spider #1
Spider-Gwen/Ghost-Spider is published by Marvel Comics . Current price per issue is $3.99.
Publication Dates [ ]
Last issue [ ], current issue [ ], next issue [ ].
A five-issue series, Spider-Gwen: Shadow Clones , started March 2023.
Characters [ ]
Main characters [ ].
Enemies [ ]
Minor characters [ ], other characters/places/things [ ], recent storylines [ ], spider-gwen annual #1 [ ].
This is the current issue, and therefore no story information will be posted about this issue. Please check your local comic shop for copies of this issue.
What If…? Dark: Spider-Gwen [ ]
Spider-gwen: shadow clones #5 [ ], spider-gwen: shadow clones #4 [ ], spider-gwen: shadow clones #3 [ ], spider-gwen: shadow clones #2 [ ], spider-gwen: shadow clones #1 [ ], spider-gwen: gwenverse #5 [ ], spider-gwen: gwenverse #4 [ ], spider-gwen: gwenverse #3 [ ], spider-gwen: gwenverse #2 [ ], spider-gwen: gwenverse #1 [ ], ghost-spider #10/60 [ ], ghost-spider #9/59 [ ], ghost-spider #8/58 [ ], ghost-spider #7/57 [ ], ghost-spider #6/56 [ ], ghost-spider #5/55 [ ], ghost-spider #4/54 [ ], ghost-spider #3/53 [ ], ghost-spider #2/52 [ ], ghost-spider annual #1 [ ], ghost-spider #1/51 [ ], spider-gwen: ghost-spider #10/50 [ ], spider-gwen: ghost-spider #9/49 [ ], spider-gwen: ghost-spider #8/48 [ ], spider-gwen: ghost-spider #7/47 [ ], spider-gwen: ghost-spider #6/46 [ ], spider-gwen: ghost-spider #5/45 [ ], spider-gwen: ghost-spider #4 [ ], spider-gwen: ghost-spider #3 [ ], spider-gwen: ghost-spider #2 [ ], spider-gwen: ghost-spider #1 [ ], spider-gwen #34 [ ], spider-gwen #33 [ ], past storylines [ ], collections [ ], trade paperbacks [ ].
Spider-Gwen/Ghost Spider Modern Era Epic Collection, vol. 1: Edge of Spider-Verse - vol. 1 #1-5 & vol. 2 #1-8, plus Edge of Spider-Verse #2, Spider-Women Alpha , Silk vol. 2 #7-8, Spider-Woman vol. 6 #6-7, & Spider-Women Omega . - JAN231028 - WorldCat - ISBN 9781302949983
Spider-Gwen, vol. 0: Most Wanted? - Collects vol. 1 #1-5, plus Edge of Spider-Verse #2. - WorldCat - ISBN 9780785197737
Spider-Gwen, vol. 1: Greater Power - Collects vol. 2 #1-6. - WorldCat - ISBN 9780785199595
Spider-Gwen, vol. 2: Weapon of Choice - Collects vol. 2 #9-13. - WorldCat - ISBN 9780785199601
Spider-Gwen, vol. 3: Long Distance - Collects vol. 2 #14-15 & Annual #1, plus All-New Wolverine Annual #1. - WorldCat - ISBN 9781302903107
Spider-Man/Spider-Gwen: Sitting in a Tree - Collects vol. 2 #16-18, plus Spider-Man #12-14. - WorldCat - ISBN 9781302907624
Spider-Gwen, vol. 4: Predators - Collects vol. 2 #19-23. - WorldCat - ISBN 9781302905965
Spider-Gwen, vol. 5: Gwenom - Collects vol. 2 #24-29. - WorldCat - ISBN 9781302907648
Spider-Gwen, vol. 6: The Life and Times of Gwen Stacy - Collects vol. 2 #30-34. - WorldCat - ISBN 9781302911928
Spider-Gwen: Ghost Spider, vol. 1 — Spider-Geddon - Collects vol. 3 #1-4 & Video Comic #1. - WorldCat - ISBN 9781302914769
Spider-Gwen: Ghost Spider, vol. 2 — Impossible Year - Collects vol. 3 #5-10. - WorldCat - ISBN 9781302914776 - Kindle
Ghost Spider, vol. 1: The Dog Days Are Over - Collects vol. 4 #1-5. - WorldCat - ISBN 9781302920128
Ghost Spider, vol. 2: Party People - Collects vol. 4 #6-10. - WorldCat - ISBN 9781302924706
Spider-Gwen: Gwenverse - Collects Gwenverse #1-5. - AUG221008 - WorldCat - ISBN 9781302934651 - Kindle
Spider-Gwen: Shadow Clones - Collects Shadow Clones #1-5. - JUL230843 - WorldCat - ISBN 9781302951184 - (forthcoming, October 2023)
Spider-Gwen: Gwen Stacy - Collects vol. 1 #1-5 & vol. 2 #1-6, plus Edge of Spider-Verse #2 - WorldCat - ISBN 9781302919863
Spider-Gwen: Amazing Powers - Collects vol. 2 #9-5 & Annual #1, plus All-New Wolverine Annual #1 - WorldCat - ISBN 9781302923723
Spider-Gwen: Deal With the Devil - Collects vol. 2 #16-23, plus Spider-Man #12-14. - WorldCat - ISBN 9781302931650
Spider-Gwen: Unmasked - Collects vol. 2 #24-34. - WorldCat - ISBN 9781302945251
Spider-Gwen: Ghost Spider - Collects vol. 3 #1-10 & Video Comic #1. - MAY231015 - WorldCat - ISBN 9781302950101
Marvel-Verse: Spider-Gwen/Ghost Spider - Collects vol. 1 #5 & vol. 2 #1-2 & 13, plus Edge of Spider-Verse #2. - MAR231001 - WorldCat - ISBN 9781302953454
Hardcovers [ ]
Spider-Gwen, vol. 1 - Collects vol. 1 #1-5 & vol. 2 #1-6, plus Edge of Spider-Verse #2. - WorldCat - ISBN 9781302903718
Spider-Gwen, vol. 2 - Collects vol. 2 #7-15 & Annual #1, plus All-New Wolverine Annual #1. - WorldCat - ISBN 9781302909000
Spider-Gwen, vol. 3 - Collects vol. 2 #13-23, plus Spider-Man #12-14. - WorldCat - ISBN 9781302913694
Omnibus Hardcovers [ ]
Spider-Gwen Omnibus - Collects vol. 1 #1-5 & vol. 2 #1-34 & Annual #1, plus All-New Wolverine Annual #1, Edge of Spider-Verse #2, Spider-Women Alpha & Omega, Spider-Woman vol. 6 #6-7, & Spider-Man vol. ? #12-14. - WorldCat - ISBN 9781302930387
Spider-Gwen: Ghost Spider Omnibus - Collects vol. 3 #1-10 & vol. 4 #1-10 & Annual #1, plus Spider-Geddon: Ghost-Spider Video Comic , King in Black: Gwenom vs. Carnage #1-3, and Web Warriors #1-11. - DEC220812 - WorldCat - ISBN 9781302946791
History [ ]
Leftover useful information [ ], creative team [ ].
Writer: Jason Latour. Artist/Covers: Robbie Rodriguez.
Publishing History [ ]
Volume 1: #0-5, 2015 ( Spider-Gwen }
Volume 2: #1-34, 2015-2018 ( Spider-Gwen }
Volume 3: #1-10, 2018-2019 ( Spider-Gwen: Ghost Spider ) (Legacy #41-50)
Volume 4: #1-10, 2019-2020 ( Ghost-Spider ) (Legacy #51-60)
Gwenverse : #1-5, 2022 (mini-series)
Shadow Clones : #1-5, 2023 (mini-series)
Future Publication Dates [ ]
Dates subject to change at the whims of the publisher or distributor. Please see the Diamond Shipping Lists for current information.
News & Features [ ]
Marvel Comics - Publisher's Website
2 Nightwing
3 The Department of Truth
The 'Women of Marvel' Guide to Ghost-Spider
In this all-new episode of the 'women of marvel' podcast, we go inside gwen stacy's double life as ghost-spider.
It's an all-new season from the  Women of Marvel ! Listen to the latest episode from the podcast series, then tune into new character spotlight episodes each Wednesday!
Ghost-Spider AKA Spider-Gwen! On Earth-65, Gwen Stacy lives a double life as the super hero Ghost-Spider. After receiving a bite from a radioactive arachnid, Gwen became a super-powered hero with the abilities and proportional strength of a spider! But just like Earth-616's Peter Parker , Ghost-Spider must juggle her super hero identity with her day-to-day life: As a student, a daughter, and as the drummer of The Mary Janes , the band she helped form with fellow high school musicians.
In the fourth episode from the latest season of the Women of Marvel podcast, our hosts Ellie Pyle and Preeti Chhibber shine a spotlight on this hero of the Spider-Verse, talking to comic creators like Seanan McGuire and Jodi Nishijima , plus Maya Aoki Tuttle , singer, drummer, and voiceover artist on Marvel's Spidey and His Amazing Friends .
Listen to Ghost-Spider's full Women of Marvel spotlight, then catch our episode highlights below!
GWEN STACY'S SPIDER-POWERS
Seanan McGuire, writer of the GHOST-SPIDER (2019) series, described to Ellie and Preeti how, exactly, a Gwen Stacy from the Marvel Mulitverse gained spider-powers all her own:
"Over on Earth-65, which is like six steps down the turnpike and across a multidimensional bridge [from Earth-616], Gwen Stacy was bitten by a radioactive spider…kind of," McGuire explained. "[Gwen's] power situation is weird. She's not technically a spider-hero. She's technically a symbiote. So, she's more Venom than Spider-Man. But she presents as a spider-hero. She's super strong. She can generate webs, she has Spider-Sense, and she has the increased muscular strength and density necessary to be able to do those spider-acrobatics. So, she's got the full suite of baseline physical powers that you have to have to be functional."
McGuire also elaborated on Gwen's transition from "Spider-Woman" to "Ghost-Spider."
"Gwen Stacy became the Spider-Woman hero of her world and Peter Parker, who felt very overshadowed and like he was never going to amount to anything, started his descent into villainy and wound up becoming the Lizard, which resulted in Gwen accidentally killing him at their senior prom," McGuire recapped. "Gwen was recruited into the Web Warriors who protected the Web of Life and Destiny. So, she was hopping from Multiversal location to Multiversal location for a while, which means she discovered that basically every woman-identifying spider-hero goes through a period where they call themselves 'Spider-Woman.' And in the final issue of Jason Latour's initial [SPIDER-GWEN] run , she announced that she was 'Spider-Gwen.' She blew her own secret identity and went to prison. So, after that, when she got out of prison, she couldn't conceal her secret identity, but she could make it a little less blatant when she was continuing to bop around the Multiverse and wound up changing her name to 'Ghost-Spider.' Because death loves Gwen Stacy."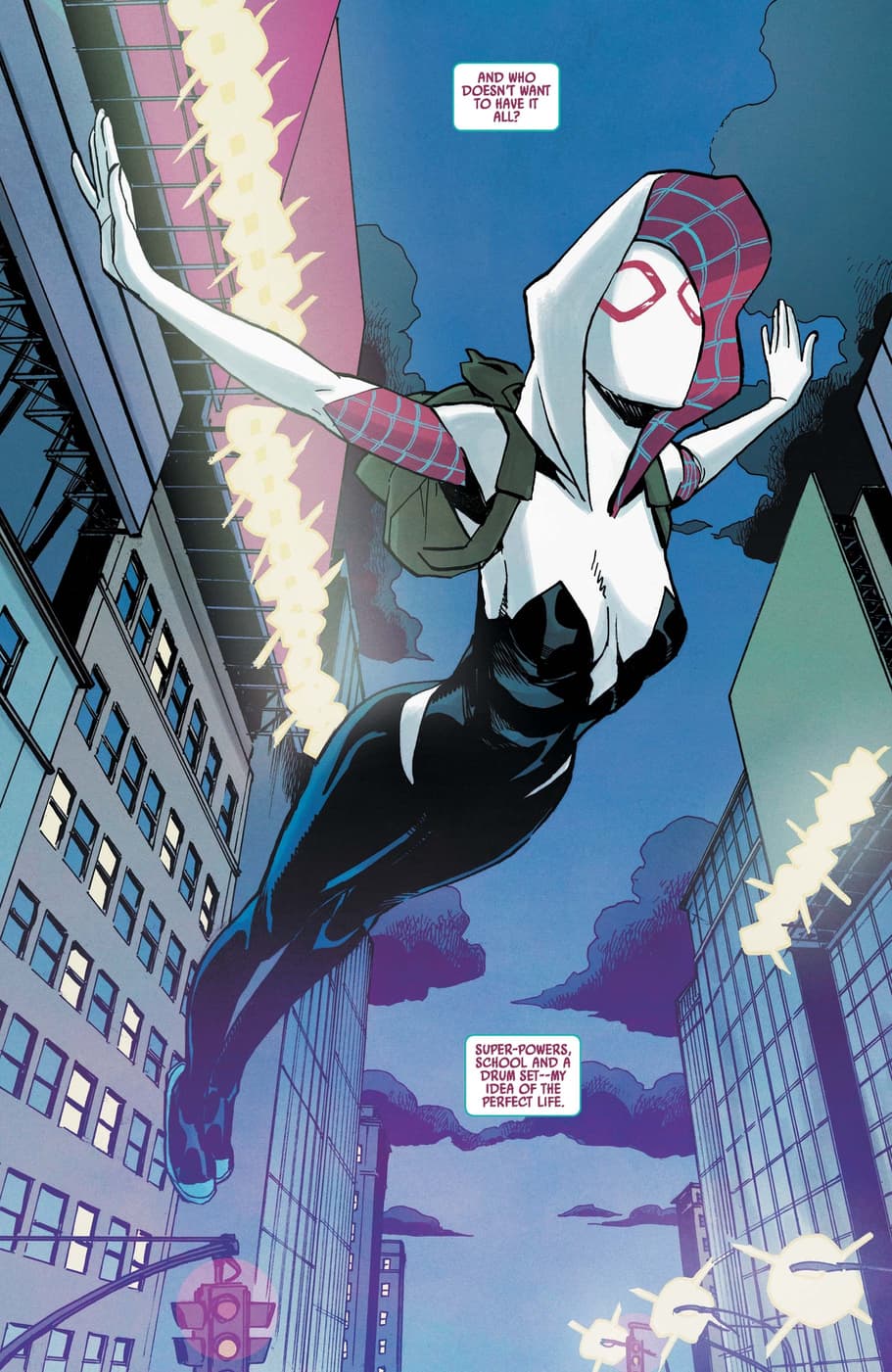 DEPICTING GHOST-SPIDER ON THE PAGE
Comic book artist Jodi Nishijima also joined Ellie and Preeti to talk about drawing a Multiverse of super-powered Gwen Stacys in SPIDER-GWEN: GWENVERSE (2022) . But there are some core attributes to Gwen that Nishijima picked up on, regardless of which universe the hero hails from:
"Looking at Gwen and knowing what I know about her, she always came across, to me, on the edgier side of characterization," Nishijima said. "I think as far as the girl next door type of character, she dips her toe into that somewhat. But for the most part, she kind of breaks that mold by virtue of not being as cutesy or sweet as, say, the average girl next door character type would be. You know, she's in a rock band. She's not just the singer or the guitarist. She's the drummer. And that's kind of a different sort of characterization than you would normally see from the 'cute girl love interest' type character."
Nishijima also appreciates the individuality of Gwen Stacy, both on Earth-616 and in her super hero personas.
"One thing that has always stood out to me is the fact that she is, across any iteration that I've ever seen of her, very independent. I think that's something that's common amongst most Spider-People. But to me, Gwen Stacy stands out just by doing her own thing at her own pace and not letting anybody tell her what to do otherwise," Nishijima reflected. "And I think that that's something that I tried to capture across every book that I drew with her and all her different personalities that I was representing."
DRUMMING UP LOVE FOR GHOST-SPIDER
"Ask an Expert" correspondent Isabel Robertson was joined by Maya Aoki Tuttle, the voice of Janet Van Dyne: Wasp on animated series Marvel's Spidey and His Amazing Friends , plus a drummer, singer, and founding member of the band The Colourist.
"When I was a kid, probably around 11, my dad was watching a documentary or something," Tuttle recalls of an inspirational moment. "And I saw an old video clip of the band The Carpenters from the 1970s, and Karen Carpenter in the band played drums, and that was the first time I had ever seen a woman playing drums. And I was just…mind blown and so excited and immediately [went] to my parents and said, 'Please, please, I want a drum set.' And that started the whole snowball. I love how the opening [of Marvel's Spidey and His Amazing Friends ] has Gwen drumming, because when I was a kid and I saw that clip of Karen Carpenter, it changed my world. And I know there's kids and little girls out there that will see Gwen drumming in that opening and be like, 'I want to do that too.'"
When asked if she would continue to drum if she, hypothetically, gained Gwen's spider-powers, Tuttle came back with a definitive "yes."
"One thing that's cool about drumming is you develop what drummers call limb independence," Tuttle shared. "So that's when each of your arms and legs do something different but coordinated at the same time. It's necessary to make advanced drumbeats, and it's really good for your brain and coordination. So, I'm thinking, if you're a super hero, you need to be tip top mentally and physically, so that limb independence, that drum practice, is probably really good to keep up your skills in your off time!"
The latest season of Women of Marvel has arrived! Tune into upcoming episodes spotlighting a new hero each Wednesday, available wherever you listen to your podcasts!
The Hype Box
Can't-miss news and updates from across the Marvel Universe!
'MARVEL SNAP' Goes Monster Hunting in New Season Bloodstone
The 'Women of Marvel' Guide to Kate Bishop, AKA Hawkeye
Preview 'G.O.D.S' #1 for Free on Marvel Unlimited Before Picking Up in Comic Shops Now
Mischievous New Loki Products Arrive
'Marvel's Spider-Man 2' Explained: Who Is Spider-Man (Peter Parker)?
Check out the November collection of Marvel's Stormbreakers Variant Covers starring Captain America, Captain Marvel, and more.
Starting in November, select Spidey issues will have 'Marvel's Spider-Man 2' Variant Covers that feature new suit designs from the upcoming video game.
Prepare for the scariest season of 'MARVEL SNAP' yet!
Read on for everything you need to know about Peter Parker AKA Spider-Man before playing 'Marvel's Spider-Man 2'!
Gwen Stacy is a member of the Secret Warriors . As a superhero, she is known as Ghost-Spider . She is voiced by Dove Cameron.
2 Appearance
3 Personality
4 Powers and Abilities
5 Equipment
6 Appearances
7 Film Appearances
8 Episode Appearances
9 Marvel Rising Initiation
History [ ]
Gwen Stacy was bitten by a radioactive spider. She did gains spider powers and became the superhero, Ghost Spider. Her friend, Kevin powers were activated in the Terrigen Wave and she helped him train to be a superhero too. On their first patrol, Kevin was murdered by a unknown villain, eventually known as Sheath. Gwen was framed for the murder and is currently trying to find the real villain.
Appearance [ ]
Gwen Stacy is a teenage girl with fair skin, blue eyes and blonde hair with face framing bangs and dyed in a pink at the end. She has a slender athletic build.
Her civilian clothing is a white shoulder-less crop top with pink lining and a spider shaped graphic on the front, black short shorts with a matching belt that has a silver buckle along with a pink flannel shirt tied around her waist and black knee-high boots. Around her neck is a black choker necklace with an arrow pendant. Also, in remembrance of Kevin , Gwen wears a friendship bracelet on her left wrist that has her and the her friends initials on it.
As Spider-Gwen, she wears a black bodysuit with white areas that form a spider design, a white hood with the interior lining being magenta with cyan web patterns, along with a hooded mask with cyan lenses outlined in magenta, matching magenta-and-cyan designs on her upper arms, and cyan soles to her boots.
Personality [ ]
Gwen Stacy is a free-spirited teen who found her calling to be a superhero after being bitten by a radioactive spider and gaining spider-like powers. As Ghost-Spider, she aids those in need, but has to keep her alter-ego a secret from her father, Captain George Stacy, who sees Ghost-Spider as more of a menace than a hero. Captain George Stacy is a detective and works for the NYPD.
Powers and Abilities [ ]
Organic Web shooters: Ghost-Spider does not need web shooters because unlike other spider people she can merely create them out of nothing.
Supernatural Agility: Gwen is more agile than most heroes and villains.
Superhuman Strength: Gwen has the proportionate strength of a spider, allowing her to lift up to 10 tons.
Superhuman Speed Gwen is faster than average humans and can catch-up to or outrun moving certain vehicles.
Superhuman Balance: Gwen possesses limitless balance capabilities. She can move easily on fast moving and violently shaking surfaces as well, no matter how quickly she may move.
Superhuman Durability: Gwen has a level of durability high enough that she can survive several direct energy blast attacks.
Superhuman Jump and Leap: Gwen can jump incredible distances and land safely, covering frighteningly tall heights and long distances.
Enhanced Marksmanship: Gwen needs only to aim for an instant before she can precisely hit a target with her webs.
Absolute Reflexes
Enhanced Regeneration:  Gwen can regenerate completely so long as they are not instantly killed by an attack.
Enhanced Senses: Gwen's senses of sight, taste, hearing, touch, and smell are glaringly, obviously and super/unnaturally more acute than their most species.
Superhuman Vision: Gwen can see a target several kilometers away without optical aid.
Seismic Sense: Gwen can detect and perceive vibrations in the earth.
Wall-Crawling: Gwen can scale and adhere to any vertical walls and surfaces and even stick to ceilings.
Drumming: Gwen is very skilled at playing the drums for the Emm-Jays.
Equipment [ ]
Drumsticks: As drummer for the Emm-Jays, Gwen carries a pair of wooden drumsticks in her backpack to bring for band practice or for performing on stage when the band has a gig to play.
Appearances [ ]
Film appearances [ ].
Chasing Ghosts
Heart of Iron
Battle of the Band
Operation Shuri
Playing With Fire
Episode Appearances [ ]
Marvel rising initiation [ ].
Mission Ghost Hunter
Floor Toms and Spider Webs
The Stories They Tell
The Secrets We Keep
Gallery [ ]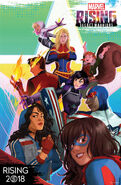 This is the first time Spider-Gwen (usually called Spider-Woman) is actually called Ghost-Spider.
Ghost Spider's friend Kevin specifically got Cryokinesis.
Gwen is voiced by Dove Cameron.
1 Gwen Stacy
2 Marvel Rising: Initiation
3 Daisy Johnson

Kotobukiya Debuts New Spider-Gwen Renewel Package Bishoujo Statue 
Posted in: Collectibles , Kotobukiya | Tagged: Kotobukiya , marvel , spider-gwen , spider-man
Suit up as Spider-Gwen once again as Kotobukiya is back with the return of her popular Bishoujo statue for collectors 
Spider-Gwen, aka Spider-Woman, aka Ghost-Spider, made her first appearance in Edge of Spider-Verse #2 back in 2014. She quickly gained lots of popularity and has now become a big character in the Spider-Verse. She has had her own comic, plenty of mini-series, and tons of crossovers under her belt. Spider-Gwen has now returned to Kotobukiya as they have announced their return to the Bishoujo statue series. This is a simple rerelease for their Renewal Package that changes up the packaging and the display base. Everything about the previous statue is back, including the swappable masked and unmasked head sculpts. The craftsmanship on this piece is just a delight, and it is a worthy addition to any Spider-Verse collection. Spider-Man and Spider-Gwen fans can find this webbed shining on into collections in August 2024 for $135. Pre-orders are already live, and she can be found right here . Go, Web Go!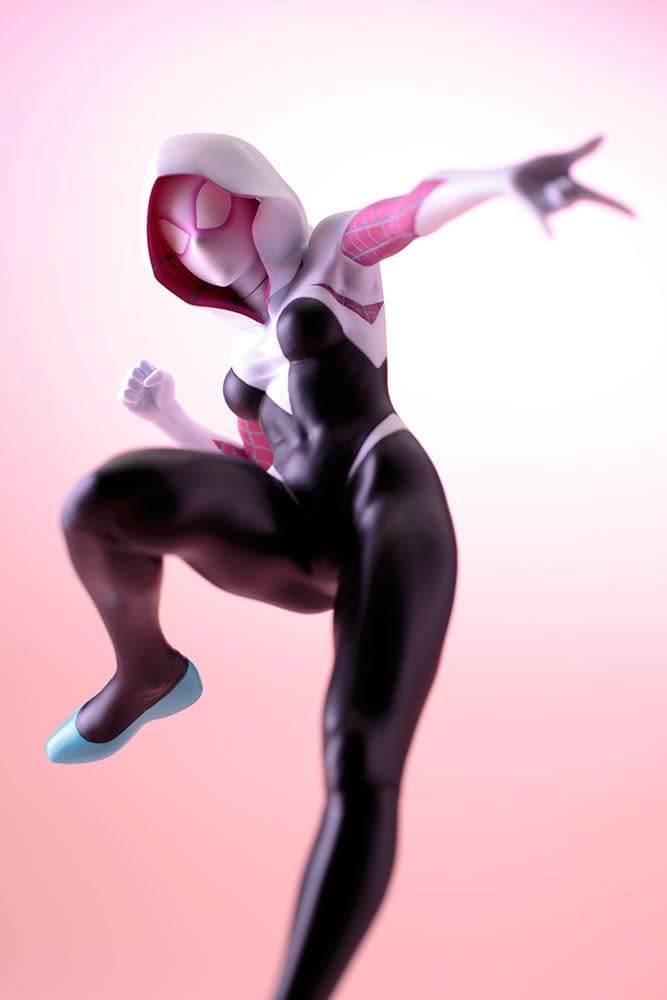 Spider-Gwen Bishoujo Gets Renewal Package Statue
"Spider Gwen, one of the new leaders of the Spider-Verse, is now available as a reproduction! Spider-Gwen is a character born from the comic ""Spider-Verse,"" which made a big splash by bringing together all the Spider-Men that have appeared before. What if Gwen Stacy was bitten by a spider instead of Peter Parker…?"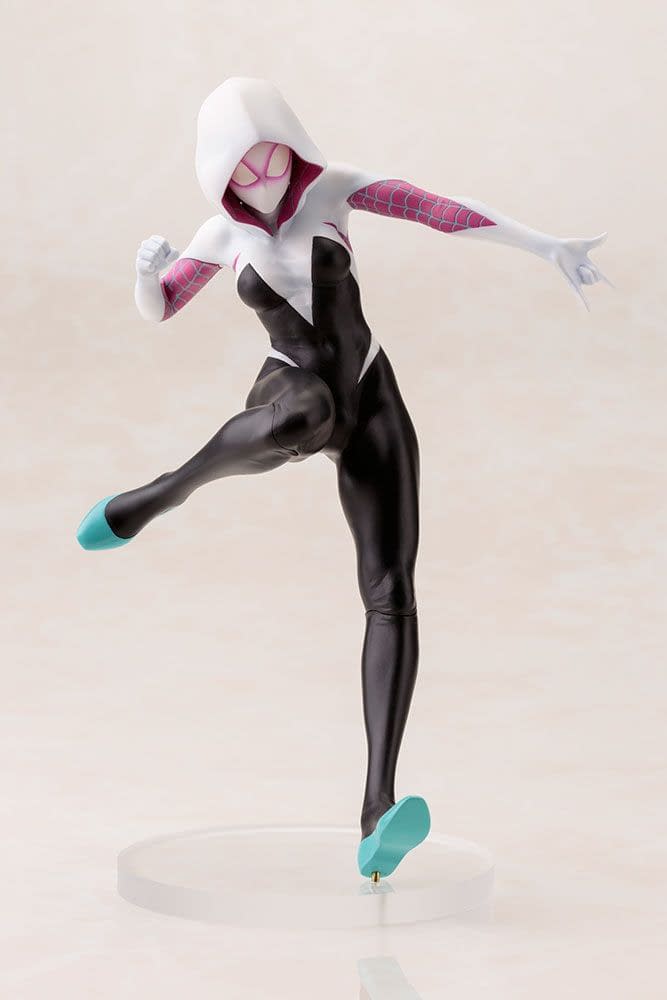 "In other words, she is the Spider-Woman of a parallel universe! This figure is based on a design drawn by Shunya Yamashita and brought to life in a dynamic pose straight from his illustration.Just like in the first production of this figure, a face part of Gwen Stacy with her gorgeous blonde hair and characteristic eyes is also included. She can also be displayed without her hood and mask." *This reproduction will have a revised base color and packaging
Enjoyed this? Please share on social media!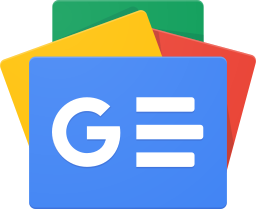 About Tyler Roberts

Latest by Tyler Roberts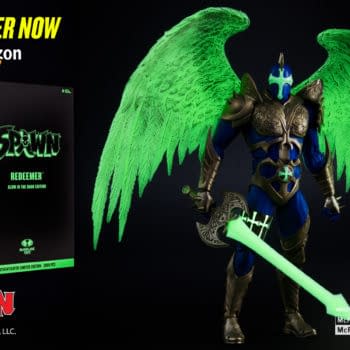 Spawn's Universe Redeemer Glows with A New Limited McFarlane Figure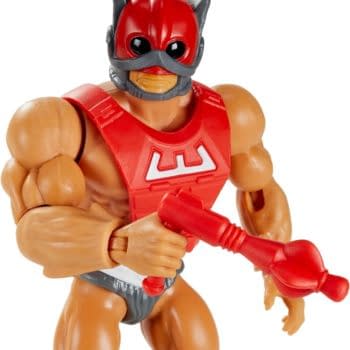 Masters of the Universe Zodac Gets An Origins Reissue from Mattel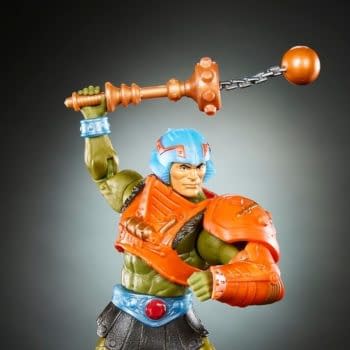 Masters of the Universe Classic Man-At-Arms Joins the Masterverse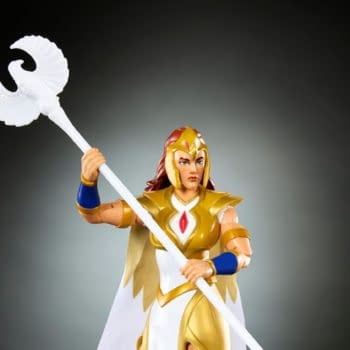 Masters of the Universe: Revolution Sorceress Teela Casts a Spell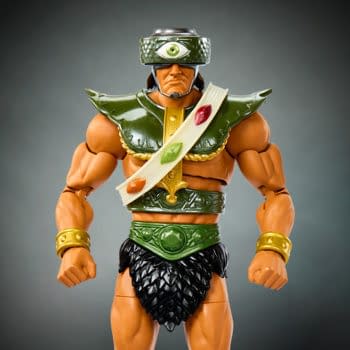 Tri-Klops Enters the Era of New Eternia with Mattel's MOTU Masterverse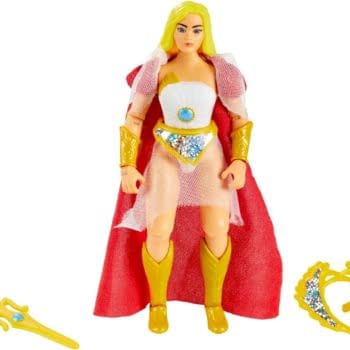 She-Ra Has Returned to Mattel's MOTU: Origins with Another Reissue 
Latest in collectibles.
Spider-Gwen – Ghost-Spider Omnibus (2023)
The comic guy.
The Story – Spider-Gwen – Ghost-Spider Omnibus (2023)
Spider-Gwen – Ghost-Spider Omnibus (2023) : Gwen Stacy returns…as Ghost-Spider! But the interdimensional events of Spider-Geddon are about to rock her world, and soon, she will face her own evil self: the Gwen Goblin! Meanwhile, Mary Jane's vision for their band is driving Gwen crazy, her father is pressuring her to return to school and something sinister stalks the New York City of Gwen's Earth-65. So Gwen enrolls in classes in the Marvel Universe instead! But the newest student at ESU has caught the Jackal's deadly eye! And when the King in Black plunges Gwen's adoptive home into darkness, get ready for Gwenom vs. Carnage! Plus: Whatever happened to the Susan and Johnny Storm of Earth-65? And look back to Gwen's time with the dimension-hopping Web-Warriors! Collects SPIDER-GWEN: GHOST-SPIDER #1-10, SPIDER-GEDDON: GHOST-SPIDER VIDEO COMIC, GHOST-SPIDER #1-10 and ANNUAL #1, KING IN BLACK: GWENOM VS. CARNAGE #1-3, WEB WARRIORS #1-11 and material from AMAZING SPIDER-MAN (2015) #1.
Free Comics Download
Spider-Gwen – Ghost-Spider Omnibus (hd-hybrid) (JTR-GetComics) Language : English | Image Format : JPG | Year :  2023 | Size : 1.5 GB
If you have any difficulties to download the files, please refer to this how-to download page .
All of the comic files are packed on .CBR and/or .CBZ file formats. Here are some of the reader apps that i can recommend : YAC Reader (Win, OSX, Linux, iOS), ComicRack (Win, Android, iOS), CDisplayEx .
To extract any compressed files, I recommend using 7-Zip .
If you encounter any broken links or corrupt files, please write on the comment section or message me through the contact form .
Want to see all the comic list? Please go to this page .
Share Article:
The Comic Guy is an admin for GetComics.Info website.
X-Men Blue #25 (2018)
The Shade #1 – 12 (2011-2012)
Catwoman Vol. 6 – Fear State (TPB) (2022)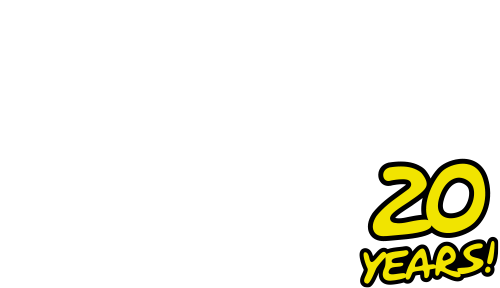 Finished Volumes
Super Hero Genre
Volumes With 10 to 19 Issues
December 2018 Volume Debut
September 2019 Volume End
Gwen Stacy Comic Books
Spider-Woman Comic Books
Spider-Gwen: Ghost-Spider Vol 1 (2018–2019)
1 Sylvie Lushton (Earth-616)
2 Ouroboros (Earth-517)
3 Peter Parker (Earth-616)
Home & Kitchen
Kids' Bedding
Comforters & Sets
Comforter Sets
Enjoy fast, FREE delivery, exclusive deals and award-winning movies & TV shows with Prime Try Prime and start saving today with Fast, FREE Delivery
Amazon Prime includes:
Fast, FREE Delivery is available to Prime members. To join, select "Try Amazon Prime and start saving today with Fast, FREE Delivery" below the Add to Cart button.
Cardmembers earn 5% Back at Amazon.com with a Prime Credit Card.
Unlimited Free Two-Day Delivery
Instant streaming of thousands of movies and TV episodes with Prime Video
A Kindle book to borrow for free each month - with no due dates
Listen to over 2 million songs and hundreds of playlists
Unlimited photo storage with anywhere access
Important: Your credit card will NOT be charged when you start your free trial or if you cancel during the trial period. If you're happy with Amazon Prime, do nothing. At the end of the free trial, your membership will automatically upgrade to a monthly membership.
Free returns are available for the shipping address you chose. You can return the item for any reason in new and unused condition: no shipping charges
Learn more about free returns.
Go to your orders and start the return
Select the return method
Image Unavailable
To view this video download Flash Player
Marvel Spidey & His Amazing Friends Ghost Spider Gwen 5 Piece Twin Bed Set - Bedding Includes Comforter & Sheet Set - Super Soft Fade Resistant Microfiber
Purchase options and add-ons
PERFECT FIT & FUN DESIGN - Twin bed set includes (1) 64 x 86 inch twin comforter, (1) 39 x 75 inch fitted sheet, (1) 66 x 96 inch flat sheet, (1) 20 x 30 inch standard pillowcase, and (1) 20 x 26 inch sham. Add a touch of decorative enchantment to your room with our fashionable and super soft Spidey & His Amazing Friends bed set.
HIGH QUALITY & GREAT VALUE - Keep your little one as cozy as can be! This bed set is super soft and great for all seasons. 100% brushed microfiber polyester allows for a comfortable night's sleep. Fade resistant and machine washable. To clean, machine wash cold. To dry, air/tumble dry on low.
GREAT GIFT - This Ghost Gwen bed set will make any child smile and will transform any bedroom, guest room, kids room, RV, or vacation home. Great gift for school or home. It rolls up for easy storage and travel. Fun and colorful design features Gwen - Ghost-Spider.
SHOP THE SPIDEY & HIS AMAZING FRIENDS COLLECTION - Complete your bedroom with our other Marvel Spidey & Friends products - Coordinating bedding and accessories available (sold separately).
OUR FAMILY COMPANY - Our company is still small and family run. We take great pride in our products and our unsurpassed customer service. We know that our wonderful customers are the reason we are in business! We offer excellent quality, non-toxic products. With our coordinating Spidey & Friends accessories, you can mix and match our high-quality and unique boy's comforter sets, girl's comforter sets, kids sheet sets, or kids pillows.
Customer ratings by feature
Customers usually keep this item
This product has fewer returns than average compared to similar products.
Similar item to consider
Frequently bought together
Similar items that may ship from close to you
Product Certification (1)
OEKO-TEX STANDARD 100 requires textiles-based products to be tested against a list of 1,000+ chemicals, to limit those which may be harmful to human health. Certification focus: #ProductSafety and #ChemicalsUsed.
Climate Pledge Friendly
Products with trusted sustainability certification(s). Learn more
STANDARD 100 by OEKO-TEX requires every component of a textiles product—including all thread, buttons, and trims—to be tested against a list of more than 1,000 harmful regulated and unregulated chemicals which may be harmful to human health. The assessment process is globally standardized, independently conducted, and updated at least once a year based on new scientific information or regulatory requirements. Certification focus: #ProductSafety and #ChemicalsUsed.
Learn more about this certification
Certification Number
From the brand.
Visit the Store
Bath & Beach
Product Description
Product information
Warranty & support, important information.
To report an issue with this product, click here .
Looking for specific info?
Customer reviews.
Customer Reviews, including Product Star Ratings help customers to learn more about the product and decide whether it is the right product for them.
To calculate the overall star rating and percentage breakdown by star, we don't use a simple average. Instead, our system considers things like how recent a review is and if the reviewer bought the item on Amazon. It also analyzed reviews to verify trustworthiness.
Reviews with images
Submit a report
Harassment, profanity
Spam, advertisement, promotions
Given in exchange for cash, discounts
Sorry, there was an error
Sort reviews by Top reviews Most recent Top reviews
Top reviews from the United States
There was a problem filtering reviews right now. please try again later..
Amazon Newsletter
About Amazon
Accessibility
Sustainability
Press Center
Investor Relations
Amazon Devices
Amazon Science
Start Selling with Amazon
Sell apps on Amazon
Supply to Amazon
Protect & Build Your Brand
Become an Affiliate
Become a Delivery Driver
Start a Package Delivery Business
Advertise Your Products
Self-Publish with Us
Host an Amazon Hub
› See More Ways to Make Money
Amazon Visa
Amazon Store Card
Amazon Secured Card
Amazon Business Card
Shop with Points
Credit Card Marketplace
Reload Your Balance
Amazon Currency Converter
Your Account
Your Orders
Shipping Rates & Policies
Amazon Prime
Returns & Replacements
Manage Your Content and Devices
Your Recalls and Product Safety Alerts
Conditions of Use
Privacy Notice
Your Ads Privacy Choices
Spider-Man: Across the Spider-Verse
Now Showing
Release date, accessibility, distributor.
Complete weekend showtimes are usually made available on Wed. for the upcoming Fri - Thurs.
Showtimes are coming soon! Tickets for this film are not yet available.