Photo Credits
Privacy Policy
BAVARIAN TIGERS UNVEIL THE GHOST TIGER EUROFIGHTER
No comments
All comments related to the contents of our articles are welcome. It is not allowed to post promotional messages, links to external sites, or references to activities not related to this blog.
New Products-Market
Special liveries, pilots exchange.
WELCOME TO BAVARIAN TIGERS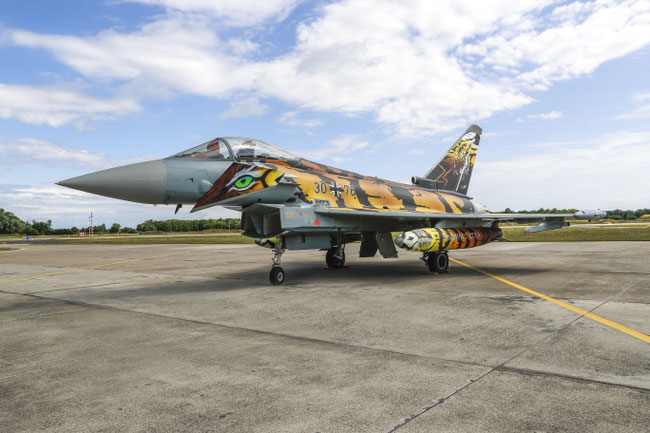 The Bavarian Tigers proudly presents the 
" T I G E R   7 4 "
ARD-Mediathek Link:
Abendschau - Der Süden: Neuburg wird zum Dorado für Planespotter | ARD Mediathek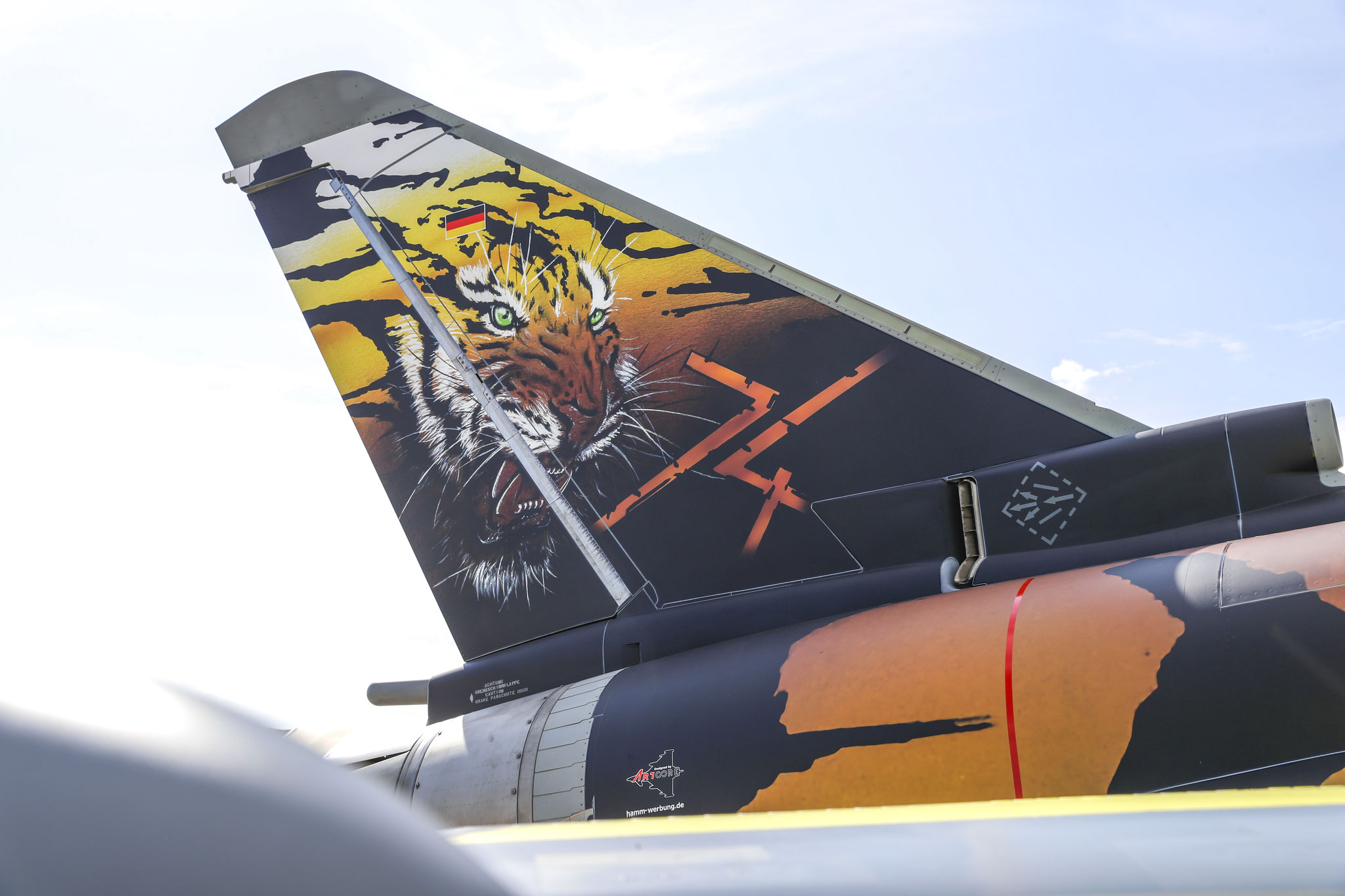 THE BAVARIAN TIGER
60 years anniversary - "the bavarian tiger".
We proudly present our anniversary Eurofighter "The Bavarian Tiger".
60 Years TaktLwG 74 and 5 years NTA Fullmember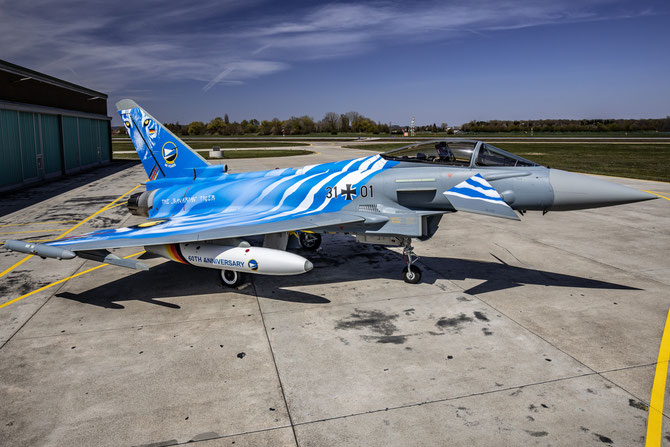 60 Years Anniversary - TFS 74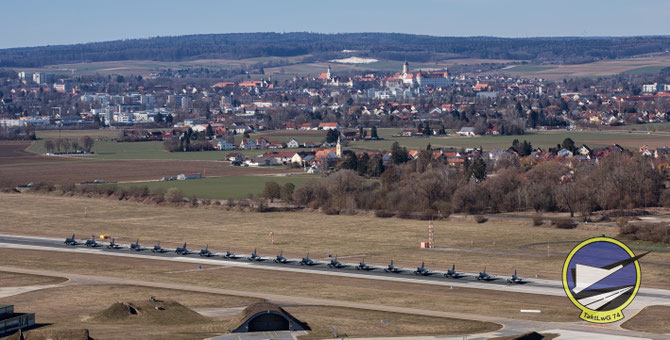 To our 60th anniversary we had planed a lot but unfortunately it´s not possible to celebrate our birthday like we would to. It´s sad but can´t be changed during this extraordinary times - BUT - some things our squadron had been managed to this special day on the 5th of May. A lowlevel Formation-Flight of Eurofighters  over Neuburg is planed and here you´ve got the possibility to take part by following offers.
A crossword puzzle for the older gerneration to prove your knowledge about our squadron. Send your printed crossword puzzle to: [email protected] until 09.04.21 to participate in the raffle. The winners will be informed by E-Mail.
A colouring picture for the younger generation which must be printed and coloured from the kids. Take a picture of the artwork and send it to [email protected] until 09.04.21. The best pictures will get prices sponsored by Spielwaren Habermeyer from Neuburg.
You´ve got birthday too on 05th May? Great! Send us a copy of your driving license or identity card and get the possibility to win some nice prices in another raffle.
The documents are attached - we wish much luck and stay healthy!
Best wishes to all of you - 
Members of TaktLwG74 / Bavarian Tigers!
Crossword Puzzle
Colouring Picture
Birthday action, tigermeet 2018 - impressions.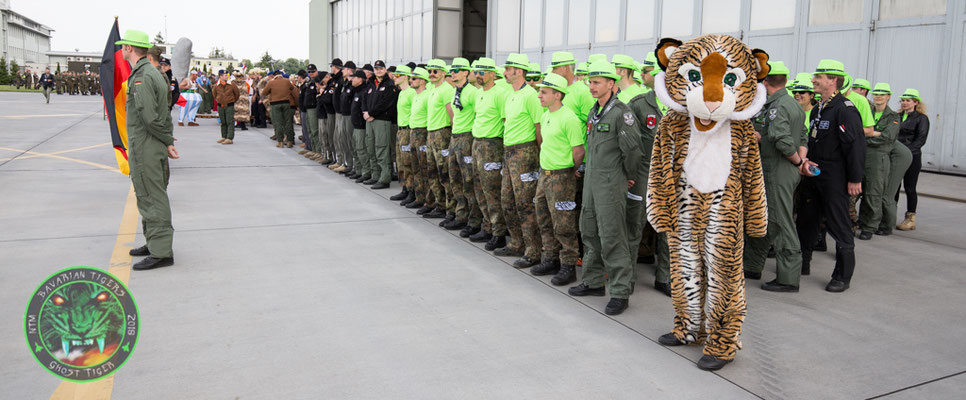 Ghost Tiger Impressions - ILA 2018
Here are some Impressions of our Ghost Tiger at the ILA in Berlin.
You´ve got some more pictures of the Ghost Tiger - feel free to send us your best shot´s! :)
Pictures from Herzl/Charly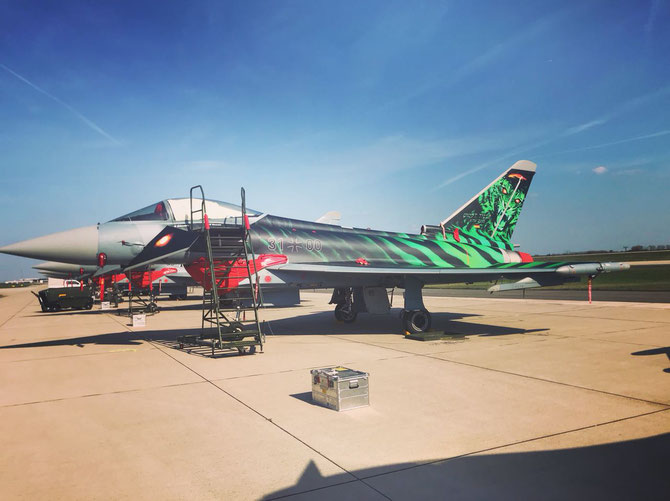 The Ghost Tiger - my evolutionary history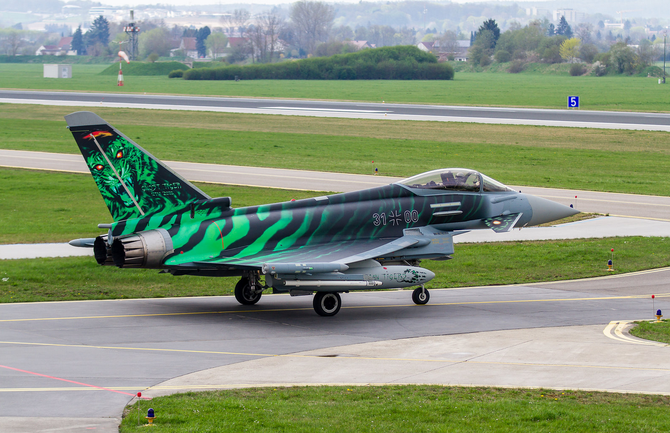 Tagebuch Ghost Tiger
Hallo ich bin der "Ghost Tiger" der Bavarian Tigers, ein Eurofighter des Taktischen Luftwaffengeschwaders 74 in Neuburg an der Donau. Meine Kennung lautet 31+00. Ich bin der 100. Eurofighter der deutschen Luftwaffe und bin bis jetzt ungefähr 600 Flugstunden mit der grauen Lackierung in der Luft gewesen. Zu meiner Anfangszeit hatte ich, da ich der 100. Eurofighter der Luftwaffe war, schon einmal eine Sonderlackierung. Später durfte ich sogar noch ein weiteres Mal mein bemaltes Seitenruder für meine Freunde des Taktischen Luftwaffengeschwaders 31 "Boelke" und des Taktischen Luftwaffengeschwaders 71 "Richthofen" zur Schau stellen.
Doch nun zu meiner Geschichte, wie ich zum "Ghost Tiger" wurde: Im Oktober 2017 wurde auf Facebook aufgerufen, ein neues Design für einen Bavarian Tigers Eurofighter im Tiger-Kleid für das kommende NATO Tiger Meet in Polen zu entwerfen.  Jeder der eine gute Idee hatte, konnte daran teilnehmen.
Einsendeschluss war Anfang November, es wurden Vorschläge aus ganz Deutschland eingereicht. Hinzu kamen Vorschläge aus England, Frankreich und Belgien. Der weiteste Vorschlag kam sogar aus Südamerika /Argentinien.
Ein Team der Bavarian Tigers, das aus Technikern und Piloten bestand, hatte die schwere Entscheidung aus den vielen Einsendungen ein geeignetes Design auszuwählen. Doch letztendlich viel die Entscheidung auf den "Ghost Tiger" von Alexander Breunig.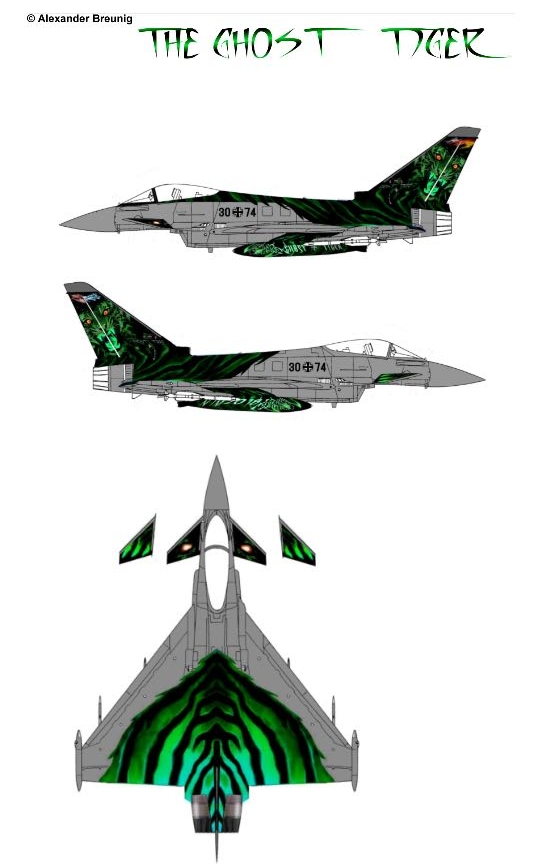 Alexander wurde eine Woche später in unser Geschwader eingeladen, um Detailabsprachen und einige Änderungen zu besprechen. Diese musste er dann zeitnah umsetzen, um die Genehmigung für die Folierung einreichen zu können. Leider ist das nicht so einfach wie bei einem Auto. Es müssen bestimmte Bedingungen erfüllt werden. Es dürfen z. B. nicht alle Bereiche foliert werden wie z. B. das Taktische Kennzeichen (Nummernschild), das Eiserne Kreuz (Hoheitskennzeichen der deutschen Luftwaffe). Viele kleine weitere Details mussten darüber hinaus beachtet werden.
Die Finanzierung musste natürlich vorher auch noch geklärt werden. Angebote für die Folierung mussten von mehreren Firmen eingeholt werden. Die Zeit verstrich und noch war alles im Zeitplan, da das Tiger Meet erst im Mai 2018 in Polen stattfindet.
Doch dann ging alles sehr schnell, der Inspekteur der Luftwaffe - General Karl Müllner wies an, dass zur ILA (Internationale Luft- und Raumfahrtausstellung) in Berlin als Highlight der Luftwaffe ein sonderbemaltes Flugzeug geschickt werden soll. Denn die ILA ist für die Öffentlichkeitsarbeit und die Nachwuchsgewinnung der Bundeswehr besonders wichtig. Und dafür braucht es Hingucker!
Da das Geschwader mit den Planungen für ein sonderbemaltes Flugzeug schon weit war und mein Design wirklich ein Highlight ist, hat sich die Luftwaffe für den "Ghost Tiger" der Bavarian Tigers aus Neuburg entschieden. Wir waren alle sehr stolz darauf, dass dieser Entwurf ausgewählt wurde. Jetzt musste alles sehr schnell gehen, da mein erster Flug somit nicht mehr im Mai, sondern einen Monat früher für die ILA erforderlich wurde.
Die Genehmigung und Finanzierung stellte kein Problem mehr dar. Die Luftwaffe kann da doch ganz schnell sein. Die notwendigen Angebote hatten wir auch. Den Zuschlag erhielt nun die Firma Hamm, eine Firma aus Neuburg, die bereits mehrfache Erfahrung hatten mit der Folierung eines Eurofighter oder Tornados. Sie durften mir damals bei EADS sogar schon mein Kleid für den 100. Eurofighter anpassen.
Es waren aber weitere Anpassungen des Designs notwendig. Deshalb musste der Designer Alexander Breunig wieder den Weg von 250 Kilometer auf sich nehmen, um Absprachen mit der Folier-Firma und den Bavarian Tigers vor Ort treffen zu können. Das Design durfte nicht die Abmessungen des Flugzeuges haben, sondern musste größer werden um die Verschnittfläche zu beachten, da genaue Größenanpassungen erst vor Ort bei der Folierung gemacht werden.
Dies bedeutete für Alexander eine Wochenendschicht, da er dies neben seinem Beruf als reines Hobby macht. Das Design war nun perfekt und konnte als Folierung umgesetzt werden. Nun begannen meine Vorbereitungen für die Folierung. Ich musste gewaschen werden um fettfrei und somit ideal für die Folierung vorbereitet zu sein. Am 3. April 2018, nachdem die Osterfeiertage vorbei waren, sollten meine vorerst letzten Tage im luftwaffengrauen Kleid sein. Die Firma Hamm rückte mit vier Mitarbeitern an, die sofort loslegten, um mich bald als neuer Tiger präsentieren zu können.
Mein linkes Seitenruder wurde als erstes foliert. Es zeigte sich sofort nach den ersten Folien, die aufgebracht wurden, dass ich ein besonders schöner Tiger werden würde!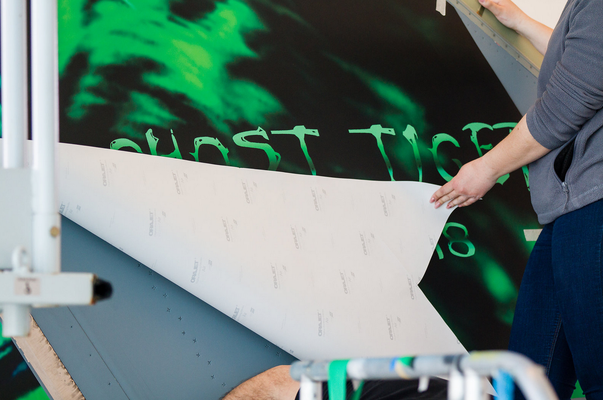 Am ersten Tag war dann auch schon fast meine komplette linke Seite fertig. Nach drei Tagen waren fast 140 Quadratmeter Spezialfolie aufgebracht. Ich war aber noch nicht fertig, da nun die Feinarbeiten losgingen.  Die Kanten mussten versiegelt werden, damit mein Tiger-Kleid im Flug auch richtig hält. Ich bin schließlich ein schneller Eurofighter, der doppelt so schnell wie der Schall, also bis Mach zwei, fliegen kann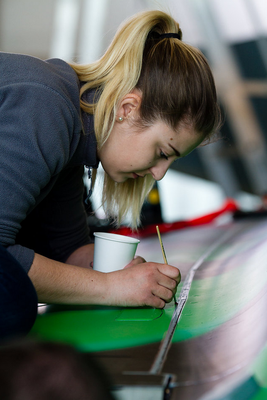 Am Freitag den 6. April 2018 war meine Folierung nun endlich fertig und ich fühlte mich zum ersten Mal als neue 31+00 "Ghost Tiger" - der ganze Stolz der Bavarian Tigers.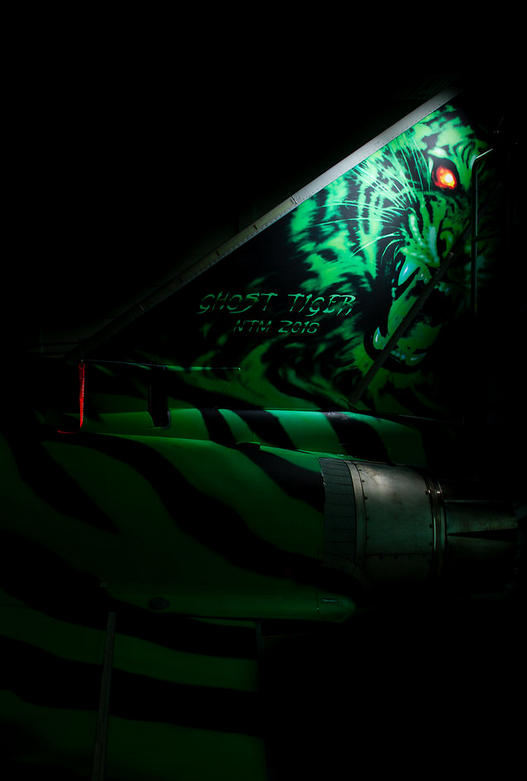 Für die offizielle Vorstellung musste ich mich aber noch gedulden. Am 11. April 2018 durfte ich endlich zum ersten Mal ans Tageslicht. Ich wurde von der Malerhalle zum Shelter 20, meiner zukünftigen Tiger-Höhle geschleppt. Einen Tag später durfte ich noch einmal kurz heraus, um die ersten Fotos im kompletten "Ghost Tiger-Look" machen zu können.
Am Abend des 12. April 2018 war es dann soweit. Meine erste offizielle Vorstellung! Ich war nervös! Der Shelter wurde im grünen Licht abgedunkelt. Die Nebelmaschine angeschmissen. Kurz darauf ging der Feueralarm los. Um Punkt 21:00 Uhr öffneten sich die Sheltertore zum Lied "Eye off the Tiger". Im Vorfeld warteten meine ersten Fans bereits ungeduldig. Es war wohl etwas zu gut gemeint mit dem Nebel. Nach etwa fünf Minuten Wartzeit lichtete sich endlich der Nebel und man konnte einen Eurofighter erkennen. Nach weiteren fünf Minuten waren alle vollauf begeistert. Der Designer sah mich zum ersten Mal live in meinem vollständigen "Ghost Tiger-Look". Ebenfalls zum ersten Mal sah mich der Kommodore vom Taktischen Luftwaffegeschwader 74, mein Folierer "Kasi" und sein Team und viele aktive Soldaten, denen ich hoffentlich als "Ghost Tiger" viel Freude und wenig Ärger bereite.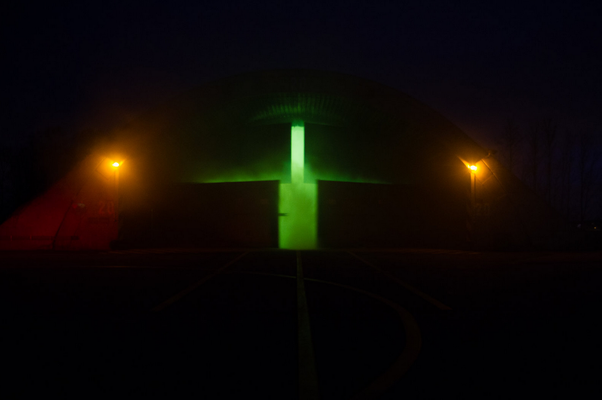 Einen Tag später wurde dann auch mein erstes Bild, bei dem ich in voller Pracht zu sehen war, auf der Facebook-Seite und auf Instagram der Bavarian Tigers gezeigt. Nach nur 24 Stunden hatten bereits 130.000 Nutzer mein Bild gesehen, 1500 Leute haben es geliked und 650 mal wurde es geteilt. Unzählige positive Kommentare machen mich stolz. Danke an alle, die dies möglich gemacht haben.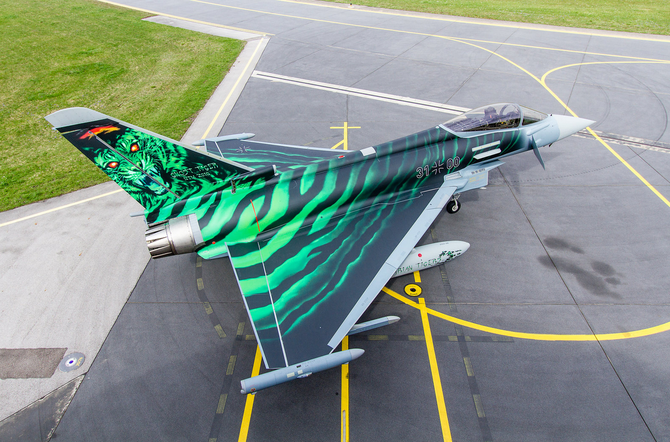 Jetzt bin ich schon ganz aufgeregt. Am Donnerstag geht es endlich los für mich und ich mache mich auf den Weg zur ILA nach Berlin. Das wird mein erstes großes Event. Ich hoffe und freue mich darauf ganz viele Fans und Freunde zu sehen. Kommt vorbei und besucht mich. Ich bin zwar ein Tiger, aber keine Angst, ich beiße nicht.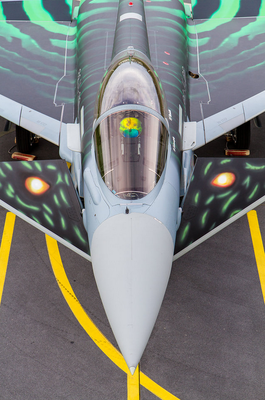 Bildmaterial von HG Schröder
Diary of the Ghost Tiger Hello, I'm the "Ghost Tiger" of the Bavarian Tigers, a Eurofighter of the Tactical Air Force Squadron 74 in Neuburg an der Donau. My ID is 31+00. I am the 100th Eurofighter of the German Air Force and so far I have around 600 flight hours with gray paint. In my early days I had a special paint job because I was the 100th Eurofighter of the German Air Force. Later, I was allowed to flaunt my painted rudder for my friends of the Tactical Air Force Wing 31 "Boelke" and the Tactical Air Force Wing 71 "Richthofen". But now to my story, how I became the "Ghost Tiger": In October of 2017 a competition was put up Facebook to design a new look for a Bavarian Tigers Eurofighter, in tiger dress, for the upcoming NATO Tiger Meet in  Poland. Anyone who had a good idea could participate. The closing date of the competition was the beginning of November. Proposals were submitted from all over Germany. There were also suggestions from England, France and Belgium. Suggestions even came from as far as South America / Argentina. A team of the Bavarian Tigers, which consisted of technicians and pilots, had the difficult decision of selecting a suitable design from the many submissions.  Ultimately the decision was made to select the "Ghost Tiger" that was designed by Alexander Breunig. A week later, Alexander was invited to our squadron to discuss detailed arrangements and some changes. He now had to implement them promptly in order to submit the permit for the foiling. Unfortunately, this is not as easy as it is with a car. Certain conditions must be met. For example, it's not allowed to foile some areas such as the tactical license plate or the Iron Cross (sovereign license of the German Air Force). Many other small details had to be considered as well. Of course, the financing had to be clarified in advance. Offers for the foiling had to be obtained from several companies. Time passed and everything was still on schedule for the Tiger Meet that will take place in May 2018 in Poland. Everything went very quickly. The Inspector of the German Air Force, General Karl Müllner, indicated that a specially painted aircraft should be sent to the ILA (International Aerospace Exhibition) in Berlin as a highlight of the Air Force because because the ILA is particularly important for the public relations and recruitment of the Bundeswehr. And there we need eye-catcher, like me! The squadron was already far along with the plans for a specially painted plane but my design is really a highlight, so the Air Force has made the decision to use the "Ghost Tiger" of the Bavarian Tigers from Neuburg. We were all very proud that this design was selected. Now everything had to go very fast. My first flight was no longer required in May, now it needed to be one month earlier for the ILA. The approval and funding were no longer problems. The Air Force can be quite fast. We also had the necessary offers. The contract was awarded to the company Hamm, a company from Neuburg, who already had multiple experiences with the foiling of a Eurofighter or Tornado. They were even allowed to customize my dress for the 100th Eurofighter at EADS. Further adjustments of the design were necessary. Therefore, the designer Alexander Breunig had to take the 250-kilometer trip again to make arrangements with the Folier company and the Bavarian Tigers. The design could not have the exact dimensions of the aircraft, but had to be larger in order to account for the surface waste, as accurate size adjustments are made on site during foiling. This meant a weekend shift for Alexander, because he does this as a hobby in addition to his profession. The design was perfect now and could be implemented as a foiling. Now my preparations for the foiling began. I had to be washed and grease-free and thus ideally prepared for the foiling. April 3, 2018, after the Easter holidays, were my last days in the Air Force gray dress. The Hamm company moved in with four employees, who immediately started the work to soon present me as a new Tiger. My left rudder was foiled first.  After the first slides were applied it was immediately clear that I would become a particularly beautiful tiger! On the first day almost my entire left side was ready. After three days, almost 140 square meters of special film were applied. But I was not done yet, because now was time for the finishing details. The edges had to be sealed to keep my tiger dress on in flight. After all, I am a fast Eurofighter who can fly twice as fast as the sound, that is to Mach two. On Friday the 6th of April 2018 my foiling was finally finished and I was, for the first time, a new 31 + 00 "Ghost Tiger" - the pride of the Bavarian Tigers. But I still had to be patient for the official performance. On April 11, 2018, I was finally able to come to light for the first time. I was dragged from the painter's hall to Shelter 20, my future Tiger Cave. A day later, I was allowed out again briefly to make the first photos in my complete "Ghost Tiger" look. On the evening of April 12, 2018, it was time. My first official presentation! I was nervous! The shelter was darkened in green light. The fog machine started. Shortly thereafter, the fire alarm went off. At 9:00 pm the shelter opened to the song "Eye off the Tiger".  My first fans waited impatiently, the anticipation increased by the fog.  After about five minutes of waiting the fog finally cleared  and you could see a Eurofighter. After another five minutes everyone was thrilled. For the first time the designer saw me in person in my full Ghost Tiger look. Also, for the first time, I saw the Commodore of Tactical Air Force Squadron 74, my Folder "Kasi" and his team, and many active soldiers, whom I hope will bring much joy and little annoyance as the "Ghost Tiger". One day later, my first picture, in which I was in full glory, was shared on the Bavarian Tigers Facebook and Instagram pages. After only 24 hours 130.000 users had seen my picture, 1500 people liked it and it was shared 650 times. Countless positive comments make me proud. Thanks to all who made this possible. Now I'm very excited. On Thursday it finally begins and I will make my way to the ILA in Berlin. This will be my first big event. I hope and look forward to seeing a lot of fans and friends. Come and visit me. I'm a tiger, but don´t worry, I won't bite.
THE GHOST TIGER - our new Tigerproject for NTM2018!
Our new Tiger Fighter Project - called the "Ghost Tiger" had been finished last week. We are very proud to present our Tigerfans this outstanding design and hope to see a lot of you to the upcoming Events - like the ILA2018 and the NTM 2018 in Poland.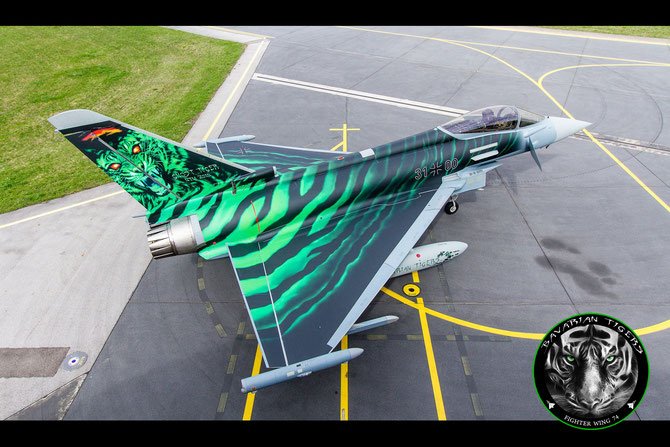 THE ATLANTIC TIGER
The Bavarian Tigers proudly present the ATLANTIC TIGER !!!
Despite various circumstances which do not allow us to participate fully in this year's # NTM17 , many people have made it possible to finally present this Tiger. Thanks to all involved!
Tiger Tiger Tiger
---> We are in Landiviseau from 8 June to 13 June and hope to see you all there ! ! !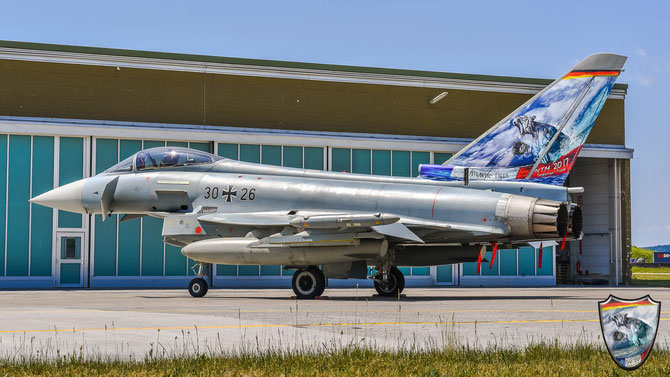 TAG DER BUNDESWEHR - TaktLwg74 - 11.06.2016
We hope to see some of you next Saturday at the Open Day at our home base Neuburg. More Infos here: https://tag-der-bundeswehr.de/standor…/neuburg-an-der-donau/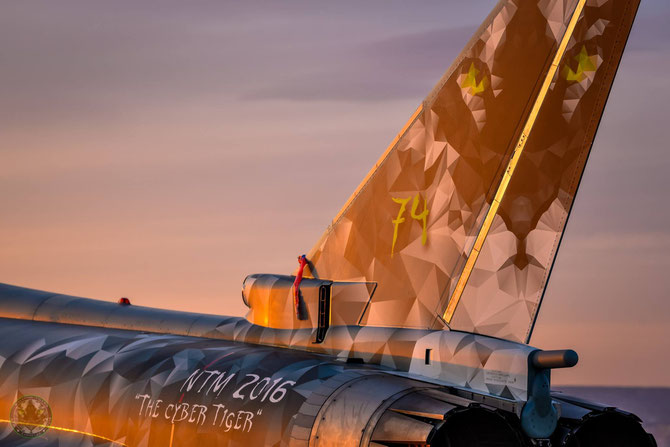 BAVARIAN TIGERS ARE NOW FULLMEMBER!!!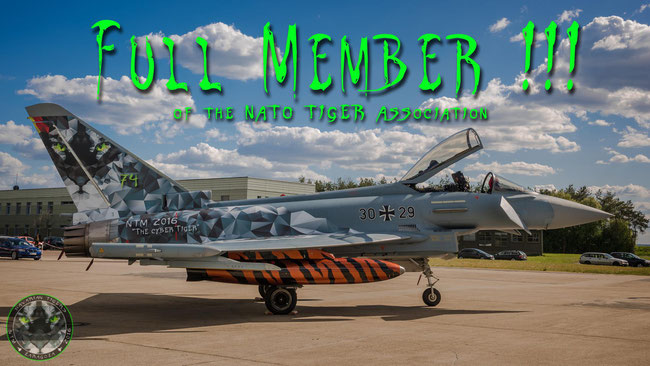 ++++ BREAKING NEWS ++++ History has been written today: the BAVARIAN TIGERS are now officially MEMBER of the NATO Tiger Association . "TURBO", yours is the spirit that we are made of !!! Thanks to all supporters and fans that were part of becoming what we are now. TIGER TIGER TIGER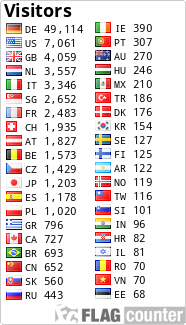 Eurofighter Ghost Tiger
Revell | no. 03884 | 1:72.
Eurofighter Typhoon
Bundeswehr luftwaffe (german air force 1956-now), box contents.
Plastic sprue (Gray) , Plastic sprue (Clear) , Decalsheet (waterslide) (Multi-colored)
Dimensions: 350x210x42 mm (13.8x8.3x1.7 inch)
Weight: 299 g (0.66 lbs)
Product timeline
Instructions
Download 7811Kb (.pdf)
Marketplace
Online shops.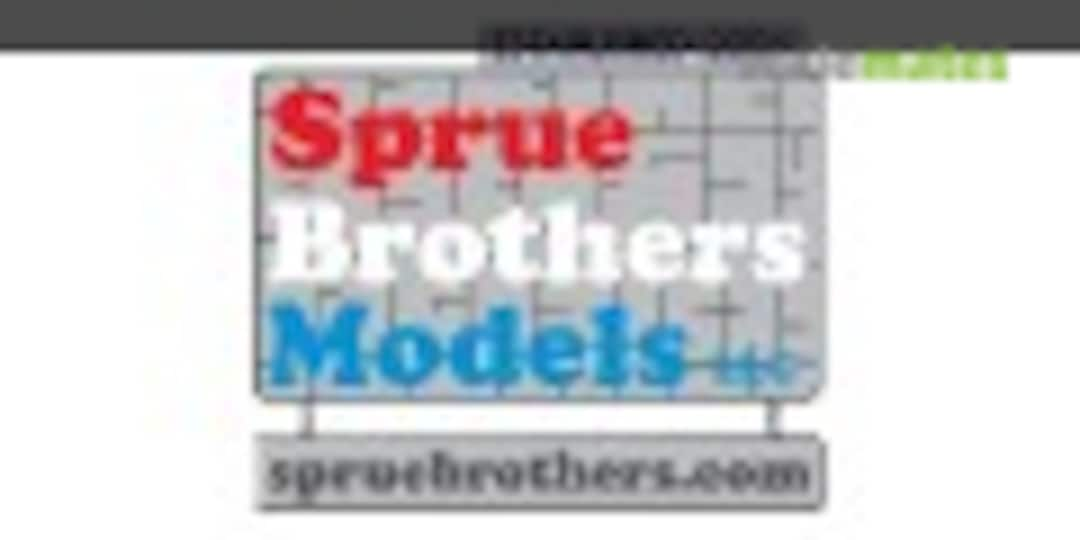 Show all offers » (13 in total)
Alternative SKUs for Revell 03884 : REV03884 | 4009803038841 | RL03884 | RVL03884 | 95-03884 | RV 03884
Note: Prices and availability are indications only. Also check if the product actually matches!
Related products
All related products » (35 in total)
In-box reviews
Quick looks.
External reviews
All reviews » (4 in total)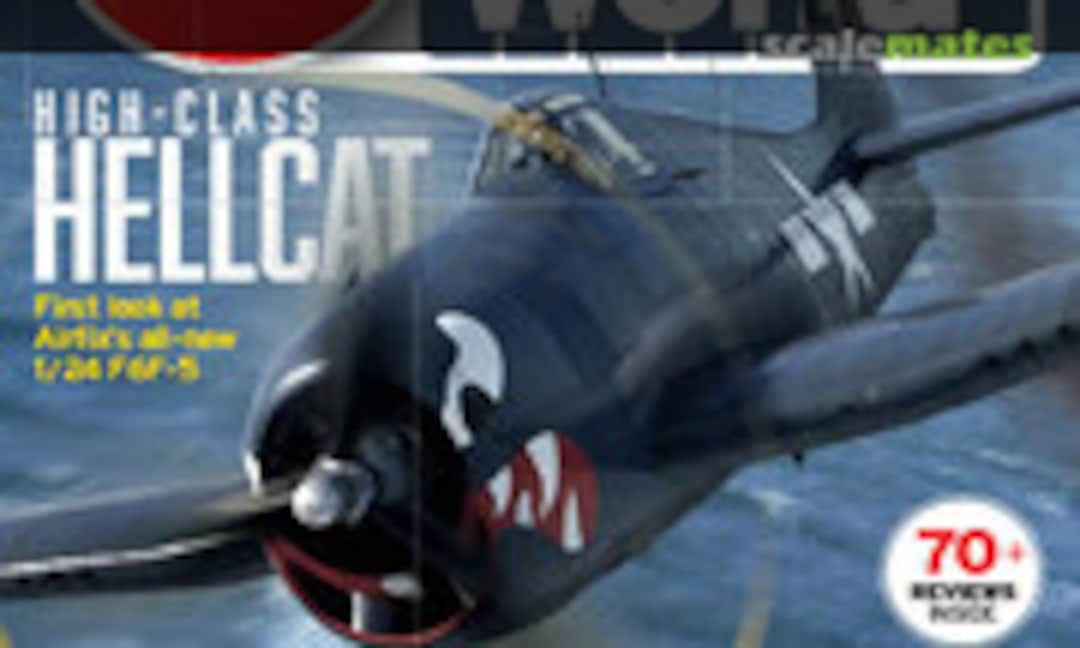 All articles » (50 in total)
Reference material
All books » (15 in total) All walkarounds » (22 in total)
Home » 1/72 Scale Plastic Model Kits » Military Aircraft » Revell – 03884 – Eurofighter "Ghost Tiger"
Revell – 03884 – Eurofighter "Ghost Tiger"
Rate this kit:.
Eurofighter "Ghost Tiger"
Model replica of the Eurofighter Ghost Tiger of the Tactical Air Force Wing 74, which won the 1st place at the Tiger Meet 2018 in Poznan. The suggestion comes from Alexander Breunig; the Bavarian Tigers have again realized a super design.
– Cockpit – Detailed air intake area – 2 thrusters – Detailed chassis – 2 external tanks – Super decals of the Ghost Tiger paint job
MARKETPLACE
This site contains affiliate links to products. We may receive a commission for purchases made through these links.
1/72 Eurofighter Ghost Tiger
See on Hlj.com » From: Japan Seller: Hlj.com Stock: Out of Stock
Revell 03884 Eurofighter Ghost Tiger Model Airplane Scale 1:72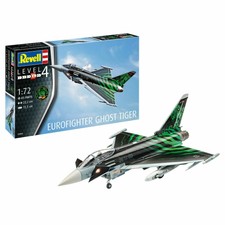 24.85 + USD
REV03884-Maquette à assembler et à peindre - Eurofighter Ghost Tiger-1/72-REVELL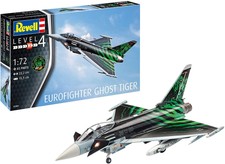 25.73 +99.63 USD
Eurofighter "Ghost Tiger" - 1:72 (Revell item: 03884)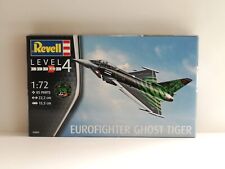 26.22 +15.74 USD
Revell 03884 Eurofighter "Ghost Tiger" 1:72 Scale Model Revell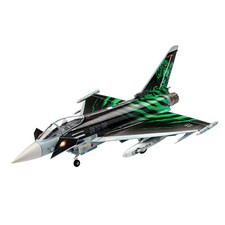 27.76 + USD
REVELL 03884 EUROFIGHTER GHOST TIGER MODEL KIT-NIB-1:72 SCALE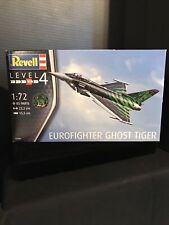 28.50 + USD
Revell 1/72 Eurofighter Typhoon 'Ghost Tiger' # 03884
See on eModels » From: United Kingdom Seller: eModels Stock: Out of Stock
Revell 03884 Eurofighter "Ghost Tiger"
See on Super Hobby » From: Poland Seller: Super Hobby Stock: Out of Stock
Eurofighter Ghost Tiger 1:72 Plastic Model Kit Revell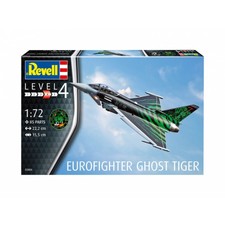 30.34 +14.69 USD
Revell 1/72 Eurofighter "Ghost Tiger "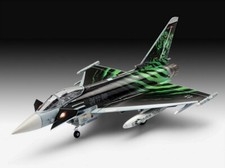 34.04 +10.69 USD
Revell #03884 1/72 Eurofighter Typhoon Ghost Tiger
40.00 +0.00 USD
REV 03884 Eurofighter «Ghost Tiger»
See on Hobby.dn.ua » From: Ukraine Seller: Hobby.dn.ua Stock: PreOrder
1:72 Eurofighter Typhoon 1/72, Multicolour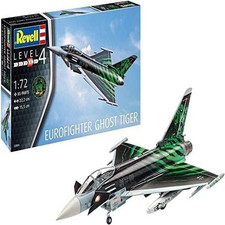 51.09 +0.00 USD
*Information on price and shipping may have changed since our last update as well as other conditions can apply. Check on partner site before buy.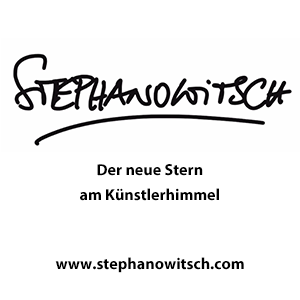 Das taktische Luftwaffengeschwader 74 in Neuburg hat einen Eurofighter in einem Tiger-Design vorgestellt. Der "Ghost Tiger" startete am Morgen des 25. April 2018 zur Internationalen Luft- und Raumfahrtausstellung ILA in Berlin, wo er für die Luftwaffe warb. Der Entwurf wurde auf eine Folie übertragen, die auf dem Eurofighter aufgeklebt ist. Der Kommodore des Jagdgeschwaders betonte, dass die Gestaltung wichtig für die Identifikation der Soldaten mit der Luftwaffe sei und die Piloten mit Stolz erfülle.
Eurofighter "Ghost Tiger" Unassembled plastic model kit
This model kit requires assembly. Cement, paint and other construction materials not included unless specifically stated in the description.
Detailed air intake area
2 thrusters
Detailed chassis
2 external tanks
Super decals of the Ghost Tiger paint job
Privacy Statement |
Security Concerns |
Sales and Refunds |
Terms of Use |
Contact Information |
Copyright © 2005-2023 Scale Hobbyist, all rights reserved
Category Menu
Join Our Newsletter
What's Private Warehouse?
Help Center
After click "Buy Now", the item are placed in PRIVATE WAREHOUSE.
1/72 Eurofighter Ghost Tiger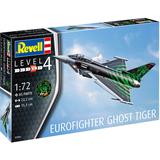 Out of Stock
₽2,731.19 RUB ₽3,413.98 RUB
Temporarily out of stock. Place an order now to enter the purchase queue when stock becomes available. Future arrival date is currently unknown.
Description
This is an injection-plastic jet aircraft model kit.
From Revell:
Model replica of the Eurofighter Ghost Tiger of the Tactical Air Force Wing 74, which won the 1st place at the Tiger Meet 2018 in Poznan. The suggestion comes from Alexander Breunig; the Bavarian Tigers have again realized a super design.
[Kit Features]:
Detailed air intake area
2 thrusters
Detailed chassis
2 external tanks
Super decals of the Ghost Tiger paint job
Code: REV03884
JAN Code: 4009803038841
Release Date: 2019/05/29
Category: Aircraft
Item Type: Military Jet Kits
Manufacturer: Revell
Item Size/Weight: 35 x 21.2 x 4.2 cm / 300g
Assembly Guide
Skill level 0:, no assembly required, skill level 1:, very easy to complete, skill level 2:, easy to complete, skill level 3:, basic skills required, skill level 4:, advanced skills required, skill level 5:, kits for experts, cement required, a safety note about instant cement, no cement required, painting required, this model kit or accessory must be painted in order to achieve a realistic appearance., no painting required, this item does not require painting..
New Customer Guide
Shipping Methods
Payment Methods
Stock Status
Terms & Conditions
Privacy Policy
Private Warehouse
Account Details
Order History
Payment Method
Corporate Profile
Be the first to hear about new products, events and special offers
All contents © 2023 HobbyLink Japan Ltd. Kurohakama-cho 162-1, Sano, Tochigi 327-0813 JAPAN
Go to main menu
Jump to content
Go to shopping cart
Spare Parts Finder
More than 8.450 products
Where is my order?
Delivery costs
Payment options
All help topics
Are you a new customer?
Revell Eurofighter "Ghost Tiger"
Out of Stock Our shop no longer sells this product.
Similar products:
Revell f-​14a tomcat.
Delivery by October 13
Revell R.M.S. Titanic
Revell boeing 747-​8 lufthansa "new livery", product information & technical details.
Manufacturers: Revell
Product types: Model Making
Difficulty level: Level 4
Scale: 1:72
A model replica of the Eurofighter Ghost Tiger of the Tactical Air Force Wing 74, which won 1st place at the Tiger Meet 2018 in Poznan. The proposal comes from Alexander Breunig; The Bavarian tigers have once again realised a great design.
Decals of the Ghost Tiger included.
English reviews written for Revell Eurofighter "Ghost Tiger"
Magazine articles:.
colorFabb_HT - Temperature Resistant Filament
YouTube Episode: HueForge
This is how you create a creative Lithophane lamp with a 3D printer
Printing Tips for the colorFabb CorkFill
Product test: UniFormation GKtwo
Discover 3DJake:
AddNorth X-PLA Cold White
5 Customer reviews for Phrozen LCD Screen
FlashForge Adventurer 4 Pro
colorFabb PLA Economy Light Grey
New Products:
Fiberlogy PC/ABS Natural
Elegoo Neptune 4 Plus
Polymaker Halloween Bundle
UniFormation Replacement Resin Tank
All Metal Hotend for Bambu Lab (incl. Hardened Steel Nozzle)
Delivery in 3 business days.
Secure payments with SLL encryption technology
We strive to achieve zero carbon emissions
We avoid CO2 emissions wherever we can! Our remaining carbon footprint is compensated through eco-social projects.
We love cookies
We'd like to offer you the best possible shopping experience. For this reason, we use cookies and third-party services to improve the services we offer, display relevant advertisments and receive usage statistics. These cookies help us continuously improve our websites. Find out more about these topics in your settings as well as in our Privacy Policy. Data protection information
Individual privacy policy settings
We collect user journey data to show you relevant sponsored content about our products. For example, we use information from your previous purchases and interactions with the site. We may share this information and a customer identifier, such as device data, with third parties such as Facebook and Google. We use the following services on this site:
Meta-Pixel, Google Ads, Google Analytics, Google Analytics, Microsoft Advertising, Google customer reviews, Klarna, Ads Defender
Personalisation
Based on your interactions with the site, your shopping preferences, and the brands you prefer, we can personalise the content that you see. For a personalised shopping experience, we recommend the following services:
AWIN, Sovendus, Omniconvert, creativecdn.com (RTBHouse)
This data helps us to optimise your shopping experience, eliminate bugs, and test out new features and functions. It also helps us keep the overall focus on user experience on our site as well as analyse our shop for business-related issues. We use the following services:
Clarity, Google Tag Manager, Amazon Pay
External media content
When you accept these services, we are able to show you videos or other media content hosted by external providers. For this purpose, we use the following third-party services on this website:
Vimeo, YouTube
Always active
Essential cookies ensure functions that you need to use our website. These cookies are only used by us (first party cookies) and cannot be traced back to you. These cookies are used, for example, to keep the products you add to your shopping basket saved in your basket while you're shopping.
Arts, Crafts & Sewing
Model & Hobby Building
Airplane & Jet Kits
Enjoy fast, FREE delivery, exclusive deals and award-winning movies & TV shows with Prime Try Prime and start saving today with Fast, FREE Delivery
Amazon Prime includes:
Fast, FREE Delivery is available to Prime members. To join, select "Try Amazon Prime and start saving today with Fast, FREE Delivery" below the Add to Cart button.
Cardmembers earn 5% Back at Amazon.com with a Prime Credit Card.
Unlimited Free Two-Day Delivery
Instant streaming of thousands of movies and TV episodes with Prime Video
A Kindle book to borrow for free each month - with no due dates
Listen to over 2 million songs and hundreds of playlists
Unlimited photo storage with anywhere access
Important: Your credit card will NOT be charged when you start your free trial or if you cancel during the trial period. If you're happy with Amazon Prime, do nothing. At the end of the free trial, your membership will automatically upgrade to a monthly membership.
Free returns are available for the shipping address you chose. You can return the item for any reason in new and unused condition: no shipping charges
Learn more about free returns.
Go to your orders and start the return
Select the return method
Other Sellers on Amazon
Image Unavailable
To view this video download Flash Player
1:72 Eurofighter Typhoon
With Glue, Paint & Brush
Without Glue, Paint & Brush
Purchase options and add-ons
About this item.
Highly Detailed Model Kit
Faithful Reproduction Of The Original Design
Step By Step Illustrated Instruction Manual
Decal Set Included
Additional Details
Buy it with
Customers who viewed this item also viewed
Product information
Warranty & support, important information, safety information.
small parts
To report an issue with this product, click here .
From the manufacturer
Eurofighter Typhoon "Ghost Tiger"
A replica model of the Eurofighter "Ghost Tiger" from the Luftwaffe's Tactical Squadron 74, that won 1st place at the 2018 Tiger Meet in Poznan. The suggestion came from Alexander Breunig; Here, the Bavarian Tigers have once again realised a super design.
A Closer Look At The Details
This is a Skill Level 4 kit
This is a plastic model kit that needs to be assembled and painted to complete. Glue and paint are not included (see recommendations below) and must be obtained separately.
Suitable for advanced model builders, experience in gluing and painting is required.
Rated for ages 12 and up.
Suitable for advanced model builders
Suitable for ages 12 years and upwards
The Skill Level System
Easy navigation of the range.
Model building is a fun pastime for the whole family, allowing you to create detailed scale replicas of the world's most famous aircraft, ships vehicles and spacecraft, both fact and fiction!
All Revell plastic model kits are arranged into a 5-tier 'Skill Level' system, which lets you see the most appropriate level for you or the person you're purchasing for. From this, you can choose kits from the most appropriate level or levels, dependent on previous building experience.
Easy navigation of the Revell plastic kit range
Choose subjects that match your experience
Work your way up the Skill Level System as your experience grows
What's in the box
Looking for specific info, customer reviews.
Customer Reviews, including Product Star Ratings help customers to learn more about the product and decide whether it is the right product for them.
To calculate the overall star rating and percentage breakdown by star, we don't use a simple average. Instead, our system considers things like how recent a review is and if the reviewer bought the item on Amazon. It also analyzed reviews to verify trustworthiness.
Reviews with images
Submit a report
Harassment, profanity
Spam, advertisement, promotions
Given in exchange for cash, discounts
Sorry, there was an error
Sort reviews by Top reviews Most recent Top reviews
Top review from the United States
There was a problem filtering reviews right now. please try again later..
Top reviews from other countries
Amazon Newsletter
About Amazon
Accessibility
Sustainability
Press Center
Investor Relations
Amazon Devices
Amazon Science
Start Selling with Amazon
Sell apps on Amazon
Supply to Amazon
Protect & Build Your Brand
Become an Affiliate
Become a Delivery Driver
Start a Package Delivery Business
Advertise Your Products
Self-Publish with Us
Host an Amazon Hub
› See More Ways to Make Money
Amazon Visa
Amazon Store Card
Amazon Secured Card
Amazon Business Card
Shop with Points
Credit Card Marketplace
Reload Your Balance
Amazon Currency Converter
Your Account
Your Orders
Shipping Rates & Policies
Amazon Prime
Returns & Replacements
Manage Your Content and Devices
Your Recalls and Product Safety Alerts
Conditions of Use
Privacy Notice
Your Ads Privacy Choices
By Manufacturer
By Manufacturer (P-S)
RVG03884 1:72 Revell Germany Eurofighter Ghost Tiger
Revell Germany
Description
Warranty information.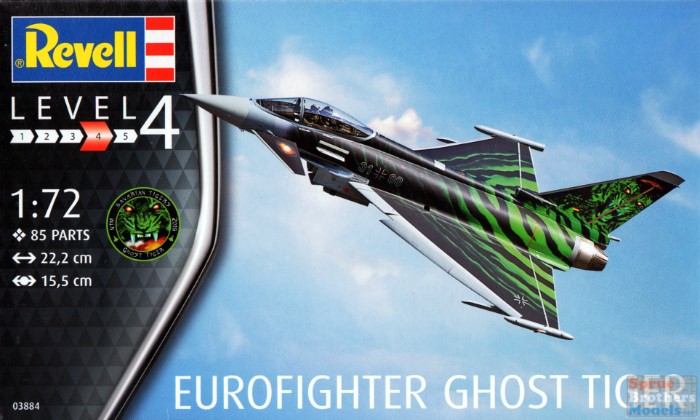 Customers Also Viewed
RVG03858 1:72 Revell Germany F-22A Raptor
ACA12432 1:72 Academy F-18C Hornet Chippy Ho 2009 #12432
RVG03876 1:72 Revell Germany MH-47E Chinook
RVG04444 1:72 Revell Germany Bell UH-1D Huey 'SAR'
ACA12442 1:72 Academy MiG-21 Fishbed
RVG03818 1:72 Revell Germany Eurofighter Typhoon Bavarian Tiger 2021
ACA12402 1:72 Academy A-10A Thunderbolt II 'Operation Iraqi Freedom'
RVG04892 1:72 Revell Dassault Rafale M
RVG03952 1:72 Revell Germany Eurofighter Typhoon Single Seater
RVG03929 1:72 Revell Germany Airbus A400M Atlas
RVG03900 1:72 Revell Germany Eurofighter Typhoon RAF
SPH72159 1:72 Special Hobby Douglas D-558-1 Skystreak
Special Hobby
RVG03909 1:72 Revell Germany OV-10A Bronco
MNGDS003 1:72 Meng F-102A Case X Delta Dagger
RVG04907 1:72 Revell Germany EH-101 Merlin HMA.1
AFX03085A 1:72 Airfix BAe Hawk T Mk 1A
RVG03834 1:72 Revell Germany F-18F Super Hornet
MNGDS005 1:72 Meng F-102A Case XX Delta Dagger
WPD10011 1:72 Wolfpack T-2C Buckeye 'Last Flight'
Wolfpack Design
SPH72281 1:72 Special Hobby DH.100 Vampire "In Northern Skies"