Awards Season
Big Stories
Pop Culture
Video Games
Celebrities
Ricky & the Bois: A Love Letter to 10 Black Queer Film Characters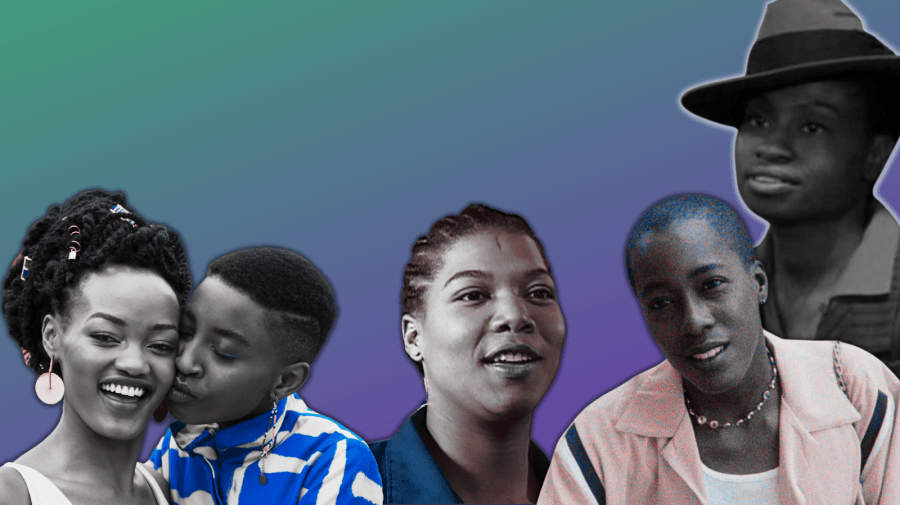 Lackawanna Blues (2005), a film based on the life story of Ruben Santiago Jr., is a moving depiction of an unlikely family. The supporting cast elevates the story even further, especially Ricky (Adina Porter), one of cinema's most vital Black queer film characters.
As a Black queer person who's still creating themselves, my interest was piqued by Ricky, a masculine-of-center woman, when I first watched the film. And while Ricky's phenomenal, she's also just one of the many magnificent Black queer characters in film that deserves their flowers. With this in mind, let's take a look at 10 incredible Black queer characters — starting with the incomparable Ricky from Lackawanna Blues .
Ricky in Lackawanna Blues (2005)
Ricky is one of the smoothest people in the history of film. She's a supporting character but from her first appearance in Lackawanna Blues , she commands attention. Her swagger is enviable. She's bold, suave and debonair. It doesn't matter that people are giving her a hard time. It doesn't matter that the world makes it clear that her mere existence is unwelcome.
Not only was Ricky here — here over a decade ago, no less — but she was unashamed . While Lackawanna Blues primarily tells the story of a woman who runs a boarding house and the young boy she takes under her wing, the many memorable tenants make the film uniquely marvelous. Ricky is one of those tenants — not just an inspiring Black queer character in her own right, but part of the movie's chosen family of sorts.
Alike in Pariah (2011)
Alike (Adepero Oduye) is trying to find her way in a world that's hostile to her very existence. On top of figuring out how to date, she's juggling her friendships and dreams, all while trying to make space for a mother who doesn't know how to love her. And, of course, Alike's still discovering her sexuality, something she does in secret for the most part.
But Alike's journey in Pariah , one of our favorite queer stories ever captured on film , leaves an impression in large part due to the courage and conviction Alike embodies. For some folks, taking on those traits is a fact of everyday life, and this incredible character illuminates the importance of forging your own path.
Celie in The Color Purple (1985)
Although The Color Purple downplayed the relationship between Celie (Whoopi Goldberg) and Shug (Margaret Avery), their love story is revolutionary. Both on screen and in the pages of Alice Walker's novel of the same name, Celie blooms in love, despite a past marked by abuse. In fact, her love for Shug is a bright spot in this otherwise gut-wrenching story.
Although other characters repeatedly harp on Celie, telling her she's not desirable, she doesn't crumble. Instead, she learns to stand up for herself, runs a business and thrives outside of her abusive upbringing and marriage. But she also doesn't have to change to do so. While The Color Purple is certainly a heartbreaking film, the depiction of Celie finding herself and surviving is incredibly affirming, and that can't be overlooked.
Cleo in Set It Off (1996)
Set It Off is mired in tragedy, but the main characters' friendship carries the audience through it all. Each of the women is incredible, but Cleo (Queen Latifah) commands our attention as an unapologetically masculine queer woman.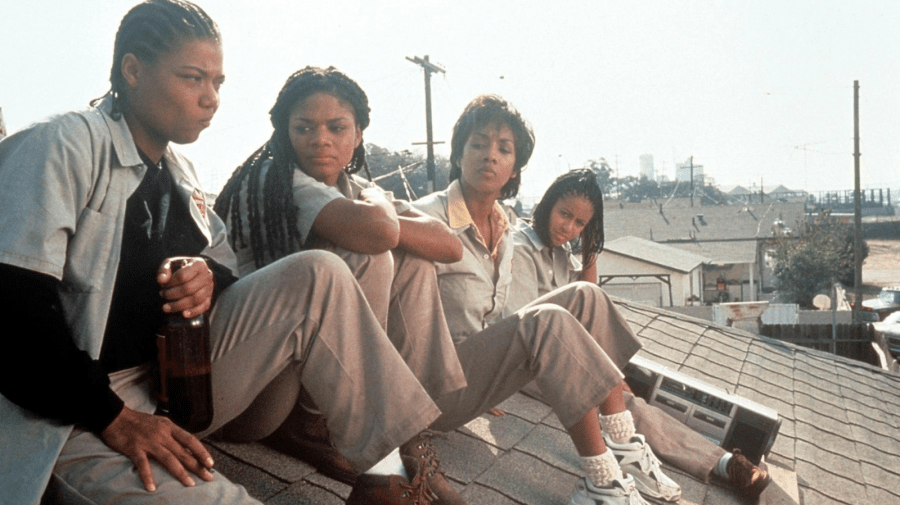 From her straight-back cornrows and white undershirt, to how she spoke and carried herself, Cleo oozed confidence and rugged masculinity. She embraces her girlfriend openly; her identity isn't a source of conflict in the movie. Instead, it just is . And while she's tough and cool, Cleo also has so much heart.
Without a doubt, Cleo's role in such a mainstream film helped showcase that womanhood is expansive, and that queerness isn't something to hide.
Joanne in Rent (2005)
A central character in the musical Rent , Joanne Jefferson has been portrayed by numerous actors on the stage, but Tracie Thom's portrayal of the type-A character in the film adaptation is truly something to remember. Joanne navigates the corporate world, a band of free-spirited artists and her relationship with Maureen (Idina Menzel), a woman who's difficult to pin down and understand. ( To say the least .)
And although Joanne doesn't necessarily do all of this gracefully, she reminds us that life is complicated — and that's okay. At the same time, her character shows us that staying open to new possibilities often leads to a wealth of new experiences.
Ma Rainey in Ma Rainey's Black Bottom (2020)
In Ma Rainey's Black Bottom , one of 2020's best films , a recording session brings out conflict among bandmates. But at the heart of the band is the brilliant Ma Rainey (Viola Davis).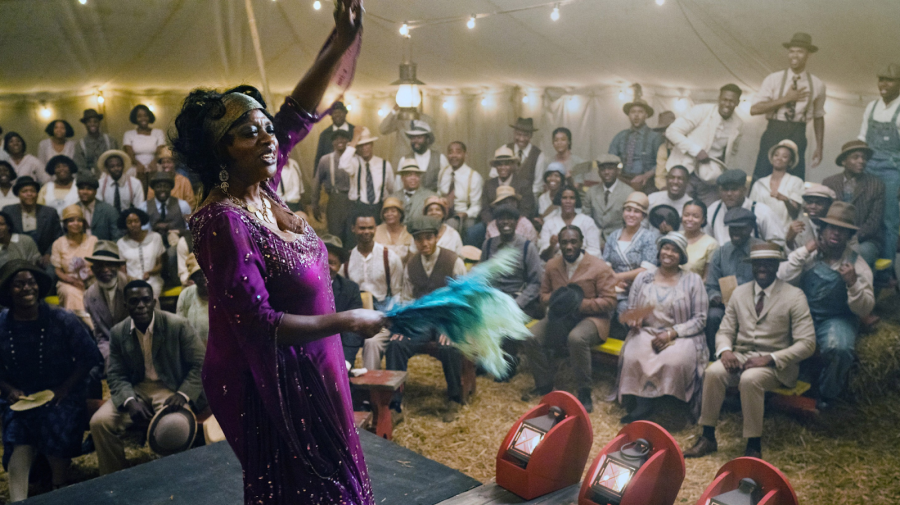 Ma is fully aware of what her talent is worth — and we don't always get to see that kind of knowing confidence on screen. Not to mention, her business savvy and signature style are unforgettable. Ma Rainey embodies luxury and pleasure in a way that's incredibly affirming, and illustrative of the fact that deep, profound joy is possible even during difficult times.
Bessie Smith in Bessie (2015)
Ma Rainey's protégé, Bessie Smith is a Black queer icon. In Dee Rees' ( Mudbound , Pariah ) film, Queen Latifah portrays the blues legend with a breathtakingly beautiful and intimate approach. And that's something we don't often get to see when it comes to figures who're so famous, so known .
But, here, the musician is more than just "The Empress of the Blues". Bessie's passion for life and her greatness — even in the face of shortcomings — challenges us to invite nuance into our understanding of others and ourselves.
Cheryl in The Watermelon Woman (1996)
This widely celebrated film follows Cheryl, played by filmmaker Cheryl Dunye, as she attempts to make a film about a Black actress credited as "The Watermelon Woman". While on this artistic journey, Cheryl falls for a customer (Guinevere Turner) at her day job. From there, the film touches on the intricacies of interracial relationships, Black art, white progressives and more.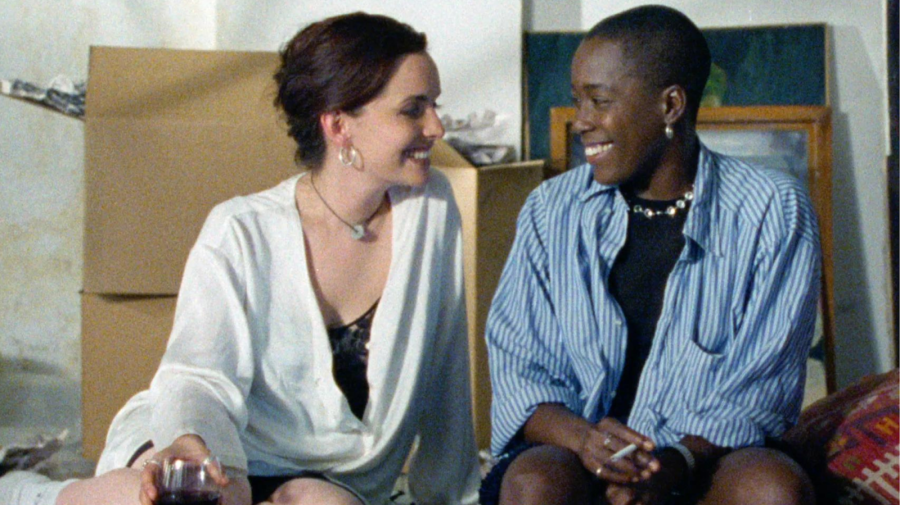 Still, Cheryl — as a character — remains especially intriguing. She isn't concerned about fitting into a masculine or feminine ideal. The filmmaker is goofy, curious and hopeful. Watching Cheryl awkwardly stumble toward a deeper understanding of herself — and her subject, The Watermelon Woman — can be both painful and humorous, but, no matter the case, she's always endearing, entertaining and relatable. And that makes her one of cinema's great Black queer film characters.
Chiron in Moonlight (2016)
The Oscar-winning Moonlight , written and directed by Barry Jenkins, centers on Chiron, a Black gay man from south Florida. Adapted from Tarell Alvin McCraney's unpublished and semi-autobiographical play, In Moonlight Black Boys Look Blue , the film is a coming-of-age story in three acts.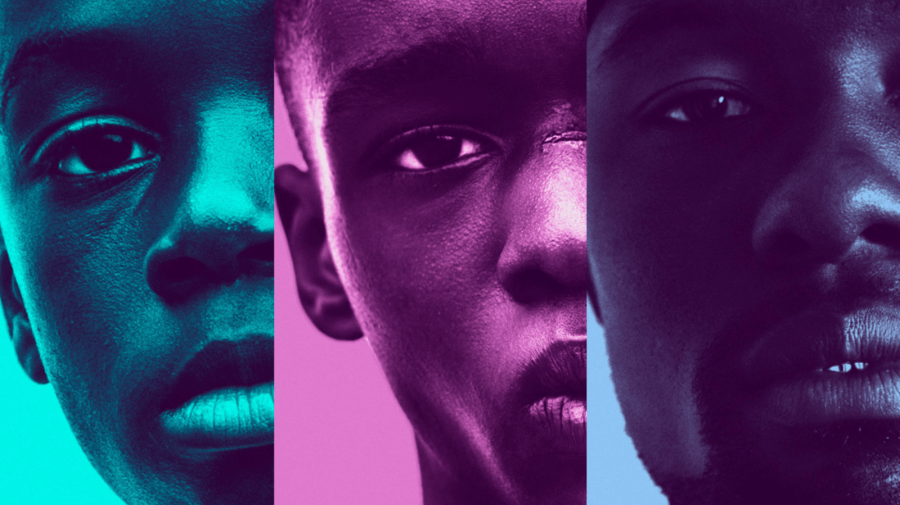 There's child (Alex Hibbert), teen (Ashton Sanders) and adult Chiron (Trevante Rhodes); no matter the moment in his life, our protagonist is searching for belonging. But what's perhaps most striking about Chiron is how he remains a sensitive — albeit guarded — person despite his transformation.
Kena in Rafiki (2018)
Kena (Samantha Mugatsia) and Ziki's (Sheila Munyiva) budding romance is at the center of Wanuri Kahiu's Kenyan drama Rafiki . In particular, there's just something so striking and heartwarming — all at once — about Kena's innocence and tenderness. As you might expect, Mugatsia's performance is one of the must-see film's major draws.
When Kena and Ziki grow closer, Kena's status as "just one of the boys" comes under some scrutiny, opening up a conversation about how men accept her in male-dominated spaces in incredibly conditional ways. Kena's navigation of public spaces, romantic and platonic relationships and her own identity all help to create a character whose journey stays with us long after the credits roll.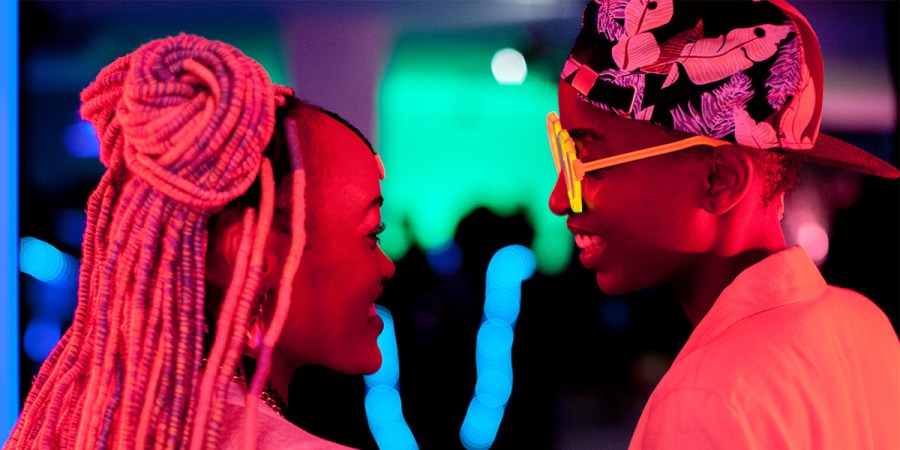 Rafiki is a great film to end on. Described as " an Afro bubble gum film " about "falling in love where it's illegal" for queer people to do so openly, Rafiki is also full of a joy so particular to queer love — and discovering one's self. That said, seeing Black queer people in films like Rafiki is crucial: these stories are a balm for people aching to see their realities reflected back to them on screen.
Moreover, these characters, from Ricky to Kena, offer up an additional salve for those of us who're continuously creating and discovering ourselves outside of the boundaries others might've established for us as young people. And, in many ways, the very existence of these Black queer film characters lays the groundwork for the future of Black artists and stories.
MORE FROM ASK.COM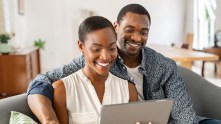 Ghost Track
Add a plot in your language
Fabrizio Rossetti
Mauro Spinelli
Angela Baraldi
Dean Baykan
Khaoula Bouchki
See more at IMDbPro
Goran Dusec
The emo singer
All cast & crew
Production, box office & more at IMDbPro
User reviews
See more company credits at IMDbPro
Technical specs
Runtime 1 hour 55 minutes
Related news
Contribute to this page.
See more gaps
Learn more about contributing
More to explore
Recently viewed
Log in or sign up for Rotten Tomatoes
Trouble logging in?
By continuing, you agree to the Privacy Policy and the Terms and Policies , and to receive email from Rotten Tomatoes.
By creating an account, you agree to the Privacy Policy and the Terms and Policies , and to receive email from Rotten Tomatoes.
Email not verified
Let's keep in touch.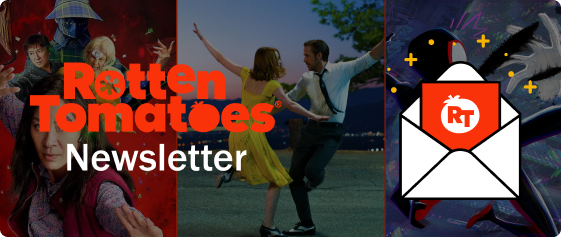 Sign up for the Rotten Tomatoes newsletter to get weekly updates on:
Upcoming Movies and TV shows
Trivia & Rotter Tomatoes Podcast
Media News + More
OK, got it!
Movies / TV
No results found.
What's the Tomatometer®?
Login/signup
Movies in theaters
Opening this week
Coming soon to theaters
Certified fresh movies
Movies at home
Netflix streaming
Amazon prime
Most popular streaming movies
What to Watch New
Certified fresh picks
Saw X Link to Saw X
The Royal Hotel Link to The Royal Hotel
Totally Killer Link to Totally Killer
New TV Tonight
The Fall of the House of Usher: Season 1
Lessons in Chemistry: Season 1
Goosebumps: Season 1
Frasier: Season 1
Shining Vale: Season 2
Harry Wild: Season 2
Murdaugh Murders: The Movie: Season 1
Most Popular TV on RT
Sex Education: Season 4
Loki: Season 2
Lupin: Season 3
Gen V: Season 1
Star Wars: Ahsoka: Season 1
Our Flag Means Death: Season 2
Beckham: Season 1
Dear Child: Season 1
Top TV Shows
Certified Fresh TV
Most popular TV
Certified fresh pick
Our Flag Means Death: Season 2 Link to Our Flag Means Death: Season 2
All-Time Lists
Binge Guide
Comics on TV
Five Favorite Films
Video Interviews
Weekend Box Office
Weekly Ketchup
What to Watch
Netflix's 100 Best Movies Right Now (October 2023)
100 Best Anime Movies of All Time
What to Watch: In Theaters and On Streaming
Celebrating Hispanic Heritage
The Fall of the House of Usher Exclusive Sneak Peek: Dreams
New Tomatometer Scores: Latest Ratings on Movies and Shows
Trending on RT
New TM Scores
Killers of the Flower Moon
The Exorcist: Believer
Totally Killer
The Creator
Ghost Track
2022, Horror/Drama, 1h 14m
Where to watch Ghost Track
Rent Ghost Track on Amazon Prime Video, or buy it on Amazon Prime Video.
Rate And Review
Super Reviewer
Rate this movie
Oof, that was Rotten.
Meh, it passed the time.
It's good – I'd recommend it.
So Fresh: Absolute Must See!
What did you think of the movie? (optional)
You're almost there! Just confirm how you got your ticket.
Step 2 of 2
How did you buy your ticket?
Let's get your review verified..
AMCTheatres.com or AMC App New
Cinemark Coming Soon
We won't be able to verify your ticket today, but it's great to know for the future.
Regal Coming Soon
Theater box office or somewhere else
By opting to have your ticket verified for this movie, you are allowing us to check the email address associated with your Rotten Tomatoes account against an email address associated with a Fandango ticket purchase for the same movie.
You're almost there! Just confirm how you got your ticket.
Ghost track photos.
A young teenager named Morris dies tragically on a train line, his friends helpless to save him. Now adults, his former friends find the spirit of Morris seems to be out for revenge.
Genre: Horror, Drama
Original Language: English (United Kingdom)
Director: Jason M.J. Brown
Writer: Jason M.J. Brown
Runtime: 1h 14m
Cast & Crew
Adam Probets
Tamara Glynn
Lamissah La-Shontae
Young Sarah
Darren Randall
Katie Richmond-Ward
Young Nathan
Jude Forsey
Young Marcus
James Barnes
Lisa Poisman
Natalie Biggs
Darren Whitfield
DI John Carter
Olivia Maiden
Young Courtney
Daniel Crowe
Jason M.J. Brown
Martin Farmilo
Executive Producer
Critic Reviews for Ghost Track
Audience reviews for ghost track.
There are no featured reviews for Ghost Track because the movie has not released yet ().
Movie & TV guides
Shop Rotten Tomatoes: Game, Gifts Cards & More
RT Podcasts: Rotten Tomatoes is Wrong
What to Watch - In theaters & streaming
Join or Sign In
Sign in to customize your TV listings
By joining TV Guide, you agree to our Terms of Use and acknowledge the data practices in our Privacy Policy .
Ghost Track - Full Cast & Crew
1 hr 14 mins
Watchlist Where to Watch
A young teenager named Morris dies tragically on a train line and is out for revenge years later. Starring Adam Probets and Tamara Glynn. (CC)
Movie Reviews 101
Daily movie reviews, ghost track (2022) movie review.
Ghost Track – Movie Review
Director : Jason M.J. Brown
Writer : Jason M.J. Brown ( Screenplay )
Adam Probets (Last Tango in Halifax)
Tamara Glynn ( Halloween 5 The Revenge of Michael Myers )
Lamissah La-Shontae (He's Watching You)
Darren Randall (Dark Vale)
Katie Richmond-Ward (Castle Boulevard)
Plot : A young teenager named Morris dies tragically on a train line, his friends helpless to save him. Now adults, his former friends find the spirit of Morris seems to be out for revenge.
Runtime : 1 Hour 14 Minutes
There may be spoilers in the rest of the review
Story : Ghost Track starts when friends Marcus (Probets), Nathan (Randall), Sarah (Richmond-Ward) and Courtney (Biggs) find their past coming back to haunt them. They were involved in an accident on the train lines as children, now they believe the fellow child Morris has returned for them.
The friends look to put a stop to this attack, leading them to explore what happened in the past and learn the shocking truth about what has happened since.
Verdict on Ghost Track
Ghost Track is a horror mystery thriller that follows five friends that see their past coming back to haunt them. they find themselves getting targeted by the spirit of a former friend. A vengeful one that wants them to pay for what they did to him.
I Know What You Did Last Summer is the movie that comes to mind when going into this movie. However, it is a much large year gap between the event, it remains circled around friends being involved. The mystery about what is happening is interesting and keeps you on edge. This movie uses the atmosphere to create a sense of dread and doesn't hold back on a disturbing twist involved in the story. There is also a point placed on a town never recovering from a previous incident.
Final Thoughts – Ghost Track is a horror that uses the atmosphere to create a tremendous amount of dread.
Share this:
Click to share on Facebook (Opens in new window)
Click to print (Opens in new window)
Click to share on Twitter (Opens in new window)
Click to share on LinkedIn (Opens in new window)
Click to email a link to a friend (Opens in new window)
Click to share on Tumblr (Opens in new window)
Click to share on Pocket (Opens in new window)
Click to share on movie pilot (Opens in new window)
Click to share on Reddit (Opens in new window)
Click to share on Pinterest (Opens in new window)
Click to share on Patreon (Opens in new window)
Leave a Reply Cancel reply