Whatever Happened To The Cast Of Ghost Whisperer?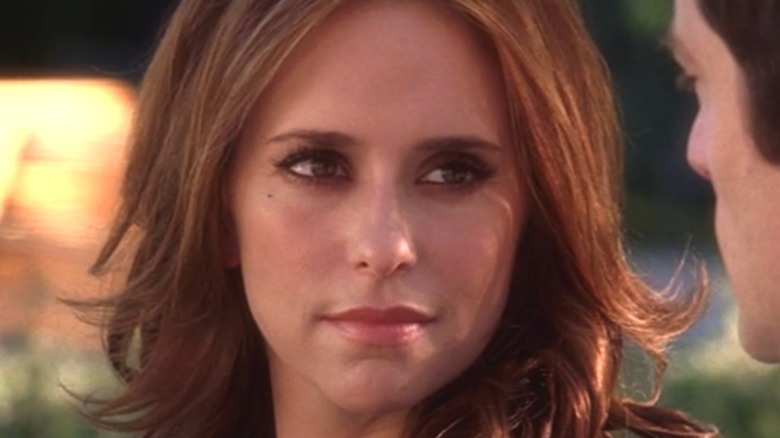 They say the truth is stranger than fiction — but when dealing with " Ghost Whisperer ," it's hard to know just what to believe. What we know for sure is that the CBS drama ran for five seasons from 2005 to 2010. It starred 1990s icon Jennifer Love Hewitt, who was presumably looking for a steady TV gig after being part of the cast of "Party of Five"  years earlier. She found it in the role of Melinda Gordon, a shop owner with a hunky husband, supportive friends ... and the ability to talk to spirits. The supernatural show was never a critical hit, but it did have a loyal fan base who petitioned (unsuccessfully) to see it brought back to life. 
What you may not know was that it was rooted in fact, so to speak. As Today reported, it was inspired by Mary Ann Winkowski , who claims to be a real-life communicator with the dead, and one of the producers was medium James Van Praagh . Whether ghost stories are real is, of course, up to the viewer to decide.
Fortunately, although the show has been deceased for more than a decade now, we do not need any otherworldly services to catch up on what the main cast members have been doing. Want to know what happened to the cast of "Ghost Whisperer"? Simply read on — no seance required. 
Jennifer Love Hewitt returned to TV after a three-year hiatus
When "Ghost Whisperer" passed into the after life, Jennifer Love Hewitt's career did not go with it. After saying goodbye to her character of Melinda Gordon, the actress kept going, with one TV performance after another (via IMDb ). First up was "The Client List," a TV movie in which she starred as a mother who offered erotic massages to support her family. It was a hit, earning the actress a Golden Globe nomination, and it was spun out into a series . Alas, the show lasted just two seasons — but the actress has been married to her husband Brian Hallisay , whom she met on set, since 2013. 
Her next major role was as Kate Callahan in " Criminal Minds ," though she only stayed for a season. And then the actress ... disappeared. She didn't work for three years. The hiatus, she told Working Mother , was intentional: "They were like, 'You're in the middle of a career; you can't do that.' But I was like, 'I can because that's what's in my heart.'"
Nowadays, it seems she's found a way to make juggling a career and motherhood work for her. Since 2018, she's had a lead role on "9-1-1," and in May 2021, Hewitt revealed she was expecting her third child (via People ). 
Aisha Tyler has enjoyed an animated career
Aisha Tyler has kept incredibly busy since she played best friend Andrea Marino on "Ghost Whisperer" — but that doesn't necessarily mean you've been seeing much of her. Yes, she's done guest star appearances on hit shows like "Modern Family," "Glee," and "Two and a Half Men" (via IMDb ). Her biggest role to date, however, doesn't require her to show her face. Since 2009, she's voiced the character of Lana Kane on "Archer," an adult animated spy series. It's been a surprisingly challenging role, she told the Chicago Tribune : "The interesting thing about doing voice work, in some ways it's harder. ... You're standing in a padded room by yourself screaming into the void."
The actress has expanded her resume in other ways as well. Besides starring on "Criminal Minds" as Dr. Tara Lewis and hosting "Whose Line Is It Anyway?," she was a host on " The Talk ," until she left in 2017. Since then, she's been doing more work behind the camera, like  directing an episode of "Fear the Walking Dead." In 2021, it was announced she would be directing the feature film "Silent John" (via Deadline ). And she also launched a line of premixed cocktails called Courage + Stone in 2020, as noted by  The Spirits Business .
Her personal life hasn't been such smooth ride, however. After more than two decades of marriage to lawyer Jeff Tietjens, the couple divorced in 2017, and the actress was required to pay $1.5 million in spousal support, E! reported. 
David Conrad returned to the stage
For the full five-year run of "Ghost Whisperer," David Conrad played Jim Clancy, a paramedic married to Jennifer Love Hewitt's Melinda. The fact that he lasted the whole series is surprising considering that (spoiler alert!) his character died in the fourth season. Then again, it was a show about ghosts — and the actor knew from the get-go that being killed off was likely to happen, he told the Pittsburgh Post-Gazette .
Once the show itself was firmly in its grave, Conrad kept the paychecks coming with guests spots on drama series such as "The Good Wife" and "Masters of Sex" (via IMDb ). He also took on the recurring role of businessman Ian Quinn in "Agents of S.H.I.E.L.D," making eight appearances over the years. 
Looking beyond the small screen, he has returned to his acting roots. Before "Ghost Whisperer," Conrad, who trained at New York's famed Juilliard School (via The New York Times ), was a successful stage actor who even appeared on Broadway (via Playbill ). And in 2019, he tread the boards again, playing a greasy club owner in "The Legend of Georgia McBride," which is about an Elvis impersonator who became a drag queen, at a theater in his hometown of Pittsburgh (via the Pittsburgh Current ). "Coming back to Pittsburgh suddenly made more sense to me than being some place else," he told the Tribune-Review . 
Camryn Manheim got really involved in the Screen Actors Guild
Camryn Manheim is one of those actors who seems to always be on TV — never the star of the show, but consistently turning in a strong, straight-talking performance. It was that way on "Ghost Whisperer," on which she played Delia Banks, the somewhat skeptical friend and colleague of main character Melinda Gordon. Since the show ended, she has racked up an impressive list of acting credits, according to her  IMDb  page, including recurring roles in both sitcoms and dramas. In 2015, she ventured onto the stage, making her Broadway debut in an unusual run of "Spring Awakening," as reported by the  New York Daily News . The musical was performed simultaneously in English and American Sign Language, in which the actor is fluent. In 2021, she signed on to play Coach McCarthy, a rival basketball coach to the one played by lead John Stamos, in "Big Shot" (via Deadline ). 
Judging from her Instagram , she was excited about a non-acting role she took on in 2019, that of secretary-treasurer for the Screen Actors Guild — American Federation of Television and Radio Artists (SAG-AFTRA), the powerful union for actors. She was elected in 2019, winning by a wide margin (via Los Angeles Daily News ). She also spends time encouraging everyone to vote in regular elections. Speaking up about injustices has always been important to her career, as she told The Hollywood Reporter , "I've made my mark by being vocal." 
Jay Mohr offers 'life coaching' now
On "Ghost Whisperer," Jay Mohr spent three seasons playing Rick Payne, a university professor who taught an occult class and helped Melinda work on hauntings. Perhaps it was that role that encouraged the actor to pursue a rather peculiar side gig. On his website , he advertises his services as a life coach, describing himself as an "intuitive" and warning that what he does is "a little spooky" — "like a psychic but real." He promotes several rave reviews.
When it comes to more typical entertainment , he launched a podcast in 2012 called " Mohr Stories ," but doesn't seem too committed to it, considering he hasn't posted a new episode since March 2021. He also hasn't bagged any notable TV or movie roles since "Ghost Whisperer" ended besides the CBS show "Gary Unmarried" — but that's not to say he isn't working. 
A standup comedian before he landed himself on TV, Mohr had his big break was "Saturday Night Live" (via The Daily Beast ), and he seems to have had the most success on that front, touring regularly across the United States. He has been open about suffering mental health problems, incorporating his experiences with depression and substance abuse into his shows and specials. After focusing on seeking treatment and getting sober, his entire approach to comedy changed, he told UPI . "Being transparent and honest has made the audience pretty uncomfortable at times, but it was rewarding for everybody, and they kept coming back," he said. 
If you or anyone you know is struggling with addiction issues, help is available. Visit the Substance Abuse and Mental Health Services Administration website or contact SAMHSA's National Helpline at 1-800-662-HELP (4357). 
Christoph Sanders found sitcom success
In terms of TV success, Christoph Sanders has arguably found the most consistent work of all "Ghost Whisperer" regulars. The actor, who played Delia's son Ned Banks as a teenager from Season 3 on, was a core cast member of the sitcom " Last Man Standing " for its entire nine-season run (via IMDb ). That show, which starred Tim Allen as a dyed-in-the-wool conservative, first aired on ABC in 2011. Sanders took on the role of Kyle Anderson, who works at the same outdoor store as Allen's character and later marries one of his daughters. Originally it was only going to be a small part, but the two actors had such great chemistry that the writers expanded it, according to the  Sioux City Journal . The show went on to garner decent ratings, the Florida Times-Union reported, but was canceled in 2017. After fan outcry, Fox picked up the show for the rest of its run, which ended for good in 2021 (via Deadline ). 
Needless to say, the sitcom kept Sanders busy, but he did find time to appear in the occasional movie, including "Big Kill" in 2019 and "Faith Based" in 2020. The former was a Western, which the actor told Red Carpet Report was a "dream." So what's next? Well, it seems his first big break might have influenced his career goals. "I would love to play a superhero or ... get, like, out of the human realm," he told  SheKnows  in 2013.
Jamie Kennedy took on a controversial role
Jamie Kennedy joined the cast of "The Ghost Whisperer" in 2008 as Eli James, a professor who suffers a near-death experience. Ultimately, things work out for the character. Unfortunately, real life was not so kind to the actor.
Around the same time the show ended, so did Kennedy's off-screen romantic relationship with co-star Jennifer Love Hewitt, People reported. And while he enjoyed some regular voice work, including on "The Cleveland Show," his on-camera acting career never really took off (via IMDb ). He does hold the "honor," however, of having hosted what  The A.V. Club dubbed the "world's worst New Year's broadcast" to welcome in 2013, a shambolic special broadcast on a local Los Angeles TV station. He later told The New York Times it was planned to be that way on purpose, but it's safe to say no one got the joke.
Kennedy found himself dealing with a much more serious situation after he agreed to appear in "Roe v. Wade," a film loosely based on the historic Supreme Court ruling that legalized abortion in the United States. Although the actor played Larry Lader — who was a leading abortion rights advocate — he took heat for the overall tone of the movie, which has been panned for essentially being anti-abortion propaganda, according to  The Daily Beast . "I just thought it was a very cool role," the actor said. "Did I know how controversial it was going to be? No."
Kenneth Mitchell was diagnosed with a debilitating illness
Kenneth Mitchell had one of strangest roles in "Ghost Whisperer" — and that's saying something. He played Sam Lucas, a motorcycle driver killed in a crash. So far, so simple. But then his body is taken over by the spirit of Jim Clancy, Melinda's dead husband. So the majority of screen time still went to David Conrad, with Kenneth Mitchell basically only appearing when the character saw his reflection.
Which is too bad, because Mitchell went on to prove himself to be a fine actor in the fantasy realm — although he traded the supernatural in for science fiction. After regular parts in a few television series, including "The Astronaut Wives Club," he joined a fabled franchise, playing multiple roles in "Star Trek: Discovery" (via IMDb ) — a feat made possible thanks to the heavy makeup required to play a Klingon. 
But then in February 2020, the actor shared heartbreaking news with People magazine: In 2018, he was diagnosed with  amyotrophic lateral sclerosis , or ALS — an incurable nervous system disease — and has required the use of a wheelchair since October 2019. The illness has not meant the end of his career, however. "Discovery" created a chair-bound character just for the actor. And in an  Instagram post, the actor shared what appears to be his motto: "Be bold, be brave, be authentic, be purposeful, BE KIND. And maybe a side salad of silly."
Connor Gibbs is out of the limelight
Young Connor Gibbs played Aiden Lucas, Melinda's son, in 22 episodes of "Ghost Whisperer" (via IMDb ). He scored the part when he was just 8 years old  — and it remains his biggest job to this day. In 2016, he appeared in one episode of "Modern Family" as "Bowtie Kid," but aside from a handful of other bit parts, he appears to have put Hollywood behind him. And he's also decided to show his true colors as a redhead; yes, even as a little tyke, the actor had to dye his brown, as he told Hollywood the Write Way .
Whether Gibbs is staying quiet in Hollywood by choice or by circumstance isn't clear, but it seems obvious he is not one of those former child stars who live insanely lavish lives . If he has decided against pursuing a further acting career, it doesn't appear to be the result of any bad experience while filming "Ghost Whisperer." In 2020, he wished a happy 15th anniversary to the show on his Facebook page and gave a shoutout to Jennifer Love Hewitt in particular "for giving me the opportunity to work with such a talented cast and crew."