Documentary/Reality
Children's/Family
Amazon Prime Video
More From Decider
Kyle Richards Sobs Over Mauricio Umansky In 'RHOBH' Season 13 Trailer,...
'American Pie' Star Tara Reid's 'Special Forces' Experience Gets Even...
'Blind Side' Subject Michael Oher's Conservatorship Comes To An End: Judge...
Kris Jenner Made Corey Gamble Turn Down 'Yellowstone' Role Over Fear He'd...
'Bachelor' Matt James' Mom Patty Sent Home During 'Golden Bachelor'...
'The View' Savagely Predicts "Loser" Donald Trump Would Be More...
Ariana Madix Praised For Wearing "Revenge" Dress Costume On 'DWTS'...
'The View' Censors Whoopi Goldberg For Several Seconds After Making...
Share this:.
Click to share on Facebook (Opens in new window)
Click to share on Twitter (Opens in new window)
Click to share on WhatsApp (Opens in new window)
Click to email a link to a friend (Opens in new window)
Click to copy URL
Can 'Ghosts' Break The Trend Of Terrible British Sitcom Remakes?
Where to stream:.
Ghosts (2021)
British comedy
Stream It Or Skip It: 'Starstruck' Season 3 On Max, Where Jessie And Tom Break Up (Again) Then Try To Move On (And Fail... Again)
Stream it or skip it: 'still up' on apple tv+, where two friends deepen their friendship via their bouts of insomnia, stream it or skip it: 'avoidance' on britbox, where a man who avoids confrontation tries to change himself for his son's sake, stream it or skip it: 'dreaming whilst black' on showtime, a comedy about a guy who tries to live his dream while dealing with constant microaggressions.
You could almost hear the collective groan from across the pond in 2019 when CBS announced another British sitcom favorite would be getting the remake treatment. Had they not learned anything from the adaptations of (deep breath) Peep Show , Gavin and Stacey , Spaced , Friday Night Dinner , The Inbetweeners and The IT Crowd , most of which were so hopelessly inferior they failed to make it past the pilot stage? The Office still remains very much the exception to the rule.
It remains a mystery why networks feel remakes are necessary in a streaming age which has proven U.S. audiences can handle the odd (shock! horror!) regional accent or culturally-specific reference. See the success of recent London-centric comedies Breeders , Catastrophe , This Way Up and, of course, the Emmy-winning Fleabag , while the recent confirmation that the excellent Derry Girls would be wrapping up after its third season sparked just as much disappointment on this side of the Atlantic. Even NBC's all-conquering Ted Lasso is grounded in a British sporting world entirely alien to most homegrown viewers.
However, the modest ratings for Fox's predictably generic Call Me Kat , adapted from Miranda Hart's very singular eponymous vehicle , appears to have sparked a new mini-revival. This Country , a mockumentary about the trivial daily lives of two cousins in rural England, is being transported to small-town Ohio, given a Hollywood star (Seann William Scott) and renamed Welcome to Flatch . The latest to make the transition, though, is Ghosts , adapted from the BAFTA-nominated comedy (also called Ghosts ).
The original has quietly become one of the jewels in the BBC crown (the third season just aired in its native UK). And judging by the first three episodes available pre-air, this new incarnation seems to have stayed relatively faithful to its simple winning premise. There's a likable young couple who've inherited and moved into a grand estate. This grand estate is populated by a motley crew of spirits trapped in a purgatory-like state at the place they met their maker. And these spirits become visible to just one of their new alive housemates after a fall which puts them in a medically-induced coma.
Stepping in for Charlotte Ritchie as the all-seeing lead Samantha, iZombie 's Rose McIver sells the outlandish premise well, flitting between reluctant believer and woman on the edge of a nervous breakdown with amusing results. Utkarsh Ambudkar ( Never Have I Ever ) provides adequate support, too, although with his husband character Jay written more of a straight man than Kiell Smith-Bynoe's sweetly gormless equivalent, he isn't given as much to do.
With the original's gag ratio much higher than most British sitcoms, the rapid-fire rhythm here doesn't quite jar as much as other adaptations. It does, however, wimp out of the darker moments that pushed Ghosts into the realm of comedy horror. Samantha trips over a vase rather instead of being deliberately pushed out of a window, for example, while the spooky young girl reminiscent of Samara from The Ring is so far nowhere to be found.
More surprisingly, considering the presumed disparity in budget, the production values can't compete. You can almost feel the cobwebs in the BBC version, shot at a real Grade I-listed building in the heart of the English countryside. CBS's trademark bright lighting and flat cinematography, on the other hand, means you're always aware most of Jay and Samantha's historic new abode is really a green-screened studio.
Nevertheless, it's the eclectic, millennia-spanning bunch of spooks that truly makes the source material so special. A couple have been replicated here, including the impossibly chirpy scout leader permanently impaled by an arrow (Richie Moriarty) and the gloriously snooty 19th century socialite (Rebecca Wisocky).
Others have been tweaked to better integrate into U.S. history: Brandon Scott Jones' Isaac has retained The Captain's sense of self-importance and deeply closeted sexuality yet his military experience came in the American Revolutionary War not WWII. While instead of a disgraced conservative politician from the '80s, the man with his trousers constantly round his ankles is a Wall Street bro from the '90s.
That latter change may sound alarm bells for those who feared writers Joe Port and Joe Wiseman ( New Girl , Zoey's Extraordinary Playlist ) would ignore the original's gentle, wholesome vibe. Asher Grodman's Trevor, who died in a drug-fueled rager, is indeed far more obnoxious than his British counterpart. Thankfully, this being CBS and all, his fratboy talk is strictly PG and kept to a minimum.
As for the entirely new additions, then Sheila Carrasco's '60s hippie Flower hasn't yet added much to the party. Likewise, Román Zaragoza's sardonic Native American Sasappis and Hudson Thames' Crash, a James Dean lookalike with a tendency to literally lose his head. But Danielle Pinnock's Alberta, a brassy 1930s lounge singer convinced someone so fabulous couldn't have died from something as mundane as a dodgy ticker, is an inspired creation. And Devan Chandler Long looks like bringing the most laughs as cod-obsessed Viking warrior Thorfinn. Yet they don't all quite gel together as a dysfunctional family in the same way.
Still, it's slightly unfair to compare like for like. Ghosts was conceived by its ensemble cast, a team who'd worked together for years on Horrible Histories , a brilliantly imaginative educational series made for children but enjoyed just as much by adults (what other kids show would tell Charles Dickens' life story through a parody of The Smiths ?) Essentially reversing that ethos for their step-up to prime-time, the likes of Matthew Baynton, Simon Barnaby and Martha Howe-Douglas boast a natural rapport which allows them to bounce off each other with ease.
That kind of appealing group chemistry may well develop as the series progresses, as may viewer investment if, like the original, it delves into each character's often tragic backstory. The brief emotive pivot as Samantha's life hangs in the balance is an encouraging sign that a similar balance of pathos and humor may lie ahead.
Of course, should you have access to the BBC's Ghosts , one of the most effortlessly joyous shows on TV, then there's no real reason to choose this instead. But perhaps for the first time since the days of the Dunder Mifflin Paper Company, a remade sitcom can hold its (sometimes disembodied) head up relatively high.
Jon O'Brien ( @jonobrien81 ) is a freelance entertainment and sports writer from the North West of England. His work has appeared in the likes of Vulture, Esquire, Billboard, Paste, i-D and The Guardian.
Watch Ghosts on CBS
Someone Is Lying Through Tom Hanks' Teeth: The Actor Says He Has "Nothing To Do With" Fake AI Dental Insurance Video
Does 'yellowstone' return tonight where to watch, channel, season 5, part 2 return date info, caitlyn jenner reveals where she stands with ex-wife kris jenner: "i don't really have any more contact with her", 'the view' ep shocks whoopi goldberg by yelling at her to go to commercial: "i'm sorry, did you say something", savannah chrisley reveals that todd chrisley — who was convicted of tax evasion — is teaching classes about finance in prison: "how ironic", tristan thompson tells khloé kardashian "the last thing i want" is for the kids to "feel embarrassed that i'm their father".
How to watch Ghosts US in the UK for free

Did you know the beloved BBC series Ghosts has a twin in the US? If you're unfamiliar with the UK version (we don't know how), the series recently dropped season 4 at the end of September and you can watch it on BBC iPlayer right now! As for the US version of Ghosts , which began airing last year in October, the UK is finally getting a taste of the version starring Rose McIver ( The Lovely Bones ), Utkarsh Ambudkar ( Pitch Perfect ), Brandon Scott Jones ( The Good Place ) and Richie Moriarty ( What We Do In The Shadows ).   
The concept of Ghosts US follows the exact same structure as the UK version, only this time our ghosts are, well, American. Following Samantha and Jay (the American versions of Alice and Mike Cooper), the couple move into a country estate they inherited and decide to turn it into a bed-and-breakfast. But there's a catch or two... the place is falling apart and it's inhabited by spirits of the previous residents, but only Samantha can see and hear them.  
What makes it different from the UK version of Ghosts? 
While the UK version tends to tackle a slightly different, more horror-skewed tone, Ghosts US tends to lean more towards the light-hearted sitcom side. They're both comedies, but definitely differ in tone and humour. That's not to say the US version doesn't have its fair share of charm and wit, especially with Ambudkar in a lead role – you really can't go wrong, plus it's a chance to see a sort of 'alternate universe' version of Ghosts , and who doesn't want that?   
Watch the trailer for Ghosts US season 1 below  
Where can i watch ghosts us season 1   .
The US sitcom is coming to BBC Three on Sunday 20th November at 8.30pm, with new episodes out every night (apart from Fridays and Saturdays). PLUS watch in your own time on BBCiPlayer, with the whole series set to be available on catch-up from 1st December.  

Top Paranormal and Supernatural TV Shows on now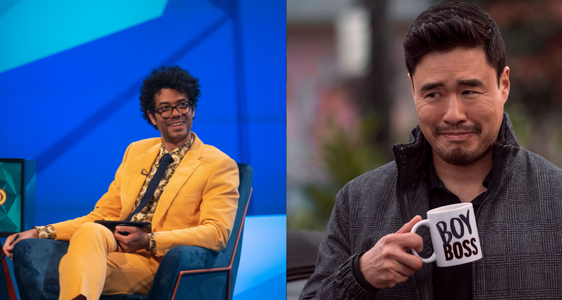 Best comedy shows to stream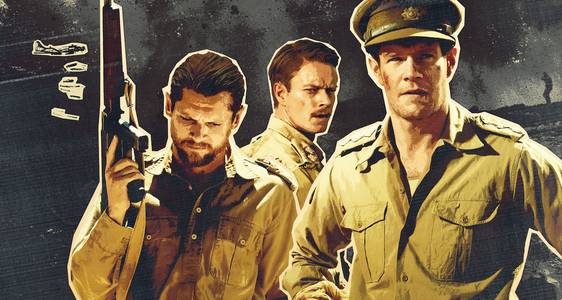 What you need to know about BBC's new drama SAS Rogue Heroes
EVERYONE TV DEVICES LIMITED, Triptych Bankside (North Building), 185 Park Street, London SE1 9SH
Registered Company No: 06250097 VAT Number: GB 916978765
Copyright: All content, programme titles, trademarks, artwork and associated imagery are trademarks and/or copyright material of their respective owners. All rights reserved.
95% customers satisfied with Freesat as their TV provider: Based on an online YouGov Plc survey, total sample size was 8341 adults. Fieldwork was undertaken between 28th March 2022 - 15th February 2023. The figures have been weighted and are representative of all UK adults (aged 18+).
Ghosts, BBC One, review: How are we going to say goodbye to this joy of a sitcom?
This fifth and final series is a lovely last hurrah from some of the uk's finest comic actors.
The fifth and final series of BBC's spooky sitcom Ghosts opened with a foreshadowing of how fans will be feeling by the end of the last episode.
Alison Cooper ( Charlotte Ritchie ) awoke in her inherited mansion Button House expecting to greet the ghostly flatmates she's grown to love. But there was no sign of them. That might've been a relief back in 2019's first series, but now, Alison was devastated, and reduced to tears.
Fortunately, she'd only forgotten the date – April Fool's! – and soon we were back into another episode of gentle mischief with the gang.
The ghosts' trickery left Alison determined to get revenge by playing her own pranks before midday arrived, leaving husband Mike ( Kiell Smith-Bynoe ) to worry about their finances and field suspicious questioning from an insurance investigator probing the fire that drew series four to a close.
Over the past four years, Ghosts has built up a unique internal logic, bringing us into the Button House universe as each episode gradually revealed how each of its spectral inhabitants died. Fans are well versed in the physical limitations of a ghostly existence, and what it takes to finally transcend the material world (in the show's parlance, being "sucked off" – despite Ghosts ' generally wholesome tone there's still room for the odd smutty joke).
Step by step, the show has also divulged more about each ghost – both their pasts and their personalities – with flashbacks to Button House in bygone eras. It's a refreshing take on the sitcom format, using complex camera tricks and time-travelling storytelling to keep us interested.
The quest to fool each ghost in the opening episode drew on that shared history – the sweet gullibility of Georgian aristocrat Kitty (Lolly Adefope), the lecherous excesses of 80s MP Julian (Simon Farnaby), and the hopeless heartache of Romantic poet Thomas (Matthew Baynton).
Related Article
How Ghosts brought the family sitcom back from the dead
Series five continues in the comfortable groove established by earlier series. There are plenty of laughs stemming from light disagreements between the ghosts, and banter between Alison and Mike.
It leans, successfully, on character-led humour, with superb performances from some of the UK's finest comic actors, with Ritchie and Smith-Bynoe leading the charge.
The show's core creative team – Baynton, Farnaby, Martha Howe-Douglas, Jim Howick , Laurence Rickard and Ben Willbond – originally worked together on children's series Horrible Histories . There are echoes of its silliness, historical jokes, and cartoonish moments in Ghosts , but another thing that shines through is the group's tight bond.
There's a lovely camaraderie between the characters, providing a warm core to the show that permits a scattering of poignant moments amid the jokes. When Alison dropped the huge news that she's pregnant at the end of episode one it was a charming flash of shared joy.
The emotional beats didn't feel over-earnest, but genuine and earned thanks to the foundations the writers have built. While anyone could jump into Ghosts at any point and still grasp the gist, fans who've followed from the start get the most out of it.
We know this good thing has to come to an end. There were moments last series where it felt like characters were facing scenarios we'd already seen them in, but with a hard stop now approaching, Alison and Mike have big life decisions to make.
Will they all move on from Button House? With a Christmas special now promised, perhaps not, but as with any good sitcom, Ghosts is about the journey, not where everyone ends up at the end. We've got a fun ramble to the finish line.
Most Read By Subscribers
More from culture.
In The Reckoning Steve Coogan makes Jimmy Savile's evil look effortless
Iolanthe at the Coliseum is pure panto meets blissfully sharp satire
Rick astley: 'the songs i love don't work in a manchester accent. they sound stupid', voice of big brother marcus bentley: 'viewers know when i think a housemate is a knobhead', big brother is relaxing alcohol rules and it's good news for viewers.
How To Watch Ghosts Season 5 Online And Stream Final Episodes For Free From Anywhere
The ghosts of Button House are going out with a bang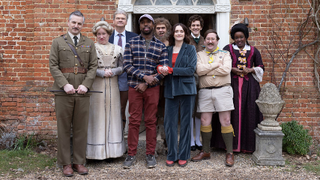 Watch in the UK
Watch in the US
Watch in Canada
Watch in Australia
How To Watch Ghosts Season 5
Watch ghosts season 5: synopsis.
It's with mixed emotions we bid farewell to this brilliant BBC One sitcom, which saw cash-strapped couple Alison (Charlotte Ritchie) and Mike (Kiell Smith-Bynoe) inherit a house inhabited by a historical cross-section of ghosts, each with their own endearingly tragi-comic backstory. Now it's their last hurrah, and we explain below how you can watch Ghosts Season 5 online and stream the final season from anywhere.
Ghosts was an instant hit when it debuted in 2019: featuring a colorful group of singular spooks played to perfection by an incredible cast; giddily amusing, cosy, and containing only the occasional decapitation.
Among that gaggle of lost souls were chess-playing caveman Robin, Thomas, the Romantic poet infatuated with Alison, Georgian noblewoman Kitty, and a Tory MP who died doing what he loved – and it wasn't attending PMQ's each week at the House of Commons.
With their B&B in ashes and Alison and Mike weighed down by financial woes, Season 5 will find them trying to sell Button House land to international buyers – much to Lady Button's po-faced disapproval.
Alison and the spectres' April Fool's Day hijinks get out of hand. But, most excitingly of all for fans, we could finally find out how the irrepressible Kitty met her untimely demise.
Follow our guide below, where we'll explain how to watch Ghosts Season 5 online and stream every single episode of the final season absolutely FREE.
Watch Ghosts Season 5 online in the UK
All 6 episodes of Ghosts Season 5 – the fifth and final season – will be added to BBC iPlayer from Friday, October 6 .
Alternatively, you can watch weekly episodes live on BBC One, which will air at 8.30pm BST and be broadcasting every Friday at the same time.
BBC iPlayer is available on a number of devices and it's absolutely free to create a BBC account. All you'll need is an email address and a UK postcode (e.g. SW1A 1AA), in addition to a valid TV licence.
Abroad? Use a VPN using the instructions below to access BBC iPlayer like you would at home.
How to watch Ghosts online from anywhere
If you're a UK citizen on vacation or working overseas , you can still watch Ghosts Season 5 just as you would at home.
While BBC iPlayer is for licence fee-paying Brits and blocks access from IP addresses outside of the UK, there's a handy piece of software called a VPN which can change your IP address to make it look like you're accessing streaming services from any country in the world.
For example, UK citizens in the States can subscribe to a VPN, join a UK based server and tune into all the programmes on BBC iPlayer from anywhere in the world, just like you would back home.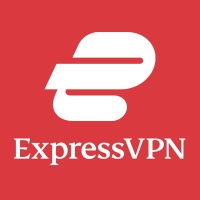 Watch Ghosts Season 5 as if you were at home with a VPN Offering a 30-day money back guarantee, try out ExpressVPN, the best VPN for unblocking many of the major streaming services including BBC iPlayer, and stream from any device, including your mobile or tablet, laptop, TV, or gaming console. Run into any problems? ExpressVPN has an excellent customer support team on hand 24/7.
Step-by-step of using a VPN to unblock:
1. Choose a VPN and install it - our go-to recommendation is ExpressVPN
2. Connect to a server - for BBC iPlayer, for example, you'll want to connect to a server based in the UK
3. Go to the live stream you wish to access - for Ghosts , head to BBC iPlayer
Can I watch Ghosts Season 5 online in the US?
While the O.G. series of Ghosts is popular (an American version began airing here in 2021), it looks like a long wait before we can expect to see the fifth and final season in the States.
However, one benefit to come from the Writers Guild of America strike is that CBS are giving the UK version of Ghosts its cable debut, where it will air on beginning November 16. That's to fill the TV void created by the strike, which halted production on Season 3 of the American Ghosts , starring Rose McIver and Utkarsh Ambudkar.
It's unknown yet whether subsequent seasons of the O.G. show will find their broadcast home on CBS too.
A Brit abroad in the States? Use a VPN to access BBC iPlayer for free from abroad .
Can I watch Ghosts Season 5 in Canada?
CBC Gem is the exclusive home of Ghosts in Canada. It may be a few months before Ghosts Season 5 lands on the platform though, given that Season 4 only was only added to the streamer four months after it aired in the UK. But you can watch all prior seasons here right now and completely free. All you need to do is create an account.
Can I watch Ghosts Season 5 in Australia?
As of yet there's no release date for Season 5 of Ghosts Down Under. However, you can currently find seasons 1 to 3 available to stream on Stan. And they're providing a Halloween treat by uploading Season 4 on October 17, too.
Away from home? Use a VPN to access BBC iPlayer for free from abroad .
Ghosts Season 5 Trailer
Ghosts season 5 cast.
Charlotte Ritchie as Alison Cooper
Kiell Smith-Bynoe as Mike Cooper
Lolly Adefope as Kitty
Mathew Baynton as Thomas Thorne
Simon Farnaby as Julian Fawcett MP
Martha Howe-Douglas as Lady Stephanie 'Fanny' Button
Jim Howick as Patrick 'Pat' Butcher
Laurence Rickard as Robin and Sir Humphrey Bone
Ben Willbond as the Captain
Geoff McGivern as Barclay Beg-Chetwynde
CINEMABLEND NEWSLETTER
Your Daily Blend of Entertainment News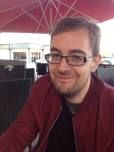 Daniel Pateman has been a freelance writer since 2018 and writing for fun for much longer. He currently works across Future Plc brands like TechRadar, T3, Games Radar, and What Hi-Fi?, where he has produced detailed guides on the best streaming services and regularly writes How to Watch pieces informing our readers where to watch the hottest new films and TV shows.
In addition to his work with Future, Daniel writes broadly on topics across the cultural spectrum, including photography, sculpture, painting, and film, the latter being the medium closest to his heart. He's been published in Aesthetica, The Brooklyn Rail, and Eyeline magazine, interviewed various artists and has reviewed exhibitions within the UK and internationally. He's also commissioned by curators and artists to help produce catalogue essays, press releases, and museum wall text.
How To Watch Loki Season 2 Online And Stream New MCU Show Episodes
I Know We're All Waiting For The Boys Season 4, But Honestly If You Aren't Watching Gen V Right Now You're Missing Out
Fair Play Cast: Where You've Seen The Actors From Netflix's New Erotic Thriller
Most Popular
By Carly Levy October 05, 2023
By Adam Holmes October 05, 2023
By Riley Utley October 05, 2023
By Laura Hurley October 05, 2023
By Nick Venable October 05, 2023
By Ryan LaBee October 05, 2023
By Mick Joest October 05, 2023
By Heidi Venable October 05, 2023
By Dirk Libbey October 05, 2023
2 'Loki' 2x1 "Ouroboros" | Breakdown & Analysis Video
3 Two Episodes Into The Golden Bachelor, I Can't Get Over How Refreshing Gerry Turner And His Contestants Are
4 Before Jason Mraz Tied For First In Dancing With The Stars' Latin Night, The Grammy-Winner Shared His 'Low Expectations'
5 Loki Season 2 Just Dropped Its Premiere, But It's Already Doing Something Better Than Recent MCU TV Shows
International edition
Australia edition
Europe edition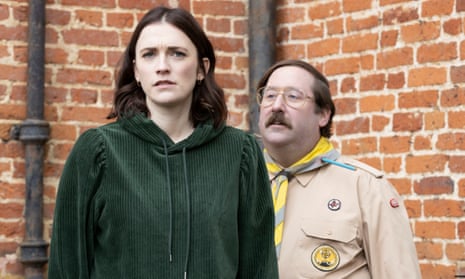 Ghosts series five review – this beautifully warm comedy bows out on a high
Ghosts is one of TV's best comedies, and this funny and clever final season doesn't disappoint. It is touching and comforting without being cheesy. Let's hope they haunt us again one day…
G hosts has been one of the warmest and most consistent comedies of the last few years. One of the many feathers in its extremely feathered cap is that its Christmas specials have proved to be the only truly essential festive viewing left. Still, all good hauntings must come to an end, and this fifth series is the last.
In many ways, its end point is arbitrary. The formula is so good, and so well-oiled, that you get the sense it could have gone on for ever. There is a Simpsons-esque longevity built into its bones that would have been hampered only by its actors getting older, since the ghosts are supposed to remain as they were when they died. The only upside to the creators calling time on Button House now is that there is no danger of it outstaying its welcome.
There is a hint of what a future without Ghosts might look like early on in these final episodes, as Alison (Charlotte Ritchie) wakes up to a house without any ghosts in it. It is a reminder that this is how it must look to her husband, Mike, (Kiell Smith-Bynoe), who can't see the ghosts at all. But it is only an April fool, a prank played on Alison by the ghosts who plainly adore her. She spends the first episode attempting to take her revenge, picking them off one by one, using scotch eggs, tattoos and balloons to target their weak points. The only nut she can't crack is Pat, the scout leader, who is used to the horrors of teenagers en masse. "Been there, done it, got the T-shirt, mate," he says; the way Jim Howick delivers the line had me in an inexplicable fit of giggles. The language is luscious, as always, particularly when it comes to Lady Button, who disapproves of Alison's "new" tattoos. "My own kith and kin, branded like some lowly navvy, painted like a tawdry jezebel," she hoots, ripely.
The episodes are beautifully structured, too. As Alison makes her way through the pranking list, Mike has to deal with a "loss adjuster" from the insurance company, there to investigate the Gate House fire. Naturally, all worlds collide. There is talk of selling the land, a ghostly gameshow, a mishap with a walk-in safe and, towards the end of the run, a secret that threatens to unsettle everything. There is also a lot of talk of Is It Cake?, which is, obviously, Kitty's favourite show.
Ghosts is the ultimate in comfort television, without ever seeming as if it is trying too hard to be that. It is often moving, and can catch you by surprise. There's nothing in this season with quite the same emotional impact as the departure of Katy Wix's Mary, though the Captain's backstory comes close. It is as silly as it is touching, but ultimately, every catastrophe or upset or chaotic decision ends with a gentle triumph, and every mess made by the ghosts or the humans becomes an opportunity to learn and grow. And still, it manages to avoid being cheesy.
There are bigger storylines here, as life changes for Alison and Mike, and decisions must be made about the future of the ever-crumbling Button House. We rarely get to see stories on TV about people struggling financially, in any ordinary sense. Most fictional characters seem to live in pristine Victorian semis with vast kitchen extensions, no matter whether they are an investment banker or a teaching assistant. And if they are evidently strapped for cash, it's usually because they've gambled their lives away or rejected their former life as a gangland boss. While it's a stretch to call Alison and Mike's setup recognisable, what with all the ghosts, and the mansion, they are broke at a time when much of the country is feeling broke, too. Ghosts is often far more relatable than you would imagine for a show about historical dead people, and this adds to the notion that it really is a show for everyone.
There is a neatness to proceedings, too. Kitty, Humphrey and the Captain are given flashbacks to their deaths, completing the deck of backstories. I was wondering if the final episode would do something profound, like Blackadder or Derry Girls. I won't give it away, but it sends itself off in a more humble style, with an episode that feels very much like an episode of Ghosts. It certainly doesn't feel too final, just in case there is ever any desire to revive it. Television has grown very tense in recent years, but there is a lot to be said for TV that is sweet, funny, clever and warm. I hope that one day Ghosts comes back to haunt us.
after newsletter promotion
Ghosts aired on BBC One and is available on iPlayer
Most viewed
Den of Geek
Ghosts US Remake: Meet the American Versions of the UK Characters
CBS will air an American take on BBC sitcom Ghosts this autumn. Here's how the characters have been translated from the originals, and some brand new additions…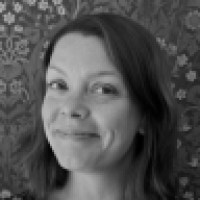 Share on Facebook (opens in a new tab)
Share on Twitter (opens in a new tab)
Share on Linkedin (opens in a new tab)
Share on email (opens in a new tab)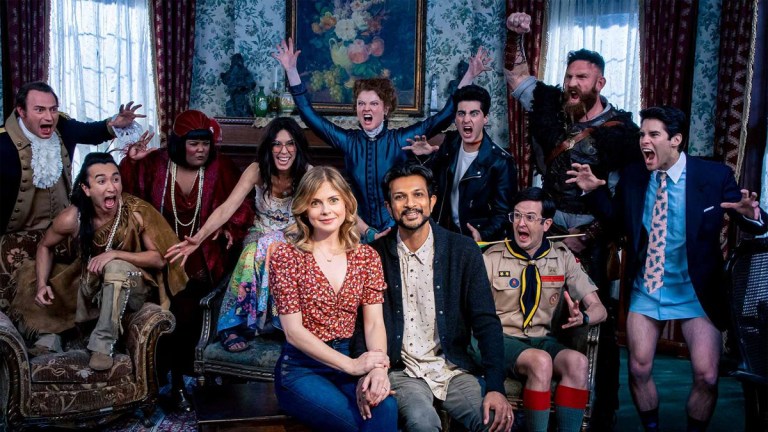 Ghosts , from the team behind Yonderland and Horrible Histories , has such a strong comedy premise that it's no wonder America wanted its own version. 'A young couple inherits a money pit mansion filled with the ghosts of people who died there throughout history.' It's a workplace comedy without work, forcing a varied gang of characters who wouldn't usually be friends to spend time contained in a single location. The extra genius is that these characters aren't just separated by class, money or education, but also by the centuries, which makes their conflicts even bigger and their connections – when they happen – even more meaningful. It's colourful and daft and funny and filled with lovely surprises. Where else would you see a caveman playing chess with a sleazy early-90s Tory MP?
Not in CBS' American remake, which was ordered to series in March this year and will air on Thursday nights in the US from the 7 th of October. In the American show, it'll be a late-90s finance bro and a Viking explorer, in Woodstone Estate, not Button House. While some of the Ghosts characters, such as Jim Howick's Scout Leader Pat, have been translated more or less intact, others have been rethought to fit with the new US context. (Plagues being what they are, the plague pit ghosts in the basement have successfully made their way over the Atlantic.)
Speaking to press at the launch of series three, co-creator Laurence Rickard explained that US showrunners Joe Port and Joe Wiseman had been clever about the changes they've chosen to make: "A lot of the character dynamics are the same, but they've changed where those characters come from geographically and their point in history."
Based on the first trailer and official CBS character descriptions, here's how the new US Ghosts gang will shake out:
Ad – content continues below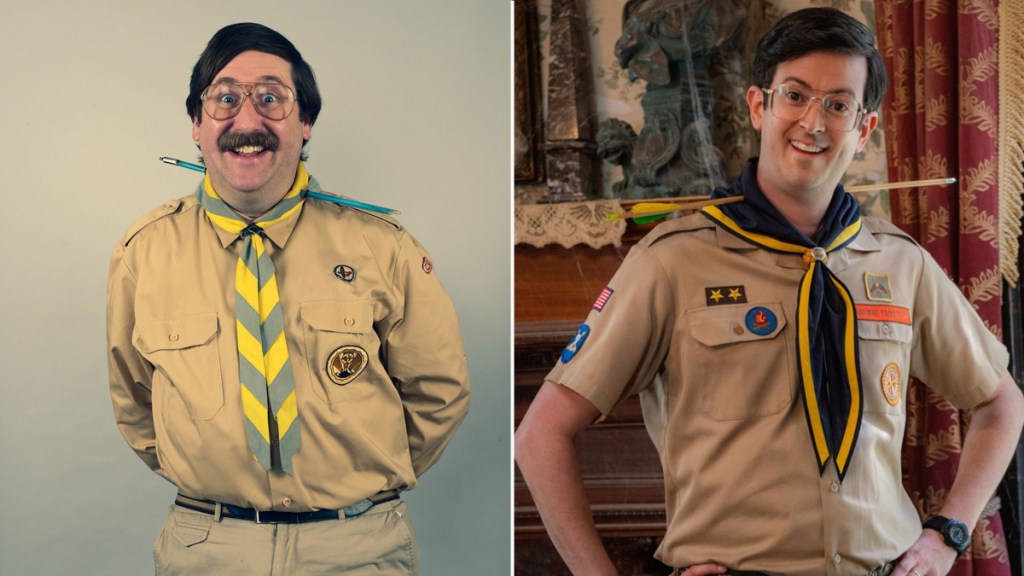 1980s Scout Troop leader Pete, played by Richie Moriarty, looks the the closest to his UK counterpart, 1980s 'Adventure Club' leader Pat, played by Jim Howick . (In the first series, the Scouts didn't allow use of the official name in the UK series, presumably to protect its reputation – silly really, because any organisation should be proud to call Pat a member.) Pete is described as "overly upbeat", "kind, earnest and sincere." He's Woodstone Estate ghosts' self-appointed activities director and was killed when accidentally shot through the neck with an arrow while teaching archery to his son's Scout troop.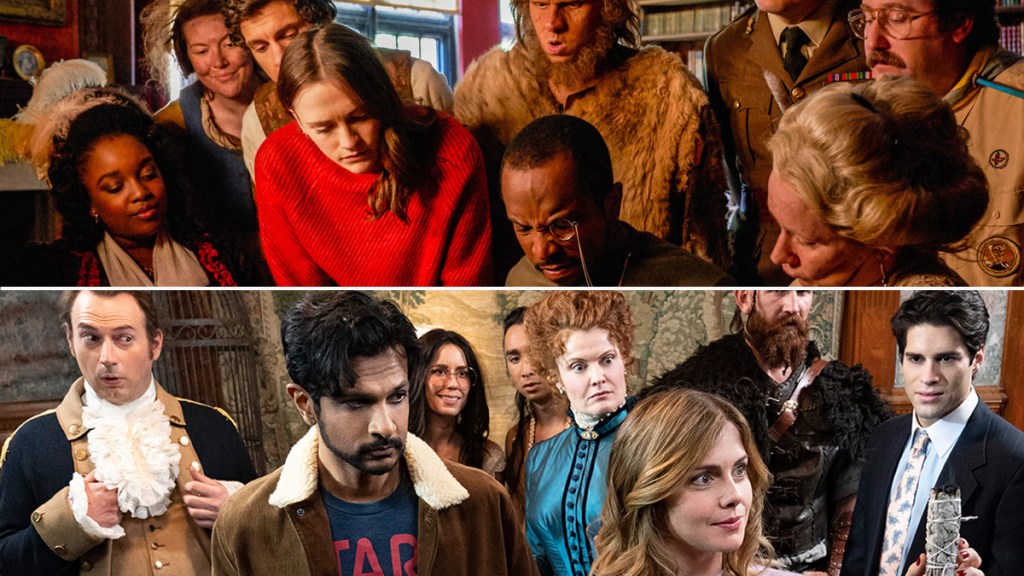 The US versions of Ghosts ' still-alive leads Alison and Mike, played in the original by Charlotte Ritchie and Kiell Smith-Bynoe, are Samantha and Jay, played by iZombie 's Rose McIver and The Mindy Project and Never Have I Ever 's Utkarsh Ambudkar. An early difference seems to be that while Alison and Mike don't really have careers, patching together work from various places, Samantha is a freelance journalist and Jay is an up-and-coming chef.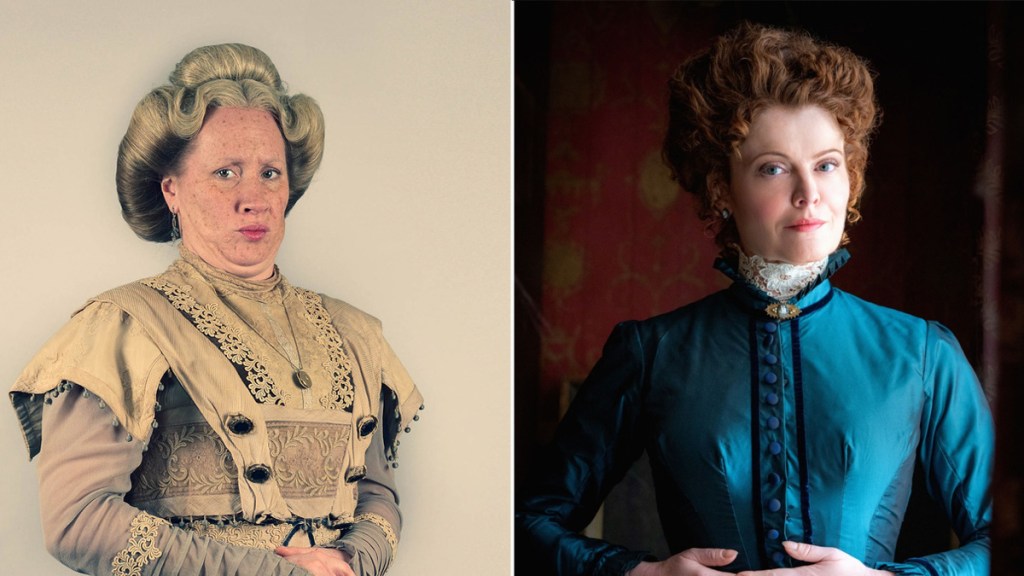 Not all jokes translate across the Atlantic, which probably explains why the brilliantly named "Fanny Button" will be known as Hetty in the US. Played by Rebecca Wisocky ( Star Trek: Picard , Devious Maids ), Hetty is described as society woman from the 1800s and the wife of a robber baron. Like Martha Howe-Douglas' Fanny, she's a distant ancestor of Samantha/Alison, who inherits the house as the last surviving relative of its previous owner.
Ghosts Series 3: The Beautiful Message of This Adorably Daft Comedy
BBC's Ghosts Interview: 'They're stuck in an existence they didn't ask for… like all of us'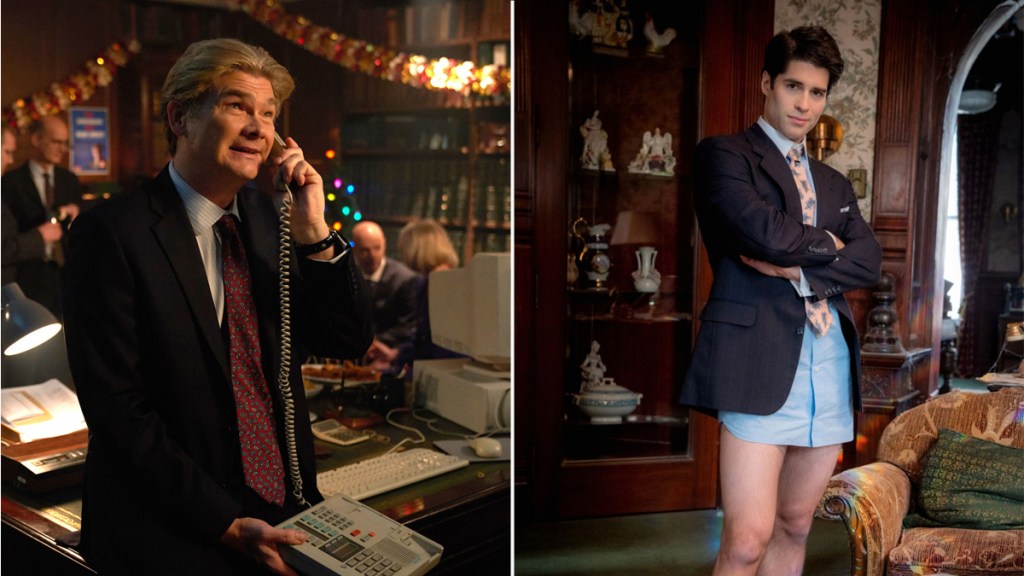 Though 'sleazy politician' is a type recognised around the world, the specificity of Simon Farnaby's character Julian Fawcett MP and his brand of early 90s Tory sleaze has been swapped for something more recognisable in the US: a late 90s finance bro. Asher Grodman ( Succession , Law & Order: SVU ) plays Trevor, a moneyed frequenter of B-list celeb parties who died trouserless at a "drug-fuelled rager", hence his eternal state of undress. Another difference according to the trailer is that Samantha's head injury doesn't happen as a result of Trevor trying to kill her by pushing her out of a window, but when she trips accidentally over a vase he was able to move using his rudimentary special power.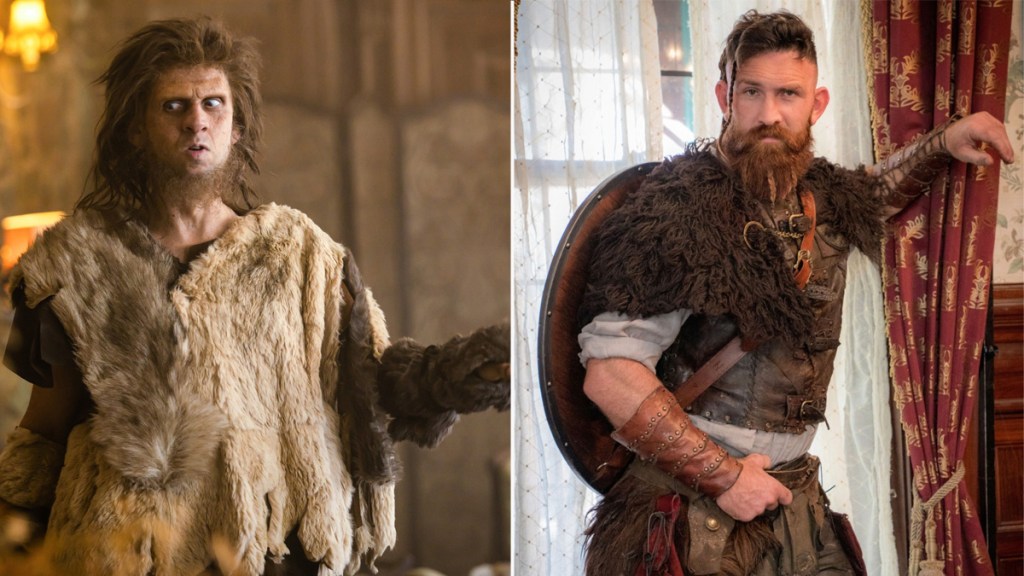 Here's the first real departure: instead of caveman Robin (Laurence Rickard), the CBS series has 11 th century Viking explorer Thorfinn, played by Bosch and Doom Patrol 's Devan Long. Robin and Thorfinn are both the oldest ghosts in their respective groups, and share the ability to manipulate electricity. Sometimes. If they concentrate really hard. Thorfinn loves cod apparently, while Robin of course, is more of a bum man.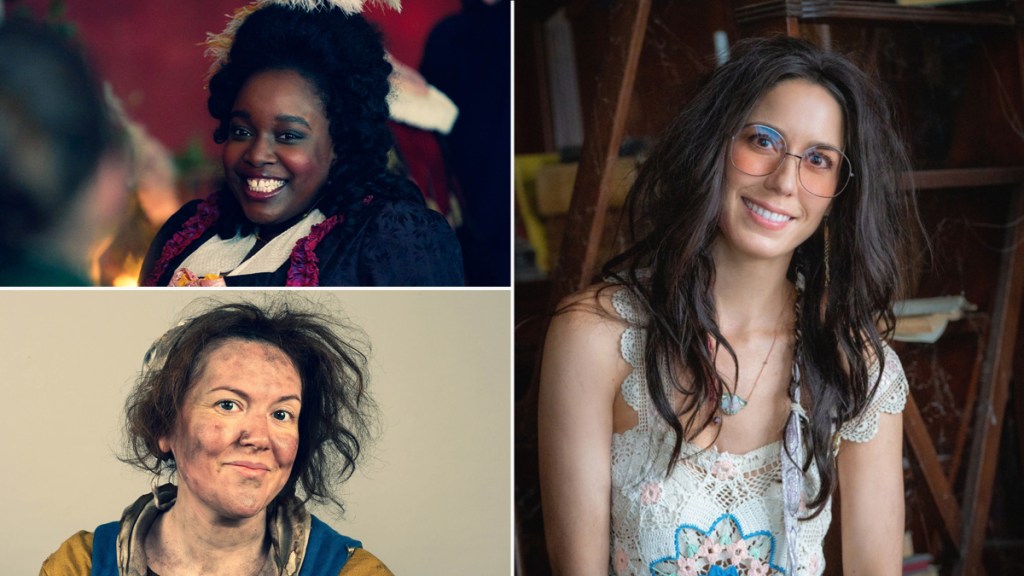 Another new creation: Jane the Virgin 's Sheila Carrasco plays 1960s hippie Flower, who died during the summer of love when she was attacked by a bear while on hallucinogens at a music festival. Described as "loving love" and hating rude people, personality-wise she sounds a little like Lolly Adefope's 18 th century golden-hearted dimwit Kitty, perhaps with some of Katy Wix 's Mary's space-cadet qualities? Or maybe she's entirely her own thing.
Isaac, "a well-meaning but pompous and long-winded Militiaman" from the late 1700s has The Captain's military background, but is closer to Regency poet Thomas in historical period. He's played by Brandon Scott Jones, who'll be recognised by fans of The Good Place as trashy gossip columnist and bad person John Wheaton. From the trailer, Thomas appears to have inherited Mary's power of creating a bad stench that humans can smell (while hers is the smell of burning, related to her having been burned at the stake, his is down to having died of dysentery.)
Get the best of Den of Geek delivered right to your inbox!
Danielle Pinnock ( Young Sheldon , Get Shorty ) is playing another original character with no UK counterpart: prohibition-era lounge singer Alberta. She's described as something of a diva who's seen it all, she's saucy, tough and in possession of a maternal streak that makes her the "den mother" to Woodstone Estate's ghosts.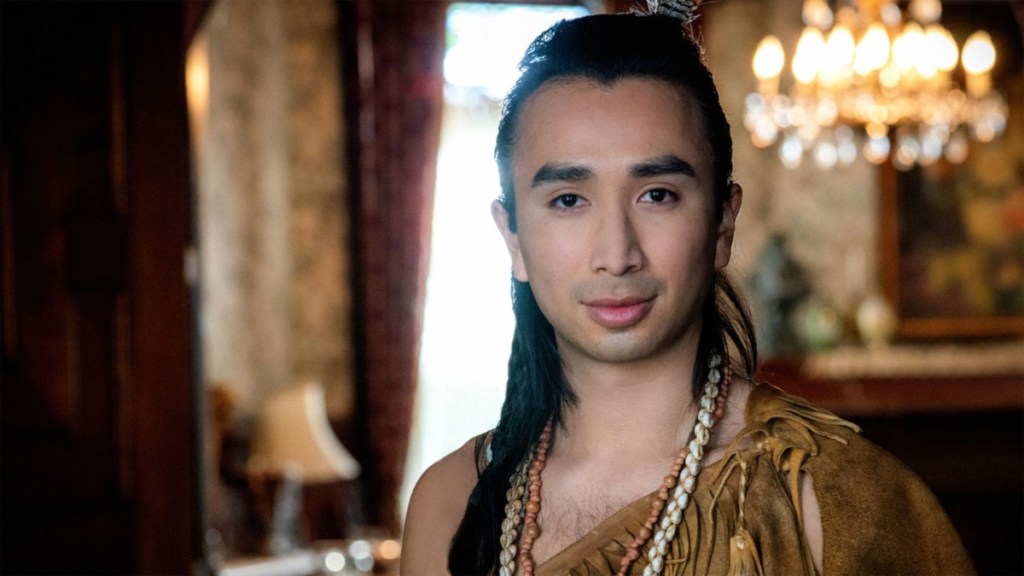 Román Zaragoza will play the US group's second oldest ghost, Sassapis, a Native American from the 1500s described as "sarcastic, droll and over it. Being trapped in a never-ending in-between world is bad enough, but for Sasappis, being trapped with these other idiot ghosts makes it even worse."
Hudson Thames will play 'Crash', who, judging by his name and look, is a 1950s James Dean-style ghost. His neck scar could suggest that he was beheaded, which would make him like the BBC original's Sir Humphrey (also played by Laurence Rickard), but that would be where the similarity stopped. Thames might be recognisable to fans of Mad Men after playing Mitchell Rosen, a season six who'd been drafted to serve in Vietnam and was the son of Don's mistress Sylvia.
Ghosts (US) will air on CBS on Thursdays from October 7 th . Ghosts series 3 starts airing on BBC One and iPlayer in the UK on Monday August 9th.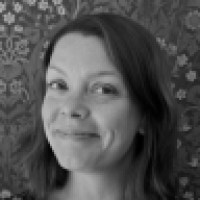 Louisa Mellor | @Louisa_Mellor
Louisa Mellor is the Den of Geek UK TV Editor. She has written about TV, film and books for Den of Geek since 2010, and for…
By providing your information, you agree to our Terms of Use and our Privacy Policy . We use vendors that may also process your information to help provide our services. This site is protected by reCAPTCHA Enterprise and the Google Privacy Policy and Terms of Service apply.
BBC's Ghosts , on Which CBS Hit Is Based, to End This Year
Ryan schwartz, senior editor.
Share on Facebook
Show more sharing options
Share to Flipboard
Share on LinkedIn
Submit to Reddit
Post to Tumblr
Share on WhatsApp
Print This Page
Button House is closing its doors. 2023 Renewal/Cancellation Scorecard: What's Coming Back? What's Already Axed? What's Still on the Bubble? View List
The hit BBC comedy Ghosts , on which the Rose McIver-led CBS sitcom is based, will end with Season 5. The announcement was made in a joint statement by executive producers Mathew Baynton, Simon Farnaby, Martha Howe-Douglas, Jim Howick, Laurence Rickard and Ben Willbond, which reads as follows:
"After five incredible years haunting the halls of Button House, we have decided that the time is right to let our beloved sitcom Ghosts rest in peace. We have just wrapped filming on our fifth and final series and can't wait to share it with you all later this year. We could never have imagined the reception the show has enjoyed, or the fun we have had making it, and we would like to thank our amazing cast and crew as well as everyone at BBC Comedy, BBC1 and Monumental Television for their tireless support. But most of all we'd like to thank everyone who watches."
The UK Ghosts first premiered in April 2019, and produced 24 episodes over its first four seasons. Seasons 1-3 are available to stream Stateside on HBO Max; a release date for Season 4 is TBD. The series stars YOU 's Charlotte Ritchie as Alison, Kiell Smith-Bynoe as Mike, Lolly Adefope as Kitty, Baynton as Thomas, Farnaby as Julian, Howe-Douglas as Fanny, Howick as Pat, Rickard as Robin, Willbond as Captain and Katy Wix as Mary.
The U.S. version, meanwhile, resumes Season 2 on Thursday, April 13 (CBS, 8:30/7:30c). It was previously renewed for Season 3 .
Are you sad to see the UK version of Ghosts come to an end? Sound off in Comments.
Cancel reply
38 comments.
Email * Your email address will not be published. We will notify you when someone replies.
Notify me of follow-up comments by email.
Such a good show. Good to know we still have two seasons to look forward to at least. We didn't recognize Mary when she showed up on Ted Lasso not covered in ashes (She's Keeley's CFO).
I realized this during last week's episode! She cleans up nice. Glad she landed a gig on another great show.
I had to look her up during the episode because I couldn't place where I knew her from and it was driving me crazy! Sad to see Ghosts end but very glad in the US we have two more seasons to come.
The hilarious Betsy Sodaro plays Nancy on Ghosts US Ed. She does bear a resemblance to but is not Keeley's CFO on Ted Lasso.
The British Ghost's Mary is Keeley's CFO in Ted Lasso.
I was thinking I'd check this out as I like the CBS stateside version.
Definitely more of a British comedy, slightly different characters, but I still enjoyed it nonetheless
I've been meaning to check this out since I absolutely love the US version. I didn't realize that Barbara from "Call the Midwife" was one of the leads!
I absolutely adore the BBC version and watched the US version (also so fun) because of it. Highly recommend. Fingers crossed that HBO Max picks up 4 and 5.
I watched the first few seasons of the original via HBO Max before the US version premiered. I thought at the time – How would such a British show even work in the US?…but they found a way. I'll definitely get back to the original series sometime in the coming months after the season finale of the US version.
I think the concept is so flexible that it would work with ANY nationality.
Charlotte Ritchie is becoming too famous and expensive probably. That and British shows for the most part don't run too long. Good show, will miss it.
Love this show! I respect them for going out on top and not dragging it out though. I hope s5 is a bit longer; I breezed through s4. Perhaps now I can get over my crush on Thomas the poet.
You should check out You, Me and the Apocalypse, then.
I wouldn't expect a longer season, british shows in general have short seasons, I'd expect season 5 to be the normal amount of episodes plus a christmas speical…i hope season four makes it to the states soon…seasons 1-3 on HBO MAX are awesome…i much prefer the british version for a variety of reason
Agree wholeheartedly. ThinkBBC original one is heads and shoulders above USA one.
Totally agree! The US version doesn't do anything for me. I didn't get past the first few episodes
I really also hope S5 is longer, but given 6 episodes is usually the length of most British sitcoms (Fawlty Towers was 2x 6-episode series') I'm not sure.
If you have a crush on Mat (Thomas) check out him in Horrible Histories parodying Adam Ant (complete with guyliner) singing about Dick Turpin. Think that was a bit of a sexual awakening for most of the girls (and some boys obviously) who grew up with Horrible Histories (the first 5 series of it is all 6 of them and utterly brilliant. The later ones – the reboot feel dragged out and arent as good). Personally, having been there, 15 years later I can say Mat is the babyface one and Ben is the most attractive, especially in the #AskTheGhosts pandemic Q&A Zoom he did with long hair)
Well damn. Im gonna miss this bunch of spooks. Robin is my fave of both versions
simply a funny great series, i caught the first three season on HBOMax one weekend when i wasnt feeling well and binged all three seasons! i cant wait for the final two seasons to be added to HBOMax!
Bummed to hear the news, but prefer this show so much more than its US counterpart. Series 4 was a bit of a disappointment in my opinion, but probably because the bar was set so high in the previous series.
Wondering when we will get a Spain Ghosts, followed by the German version :)
All shows should end with S5, maybe S6, but American broadcast networks refuse to believe this, even though history is not on their side.
Would love UK's Alison and Mike to visit the US Ghosts. Maybe they could stay at the B&B during a tour of America.
You make a great point. Will we ever see a B&B guest who also has the ability to see and talk to ghosts? Would Alison/Sam pick up on it? Would the ghosts play them off each other? Would they put one over on the ghosts? Would hjinks ensue?
Today I discovered on Youtube that this premise has already been done by the British Ghosts series for Red Nose Day 2023, published 2 weeks ago. . Kylie Minogue, as herself, visits the British B&B, pretends to be normal person, then as soon as everyone leaves the room engages with the ghosts. Hi-jinks do ensue.
This is the best series so much better than the American version. I binged the UK version and then the American started. It was no way near the great acting or story line as the UK. I'm so sorry the series is ending. Much rather look at this one.
Great show both uk and us versions.
Love this show. High quality entertainment. Cast is perfect. Will definitely miss it.
I am stateside and am so sad to hear this news!!! I watch Ghosts every night on HBO and it never loses its lol effect on me. Sad to see you go and can't wait for season 4 and 5 to make it over here
Such a great show–sorry it's coming to an end. Everyone is superb, but Ben Willbond as the Captain is the best!!
I am so depressed to see such a brilliant talent of writing and acting come to an end. Please don't end the show.
been waiting forever for 4th season of BBC version, sorry to hear it's ending! look forward to seeing last 2 seasons! Come on HBO max!! Favorite ep is the Christmas one season 2, I think. when Alison sings the. carol, and the ghosts start singing with her!! Gets me every time!!💔
Today is a day of great sadness to hear Ghosts (UK) will be ending. I watch both UK and US versions and have fallen in love with the characters and storylines. I feel as though so many possibilities could come with introductions of new ghosts, etc and could offer a long time show. Uh, hello, The Simpsons 30+ years! How awesome would a "crossover" event be from a visit of Jay and Sam to Button house or Alison and Mike to Woodstone Mansion, you know just to check out fellow B and Bs?!?! I sure hope the US version stays strong and runs for a long time. It's such a refreshing premise to our current sitcoms, emergency dramas and reality TV. Thank you creators!
I LOVE The bbc UK Pleaseease let the usa watch more
of Ghosts or give it to acorn,britbox. Thanks
My husband and I sure will miss Ghosts. I don't understand why all the good shows have to end after a few seasons. Don't the writers have enough imaginations to keep the stories going? It's all very sad. We don't have enough good shows anymore.
Very sad to learn of Ghosts demise. Perhaps it will reincarnate as a ghost of itself? While the U.S. version carries the theme on quite well, it is not quite as good as the original BBC series. I shall miss it.
I live in Florida and am madly in love with the BBC Ghosts series! I've already watched what I can see (seasons 1-3) at least 3 times. It's so well done both comedically and the thought-provoking parts. The acting is superb! I'm very sad to see that it will end at Season 5, but I'm soooo thankful that I got 5 seasons! (There's been quite a few of my favorite series that got canceled after their second seasons that I've mourned about.) Thank you to all at BBC Ghosts!!
Best show on television. Up there with Plebs and Peep Show…
Most Popular
You may also like.
Why BBC's 'Ghosts' Is a Max Must-Watch
This ensemble cast creates magic in the original haunted UK sitcom.
The Big Picture
CBS fills a programming void by airing the original UK version of Ghosts instead of the US remake due to ongoing strikes by writers and actors.
Ghosts UK is available on Max and is considered one of the best sitcoms from the UK, thanks to its unique ensemble cast and rich history.
The chemistry and history between the six main actors in Ghosts UK is what sets the show apart, making it essential viewing for fans of British comedy.
It has been announced that CBS will be placing the original UK version of their hit sitcom, Ghosts , on the Thursday night slot instead of a new season of Ghosts US , the fall addition effectively filling a void on their channel. At this point, as the weeks and months draw on, we all know why and how that void appeared, why there's no new season of Ghosts US , or for that matter any American show. CBS is a subsidiary of one of the major studios within the AMPTP, specifically Paramount, who have continued to refuse the reasonable demands of SAG-AFTRA and the WGA, meaning the writers' and actors' strikes go on , and all mainstream productions have been put on hold.Needless to say, many aren't keen on lining the pockets of CBS right now by bringing their ratings up, despite the exciting news. That's okay, though, you don't have to wait until the fall to watch the fantastic, and arguably superior Ghosts UK . You can watch it right now on Max, and you absolutely should because Ghosts is one of the best sitcoms to come out from across the pond in the last five years. RELATED: Why Are Funny Ghosts So Hot Right Now?
What Is 'Ghosts' About?
For those of you who don't know, Ghosts began airing in 2019 and is slated to end this year on BBC One, and it has the same basic set up as its US remake. A young woman ( Charlotte Richie ) and her partner ( Kiell Smith-Bynoe ) inherit a decrepit mansion from a deceased distant relative, and the mansion happens to be haunted by several colorful ghosts, brought together by their deaths in the house from different periods of history. After a near-death experience, the woman gains the ability to see and speak to the ghosts, who at first don't want her there. In a financial and ethereal stalemate, the living and the dead attempt to coexist while trying to salvage the mansion and give it some kind of use.The cultural differences are very clear, given the cultural differences between the US and the UK, while some ghosts remain the same such as a scout troop leader with an arrow through the neck and a sleazy suit who died with his pants off, there are also some ghosts that only have mild similarities. Instead of the Viking, Revolution-era officer, speakeasy singer, and Lenape Native American of Ghosts US, you have a World War II Army Officer, a Romantic-era poet, and a decapitated Tudor nobleman, among others.
The Underrated Comedy Troupe That Created 'Ghosts'
However, this is not just the same show in a different country, not entirely. Because what makes Ghosts UK adored by many, what adds a deep and rich context and history to the series, and brought with it a devoted, long-time fan base, is something the remake lacked: The original ensemble cast, who more importantly also collectively wrote the original show. That's not to say the US cast isn't good, you have some great comedic actors there, Rose McIver and Utkarsh Ambudkar playing against some fresh talent in the ghouls, but that's all they are, singular, if talented, actors playing roles. A majority of the Ghosts UK cast, meaning six of the eight main ghosts, are a defined staple in British comedy, and genuinely one of the most underrated ensemble casts of all time.So let's look at who are colloquially referred to as The Six Idiots: Jim Howick, Simon Farnaby, Mathew Baynton, Ben Willbond, Laurence Rickard, and Martha Howe-Douglas . The sextet have been working together at this point for about 15 years, the gang having separate stints on other classic British comedies such as The Office UK, Peepshow, and The Mighty Boosh before coming together for the excellent edutainment sketch show, Horrible Histories . The cast made the show beloved, and in return the show gave the cast a fan base that would follow them to other projects, including the endlessly inventive and overlooked fantasy-comedy Yonderland , and their first adult oriented endeavor, Ghosts . Bayton and Willebrand were in the writer's room for Horrible Histories , but the whole team were in on the script for both Yonderland and Ghosts . This troupe is vital to why this show works so well, both in their performances and their writing.
Fantastic Chemistry Sets 'Ghosts' UK Apart
Not only does Ghosts give them the opportunity to play with history again, a fond nostalgia washing over old fans, but it allows them to throw new blood in the mix as well. The other two ghosts, played by Lolly Adefope and Katy Wix are accomplished performers in their own right — you may recognize them from the latest season of Black Mirror and Ted Lasso respectively, but their presence allows for new dynamics, as do our living cast members, Richie and Smith-Bynoe, allowing a blend of not only fresh interactions between some of the hottest talents in British comedy, but also a chance to see Howick, Farnaby, Baynton, Willbond, Rickard, and Howe-Douglas do what they do best.This chemistry comes from the fact that they love working together, as writers and performers; that's the crucial part here. Yonderland initially came about because the six wanted to keep working together after Horrible Histories wrapped up, the same is said about Ghosts after Yonderland . This is not just me gushing about the comedic team that defined my sense of humor at a young age, this has a point. When watching Ghosts UK , you're not just watching actors, you believe them. You believe that this is a collection of oddballs that have shared a space for a very, very long time, and have grown on each other throughout the years, this is because that's exactly what they are. It's a kind of easy chemistry you can't replicate artificially, which makes Ghosts UK essential viewing on Max.Comedy history is full of great ensemble casts, those who have their hand in both writing and acting to create works that are truly their own, going all the way back to National Lampoon and Saturday Night Live veterans. This can be seen a lot online these days, with all of the content on Dropout.tv , previously CollegeHumor, coming from a fantastic group of comedians, and the collection of Shipwrecked Comedy, Starkid, and Tin Can Bros combined creating masterpieces on not only the small screen, but the stage as well. When you give talented, creative people the space and the time, they will create wonders. Among many other things, that is what the many writers and actors on the picket line right now are owed.
No products in the basket.
8 Spookiest Real Ghost Sightings – Latest Ghost Sightings Caught on Camera
Spooky stories about ghosts, ghouls and all things scary are some of the very best things about the world of the paranormal, particularly if we can capture footage of ghosts on camera. Sightings of ghosts aren't all that unusual, but it can be difficult to capture a ghoul or spirit on camera, so luckily for you, we've rounded up 8 stories of real ghost sightings complete with photos to give you a real fright.
8. Monet's Ghost
You've definitely heard of Monet, right? In one of the most interesting real ghost sightings we've ever come across, Monet was apparently snapped at the Cleveland Museum of Art whilst they were holding an exhibit dedicated to the French painter. The director of architecture at the museum was simply taking photographs of the interior and ended up snapping a photo of this rather snazzy looking chap, who bore quite the resemblance to Monet himself – perhaps he was returning to take a look around the exhibit. Of course, there was no one on the balcony at the time the photo was taken.
7. Leeds General Infirmary
Hospitals are well known to be spooky places, particularly at night. It might not be one of the most well-known ghost sightings the UK, but this snap taken at Leeds General Infirmary by Andrew Milburn shows a nurse or a child fleeing into a room in a hospital corridor. He took the photograph as a way to simply show his girlfriend where he was in the hospital, as he worked there every day, not knowing what the photograph showed until he viewed it more closely. Andrew had always been sceptical about ghosts, but seeing this figure changed his mind.
Related: Haunted Places in Leeds
6. Ghost of a New Home
Looking for more ghost sightings the UK? This photo, taken by Michelle Midwinter in England, was simply a way for her to share an image of her new house with family and friends. She'd gone outside, snapped a photo and returned to the inside of the house when she noticed the face staring back at her from the bottom right window of the house. When you zoom in, you can clearly see a nose, eyes and shoulders – the face of a man staring back at you. Michelle posted the image online and was eventually contacted by a historian local to her area, who believed that the apparition in the image could have been a man known as Old Man Kent, who was thought to be a murder suspect back in 1860. Initially, Michelle dismissed the image as nothing more than reflections and refractions of light from the flowers outside her window, but following further paranormal sightings and activity within the house, such as cold spots and lights flickering, it seems like Michelle is now a believer.
5. Baby Scan Ghost
A pregnant woman from Liverpool, Rebecca Melia claimed to have been able to see the ghost of her deceased mother in a baby scan. In one of the more unusual sightings of ghosts we've come across when Rebecca had the baby scan photograph back and was able to take a little bit of time to look over the image, she immediately recognised the face of her mother to the right of her baby. Rebecca, unfortunately, lost her mother to kidney cancer before she fell pregnant after her mum had battled cancer for three years, and the family says they always feel the presence of Rebecca's mother, even today.
4. Nottingham Galleries of Justice
Perhaps one of the very best ghostly sightings caught on film is this spooky black figure by Simon Brown, qualified parapsychologist. He was spending the day at the old Galleries of Justice with his brother and was simply taking photographs of the building and gaol. Although Simon says that he didn't notice anything whilst he was taking the images, when he downloaded them onto his computer, he noticed what appeared to be a black figure made of shadow that seemed to have walked through a brick wall. Staff at the Galleries have corroborated Brown's story, saying that they too have seen similar figures and have experienced similar paranormal encounters, but have not yet been able to capture anything on film. Brown also mentioned when discussing the figure that it appeared to be in turn-of-the-century prisoner dress, dragging a leg behind him as though he was in chains.
Find more haunted places in Nottinghamshire
3. Ghost of the Drowned Girl
Sightings of ghosts aren't always scary – sometimes they can bring with them feelings of peace or harmony. Unfortunately, this isn't one of those stories. Kim Davidson was swimming in a lake with a friend and their combined three children. They took a photograph. So far, so normal. When the photograph came out, there was a ghostly figure of a girl behind the group, who looked like she was leering behind the family. It's a scary image. Once Kim saw the extra figure in the image, she contacted historians as well as paranormal experts in the community, and it's now thought that the girl in the photo may be the ghost of Doreen O'Sullivan, a girl who died by drowning in the lake back in 1913.
2. Party Ghost
Ghost sightings often include children and this image is no exception. In this image, a group of friends pose together whilst getting ready for a party. A small child runs crying to the right of the image, and if you can just about see it, there's a small child between the second and third people in the image. Apparently, the reason why the little girl at the right-hand side of the image was crying was because she'd felt someone push her in the small of the back just a few seconds before the image was taken, but of course, there was no-one responsible for pushing her. She'd originally been standing where the ghost is seen in the image, so it seems like the ghost had pushed her out of the way so that he or she could be seen.
1. First Dance
One of the more recent ghost sightings in internet history is this image collected by ghost chasers Toowoomba. It shows a husband and wife taking their first dance and it's a lovely photo. But in the shaft of life to the right of the couple, there's an image of a little girl who looks as though she wants to get in on the fun. This is probably one of those rare ghost sightings where the whole sighting is relatively innocent, but we can never be completely sure.
Ghost sightings are some of the best ways to spook yourself silly – one of my favourite ways to scare myself stupid is to throw on some Youtube ghost sighting videos, turn out the lights and grab the popcorn. Whether you believe in ghosts or not, some of the images captured on film and video are very difficult to disprove, so why not take a trip down the rabbit hole?
Featured Ghost Hunts
Bishton Hall Ghost Hunt, Staffordshire – Friday 6th October 2023
Old Gala House Ghost Hunt, Galashiels, Scottish Borders – Friday 6th October 2023
Chester Town Hall Halloween Ghost Hunt, Chester – Friday 27th October 2023
Hazlewood Castle Ghost Hunt nr Leeds/York, Dinner, & Sleepover, Yorkshire – Saturday 4th November 2023
Find Ghost Hunts
East Anglia
East Midlands
West Midlands
Haunted Breaks
Haunted Sleepovers
Halloween Ghost Hunts
Gift Vouchers
Awesome, you're subscribed!
Thanks for subscribing! Look out for your first newsletter in your inbox soon!
The best things in life are free.
Sign up for our email to enjoy your city without spending a thing (as well as some options when you're feeling flush).
Déjà vu! We already have this email. Try another?
By entering your email address you agree to our Terms of Use and Privacy Policy and consent to receive emails from Time Out about news, events, offers and partner promotions.
Love the mag?
Our newsletter hand-delivers the best bits to your inbox. Sign up to unlock our digital magazines and also receive the latest news, events, offers and partner promotions.
Things to Do
Food & Drink
Arts & Culture
Los Angeles
Get us in your inbox
🙌 Awesome, you're subscribed!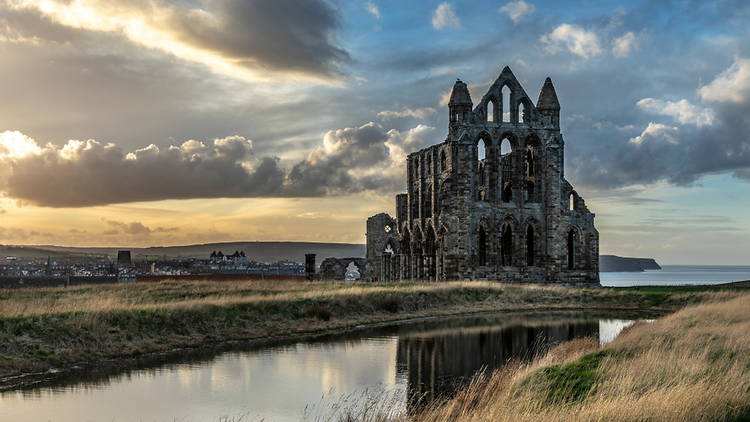 The 10 most haunted places in the UK
Check out the most haunted places around the UK for a proper fright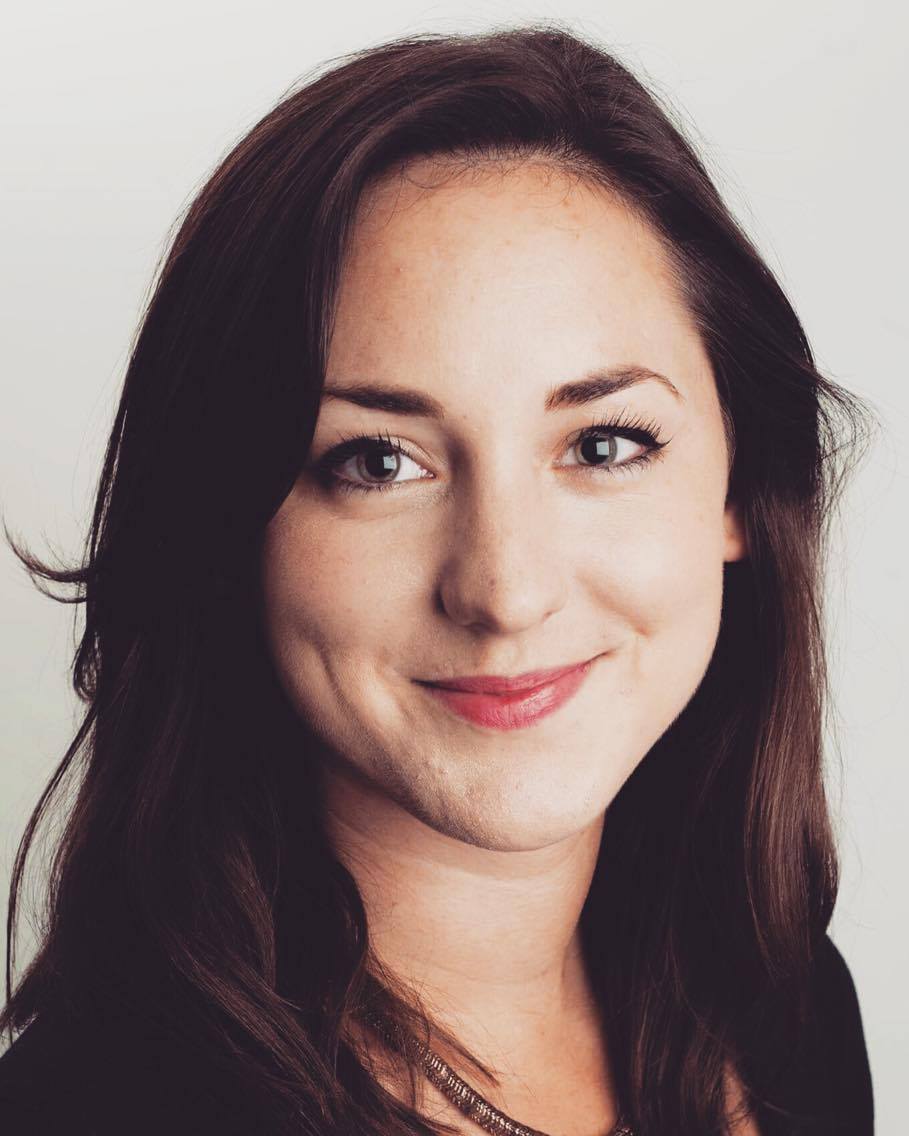 Believe in ghosts? Whether you do or not, you'll be shocked at just how many mystical spots there are in the United Kingdom . As well as full-on ghost towns , there are also rickety old mansions, abandoned castles , eerie cemeteries and post-industrial landscapes.
From country houses haunted by notorious phantoms to graveyards riddled with the ghosts of Victorian children, the UK is full of haunted places ready to send shivers down your spine. No, really. History is everywhere here, and not all of that history is happy gathering dust in the books.
Even if you don't believe in ghosts or ghouls, these spots can still be great excuses to see lesser-known parts of the country. But maybe refrain from planning your visit during a full moon: you never know what might happen.
RECOMMENDED: 🧙 Magical and mystical places in the UK 👻 The UK's spookiest ghost towns 🏰 The 13 best castles in the UK 🪦 The UK's most beautiful graveyards 🏛️ Incredible UK buildings where you can stay the night
An email you'll actually love
Most haunted places in the UK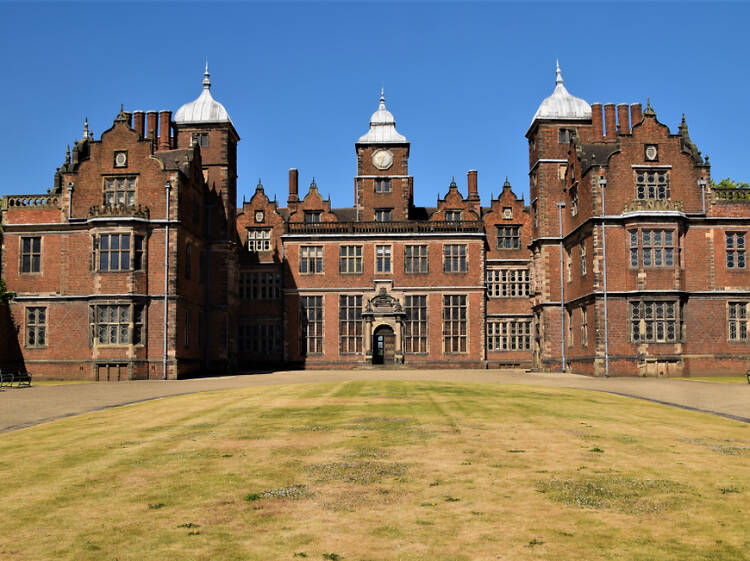 1. Aston Hall, West Midlands
This red-brick manor house has racked up quite a few ghosts since it was completed in the 1630s. The very first tenant, Sir Thomas Holte, allegedly murdered his cook, and the ghost of his daughter, who he locked away for 16 years until her death, is also said to wander the halls alongside Holte's houseboy and a 'green lady', thought to be his housekeeper. Keep your eyes peeled for ghostly Royalist soldiers too. There's a hole in Aston Hall's staircase made by a cannonball when the house was under siege during the English Civil War.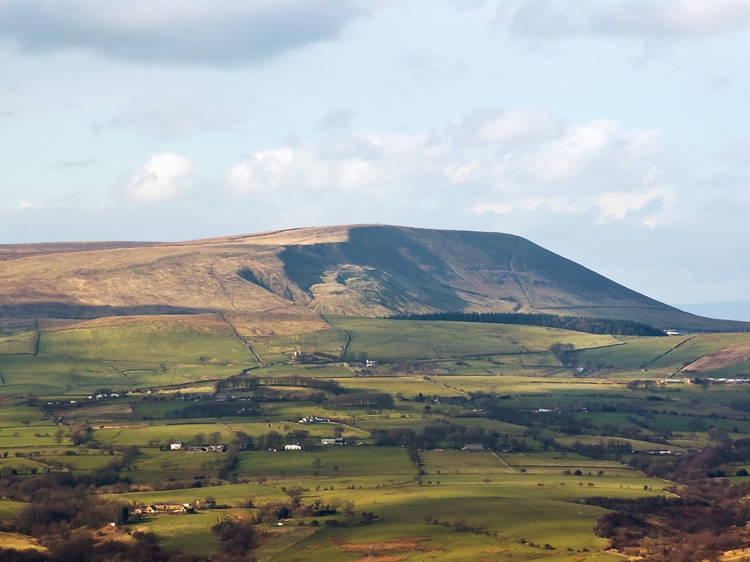 2. Pendle Hill, Lancashire
Looming over hamlets and farmland in rural Lancashire, Pendle Hill is a properly stunning spot. But it's got a dark past. In 1612, ten local people known as the Pendle witches were executed nearby after a trial at Lancaster Castle. Some say the hill is haunted by the spirits of those who lost their lives, and there have been a number of alleged sightings over the years. Whatever you believe it's an undeniably atmospheric place.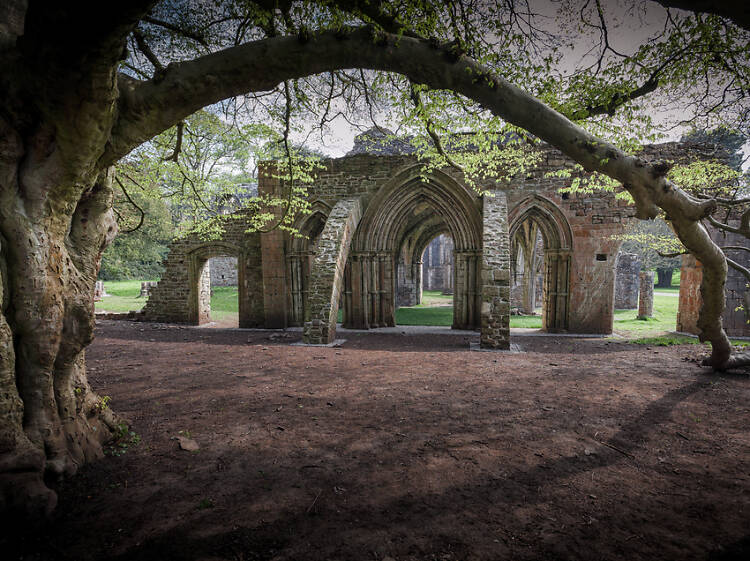 3. Margam Country Park, West Glamorgan
Margam Country Park in South Wales is a triple threat. It's home to the ruined Capel Mair ar y Bryn, where the presence of unwelcoming ancient monks has been felt, a big gothic castle stalked by the spirit of a rageful and unjustly murdered gamekeeper, the ghosts of Victorian children with a penchant for moving objects and disembodied laughter, and a blacksmith who walks the castle grounds, plus the ruins of the twelfth-century Margam Abbey, which are enough on their own to make the hairs on the back of your neck stand up.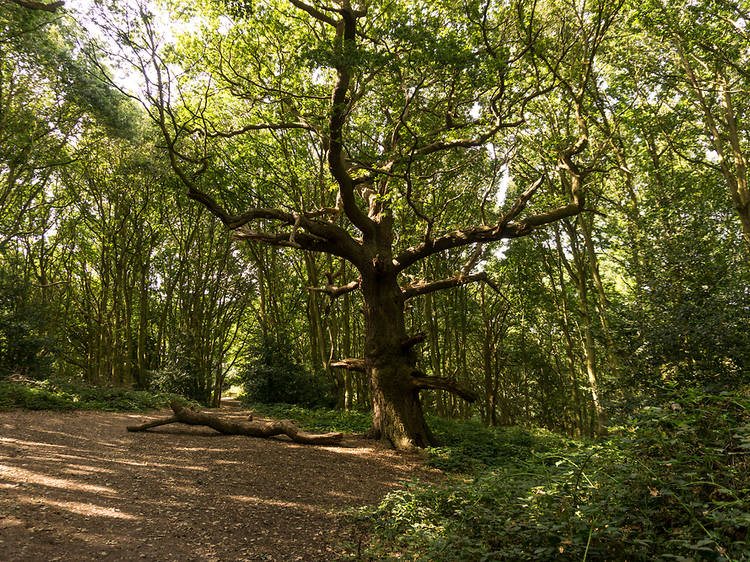 4. Manningtree, Essex
Modern witches might want to steer clear of the Essex town of Manningtree. It's where the self-professed Witchfinder General Matthew Hopkins lived in the 1600s. His, erm, efforts resulted in the deaths of hundreds of women in East Anglia's witch trials. If you don't feel the ancient anger of the persecuted there, you could spot the ghost of Hopkins himself. Sightings of him have happened during full moons in the neighbouring village of Mistley, by the pond where he infamously drowned so many innocent people. Know when the next full moon falls? That would be Halloween. Cool cool.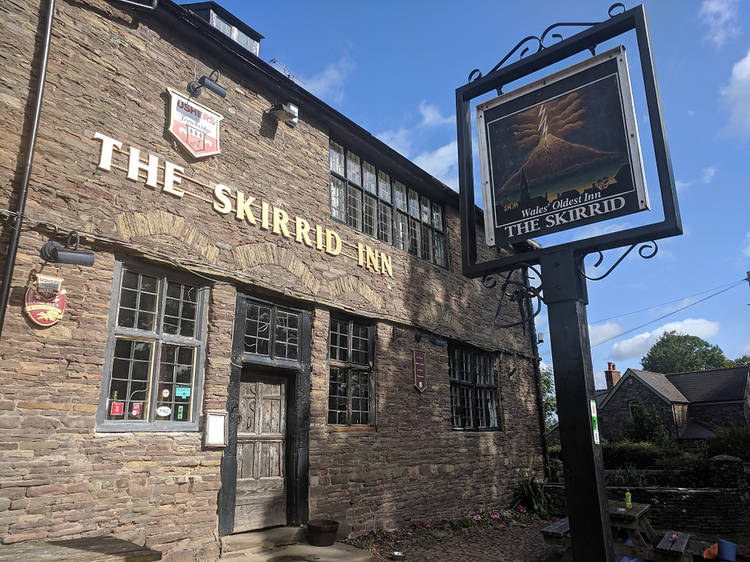 5. Skirrid Mountain Inn, Monmouthshire
Plenty of pubs have grisly tales to tell, but this ancient boozer in the Brecon Beacons has more than most. Punters have reported hearing slamming doors, loud footsteps and whispered voices. Legend has it that's because the building was once used as a court of law, and hundreds of defendants were put to death in the inn itself. A noose now hangs in the historic bar. You know, in case you need a reminder of its creepy history with your pint.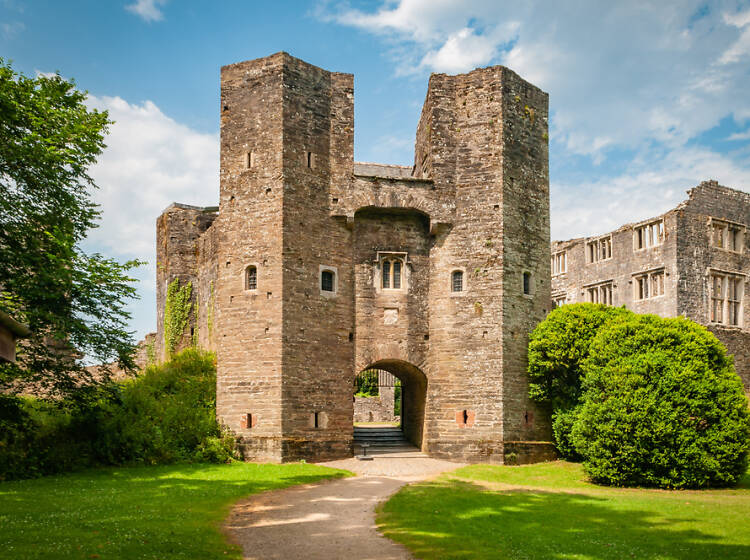 6. Berry Pomeroy Castle, Devon
A fifteenth-century ruin in a wood? Classic ghost-spotting territory. This grand castle, which was abandoned centuries ago, has a number of creepy tales attached to it. People have reported hearing screams and feeling chills there and bearing scratches or bruises after leaving the castle. The ghosts of Lady Margaret Pomeroy, who supposedly starved to death in the castle's dungeons, and two Pomeroy brothers who leapt from the castle's ramparts rather than be caught by their enemies, are said to haunt the site.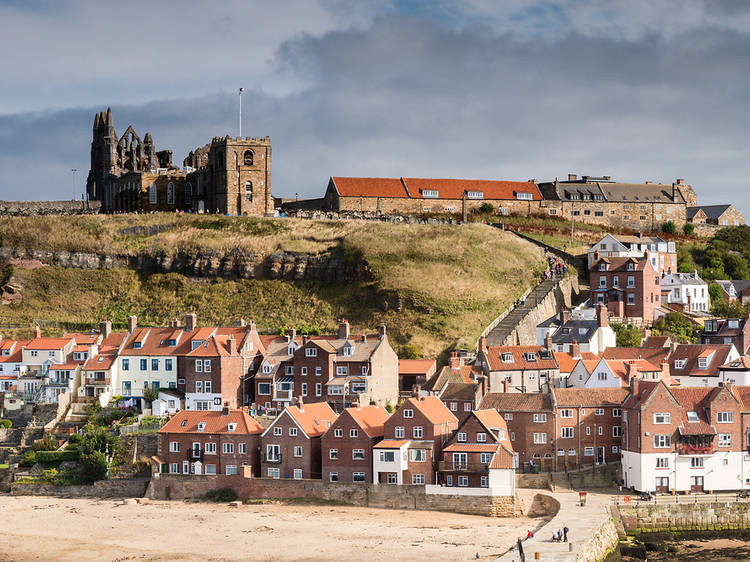 7. Whitby Abbey, Yorkshire
Whitby = the perfect setting for a ghost story. As if the gothic vibe and 'Dracula' connection isn't spinetingling enough, atmospheric Whitby Abbey is said to be home to the ghost of a young nun who was bricked up alive in the walls after breaking her vows. And a phantom hearse with four headless horses and a headless driver has been spotted in front of St Mary's Church, in the shadow of the Abbey. Woooooooh!
8. Duntulm Castle, Isle of Skye
There's something ethereal and other about the Isle of Skye , with its mind-boggling landscapes and mystical places with names like the Fairy Pools and Fairy Glen. The ruins of Duntulm Castle, which cling to the northern tip of the island, are no exception. It was built in the late fourteenth century before being abandoned around 1730. Now it's so unstable the clifftop fortress is best viewed from a safe distance. Keep your eyes peeled, though, for the ghost of a nursemaid, murdered after she accidentally dropped a clan chief's baby out of the window and into the sea below.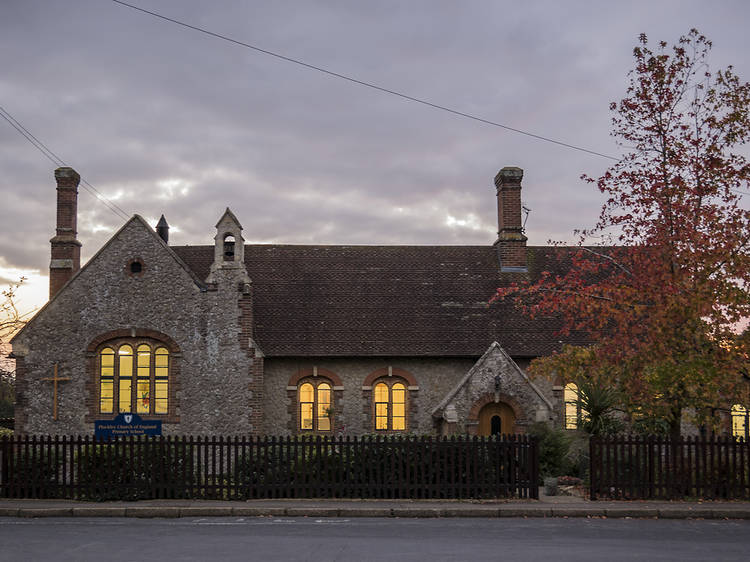 9. Pluckley, Kent
A picturesque village in Kent , Pluckley is known for being the place the TV series 'The Darling Buds of May' was filmed – and also for being entirely overrun with ghosts. In fact, villagers proudly boast of their spot in the 'Guinness Book of Records' as Britain's 'most haunted village', thanks to the 12 official apparitions that roam the place. Swing by to see if you get a visitation from a phantom coach and horses, a tree-dwelling highwayman, a schoolmaster, a small white dog and others – there's quite a list.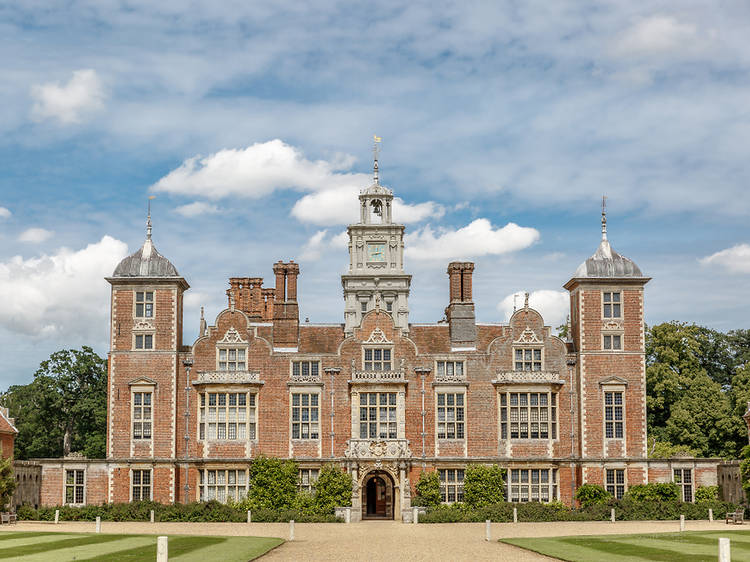 10. Blickling Hall, Norfolk
This is the place for spotting a real celebrity phantom. According to legend, the headless ghost of Anne Boleyn returns to the hall, which was built on the site of her childhood home, every May on the anniversary of her execution. Her anguished dad has also been spotted roaming the nearby countryside, while you might hear or come across the spirits of two other former homeowners inside the hall, too.
[image] [title]
Discover Time Out original video
Press office
Investor relations
Work for Time Out
Editorial guidelines
Privacy notice
Do not sell my information
Cookie policy
Accessibility statement
Terms of use
Modern slavery statement
Manage cookies
Advertising
Time Out Market
Time Out products
Watch Ghosts Season 2 in UK On CBS
Last updated: April 13, 2023
Table of Contents
The second season of the American version of the beloved British show Ghosts is making a comeback on CBS on April 13, 2023 . In this blog, we'll guide you on how to watch Ghosts Season 2 in UK On CBS with the help of a VPN.
You may encounter trouble accessing the show due to content licensing restrictions . However, by using a trustworthy VPN such as ExpressVPN, you can easily bypass these restrictions and enjoy watching the show from anywhere in the world..
A VPN like ExpressVPN helps you to make your streaming device think it's based in the US. Read below to learn how to use a VPN and access CBS in UK .
Watch Ghosts Season 2 in UK on CBS – [Easy Steps]
Follow these simple yet effective steps to Watch Ghosts Season 2 in UK on CBS:
First, subscribe to a reliable VPN service such as ExpressVPN , which has servers in USA.
Once you've installed the VPN software, purchase a subscription package that suits your need.
Connect to a US-based server .
Next, visit the CBS website or use the CBS app to access Ghosts Season 2.
Voila! You're now able to watch the show from the comfort of your own home, no matter where you are in the world.
Why do we need VPN to Watch Ghosts Season 2 in UK On CBS?
You need a VPN to watch the 15 best shows on CBC, because of geographical restrictions imposed by the streaming portal this means Ghosts Season 2 streaming can not be accessed from in UK. Content licensing agreements limit the availability of certain shows and movies to specific regions.
However, by using a VPN is required to watch 14 Best Movies on CBS All Access in UK.
Where to Watch Ghosts Season 2 in UK?
You can watch Ghosts season 2 exclusively on CBS . Watch it on live TV or view it on-demand via the CBS website . You can also catch popular shows on CBS along with Ghosts as CBS offers a variety of good content for its audiences.
Also, before you sign up, make sure to get to know about how to cancel CBS subscription at any time.
When will Ghosts Season 2 be back with new episodes?
There is some good news! CBS has confirmed that the new episode will air on April 13, 2023 , at its usual time slot of 7:30 PM Central Standard Time . However, CBS won't be airing new episodes of Ghosts for two weeks.
Till then you can enjoy previously released episodes of Ghosts season 2. We will Keep an eye out for the new episodes so that we can update the viewers.
What is the Plot of Ghosts Season 2?
Ghosts season 2 Plot centers around Samantha and Jay , a married couple who inherit a countryside estate that turns out to be haunted by the ghosts of former inhabitants . Samantha has the ability to communicate with the ghosts , while Jay does not.
The ghosts include a flashy jazz singer from the Prohibition era, a gay Revolutionary War captain , a Pinecone Trooper leader , and Samantha's ancestor .
In season 2, Sam and Jay have converted the mansion into a B&B and must enlist the help of the ghosts to impress some difficult guests and get a good review.
Who Is in Cast of Ghosts Season 2?
Ghosts season 2 cast consists of the following stars:
How many Seasons have Ghosts?
Ghosts have aired two seasons so far. The first season premiered in October 2020 and the second season in September 2022. Fans of the show are eagerly anticipating the release of a possible third season.
How many Episodes are in the Ghosts Season 2?
Ghosts have a total of 18 episodes across its two seasons so far. The first season consisted of 9 episodes, while the second season also consisted of 9 episodes till now. Each episode runs for approximately 25-30 minutes.
Is there any Trailer for Ghosts Season 2?
Yes , the Ghosts season 2 CBS trailer has been released on Youtube. Watch it here:
Is there going to be a Ghosts season 3?
CBS has officially renewed Ghosts for a third season . As Ghosts gains popularity with viewers across broadcast and streaming platforms, the network is excited to bring back this heartwarming and funny show for another season.
Fans can look forward to Ghosts season 2 continuing its run throughout the rest of 2022-2023 , with season 3 expected to premiere in the fall of 2023 for the 2023-2024 season.
What is Else to Worth Watching on CBS?
Here are some of the best and most popular content to view on CBS
Survivor Season 44
The Equalizer Season 3
Grammy Awards 2023
Blue Blood Season 14
Why is ExpressVPN the Best VPN to Watch Ghosts Season 2 in UK on CBS?
ExpressVPN is the best VPN to watch Ghosts Season 2 in UK on CBS, thanks to its impressive server count, top-notch features, and competitive pricing.
With more than 3000+ servers spread over 94+ countries . ExpressVPN offers one of the largest server networks in the industry. This vast network makes it easy to find a server in US to stream Ghosts Season 2 on CBS, no matter where you are located in the world.
In addition to its extensive server network, ExpressVPN boasts several advanced features to ensure a smooth and secure streaming experience. These features include military-grade encryption, automatic kill switch, DNS leak protection , and split tunneling. With these features in place, you can rest assured that your online activity and data are always kept safe and private.
ExpressVPN : The Best VPN to Watch Ghosts Season 2 in UK On CBS
ExpressVPN is considered ideal for streaming geo-restricted content as its user-friendly interface makes it incredibly easy to connect to a server in US and start streaming Ghosts Season 2 on CBS. The VPN is compatible with a wide range of devices, including Windows, Mac, iOS, Android, and Linux .
It offers several features tailored for streaming users. Its fast and reliable connections ensure smooth streaming, while its MediaStreamer DNS service provides an alternative to using the VPN. MediaStreamer allows you to access the geo-restricted content on devices that don't support VPNs, such as Smart TVs and gaming consoles .
ExpressVPN's pricing is competitive, with plans starting at GB£ 5.46 /mo (US$ 6.67 /mo ) - Save 49% and get 3 extra months FREE with 12-month plan .
In addition to CBS, ExpressVPN can also unblock other US streaming services like Hulu, American Netflix, and Fubo TV, making it an excellent all-around VPN for accessing geo-restricted content.
ExpressVPN offers a fast downloading speed of 89.26 Mbps, making it an excellent choice for streaming Ghosts Season 2 on CBS and other US streaming services. The VPN also provides stable and reliable connections, ensuring uninterrupted streaming without buffering or lag.
Overall, ExpressVPN's fast downloading speeds , reliable connections , and wide device compatibility make it the best VPN for streaming Ghosts Season 2 in UK on CBS and other US streaming services.
Why did Mary leave Ghosts?
What is the genre of ghosts season 2, what happened to thor on ghosts.
In conclusion, if you're looking to stream Ghosts Season 2 in UK on CBS, ExpressVPN is the ultimate solution . With its extensive server network , advanced features , and fast download speeds , it offers everything you need to enjoy a seamless streaming experience.
ExpressVPN is an all-around VPN that will keep you entertained for hours on end. So what are you waiting for? Sign up for ExpressVPN today and watch Ghosts Season 2 in UK On CBS .
Chris is a technology and entertainment writer whose main interests revolve around the art of writing and expression. He loves writing research-based articles in different niches and translating his thoughts into words that inspire others.
Leave a Reply
Your email address will not be published. Required fields are marked *
The Ghosts of Ghosts (UK) and Ghosts (US) Ranked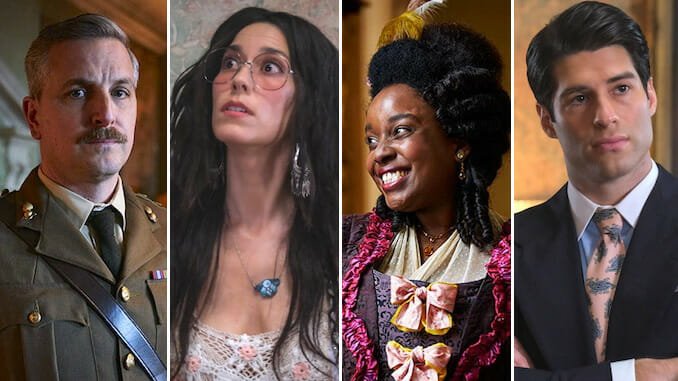 Are you watching Ghosts (BBC/UK, currently streaming on HBO Max ) or Ghosts (CBS/US and streaming on Paramount+ )? If not, you must remedy this! The two series are funny and surprisingly wholesome comedies that are genuinely delightful.
So naturally we wanted to pit them against one another in a ranking.
Now let me be clear: All ghosts are good! There is truly not a weak link character in either of the two casts, which is really saying something given how large each ensemble is. So this ranking is based more on who has had the best storylines, who made us laugh the most, and who we honestly just love (all of them). We also kept the featured ghosts to just those who live within the house (rather than the larger grounds), and we'll give the pigeon Honorable Mention.
Also, while the list may be top-heavy with UK characters, both versions are really great—we've just seen more from the BBC (three seasons and a Christmas special) versus a half season (so far) from CBS. The UK series also leans more into wholesomeness and eschews the sitcom pitfalls of the American version (naturally), but both series excel in combining darkness and whimsy in winning ways. Ultimately, all ghosts are good , and really this is a celebration of two great shows.
Finally, while we did not rank the living, both Ghosts core couples (Alison and Mike, played by Charlotte Ritchie and Kiell Smith-Bynoe; plus Samantha and Jay, played by Rose McIver and Utkarsh Ambudkar) are outstanding. Top marks for everyone.
Without further ado… the 21 ghosts of Ghosts , ranked:

21. "Crash"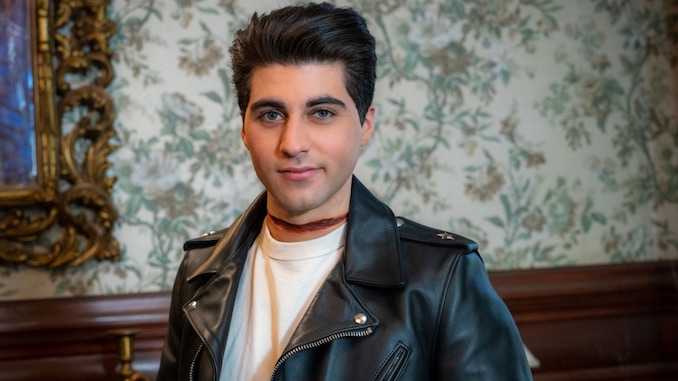 Actor: Hudson Thames Version: US
Blink and you'll miss him in the pilot episode, Crash's disarming appearance is more about shock value than anything else. Crash is the US equivalent of the UK's Sir Humphrey, but he's far behind the deceased Catholic Tudor nobleman in terms of screen time. CBS has suggested that we'll see more of Crash in episodes to come, but we shouldn't get ahead of ourselves. — Dave Trumbore
20. Cholera Ghosts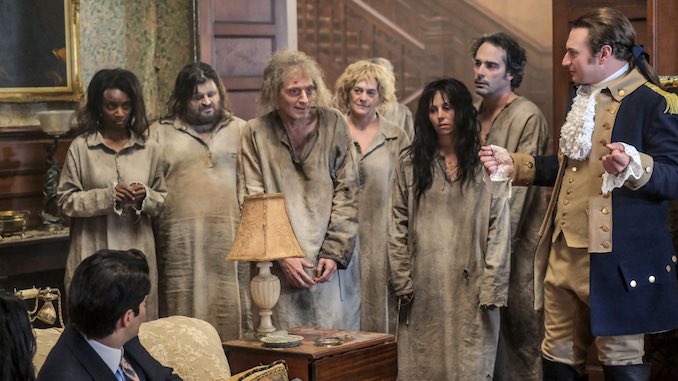 Actor: Stuart Fink, Arthur Holden, Cody Crain, Nigel Downer, Cat Lemiuex Version: US
Like Crash, the Cholera Ghosts in CBS's series haven't gotten much screen time yet. Akin to the Plague Ghosts of the UK version, they are relegated to the basement where they are terrifying, not only because of their sheer number, but because they dwell in the dark. Basically, they freak everybody out even though they're very helpful when it comes to fixing the water heater. Hopefully they'll get more of their own storylines soon. — Allison Keene
19. Sir Humphrey Bone (Body)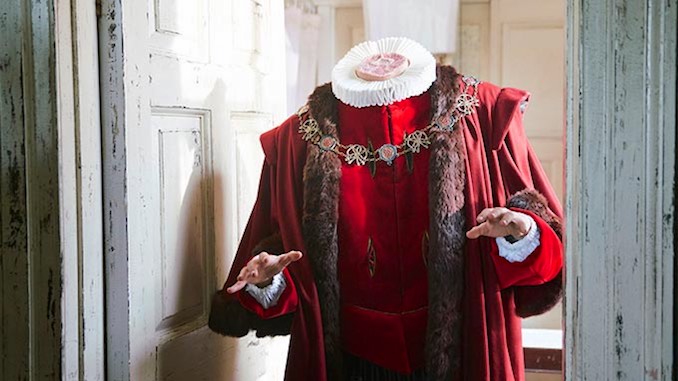 Actor: Yani Xander Version: UK
While you might think that Sir Humphrey's disparate physical parts are united in mind and spirit if not in body, a recent dalliance with another house ghost proved that that's not the case. Giving Humphrey's walking body a slightly different personality than his talking head was a brilliant stroke in bringing another narrative layer to a character that's been slow in developing. And now when Humphrey's head lobs insults at his own body as it searches aimlessly to reconnect, it's all the funnier for their bizarre internal conflict. — Dave Trumbore
18. Plague Ghosts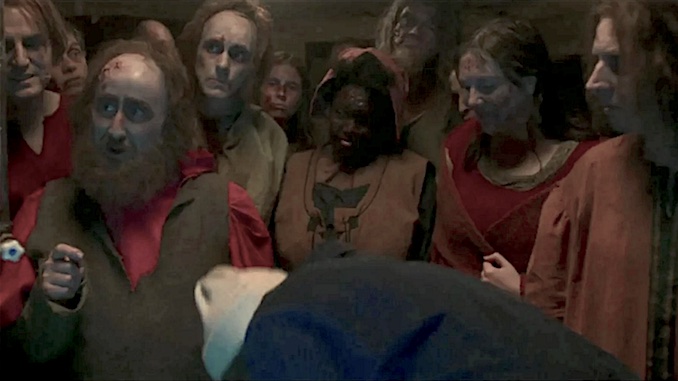 Actors: Laurence Rickard, Mathew Baynton, Simon Farnaby, Jim Howick, Ben Willbond, Martha Howe-Douglas, Lolly Adefope, Katy Wix Version: UK
The next best thing to seeing the core UK cast playing their main characters is seeing them as the slightly off-kilter, basement-dwelling Plague Ghosts. While this group works just fine as a one-note joke, it's that much better when we get a flashback explaining just how the plague came to infect their isolated village, or how their fates were literally uncovered in the 21st century. It's better still when the Plague Ghosts come up out of the basement to interact and participate in house politics, reminding everyone not to underestimate the wild cards of Button House (such as the Plague Girl who lives in the kitchen cupboard…). — Dave Trumbore
17. Susan Montero, a.k.a. Flower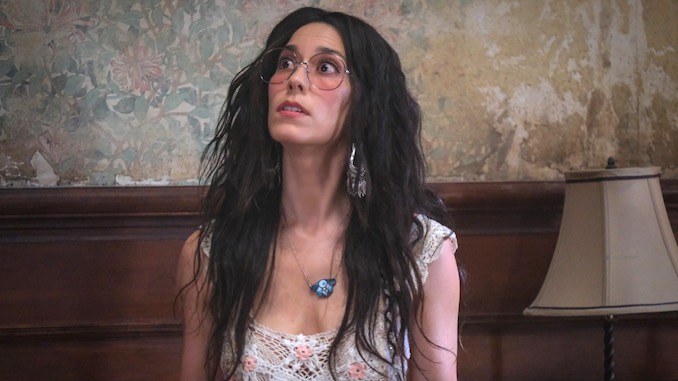 Actor: Sheila Carrasco Version: US
Though she started out the series as a stereotypical hippie character, Flower's comedy continues to blossom (!) the more she reveals about her often dark past in upbeat ways. There's a cult, a commune, a robbery, a bear mauling … but it's all good vibes, man. Though she's often checked-out in a marijuana haze (something she can impart onto the living if she passes through them), she occasionally provides insightful commentary and ideas to others. The show hasn't quite figured out what her role is in the group dynamic other than being dismissed as a sweet airhead, but here's hoping for more Flower Power in future episodes. — Allison Keene
16. Sasappis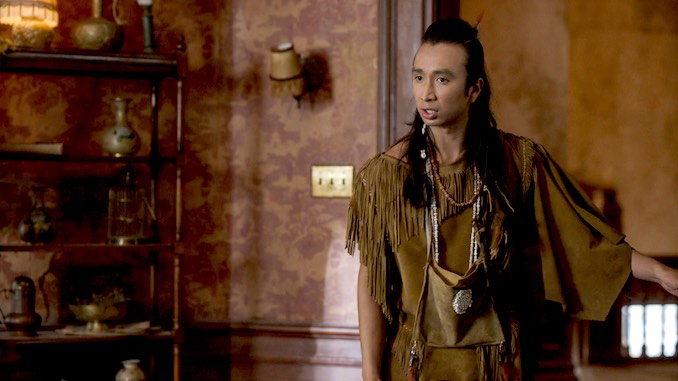 Actor: Roman Zaragoza Version: US
Though Sasappis is likely the second-oldest ghost at Woodstone, his deadpan personality and quick embrace of modern trappings (reality TV, negging, etc.) makes him one of the more open and adaptable ghosts. However, as a character unique to CBS's series, he's still finding his footing, with some of his best moments arriving through his friendship with Thorfinn. While we haven't gotten to see much of Sasappis' personal side beyond that and a dating attempt gone awry, we do know that he's a loyal companion who is eager (much as he may loathe to show it) to join in with group hijinks, and that he loves to daydream about being able to eat the great food he can still smell (something the UK ghosts are unable to do). — Allison Keene
15. Pete Martino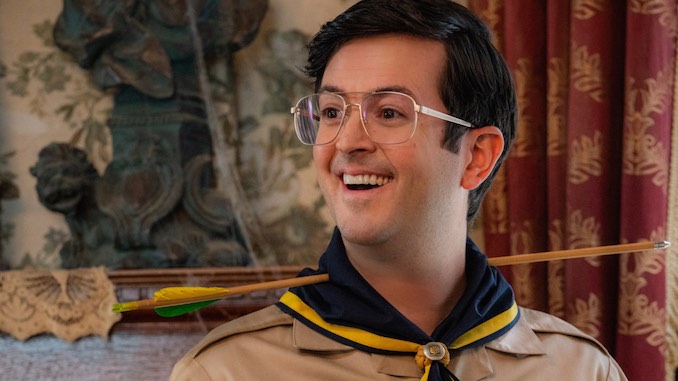 Actor: Richie Moriarty Version: US
Whether you meet the UK's Pat or the US's Pete first, chances are good that the scoutmaster ghost will be one of your favorites. The problem is, they are so similar that whomever you meet second will feel like a rehash. Pat has been a nearly unflappable force of positivity and optimism throughout the UK show's run while also sharing some leadership duties among the ghosts. Pete is much the same, a near carbon copy of Pat, from the arrow that killed him to the way his family moved on after his passing. Pete desperately needs some personality of his own to stand out, despite being an all-around good guy; the D&D episode is an example of how the show can lean into Pete's nerdy side more, with great results. — Dave Trumbore
14. Sir Humphrey Bone (Head)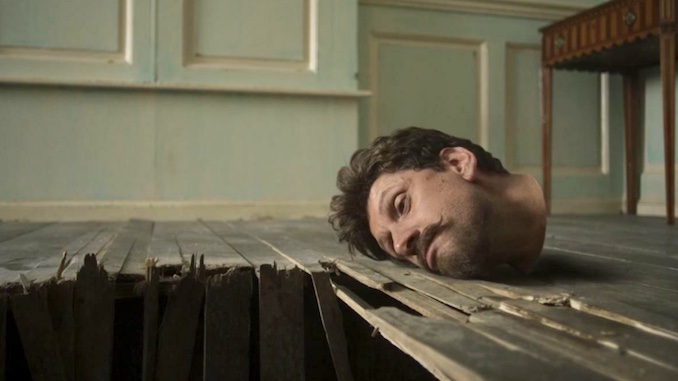 Actor: Laurence Rickard Version: UK
As Ghosts has continued, Sir Humphrey (both head and body!) have played a bigger role in the comings and goings of Button House. Often left forgotten on the floor (including by his own body) or used in lieu of a ball both for sports and, occasionally, lobbing an important message to someone, there are few indignities that Sir Humphrey's head has not suffered. A flashback episode that explained the circumstances of his untimely demise was an excruciating exercise in waiting for the decapitation, but it also gave him additional depth as a character. One of the more quietly caring members of the household, Sir Humphrey is a tragic figure who is nevertheless expertly used for true comedic excellence. — Allison Keene
13. Hetty Woodstone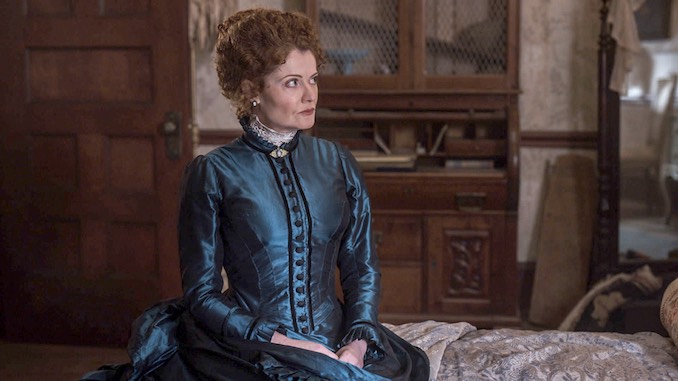 Actor: Rebecca Wisocky Version: US
The matriarch of Woodstone Manor could have fallen into the same trap as Pete / Pat, but Hetty has already distanced herself from Lady Button in important ways. We now know about her childhood in the manor and her connection to its established ghosts, her Victorian sensibilities and how they conflict with modern mores, and even what happens when Hetty gets to hop into a warm body and live life in the 21st century, ever so briefly. All that has happened in only a handful of episode appearances so far, suggesting the best may still be yet to come. — Dave Trumbore
12. Alberta Haynes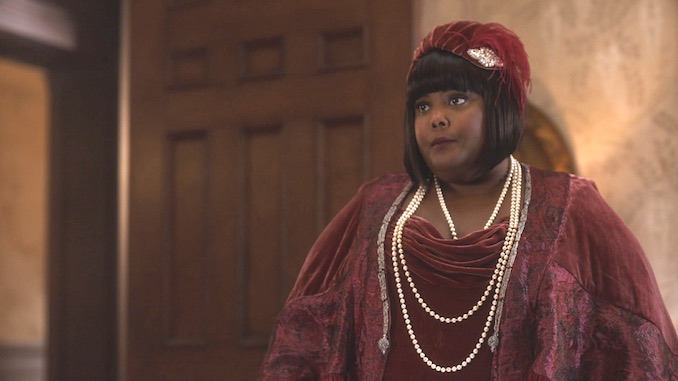 Actor: Danielle Pinnock Version: US
Alberta is another one of the ghosts created specifically for the CBS version, and while she makes a good gossipy duo with Isaac, her flashback episode took what could have been a relatively flat character and instead gave her unique and interesting context. In a rather fun way (i.e. through a creepy super-fan), we learned about the history of the house's Harlem Renaissance singer, her legacy, and how she ultimately passed. It's an example of the storytelling power of the show, which is at its best when it gives an individual ghost room to breathe (or sing) and time to enjoy the spotlight. — Dave Trumbore
11. The Captain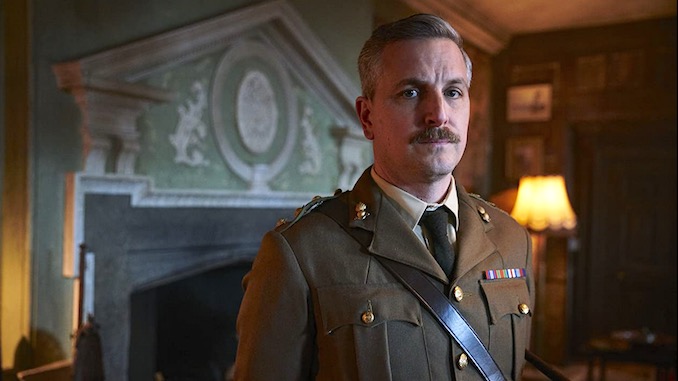 Actor: Ben Willbond Version: UK
If I had to be haunted by any of the ghosts, it would absolutely be The Captain. Confident, resourceful, and often keeping to himself, he relishes in rounding up and leading (more or less) the ghosts of Button House. Still stuck in his WWII glory days (we still don't know his real name, after all, just his rank), The Captain is truly as sweet as he is a stickler, genuinely caring about his fellow ghosts as a parental figure while also trying to corral them and be of use to Alison and Mike—even though he often fumbles in his attempts to be helpful and ends up making things a mess. A few Captain-focused storylines have also slyly revealed his closeted status, which he doesn't seem ready to admit…. even though he does out himself accidentally in casual comments. A deeply-layered character with still more to reveal, The Captain is a secret MVP of the series. — Allison Keene
10. Julian Fawcett MP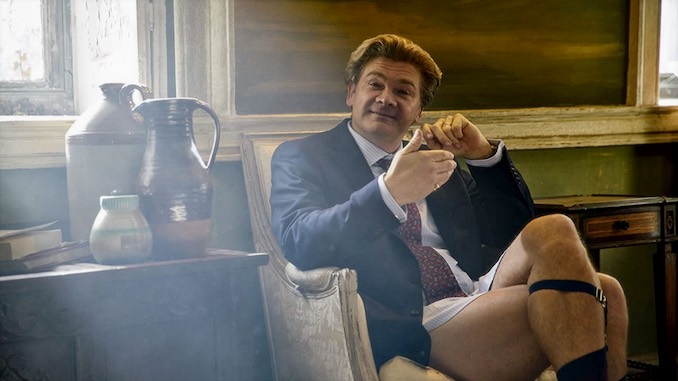 Actor: Simon Farnaby Version: UK
Julian is a polarizing character. He's not likable (although he does get something of a heart from time to time as the series progresses), but he is hilarious. He's also a spot-on portrait of a casually corrupt politician, the kind of person who has never had to face consequences and who nothing sticks to—until death, of course. While flashbacks have revealed some of Julian's regrets, and there are moments we see him genuinely connecting with his fellow ghosts, the character is really at his best when he's just being a total shit. Though he often uses his "power" (the ability to touch things in the corporeal world with his index finger) for pranks, occasionally he has come through in clutch moments, thanks also to his modern knowledge and understanding of the darker ways of the world, in contrast to his wholesome housemates. — Allison Keene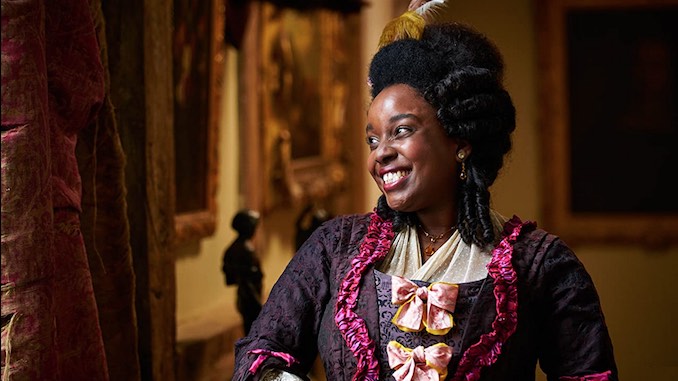 Actor: Lolly Adefope Version: UK
The incredibly funny Lolly Adefope is an actress who always steals scenes from her co-stars, and her performance as Kitty is no different. Both incredibly sweet and deeply traumatized, we don't learn much about Kitty's backstory until late in the current series. It's a powerful episode, but the context clues for what Kitty might have been dealing with before her death are there throughout. Obsessed with being Alison's best friend/sister, Kitty's childlike delight in girly-girl things has always revealed a somewhat stunted emotional maturity that is a little sad but is also carefully and lovingly handled by all around her. And yet, Kitty is also fiercely protective of Alison, showing that there is a hidden strength to her that we may hopefully see more of as the series continues (and Alison "handing" Kitty an expensive bottle of wine is still one of the show's funniest laugh-out-loud moments). — Allison Keene
8. Thorfinn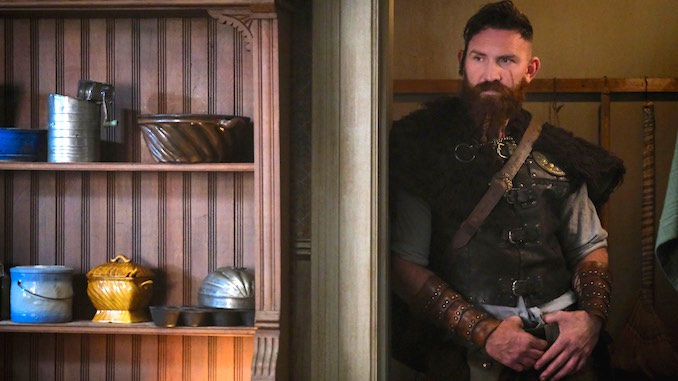 Actor: Devan Long Version: US
Thorfinn could have been a simple knock-off of the UK's Robin (and he certainly did start that way), but the US's big scary viking quickly showed signs of becoming his own character. The oldest ghost resident of Woodstone Manor and its grounds, Thorfinn's origin story is heartbreaking, his death is quite literally shocking, and his primitive nature often puts him at odds with more modern characters … which is everyone else. However, it's revealed through various touching relationships with the ghosts that Thorfinn is also a caregiver, a protector, and a loyal friend, making him one of the most well-rounded of the bunch (and his malapropisms are hilarious). — Dave Trumbore
7. Thomas Thorne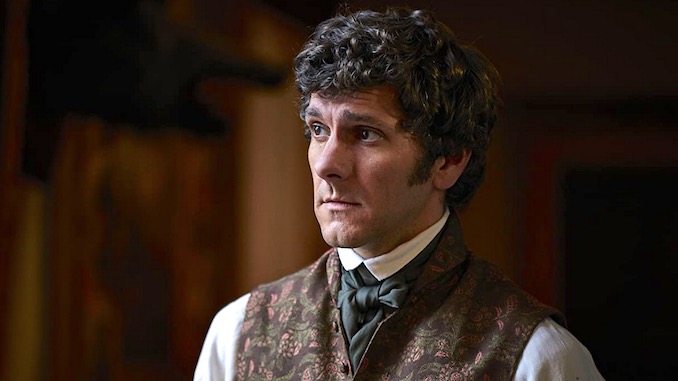 Actor: Mathew Baynton Version: UK
It is as easy to love Thomas as it is to be annoyed by him. That's a testament to Baynton's soulful and comedic performance as well as the writing behind the deceased Regency era poet who is as obsessed with himself as he is with living resident Alison Cooper. For every tragic moment in Thomas' previous life, he answers it with an annoyance in the present; for every haughty declaration, he comes up with a beautiful, earnest observation; it's this push and pull that makes Thomas both incredibly frustrating and eternally endearing. — Dave Trumbore
6. Lady Stephanie "Fanny" Button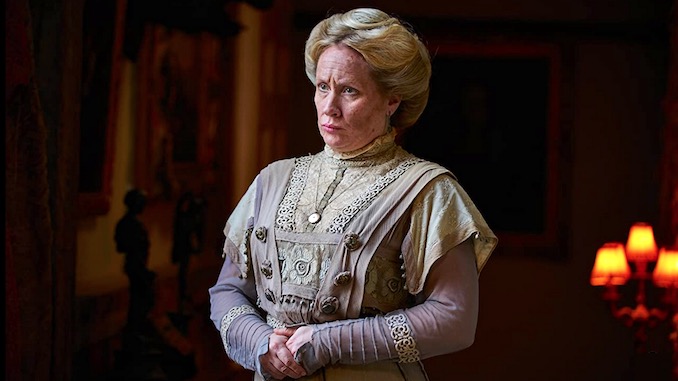 Actor: Martha Howe-Douglas Version: UK
Though it has somewhat gone out of fashion, there is still much to be said about the power of physical comedy. The way Martha Howe-Douglas contorts her face (and tucks her chin) allows for some of the most exceptionally funny reactions on TV. Fanny is the first UK ghost we meet and whose tragic story we first uncover, and from the start we learn that, like The Captain, she's a stickler for the rules and is constantly horrified by the behavior of Alison and Mike and her fellow ghosts. And yet, it's her responses to those behaviors, sometimes delivered with just a look, that are pure comedy gold. Often intrigued by that which she has been taught to avoid, Fanny is the ghost who provides the most surprises from episode to episode; just when you think you have her pinned down, she reveals something new and gloriously funny. — Allison Keene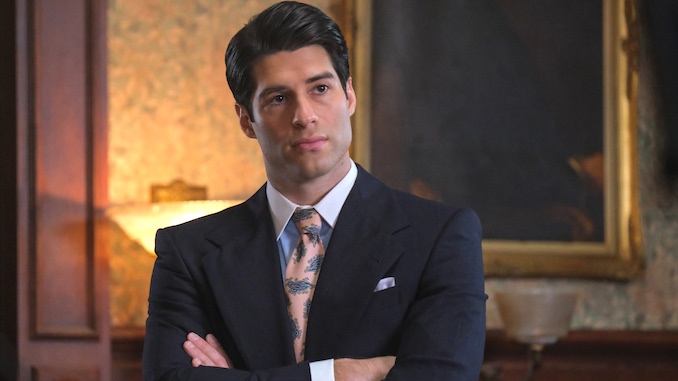 Actor: Asher Grodman Version: US
As the most recently deceased inhabitant of Woodstone, Trevor hits a particular sweet spot when it comes to pop culture references and nostalgia; it also helps that he delivers some of the best one-liners and asides in either version. A combination of Julian and Thomas from the UK series, Trevor's depth as a character has been aided by a family-focused plot line. But even before that, he had established himself as a comedy staple both on his own and within the group dynamic. With his excellent quips and genuine bro nature, Trevor is just such a charming character that it doesn't matter if he skips leg day, he'll always be one of our favorites. — Dave Trumbore
4. Captain Isaac Higgintoot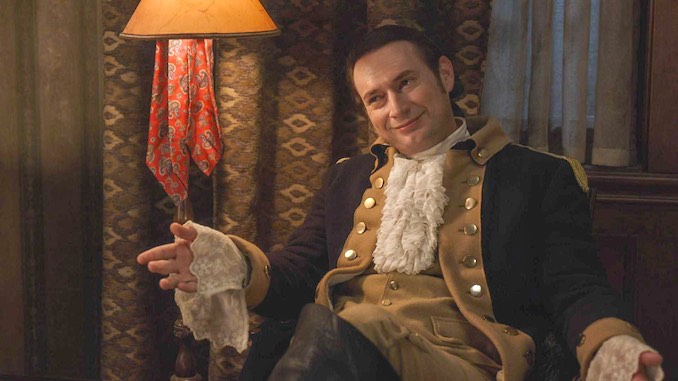 Actor: Brandon Scott Jones Version: US
It's to be expected that the American version of Ghosts would go broader in its comedy than the UK series, and one of the biggest character changes in that regard is with Isaac, who is all snark versus the Captain's stoicism. Still (mostly) closeted like his UK counterpart, Isaac distinguishes himself by being a preening, self-obsessed, gossip and drama-loving house leader. The purveyor of most of the show's double entendres (which are barely entendres at all so much as just the thing itself ), Isaac also has a tender side and, like The Captain, cares about his fellow ghosts while still fumbling significantly when trying to do the right thing. Isaac's indispensable presence has helped establish and carry the show from the start, and that's why he is (in our estimation, anyway) the very best of Woodstone. — Allison Keene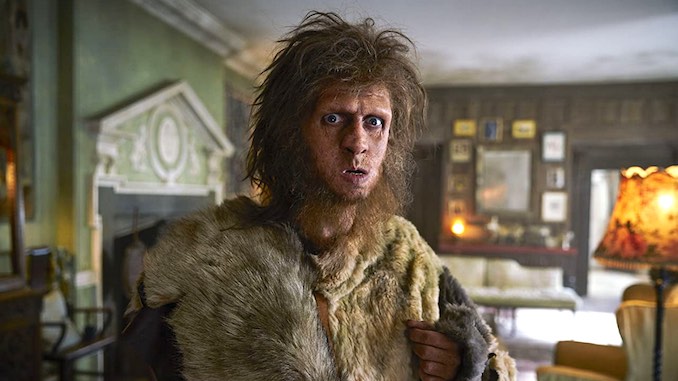 It was a bold move to make a caveman one of the main characters of this series; not since ABC's Geico-inspired sitcom have we seen such a thing. However, Robin, as the oldest ghost to haunt Button House, is also the most complex, the most surprising, and honestly the most fun. Whether it's his endless delight over modern conveniences and language, his surprise at the lack of lunar knowledge from his fellow ghosts and mortals, or the electrifying way he messes with the physical world, Robin almost always delivers with a laugh, a surprisingly astute observation, or a heartfelt moment. That's exactly what makes Ghosts such a joy to watch.— Dave Trumbore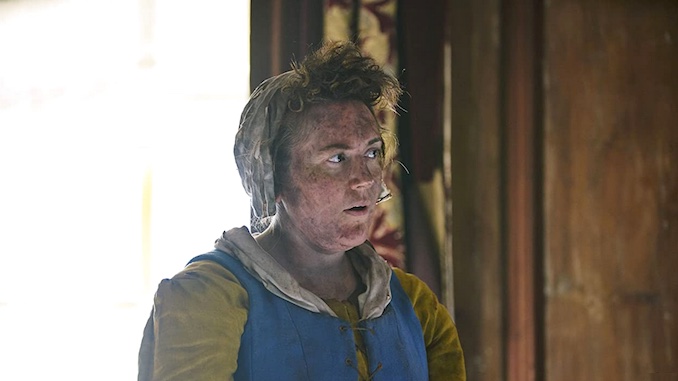 Actor: Katy Wix Version: UK
All of the writing on Ghosts is excellent, but no one gets better lines than Mary, our queen of plurals. Her story is a slow burn (sorry, Mary), but Katy Wix's unique performance made her a standout from the start. Though technically from the Stuart era, Mary is still steeped in the (often terrifying) lore of medieval peasantry. She is exceptionally sweet and reserved but also sees the work of the Devil and his chucklesome imps at every turn. Plagued by terrifying dreams and still simmering from when she was burned at the stake, Mary is yet a simple creature with a big heart who longs to be useful but is often just perplexing. Like Lady Button, Mary's best moments come in the juxtaposition of her Puritanical instincts and attempts to understand a modern world that she finds deeply interesting but confusing. And like Robin and Thorfinn, her malapropisms are legendary. — Allison Keene
1. Pat Butcher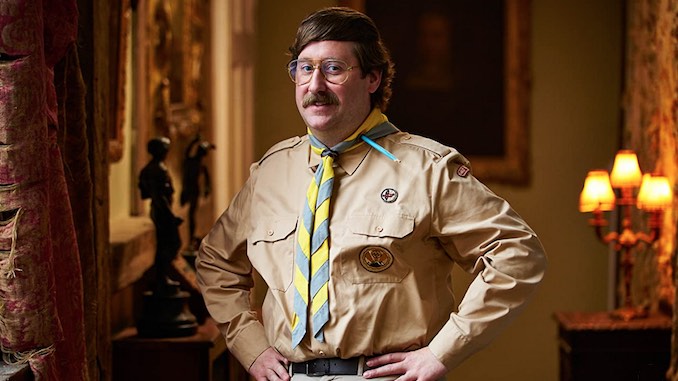 Actor: Jim Howick Version: UK
Pat! Our dear, dear Pat. The most wholesome of a very wholesome group of ghosts at Button House, Pat is the true heart and soul of the operation. The Captain may fancy himself the leader, but is he the one who has coordinated endless different club activities through which the ghosts can share memories of their lives and keep themselves occupied in their restricted afterlife? No, it's Pat! Pat's big heart, cheery optimism, and resourcefulness is a constant boon to Alison and his fellow ghosts, but the moments when he gets to "let loose" a little and show off his dance moves, yell at his accidental murderer, or pretend to be a radio host are still genuinely lovely. Because Pat is genuinely lovely without ever being saccharine. He ultimately finds the good in everything and everyone, and, like a great scout leader, tries to keep everyone happy and under control. He doesn't always succeed, but by golly we love him for it. — Allison Keene
For all the latest TV news, reviews, lists and features, follow @Paste_TV .
paramount plus
What to watch.
GET PASTE RIGHT IN YOUR INBOX
The best music, movies, TV, books, comedy and more.
NEWS... BUT NOT AS YOU KNOW IT
Ghosts: BBC comedy forced to axe characters for series 3 due to coronavirus restrictions
Share this with
BBC Three comedy Ghosts might look a little different when it returns to television screens later this year thanks to coronavirus filming restrictions.
The upcoming new chapter finished filming just a matter of weeks ago, however, due to a number of strict Covid-19 restrictions being in place on set, some characters won't be making an appearance this time around.
Metro.co.uk caught up with lead writers Mathew Baynton, Martha Howe-Dogulas and Laurence Rickard ahead of this year's TV Baftas and discussed how the show had to transform in order to be produced safely.
'We did [have to axe some scenes],' Mathew said. 'There are certain characters who by their nature are constantly in a massive group so we've left them in the basement where they live and we'll have to see them again in series four.
'But for now, they're where they belong and we can tell the audience that they're perfectly happy down there, they'll be fine, you're just not going to see them.'
Here's hoping Ghosts is renewed for a fourth series!
Each scene of the upcoming season required a lot of planning due to the limit on how many cast members could be on stage at one time.
'Every week we had to pick groups of three or four people maximum who could come close to each other but not to anyone else in another group,' Mathew added.
'Normally in episodes of Ghosts, there would be lots and lots of scenes where there are just 10 people clumped around a sofa. So there are some shots where you'll see that but in fact, we had to do it like a special effects shot where you knock off the camera, half of you stand there and do your bit and then go away and then the other half stand in the other half of the frame.'
'One of our longest scenes was a scene that was all of us just having dinner around the table,' Laurence said. 'You'd shoot people, they'd go out a green screen would come in, two more people would have to come in, it just took forever.'
Despite the rigorous new protocols, the team was delighted to be back together again – especially as they hadn't seen each other in real life since series two had wrapped in the beginning of 2020.
'Everyone was so happy to finally be back at work and out of the house that we found that everyone was in high spirits,' Mathew enthused.
Ghosts is nominated for writer: comedy at this year's Bafta Craft Awards and will be competing against This Country, Man Like Mobeen and Inside Number Nine for the gong.
The British Academy Television Craft Awards take place on Monday 24 May and will be broadcast from 19:00 BST on BAFTA's  Youtube Channel .
Ghosts is available to stream on BBC iPlayer.
Got a story?
If you've got a celebrity story, video or pictures get in touch with the Metro.co.uk entertainment team by emailing us [email protected], calling 020 3615 2145 or by visiting our Submit Stuff page – we'd love to hear from you.
Get us in your feed
Unquiet Graves
By ben johnson.
In modern day Britain we deny the existence of ghosts, yet at the same time we are afraid of them. Ghosts take many forms, from shackled skeletons clanking through graveyards to spectral balls of light smelling of sulphur, which have been reported on sites of ancient battlefields . There are legless ghosts, kind ghosts, cruel ghosts, headless ghosts, traditional and legendary ones, some well documented and some seen only by a privileged few.
Royal ghosts are very popular – who for example wouldn't be proud to tell their friends that they had just met Queen Anne Boleyn face to face! On May 19th, the anniversary of her execution in 1536, Anne Boleyn's ghost draws up to the door of Blickling Hall in Norfolk in a coach, carrying her severed head in her lap. Blickling Hall is believed to be her birthplace although there is no evidence to support this. She also appears at the Tower of London (which is where one would expect her to be) at the Chapel of St. Peter ad Vincula where she was buried.
Henry VIII's Queens seem to be the restless type of ghost. Jane Seymour, the mother of his only son Edward, carries a lighted taper through the Silver Stick Gallery in Hampton Court…. Catherine Howard, who was beheaded for adultery in 1542, has been seen and heard, screaming for mercy from Henry, in the Haunted Gallery of Hampton Court.
On Midsummer Eve , King Arthur is supposed to lead a troop of mounted knights down the slopes of Cadbury Hill in Somerset , the legendary site of Camelot .
Some ghosts stubbornly cling to their mortal remains on earth. Bettiscombe House in Dorset and Burton Agnes Hall in Yorkshire have skulls of former occupants amongst their furnishings. If the skulls are removed, or an attempt is made to bury them, their hideous screams ring through the house and dire misfortune falls on the occupants.
A very welcome ghost is that of an unknown man who appears at the Theatre Royal, Drury Lane, London . His appearance at a play is a sure sign that the play will be a huge success.
Ghosts are not always human. Drake's Drum which was with Sir Francis Drake when he circumnavigated the world, is supposed to beat when England is in danger.
Borley Rectory in Essex was reputedly the 'Most Haunted House in England'. For the better part of a century mysterious happenings occurred there.
Glamis Castle in Angus, Scotland, the birthplace of Princess Margaret and the ancestral home of the Earls of Strathmore, has at least nine ghosts. One is said to be Macbeth , and a Grey Lady haunts the chapel. Earl Beardie plays dice with the Devil and a ghostly madman can be seen walking on the roof along 'The Mad Earl's Walk' on wild winter nights. These are just a few of the ghosts of Glamis.
What can be the explanation of these ghosts? It is impossible to dismiss them as hoaxes as some have been haunting for centuries! It may be that these strange, often terrifying manifestations are evidence of another world that we the living, have never explored.
If you enjoyed this article, you might also be interested in… English Country Inns – Haunted Hotels

Related articles
Phantom Battle of Edgehill
The Battle of Edgehill on October 23rd 1642 was the first battle of the English Civil War – and is reputed to be contested again and again by ghostly armies at the battle site…
Sir Francis Drake
Sir Francis Drake, favourite of Queen Elizabeth I, explorer, pirate, privateer – famous for 'singeing the King of Spain's beard' in his ship the Golden Hind…
Camelot, Court of King Arthur
There are many places linked with Camelot, the home of King Arthur's court with its legendary Round Table. Here we…
Next article
Highgate Cemetery
Highgate Cemetery in London, the final resting place of Karl Marx, George Eliot, Michael Faraday and Henry Moore.
Popular searches
Castle Hotels
Coastal Cottages
Cottages with Pools
Kings and Queens
Ghosts stars reveal their thoughts on US remake
CBS will premiere its own take on the BBC comedy in October.
David Craig
Share on facebook
Share on twitter
Share on pinterest
Share on reddit
Email to a friend
The original cast of BBC One sitcom Ghosts has weighed in on the upcoming American remake, which is due to air on US broadcaster CBS later this year.
Much like the British version, the sitcom will follow a young married couple – Samantha and Jay – who unexpectedly inherit a mansion from a distant relative and make plans to convert it into a hotel.
However, when Samantha has a serious accident and falls into a coma, she awakes with the ability to see the undead spirits that haunt her new home – and that's going to make her life a lot more complicated.
Speaking to RadioTimes.com and other press ahead of the launch of series three on BBC One and BBC iPlayer, members of the Ghosts cast have voiced their opinion on the remake, on which they are credited as executive producers.
Ben Willbond, who plays The Captain, says, "It was just really fun to see the process and see it be turned into this CBS-style show. I think initially it was like, 'Wow, that is just weird. This just looks weird'. And then with the release of the new pilot, I just think it looks great. It's really fun."
For many of the cast members, it was strange seeing characters they had grown so familiar with being played by different people, with co-star Jim Howick describing it as "the closest I've come to a sort of sci-fi parallel universe".
Never miss a thing. Get the best of RadioTimes.com sent to your inbox.
Sign up to be the first to know about breaking stories and new series!
By entering your details, you are agreeing to our terms and conditions and privacy policy . You can unsubscribe at any time.
However, not every ghost from the British series has made it into the US version, with some – such as Matthew Baynton's failed poet Thomas Thorne – being cut to ensure the show makes geographical and cultural sense with real American history.
More like this
Baynton explains, "A big part of americanising it was for them to decide on an ensemble, because our ensemble is a bunch of immediately recognisable archetypes that are particularly British or European, and an extent of history that is particular to the place.
"So you've got a completely new set of restrictions when you set it in America and you've got to think about where you're going to set it, how far back the history is going to go in that setting, and what those archetypes are going to be that Americans are going to recognise immediately."
Co-star Laurence Rickard praises the work of American producers Joe Port and Joe Wiseman for keeping the dynamic of the show consistent, despite having to insert new characters into the group.
For the latest news and expert tips on getting the best deals this year, take a look at our Black Friday 2021 and Cyber Monday 2021
"A lot of the character dynamics are the same, but they've changed where those characters come from geographically and their point in history," he says. "I think they've been really, really clever about it."
While some purists might be resistant to the idea of a Ghosts remake, it does appear that the American cast are trying their best to do justice to these characters, with Martha Howe-Douglas (aka Lady Button) getting an enthusiastic message from her US counterpart.
"The lady who plays the equivalent of Lady Button, Rebecca Wisocky, messaged me on Instagram to say how excited she was," reveals Howe-Douglas. "It's nice to have that kind of camaraderie between the shows, but in terms of their success we just wish them the best. I hope they have as much fun as we do. I look forward to seeing it properly."
Ghosts series three arrives on Monday 9th August at 8:30pm on BBC One. Visit our TV Guide to see what's on tonight.
Subscribe to Radio Times
Try 10 issues for £10 and receive a £10 John Lewis & Partners gift card!
RT Shop at 100 Collection
Limited edition Radio Times + Emma Bridgewater centenary mug, centenary fabric covers, poster print and many more products including radios and jigsaws
Radio Times Travel Supplement
Top tips for foodie travellers, destinations include France, India, Italy, South Africa and more.
The best TV and entertainment news in your inbox
Sign up to receive our newsletter!
Ghosts US is back in production and the cast is placing their bets on one vital question.
Who laughs and breaks character first?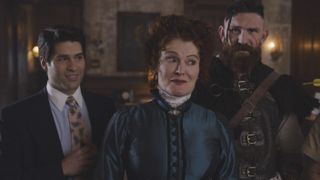 The CBS network found a hidden gem with the television show Ghosts . Based on the popular British show, the US iteration was not only popular among TV watchers, but critics enjoyed the sitcom. With a 91% "Fresh" score on Rotten Tomatoes and reviewers lauding the show, including Book and Film Globe calling it "a deftly clever comedy" it came as no surprise that the series was renewed for a second season.
Now perhaps seeking to reward loyal fans and realizing Ghosts is not slated to start airing new episodes until the fall, the show recently released a couple of fun clips on Twitter of the cast while they are currently in the middle of production.
In the first video, you can see members of the cast — including Devan Chandler Long who plays Thorfinn and Samantha McIver (Rose) — naming the colleague they believe will be the first to break character and start laughing. Judging by the cast votes, it appears that most of the actors on set doubt Asher Grodman's (Trevor) ability to hold back the laughs and stay in character. Take a look.
A post shared by GHOSTS (@ghostscbs) A photo posted by on
Ghosts creators tease major change in US version from UK original
Star Wars legend Mark Hamill confesses to binge-watching Ghosts !
If you were wondering which actor actually broke character first, don't worry we've got the answer to that. We'd usually ask for the obligatory drumroll here, but we'll just go ahead and spill the beans. The first actor to interrupt filming with the giggles is none other than Brandon Scott Jones, who stars in Ghosts as Isaac. Jones being the culprit must have been a shock to his costars considering none of them selected him. Also, Grodman apparently deserves some more credit than he was given.
If the videos didn't quite satisfy your Ghosts fix, how about trying to answer this question, posed on CBS Ghosts Twitter feed, "Which Ghost would you want haunting your house?". Hmmn... it's a tricky one.
While you wait for Ghosts season 2, be sure to rewatch some of your favorite episodes from season 1 over on Paramount Plus .
Get the What to Watch Newsletter
The latest updates, reviews and unmissable series to watch and more!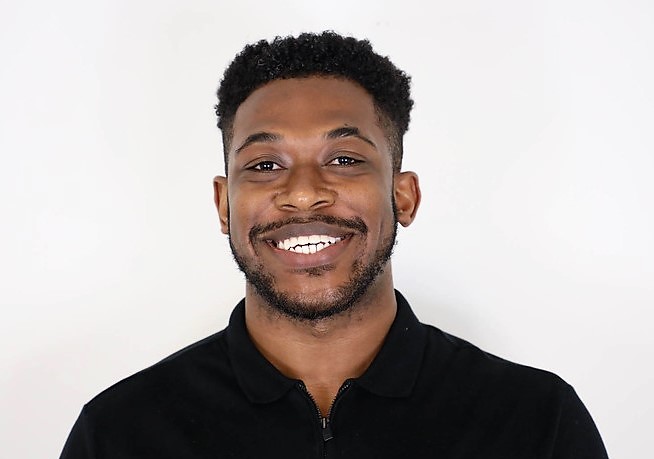 Terrell Smith has a diverse writing background having penned material for a wide array of clients including the federal government and Bravo television personalities. When he's not writing as Terrell, he's writing under his pseudonym Tavion Scott, creating scripts for his audio drama podcasts. Terrell is a huge fan of great storytelling when it comes to television and film. Some of his favorite shows include The Crown , WandaVision , Abbot Elementary and Godfather of Harlem . And a fun fact is he's completely dialed into the TLC 90 Day Fiancé universe.
AJ Odudu reveals support texts from Big Brother legends
Uncanny: release date, presenter, episode guide, trailer and everything we know
Have I Got News for You season 66: release date, guests, trailer and everything we know
Most Popular
By Grace Morris October 05, 2023
By Caitlyn Fitzpatrick October 05, 2023
By Christina Izzo October 05, 2023
By Tom Bedford October 05, 2023
By Sarabeth Pollock October 05, 2023
By Martin Shore October 05, 2023
By Michael Balderston October 05, 2023
By Michael Balderston October 04, 2023
By Grace Morris October 04, 2023
2 Totally Killer: release date, plot, cast, trailer and everything we know
3 AJ Odudu reveals support texts from Big Brother legends
4 Uncanny: release date, presenter, episode guide, trailer and everything we know
5 The Young and the Restless spoilers: Phyllis SABOTAGES Christine and Danny's reunion?