Here's What To Expect At Long Island's Haunted House Of Hamburgers
Long Island's Haunted House of Hamburgers restaurant celebrates Halloween all year-round; here's what to expect while visiting!
The Haunted House of Hamburgers in Long Island is a Halloween-themed restaurant that celebrates the holiday all year round.
Owner Jordan Desner combined his love for Halloween and hamburgers to create the unique concept of the restaurant.
The menu offers a variety of spooky-themed food and drinks, with burgers being a highlight, along with a Little Haunters Menu for kids. The restaurant's interior is decorated with animatronics and ghoulish artwork to enhance the dining experience.
Things to do Halloween can often consist of visiting a haunted house or attending a festival but heading to a Halloween-themed bar or restaurant can also provide a fun night out.
For example, New York City's Halloween activities are plentiful, while Washington Irving's "The Legend of Sleepy Hollow" brings visitors to this village in Hudson Valley . Major fans of the holiday might want to consider heading to Long Island. Why? It's because this coastal destination is home to a Halloween-themed restaurant dishing out both food and frights.
What To Know About The Haunted House Of Hamburgers
Located in Farmingdale, in Long Island's Nassau County, the Haunted House of Hamburgers honors Halloween on more than one day. In fact, this about 2,500-square-foot standalone restaurant celebrates the holiday 365 days a year.
The Haunted House of Hamburgers was opened by owner Jordan Desner in October 2022, based upon his lifelong obsession with all things Halloween. He added, ironically, that he was born on Friday the 13th.
Desner is also a big aficionado of hamburgers, so he decided to create a marriage of his two favorite things in opening this restaurant. He also made a lot of headlines with the debut of Haunted House of Hamburgers, being quoted in newspapers and having TV stations throughout Long Island come out to film.
Related: 10 Best, Spookiest, & Scariest Haunted Attractions In The U.S.
In reaching out to ask Desner about Haunted House of Hamburgers, he replied that in wanting to open such a Halloween-themed place, he wanted to do something different.
"I love food, so I guess that it makes sense," said Desner. "People love hamburgers. People love Halloween. It just made sense."
What's On The Menu At Haunted House Of Hamburgers?
The lunch and dinner menu at the Haunted House of Hamburgers includes an assortment of food orders whose names perfectly fit with Halloween. Listed on the restaurant's website, choices involve common pub grub with chicken sandwiches, soups, flatbread pizzas, side dishes, and hot dogs.
Burgers get their billing with not one but two menu sections. A build-your-own burger section lists a choice of patty (beef, turkey, or Impossible), different cheeses, and toppings.
The other burger section gets into the spirit of the season with signature combinations. Most of them are served on a toasted brioche bun, but gluten-free buns are also available at an additional cost.
The Zombie Burger comes with a juicy charbroiled patty with a fried egg, avocado, bacon, and your choice of cheese. Or try the Tarantula Burger, stacked with crispy bacon, pepper jack cheese, onion strings, lettuce, tomato, onions, pickles, and garlic mayo.
Related: 10 Haunted Locations Around The U.S. Worth Knowing (One Might Even Be Near You)
For children, there's a "Little Haunters Menu" with kid-friendly choices including mac and cheese, a hot dog or corn dog, or hamburgers or cheeseburger sliders. The "Undead Desserts" are just as fun with the option of creating your own sundae or going with the Death by Chocolate Cake.
As for drinks, there are cocktails and mocktails along with regular sodas, beers, and wines available. The list of "Crypt Keeper Cocktails" includes Frankenstein, with a combination of ginger ale, pineapple juice, tequila, blue Curaçao, lemon, lime, and orange slices.
In addition to food and drink, the restaurant's décor really enhances the dining experience. Desner hired a theme design company from South Carolina to handle the decorating, but he also included some animatronics that he owns. The interior puts out a fun, ghoulish vibe complimented by statues and wall art of friendly or fiendish creatures or designs.
What Is It Like At The Haunted House Of Hamburgers?
Haunted House of Hamburgers' Instagram account provides pictures showing what the restaurant looks like on the inside and outside. On the semi-dim interior, get the feel of a haunted house, with murals depicting angry-looking trees with bright orange eyes and mouths.
Amid booth seating, the facing walls are painted with massive cobwebs or fiery cauldrons. The Vampire Bar has a portrait of Dracula behind it and is stocked with matching theme cocktail glasses.
"People love hamburgers. People love Halloween."
The exterior of the restaurant also has some themed fixtures. According to this Instagram picture , a replica of Friday the 13th' s Camp Crystal Lake is surrounded by some sinister-looking characters such as a wolf man, a Jack O'Lantern headed individual, and the famous Jason Voorhees.
Another Instagram photo shows that diners can walk through a graveyard with a graveled pathway going along a corn maze-looking route aligned with fake tombstones and displayed scarecrows and scary and not-so-scary figures.
But potential customers shouldn't let this all scare them away from coming to dine at the Haunted House of Hamburgers. It's all part of the fun. As for attire, dressing up in a costume is encouraged but not required.
Haunted House of Hamburgers is a Busy Spot!
While the Haunted House of Hamburgers is open daily, it can get very busy quickly, and space can sell out at night. It's been reported that the restaurant's phone line is also quite busy, so it's better to come to the restaurant as early as you can.
The Haunted House of Hamburgers is located at 330 Fulton St. in Farmingdale, New York.
According to the restaurant's Instagram and Facebook pages, walk-ins can be accommodated currently from Monday through Friday from 11 a.m. to 4 p.m. Follow these accounts for schedule updates or changes; current business hours are listed on their website as well.

Haunted House of Hamburgers Creeping into Farmingdale Just in Time for Halloween
If you're the type of horror fan who wishes that Halloween lasted 365 days a year – in addition to having a healthy hankering for hamburgers – then you'll find that a new restaurant opening up in Farmingdale is just what the ghoul ordered.
Jordan Desner of Plainview is the proud owner of the  Haunted House of Hamburgers , a family-friendly horror-themed restaurant that is currently under development with an anticipated opening date of October 25th…just in time for Halloween!
"I'm a huge Halloween fan, and a huge cheeseburger fan. I decided to put two together…makes sense, doesn't it?" he said. "I've always been a huge horror movie guy – Halloween, Friday the 13th, all the classics, I love them all – plus Halloween is my favorite holiday. I was actually even born on Friday the 13th, so it's already in my blood!"
While Desner wants to remain secretive about the elaborate decorations and ambiance of his upcoming eatery – preferring customers to experience the frightful delights themselves first-hand – it can be said that the Haunted House of Hamburgers features numerous high-end, dastardly decorations sure to get your blood pumping. Desner is embracing the concept wholeheartedly, channeling his lifelong love of all things dark and macabre into the proceedings.
To that end, he recruited Little Spider Creations – a Myrtle Beach, South Carolina company that specializes in designing haunted houses and displays – to make the trip up to New York in order to help realize his vision.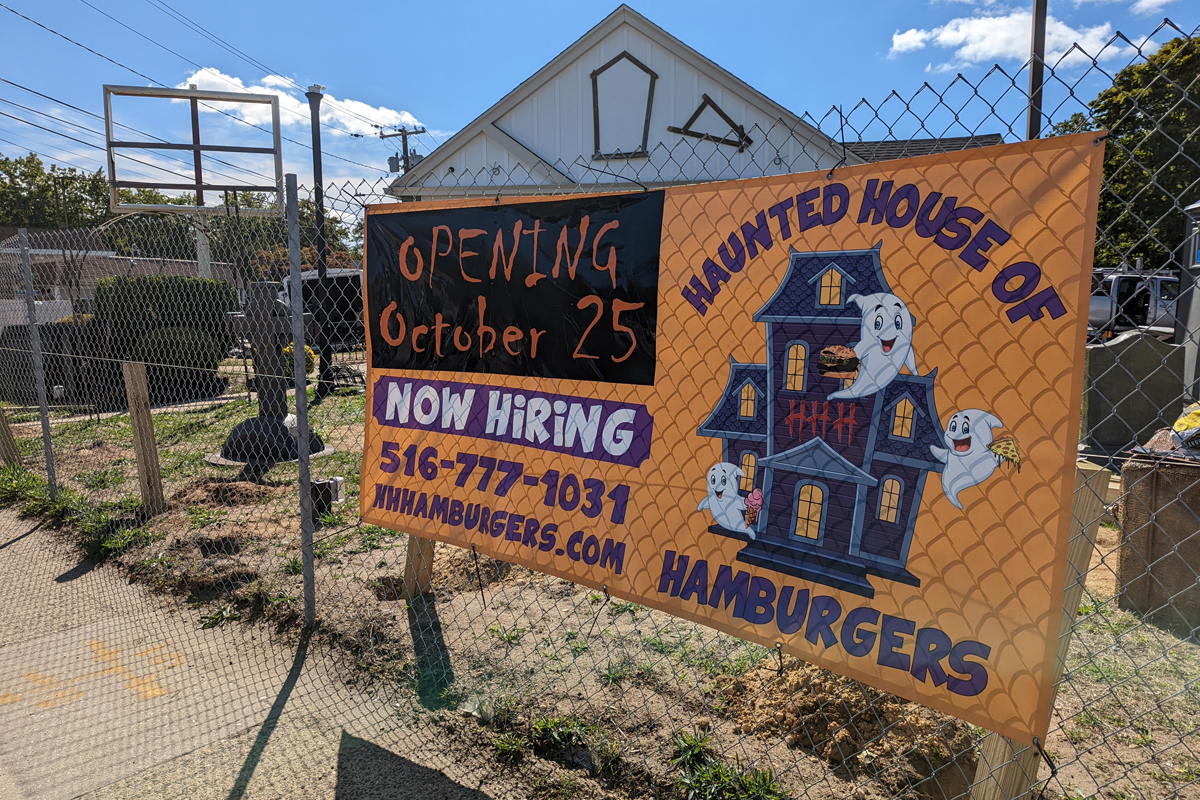 And the result, according to Oliver Holler of Little Spider Creations, is turning out to be an establishment that even horror greats Peter Cushing and Vincent Price would be proud to chow down in.
"First, we consulted with Jordan, and got an idea of his likes and dislikes," Holler said. "He really loves Halloween and the concept of having it 365 days a year and he's really into the classic imagery, the classic horror icons, and we developed those motifs in areas of the restaurant."
This is Desner's first foray into the restaurant business; previously he had been the owner of two Long Island movie theaters, but decided it was time to invest in his true passion. To that end, he found the perfect person to help him get this exciting venture off the ground in the form of general manager Susan Klein, who boasts over 35 years in the business.
"I've worked at cafes in Manhattan, TGI Fridays' on Long Island, City Cellar, and just about everywhere else.  I came very highly recommended to Jordan by a number of people," Klein said. "The funny thing is that for many years, I was terrified of Halloween! So I'm going to have to suck that up here, haha. But I've been out there spreading the word, and I can't wait for opening day."
But for those wishing to experience an early taste, one can simply drive by the currently in-development establishment – located at 330 Fulton Street, the site of a former Friendly's restaurant – and note the creepily boarded-up windows, Frankenstein statues, and even a graveyard that is in the process of being erected. Clearly, the Haunted House of Hamburgers is shaping up to be a horror lover's delight.
"I had to do something Halloween-themed in my lifetime, and I was thinking of different venues to do it, and since I love hamburgers so much I figured I would give it a shot," Desner said. "When I came across this location, it just made sense. I saw the vision. I knew a Friendly's had the correct configuration for a haunted mansion, so when I found this location I knew it would be perfect."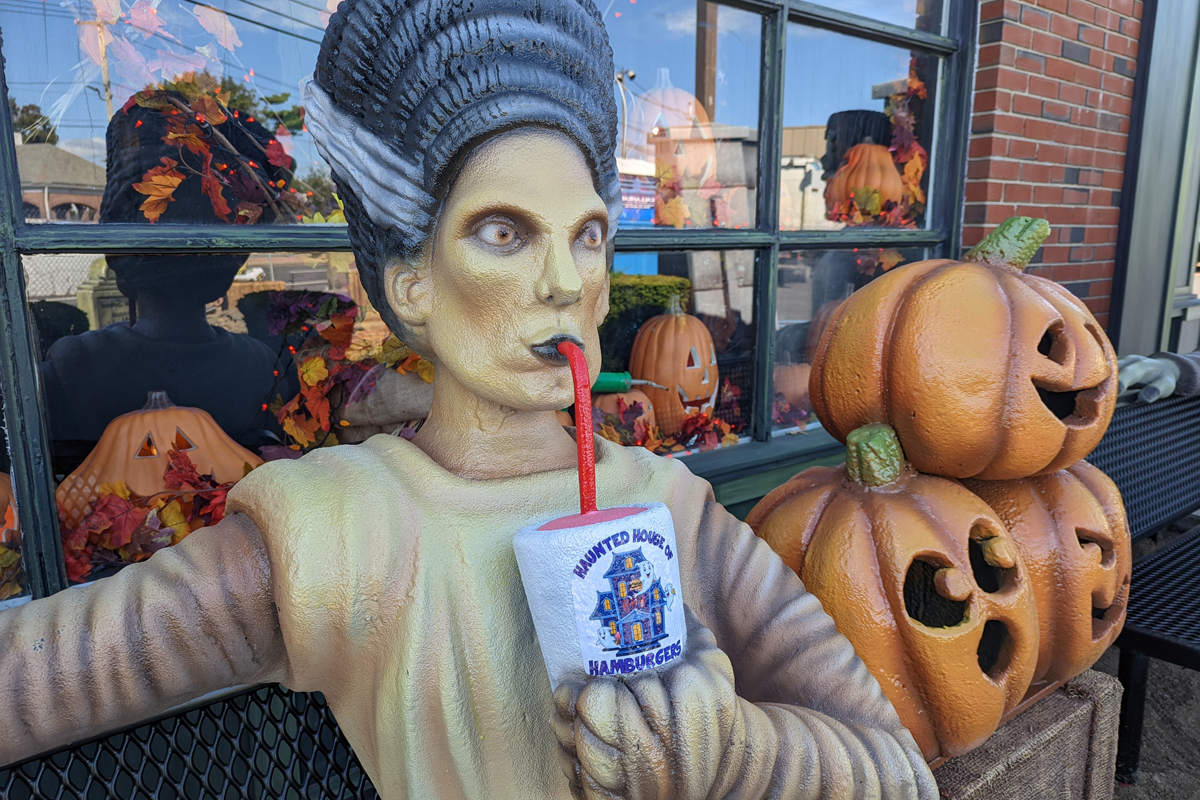 But of course, the Haunted House of Hamburgers isn't simply an ode to one man's love of all things dark and creepy; first and foremost it is a restaurant, and Desner ensures his future patrons that the fare he's serving is devious, diverse, and most importantly, delicious.
"It's a big menu. We have our signature hamburgers, a build-your-own-burger, and for people that don't want beef, we have turkey burgers and even plant-based impossible burgers," he said. "We also have chicken sandwiches and other sandwiches, entrees, soups, salads, desserts, shakes and sundaes, and even flatbread pizzas. A little of everything."
The restaurant will also be having a "Horror Q" night twice a month – on the 13th and the 31st – where they will offer an additional barbecue-themed menu along with their regular fare, as well as breakfast every Saturday and Sunday between 8:00 a.m. and 12:00 p.m.
While the Haunted House of Hamburgers is indeed a horror-themed restaurant through-and-through, Desner maintains that it remains a family-friendly experience and that it doesn't go overboard, ensuring a fun and exciting experience for children as well as adults.
Speaking of adults, the Haunted House of Hamburgers also has a full bar at the front of the establishment, and the restaurant itself can accommodate between 70 and 80 dine-in guests. Servers and staff are encouraged to wear their favorite Halloween-themed costumes, but not an outright requirement; instead, they can opt to wear an all-black uniform instead, including a polo shirt with the "Triple H" logo on it.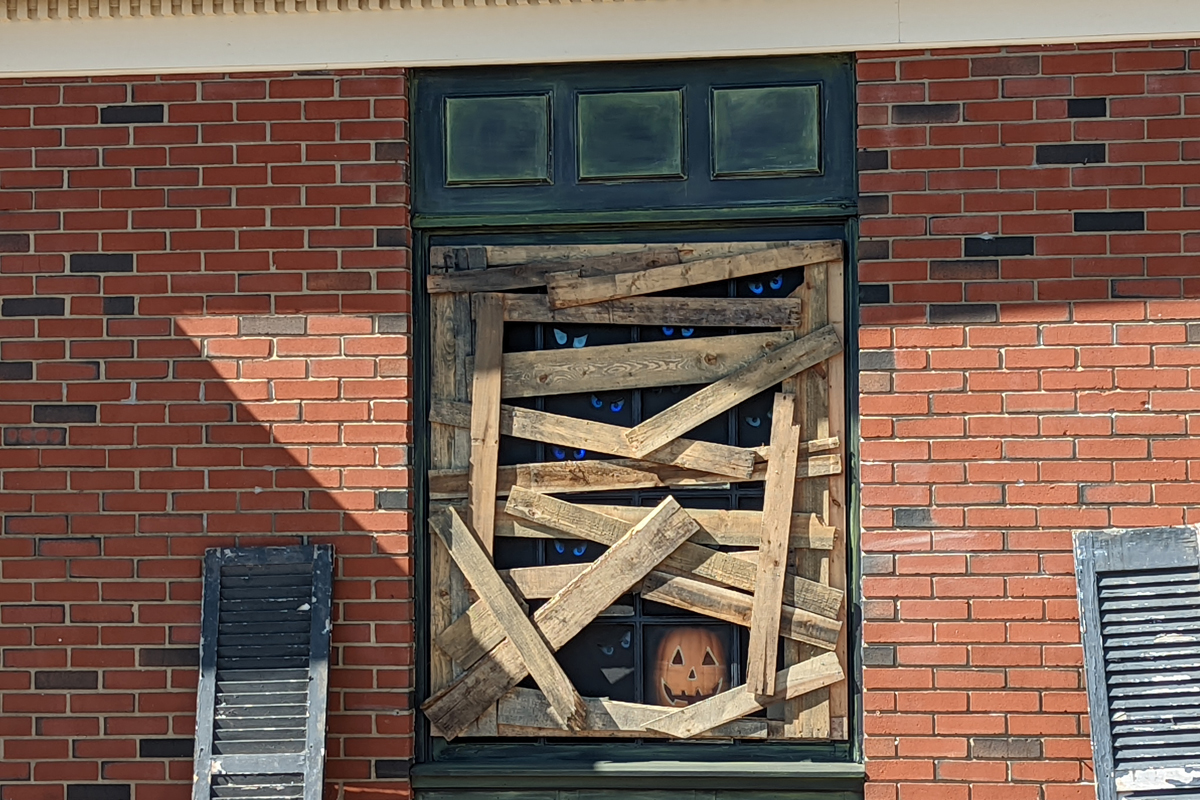 Also, customers of all ages are encouraged to dress up in-costume any day of the year while attending the restaurant, as it's always Halloween in the Haunted House of Hamburgers!
In the end, Desner said that opening up a Halloween-themed restaurant was something that was absolutely on his bucket list, and he is overjoyed to finally be bringing this to a reality. He invites anyone and everyone who has even a passing interest in horror and great food to come check out the Haunted House of Hamburgers when it opens on October 25th.
"It has not sunk in yet," he said with a chuckle upon the thought of finally realizing his dream. "I think it will sink in when the first customer walks through the door. I invite everyone to come on down to Triple H, where every day is Halloween."
To find out more, please visit  hhhamburgers.com  or call 516-777-1031 (the last 4 digits being, of course, the date of Halloween).
About Author
Related Posts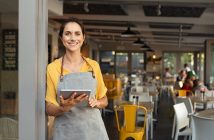 Governor Hochul Announces $585 Million Boost to NY Small Businesses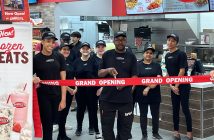 New Charleys Cheesesteaks Location Open in Yaphank, Offering Affordable, Delicious Sandwiches and More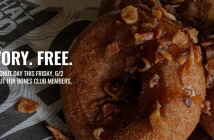 Smokey Bones Continues to Master Meat with Its New "Meat Donut" for National Donut Day
Leave a reply cancel reply.
Save my name, email, and website in this browser for the next time I comment.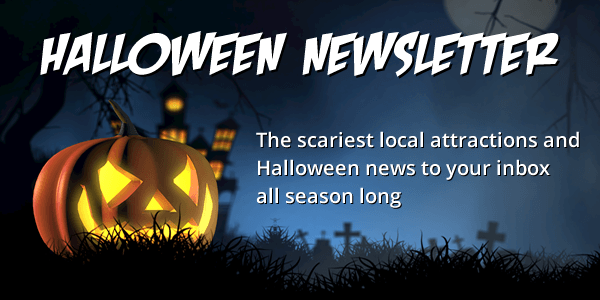 For Haunt Owners
Browse By State
Haunted Attractions
Drive-Through
Haunted Houses
Haunted Hay Rides
Zombie Hunts & Shootouts
Haunted Mazes / Haunted Corn Mazes
Haunted Trails
Home Haunts
Theaters & Plays
Scream Parks
Paranormal Events
Zombie 5k Runs
Haunted River Tours
Other Event / Attraction
Ghost Tours
Halloween Parties & Nightlife
Escape Games
Other Events
Haunted Places
Advertise With Us
Set Your Location
Haunted house of hamburgers cookie -->, share your review.
Haunted House of Hamburgers Farmingdale, NY
Contact Haunted House of Hamburgers

All year round haunted Halloween themed restaurant. Lunch and dinner Monday - Sunday. Brunch Saturday and Sunday 11am - 2pm. Every day at HHH is Halloween so come down in your costume. Burgers/ sandwiches/ pizza/ ice cream and more. We also have a spooktacular bar.
Latest Reviews
Get the haunts.com phone app.

Newsletter Signup
Subscribe now to receive upcoming events, scary good savings & more this Halloween season!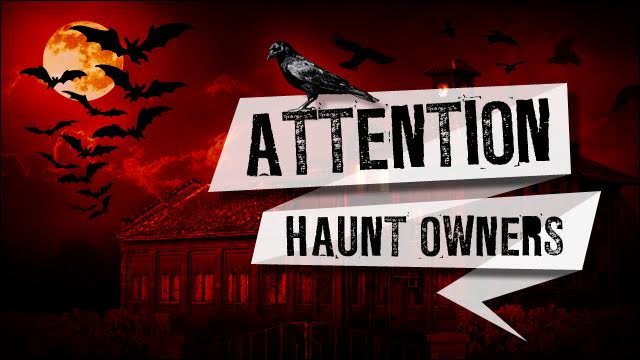 Grand Rapids/Muskegon
Saginaw/Bay City
All Michigan
5 great haunted houses to visit in the Jackson area
Updated: Oct. 18, 2023, 11:20 p.m. |
Published: Oct. 18, 2023, 1:51 p.m.
An actor nicknamed "Doc" stands at Jackson's Underworld on Oct. 26, 2016. (File Photo | MLive.com)
JACKSON COUNTY, MI -- The Halloween season might bring out the ghosts and goblins, but it can also bring out a startling amount of creative in those who design and operate the many haunted houses, hayrides and fall-themed frights.
For those looking for a spooky, sinister or spine-tingling way to spend their October nights, here are five places to check out in and around Jackson County.
Actor Brooke Knapp, of Jackson, sits on the fourth floor at Jackson's Underworld on Oct. 26, 2016. (File Photo| Mlive.com)
Jackson's Underworld
A longtime spooky season staple in Jackson, the Underworld offers a bone-chilling trip through 1.5 miles of terror.
Jackson's Underworld inhabits four stories and 115,000 square-feet of abandoned warehouse space, filled to the brim with actors, impressive animatronics and props designed to scare anyone brave enough to explore its vast, dark depths.
Jackson's Underworld, 1318 Wildwood Ave., is open from 7-11 p.m. Thursday and Sunday, and 6 p.m. to 12:30 a.m. Friday and Saturday. They will be open 7-11 p.m. Monday, Oct. 30 and 6 p.m. to 12:30 a.m. Oct. 31 -- their closing night of the season.
Tickets are $35 for general admission or $55 for VIP. A $30 per person group pricing is available for groups of 8 or more at the ticket window.
More information can be found on its Facebook page and website .
An actor poses at Awaken Haunted Attraction on Saturday, Sept. 30, 2017. (File Photo | MLive.com)
Awaken Haunted Attraction
This 32,000-square-foot haunted attraction opened in an abandoned car dealership in 2016, and has expanded and evolved several times in its eight seasons to offer one of the most unique and frightening experiences to be found in Mid-Michigan.
The experience includes a total of four unique attractions that all link together, including the village-themed "Tenebrous" and the strobe-filled pallet maze known as "The Forgotten."
Related: Burned flesh, rotting corpse odors add dimension to Awaken Haunted Attraction
Though the halls of the haunt are stalked by Awaken's own cast of unique characters, the haunted attraction will occasionally host special guests available for photos and signings. One of these guests who visited recently was actor and stuntman Douglas Tait, who played Jason Voorhees in the final scene of "Freddy vs. Jason" and served as stunt double for the Michael Myers character in Halloween Kills.
Awaken Haunted Attraction, 4760 Churchill Road in Leslie, is open 7 to 10 p.m. Thursday, 7 to 11 p.m. Friday, 7 to midnight Saturday and 7 to 10 p.m. Sunday. More information can be found on its Facebook page and website .
General admission tickets cost $28 and Fast Pass tickets are $38, and tickets are available online.
A character dressed as a clown tries to scare patrons of the DarkSyde Acres haunted attraction. (File Photo | MLive.com)
DarkSyde Acres
The owners of DarkSyde Acres take scaring people seriously, and have been doing so for over a decade from their 70,000 square-foot compound in rural southern Michigan.
One of the largest haunted attractions in the state, DarkSyde offers five unique haunted houses -- from the damp and dark underground passages of "The Catacombs" to the in-your-face circus-themed scares of "Klownetowne" -- which feature no animatronic characters and hand-built sets catering to horror fans of all ages.
Related: Popular DarkSyde Acres takes business of scaring seriously
For those wishing to take a short break from the non-stop scares, DarkSyde also offers nightly bonfires, concessions and a gift shop.
Although it has an address of Jonesville, the property is located near the intersection of Mosherville and Rowe roads in rural Hillsdale County -- about a mile or so south of the Jackson County border.
DarkSyde Acres, 11375 Rowe Road in Jonesville, is open 7:30 to 11:30 p.m. Friday and Saturday throughout the month of October. More information can be found on its Facebook page and website .
Tickets can only be purchased on location. General admission tickets cost $22 and Fast Pass tickets are $35.
Shawhaven Farm, located at 1826 Rolfe Road in Mason. (File Photo | MLive.com)
Shawhaven Haunted Farm
Shawhaven Farm offers up many different farm-themed activities throughout the year, though its "Haunted Farm" event in the fall may be one of its most popular.
The farm has been offering visitors 140 acres of fear for 18 years now. The main attraction during the Halloween season is a tour of "Samara's Retirement Home For the Dead" that challenges visitors to make it through frightening areas like the "3D Psycho-Path" and avoid creepy clowns in the "Circus Zone."
The farm also allows fright-seekers to challenge themselves and their friends with five different escape rooms and a twisting corn maze. There's nothing scary in this maze except maybe your friends trying to frighten you themselves, the owners warn.
Shawhaven Farm, 1826 Rolfe Road in Mason, is open 7:30 to 11 p.m. Friday and Saturday throughout the month of October. Tickets from Samara's Retirement Home are $25, corn maze tickets are $7 and escape room tickets are $5 per person, per room. Tickets can be purchased at the door or in advance online.
Art 634, located at 634 N. Mechanic St. in Jackson. (Mitchell Kukulka | MLive.com)
Art 634 is a longstanding art gallery and performance space in Jackson's north side that's offering plenty of horror-themed events during the spookiest time of year.
Recent events like a "Dark Art Show" on Oct. 13 and the "Bride of Frankenfest" show on Oct. 14 allowed many of local artists an opportunity to showcase the morbid and macabre sides of their creativity.
Events still to come this season include "Art Battle: Darkest Night" on Oct. 28 -- which will challenge 12 artists to compete against the clock and each other to turn a blank black canvas into work of art. "Drag is a SCREAM" will bring a horror-themed drag show to Jackson on Oct. 27.
The venue is also offering up its space for horror-themed wedding experiences until Nov. 3.
Art 634, located at 634 N. Mechanic St., is open 11 a.m. to 7 p.m. Wednesday through Saturday and 11 a.m. to 3 p.m. on Sunday. More information can be found on its Facebook page and website .
Want more Jackson-area news? Bookmark the local Jackson news page or sign up for the free " 3@3 Jackson " daily newsletter.
More great places in Jackson County:
5 great places to get fall-themed cocktails in Jackson County
5 great places to get a pumpkin in Jackson County
5 great dive bars to check out in Jackson County
5 great places to take a coffee break in Jackson County
5 great places to go on a first date in Jackson County
5 great doughnuts to try at Jackson's Hinkley Bakery
5 great breweries for craft beer in the Jackson County area
5 great places to watch live music around Jackson
5 great places to grab a burger in the Jackson area
If you purchase a product or register for an account through a link on our site, we may receive compensation. By using this site, you consent to our User Agreement and agree that your clicks, interactions, and personal information may be collected, recorded, and/or stored by us and social media and other third-party partners in accordance with our Privacy Policy.
Haunted House of Hamburgers
Haunted house of hamburgers menu and delivery in farmingdale.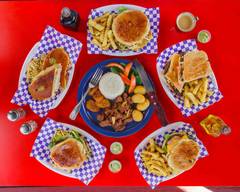 Location and hours
What customers are saying, build your own burger.
Build Your Own Burger $20.00 Served with lettuce, tomato, pickles, and one side. Quick view
Signature Hhh Burgers
Zombie Burger $26.00 Juicy charbroiled burger topped with a fried egg, avocado, bacon, your choice of cheese and served on a toasted brioche bun. Served with one side. Popular Quick view
Boo Burger $23.00 Charbroiled burger served with blue cheese crumble, lettuce, tomato, and pickles on a toasted brioche bun topped with garlic mayo. Served with one side. Quick view
Double Dare Burger $28.00 Two Charbroiled patties topped with pepper jack cheese, crispy bacon, sauteed onions and mushrooms and jalapenos, drizzled with spicy chipotle mayo on a toasted brioche bun. Served with one side. Popular Quick view
1/4 Past Midnight Burger $22.00 1/4 pounder topped with cheddar cheese, lettuce, tomato, onions, pickles, and mayo served on a toasted brioche bun. Served with one side. Quick view
Pizza Burger $23.00 Charbroiled burger topped with mozzarella cheese and our homemade marinara sauce served on a toasted brioche. Served with one side. Quick view
Monster Mac & Cheese Burger $24.00 Charbroiled burger topped with our homemade mac and cheese drizzled with chipotle mayo sauce, on a toasted brioche bun. Served with one side. Quick view
Horror-Q- Burger $25.00 Charbroiled burger served with pulled BBQ pork, pickles, and drizzled with our homemade honey BBQ sauce and choice of cheese. Served with one side. Quick view
Tarantula Burger $25.00 Charbroiled burger topped with crispy bacon, sauteed onions and mushrooms and jalapenos, drizzled with spicy chipotle mayo on a toasted brioche bun. Served with one side. Quick view
Secret Potion Patty Melt $24.00 Traditional patty melt served on toasted rye bread with sauteed onions and your choice of cheese. Served with one side. Quick view
Sea Monster Surf And Turf Burger $28.00 Juicy charbroiled burger topped with your choice of cheese and fried shrimp. Served with one side. Quick view
Franken Dog $15.00 Our traditional hot dog served with hummus and ouring. Served with one side. Quick view
Candy Corn Dog $17.00 golden brown corn dogs on sticks with a side of mustard and ketchup Quick view
Psycho Sides
Haunted House Salad $9.00 Quick view
Load Your Potato $2.00 Bacon and cheese. Quick view
Beastly Baked Potato $8.00 Quick view
Haunted House Fries $9.00 Quick view
Load Your Fries $2.00 Bacon and cheese. Quick view
Carved Up Cajun Curly Fries $10.00 Quick view
Swinging Knife Sweet Potato Fries $10.00 Quick view
Chilling Chicken & Supernatural Sandwiches
Eerie entrees, midnight snacks, sundown salads, boo beverages, flatbread pizzas, little haunters menu, i-scream shakes, frequently asked questions, can i order haunted house of hamburgers delivery in farmingdale with uber eats.
Yes. Haunted House of Hamburgers delivery is available on Uber Eats in Farmingdale.
Is Haunted House of Hamburgers delivery available near me?
Enter your address to see if Haunted House of Hamburgers delivery is available to your location in Farmingdale.
How do I order Haunted House of Hamburgers delivery online in Farmingdale?
There are 2 ways to place an order on Uber Eats: on the app or online using the Uber Eats website. After you've looked over the Haunted House of Hamburgers menu, simply choose the items you'd like to order and add them to your cart. Next, you'll be able to review, place, and track your order.
Where can I find Haunted House of Hamburgers online menu prices?
View upfront pricing information for the various items offered by Haunted House of Hamburgers here on this page.
How do I get free delivery on my Haunted House of Hamburgers order?
To save money on the delivery, consider getting an Uber One membership, if available in your area, as one of its perks is a $0 Delivery Fee on select orders.
How do I pay for my Haunted House of Hamburgers order?
Payment is handled via your Uber Eats account.
What's the best thing to order for Haunted House of Hamburgers delivery in Farmingdale?
If you're in need of some suggestions for your Haunted House of Hamburgers order, check out the items showcased in "Picked for you" on this page.
Javascript disabled
Javascript is needed to run Uber Eats. You can try enabling it or visiting the website with a browser that supports Javascript.
Education | Boulder High presents 'toy box' haunted house
Share this:.
Click to share on Facebook (Opens in new window)
Click to share on Reddit (Opens in new window)
Click to share on Twitter (Opens in new window)
Boulder Area
University of Colorado
Business Spotlight
Science & Environment
SUBSCRIBER ONLY
Boulder High's annual haunted house promises an immersion into a world of creepy dolls, childhood games with a scary twist and stuffed animals gone bad with this year's vintage toy box theme.
"We all think dolls and toys are really creepy, and want to use the natural freaky feeling they give off to increase the fear our audience will feel," said senior Ila Parkin, who is a student director along with juniors Eliana Monahan and Kaya Surden.
The student-run haunted house, now in its 16th year, opens Friday. The house will be open from 7 to 10 p.m. Friday, Saturday, Oct. 27 and Oct. 28. Tickets are $15 for adults and $8 for students/children. Tickets can be purchased online at tinyurl.com/49xrcbh7 or at the door. The suggested minimum age is 12.
The haunted house is the theater department's major fundraiser, helping to keep the program self-sustaining. Students promise an experience that's on par with for-profit haunted houses in the area.
The house is set up on the stage and in the basement tunnels of the theater, with customers led through rooms in small groups. Along with the "plenty of jump scares and switchbacks," the haunted house this year will include actors in the lobby as a new feature, giving the waiting participants a preview of what's waiting for them.
Monahan said she's wanted to direct the haunted house since middle school.
"It's always been this big, legendary thing that was so cool," she said. "Last year, I acted and did costumes. I had the best time scaring my friends and family."
Surden also was an actor in the haunted house in previous years.
"I just saw what a fun and spooky experience it could be, and I wanted to have a part in creating it," she said. "It was a dream of mine for a while, and I had so many ideas and things that I wanted to try, I decided to go for it."
While the directors and leads spend months refining ideas and designing the house, the crew of about 100 students only has about two-and-a-half weeks to build sets, figure out costumes, design lights and sound, and create and practice makeup looks.
"I've just been having so much fun," Monahan said. "To see our idea being built, it makes all the time so worth it. I'm so proud of how it's coming out."
Students said the haunted house is where the technical theater crews get to shine.
Madeline Giovagnoli, a junior, is the co-lead for make-up and started with no experience, other than in art. Now, she's become an expert in making creature masks from latex, gory looks and fake blood, Stage blood, she noted, is edible but tastes like "really bad toothpaste," so she prefers to paint on blood when it's needed on the face instead of using a blood capsule an actor would need to bite.
"I get to pour blood on people," she said as she worked on creating a "peeled back abdominal wall" prop for a board game room. "That's the best part. There are very few opportunities to do that in theater. We get to make people look terrifying. It's great."
While many of the crew members also act in the haunted house, senior Orion Wild-Machen prefers his behind-the-scenes role as the co-lead for set construction. He said he loves the camaraderie and creativity of building sets.
"I find a lot of joy in building things," he said. "For all of us to create something together, that's really meaningful to me."
Juniors Gwen Duvernay and Bennett McDannell are the stage managers for the haunted house and the other theater productions. They said they like that they can be involved with all the crews as stage managers.
"Haunted house is probably our most rewarding production," Duvernay said. "We always get good feedback that people were really scared, and we get to interact with the public more than a regular show. It's a very unique experience."
More in Education
Politics | Candidates talk diversity, climate and more at BVSD Board of Education candidate forum
Photos: 2023 Boulder High Haunted House Starting on October 20th
Local News | CU system drives $10.8 billion in economic impact in one year
Local News | CU Boulder students create chalk art to represent their research
Sol 19 Yoga is your gateway to a healing journey of self discovery. Since 2018, Sol 19 has grown as...
Flatiron View Apartments has it all: outstanding amenities in a great Boulder neighborhood—and cat friendly! Looking for a spacious two-bedroom...
Do you need financing options on a home, or other real estate? The team at Peak Mortgage assists homeowners in...
Don't "just wing it" when it comes to retirement planning. Long-term retirement planning can be challenging—and rewarding—when you work with...
Family banking is a tradition at High Plains Bank in Keenesburg. They are ready to help meet the banking needs...
The Most Terrifying Haunted Attraction in All 50 States
In the weeks leading up to Halloween, farms, theme parks, and historic buildings across the country transform into horror hotspots. No matter where in the U.S. you live, you can find a haunted attraction near you. We've rounded up some of the most terrifying options in all 50 states.
By mentalfloss .com | Oct 18, 2023
While some people use autumn as an opportunity to get cozy, horror fanatics see it as the time to get their adrenaline pumping. There are few better places to do this than at a haunted house, maze, or hayride. If October gets you in the mood to be terrorized by an actor in a clown mask , plenty of businesses across America are happy to provide that service. Whether they're housed in a theme park or a historic prison, these are the most heart-pounding haunted attractions in all 50 states.
1. Alabama // The Haunted Chicken House
Location:  Heflin, Alabama
The Haunted Chicken House wins our unofficial award for most creative backstory. According to the attraction's lore, the Seven Oaks Chicken Farm took a dark turn in 2003, when a local farmer named Dan imported genetically-altered roosters to boost his business. The birds mutated into violent monsters, and Chicken Dan recruited an army of slashers and monsters to help fight them. The result is one of Alabama's most bizarrely spooky attractions. After walking through the actual Haunted Chicken House, guests can take a spin onboard the haunted hayride or the "Crazy Train" bus. Tickets are currently on sale for Fridays, Saturdays, and Sundays throughout October. —Michele Debczak
2. Alaska // Fright Nite Haunted House
Location:  Anchorage, Alaska
Fright Nite has been freaking out patrons for more than three decades. Each production—usually open during the second half of October—features new actors, costumes, sound effects, and themes. And you can bet there will be evil clowns. —Kat Long
3. Arizona // 13th Floor Haunted House
Location:  Phoenix, Arizona
Phoenix's spooky 13th Floor offers four different experiences with creepy backstories. You may find yourself harshly judged by an evil nun with a sinister agenda, enchanted by malevolent spirits from the deep sea, or hunting down zombies infected with a global virus (too soon, guys!). There's also an optional, interactive maze adventure that takes place in total darkness. If you think you can handle it, 13th Floor runs through November 4. —KL
4. Arkansas // The Reaper Haunted House
Location:  North Little Rock, Arkansas
Like a slasher movie come to life, The Reaper Haunted House —which has been scaring Arkansans since 2011—promises to shock its guests with more than 30 scenes of "blood, gore, and mayhem." The terrifying tableaux continues through November 1. —KL
5. California // Knott's Scary Farm
Location:  Buena Park, California
Knott's Berry Farm transforms into Knott's Scary Farm during spooky season. The Southern California theme park is celebrating 50 years of frights this year. On select nights through October 31, the park is overrun with terrifying creatures. In addition to the 10 unique haunted mazes, the event features five sprawling scare zones and four chilling live shows. When they're not getting their pants scared off, guests can decompress over themed treats like cereal killer funnel cake and spookghetti pie . Tickets for 2023 are available starting at $60. —MD
6. Colorado // The Frightmare Compound
Location:  Westminster, Colorado
The Frightmare Compound is celebrating its 40th year of scaring the bejesus out of Coloradans in 2023, and the multi-experience complex of fear is not resting on its laurels. In addition to its legendary haunted house, which is populated with various blood-soaked ghouls, the Frightmare Compound also invites its victims into a museum of monsters and a coffin simulator that replicates the claustrophobia of being buried alive . If your heart can take it, there are also mini escape rooms that force you to figure out your own survival. The attractions open on September 15 and run through November 4. —KL
7. Connecticut // The Trail of Terror
Location:  Wallingford, Connecticut
This isn't your average walk in the woods. Connecticut's Trail of Terror is a roughly hour-long walk through a medley of monstrous frights. The scare crew may all be volunteers, but don't underestimate their ability to get your heart racing. The Trail of Terror is open Friday to Sunday from September 30 through October 29. —Kerry Wolfe
8. Delaware // Frightland
Location:  Middletown, Delaware
Frightland , which has been in business for 27 years and counting, boasts eight separate experiences—Horror Hayride, Haunted Barn, Idalia Manor, Fear, Ravenwood Cemetery, The Attic, Ghost Town, and Zombie Prison—which span about 1800 acres and are all linked by a fictional backstory. Basically, Dr. Thaddeus Idalia lost his mind after his daughter's death and devoted his life to trying to resurrect the dead. The vengeful subjects of his botched and terrifying experiments have now taken over his estate; not far, as it turns out, from the ghosts of his father's equally chilling deeds . — Ellen Gutoskey
9. Florida // Halloween Horror Nights
Location:  Orlando, Florida
Every Halloween season, Universal Studios in Orlando applies the movie magic of its theme park rides to epic haunted houses. Halloween Horror Nights runs from September 4 to November 2 in 2023, and each night features 10 haunted houses built around a different theme. Properties like Stranger Things , The Exorcist (1973), and Child's Play (1988) are brought to life through Hollywood-level makeup, set design, and special effects. In between waiting in line for walk-through experiences, guests also have to face the live scare actors who prowl the park. Prices vary by night, and you can order tickets in advance through Universal's website . —MD
10. Georgia // Netherworld Haunted House
Location:  Stone Mountain, Georgia
It's a rare Halloween attraction that can promise fun and excitement for the whole family, but Netherworld in Stone Mountain has entertainment for timid first-timers, terror enthusiasts, and those in between. For its 27th year this October, guests will be thrilled by two new haunts, "Cryptid Chaos" and "Primordial"—we hope they feature an epic battle between Bigfoot and, say, an iguanodon. Aside from those scares, Netherworld hosts escape rooms, a monster museum, and a Halloween midway with places to eat, snap a selfie, or chill with roaming costumed spooks. Netherworld runs through November 11. —KL
11. Hawaii // Haunted Plantation
Location:  Waipahu, Hawaii
If you feel haunted houses are passé, leave your attitude at the door of the Haunted Plantation . Located on O'ahu in Waipahu, the site of an actual former sugar plantation, the attraction spends most of the year as a living history museum. It transforms into an outdoor scare factory in October, complete with heart-pounding frights and more than 60 actors in professional special effects makeup. Timed reservations are required. —KL
12. Idaho // The Haunted World
Location:  Nampa, Idaho
The Haunted World boasts a whopping 35 acres of frights, including Gristle's cornfield, a 700-foot dungeon, "Hacksaw Jim's Stanky Cellar," and a 55-foot Slide Into Darkness. Cap it all off with a visit to Cannibal Lecter's Carnival of Pigs, and you've got yourself a nice little evening. The Haunted World is open Monday through Saturday in October. —Stacy Conradt
13. Illinois // Basement of the Dead
Location:  Aurora, Illinois
There are few things spookier than basements—and Basement of the Dead , located in Aurora, Illinois, takes those scares and ratchets them up to 11. The story revolves around a boiler explosion at Walker Laundry that maims two workers, who then disappear; soon people working in the laundry begin to vanish, only to later show up in pieces at the mouth of drainage pipes. The workers are still there, obviously, ready to snatch whoever comes into the basement next. Visitors report that Basement of the Dead has excellent actors who rarely fail to get a jump out of their victims, and the sets, music, and lights add to the terrifying vibe. There's also a 3D haunted house. Basement of the Dead is open from late September to early November; you can get your tickets here . —Erin McCarthy
14. Indiana // Hanna Haunted Acres
Location:  Indianapolis, Indiana
With six separate attractions, there's something for everyone at Hanna Haunted Acres . Visitors can make their way through Acres Manor, a grand haunted mansion that threatens to confront you with your deepest fears, or a carnival that promises to be a grotesque circus of nightmares. And if those don't give you goosebumps, there's also an Undead Underworld, the Horror Fields, Cannibal Chaos, and a Haunted Hayride. Hanna Haunted Acres is open every day in October—but they say their scariest days are November 3 and 4. That's when your whole party has to make it through four of the haunts with a single glow stick. —SC
15. Iowa // Slaughterhouse
Location:  Des Moines, Iowa
Slaughterhouse in downtown Des Moines is a cannibal-themed haunt with an elaborate backstory about "America's most heinous cannibal empire" from the mid-1800s. It's open for fresh meat Fridays, Saturdays, and Sundays in October, and also on Thursdays in the two weeks before Halloween. When it's not spooky season, Slaughterhouse is also an escape room where you have 60 minutes to help one of the people-eating clan's victims break free from the torture. —SC
16. Kansas // The Haunted Cannery
Location:  El Dorado, Kansas
A visit to The Haunted Cannery starts with a covered hayride through Walters Farm and Pumpkin Patch. Once they arrive at the maze, guest will be forced to dodge clowns, zombies, and "anything horrific that comes to mind." A RIP-FAST PASS ticket gets you a ride on their "hell bound" ambulance plus a special closed lid rolling casket ride (not recommended for the claustrophobic). The attraction is open Fridays and Saturdays through October. —MD
17. Kentucky // Waverly Hills Sanatorium
Location:  Louisville, Kentucky
Waverly Hills Sanatorium , one of the most haunted places in America, is a former tuberculosis hospital located in Louisville, Kentucky. It's been estimated that 50,000 patients died at Waverly Hills while it was open from 1910 to 1961. While the historical society offers more fact-based tours year-round, they embrace the Halloween season by offering a haunted house on Fridays and Saturdays from the end of September through October—and if you buy the RIP pass, you'll get a special mini tour of the upper floors of the sanatorium. Want even more? Private, eight-hour paranormal investigations start at $1100. —SC
18. Louisiana // The 13th Gate
Location:  Baton Rouge, Louisiana
The 13th Gate doesn't limit its frights to one theme. The 13 realms spread out across the 40,000-square-foot property include a realistic pirate ship, an outdoor graveyard with zombies, and underground passageways filled with live snakes. General admission tickets are currently available for $35. Be warned that the intense attraction isn't recommended for guests with certain health conditions—including a weak bladder. —MD
19. Maine // Nightmare on the Ridge
Location:  Auburn, Maine
Every year in October, Wallingford's Orchard in Auburn, Maine, hosts the Nightmare on the Ridge . The haunted walk takes place outdoors, so it's not recommended for people with a fear of the dark (or clowns). Tickets are now available for $25. —MD
20. Maryland // Bennett's Curse
Location:  Baltimore, Maryland
A ticket to Bennett's Curse in Baltimore earns you entry into four terrifying attractions . The oldest and most critically acclaimed is House of the Demons , where guests find themselves in the crosshairs of a war between vampires and vicious underworld demons. There's also a 3D experience, an asylum station, and Legends of Halloween , the last of which features every classic Halloween creature you can think of. —EG
21. Massachusetts // Witch's Woods
Location:  Weston, Massachusetts
Whether you want to see professionally carved pumpkins, venture into a darkened castle, or just go on a haunted hayride, Witch's Woods delivers. The Jack o' Lantern Jamboree and Horrorwood Chamber of Chills (a walking tour) are both free to visit—no admission required—but otherwise, tickets are usually $48 (though they're offering $14 off coupons if you go on Sundays during October). The 2023 Halloween season runs through October 31. —Shayna Murphy
22. Michigan // Erebus
Location:  Pontiac, Michigan
If you're the type of person who can't get enough scares, you'll want to experience Erebus . With 100,000 square feet, four stories, and a half-mile of walking, Erebus held the title of World's Largest Haunted House in the Guinness Book of World Records for a number of years. It has also been named the best haunted house in the U.S. by USA Today . Between getting buried alive and running across a few hungry dinosaurs, you're sure to find scares at Erebus you won't find anywhere else. It's open most days in October. —SC
23. Minnesota // Dead End Hayride
Location:  Wyoming, Minnesota
View this post on Instagram A post shared by The Dead End Hayride (@thedeadendhayride)
If your idea of a fun hayride includes singalongs and apple cider, the Dead End Hayride probably isn't for you. At the attraction, which is located on 160 acres of wooded farmland, guests will find themselves at the mercy of more than 200 characters scattered across places like Castle Ruins. There's also some pretty impressive pyrotechnics. It's also open most nights in October. —SC
24. Mississippi // Haunted Castle
Location:  Tupelo, Mississippi
View this post on Instagram A post shared by Tupelo Haunted Castle (@tupelohauntedcastle)
Now in its 15th year, the Haunted Castle changes up the scares every season. For 2023, they're bringing back a fan favorite: The Lost in the Darkness Labyrinth, "an unnerving journey through a twisted maze that will test your sanity like never before." You can get your creep on every Friday and Saturday in October (and on Halloween itself, of course). —SC
25. Missouri // The Darkness
Location: St. Louis, Missouri
Lurking in downtown St. Louis is The Darkness , a horrifying walk-through attraction that has been called the haunted house industry's Disney World. Inside, you can expect to encounter everything from zombies and demons to dolls and clowns, all with movie-quality makeup, costuming and props. If you can't make it during October, don't count yourself down and out just yet. The Darkness also does a Krampus-themed Christmas haunt, and a one-night-only Bloody Valentine event in February. —SC
26. Montana // Field of Screams
Location:  Victor, Montana
If you build it, they will come ... to the Field of Screams . The attraction kicks off with a corn maze that leads to a haunted playground, a mysterious swamp and, of course, a graveyard. It's open on Fridays and Saturdays in October, but for the less adventurous folk, Monday nights are Zombie Free—no creepy characters, just the chance to wander through the amazing sets, complete with fog, lighting, and music. —SC
27. Nebraska // Bloodrush
Location:  Omaha, Nebraska
With a name like Bloodrush , subtlety is not part of the program of this haunted attraction, which is really more of a haunted forest. During the 40-minute walking tour, you'll encounter everything from zombies to chainsaw-wielding maniacs. If you expect to find relief in a nearby shack, chances are you've never seen Evil Dead II . It's open Thursdays through Sundays in October, plus October 30 and 31. —Jake Rossen
28. Nevada // Hotel Fear and Asylum
Location:  Las Vegas, Nevada
Las Vegas is home to some of the best hotels in the world—and at least one of the scariest. The Hotel Fear and Asylum is a two-pronged attraction , with visitors able to explore a lodge meant to host families related to patients of the (fictitious) institution nearby. Naturally, both the accommodations and the facilities are anything but relaxing. Fortunately, vistors will contribute to some real-life health benefits by attending: A portion of proceeds go to the Paradise Ranch Foundation, which uses horse-assisted therapy for mental health issues. —JR
29. New Hampshire // Haunted Overload
Location:  Lee, New Hampshire
Megalophobes might cower at Haunted Overload , which features monstrous attractions up to 34 feet tall. If things get too scary, their Friday Night Lite tones down the thrills. The farm is also open during the day so parents and kids can stroll around without having any performers leaping out at them. —JR
30. New Jersey // Brighton Asylum
Location:  Passaic, New Jersey
Brighton Asylum , the self-proclaimed most-visited haunted house in New Jersey, has three award-winning attractions for adrenaline enthusiasts to visit. Whether you're visiting Brighton Asylum's patient areas, the subCULTure tunnels, or the Bleeding Grounds staff quarters, you'll definitely be spooked. And if those aren't enough, you can add on to the fun with escape rooms, axe-throwing, carnEVIL games, and paranormal explorations. In addition to scaring folks Friday through Sunday in October (and a couple of Thursdays), Brighton offers holiday haunts like Santa's Slay, Dark Valentine, and even Saint Patrick's Slay. — SC
31. New Mexico // McCall's Haunted Farm
Location:  Moriarty, New Mexico
View this post on Instagram A post shared by McCall's Haunted Farm (@mccallshauntedfarm)
New Mexico's top haunted attraction taps into the inherent creepiness of farms. The fictional backstory sets up the frights at McCall's Haunted Farm perfectly: After the State Highway Department built an interstate through his farm, Farmer McCall went mad and murdered his family. There wasn't enough evidence to convict him, but in the subsequent years, tourists began to go missing from the area. In the present, visitors can experience the Field of Screams—a corn maze haunted by Farmer McCall's victims—and the Haunted Barn, which features an old meat processing facility that is now used for disturbing ends. Other activities on the property include zombie paintball, creepy carnival games, and a clown-themed maze. Tickets for Fridays and Saturdays leading up to Halloween are on sale for $28 to $38. —MD
32. New York // Headless Horseman Hayrides
Location:  Ulster Park, New York
Headless Horseman Hayrides and Haunted Attractions has operated for more than 30 years and consists of six haunted houses, a terrifying walking trail, a corn maze, spooky entertainment, and a haunted hayride new for this year called "Death Is the Only Cure." In a The Last of Us -like twist, it features a mushroom that turns its hosts into a creature that resembles a crow. Headless Horseman Hayrides is open from late September until late October; you can get your tickets here .
33. North Carolina // Kersey Valley Spookywoods
Location:  Archdale, North Carolina
Don't let Kersey Valley Spookywoods' fool you: this is no kiddie affair. With 15 different horror sets to choose from, you're sure to find one that makes your blood curdle. Sure, you'll find your typical haunted corn maze and asylum settings. But there's also the mineshaft-themed Depths of Despair, a vampire and werewolf melee called Agony's Embrace, the mysterious Whispering Pines Funeral Services, and the Inferno, a hell-themed set that could have been designed by Dante himself. —SC
34. North Dakota // Acres of Terror
Location:  Leonard, North Dakota
Acres of Terror is celebrating 20 years of frights in 2023—and after two decades, it has scaring down to a science. It takes most people 45 minutes to an hour to wander through the haunted corn maze, creepy trailer, and abandoned school house, where visitors must do their best to avoid murderous characters lurking down pitch-black hallways. There's also a short ride on a bus driven by a werewolf, something we're quite sure you won't find many other places. Drop by any Friday or Saturday, dusk til midnight, through October 29. —SC
35. Ohio // Spooky Ranch
Location:  Columbia Station, Ohio
True to its midwestern setting, the Spooky Ranch at Rockin'-R-Ranch has a haunted house and haunted barn. But the star attraction is the haunted hayride. The high-tech operation takes what's usually a simple autumnal activity to a terrifying new level: The hayride features pyrotechnics, enormous animated creatures, and live actors. The Spooky Ranch is open Thursday through Sunday during October. (You can visit on Halloween as well). —KW
36. Oklahoma // HexHouse
Location:  Tulsa, Oklahoma
For an extreme haunt, look no further than HexHouse , named one of the top 15 intense haunted houses in the U.S. by HauntWorld.com . HexHouse promises that there are no cheesy animatronics or movie monsters, but does offer full immersion in "an altered reality that is much darker and less predictable than anything you've seen in the movies." The house is allegedly based on the true story of an occultist who lived in Tulsa in the 1940s and held two women captive in her home. While we're not sure how true that is, one thing is for sure: HexHouse will bewitch you. —SC
37. Oregon // The Fear PDX
Location:  Portland, Oregon
If you guessed that "Smiley's Fun House" isn't actually all that fun, you're probably ready for The Fear PDX . In addition to Smiley's, this mult-attraction haunted house includes The Mansion, The Harvest, The Forgotten, and Radioactive Rampage, and six other ghoulish sets. A new addition for 2023 is Chopped, a game where you compete against others to finish a task with one hand while the other is imprisoned in a small guillotine. Lose the game, lose your hand. —SC
38. Pennsylvania // Eastern State Penitentiary
Location:  Philadelphia, Pennsylvania
Philadelphia's Eastern State Penitentiary is a real prison that opened in 1829 and shut its doors in 1971. Most of the year, you can tour the abandoned facility and learn about its history—but when fall hits, Eastern State turns into a horrifying attraction complete with five haunted houses (including one in 3D), cocktail lounges, flashlight tours of parts of the facility, live performances, and ghost stories within its walls. Halloween Nights at ESP is open late September through mid-November; tickets start at $39 and you can grab them here .
39. Rhode Island // Haunted Labyrinth
Location:  Cranston, Rhode Island
Cranston's Haunted Labyrinth is the longest-running haunted house attraction in New England (this will be their 39th season). But it's more than just that, because there's also an indoor maze filled with some frightfully fun surprises. This year's theme—Nightmares Retold—will revisit some old terrors from the past. If you pay in cash, tickets go for $12; if you're using a card, admission is $13. It runs until Tuesday, October 31. —SM
40. South Carolina // Nightmare Dungeon Haunted House
Location:  Greenville, South Carolina
The closest thing to being inside of a horror movie? Nightmare Dungeon Haunted House . Purportedly built inside an actual 150-year-old farmhouse, NDHH features more than 40 horror scenes, including CGI effects, pyrotechnics, and movie-quality props, costumes, and makeup. New this year is The Hellevtor, an eight-floor descent into the dungeons beneath the house. Visit any day in October, from 7:30-11 p.m.—if you dare. —SC
41. South Dakota // Fear Asylum
Location:  Brookings, South Dakota
It's lucky number year 13 for Fear Asylum , and they say the patients are getting restless. Rumor has it the government has been testing on the unwilling subjects of the Brookend Asylum for decades, turning them into nightmarish creatures and ghouls. And when they don't make it, the graveyard on the grounds makes for convenient disposal. If you're not shaking in your boots by the end of the experience, you can add on two escape rooms and the mysterious "last ride." —SC
42. Tennessee // Nashville Nightmare
Location:  Madison, Tennessee
Nashville Nightmare's themed haunted houses prove that anywhere can be scary, from research labs to high schools. If there's a secret to their success—and by success, we mean eliciting screams from guests—it's probably the actors' commitment to making you forget that they're just actors. The premises also play host to a bar, an axe-throwing station, mini escape games, and a laser maze crawling with mummies. —EG
43. Texas // Cutting Edge Haunted House
Location:  Fort Worth, Texas
The Cutting Edge Haunted House , which is located in a century-old abandoned meat packing plant, embraces its roots. As the website reads, "The meat packing equipment from the Old West is still in use, but now it is a two-story human processing area." The "humans" being processed may be mannequins, but that knowledge will do little to calm your nerves. The industrial carnage is brought to life through live actors and special effects. In addition to having one of the most creative themes of any haunted house, it's among the largest of its kind, taking guests 55 minutes on average to explore it in full. Tickets are now on sale for the 2023 Halloween season, with prices starting at $39.95. —MD
44. Utah // Fear Factory
Location:  Salt Lake City, Utah
Built on the site of an old cement works where workers died gruesome deaths (seriously!), Fear Factory is made up of six buildings and two underground passages encompassing an entire seven-acre city block. In addition to being named on a number of scariest haunted houses lists, Fear Factory has been visited by the Ghost Adventures TV crew to investigate alleged satanic activity. Non-paranormal activities include a circus, catacombs, vampire lair, and hellish industrial sets. When parking gets scarce, you can even get picked up by the Zombie Bus. —SC
45. Vermont // Haunted Milton
Location:  Milton, Vermont
Deep in upstate Vermont and not too far from the Québec border, there's a haunted lodge that could send shivers right down your spine . Haunted Milton hasn't released too many details yet about what's in store for the 2023 Halloween season, though the theme is "Mother Knows Best." You can check it all out for yourself starting on Thursday, October 26. Tours only run through to Saturday, October 28, and no people under 13 are allowed. If you've got $10 to spend, this creepy showcase could be perfect ahead of Halloween.
46. Virginia // Red Vein
Location:  Ashland, Virginia
If Friday the 13th (1980) is your favorite horror flick, this year's Red Vein haunted house might be right up your alley (the newest addition to the haunted house is summer camp massacre-themed). But even if that's not your jam, there are plenty of other scares in store, including an asylum, a haunted house, and Witch's Woods. The house is run by Red Vein Army, a sort of horror collective —a group of people who, in addition to the haunted house, also operate escape rooms, haunted history tours, and were even once a traveling haunt actor troupe. —SC
47. Washington // Georgetown Morgue
Location:  Seattle, Washington
How's this for a horrifying backstory: In 1965, the co-owner of a morgue in the Georgetown neighborhood of Seattle was killed when he was crushed by a smokestack during an earthquake. Three years later, on October 25, nine morgue employees were horrifically murdered when masked intruders forced them into the crematory and burned them alive. The local legend hasn't been verified , but it inspires a terrifying haunted house attraction every year in October. Georgetown Morgue was rated America's 11th scariest haunted house by Hauntworld.com in 2022. If you're brave enough, they're open Thursday through Sunday in October, plus October 30 and the 31st. —MD
48. West Virginia // Fright Nights
Location:  Daniels, West Virginia
If you happen to be in southern West Virginia and you're in the mood for something spooky, Fright Nights is the place to be. The haunted attraction boasts not just one, but five themed experiences , including a House of Wax where the "sculptures" are said to get more, ahem, "life-like" as you venture deeper inside. You can also explore a Stranger Things -inspired escape room . The 2023 Halloween season runs through Sunday, October 29, and you can grab tickets now. —SM
49. Wisconsin // Burial Chamber
Location:  Neenah, Wisconsin
Touted as the midwest's largest haunted complex, Burial Chamber consists of four spooky attractions. In addition to the titular Buried Alive experience, thrill-seekers can enjoy Phobia Haunted Woods, Adrenaline Haunted House, and Insanity Haunted House. There's also a unique "I Spy" experience: Find a number of specified items in a creepy room and win free pass upgrades. Be sure to book in advance! —SC
50. Wyoming // Nightmare on 17th Street
Location:  Cheyenne, Wyoming
Freddy Krueger's got nothing on Nightmare 17th Street . With 14 individually themed rooms that span between classic horror and modern scares, there's bound to be something that preys on your specific phobia. Even better—proceeds benefit various charities in Cheyenne, so everyone wins. —SC
Lunch and Dinner
Undead Desserts
Witches Brews and Crypt Keeper Cocktails
BOO BRUNCH MENU
Pitchfork pancakes, silver bullet pancakes, wicked waffles, moonlight mini waffles, frozen with fear french toast, chilling chicken and waffles, evil egg sandwiches, terrifying toast ala carte, build your own ominous omelette, build your own ominous omelette, bacon hash browns fries, make hhh your year round halloween destination.
May - November Hours
Monday - Thursday 11:00 am - 10:00pm
Friday and Saturday 11:00 am - 11:00pm
Sunday 11:00 am - 10:00pm
December - April Hours
Monday - Thursday 11:00 am - 9:00pm
Friday and Saturday 11:00 am - 10:00pm
Sunday 11:00 am - 9:00pm
Contact HHH
Location : 330 Fulton Street Farmingdale, NY 11735
Email Address : [email protected]
Phone Number : (516) 777-1031
Skip to Content
Ready to scream? 10 haunted houses to visit this season
Share via Twitter
Share via Facebook
Share via LinkedIn
Share via E-mail
Colorado has a ton of haunted houses to visit each year. So gather up some friends and seek some scares…if you dare. Below is a roundup of some of the most chilling haunted houses (and more) that Colorful Colorado has to offer. Some are close to campus, while others may require some travel time. Regardless, you're guaranteed to have a boo-tiful time.
3400 E. 52nd Ave., Denver $24.99–$99.99 The 13th Floor haunted house is named after the unlucky number 13. This year's attractions are called, The Deadlands, Repossessed and Fairytale Nightmare. In the Deadlands, participants will find themselves in a post-apocalyptic world trying to uncover the truth of how a virus was released. During Repossessed, you will face Mara the Nun. Finally, in Fairytale Nightmare visitors face villains of the fairytale world. Additional activities include a bar, tarot reading, No Name's Curtain Chaos and more.
Horror Theatre Haunted House
4504 S Independence St., Denver Free admission If you're tight on money this time of year, Horror Theatre Haunted House has you covered. You are allowed to enter free of charge (save for your soul). The theme of the attraction is a long forgotten movie theater, but you may just enter a horror film by mistake.
The Empty Grave
218 Kimbark St., Longmont $20–$50 Take an immersive walk through a haunted house. Lighting, animatronics, actors, special effects and more will be featured. The haunt is held at the abandoned Longmont Foods Co. processing plant. Here, it is rumored that the plant was processing something other than poultry.
Halloween events
Movie screenings, haunted halls, themed activities at the Rec and more—there are tons of options for celebrating Halloween and scoring free candy this month. Check out upcoming Halloween events for students .
Haunted Field of Screams
10451 McKat Road, Thornton $29.99–$39.99 The Haunted Field of Screams backs Riverdale Road, a famously haunted pathway in Thornton. This 40-acre corn field has plenty of uncharted territory to weave through. Watch out for what lurks in the shadows.
The Frightmare Compound
10798 Yukon St., Westminster $29.99–$59.99 per person The Frightmare Compound is Colorado's oldest haunted house, and this year, they're celebrating their 40th year of fright. When visiting the compound, you'll find yourself wandering with no light guiding the way. With so much experience under their belt, The Frightmare Compound ensures a horrific experience.
World's Scariest Haunted House
10500 W Bowles Ave., Littleton $23–$40 The World's Scariest Haunted House is said to live up to its name. You may want to skip this one if you're afraid of chainsaws. Don't forget to snag this $3 off coupon .
301 Englewood Parkway, Englewood $25–$40 The Ritual, just south of Denver, will make you question reality. The experience begins in a rickety shack that leads to a gloomy swamp. It is said that previous victims lurk in the water, waiting to claim your soul.
Terror in the Corn
6728 County Road 3 1/4, Erie (Anderson Farms) $39–$130 While its not your average haunted house experience, Terror in the Corn may be even more frightening. In 2022, The Scare Factor rated it the best haunted house in Colorado and the third best in the nation.
Dark Side of The Abbey
3011 US-50, Cañon City $25–$40 The Dark Side of The Abbey is located in an abandoned monastery inside the grounds of the Holy Cross Abbey. Although it is a few hours away from Boulder, once you get there you will experience a thrilling, heart-racing time in a real-life monastery.
3021 N Hancock Ave., Colorado Springs $24–$64 If you're up for a bit of a drive, HellScream provides a horrific, circus-themed experience. The house has been around for 15-plus years and has a story centered around a circus train crash, which took many lives.
Campus Community
Related articles.
Abrasive bosses can be tamed, CU Ombuds 50th anniversary lecturer says
18 things to do: Enjoy BBQ, watch a movie at the Buff Pool, more
Staff Council seeking applicants for chancellor search committee
News headlines.
Arts & Humanities
Business & Entrepreneurship
Climate & Environment
Education & Outreach
Health & Society
Law & Politics
Science & Technology
Administration
Career Development
Deadlines & Announcements
Mind & Body
Events & Exhibits
Arts & Culture
Conferences
Lectures & Presentations
Performances & Concerts
Sports & Recreation
Workshops & Seminars
Subscribe to CUBT
Sign up for Alerts
Administrative eMemos
Buff Bulletin Board
Events Calendar
Accessibility links
Skip to content
Accessibility Help
The spooky, seven-figure business of Halloween haunted houses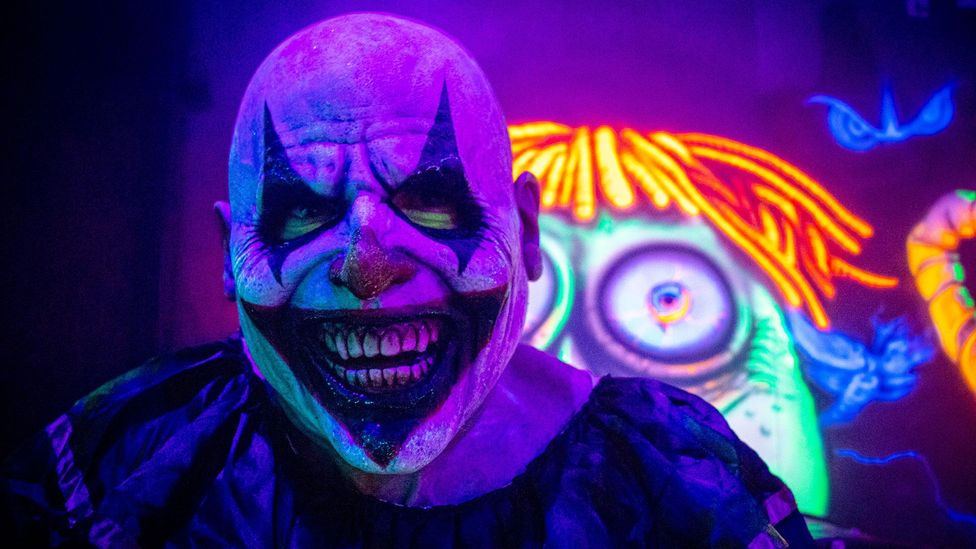 Once upon a time, you could have a haunted house up and running in a day's time. Fill a bowl with grapes and call them eyeballs, add room-temperature spaghetti – those are guts – string up a few ghostly figures, crank the fog machines, lower the lights and plan a few jump scares. While it's still possible to have a spooky time on a shoestring, haunted houses are increasingly looking less like tents in primary school gyms, and more like the big-budget spectacles of theme parks, film and television productions. 
"Many of the top haunted houses in the country have digital show controls and animated props that are pneumatic or electric," says Chris Stafford, the CEO of haunted house production company Thirteenth Floor Entertainment Group, which runs 18 different haunts across the US, and even employs its own director of technology. "We're not [staging] anything nowadays that's not a seven-figure number," says Stafford. 
Along with these major productions, even local charity haunts in storied town landmarks as well as mom-and-pop farms spooking out their barns are spending five- to six-figures to stand up their attractions.
Halloween celebrations are becoming more common, especially in Europe – yet international markets don't hold a candle to the US, where the holiday is sold as whole-family fun, says Tom Arnold , a professor of finance at the University of Richmond's Robins School of Business. One of the US's biggest consumer holidays is supported by a massive haunted house industry, and entertainers are spending more and more each year. 
The cost of running a haunted house
There's a long list of must-haves to run a haunted house – and these add up quickly.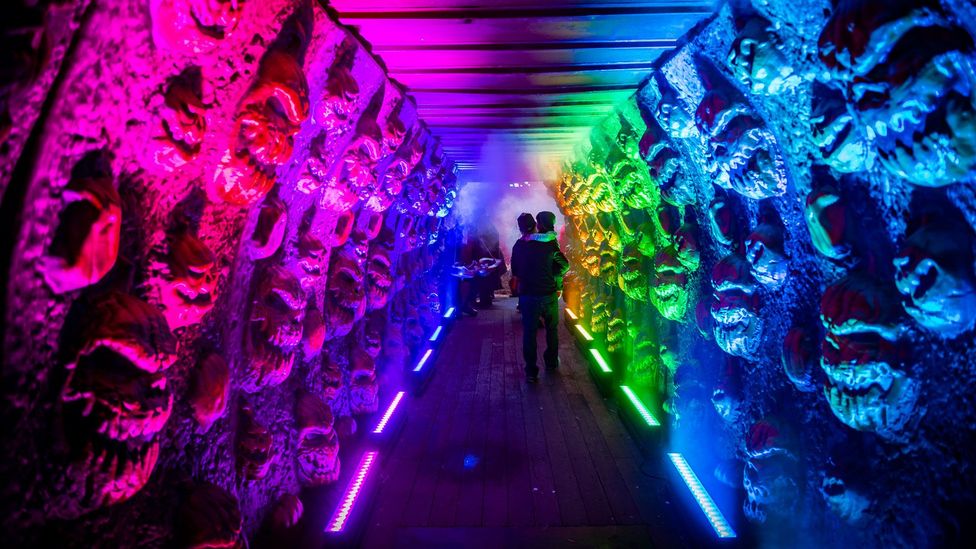 Thirteenth Floor Entertainment Group runs Shaqtoberfest in Long Beach, California (Credit: Courtesy of Thirteenth Floor Entertainment Group)
First, companies need a location to host the event (if you don't already own a spot, prepare to sign a long-term lease or build your own). Next, a storyline for the spooky scenario (there are writers and consultants for that). The labour and materials to outfit your haunt with the latest lighting, tech and special effects (consider shelling out for creepy smells) will run thousands, alongside the wages for the engineers and specialists to bring it all up to code, makeup artists, costumes, prosthetics, actors, security personnel and staff (often highly specialised) to run the event. Visitors, too, must have a place to park, and maybe even transportation to bus them in. Don't forget marketing, concessions, food and alcohol, licenses and insurance.
When Jim Lorenzo, who owns Blood Manor in New York City, built his first haunted house in the early 2000s, it cost about $125,000 (£103,000). When he refreshed it a few years ago, it cost $1m (£824,000) – and Lorenzo works within existing buildings. Blood Manor keeps 125 to 135 people on staff during the Halloween season, with 60 to 95 working on any given night, including security, makeup artists, wardrobe, actors, airbrush artists, sound engineers, retail and other back-of-house folks that make the operation go. The haunt, a favourite among Manhattanites, grosses between $800,000 and $900,000 per season.
Small businesses are investing large sums, too. Michael Phillips, who owns Phillips Farms in Cary, North Carolina, says its Halloween attractions – including the Field of Lost Souls and ultra-creepy Gore House – usually take $25,000 to $50,000 to mount. He needs 70 or more people to put on the show, which sees 1,500 to 2,000 people come through every night. 
Even a charity attraction, like Scare for a Cure in central Texas, spends roughly $20,000 to create their volunteer-run haunted house, says president Susan Prat. Its biggest expenses are feeding their volunteers and the cost of insurance for the whole operation. They send about 2,000 visitors through every year, and raise roughly $50,000 (£41,000) for cancer research and other local charities.
'They've turned into three-ring circuses'  
Most companies and organisations prep year-round for their events, but haunted houses are ultimately a seasonal enterprise. Relying on making all their revenue during a short window can be risky ­– losing even a few days can damage the business.
"We're profitable, but we're very conscientious of our expenses. We book a lot of business, but it is risky," says Blood Manor's Lorenzo. His haunted house was forced to close for five days during Hurricane Sandy, and that made a dent in business. Covid-19, too, was a blow. "We have some years that we do very well, and we have some years that we struggle to get by." 
For the 2023 season, there's still plenty of money to be had –  the National Retail Foundation expects Halloween revenue to top $12bn , and the draw of spending on the holiday is irresistible – but the outlook for this season is hazy.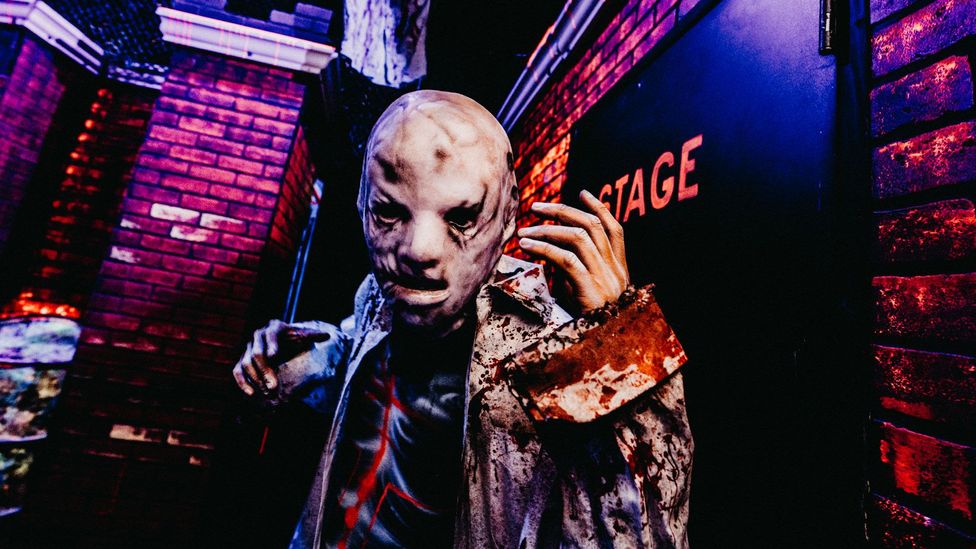 Blood Manor in New York City is a favourite among Manhattanites (Credit: Union Square Advertising)
Larry Kirchner, founder and CEO of immersive experiences company Blacklight Attractions, worries that inflation could scare people away. Where once owners charged a flat fee at the door, say $25 (£21) paid in cash, most are now ticketed digitally, and with taxes and service fees, those prices can increase substantially. In fact, Blacklight recently tried to raise prices on its Halloween events, but visitors were abandoning their carts once extras were calculated. Lorenzo, too, believes safety concerns amid threats of violence related to the Israel Gaza war could keep some people at home.
Yet it may not be as grim as all that. Marley Toben, a one-time haunted house actor and long-time lover of all things spooky, says she's willing to travel and pay for the best experiences. Toben estimates the farthest she's driven for a haunted house is about an hour and a half. How much would she pay? "Seventy-five dollars for a good one. If they charge more, my mind says they're worth more."
Plus, despite being seasonal businesses, that season is getting longer. Though they used to run only in the month of October, Halloween celebrations now stretch six-to-eight weeks. The Universal Orlando theme park opened its Halloween Horror Nights on 1 September this year. Spooky celebrations are also finding their way into other holidays; many of Thirteenth Floor's locations host events all year, like Krampus Christmas, bloody Valentine's Day and halfway-to-Halloween in the summer.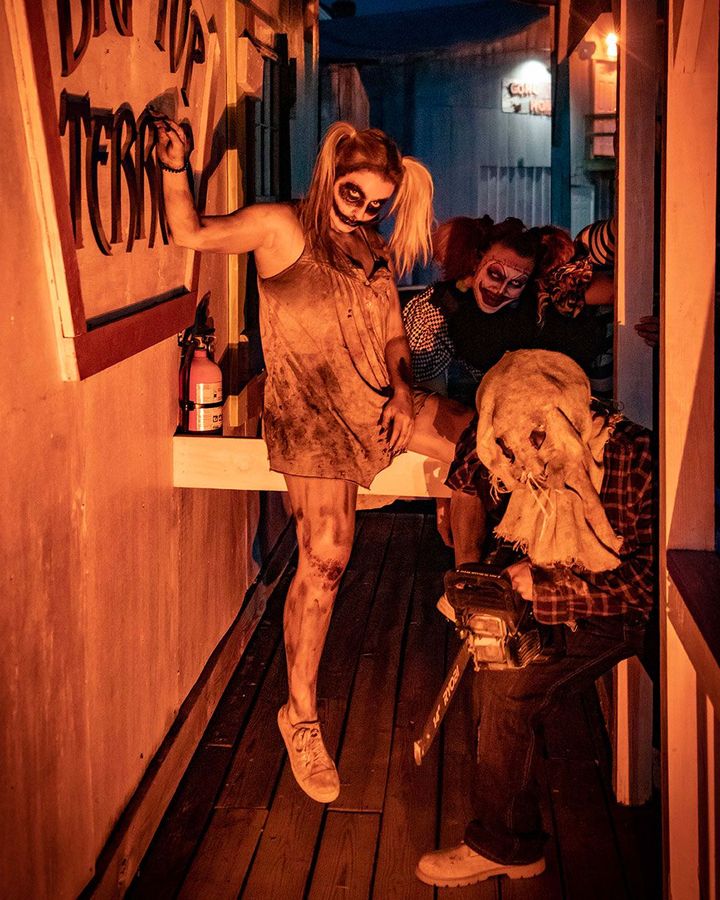 Big Top Terror is among the attractions at Phillips Farms in Cary, North Carolina (Credit: Courtesy of Phillips Farms)
The past 20 years have been mind-blowing, says Jennifer Thaler, who runs the haunted house industry's biggest trade show, called TransWorld. "You go to a haunted house now and it's an evening, you're not just walking through a haunt. They've turned into three-ring circuses."
As the holiday grows, so does competition, notes Kirchner, of Blacklight Attractions. "You have people building haunted houses in their subdivisions. You have haunted pop-up bars. You have people opening up elaborate pumpkin patches. Zoos do Halloween. Theme parks do Halloween. It's all over the place."
Whatever happens this season, most companies already have their eyes set on the future – one that, for many, may look even bigger. This includes the relatively small-scale Phillips Farms. Halloween visitors used to be middle and high schoolers, but now the adults are coming in droves, says Phillips. So, next January, they'll bring in their haunted house consultant from Florida to brainstorm for an expansion, and by spring, they'll start construction on a new building – an addition to the haunted farm. The buildout will run them between $80,000 and $200,000.
Next year could be one of their biggest seasons yet, says Phillips. "When it comes to us as a team as a whole, we can pretty much do anything you can imagine."
Beware! Why this Tennessee haunted house takes horror to a new level
Looking for a truly terrifying experience this Halloween? McKamey Manor in Summertown touts itself as a haunted house like no other.
If you are ready to live a horror film, you may be ready for McKamey Manor . The horror experience is only for those 21 years and older, and that is just the base of maybe being able to head into this frightful experience. There's also a screening process to be able to participate.
McKamey Manor is touted as a horror experience like no other and is not for the faint of heart...or anyone with a heart condition.
Do you have what it takes to just even get to the Manor ?
What is McKamey Manor?
McKamey Manor takes a person into a real-life horror film.
Originally based in California, Russ McKamey moved his shop of horrors to Summertown in 2017 and has come up with new ways to scare those who dare enter and also gain some criticism over the years.
From witches to bloody battles: Haunted spots in Tennessee perfect for ghost hunting
In previous interviews , McKamey called his extreme haunt "a game" and a "survival horror boot camp experience" that can last more than 10 hours at places around Summertown, Tennessee, and Huntsville, Alabama. 
McKamey also offers up a nice prize for those that "beat the manor". If anyone has the tenacity to persevere and make it through the whole event could win a $20,000 prize. But no one has made it yet.
Where is McKamey Manor?
McKamey Manor is located in Summerton, Tennessee, just about an hour south of Nashville.
What does it take to participate in McKamey Manor?
Want to participate in McKamey Manor? There are a couple of things you have to do before you can even get in the door.
 You must be 21 and above, or 18-20 with parental approval.
Complete a "sports physical" and have a doctor's letter stating you are physically and mentally cleared.
Pass a background check provided by MM.
Be screened via Facepook face time or phone.
Have proof of medical insurance.
Sign a detailed 40-page waiver.
Pass a portable drug test on the day of the show.
People who pass an initial screening and complete an on-site 40-page waiver must then endure a night-time series of what McKamey calls "epic stunts." Events can include having your eyes covered with duct tape, being submerged in water, buried in mud or being hypnotized. 
Is McKamey Manor safe? 
Don't forget about that hefty waiver you have to sign.
McKamey stated the manor's safe but can be dangerous. 
YouTube videos taken of participants show them being covered in mud, dealing with heights, water and a whole mess of other critters and don't forget about the psychological aspect of participating ins something like this.
Hulu documentary on McKamey Manor: Monster Inside: America's Most Extreme Haunted House
McKamey's perchance for extreme horror has even caught the eye of Hulu .
On Oct. 12, the streaming service will air a documentary on McKamey Manor and the mastermind behind the extreme haunted house called Monster Inside: America's Most Extreme Haunted House .
The documentary's synopsis states the documentary follows McKamey and his horror ways, but it also looks at allegations of being a "manipulative abuser" by three people. 
Haunted houses in Westchester, Rockland, Putnam: Halloween favorites you can visit
Want a scary good time in the Lower Hudson Valley? Check out these favorites:
Classic Evening Lantern Tour at Sleep Hollow Cemetery , Sleepy Hollow: You'll get to explore why Sleepy Hollow Cemetery is so famous in this two-hour tour by kerosene lantern light. This tour is offered daily from 7 p.m. to 9 p.m. and also from 10 p.m. to midnight on weekends through Nov. 11 and Halloween night. If Halloween for you is more than a one-day holiday, this is also available on select nights in November between 7 p.m. and 9 p.m. through Thanksgiving weekend. Get tickets at showclix.com.
Nightmare Circus , Mahopac: This is a free family-operated haunted house, open only on Halloween and Hallows Eve. Keep in mind, however, that this attraction is recommended for adults and teens. Admission of children under the age of 10 will be at the parents' discretion, as "we will make your worst nightmares become reality," according to Nightmare Circus' website.
Also, there is no onsite parking. It is asked that attendees park at Chamber Park and walk to the haunted house. While free, donations are accepted, which will go to Saint Jude Children's Research Hospital.
North Castle Historical Society's Halloween Haunt , Armonk: Rain or shine, events include a haunted house, games and pumpkin painting. The event is from 11 a.m. to 4 p.m. Oct. 28 and noon to 3 p.m. Oct. 29. There is an admission fee of $8, with all proceeds going to the historical society.
Lyndhurst After Dark , Tarrytown: Appropriate for children 10 years and older, this 45-minute tour will have visitors experience Lyndhurst Mansion decorated in the spirit of the season, with collections and items displayed related to the superstitions of the age.
Tours take place from 6 p.m. to 10 p.m. Oct. 19-22, as well as Oct. 26-29. Visitors must purchase tickets, which range in cost from $20 to $40, in advance.
Thirty Knapp Road Haunted House , Stony Point: While all ages can attend this free haunted house, those under the age of 18 must be accompanied by a parent or guardian at all times. Thirty Knapp is open between 8 p.m. and midnight on Fridays. Donations are accepted.
The Horsemen: Terror Lies in Chaos , Sleepy Hollow: Can't get enough of Sleepy Hollow? What is billed as an "immersive horror experience" arrives in the land of the Headless Horseman. "This new horror experience is the surreal fever dream of a madman, taking place in a nightmarish hospital as the Four Horsemen of the Apocalypse descend upon us," according to their website.
Show times are from 6 p.m. to 11:30 p.m. Thursdays through Sundays, with tickets ranging in price from $40 (in advance) to $65 (VIP, which allows one to skip the line and attend at any point during a certain day, as long as it's at least an hour before closing). And if again, Halloween is more than a one-day observance, this is also available from Nov. 2-5.
The organizers note that attendees younger than 16 years of age require a parent or guardian. It's also not recommended for those younger than 12.
Scared by the Sound Haunted House , Yorktown Heights: Rated one of the Top Ten Haunts in the U.S. by CNN travel, this is open rain or shine Fridays 8 p.m. to 11 p.m., Saturdays 7 p.m. to 11 p.m. and Sundays 7 p.m. to 10 p.m. Scared by the Sound is opening in a new location this year, but will again be occupied by the undead of the former Playland Amuseument Park. General admission tickets are $29 per person, with free parking. The attraction's website notes that this is not recommended for kids under 11 years of age.
If you dare: Sneak peek at Scared by the Sound Haunted House
Show us your Halloween decorations!
Have a frightening front lawn? A Halloween walk-through that actually has people running, it's so spooky? A display that's ... to die for?
We'd love to see who in the Hudson Valley has the coolest (ghoulest?) outdoor Halloween decorations! Send us your photos with an address by filling out this form .
There's no prize other than your house or yard featured on The Journal News/lohud's website. (Well, you may get additional trick-or-treaters come Oct. 31.)
As they say, if you got it, haunt it.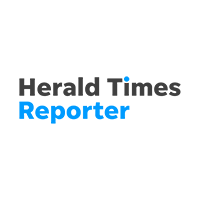 Herald Times Reporter (Manitowoc)
Two Rivers haunted house Scare USA closes after owner arrested on suspicion of child sexual assault
Posted: October 16, 2023 | Last updated: October 16, 2023
MANITOWOC — The owner of a Two Rivers haunted house attraction was arrested last week on suspicion of sexually assaulting a minor.
According to the Two Rivers Police Department , the 37-year-old man was arrested Thursday and is being held at Manitowoc County Jail.
Charges of repeated second-degree sexual assault of a child, exposing genitals or pubic area to a child and two counts of child enticement were referred to the Manitowoc County District Attorney's Office. Those charges have not yet been filed in CCAP , Wisconsin's online circuit courts directory.
A news release from the Two Rivers Police Department Oct. 13 said anyone with information can contact detectives at 920-686-7200.
Retail theft: Manitowoc police probe organized retail theft group after arrest of 3 Neenah men in connection with Walmart theft
The man owns and operates Scare USA in Two Rivers, an award-winning haunted house attraction.
Oct. 13, Scare USA posted on its Facebook Page the attraction would be closed "due to unforeseen circumstances."
"The well-being and satisfaction of our patrons have always been our top priority," the post said.
The Herald Times Reporter does not publish the names of suspects until they have been charged with a crime in court.
Alisa M. Schafer is a reporter for the Herald Times Reporter in Manitowoc. She can be reached by email at [email protected] .
This article originally appeared on Manitowoc Herald Times Reporter: Two Rivers haunted house Scare USA closes after owner arrested on suspicion of child sexual assault
More for You
NFC North trade targets: Lions acquire a CB, while Bears, Packers and Vikings sell
Tesla Tempers Growth Expectations as Musk Sees Storm Ahead
How US Could Respond if Russia Shoots Down Satellites
The Bittersweet Journey of the Phillies' Playoff Pitching Star
GOP is moving to 'plan b' to elect a House speaker: Rep. Dan Meuser
A guide to every beret worn by American service members
Justice Department appeals sentences for Proud Boys already to serve decade plus over Jan. 6 Capitol riot
A seismic shift is happening in the airline industry, said United CEO.
Ukraine War Map Shows Counteroffensive Gains as US M1 Abrams Tanks Arrive
Former US officials ask Pakistan not to deport Afghans seeking relocation to the United States
Here are all of the Republican elected officials backing Trump's 2024 campaign
Senate votes to overturn CFPB small-business lending rule
How often you can take Tylenol? Explaining the safe use of acetaminophen for pain relief
Rangers Center Fielder Leody Taveras Made a Catch So Good It Broke an Advanced Statistic
40 Easy Lunch Ideas Perfect for Every Day
China Puts Down 'Red Lines' Ahead of Possible Biden-Xi Talks
Judge in Sam Bankman-Fried trial reams out lawyers for having witnesses 'hauled up here' from across the country without much to say
Jewish demonstrators protest on Capitol Hill
Magnitude 4.2 earthquake in Northern California triggers ShakeAlert in Bay Area
Senate fills the void as House GOP burns from within
More From Forbes
10 most haunted states in america (plus ghost tours, haunted houses and more).
Share to Facebook
Share to Twitter
Share to Linkedin
With the arrival of autumn, the air becomes crisp and the shadows grow longer, setting the stage for a season of spookiness. Halloween enthusiasts and thrillseekers alike are drawn to the eerie and the unknown. In years past, I've looked at the most haunted states in America , truly haunted houses and the most haunted places in the U.S .
This year, in a quest to curate the ultimate guide to the best of haunted America, I scoured countless lists, consulted with experts and delved deep into the world of the supernatural to find the spookiest spots to go in 2023.
From the 10 most haunted states in America to thrilling ghost tours that will quicken your pulse to some of the scariest road trips, this is a celebration of everything spooky in America. With these lists in hand, you'll be able plan a spooky season trip that will go down in haunted history.
A new report ranks the most haunted states in America—plus, haunted houses, haunted road trips and ... [+] more.
The 10 Most Haunted States In America
Want to take a haunted trip? BonusFinder.com, a casino site, took a gamble on the supernatural and put its data scientists to work to score a different kind of jackpot— the most haunted states in America . Using data from sources like the Find a Grave , Ghosts of America and Ghostquest , they leveled the playing field by calculating a haunted city score for each state by standardizing all metrics per 100,000 people.
Coming in at the top of the list as the most haunted state in America is Texas, with 13,710 cemeteries, 7,517 ghost sightings, 925 haunted locations and 158 paranormal investigators. Second is Maine, followed by a tie between Florida and Vermont in the third spot.
The Insider s Guide To The Salt Lake City Nightlife Scene
Here's the list of most haunted states, with a spooky spot recommended by BonusFinder.com in each.
A black and white image of The Alamo—one of the most haunted spots in Texas.
Spooky spot not to miss: The Alamo , which is supposedly home to the spirits of the soldiers who once battled there.
Spooky spot not to miss: Wood Island , where the ghost of a former lighthouse keeper still wanders the area.
3. Florida (tie)
Spooky spot not to miss: Port St. Lucie's Devil Tree , an ancient oak with an eerie rep.
3. Vermont (tie)
Spooky spot not to miss: Bennington Triangle , which had a string of mysterious disappearances in the 1940s and is now known for unexplained spooky events.
5. North Dakota
Spooky spot not to miss: San Haven Sanatorium , a former tuberculosis facility where ghosts are often seen.
6. South Dakota
Spooky spot not to miss: Mount Moriah Cemetery , the resting place for several famous Wild West-era figures like Calamity Jane, who still wanders the grounds.
History buffs believe that the Trans-Allegheny Lunatic Asylum is one of the most haunted places in ... [+] the U.S.
7. West Virginia
Spooky spot not to miss: Trans-Allegheny Lunatic Asylum , a macabre spot that's haunted by former patients.
8. Kentucky
Spooky spot not to miss: Waverly Hills Sanatorium , a former tuberculosis hospital with lots of paranormal activity.
Spooky spot not to miss: Dumas Brothel , which operated for nearly a century and is now home to a different kind of ladies of the night.
Spooky spot not to miss: Villisca Axe Murder House , a hair-raising spot that witnessed a brutal 1912 murder.
A spooky evening in San Diego's haunted Gaslamp Quarter.
5 Of The Spookiest Tours In America
Once you've selected your haunted state, it's time to immerse yourself in the supernatural with a spine-tingling tour. Go City is the world's largest sightseeing pass business, helping travelers access the best experiences in 30 major cities. From eerie encounters in San Diego's historic Gaslamp Quarter to spooky San Antonio, Go City has tours across the country that will leave you with an unforgettable sense of the otherworldly.
Here, I got the scoop from Go City on its five most popular haunted tours.
1. San Diego: Step into the ghostly Gaslamp Quarter, which is home to some of the spookiest spots in San Diego on the Gaslamp Walking Ghost Tour . "You'll wander hidden alleys, hear about some of San Diego's most notorious ghostly histories, and explore haunted locations like Davis-Horton House, a widely documented location for paranormal activities," Uli Crepeau, Go City's VP of destinations and partnerships, told me in an interview.
2. Chicago: Explore the shadowy past of the Windy City with Mobsters and Haunted Mysteries . "Learn the true captivating stories behind the real Al Capone, America's most haunted hotel, the alley of death and the infamous serial killer H. H. Holmes and many more," Dipak Patel, regional manager of Go City Chicago told me in an interview.
3. San Antonio: In one of America's most haunted cities, you'll experience spine-chilling tales as you walk through Heritage Park and investigate paranormal activity up close on the Walking Historical Ghost Tour . "The tour ends at the El Campo Santo Cemetery, where you can use professional tools and equipment to confirm if you're in the midst of the paranormal," Maria Cuevas-Hunter, regional director of Go City San Antonio told me in an interview.
4. Boston: On the Haunted Boston History and Mystery Walking Tour , you'll delve into Boston's past in haunted neighborhoods that are known for unexplained phenomena. "This tour will take you through Boston's haunted past by visiting and learning about some of the most ghostly histories of the city—from the 'hanging tree' where early executions took place, to the Omni Parker House, widely recognized as the most haunted building in Boston," Amanda White, Go City's regional director of Philly & Boston, told me in an interview.
5. New York City: Prepare for a fright as you explore the spooky side of New York City's Greenwich Village on the Ghosts of Greenwich Village Tours . "From the city's most haunted houses to the supernatural Washington Square Park, you'll hear plenty of history while keeping your eyes peeled for the village's local ghosts and ghouls," Kayleigh McAllister, Go City's senior regional director of NYC, told me in an interview.
These spooky road trips go beyond roadside jack o'lanterns.
5 Most Haunted Road Trips In America
For road trippers seeking a different kind of thrill, RV Trader has compiled a list of the 43 most haunted drives in America . "RV Trader is always on the lookout for unique destination recommendations so we can inform our dedicated readers—who are travelers—about where they need to be," Gillian Luce, RV Trader's director of consumer marketing, told me in an interview.
Looking for a bone-chilling drive steeped in legends of ghostly encounters? RV Trader ranked the top five most haunted roads in the U.S.
1. Essex Street - Salem, Massachusetts
Salem is infamous for the witch trials of 1692, and Essex Street is the location of one of its darkest legacies: The Witch House, the former home of Judge Jonathan Corwin. According to local lore, the ghosts of accused witches continue to congregate on Essex Street to cast curses.
2. Crawford Road - Yorktown, Virginia
Yorktown's battlefields hold secrets of both the Revolutionary and Civil Wars, and Crawford Road is no exception. Travelers report witnessing apparitions from these wars and eerie sightings of bodies hanging from the Crawford Road bridge. Drivers also claim that their car engines mysteriously cut off as they pass under the bridge.
3. Whiskey Hollow Road - Van Buren, New York
Whiskey Hollow Road, a secluded dirt and gravel lane, has gained a sinister reputation. Local legends suggest that the area is the haunt of a dangerous cult. Drivers have reported chilling sights, including bloody clothes hanging from trees.
4. Interstate 4 - Sanford, Florida
This seemingly ordinary stretch of Interstate 4 has an evil secret—it was constructed over the remains of a settlement of Swedish immigrants who perished from yellow fever. It's now known as the Dead Zone and is known for electronic malfunctions, disrupted cell phone signals and mysterious orbs of light.
5. Riverdale Road - Thornton, Colorado
Riverdale Road is a place where drivers tread with caution. Eerie tales circulate about birds hidden underground that pagans sacrifice to summon malevolent demons, as well as a mysterious Camaro driver who challenges others to a race, only to suddenly vanish without a trace.
• Bucket List Travel: The Top 20 Places In The World, According To A New Report
• These Places In The U.S. Will Pay You As Much As $15,000 To Move There
Editorial Standards
Reprints & Permissions
Bangor Daily News
Maine news, sports, politics, election results, and obituaries
Auburn haunted house stirs controversy over perceived violence against women
Share this:
Click to share on Twitter (Opens in new window)
Click to share on Facebook (Opens in new window)
Click to share on Reddit (Opens in new window)
Click to print (Opens in new window)
Click to email a link to a friend (Opens in new window)
A haunted house in Auburn is causing some controversy.
Wallingford's Fruit House hosts a haunted house every year called "Nightmare on the Ridge."
But this year, some community members are speaking out about some of the material inside.
Some people took issue to the sight of a woman being sawed in half, according to the Sun Journal.
A couple of local people suggested the piece depicted violence against women.
"We had a mannequin, who unfortunately was a female that we were preparing to feed to the demon. And in his diet, we have everything, male, females, and it just happened to be female. Poor choice of a place, maybe, where the saw was placed, which was what caused the controversy," said Peter Ricker, with Wallingford's Fruit House.
Organizers of the haunted house told the Sun Journal that they've had that piece on display for years and didn't recall there being complaints in the past.
More articles from the BDN
San Diego County's scariest haunted houses and trails, ranked
The options for getting spooked in San Diego County this Halloween season include a haunted amusement park, scream zone, haunted trail and haunted corn maze
Show more sharing options
Copy Link URL Copied!
Spooky season has officially commenced in San Diego, and you should be afraid... very afraid.
Across the county, haunted locales are horrifying visitors who dare to enter, including an abandoned amusement center, a chilling walk through Balboa Park and a corn maze not for the faint of heart. The Union-Tribune's guides reporters aren't experts in fear, but we do have a pretty good idea of the things that make us jump.
So during the first few weeks of October, we set out to rank the most frightening haunted experiences in San Diego County. At each, we were forced to confront our fears head on: darkness, claustrophobia, clowns, the roar of a chainsaw and the suspicious, inescapable feeling that someone is following you.
Visitors might not be scared at every turn, but we guarantee there's something creepy for everyone at the locations on this list. It will be updated online as more haunted experiences open throughout the season.
1. Fright for Future
Editor's note: This event is no longer available.
Climate change, pollution and animal rights were the focus of Fright for Future, a haunted maze intended to educate and offer a different kind of fear on Oct. 13 and 14. The Centro Cultural de La Raza hosted this attraction, which took visitors through 15 different activations, ranging from biohazards and a rainforest massacre to circus animal abuse and the meat production industry. Each activation was decorated with gory and frightening images and sounds, like a butcher shop section that showed animals being slaughtered and mutilated for human consumption, and a witch stirring her cauldron to make certain cosmetic products that contain whale vomit and snail slime. There was also a QR code at each activation to find out how humans can help protect the environment and animals. activistattitude.com/fright-for-future
— Carlos Rico
2. Haunted Corn Maze
Corn fields have provided the backdrop for plenty of scary movies, but walking through one during Halloween season, knowing it's "haunted" by various unknowns, is its own kind of terrifying. I was so scared walking through this maze — and screamed so often — that I could barely catch my breath to prepare for the next frightening encounter. The worst part is hearing the screams of other visitors, not knowing how far away they are among the tall stocks of corn, or what might be hiding around the next turn. Don't be fooled by the pumpkin patch, food and drink stands, beautiful marigold fields, animal encounters and cute photo opportunities surrounding the entrance: an adrenaline rush awaits anyone who dares to find out what lurks within. 7 to 10 p.m. every Friday and Saturday in October. Carlsbad Strawberry Company, 1050 Cannon Road, Carlsbad. $10 for general admission, plus $25 for the haunted corn maze. (760) 603-9608, carlsbadstrawberrycompany.com/pumpkin
— Abby Hamblin
3. Haunted Amusement Park
In the late 1960s, Marshal Scotty's Playland Park opened in El Cajon, with the slogan, "You'll never want to leave!" After decades of attempts at renovation and redevelopment, the business failed. With the amusement park abandoned, its buildings fell apart, weeds grew wildly and tree branches twisted themselves through the remnants of an old Ferris wheel. All this is to say: on its own, the old amusement park feels pretty haunted. Combine this inherent creepiness with the Haunted Amusement Park experience — an annual scare trail that takes visitors on a roughly one-mile walk through the grounds — and you'll be feeling a shiver down your spine. There are ghoulish clowns galore and several jump scares as visitors make their way through a circus maze, haunted house and the ride repair shop, plus more hands-on sections like walking through 3-D bumper cars and crossing through a tunnel on a swinging platform. I didn't stop screaming and laughing for the 30 minutes it took to walk through, which, to me, was perfect: just enough scariness to have me thoroughly freaked out while still having a good time. Every weekend from now through Oct. 31. 14009 Ridge Hill Road, El Cajon. $25. scaretrail.com
— Maura Fox
4. The Haunted Trail of Balboa Park
This Halloween attraction starts off terrific with the terrifying 3,500-square-foot eXperiment Maze that takes about 10 minutes to get through. In this dark network of twists and turns, you hear spooky music playing, evil laughs and screaming. There are also strobe lights and machine-made fog that give just enough visibility to see various childhood fairy tales turned into frighting installations, like "Goldilocks and the Three Bears," "Little Red Riding Hood" and "The Three Little Pigs." After exiting the maze, you walk toward the Haunted Trail. The highlight for me was the dilapidated school bus where zombie prisoners, some fake and some real, scare you off the back door into a foggy graveyard. The open area of the trail is less scary since you can see what's coming up next, so the element of surprise and the unknown is taken away somewhat. Oct. 11-15, 18-22, 24-31. Corner of Balboa Drive and Juniper Road, San Diego. $32.99-47.99. (619) 696-7227, hauntedtrail.net
5. Fright Night at AleSmith
Halloween is served with fear and beer once again as Fright Night at AleSmith returns for a third year. This Miramar brewery has been transformed into a haunted maze that takes visitors through various parts of an old Wild West town where the dead have risen. Zombies scare you at every corner with hidden tricks, illusions and spooky sounds. You also go through two saloons where you are treated with AleSmith's two seasonal beers, Dead Man's Double IPA and Evil Dead Red Ale, but only if you can make it through this dark and foggy trail that had some guests on opening night with elevated heart rates, and one person wanting to pee in their pants. 7:30 to 10:30 p.m. Oct. 13, 14, 21, 22, 27, 28 and 29. 9990 Alesmith Court, San Diego. $30. alesmith.com/fright-nights-at-alesmith
6. The Del Mar Fairgrounds Scream Zone
Each fall, a section of the Del Mar Fairgrounds transforms into The Scream Zone, featuring a haunted hay ride and two immersive walk-through experiences, the first of which takes visitors past characters from famous horror movies and the second forcing them to find their way out of a trippy labyrinth. The walk-throughs were genuinely frightening, but the hay ride was more impressive as we cruised through the fairground's stables and were confronted with elaborate and believable sets. The Scream Zone would have been scarier if it weren't for the long lines to enter the three experiences, since each are separated by their own line. Even though horrifying characters wandered around scaring waiting thrill seekers, I felt my fear dissipate the longer I stood there — a more sustained fright would have made this haunted experience all the better. Open most nights except some Mondays and Tuesdays, now until Oct. 31, 7 to 11 p.m. 2260 Jimmy Durante Blvd., Del Mar. $33 for general admission. (619) 231-0131, thescreamzone.com
7. SeaWorld San Diego's Howl-O-Scream
The appeal of this spooky experience is the amount of time and space available for absorbing every sight, smell and scare. Howl-O-Scream spans much of the SeaWorld San Diego site, with five scary outdoor walk-through zones, five indoor haunted houses and five entertaining live performances known as "vile vignettes." There are a startling number of fears represented, including creepy dolls, aliens and even snakes and crocodiles. I did scream and slosh my drink in the air at one point, but with themed food and drinks, visually intriguing horror scenes rivaling movie quality and the opportunity to ride roller coasters, this haunt ranks higher for its entertainment than its fear factor. Open Thursdays-Sundays in October and Halloween night. SeaWorld San Diego, 500 Sea World Drive, San Diego. Tickets start at $41.99. (619) 222-4732, seaworld.com/san-diego/events/howl-o-scream/tickets
Advice | Harriette Cole: My boyfriend freaked out in the…
Share this:.
Click to share on Facebook (Opens in new window)
Click to share on Twitter (Opens in new window)
Click to print (Opens in new window)
Click to email a link to a friend (Opens in new window)
Click to share on Reddit (Opens in new window)
Today's e-Edition
Things To Do
Food & Drink
Celebrities
Pets & Animals
Event Calendar
Advice | Harriette Cole: My boyfriend freaked out in the haunted house. Am I dating a coward?
I paid good money for the tickets and he immediately wanted to leave.
DEAR HARRIETTE : Halloween is around the corner, so I decided to take my boyfriend to a haunted house attraction for a fun date night. We were both excited, and he expressed nothing but enthusiasm for our plans.
Now I can't help but feel a little nervous about our relationship. Is it possible that I'm dating a coward? I know it doesn't seem like a big deal, but I paid good money for our tickets, and he couldn't even put on a brave face for me for the night.
I think this says a lot about how fearful of a person he could potentially be. Am I overthinking it?
— Man Up
DEAR MAN UP : Something else may have been going on that triggered your boyfriend's reaction. Find out what's up.
Ask him why he reacted so strongly. What upset him? Continue and ask him what else frightens him. You are in the getting-to-know-you stage, so listen carefully and observe.
You can also tell him that it bothered you that he got so scared, and you want to understand what happened. The more you get to know him, the better you will come to understand his motivations.
DEAR HARRIETTE : I currently share an apartment with a friend I became very close with last year.
We thought that it would be best for us and a lot of fun if we moved in together. However, now we barely spend any time together at home. I could easily go days without seeing her or speaking to her for more than five minutes. We stay in our rooms, which I appreciate because that is what I am used to as an only child.
Because we stick to ourselves, we rarely have time to discuss apartment needs. My pressing issue at the moment is that she does not buy groceries. I think that in the month and a half we have lived together, she has (barely) restocked the fridge twice. Neither of us has a job right now, so I cannot afford to foot her food bill, but I do not necessarily want to have separate food because we occasionally cook for each other.
— Empty Fridge
DEAR EMPTY FRIDGE: A guideline you may want to suggest is that you have a weekly meeting to discuss roommate business. Schedule it so that it becomes part of your routine where you two can discuss anything that is happening at home.
At the inaugural meeting, express your concerns about food. Remind her that you two are supposed to be sharing expenses, yet she is not participating in purchasing food. Be direct: You cannot afford to pay for her food. You need to her contribute. It could end up that you have separate shelves for food, and you agree not to touch each other's food unless you discuss it in advance.
You should also tell her that you miss spending time with her. Explain that you thought you would be doing things together, but the opposite is true. Ask her if there's something going on with her or between you two that you should know about.
Harriette Cole is a lifestylist and founder of DREAMLEAPERS, an initiative to help people access and activate their dreams. You can send questions [email protected] or c/o Andrews McMeel Syndication, 1130 Walnut St., Kansas City, MO 64106.
Report an error
Policies and Standards
More in Advice
Advice | Ask Amy: Should I let him know I've been tracking the car's mileage?
Advice | Miss Manners: How do I bring up the problem of the neighbor's cats?
Advice | Dear Abby: I'm hurt he didn't make time for me amid his family crisis
Advice | ask amy: i can't believe he's still doing the thing that almost killed him.
Moscow Tourism
Moscow Hotels
Moscow Bed and Breakfast
Moscow Vacation Rentals
Flights to Moscow
Moscow Restaurants
Things to Do in Moscow
Moscow Travel Forum
Moscow Photos
Moscow Travel Guide
All Moscow Hotels
Moscow Hotel Deals
Last Minute Hotels in Moscow
Moscow Motels
Moscow Campgrounds
Moscow Business Hotels
Moscow Family Hotels
5-stars Hotels in Moscow
3-stars Hotels in Moscow
Wyndham Hotels in Moscow
Pet Friendly Hotels in Moscow
Moscow Hotels with Pools
Moscow Hotels with Heated Pool
Moscow Exotic Hotels
Moscow Hotels with Walk-in Shower
Moscow Hotels with Bike Rentals
Hotels with Free Wifi in Moscow
Moscow Cheap Pet Friendly Hotels
Moscow Pet Friendly Motels
Moscow Hot Tub Suite Hotels
Cheap Accommodations in Moscow
Moscow Hotels with Hot Tubs
Hotels near University of Idaho Arboretum & Botanical Garden
Hotels near Latah Trail Bike Path
Hotels near Appaloosa Museum and Heritage Center
Hotels near Hamilton-Lowe Aquatics Center
Hotels near Spring Valley Reservior
Hotels near Prichard Art Gallery
Hotels near McConnell Mansion
Hotels near Essential Art Gallery & Fine Gifts
Hotels near Third Street Gallery
Hotels near Rolling Hills Bikes
Hotels near Palouse-Clearwater Environmental Institute
Hotels near Printstop
All Moscow Restaurants
American Restaurants for Breakfast in Moscow
American Restaurants with Outdoor Seating in Moscow
Asian Restaurants for Lunch in Moscow
Cafés in Moscow
Chinese Restaurants in Moscow
Delis in Moscow
Fast Food Restaurants in Moscow
Gluten Free Restaurants in Moscow
Italian Restaurants in Moscow
Mexican Restaurants in Moscow
Pizza in Moscow
Vegan Restaurants in Moscow
Vegetarian Restaurants in Moscow
Best Tortillas in Moscow
Best Pasta in Moscow
Best Ceviche in Moscow
Best Salmon in Moscow
Best Hummus in Moscow
Best Lasagne in Moscow
Best Meatloaf in Moscow
Best Bagels in Moscow
Best Chili in Moscow
Best Waffles & Crepes in Moscow
Best Paella in Moscow
Best Tacos in Moscow
Best Filet Mignon in Moscow
Best Risotto in Moscow
Best Clams in Moscow
Breakfast Restaurants in Moscow
Lunch Restaurants in Moscow
Dinner Restaurants in Moscow
Bakeries in Moscow
Coffee & Tea in Moscow
Desserts in Moscow
Kid Friendly Restaurants in Moscow
Romantic Restaurants in Moscow
Restaurants near Best Western Plus University Inn
Restaurants near La Quinta Inn & Suites by Wyndham Moscow Pullman
Restaurants near Fairfield Inn & Suites Moscow
Restaurants near Monarch Motel
Restaurants near Super 8 by Wyndham Moscow
Restaurants near FairBridge Inn - Moscow
Restaurants near University of Idaho Arboretum & Botanical Garden
Restaurants near Latah Trail Bike Path
Restaurants near Hamilton-Lowe Aquatics Center
Restaurants near Appaloosa Museum and Heritage Center
Restaurants near Prichard Art Gallery
Restaurants near Spring Valley Reservior
Things to Do
Restaurants
Vacation Rentals
Travel Stories
Rental Cars
Add a Place
Travel Forum
Travelers' Choice
Help Center
Best Burgers in Moscow, ID
United States
Idaho (ID)
Moscow
Moscow Restaurants
Moscow Hamburger
Moscow Burgers