Skip to primary navigation
Skip to main content
Skip to primary sidebar
Skip to footer
Scratch and Stitch
DIY and Sewing inspiration for creatives.
Halloween 10.24.2018
DIY Halloween Decorations: Haunted Birdhouses
This post may contain affiliate links.
Halloween haunted house inspiration hit when I saw someone spray painting birdhouses in my Instagram feed. I love creating new DIY Halloween decorations  each Halloween season and turning these basic birdhouses into haunted houses is such a fun idea for creating a mini Halloween village.
While on a regular trip to JoAnn I perused the clearance aisle and found these three birdhouses for less than $2 each. They were a bit broken and missing some pieces making them perfect for transforming into DIY Halloween haunted houses. I grabbed some spray paint and got right to it.
HEY FELLOW CREATIVE!
Sign-up for my newsletter to get more inspiration right to your inbox!
More DIY Halloween Ideas
Check out this collection of DIY Halloween decorations that are scary-easy to make using repurposed, recycled, and upcycled materials.
DIY Halloween Haunted House Materials
primer spray paint
spray paint (I used this Krylon Anvil Gray Chalkboard Paint )
It's always recommended to prime a surface before painting anything. Painting without priming first can cause the paint to chip. While these bare wood birdhouses would likely hold the spray paint just fine, adding primer first will ensure they hold up for years to come.
Next up is a couple of thin coats of spray paint with some dry time in between layers. I chose a charcoal gray chalkboard paint to give them a nice chalky, matte finish. Optionally, these haunted birdhouses could be painted with acrylic craft paint and a paintbrush.
An overnight drying session is all these DIY Halloween haunted houses need. I recommend leaving these to dry overnight in a garage or sheltered area to keep any debris or moisture from getting on the houses. They're looking spooky already!
DIY Halloween Witches
Can you hear that cackling laugh? These three Halloween witches appear as if they're floating around a cauldron.
For my little Halloween haunted house village, I combined a variety of other Halloween decorations like torn cheesecloth, decorative pumpkins, and Halloween figurines. Don't you think that tall peak with the keyhole is just perfect for a haunted house?
I love that these DIY Halloween decorations can be mixed and matched to create a new look each year.
Have you created Halloween haunted birdhouses? Show me in the comments below.
Reader Interactions
Leave a reply cancel reply.
Your email address will not be published. Required fields are marked *
Save my name, email, and website in this browser for the next time I comment.
Make a Haunted Birdhouse Village
You often find unfinished birdhouses at the dollar store and craft store. There's just something about that unfinished wood (and low price tag) that begs me to buy it and do an extreme makeover! I picked up these birdhouses that had vaguely gothic features (a steeple and a conical roof) and was inspired to do a sparkly, spooky treatment to transform them into cheap and cheerful Halloween decorations. Oops, I mean, cheap and creepy! I used Krylon Glitter Blast spray paint to make these shine.
Project Estimate:
Unfinished wooden birdhouses, $1 each
Black acrylic or spray paint, on hand or $1 and up
Glitter spray paint, about $6
Masking tape (optional), on hand
Total: $7 and up
For the biggest impact, paint at least three bird houses to create a creepy village. You can also accessorize your village with wooden cut outs. I found a variety of creepy shapes at Michael's for 29 cents each–I bought picket fences, bats, spiders, and house cut out shapes. I spray painted them all black. I also picked up some cute mini clothespins that had Halloween cutouts on them to add a little bit of color.
About the Glitter Spray Paint:
I used Krylon Glitter Blast in Starry Night. It's pretty cool stuff – very intense glitter-look, but it doesn't flake off at all, like you would expect when you see a glittery surface like that. It has the convenience of a spray paint (it took about 10 seconds to spray these birdhouses), but the look of an extreme glitter paint, or even a coat of glue and glitter, which you KNOW is super-messy and frustrating. You can use it on all kinds of surfaces, and it is very durable. If you're worried about the surface getting tough use, you can buy the Glitter Blast Clear Sealer to protect it.
I would recommend this paint for dollar store crafting, because the product is so easy and convenient to use that I think it is money well spent if you like glitter. It definitely transformed a $1 birdhouse into a quality-looking decorative piece that I will use for years to come, and one can of Glitter Blast is enough to make many glittery craft projects. (Money saving tip: Make sure you use your 40% off coupon at the craft store when you buy it!)
You can also get a glittery look by using a few coats of acrylic glitter paint, or by using glue and glitter.
To Make the Birdhouses:
1. Pre-paint them with black acrylic paint or black spray paint. Allow to dry.
2. If you want to create a pattern, add stripes or other desired patterns to the birdhouses with masking tape. I striped one of the roofs.
3. Spray the birdhouses with glitter spray paint. Allow to dry. Remove masking tape.
4. If desired, coat with Glitter Blast Clear Sealer. You only need to do this if children will be playing (hard) with these. The glitter doesn't come off with regular handling.
Share Your Shine & Win Some Krylon Glitter Blast!
Do you like bling? Link up something you made sparkle and shine, and you could win a case of Krylon Glitter Blast (that's 6 cans), and a $50 gift card to either Michaels, Hobby Lobby, Wal-mart, or Jo-Ann. Five people will be selected to win!
1. Link your shiny craft project here by Midnight, Thursday Sept 15th.
2. Five winners will be selected by a committee of judges (Me, Jen from Tatertots & Jello , Mandi from Vintage Revivals , Beckie from Infarrantly Creative , and Amy from Mod Podge Rocks ).
3. Winners will be announced on or about Friday, September 16th at noon.
4. Residents of USA only
The winners of the Krylon Glitter Blast linky party are:
#46 Halloween Pillows #22 Metallic Secretary Desk #95 Glittericious Birthday Crown #38 Metallic Sunburst Mirror #23 Courtney's Glitter
If you won email Beckie at [email protected] and we will get the case of Glitter Blast spray paint out to you.
disclosure: I was paid for my participation in this promotion, and received product from Krylon. All opinions are my own and are not influenced by anything else.
Heather Mann is chief editor of Dollar Store Crafts, and specializes in transforming inexpensive materials into stylish and simple craft projects. She has appeared on the Martha Stewart Show, in Reader's Digest and the New York Times. DSC has been recognized as named one of Babble.com's Top 10 Best Overall Craft Blogs (2011 & 2012) and Apartment Therapy's 10 Crafty Blogs We Love (2010). Her work has been viewed by millions on the cover of FamilyFun magazine and on top websites such as RealSimple, Huffington Post, ABCNews.com, and others.

16 Comments
Michelle L.
The haunted birdhouse village is genius! I'm always finding ugly, cheap little birdhouses and have had no luck in thinking up ways to make them chic. This is super pretty, Heather, I really love it!
Sara @ Mom Endeavors
I adore this project!!! What a GREAT use for the bird houses! I totally have to get my hands on this spray paint! :) Love it!
Thank you so much, ladies! The spray paint is really fun & easy. I so prefer spray painting to brush painting – so much quicker!
Tanya @ Make The Best Of What's Around
What a cute idea! I love it…I'm going to have to try a that spray!
Adorable! I'm a big fan of sparkly Halloween decorations. I have a couple of black sparkly skulls that I use as props when taking pics for our etsy shop!
That is an awesome product! Much easier than using plain glue and glitter. The dollar stores in my area are selling bags of plastic bones and skulls…imagine spraying them with these glitter sprays and then stacking them in a glass jar of vase? Brilliant!
Katie from Sew Woodsy
LOVE your Haunted Birdhouse Village!!! I can't wait to try the new Krylon Glitter Spray Paint!
Sandy Newhart
Hi Heather and thanks for the information about such a great product! LOVE the Bird houses! I always hand paint irridescent glitter and Elmers thinned out white glue on my Holiday Arrangements… It's basically my finishing touch on my pieces but it it SOOOOOO time consuming! I've never found the right spray glitter with the amount of coverage…. I am really excited to try this and they have the Diamond Dust which is exactly what I need!
Thanks Again,
Question – do you normally need to spray with a base coat? or was that because you were doing the striping and such?
Lindsey Madsen
Love the Halloween Birdhouses! I am a frequent shopper at the dollar store! Are you in st george? maybe we have seen each other before.. anyway I love the projects you do! and the new Krylon glitter paint… WOW!! I just used it for the first time to paint a vintage toadstool canister for my daughters room! I works so amazingly well. Thanks for all your hard work and great ideas-
@Lindsey, no I live in Oregon! :) Thanks for the comment!
Late Night Coffee
VERY creative! This is something I can do with my son that will great as a centerpiece!!
I'm so sad I missed this! I intended to enter, then lost track of time doing a huge interior makeover project, lol. Oh well! All the entries are fantastic. :)
In Case You Missed It
$5 and Under cheap crafts Decor Holiday Crafts Kids Tutorials
Tutorial: Mini Easter Wreath
$5 and Under cheap crafts Decor Holiday Crafts Tutorials
Make a Winter Wreath Out of Mesh Shower Sponges
© 2023 DollarStoreCrafts.com
Popular Professionals
Design & Planning
Construction & Renovation
Finishes & Fixtures
Landscaping & Outdoor
Systems & Appliances
Interior Designers & Decorators
Architects & Building Designers
Design-Build Firms
Kitchen & Bathroom Designers
General Contractors
Kitchen & Bathroom Remodelers
Home Builders
Roofing & Gutters
Cabinets & Cabinetry
Tile & Stone
Hardwood Flooring Dealers
Landscape Contractors
Landscape Architects & Landscape Designers
Home Stagers
Swimming Pool Builders
Lighting Designers and Suppliers
3D Rendering
Sustainable Design
Basement Design
Architectural Design
Universal Design
Energy-Efficient Homes
Multigenerational Homes
House Plans
Home Remodeling
Home Additions
Green Building
Garage Building
New Home Construction
Basement Remodeling
Stair & Railing Contractors
Cabinetry & Cabinet Makers
Roofing & Gutter Contractors
Window Contractors
Exterior & Siding Contractors
Carpet Contractors
Carpet Installation
Flooring Contractors
Wood Floor Refinishing
Tile Installation
Custom Countertops
Quartz Countertops
Cabinet Refinishing
Custom Bathroom Vanities
Finish Carpentry
Cabinet Repair
Custom Windows
Window Treatment Services
Window Repair
Fireplace Contractors
Paint & Wall Covering Dealers
Door Contractors
Glass & Shower Door Contractors
Landscape Construction
Land Clearing
Garden & Landscape Supplies
Deck & Patio Builders
Deck Repair
Patio Design
Stone, Pavers, & Concrete
Paver Installation
Driveway & Paving Contractors
Driveway Repair
Asphalt Paving
Garage Door Repair
Fence Contractors
Fence Installation
Gate Repair
Pergola Construction
Spa & Pool Maintenance
Swimming Pool Contractors
Hot Tub Installation
HVAC Contractors
Electricians
Appliance Services
Solar Energy Contractors
Outdoor Lighting Installation
Landscape Lighting Installation
Outdoor Lighting & Audio/Visual Specialists
Home Theater & Home Automation Services
Handyman Services
Closet Designers
Professional Organizers
Furniture & Accessories Retailers
Furniture Repair & Upholstery Services
Specialty Contractors
Color Consulting
Wine Cellar Designers & Builders
Home Inspection
Custom Artists
Columbus, OH Painters
New York City, NY Landscapers
San Diego, CA Bathroom Remodelers
Minneapolis, MN Architects
Portland, OR Tile Installers
Kansas City, MO Flooring Contractors
Denver, CO Countertop Installers
San Francisco, CA New Home Builders
Rugs & Decor
Home Improvement
Kitchen & Tabletop
Bathroom Vanities
Bathroom Vanity Lighting
Bathroom Mirrors
Bathroom Fixtures
Nightstands & Bedside Tables
Kitchen & Dining
Bar Stools & Counter Stools
Dining Chairs
Dining Tables
Buffets and Sideboards
Kitchen Fixtures
Desks & Hutches
Office Chairs
Living Room
Armchairs & Accent Chairs
Coffee & Accent Tables
Sofas & Sectionals
Media Storage
Patio & Outdoor Furniture
Outdoor Lighting
Ceiling Lighting
Chandeliers
Pendant Lighting
Wall Sconces
Wall Mirrors
View All Products
Side & End Tables
Console Tables
Living Room Sets
Chaise Lounges
Ottomans & Poufs
Bedroom Furniture
Nightstands
Bedroom Sets
Dining Room Sets
Sideboards & Buffets
File Cabinets
Room Dividers
Furniture Sale
Trending in Furniture
View All Furniture
Bath Vanities
Single Vanities
Double Vanities
Small Vanities
Transitional Vanities
Modern Vanities
Houzz Curated Vanities
Best Selling Vanities
Bathroom Vanity Mirrors
Medicine Cabinets
Bathroom Faucets
Bathroom Sinks
Shower Doors
Showerheads & Body Sprays
Bathroom Accessories
Bathroom Storage
Trending in Bath
View All Bath
How to Choose a Bathroom Vanity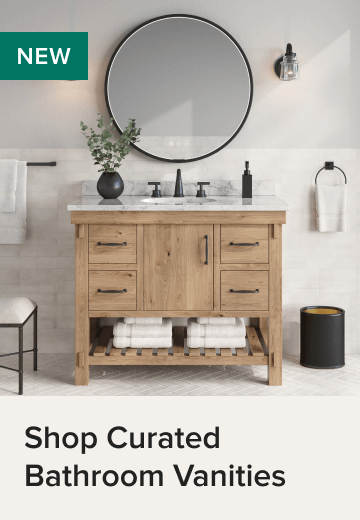 Patio Furniture
Outdoor Dining Furniture
Outdoor Lounge Furniture
Outdoor Chairs
Adirondack Chairs
Outdoor Bar Furniture
Outdoor Benches
Wall Lights & Sconces
Outdoor Flush-Mounts
Landscape Lighting
Outdoor Flood & Spot Lights
Outdoor Decor
Outdoor Rugs
Outdoor Cushions & Pillows
Patio Umbrellas
Lawn & Garden
Garden Statues & Yard Art
Planters & Pots
Outdoor Sale
Trending in Outdoor
View All Outdoor
8 x 10 Rugs
9 x 12 Rugs
Hall & Stair Runners
Home Decor & Accents
Pillows & Throws
Decorative Storage
Faux Florals
Wall Panels
Window Treatments
Curtain Rods
Blackout Curtains
Blinds & Shades
Rugs & Decor Sale
Trending in Rugs & Decor
View All Rugs & Decor
Pendant Lights
Flush-Mounts
Ceiling Fans
Track Lighting
Wall Lighting
Swing Arm Wall Lights
Display Lighting
Table Lamps
Floor Lamps
Lamp Shades
Lighting Sale
Trending in Lighting
View All Lighting
Bathroom Remodel
Kitchen Remodel
Kitchen Faucets
Kitchen Sinks
Major Kitchen Appliances
Cabinet Hardware
Backsplash Tile
Mosaic Tile
Wall & Floor Tile
Accent, Trim & Border Tile
Whole House Remodel
Heating & Cooling
Building Materials
Front Doors
Interior Doors
Home Improvement Sale
Trending in Home Improvement
View All Home Improvement
Cups & Glassware
Kitchen & Table Linens
Kitchen Storage and Org
Kitchen Islands & Carts
Food Containers & Canisters
Pantry & Cabinet Organizers
Kitchen Appliances
Gas & Electric Ranges
Range Hoods & Vents
Beer & Wine Refrigerators
Small Kitchen Appliances
Cookware & Bakeware
Tools & Gadgets
Kitchen & Tabletop Sale
Trending in Kitchen & Tabletop
View All Kitchen & Tabletop
Storage & Organization
Baby & Kids
Cleaning & Laundry
Pet Supplies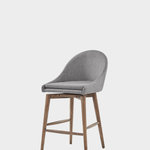 View all photos
Dining Room
Breakfast Nook
Family Room
Bed & Bath
Powder Room
Storage & Closet
Outdoor Kitchen
Bar & Wine
Wine Cellar
Home Office
Popular Design Ideas
Kitchen Backsplash
Deck Railing
Privacy Fence
Small Closet
Stories and Guides
Popular Stories
Renovation Cost Guides
Roof Replacement Cost Guide
Bathroom Remodel Cost Guide
Discussions
Design Dilemmas
Before & After
Houzz Research
View all pros
View all services
View all products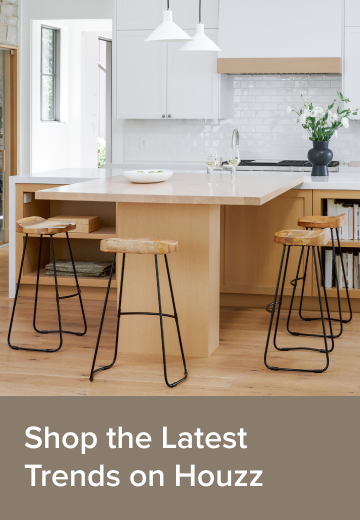 View all sales
Living Room Chairs
Dining Room Furniture
Coffee Tables
Home Office Furniture
Join as a Pro
Interior Design Software
Project Management
Custom Website
Lead Generation
Invoicing & Billing
Landscape Contractor Software
General Contractor Software
Remodeler Software
Builder Software
Roofer Software
Architect Software
Takeoff Software
Lumber & Framing Takeoffs
Steel Takeoffs
Concrete Takeoffs
Drywall Takeoffs
Insulation Takeoffs
Stories & Guides
LATEST FROM HOUZZ
HOUZZ DISCUSSIONS
SHOP KITCHEN & DINING
Kitchen & Dining Furniture
Sinks & Faucets
Kitchen Cabinets & Storage
Knobs & Pulls
Kitchen Knives
KITCHEN PHOTOS
FIND KITCHEN PROS
Bath Accessories
Bath Linens
BATH PHOTOS
FIND BATH PROS
SHOP BEDROOM
Beds & Headboards
Bedroom Decor
Closet Storage
Bedroom Vanities
BEDROOM PHOTOS
Kids' Room
FIND DESIGN PROS
SHOP LIVING
Fireplaces & Accessories
LIVING PHOTOS
SHOP OUTDOOR
Pool & Spa
Backyard Play
OUTDOOR PHOTOS
FIND LANDSCAPING PROS
SHOP LIGHTING
Bathroom & Vanity
Flush Mounts
Kitchen & Cabinet
Outdoor Wall Lights
Outdoor Hanging Lights
Kids' Lighting
Decorative Accents
Artificial Flowers & Plants
Decorative Objects
Screens & Room Dividers
Wall Shelves
About Houzz
Houzz Credit Cards
Privacy & Notice
Cookie Policy
Your Privacy Choices
Mobile Apps
Copyright & Trademark
For Professionals
Remodeling Software
Floor Planner
Contractor Leads
Trade Program
Buttons & Badges
Your Orders
Shipping & Delivery
Return Policy
Houzz Canada
Review Professionals
Suggested Professionals
Accessibility
Houzz Support
COUNTRY COUNTRY
Home & House Stagers in Elektrostal'
Location (1).
Popular Locations
Albuquerque
Cedar Rapids
Grand Rapids
Indianapolis
Jacksonville
Kansas City
Little Rock
Los Angeles
Minneapolis
New Orleans
Oklahoma City
Orange County
Philadelphia
Portland Maine
Salt Lake City
San Francisco
San Luis Obispo
Santa Barbara
Washington D.C.
Elektrostal', Moscow Oblast, Russia
Featured Reviews for Home & House Stagers in Elektrostal'
What does an elektrostal' home stager do, what should i consider before hiring an interior staging company, questions to ask potential real estate staging companies in elektrostal', moscow oblast, russia:, find home stagers near me on houzz, how do i find a local home stager in elektrostal'.
Reach out to the pro(s) you want, then share your vision to get the ball rolling.
Request and compare quotes, then hire the Home Stager that perfectly fits your project and budget limits.
What is a home stager?
A home stager is a professional who prepares a house for sale, aiming to attract more buyers and potentially secure a higher selling price. They achieve this through the following techniques:
Rearranging furniture to optimize space and functionality.
Decluttering to create a clean and spacious look.
Making repairs to address visible issues.
Enhancing aesthetics with artwork, accessories, and lighting.
Introducing new furnishings to update the style.
Their goal is to present the house in the best light. Home stagers in Elektrostal' help buyers envision themselves living there, increasing the chances of a successful sale.
What services do Home Stager companies provide in Elektrostal'?
Home Staging
Decluttering
Furniture Selection
Space Planning
Art Selection
Accessory Selection
What are the benefits of Home Staging?
Benefits of the home staging in Elektrostal':
Attractive and inviting: Staging creates a welcoming atmosphere for potential buyers.
Faster sale: Homes sell more quickly, reducing time on the market.
Higher sale price: Staging can lead to higher offers and appeal to a wider range of buyers.
Showcasing best features: Strategic arrangement highlights positives and minimizes flaws.
Stand out online: Staged homes capture attention in online listings.
Emotional connection: Staging creates a positive impression that resonates with buyers.
Easy visualization: Buyers can easily picture themselves living in a staged home.
Competitive advantage: Staging sets your home apart from others on the market.
Affordable investment: Cost-effective way to maximize selling potential and ROI.
Professional expertise: Experienced stagers ensure optimal presentation for attracting buyers.
How many Home Stagers are in Elektrostal'?
Business services, connect with us.
Vacation Rentals
Restaurants
Things to do
Moscow Tourism
Moscow Hotels
Moscow Bed and Breakfast
Moscow Vacation Rentals
Flights to Moscow
Moscow Restaurants
Things to Do in Moscow
Moscow Travel Forum
Moscow Photos
Moscow Travel Guide
All Moscow Hotels
Moscow Hotel Deals
Moscow Motels
Moscow Campgrounds
Moscow Hostels
Moscow Business Hotels
Moscow Spa Resorts
Moscow Family Hotels
Moscow Luxury Hotels
Romantic Hotels in Moscow
Moscow Green Hotels
Moscow Ski-In / Ski-Out Hotels
Moscow Resorts
5-stars Hotels in Moscow
4-stars Hotels in Moscow
3-stars Hotels in Moscow
Holiday Inns in Moscow
Radisson Blu Hotels in Moscow
Hampton by Hilton Hotels in Moscow
Accor Hotels in Moscow
ibis Hotels in Moscow
Marriott Hotels in Moscow
Novotel Hotels in Moscow
Crowne Plaza Hotels in Moscow
InterContinental (IHG) Hotels in Moscow
Radisson Hotels in Moscow
Hilton Hotels in Moscow
AZIMUT Hotels in Moscow
Moscow Hotels with Pools
Moscow Hotels with Free Parking
Pet Friendly Hotels in Moscow
3rd Transport Ring (TTK) Hotels
District Central (TsAO) Hotels
Garden Ring Hotels
Boulevard Ring Hotels
Tverskoy Hotels
Red Square & Kitay-gorod Hotels
Zamoskvorechye Hotels
Meshchanskiy Hotels
Presnensky Hotels
District Eastern (VAO) Hotels
Moscow Cheap Hotels
Boutique Hotels in Moscow
Moscow Heritage Hotels
Hotels with Nightclubs in Moscow
Moscow City Center Hotels
Moscow Modern Hotels
Moscow Hotels with Kitchenette
Moscow Clean Hotels
Moscow Hotels with Hot Tubs
Quiet Hotels in Moscow
Hotels near Red Square
Hotels near Moscow Metro
Hotels near Saint Basil's Cathedral
Hotels near Moscow Kremlin
Hotels near High-Speed Train Sapsan
Hotels near GUM
Hotels near State Tretyakov Gallery
Hotels near Tsaritsyno Museum-Reserve
Hotels near Armoury Chamber
Hotels near Bolshoi Theatre
Hotels near Kremlin Walls and Towers
Hotels near Gorky Central Park of Culture and Leisure
Hotels near Kolomenskoye Historical and Architectural Museum and Reserve
Hotels near PANORAMA360
Hotels near (ZIA) Zhukovsky International Airport
Hotels near (VKO) Vnukovo Airport
Hotels near (DME) Domodedovo Airport
Disney's Caribbean Beach Resort
Hotel Xcaret Mexico
ARIA Resort & Casino
The Venetian Resort
Hotel Riu Palace Cabo San Lucas
Beaches Turks & Caicos
Secrets The Vine Cancun
Grand Hyatt Baha Mar
Secrets Cap Cana Resort & Spa
Temptation Cancun Resort
Secrets Akumal Riviera Maya
Park MGM Las Vegas
Horseshoe Las Vegas
Luxor Hotel & Casino
Hilton Hawaiian Village Waikiki Beach Resort
Popular All-Inclusive Resorts
Popular Beach Resorts
Popular Family Resorts
Popular All-Inclusive Hotels
Popular Hotels With Waterparks
Popular Honeymoon Resorts
Popular Luxury Resorts
Popular All-Inclusive Family Resorts
Popular Golf Resorts
Popular Spa Resorts
Popular Cheap Resorts
All Moscow Restaurants
Cafés in Moscow
Eastern European Restaurants for Lunch in Moscow
European Restaurants with Outdoor Seating in Moscow
Fast Food Restaurants in Moscow
Italian Restaurants in Moscow
Japanese Restaurants in Moscow
Late Night American Restaurants in Moscow
Mediterranean Restaurants in Moscow
Pizza in Moscow
Russian Restaurants in Moscow
Seafood Restaurants in Moscow
Vegan Restaurants in Moscow
Vegetarian Restaurants in Moscow
Best Bibimbap in Moscow
Best Chicken Kiev in Moscow
Best Peking Duck in Moscow
Best Filet Mignon in Moscow
Best Halibut in Moscow
Best Ice Cream in Moscow
Best Ceviche in Moscow
Best Ribs in Moscow
Best Club Sandwich in Moscow
Best Dumplings in Moscow
Best Oyster in Moscow
Best Wings in Moscow
Best Prosciutto in Moscow
Best Tiramisu in Moscow
Best Cupcakes in Moscow
Breakfast Restaurants in Moscow
Lunch Restaurants in Moscow
Dinner Restaurants in Moscow
Bakeries in Moscow
Buffet Restaurants in Moscow
Coffee & Tea in Moscow
Desserts in Moscow
Food Delivery Restaurants in Moscow
Kid Friendly Restaurants in Moscow
Late Night Restaurants in Moscow
Restaurants for Special Occasions in Moscow
Restaurants with Outdoor Seating in Moscow
Romantic Restaurants in Moscow
Arbat Restaurants
Bars & Pubs in Khamovniki
Basmanny Restaurants
Families with children Restaurants in Zamoskvorechye
French Restaurants in Patriarch Ponds
Hamburgers in Red Square & Kitay-gorod
Khamovniki Restaurants
Maryina Roshcha (Jewish Quarter) Restaurants
Patriarch Ponds Restaurants
Pizza for Large Groups in Zamoskvorechye
Presnensky Restaurants
Red Square & Kitay-gorod Restaurants
Tverskaya Restaurants
Yakimanka Restaurants
Zamoskvorechye Restaurants
Travel Guides
GreenLeaders
Things to Do
Travel Stories
Rental Cars
Add a Place
Travel Forum
Travelers' Choice
Help Center
Europe
Russia
Central Russia
Moscow
Moscow Restaurants
Coffee House
Ratings and reviews, location and contact, coffee house, moscow - krasnaya presnya st house 44, presnensky - restaurant reviews & phone number - tripadvisor.
Planning a trip to Moscow?
Foursquare can help you find the best places to go to..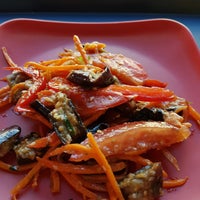 Silver Panda
Related Searches
silver panda moscow •
silver panda moscow photos •
silver panda moscow location •
silver panda moscow address •
silver panda maryina roshcha moscow

Your Privacy Choices
Bahasa Indonesia
Los Angeles
Philadelphia
San Francisco
Washington, D.C.
Great Britain
Netherlands
Philippines
More Great Places in Moscow:
Foursquare © 2023 Lovingly made in NYC, CHI, SEA & LA
Top places in the area
Is this your business claim it now..
Make sure your information is up to date. Plus use our free tools to find new customers.
You must enable JavaScript to use foursquare.com
We use the latest and greatest technology available to provide the best possible web experience. Please enable JavaScript in your browser settings to continue.
Download Foursquare for your smart phone and start exploring the world around you!