Home Depot Is Selling A Haunted Hearse Complete With A Skeleton That Talks
I am loving the Victorian-era look of this hearse! So amazing for a spooky haunted yard theme! I love the cute Halloween stuff, but nothing beats the old school horror themes like this! Completely wicked and cool!
It comes with this amazing hearse, a skeleton driver, and then even a skeleton corpse in the back that is lit up with an eerie light!
The skeleton driver even has glowing red eyes and an animated moving mouth for a super evil and creepy effect.
The Victorian era is known for being some of the darkest times. This haunted hearse has flickering flame lanterns that light the path to creepy destinations. They look amazing with rolling fog from a fog machine!
This hearse is bigger than you'd expect. Not full size, but still, I wasn't expecting it to be as large as it is! It is pretty easy to assemble, and use some nice hardware to latch it all together. The base frame is steel and unfolds like one of those long folding tables that folds in half down the middle. Just don't forget to install the center leg (5 legs total), as the instructions didn't show it and there was an addendum attached to the leg in my kit. It includes 2 skeletons, one for the back, and one for the driver seat. Russ – Home Depot Reviewer
You can pair it with a Skeleton Pony as shown above to complete the look! But it isn't necessary! The Skeleton Pony has sound effects, as well as light up, LED light eyes.
The driver is quite dapper with his Cape and top hat. The driver is also animated so he talks and his jaw moves. The lights on the side of the coach do light up, and there is even a light in the back for the skeleton that is being taken to his final resting place. The kit does include a bridle for the skeleton pony that Home Depot sells, and I got the pony as well. Trust me, you want the pony as it makes the whole thing come to life. Just make sure you have the room for this in your yard display, as it is big once you have the pony out in front of it. Heck, go ahead and get a couple ponies for it, because if you have this, you will be the talk of your neighborhood! Russ – Home Depot Reviewer
The Haunted Hearse with Skeleton driver as well as a skeleton passenger in the back, has creepy built-in sound effects. It requires 6 AA batteries and can be used outdoors as well as indoors!
You can get your own Haunted Hearse and Skeleton from Home Depot for only $349! This will be used year after year! It is over 5 ft tall and over 6 feet long! It's pretty massive!
Saturday 31st of October 2020
Do you have to push the button every time you want it to talk. There doesn't seem to be a motion censor. Can't find anything in the directions.
Antique Horse Drawn Hearse - Halloween Prop Replica
Introduction: Antique Horse Drawn Hearse - Halloween Prop Replica
This prop has been the crowning jewel of my yard and haunt, and always receives compliments by the truckloads (most people cant believe we built it in our backyard). But it's construction is actually incredibly simple overall, and uses lots of "seconds" of lumbar and off the shelf detail work. This instructable is to serve more as an inspiration to build your own, as I did not fully document the construction (just worked with what I could get cheaply), so no exact measurements will be provided. But you are welcome to ask me questions about it and I will do my best to answer them. To keep it as easy as possible we made the sides and base out of full sheets of plywood. The base is constructed out of 2x4's and topped with a piece of 1/2" plywood. The front seat is a box constructed of 2x2's and skinned with plywood, with common porch lights that I found in the clearance section of home depot mounted to the side (notice the fancy cutting I had to do to get them to fit within the molding in one of the shots). The detail work/pillars are just gazing ball stands from big lots (they had a sale on them for 6.50 each so we took them on the table saw and cut the side ones in half, and cut a quarter out of the corner ones). Below these is a piece of 4" pvc pipe, cut and glued to the side of the hearse. Its really all about sourcing materials. Since this is a static prop, the entire structure sits on 4 pieces of 2" metal pipe hammered into the ground with t's acting as axels for the 1" pipe going between the wheels (which are harbor frieght wagon wheels with hubs made of plastic flower pots painted black). The small fillagry around the hearse consists of the pre-made wood adornments that you can find cheaply at Lowes/home depot. These, like the rest of the hearse, were painted in "Behr ultra, high gloss, black exterior paint" which has to be the best paint I've ever used. Covered in one coat and held up to the elements year round. Then we came back and detailed everything with antique gold craft paint (sponged on to look aged). The curtains are made of fake crushed velvet thats cheap and commonly available at Joanns (use a coupon for this and the fringe, because it adds up). We replaced this every year, as the sun and rain took its toll on it, but it actually gives it more of an aged look if we had just left it on. Btw... dowels make fantastic curtain rods on the cheap (you can see them in the disassembled photos). Lastly, wire up the lanterns, throw in some flicker bulbs, toss on a skeleton, and a home-made coffin in the back and its ready for its debut. The point of halloween prop making is the journey and experience of making the props and sourcing the materials, finding ways to use things that were never originally intentioned be used in that manner and just have fun! This is my favorite static prop I've ever made (and favorite prop only second to the fogscreen or pirate ship), and I hope the path ahead of you brings you as much joy as it has to me! Again, feel free to ask questions and I will be happy to support you in your endeavors! I will also update this if I find any more photos and plans (though unfortunately many got lost due to a hard drive crash). Happy Haunting!
Participated in the Halloween Decorations Contest
1 Person Made This Project!
Did you make this project? Share it with us!
Recommendations
Halloween Contest
Project-Based Learning Contest
CNC Student Design Challenge
23 Comments
Question 5 months ago
Hi Dude Do you think the 2" rigid insulation sheets would work in place of plywood. Lumber is so dang expensive!
WOW!! Absolutely beautiful! Fantastic job! I give it 5 out of 5 skulls on the Spooktacular scale! 💀💀💀💀💀 Happy Halloween!
2 years ago
Beautiful work and detail. You mentioned the wheels were from Harbor Freight, I cant find them in my area. Any other ideas to siurce them?
Reply 2 years ago
Thanks for reaching out! Yeah it appears HF no longer carries them, but I did find them on amazon ( https://www.amazon.com/Trademark-Innovations-Decorative-Vintage-Garden/dp/B01G97GVBE/ref=asc_df_B01MG44XEE/?tag=hyprod-20&linkCode=df0&hvadid=216584700922&hvpos=&hvnetw=g&hvrand=9854460365553727761&hvpone=&hvptwo=&hvqmt=&hvdev=c&hvdvcmdl=&hvlocint=&hvlocphy=9001875&hvtargid=pla-354161441212&th=1 ) and elsewhere online. Just search 32" (or 31.5") garden wagon wheel and they look exactly the same.
6 years ago
2017 update on this Hearse.
We aquired this replica hearse a while ago, made some mods to it (added real weight supporting wheels and front steering) and have used it for several years at our haunt. Unfortunately it got caught in a recent flood and was heavily damaged. hopefully we can repair it back to its glory.
Reply 5 years ago
Wow - I'm sorry this flooded last year. DId you get it restored? I'm looking at making one this year. How did you do your wheel with the original?
Oh wow Preston, I wondered what happened to it. Thats a bummer! I hope it and the rest of your flats cleaned up ok!
8 years ago on Introduction
Hi! This hearse is absolutely amazing! I can't believe that you built this yourself. I was wondering if you would be interested in renting this out for a photo shoot/real party? Let me know if this is something you'd be interested in. Feel free to email me: [email protected]. Looking forward to hearing from you!
Reply 6 years ago
Hi, thank you very much for the offer, but the hearse has been passed on to a new owner out in the heart of Los Angeles. It was a fixed prop though, held up by a steel pipe structure mounted into the ground so would no have been mobile for shipping. Best of luck to you!
8 years ago
This is amazing!!! I'm inspired and working on my own hearse now . Ever think about a skeletal horse to go with it?
If I still had it, I would have loved to purchase the skeletal horses from home depot this year and make them animated, but I have since moved from my parents house and sold the hearse. Thank you very much!
Now I have a whole year to collect scrap wood and then build this..Love the idea..
Check with your local lumbar yard. Almost every piece of plywood used was a "second" (usually a broken corner or bad knothole out of the center) allowing us to get 3/4" sheets of plywood for only a few dollars each. It helps them out, and works out for us haunters :D
9 years ago on Introduction
Thank you very much wmothershed1! My apologies for the delay in response, I've been finishing my senior project for Design at CSULB and its taken every moment of my time. The wagon wheels are those sold through harbor freight and I believe they are roughly 32" across. As to the foot-rest it is just a piece of plywood cut out to the desired shape. The mounting point comes from additional 2x4's butted up the the existing frame members and cut at an angle to get the desired slope of the footrest. If you decide to put actors or guests up there I highly suggest using lag bolts or a metal bracket at the connection point (though as it was it was plenty strong with the 3" wood screws). I hope this helps! I really wish I had more photos documenting the process.
This is amazing! My wife and I LOVE decorating for Halloween and have been looking for this exact thing. Two questions: what size (diameter) wagon wheels were used and how did you make / attach the foot rest?
9 years ago
With a real set of wheels/axels/steering it could foresee ably be used that way. Just not as it is designed now
hay I have a strange question could this be used at a real hearse of would it only be good for decoration
10 years ago
You could definitely make it in 2-3 solid days. It took months because I worked on it in my off time and had a lot of time just trying figure out what materials to use and where to find them cheaply :D so don't let that deter you. But room is definitely an issue haha and thank you very much for the comment!
10 years ago on Introduction
wow, what an amazing prop. if only I had room to build and display it I would make something like this. but it took you a few months to make and ya Halloween is almost here. If only I had room to make it. I realllly like this.
Great job and great sourcing ideas. Thanks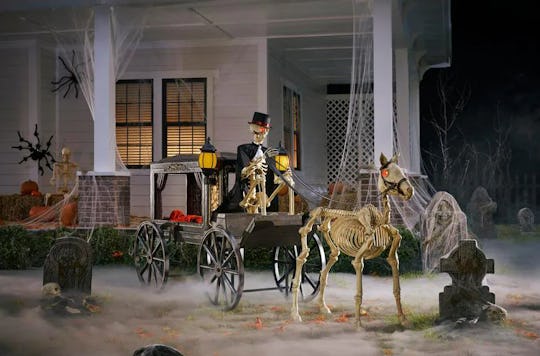 No bones about it.
Halloween is known for things like ghosts, witches, monsters, and all things spooky, including skeletons. While seeing the real thing would make just about anyone run away in terror, most of us can appreciate some fake Halloween skeleton decorations , right? Thematic decor always adds a little extra fun to trick-or-treating.
The question is not whether or not to display some skeleton decor this Halloween (because you absolutely should), it's how far and big you want to go with it. Do you want something spooky and realistic? Maybe you have little kids and want something with more of a cartoon look. Or, perhaps you love all things haunted and want to turn your front yard into a spooky scene, regardless of the cost. Once you have a direction in mind, it's time to bring it to life (or, back from the dead, mwa ha ha).
There are so many amazing Halloween skeleton decorations to choose from to help you create your ideal spooky scene, it's just a matter of finding the ones that are right for you. Whether you're looking for something fun and cute, a skeleton that moves on its own, or something for the lawn that will scare the entire neighborhood, here are some fantastic options to consider.
We only include products that have been independently selected by Romper's editorial team. However, we may receive a portion of sales if you purchase a product through a link in this article.
A Boney Path Marker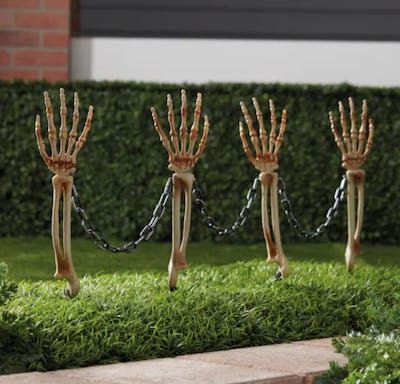 Line your walkway or fence in your yard with these skeleton hands shooting from the ground (trying to escape the grave, obviously). Each set is 4.5 feet long and includes four skeleton arms that are attached with a chain. The arms each have a stake at the end so that you can easily stick them into the grass or other soft ground as well as pull them out with ease once Halloween is over. Head's up, though, they are made from plastic, so you'll want to move them out of the way before you do any mowing or edging or they'll get shredded up.
A Skeleton Pup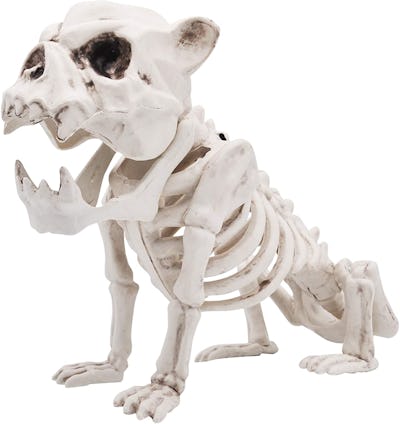 We all love our living pups, but there's something extra cute (and spooky) about this Halloween skeleton decoration, don't you think? This dog stands a little over nine inches tall and perches in a sitting position, like the good boy it is. Change up how he looks as he guards your haunted house using his bendable tail, moveable head, and hinging jaw. While the pup is safe for all weather, it is made out of plastic so you might want to keep it somewhere covered so it doesn't get swept away in a storm or on a chilly windy night.
A Talking Skeleton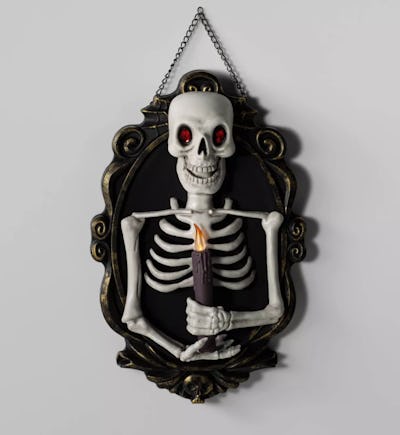 With this skeleton, you get wall decor, a little light, and some fun conversation. It's an indoor prop with a sensor so any time someone walks past it, the candle lights up, the skeleton's arms move, and it speaks (there are five preset phrases). If you're not a fan of talking, then you can set the skeleton to just light up, or can turn it off completely for a cool prop.
It seems to be a hit with shoppers, too. One person wrote, "This is actually one of my favorite buys this Halloween season. The skeleton is easy to hang and is very festive. He has a lot of phrases and his jaw moved a lot (very cute and funny)."
A Coach-Driving Skeleton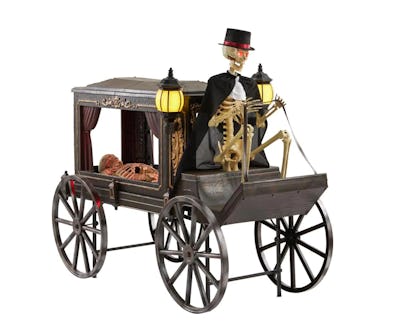 For the very serious Halloween enthusiasts out there is this animated skeleton driving a carriage hearse. This fun piece measures five feet tall and just over six feet wide and can be set up indoors or outside. It takes six AA batteries which give it enough power to light up the skeleton's red eyes and make the lanterns on the hearse flicker. It's definitely an investment piece, but one that seems to be worth it because shoppers rave over it and even say it holds up well in rough weather.
A Skeleton Call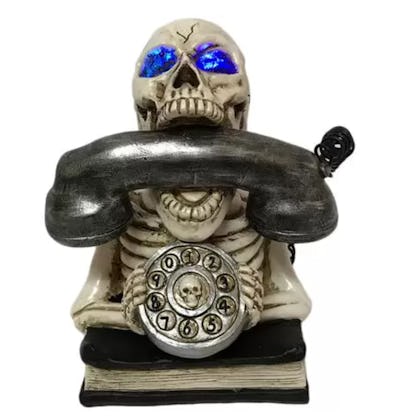 Do you hear death calling? Just kidding, this phone doesn't actually work, but it does light up and serves as a great conversation starter. It has blue LED lights for the eyes and measures about 8"x7"x6", making it great for a table or mantle decorative piece. The phone doesn't ring, but if you want to really creep people out, set your phone's ringtone to a classic ring, then tuck it away somewhere nearby the prop and call it from someone else's phone to make it seem like the skeleton phone is actually ringing. When it happens, act like you have no idea what's going on to really sell it.
Glow-In-The-Dark Skeletons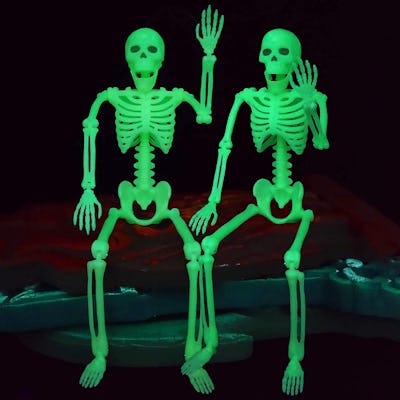 For Halloween skeleton decorations that are less creepy, consider this pair of glow-in-the-dark props. They have strings attached to the heads so you can hang them from somewhere, or you can set them somewhere by bending their joints to prop them up. Each boney creature stands a little over 14 inches tall, is made from all-weather plastic, and just needs a little time in some light before it can glow in the dark (the glow will slowly fade and the skeleton will need some light to re-charge again). These are perfect for anyone who wants to create a fun vibe instead of scary .
A Skeleton Family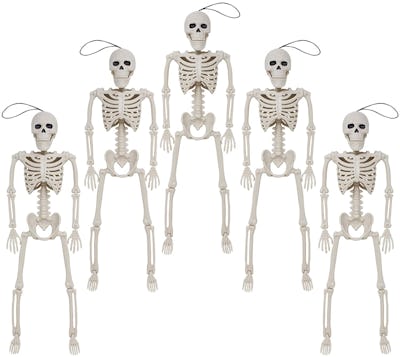 With this set, you will get five separate skeletons that have strings attached to their heads for hanging. They each measure 16 inches tall and are made from plastic that is safe for indoor and outdoor use. The skeletons' joints move, too, so you can pose them however you'd like. Based on shopper reviews, they seem to be quality made and a great deal, too. One shopper, Lisa, wrote, "Great - exactly as pictured, very sturdy and very pose-able. Able to stand up on their own. Aren't big but have lots of well made moving parts. Jaw, hands, elbows, shoulders, hips, knees and feet. Should last for years."
A Sweet Skeleton Kiss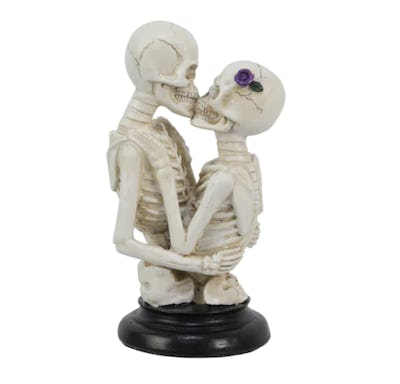 Apparently, saying "until death do us part" in their wedding vows was unnecessary for these skeletons. This decoration features two smooching skeletons, one who even has a flower accent covering a crack in their skull. It stands a little under seven inches tall and is made from calcium carbonate and resin, so it's only meant to be displayed indoors. These deathly lovers will look great anywhere, but if you want to give your guests a spooky surprise, try tucking it away nonchalantly on a bookshelf or an end table, making sure it's not drawing a ton of attention so that visitors just happen upon it by chance.
Casket-Carrying Skeletons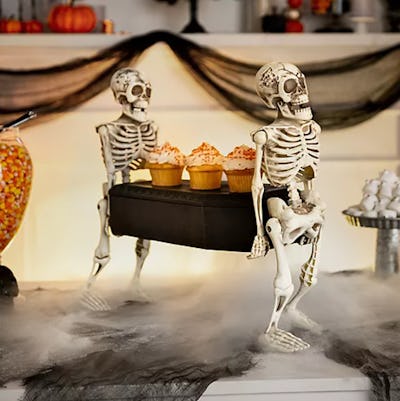 In this picture, these two little casket-carrying skeletons are being very helpful by holding a few cupcakes, but if you're looking for something with a little more spook to it, simply replace the pastries for some fake cobwebs and spiders and the piece is much scarier looking. This decorative display is definitely attention-grabbing because it measures 22 inches by 17 inches and plays music. The arms of the front skeleton can be pushed forward or back depending on the scene you want to create, and it's best if this piece is only displayed indoors, as outdoor weather could damage it (and the music is the best part).
Skeleton Window Clings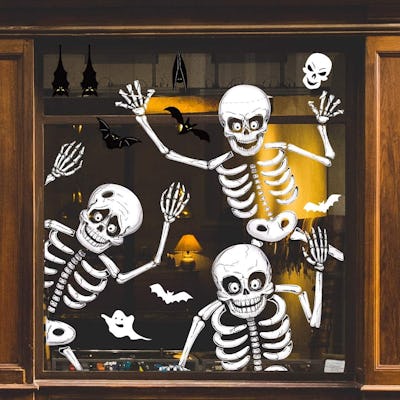 If you have some windows you want to decorate for Halloween, then this 70-piece window cling set has you (and them) covered. You get six sheets of clings that include the different pieces of large skeletons, individual bats, ghosts, and spooky faces. To apply them to your window, simply clean it off, peel away the cling from the sheet and then apply it the window, then use a credit card (or something similar) to smooth it out and push out the bubbles. When the holiday is over, simply peel them off and give a window a quick cleaning to look as good as new.
A Skull & Crossbones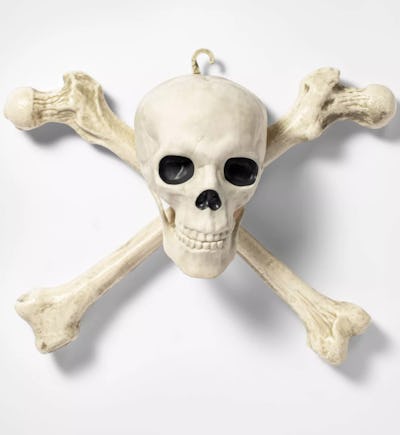 This Halloween skeleton decoration is simple, a classic design, and can either be styled to be spooky or part of a more fun display. It measures 5 inches high and 16 inches wide and is safe for indoor and outdoor use. You can either sit on a table for display, or it has a spot on the back to hang it on a wall or door. And, one shopper noted in her review that this is a piece of decoration that can be used beyond Halloween, especially if you have a kid who has a love for all things pirate.
Colorful Skeleton Lights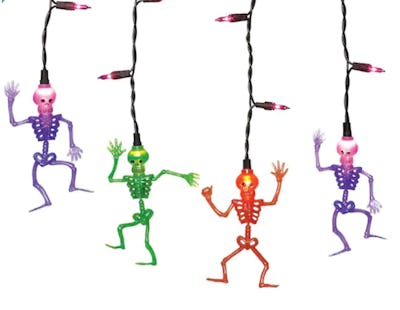 With these icicle-style lights, you can brighten up your porch or mantle, add some color, and give it a little extra spook thanks to the hanging skeletons. The strand of lights measures six feet long with 23 purple lights as well as 12 clear lights with different colored skeletons hanging from them. Unlike a lot of string lights, if one of the bulbs goes out on this strand, the others will continue to stay lit, and they're safe for indoor or outdoor use. These little guys make for great decoration in general, but will really be a hit with kids or at a fun Halloween party.
A Dapper Skeleton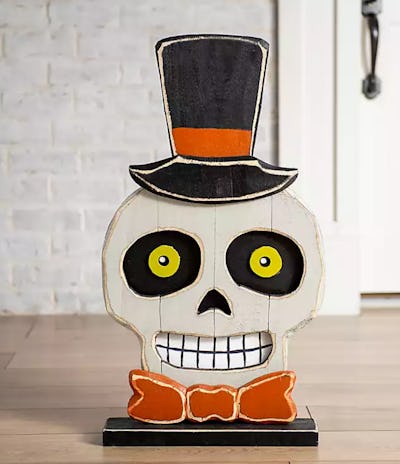 This dapper guy isn't scary at all, he's simply there to smile and welcome trick-or-treaters on Halloween night. It's made from a mixture of wood and metal that is safe for indoor or outdoor use (but you'll want to keep it in a dry, covered spot outside). It measures just over 28 inches tall and stands on its own, so you can prop it up on the floor or up on a table as a statement piece. Shoppers have left glowing reviews for this skeleton, too. One person wrote, "I couldn't leave the store without him. He is just too cute plus great quality!" and another said, "I love this and almost want to get another it's so eye-catching."
A Skeleton Greeter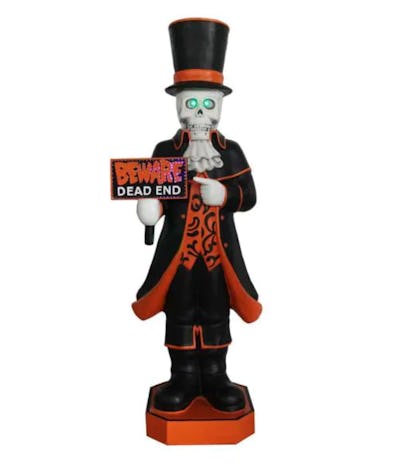 At four feet tall, this skeleton may stand taller than a lot of your trick-or-treaters (which is great if you're going for the really spooky effect). This statue is safe for using indoors or outside and is made of heavy-duty materials so it won't tip over from a simple gust of wind. What really makes this statue stand out is that it has green LED lights and purple fiber optic lights around the "Beware Dead End" sign which are powered with three 1.5-volt batteries (which are not included). And, if you really love its look, there's a similar pumpkin statue that would work as a great complementing piece.
A Dressed Up Skeleton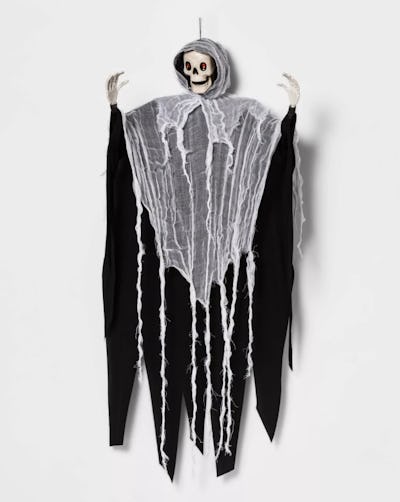 There aren't any bells and whistles with this Halloween skeleton decoration, but there don't need to be because it's spooky all on its own. This skeleton is safe for using indoors or outside, it comes dressed in a black and white hooded cloak, and is 45 inches tall. It comes with a string connected to the skull for hanging, which is really the only way to display it since it doesn't actually have a body under the cloak (so it's really just a head and a couple of boney hands). It also features red eye sockets for a little extra fun, and you seriously can't beat the amazing price.
So, are you going to go with something scary, fun, or a mix of both? Whatever you decide, make sure you get your spooky friends ASAP because Halloween will be here before you know it.
Christmas Decor World
Home » haunted » 5.3 ft haunted hearse and skeleton pony, 5.3 ft haunted hearse and skeleton pony.
Brand: Home Accents Holiday
Character: Skeleton
Occasion: Halloween
Color: Multicolor
Material: Plastic
Recent Posts
7.5′ Flocked Livingston Fir Artificial Christmas Tree 500 Warm LED's & Pinecones
Member's Mark 8′ Towering Scarecrow
Lenox WINTER GREETINGS 16 Scenic Oval Platter Cardinal Christmas Holiday
6FT 1,300 Tips Artificial Christmas Pine Tree Holiday Decoration with 6ft Blue
6.5ft Christmas Tree Douglas Fir Color+Clear LED Pre-Lit, Artificial
October 2023
September 2023
August 2023
February 2023
January 2023
December 2022
November 2022
October 2022
September 2022
August 2022
February 2022
January 2022
December 2021
November 2021
October 2021
1-belsnikle-embossed
10'ft1000'ft
177''
1980's
26'13'
3d-schwibbogen
467'ft
75''
airblown-bumble
animatronic
anthropologie
anthropologie's
antiquevintage
app-controlled
balloonatics
bard's
beetlejuice
boyd's
breathtaking
brightridge
brylanehome
cardcaptors
celebrations
christmasdecoratewithme
christmasworld
christopher
collectible
contemporary
cornishware
customizing
decluttering
discontinued
distortions
doorknocker
elvira's
fallhalloweenthanksgivingpumpkinharvest
flexfilament
forevertree
frankenstein
ghostbusters
giant-sized
gingerbread
glitterazzi
glitterville
goldendoodle
grandinroad
hand-painted
hänge-pyramide
hippopotamus
holdn'
holidaycoro
holographic
indooroutdoor
interactive
interchangeable
international
introducing
kaukasische
kringle's
krippenpaket
mackenzie-child'shighland
mackenzie-childs
margaritaville
mcdowell's
member's
mickey's
mrchristmas
multi-color
multi-colored
multifunction
ne'qwa
net-a-porter
newithboxes
newrare10'
newrare8'
nibnational
orangeblack
patty's
personalised
personalized
pflatzgraff
pinabonggang
portmeirion
potterybarn
prelitunlit
productworks
rarenwtshalloween
reservedhouse
restoration
rituals'
roman-17h-led
rubie's
scandinavian
schwibbogen
schwibbogen-erhöhung
scrace-dennison
seuss's
simplicitree
snow-flocked
spooktacular
springsummer
string-a-long
strongwater
temp-tations
thanksgiving
thanksgivingharvest
trendmasters
uniquebeautifulbrass
vaillancourt
victorystore
vintage'astralite'
vintageavon
vintageavon1987countdown
waechtersbach
weihnachtsbaum
westminster
williams-sonoma
wintergreen
winterlandschaft
world's
Search Keywords
Hyde and eek Halloween tombstone collection
Hyde and eek tombstone
LED ferry animatronic
hallmark vampire teeth candy bowl
Threshold haunted house advent calendar
target threshold advent calendar haunted house 2021
Anthropologie Clara pyramid
merry moments sculpted reindeer
Cracker Barrel Ghost
Peppermint Square Santa Baker Chef
Privacy Policy Agreement
Terms of service
Bahasa Indonesia
Slovenščina
Science & Tech
Russian Kitchen
5 restaurants with incredible views of Moscow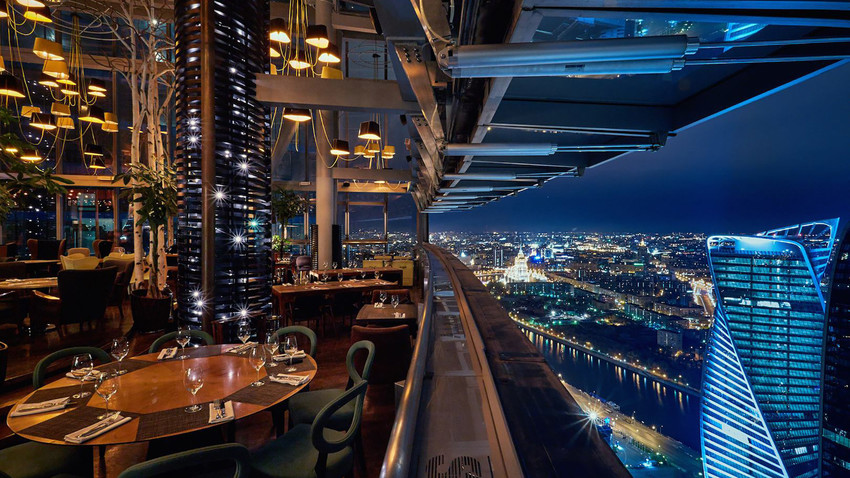 The restaurant Sixty is located on the 62nd floor of the Federation Tower, one of Moscow's tallest skyscrapers. At 225 meters above the ground, its height is no joke. You can almost touch the clouds during the day or count the stars and lights of the Moscow City skyscrapers at night.
When entering the restaurant, you immediately notice its huge panoramic windows and birch trees (which, unfortunately, are not real). And if you're not ready to visit this restaurant for the sake of these windows alone then its talented French chef, Regis Trigel, should be more than enough to persuade you.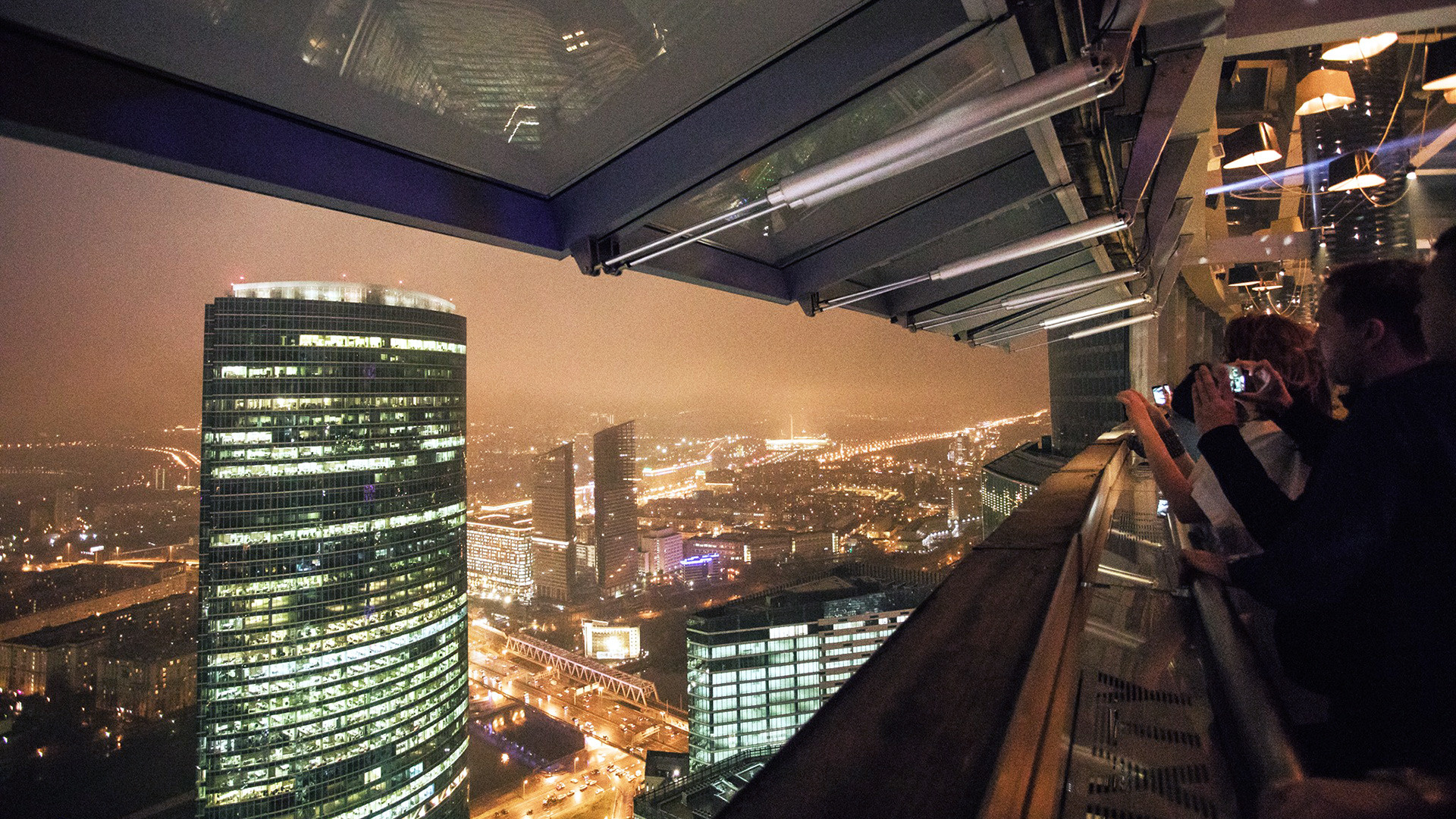 One guest named Alexander shared his impressions: "The point of the restaurant is the moment when the windows open, people get up from their seats to stand by the open windows and admire Moscow in the open air. In fact, from the usual procedure of airing the rooms, a whole show is made—that's great! It is said that this is the only place in all Moscow City where the upper parts of the windows are fully opened."
Keep in mind it is best to make a reservation in advance in order to get a table by the window.
International Business Center, Federation Tower, 60th floor, Presnenskaya emb., 12
White Rabbit
White Rabbit took 23d place in The World's 50 Best Restaurants. That's already impressive enough, but its view also stands out. White Rabbit is located beneath a glass dome on the 16th floor of Smolenskiy Passage. In the evening, a stunning view of the city is guaranteed, but make sure to reserve well in advance to get a table near the window.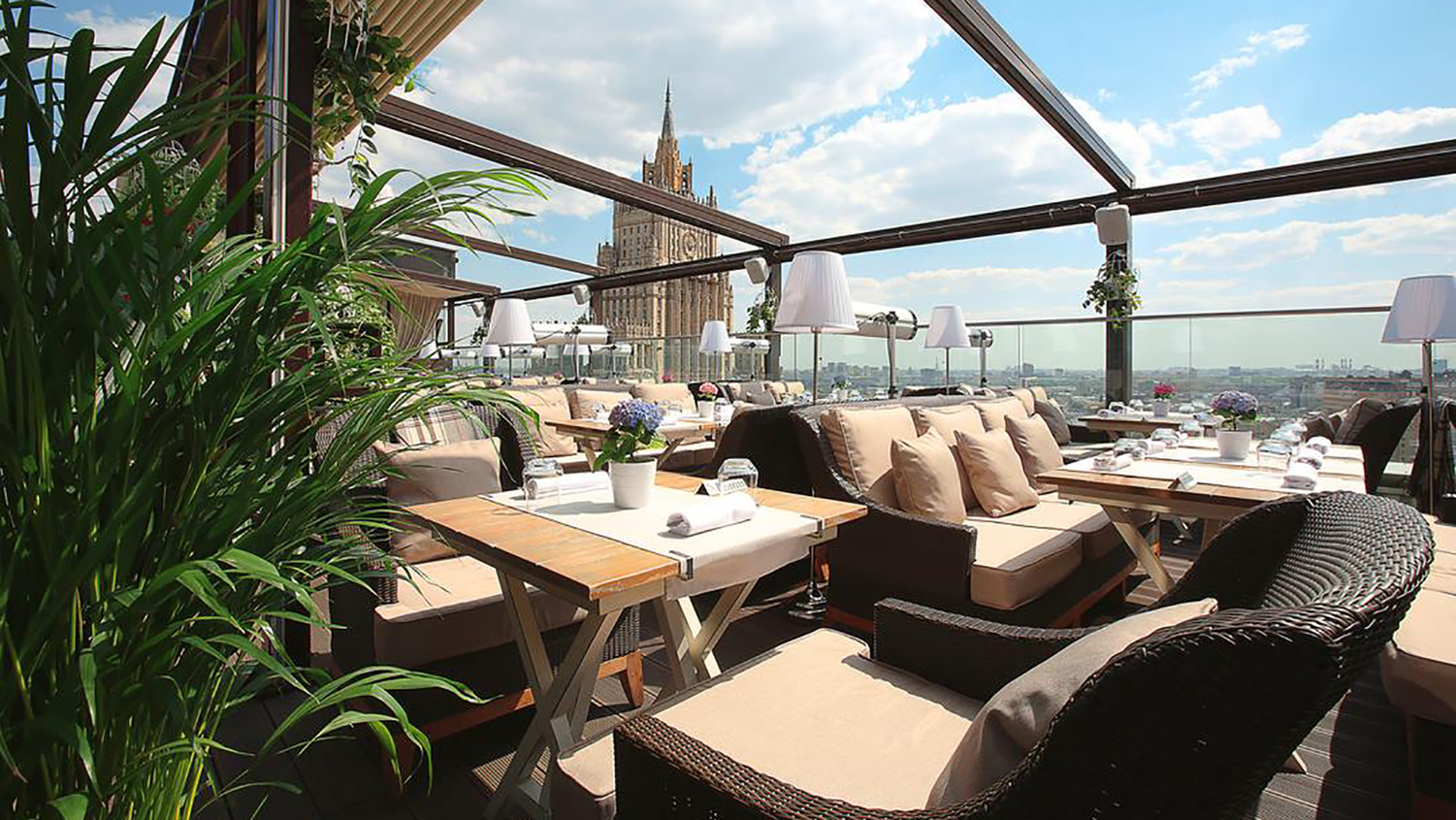 Vladimir Mukhin, White Rabbit's chef, makes Russian cuisine in line with the latest trends and using local products. Guests are usually delighted with the Chef's Table—evenings when Mukhin and other chefs from the restaurant present special menus. If you want to taste unusual combinations like borsch with carp or ice cream made from traditional black bread, this place is for you.
3 Smolenskaya square, 16th floor
Karlsson astonishes visitors with unbelievable views of the Kremlin and Moscow's historical center. The restaurant is especially pleasant in the summer when the veranda is open. The restaurant's brand chef, Carlo Grecu from Italy, prepares Mediterranean cuisine. Try the risotto with king crab and avocado mousse.
Ovchinnikovskaya Embankment, 20/1, BC "Central City Tower"
Buono restaurant is located on the 29th and 30th floors of the renovated Ukraina Hotel, the new Radisson Royal, which is located in one of Moscow's seven famous skyscrapers. Most of the seats are lined along panoramic windows on a covered terrace, providing a breathtaking view of the city. Another thing that attracts guests' attention is the wooden pizza oven. As you might have already guessed, Buono's chef, Christian Lorenzini, specializes in classic Italian cuisine. Try the scallops with fresh spinach, green asparagus, morels and truffle sauce.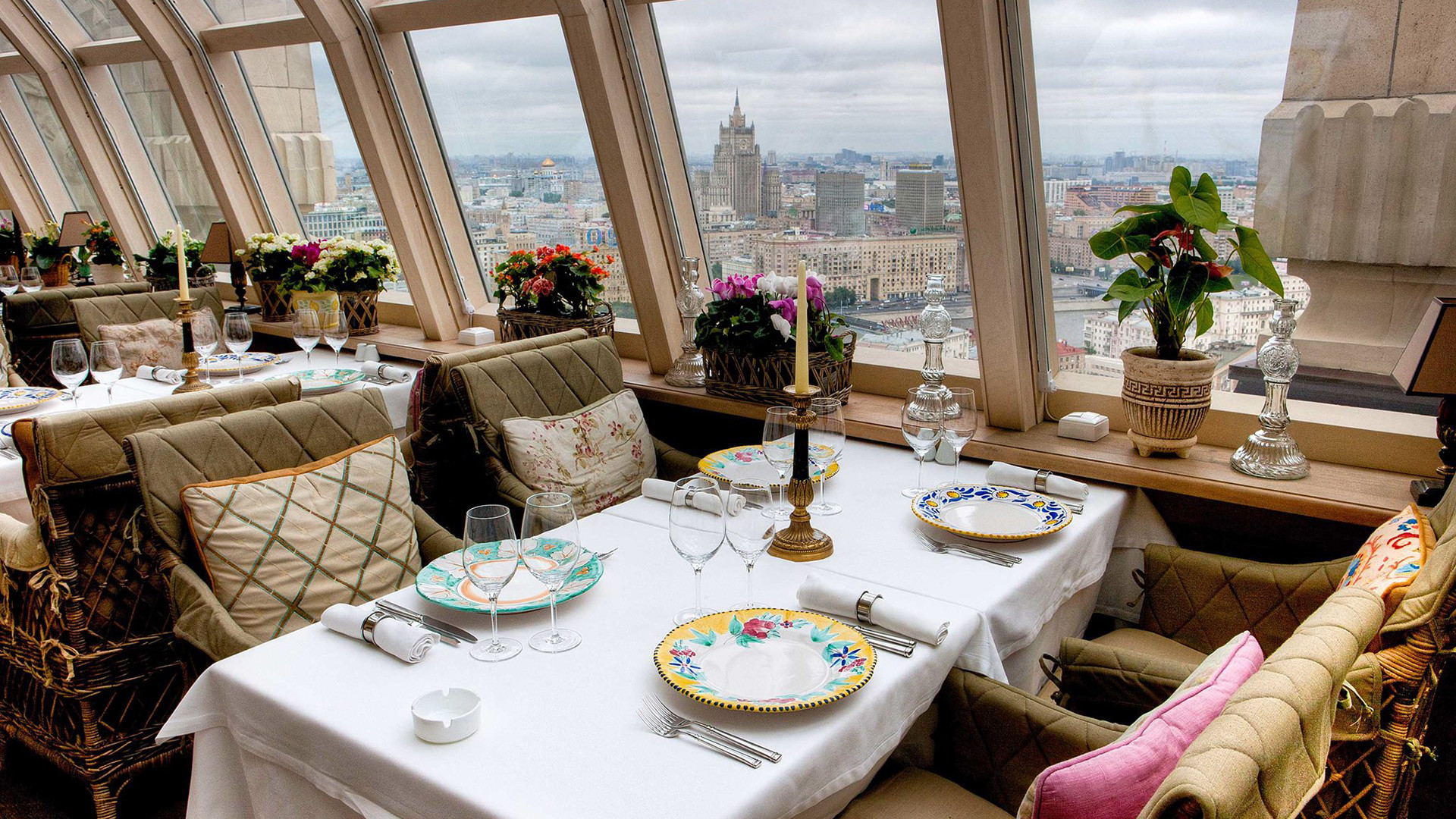 You might also want to visit one more restaurant in the same building—the rather more brutal Mercedes Bar, situated on the 31st floor. In Mercedes Bar, Christian Lorenzini prepares dishes based on the top hits of modern European cuisine.
2/1 Kutuzovsky Ave., Bld. 1, Hotel Radisson Royal
Seventh Heaven Restaurant
This restaurant is located around 330 meters above ground in the Ostankino TV Tower. It was opened in 1967 but closed for reconstruction following a fire in 2000. It finally reopened in 2016.
The restaurant complex covers three floors. In order to get there, you need to buy a ticket to the observation point. Then choose where to eat: in a bistro, cafe or restaurant. The tables stand on a platform that rotates in 40-minute intervals, showing you Moscow from a bird's-eye view. The different dining options vary in terms of menu, price and interior decoration. Chef Andrey Gurko is guaranteed to complement the views with equally impressive gastronomic adventures.
Ul. Academician Korolev, 15, building 2.
If you want to know more about restaurants in the Russian capital, read our guide "20 restaurants where American expats are happy to dine in Moscow".
If using any of Russia Beyond's content, partly or in full, always provide an active hyperlink to the original material.
to our newsletter!
Get the week's best stories straight to your inbox
How to find the best Irish pub in Moscow
Why doesn't Russia have any Michelin starred restaurants?
What street food looked like in Moscow 100 years ago
St.Petersburg: 5 restaurants serving Russian cuisine with a Baltic Sea flavor
Think Russian food is too fatty? Chef Mukhin will prove you wrong
This website uses cookies. Click here to find out more.