'Insidious: The Red Door' Producer Jason Blum Says He's Lived a Real-Life Ghost Story: 'I Will Remember It Until I Die' (Video)
The horror sequel's stars Patrick Wilson and Sinclair Daniel also share their IRL scares
"Insidious: The Red Door," out on Friday, is sure to bring back some ghostly thrills — along with the return of franchise stars Patrick Wilson (who also directs), Rose Byrne and Ty Simpkins. And while TheWrap spoke to the cast and crew about the horror sequel, we had to wonder — did any of the folks involved with "Insidious: The Red Door" have any real-life ghost encounters of their own?
As it turns out, producer Jason Blum, who has also overseen the "Paranormal Activity" franchise and the recent "Halloween" trilogy, had a really spooky ghost story that he was all too eager to share.
"I've only had one experience with anything supernatural. About 30 years ago I lived in a storefront basement on Crosby Street in Manhattan. I paid $300 a month in Manhattan, which was pretty amazing. I had a friendly ghost visit me at the foot of my bed," he said. "It was not a dream. It was a person standing there holding another person. They looked at me and I looked at them. I will remember it until I die. I didn't feel threatened. I always say I don't believe in ghosts, but I did see this ghost."
Sinclair Daniel, one of the breakout new characters from "Red Door," said that as a kid she felt like she had a ghostly encounter "every week."
"How I remember it, I think, t hat was definitely a ghost ," she said. "Also, you were six — but I like to give my younger self the benefit of the doubt.
Wilson, meanwhile, confirmed that he had experienced an otherworldly encounter, recalling it with a laugh.
"There was a time when I heard voices and footsteps and stuff in my house," Wilson said. "It was real. But if anything, I've learned is you can have those experiences and they don't have to be bad. I choose to believe that maybe it's a ghost but it doesn't have to be a bad ghost."
"Insidious: The Red Door" is out on July 7.
Screen Rant
Insidious ghost explained: the bride in black origin.
The Bride In Black is one of the most iconic evil spirits from Blumhouse's Insidious franchise. Here's the backstory behind the ghost.
The Bride in Black is one of Insidious' most iconic ghosts but what is the backstory of the malicious spirit? Director James Wan broke out due to the surprise success of his low-budget debut Saw , which was originally intended as a straight to video release. While Saw is credited with kicking off a cycle of films focused on torture, the original movie is more of a tense thriller with little in the way of overt gore.
Wan had no interest in directing Saw 2 , so he worked on an original horror movie with Dead Silence  instead. While this killer puppet movie was undeniable stylish and eerie, it failed to catch on in the same way as Saw . His next movie was bleak vigilante thriller  Death Sentence , which starred Kevin Bacon and John Goodman. The movie was based on the sequel novel to Death Wish , but despite good reviews, it was another box-office disappointment. Wan decided to reteam with Saw writing partner Leigh Whannell to make Insidious , another low-budget horror movie that would focus on suspense instead of violence.
Related: Paranormal Activity's Evil Entity Toby Explained
Insidious was a huge success for Blumhouse, whose low-budget model was starting to catch on following the success of the Paranormal Activity series. Wan returned to direct Insidious: Chapter 2  while Whannell directed Insidious: Chapter 3 . The original movie focuses on a boy named Dalton who falls into a coma when his spirit becomes trapped in another dimension, and it's up to his father Josh (Patrick Wilson) to enter this plane and rescue him. It turns out Dalton has inherited Josh's ability to astral project, and Josh had been tormented as a boy by an evil spirit called the Bride In Black.
In the finale of Insidious , Josh rescued Dalton from The Further, only for psychic Elise (Lin Shaye) to realize the Bride In Black has possessed him. In the first movie, this ghost is more of an ominous, background threat but Insidious: Chapter 2 greatly fleshed out this spirit's backstory. It's revealed that in life the Bride In Black was a serial killer known as Parker Crane. Parker was tormented by his mother growing up who forced him to dress as a girl, and years of psychological abuse would turn Parker into a killer.
He would kill several young women whilst wearing a black funeral dress and would be dubbed the Bride In Black by newspapers. Before his death, Parker encountered a young Josh and grew jealous of the warm relationship between the boy and his mother Lorraine. This is why Parker sought to possess and replace him when Josh was young, but decades after the Bride In Black was banished, the ghost reemerged when Dalton became lost in the Further. Parker finally got his wish to become Josh in Insidious: Chapter 2 , but his strange behavior quickly led the family to realize Josh was trapped in the Further and Parker had taken his place.
Parker possessing Josh also led to accelerated aging, with his hair thinning and some of his teeth falling out. In the finale of the sequel, the Bride In Black is banished from Josh and Parker's tormented spirit is finally put to rest. Insidious: Chapter 3 is a prequel that revealed more of the personal history between Elise and the Bride In Black, with the latter holding a grudge against the psychic when she prevented the spirit possessing Josh as a child. The Bride In Black reappears throughout the story, vowing to strangle Elise. While part three ends with Elise alive and well, the ghost's vow would sadly come to pass by the end of the first Insidious .
Next: Insidious: The Last Key's Ending Explained
Cookie banner
We use cookies and other tracking technologies to improve your browsing experience on our site, show personalized content and targeted ads, analyze site traffic, and understand where our audiences come from. To learn more or opt-out, read our Cookie Policy . Please also read our Privacy Notice and Terms of Use , which became effective December 20, 2019.
By choosing I Accept , you consent to our use of cookies and other tracking technologies.
Site search
Israel-Hamas war
2024 elections
House Speaker race
Supreme Court
Open enrollment
All explainers
Future Perfect
Filed under:
How low-budget ghost story Insidious became one of America's top horror franchises
Share this story
Share this on Facebook
Share this on Twitter
Share All sharing options
Share All sharing options for: How low-budget ghost story Insidious became one of America's top horror franchises
Every generation's teenagers eventually get the horror film franchise they deserve. The morality- and mortality-obsessed 1980s birthed the Friday the 13th and Nightmare on Elm Street movies, which doubled as tracts on the virtues of staying a virgin as long as possible. The archly ironic '90s begat the head-spinningly meta Scream movies, while the brutal, violent 2000s launched the Saw films.
Just five years in, the 2010s are already home to several contenders for a decade-defining horror franchise that speaks to How We Live Today. We have the found-footage Paranormal Activity movies and the burgeoning, devil-child world of the Sinister films. There's also the growing indie horror scene, where projects like It Follows and The Babadook tell some of the scariest stories ever committed to celluloid.
But the horror franchise that just might emerge as the representative of the current era is a bit of an underdog. It's a series of movies where essentially nobody dies — a rarity in the horror genre — because death is merely the start of an entirely new chapter of the story. It's a series that attempts to restore the creepiness of the afterlife. And it's a series, above all, about family.
Meet the Insidious movies .
What's Insidious about?
At their most basic level, the Insidious movies are haunted house stories — or, more accurately, not quite that.
Screenwriter Leigh Whannell (who has not only written all three movies so far but also starred in all three and directed the third) pulls a fairly ingenious bait-and-switch in the franchise's first film. Let's trace the story through the three that exist so far.
Insidious (2011): Produced on a tiny budget, Insidious was a surprise hit that raked in tons of profit. It was sold as the first major collaboration between the brains behind the Paranormal Activity films ( Oren Peli , who produced) and the Saw films ( James Wan , who directed, and Whannell, who wrote). Somewhat surprisingly — especially for Saw fans — Insidious was more suggestive than overt. Where the Saw movies revel in gore and moments of extreme pain, Insidious features almost no blood and is more about creating an eerie, atmospheric mood.
In the first film, the Lambert family has just moved into a spooky house. Early on, eldest son Dalton ( Ty Simpkins ) falls into an unexplainable coma. When his parents Joe ( Patrick Wilson ) and Renai ( Rose Byrne ) bring him home after months in a hospital, they begin to experience strange events not unlike a haunting. They move to another residence, where the events continue, only to realize it's their son who's being haunted, not their house.
From there, the film's story sprawls into an elaborate mythology about a place called the "Further" that the dead travel through while en route from the realm of the living to whatever's next. However, human beings' spirit forms can get stuck in the Further if they arrive there while using astral projection (the detachment of the soul from the body to travel spiritually) and become either trapped or lost. Then, ghosts and other entities will attempt to enter the vacant (but still living) body of the astral projector. You get one guess as to why the Lamberts are suddenly plagued by ghosts. Official Vox score: 3.5/5
Insidious: Chapter 2 (2013): Wan and Whannell returned to the series for this second installment, which ingeniously reimagined certain portions of the first film to reflect this movie's new reality, where an entirely different Lambert family member is imprisoned in the Further — with his body taken over by an evil entity who wants nothing more than to sow destruction and chaos. The movie works far too hard to pull everything together into one big, unified mythology, and it suffers for missing medium Elise ( Lin Shaye ), one of the first film's most vibrant characters, for much of its running time. But as an endpoint to the story in the first film, it's solid enough. Official Vox score: 2.5/5
Insidious: Chapter 3 (2015): With Wan departing the franchise, Whannell steps into the director's chair for this third volume, which focuses on Elise, as well as the two technicians who help her investigate hauntings, Specs (Whannell) and Tucker ( Angus Sampson ). The film is a flashback to the 2000s, and it introduces a new family, with a recently widowed patriarch played by Dermot Mulroney and his teenage daughter played by Stefanie Scott , for ghosts to torment. The film opens Friday, June 5, 2015. Official Vox score: n/s
Why are these movies so popular?
James Wan uses empty space within individual frames beautifully to heighten tension. Check out all of the space between (possibly murderous) father and (carefully hiding) son in the above frame from Insidious: Chapter 2 .
FilmDistrict
For one thing, the first Insidious is a perfectly constructed haunted house movie, to the degree that the opening credits feature spooky little Easter eggs for the audience to keep an eye out for. And even if the second film bites off more than it can chew — and offers a really strange resolution regarding the identity of one of the franchise's main enemies — it still packs in some clever story turns and some great scares.
But the real answer is probably James Wan.
It will be interesting to see how the franchise performs without Wan, who was one of the primary reasons to check out the first two films. At times, the Further could be so much metaphysical gobbledygook — and, honestly, it still kind of is — but Wan's imagining of it as a smoky hinterland that no living human should traverse kept the first two movies mostly on course. (So far, the Insidious films are far more successful as setups than they are as payoffs.)
Recently, more and more filmmakers have been trying to create films that offer the vibe of Steven Spielberg's early films, like Close Encounters of the Third Kind and E.T. , movies where the supernatural intrudes upon suburbia. But in the Insidious movies — and Wan's even better ghost movie The Conjuring , which he filmed between Insidious chapters — Wan has already basically achieved that. The early passages of the first film are filled with the sorts of well-observed domesticity that was Spielberg's stock in trade, and then the ghosts start pouring in.
Wan is a master of using negative space — of leaving just enough emptiness in a frame for your imagination to come up with all sorts of things that could be lurking there.
Check out, for instance, the above séance scene from the first film, which is a perfect example of filling a scene with lots of potential jolts to the audience, but never overdoing any single one. Wan's skill with set pieces vaulted him from the low-budget horror world to franchise filmmaking (his most recent project was Furious 7 ) .
Truth be told, the Insidious movies rely a little too heavily on jump scares — where someone or something leaps into the frame from just outside of it — especially when compared with the eerier, more evocative The Conjuring . But Wan gave the first two films a surprisingly classy vibe.
Who else is important to the making of these movies?
The Insidious films have found terrific actors to play their many parts. Hopefully that will extend to Chapter 3's Stefanie Scott.
There's Leigh Whannell, of course, who has shepherded the franchise's mythology through three films now, and Oren Peli continues to produce. Patrick Wilson and Rose Byrne were the bedrock that the first two films were built atop, and Lin Shaye has turned Elise into one of the most fun characters in a horror movie in recent years. Plus Whannell and Angus Sampson have transformed Specs and Tucker into enjoyable, consistent comic relief.
But to understand Insidious — and mainstream American horror in general as of the last few years — you have to understand the series' producer, Jason Blum . Blum has created a mini-empire of horror in the past few years, as he's produced the Paranormal Activity , Insidious , and Sinister franchises, while also producing one-offs like Unfriended and non-horror movies like Whiplash . He's turned himself into an old-fashioned impresario.
As he told The Verge :
I think it's really important. If you go to business school, and you put a product out there in the world, and it's working, the logic is to keep putting the same product out there. And I think that really bumps up against the creative process — and moviemaking, generally. And I think that our company really pushes against that. The one thing I try and do, when people say "what kind of movies do you guys look for," the one thing I look for is "different." And I think that's very antithetical to Hollywood. Hollywood looks backwards and tries to repeat. And we really try not to do that. We don't always succeed, but I really think that what we try and do is different. And that's very against what makes financial sense, right? So the only way to marry those two things is to keep the budgets low. Because if the budgets are low enough, it's like, "Alright, fuck it, go try your weird new thing." So I think those things are very interconnected.
How do ghosts work in this franchise?
One of Insidious 's many creepy ghosts doesn't want you saying anything.
Inconsistently! Insidious wisely doesn't try to pin down what ghosts and demons are capable of in its world, the better to just let them do pretty much anything. So that means the series goes in for almost every single potential scare. A piano playing itself? Yep, that's here. So are knocking on walls and doors opening by themselves. And, most memorably, there's a long sequence in the first film when Renai hears … something talking over a baby monitor.
What's unusual about Insidious is that it really does try to explain which malevolent spirits are responsible for which scares. Indeed, much of the second film is devoted to showing the audience scenes from the first film with new footage spliced in to reveal who or what was making those scares possible. It's a little gimmicky, but it's also kind of clever.
This means the ghosts in the franchise have to have some sort of personality, and the series mainly conveys said personality via costume and makeup choices. In the first two films, for instance, the "main" entities include a red-faced demon who desperately wants to enter our world to cause pain to others and a strange old woman whose fascination with family patriarch Joe gives the second film much of its storyline. When that old woman's backstory is revealed, it's one of the franchise's more convoluted moments, but until that point, she's a largely uncanny, surprisingly mournful presence.
How do psychic powers work in this franchise?
Got a problem with ghosts and/or demons? That means it's time for a séance.
Also inconsistently! This is another case of Whannell simply tossing in every single psychic trope he can think of and hoping for the best. Elise makes contact with the dead by murmuring the things she sees to Specs (who sketches them or writes down what Elise is hearing). Elise's friend Carl (who pops up in the second film) tosses dice to see if the dead are trying to talk to him. And neither Specs nor Tucker has psychic powers, but both do use technology to try to find evidence of spirits. In short, if it looks kinda cool or seems kinda freaky, it's probably made an appearance in this franchise.
What is treated a bit more consistently is astral projection, which is the unlikely basis of the entire franchise. Two members of the Lambert family, as it turns out, are capable of traveling outside of their bodies while they sleep, and it gets both of them into trouble. But a gifted enough psychic can apparently turn off this power in someone's brain, which is mostly for the best, because it's far too easy to become lost in the Further when you're doing so.
Because of Insidious 's low-budget nature, however, the franchise can't do too much visually with the idea of astral projection. It seems to mostly manifest as the characters traveling between this world and the Further, without a lot of other stops on the way. However, they are able to manipulate objects in our reality, so if you ever find yourself stuck in the Insidious universe, know that you can haunt your own family. Which could be fun!
What about the Further?
Joe (Patrick WIlson) explores the Further, having brought along his lantern.
Would you believe it's presented inconsistently? Physical objects can cross over to the Further, except when they can't, and people stuck in the Further can make contact with people on our side of the death/life divide, except when they can't. The geography of the Further is also frequently confusing, which seems like an unfair criticism to make about an afterlife dreamscape, but here we are.
In general, the portions of the films set in the Further are the least interesting parts of them. Wan is always better at suggesting something spooky than he is at actually showing it, and the Further inevitably devolves into a bunch of people in clothes from bygone eras making scary faces and running at whomever happens to be trapped there at the moment.
There are some cool production design choices — especially in the candle-festooned lair of the red-faced demon — and the constant use of smoke somehow remains haunting, instead of feeling like an effect at a low-grade rock concert. But by and large, the Further is an idea that's more important to the series' overriding mythology than to any one film in the series.
What do these movies say about America today?
Above all, the Insidious movies wish to reaffirm the primacy of the nuclear family.
Two theories:
1) The Insidious movies reflect our anxiety about the transition from analog to digital. The films have a refreshingly old-school charm to them, with characters using Viewmasters to check ultraviolet light filters, or watching spooky old VHS tapes. These movies seem to exist in a kind of 1995 hangover, complete with a bulky baby monitor that doesn't even display video. There's an implicit message here: if the dead are trying to contact us, they're not going to be doing it via our smartphones. And that, in some ways, ties into our anxieties about technology.
2) The Insidious movies, like most other prominent horror franchises of the moment, are all about family. All three Insidious movies are about testing the primacy of the family unit. Even the third one features a family that has already been tested in the wake of the matriarch's death, and early reviews suggest the whole story is rooted in grief over that. Meanwhile, Elise, Specs, and Tucker act more like a mother and her two squabbling sons than as a professional team of ghost hunters. This is in noted contrast to other famous horror movie franchises, which tend to be about peer groups who are picked off one by one by some faceless killer.
This may be why the Insidious films contain so little in the way of death — indeed, only one major character dies in the first two films, an extremely small total for a horror franchise. If you're going to tell a story about a family and suggest this is the ultimate test the family will face, then the movie will have to end with everybody in that family alive and well, bonded all the more for what has happened to them.
Yet the obsession with the nuclear family is also present in franchises like Paranormal Activity and Sinister , to say nothing of films like The Babadook and The Conjuring . On some level, these films grapple with the idea of the nuclear family's destruction at the hands of forces beyond its control, always reassuring the audience at the end that the family will prevail, because nothing is more eternal than love.
I compared Wan to Spielberg above, but there's one fairly major difference between the two filmmakers. Spielberg's early films often involved an absentee parent somewhere along the line. Wan's movies involve two-parent households, where the point-of-view characters are parents who are terrified of what might happen to their kids, not kids who are wondering where their parent might be.
In that sense, perhaps the most important film in terms of inspiring the Insidious franchise is a film Spielberg produced in the early '80s, a film that was remade just recently : Poltergeist . In that series, a family is haunted and tested by ghosts that try to abduct one of their children. And in that series, a happy ending is found. The message is clear: the family might be threatened. The family might be in mortal peril. But the family will always survive.
Insidious: Chapter 3 is in theaters throughout the country. The first two films are available on DVD and for digital rental and download.
Will you support Vox's explanatory journalism?
Most news outlets make their money through advertising or subscriptions. But when it comes to what we're trying to do at Vox, there are a couple reasons that we can't rely only on ads and subscriptions to keep the lights on. First, advertising dollars go up and down with the economy. We often only know a few months out what our advertising revenue will be, which makes it hard to plan ahead. Second, we're not in the subscriptions business. Vox is here to help everyone understand the complex issues shaping the world — not just the people who can afford to pay for a subscription. We believe that's an important part of building a more equal society. We can't do that if we have a paywall. That's why we also turn to you, our readers, to help us keep Vox free. If you also believe that everyone deserves access to trusted high-quality information, will you make a gift to Vox today?
We accept credit card, Apple Pay, and Google Pay. You can also contribute via
In This Stream
More from emily todd vanderwerff.
The past 11 presidencies, explained by the TV shows that defined them
Hannibal reimagines the serial killer drama as an opera. It's stunningly good.
Next Up In Culture
Sign up for the newsletter future perfect.
Each week, we explore unique solutions to some of the world's biggest problems.
Thanks for signing up!
Check your inbox for a welcome email.
Oops. Something went wrong. Please enter a valid email and try again.
Don't believe everything you see and hear about Israel and Palestine
Jim Jordan's radical speakership bid falls short on the House floor — again
Noah Kahan is bringing back "stomp clap hey" music. It's better now.
How AI will shape our children's future
The ups and downs of life on strike
The mental health crisis among doctors is a problem for patients
Catching up with Insidious, horror's most unfairly forgotten franchise
Catching up with insidious , horror's most unfairly forgotten franchise, ahead of insidious: the red door , here are the most important things to know about james wan's other horror series.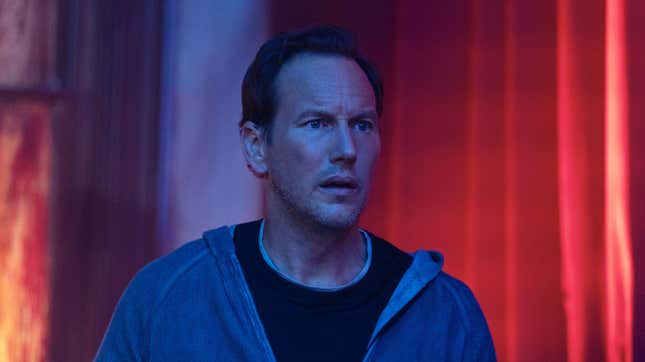 Movies about ghosts and haunted houses fell out of favor a long time ago in Hollywood post- Amityville Horror , with other horror genres rising up to replace them—like slashers, whatever the more respectful name for "torture porn" would be, and found footage—but the traditional version of the subgenre enjoyed a renaissance of sorts a decade ago with the release of director James Wan's The Conjuring . That film spawned two sequels and five spin-offs (so far), becoming such a big pop cultural force that it has completely eclipsed Wan's other ghosts/haunted house series that started just a few years earlier: Insidious .
And yet for the weirdly small footprint it left in the general consciousness, Insidious wasn't some one-hit wonder. They made four of the dang things, with a fifth one coming out this week that serves as both a direct sequel to 2013's Chapter 2 and the feature directorial debut of star Patrick Wilson. Those seem like big deals on paper, and perhaps that's just the thing Insidious needs to finally transcend its current status as "the one that's not The Conjuring or the completely unrelated Sinister ."
Nobody wants to be left behind if that happens, so here's what you need to know about Insidious ahead of Insidious: The Red Door .
Insidious is not Sinister
They have similar names and they're both about dads, but Sinister is the one about a demon that lives in scary home movies and Insidious is the one about a dimension of demons that are all trying to escape into the real world. There are also only two Sinister movies and there are a bunch of Insidious movies, so if you see a horror movie you don't immediately recognize that has demons and a dad, assume it's an Insidious and not a Sinister . Horses, not zebras, as a doctor might say.
Insidious is made by the Saw people
Insidious director James Wan got his start in feature horror filmmaking with the original Saw , written by Leigh Whannell, who also appeared in the movie as Adam (the photographer chained up with Cary Elwes' Dr. Gordon). Whannell also recurs in the Insidious movies as Specs, one of the vaguely comic relief-y paranormal investigators who shows up from time to time. There's also a weirdly cute drawing of Billy, the Jigsaw puppet, on a chalkboard early on in the first Insidious , establishing that they take place in the same universe (just kidding, but maybe?).
Insidious is about a magic world called The Further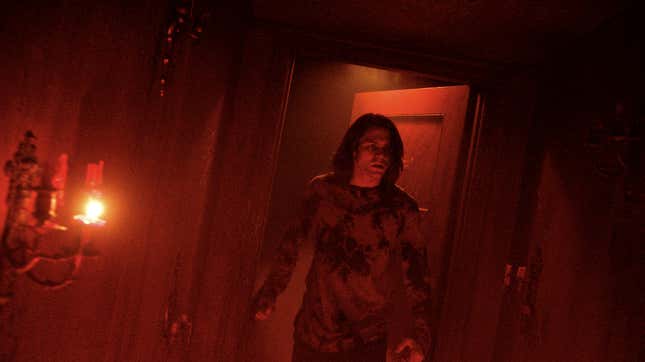 The big thing to know about the Insidious movies is that, despite seeming like relatively straightforward haunted house stories at first, they are actually all about a ghost-filled universe called The Further where angry lost spirits get stuck. The Further is usually depicted as some kind of endless black void that sometimes takes the form of a house, but also the demons that reside there can make their own little lairs, apparently. It's very important lore where the rules are never really explained.
What happens in Insidious ?
The first Insidious , directed by Wan and written by his Saw buddy Leigh Whannell, stars Wilson and Rose Byrne as Josh and Renai, the parents of a boy named Dalton who falls into a coma shortly after encountering some untold spookiness in the attic of his family's new house. As time goes on, unexplainable things start happening in the house, including demonic voices and apparitions.
Renai believes that their house is haunted, showing a surprising amount of self-awareness for someone in a ghost movie (if only she could pass that on to literally anyone in any Paranormal Activity movie) and convinces Josh to move their family out of the house. Unfortunately, the spooky happenings continue, with a demon with a bright red face appearing to scare everyone. The family calls a psychic named Elise (the great Lin Shaye) and her lovable team of investigators (Angus Sampson and Whannell) to investigate.
Elise reveals that the house isn't haunted at all, but that Dalton accidentally tapped into The Further and got trapped. It also turns out that Josh can tap into The Further as well, having had a similarly traumatic experience as a boy that he had suppressed in which a spirit tried to possess him. Josh goes into The Further to find Dalton, evading the red-faced demon and various other ghostly beings before running into the very same spirit that tried to possess him as a kid. He escapes with Dalton and everything is fine … until Josh kills Elise, having been possessed while in The Further.
What happens in Insidious: Chapter Two ?
A lot of this movie is explaining the previous movie, with Josh and Elise trapped in The Further and experiencing various things non-chronologically. Adult Josh visits his younger self and leaves behind ghostly evidence that leads his family to the identity of a serial killer that had attacked him when he was a kid. The family finds out that the serial killer was actually killing people because of the evil spirit of his mother, which has now possessed Josh.
Meanwhile, Josh's body keeps trying to murder his family, so Dalton and a friend of Elise's named Carl enter The Further to save his spirit. Carl had worked with Elise when Josh was a kid to suppress his memories of the ghostly attack, all to preserve the twists of the first movie, and he and Dalton manage to save Josh and bust all of the ghosts. Carl then suppresses their memories again, because you know you've got a good plot going when you can't end your movie without everyone forgetting everything that happened.
The movie ends with Elise's investigator buddies, Specs and Tucker, helping a girl experiencing the same kind of mysterious coma that Dalton had in the first movie, while Elise's ghostly spirit shows up to help from beyond the grave.
What happens in Insidious: Chapter Three ?
A prequel set shortly before the events of the first movie, Chapter Three is about Elise refusing a call to help a teenager who is experiencing ghostly phenomenon after getting into an accident. Elise has abandoned her ghost-hunting ways after realizing that the spirit that attacked young Josh Lambert was after her, because this takes place before Chapter Two 's main plot but after the flashback stuff in Chapter Two .
The teenager's family calls on Specs and Tucker, believing them to be real ghost hunters, but they're just internet frauds and they accidentally make this worse. Elise shows up and makes them help—establishing their partnership and friendship—and goes into The Further, evading ghosts and ultimately saving the teenager.
What happens in Insidious: The Last Key ?
A prequel to the prequel and a sequel to the prequel, The Last Key involves Elise getting wrapped up in a mystery that involves her childhood home, where she first experienced supernatural shenanigans as a kid. She and her brother saw a ghost in their room one night, and when they tried to get help, their father beat Elise and locked her in their basement. She then found a red door, connecting her to The Further, and accidentally released a demon that killed her mother.
In the present day, before the events of the first movie, Elise gets a call from the man living in the house now and goes to investigate. A female ghost in the house leads Elise to a secret room in the basement where the new owner has been kidnapping and murdering people. He tries to kill Elise and her friends, including the daughters of her estranged brother, but they beat him and escape, only for the demon that attacked Elise as a kid to return and take one of Elise's nieces to The Further.
There, Elise realizes that this spirit, Keyface, feeds on fear and hatred and had not only driven the owner of the house to capture and kill people but that it had forced Elise's father to do the same. It turns out that the "ghost" she saw as a kid was actually one of her father's victims who had escaped. Resisting the urge to beat up her father's spirit in The Further, which would've made the demon stronger, Elise and her niece escape—inadvertently opening a door on the way that reveals young Dalton from the first movie. The Last Key ends with Elise receiving a phone call to help the Lamberts, tying the series into a nice loop.
How are they making another Insidious now?
Well, maybe having multiple people go through a terrifying, reality-altering experience involving a dark dimension full of ghosts and then trying to erase their memories was a bad idea? The trailers for Insidious: The Red Door suggest that memories of the previous movies are bleeding into the present day for Josh and Dalton, as are, you know, the ghosts and stuff . If this is the last Insidious movie, hopefully it taps into the weirdly surprising power and ingenuity that these movies have had, otherwise we'll just forget which series this is the next time somebody makes a Conjuring or a Sinister again.
Here's How to Watch the Insidious Movies in Order (Chronologically and By Release Date)
Start with the first film or go back to the beginning of the story? We've got you covered either way.
It's hard to believe that it's been over a decade since the first Insidious film was released, following the horrific challenges faced by a couple ( Patrick Wilson and Rose Byrne ) who must defend their son against the malevolent paranormal forces that have invaded their home. Created by James Wan and Leigh Whannell , the long-running franchise follows the lambert family and paranormal investigator Elise Rainer ( Lin Shaye ) through paranormal worlds, psychic visions, and a franchise timeline that has been anything but traditional.
Whether you're rewatching the Insidious films or diving in for the first time, there are two options for the viewing order: following the straightforward release dates, or letting the story unfold chronologically. You can't go wrong either way, but if you prefer to understand all of the prequel backstory before getting invested in characters, then you might enjoy a chronological viewing.
RELATED: 13 Spooky Haunted House Movies to Send a Shiver Down Your Spine
Insidious Movies in Order of Release Date
Here is the order of the films as they were released in theaters:
Insidious - April 1, 2011
Insidious: Chapter 2 - September 13, 2013
Insidious: Chapter 3 - June 5, 2015
Insidious: The Last Key - January 3, 2018
Insidious: The Red Door - July 6, 2023
Insidious Movies in Chronological Order of Events
This might look confusing, but here's how it breaks down: the second film is a sequel to the first, and the third and fourth are consecutive prequels that lead directly into the first film.
Half of Insidious: The Last Key
While much of The Last Key is set following the events of Insidious: Chapter 3, the film also heavily features flashbacks to Elise's childhood, where we witness her traumatic childhood - not just because of the spirits she sees everywhere, but her abusive father. The Last Key is the most Elise-centric film in the franchise, exploring her family connections, her past with Specs (Whannell) and Tucker ( Angus Sampson ), and untangling a deadly secret from her childhood in Five Keys, New Mexico. Aside from the flashbacks, The Last Key also introduces Elise's nieces, one of which shares her psychic gifts.
Insidious: Chapter 3
If you came to the franchise hoping to see The Conjuring star Patrick Wilson get spooked again, you'd want to skip this one. It doesn't feature Wilson, or his co-star Rose Byrne , at all. Instead, it answers the question: What was the demonologist Elsie Rainier ( Lin Shaye ) doing before she stepped into the Lambert house? It turns out, she was pretty busy getting coaxed out of retirement by a teenager who wanted help contacting her deceased mother. She tries not to engage with the girl once she realizes that a demonic spirit is hunting her but soon finds she can't disengage.
This film ends on a classic cliffhanger of "she thinks everything is okay, but it's not," setting up the next chapter.
The Other Half of Insidious: The Last Key
The fourth installment in the franchise takes place after Chapter 3 , but with flashbacks to Elsie's childhood. Considering Elsie has been a wise older medium who must help protect the Lambert family in the previous films, this new angle on her character is fascinating, especially if you are curious about the origins of someone who can communicate with nonhuman entities.
The most crucial detail about this film, in terms of its bearing on the rest of the franchise, is what happens toward the end. While she is battling demons, Elsie opens a door and sees a young boy, Dalton Lambert, trapped in a room. She leaves this boy but has a dream that night that he is battling a demon. Then she wakes up to a phone call from Lorraine Lambert, the boy's grandmother, requesting her help. This overlap with the child at the center of Insidious: Chapter 1 brings the series full circle.
RELATED: The Witching Hour: Episode 11 - Celebrating Halloween and Horror with 'Insidious' Star Lin Shaye
Insidious: Chapter 1
When Josh (Wilson) and Renai's (Byrne) son, Dalton ( Ty Simpkins ), falls into an inexplicable coma, the doctors quickly run out of answers. Desperate and exhausted from their fruitless stay at the hospital, the couple takes Dalton home. Once there, they experience increasingly disturbing paranormal happenings and eventually enlist the help of Elsie, a woman who, if we're following these films chronologically, we already know quite well when she shows up to help. When a demon takes control of Josh's body and murders Elsie, it's more tragic for what we know about her childhood and how we've grown more attached to her. In either viewing sequence, the fact that Josh kills the person who is there to help his son survive highlights the show's commentary on the roles that men play in domestic spheres.
Insidious: Chapter 2
In this film, the Lambert family must contend with Josh's possession and the legal ramifications of his physical body having murdered Elsie. Even from beyond the grave, Elsie, summoned by one of her colleagues, helps the family piece together the mystery of what happened while protecting them from the imminent threat that the demon still poses. Sitting squarely in the middle of the franchise's overall narrative, the second film encapsulates the ebb and flow to the Lambert family's terror, and the terror that radiates out around them into the lives of the people with whom they associate. Whether viewed as the end or the beginning, there is nothing completely reassuring about this film. As the family is reunited, Elsie's spirit gasps at something unseen, propelling the drama toward its perpetual malaise.
To truly get at the heart of the concept of evil itself being insidious, the story requires the extra space to stretch out, touch multiple generations, and eschew the predictability of linear time.
Insidious: The Red Door
Finally, at the end journey is Insidious: The Red Door . The last film chronologically and by release date, The Red Door, takes place 10 years after the first film. Josh Lambert heads east to drop his son, Dalton, off at school. However, Dalton's college dream soon becomes a living nightmare when the repressed demons of his past suddenly return to haunt them both.
Today's news
Skullduggery podcast
Conspiracyland
My Portfolio
Personal finance
Daily Fantasy
Horse Racing
GameChannel
Team apparel and gear
Shop BreakingT Shirts
Entertainment
Style and beauty
Privacy Dashboard
'Insidious: The Red Door' Producer Jason Blum Says He's Lived a Real-Life Ghost Story: 'I Will Remember It Until I Die' (Video)
Oops! Something went wrong. Please try again later. More content below
"Insidious: The Red Door," out on Friday, is sure to bring back some ghostly thrills — along with the return of franchise stars Patrick Wilson (who also directs), Rose Byrne and Ty Simpkins. And while TheWrap spoke to the cast and crew about the horror sequel, we had to wonder — did any of the folks involved with "Insidious: The Red Door" have any real-life ghost encounters of their own?
As it turns out, producer Jason Blum , who has also overseen the "Paranormal Activity" franchise and the recent "Halloween" trilogy, had a really spooky ghost story that he was all too eager to share.
Also Read: Zendaya-Starring 'Challengers' Set to Open Venice Film Festival
"I've only had one experience with anything supernatural. About 30 years ago I lived in a storefront basement on Crosby Street in Manhattan. I paid $300 a month in Manhattan, which was pretty amazing. I had a friendly ghost visit me at the foot of my bed," he said. "It was not a dream. It was a person standing there holding another person. They looked at me and I looked at them. I will remember it until I die. I didn't feel threatened. I always say I don't believe in ghosts, but I did see this ghost."
Sinclair Daniel, one of the breakout new characters from "Red Door," said that as a kid she felt like she had a ghostly encounter "every week."
"How I remember it, I think, t hat was definitely a ghost ," she said. "Also, you were six — but I like to give my younger self the benefit of the doubt.
Wilson, meanwhile, confirmed that he had experienced an otherworldly encounter, recalling it with a laugh.
"There was a time when I heard voices and footsteps and stuff in my house," Wilson said. "It was real. But if anything, I've learned is you can have those experiences and they don't have to be bad. I choose to believe that maybe it's a ghost but it doesn't have to be a bad ghost."
"Insidious: The Red Door" is out on July 7.
Also Read: Hayley Atwell Learned 'Drifting Was My Thing' While Filming 'Mission: Impossible – Dead Reckoning' (Video)
Recommended Stories
Fantasy football: players to drop for your week 7 waiver wire pickups.
It's not an easy week to drop players with six teams on bye and navigating injuries, but Jennifer Eakins still has some names you might be better off without.
Turn Dollar Tree frames into an aesthetic spice rack for your drawer: 'This is ACTUALLY affordable'
"I paid $20 for a spice organizer when it's literally exactly this could've spent $5 at Dollar Tree..."
People are duping Pottery Barn gingerbread houses with $5 thrift store flip: 'Wait, this is genius'
Some vintage Christmas collectors are not thrilled with the DIY hack, however.
What is delayed ejaculation? Here's what you need to know about this little-talked about problem
Delayed ejaculation is considered the least studied and least understood of male sexual dysfunctions. Here's what you need to know.
This TikTok creator makes a case for sleeping with your hair in a bun, and here's why
Co-signed by Jonathan Van Ness, here's why you should consider sleeping with your hair in a heatless bun. The post This TikTok creator makes a case for sleeping with your hair in a bun, and here's why appeared first on In The Know.
Rams coach Sean McVay confirms arrest of starting CB Derion Kendrick
Kendrick, 23, has started all six of the Rams' games this season.
Fashion creator describes 'four levels' of getting ready that she picked up in Korea: 'It's the best way to ask your girls, 'OK, how are we looking?'
A Korean Canadian creator has taken to TikTok to share a "viral" way of distinguishing how dolled up you should get she learned in Korea. The post Fashion creator describes 'four levels' of getting ready that she picked up in Korea: 'It's the best way to ask your girls, 'OK, how are we looking?' appeared first on In The Know.
Maren Morris files for divorce from Ryan Hurd after 5 years of marriage
Morris, 33, and Hurd, 36, met collaborating on a song in 2013. They separated earlier this month, according to documents.
Thunder waived Kevin Porter Jr. after trade from Rockets, assault charges
The Rockets will also receive Victor Oladipo and Jeremiah Robinson-Earl in the deal.
FTX execs blew through $8B — testimony reveals how
Singh's testimony, which kicked off the third week of Bankman-Fried's trial, provides fresh details of exactly where that money went. Singh, who has already pled guilty to fraud, money laundering and violation of campaign finance laws, said Monday that he learned of the massive hole in Alameda's books as a result of a coding error that "prevented the correct accounting" of user deposits by around $8 billion. Singh's testimony helps corroborate the statements given by three previous prosecution witnesses, all of whom were in Bankman-Fried's inner circle: FTX CTO Gary Wang, Alameda CEO Caroline Ellison and FTX engineer Adam Yedidia.
Is Insidious Based on a True Story?

'Insidious' is a 2010 horror movie by the duo behind the popular horror franchise, 'Saw.' This time around, director James Wan and writer Leigh Whannell decided to step away from blood and gore to make something suspenseful and chilling. 'Insidious' follows the Lambert family as they are haunted by villainous spirits that follow them from house to house, whilst trying to save their comatose son from being pulled into a dark purgatory realm. The film builds on suspense masterfully, concluding often with sudden scares as the characters come face to face with paranormal entities. Such occurrences are sometimes heard in real-life accounts, and we wanted to know whether the events of 'Insidious' are based on a true story or not. Here's what we found out.
No, 'Insidious' is not based on a true story. The movie is a work of fiction based on the combined ideas of the writer, Leigh Whannell, and director James Wan. The Australian duo has long been fans of the horror genre and made a name for themselves with the 'Saw' franchise. They were approached by the producers of 'Paranormal Activity,' another hugely successful found footage type horror film series, who offered them a project over which they would have complete creative control.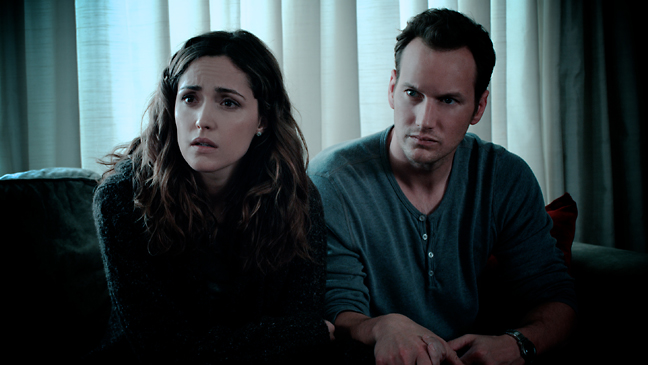 Both Whannell and Wan were caught off-guard since they had no plans at the time of making a movie, but they readily agreed. A week later, Whannell started writing the script and 'Insidious' was born. The story is based on an idea that the two had many years ago and were saving up to use someday. Both, having grown up as fans of the horror genre and being exposed to Japanese and Spanish horror films, wanted to make the kind of movie that they would have been excited to watch as young fans of horror.
Whannell also mentioned that he's a fan of the "creepy chilling haunted house sub-genre" of movies, as we can see quite clearly in 'Insidious.' Another important guiding factor for the filmmakers whilst making 'Insidious' was to step away from the violence and gore as seen in the 'Saw' movies to not get typecast as " slasher horror " type filmmakers. James Wan mentioned that despite doing away with the blood and gore, they still kept the interesting plot twists in 'Insidious' that had worked so well in the 'Saw' movies.
On being asked about any real-life inspiration they might have had for the movie, the duo said that though the movie itself was not based on real-life occurrences, the scare sequences were based on true accounts that they had heard. And though both admit to not having seen ghosts themselves, Whannell said that he'd love to see one, describing it as one of the mysteries of life.
In an interview with Daniel Waller, James Wan described his favorite horror movies. The horror aficionado subdivided his favorite horror movies into 2 types: suspense horror, in which he claimed ' Jaws ' was his all-time favorite, and "moody" horror, which was portrayed by such movies as 'The Sixth Sense' and 'The Others.' Wan's appreciation for 'Jaws' is hinted at in the soundtrack of 'Insidious,' which is highly effective at creating suspense, and its dissonant violin notes have been commended.
'Jaws' was known for its iconic 2-note soundtrack hook that created an unshakeable feeling of dread whenever it came on. At the time of their interview in 2011, neither James nor Leigh were thinking about a sequel. As far as they were concerned, the story had run its arc and possibly didn't need an extension. They also mentioned that fans had liked how they had left their previous movies open-ended and that they were still too new to "the business" to start thinking about sequels right after the first movie was done.
This means that the original story that Leigh wrote for 'Insidious' was entirely portrayed in the first movie. And with this first installment of the franchise, it seems that the filmmakers have taken the best of what they like about the horror genre, made a conscious effort to avoid blood and gore, and delivered a movie that is genuinely for fans of horror, by fans of horror.
Read More: Is The Conjuring Based on a True Story?
SPONSORED LINKS
Movie Explainers
TV Explainers
About The Cinemaholic
The Entire Insidious Timeline Explained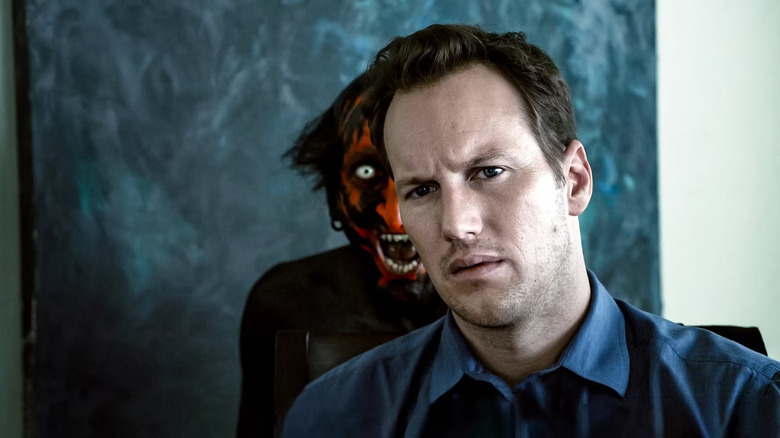 If you watched all of the "Insidious" movies and you're confused about the timeline, you're not alone. One tactic that might help is viewing the series chronologically rather than going by release dates. Outside of some flashback sequences, the general timeline of the films goes like this: "Insidious: Chapter 3," "Insidious: The Last Key," "Insidious," "Insidious: Chapter 2," and " Insidious: The Red Door ." If you've done that and  still  can't suss out the order of events, have no fear: We've got you. 
The "Insidious" franchise revolves around a psychic named Elise (Lin Shaye) and a child-turned-adult named Josh Lambert (Patrick Wilson) and his family. The first two films that were released focus on the Lambert family and the entity that haunted Josh as a child. But naturally, Josh's childhood nemesis always comes back for more destruction. Of course, Josh's son Dalton shares his father's dream walking gift, and the young boy has an entity of his own to contend with. 
Alternatively, the third and fourth chapters are prequels that center around Elise, her childhood, her own history with Josh's ghost, and two cases she took on before helping Dalton. The fifth movie takes fans back to the Lambert family, with a significant time jump. The original film debuted in 2010, after all. So, if your general reaction after watching the "Insidious" franchise was "Huh?" — here's the entire timeline explained. 
The history of the Bride in Black
So, who the heck is this Bride in Black lady, anyway? Well, as it turns out, the notorious serial killer isn't a lady at all. Parker Crane seemed like any other little boy in the early 1900s — until his mother began calling him Marilyn and forced him into dresses to become the daughter she never had. Mommy dearest clearly held a grudge against Parker's father and likely resented men as a whole because of it. So, she forced her son to become a girl against his will. That would traumatize any kid.
Parker's mother's hold on him lasted well into adulthood (and even death). As a result, the once-abused child went on to kill at least 15 women. He kept the bodies of the women, who were likely stand-ins for his mother, shrouded in a hidden room in his childhood home. Yikes. Audiences were haunted by the smell, even though we never actually witnessed it ourselves.
We only know of one survivor, who detailed the killer's disguise of a black wedding gown and veil. Precise timelines aren't abundantly clear, but given the information we do know, it's likely that Parker was born around 1916, was forced into the role of Marilyn about eight years later, and became a serial killer sometime in adulthood (if only those newspapers by the dead bodies had a date). Talk about a horrific origin story.
Elise's fractured childhood
You'd never know it from her warm and empathetic demeanor, but our resident psychic guru Elise didn't exactly have a peachy childhood, either. Yet, unlike Parker, Elise didn't let her parent's demons become her own. We don't have exact timetables for Elise's age, either, but context clues in "The Last Key" tell us that she was a little girl in the 1950s.
Given that her family lived in a very haunted house by the prison where her father Gerald worked, Elise's gift to speak to the dead began early — and her father didn't like it. Between spirits and demons, Elise had trouble pinpointing the evil from the benevolent. One of Gerald's favorite past times involved locking her in the terrifying basement when she refused to hide her gift. Eerily enough, one of the entities in question was the red and black demon that would later haunt Dalton.
Demons feed on anger and fear, so it wasn't exactly difficult for the demon to con Elise into opening a red door, unleashing an evil that immediately killed her mother — leaving her and her brother alone at the hands of their monstrous father. It's unclear when their father started kidnapping and killing young women, but the entities in the house clearly exacerbated Gerald's own demons.
Years later, when Elise was 16, her father gaslit her into thinking that one of his victims was a ghost, causing her to leave behind her brother when she fled home, hoping to escape the father who insisted that no one could ever love her. Ouch.
Elise helps young Josh
Parker is all grown up and on his deathbed in the late '80s, but he's not quite done torturing the living just yet. As it turns out, Josh's mother, Lorraine, is a nurse, and she sometimes takes her son to the hospital. Both she and her son believe the old man is alive when he attacks Josh, but he's actually been dead for several days, and is likely trying to get into Josh's body.
It's safe to say that Parker didn't have much of a childhood. And in death, he wants another shot at his life. So, he begins haunting Josh in his Bride in Black disguise, inching closer and closer to the boy with every photograph his mother takes. As Josh dives deeper into the Further — a purgatory of sorts — Parker gets that much closer to taking over the young boy.
Shortly after, in 1986, Lorraine calls up Elise, who gives her usual spiel about Josh having astral projection powers. Instead of teaching him how to safely manage this "gift," she hypnotizes away his memory of it. Of course, that choice allows his own son to get overtaken by the affliction decades later. This particular method of handling Josh's powers doesn't make a whole lot of sense, given that he didn't understand them even when he was astral projecting. Getting hypnotized to repress something doesn't stop it from existing, so it's unclear how this was supposed to prevent Josh from getting haunted by Parker, or stop Josh from traveling in his dreams.
Elise retires (for a minute)
It seems like every aspect of Elise's life is under a black cloud, because her husband dies by suicide before the events of the third movie. In a desperate attempt to see him one last time, she ventures into the Further, where she meets Parker's charming spirit. Elise doesn't know his identity yet, but the Bride in Black promises to kill her someday. Elise isn't one to cower in the wake of a threat, but something about Parker really freaks her out. Which is understandable — the Bride in Black is pretty ghoulish.
With Elise's grief on top of the hopelessness of constantly getting haunted by evil entities, the now 70ish-year-old woman has had enough. She's adamant about staying retired, even when a grief-stricken teenager seeks Elise's help speaking to her deceased mother. Little do they know that it's not her mom doing the haunting.
If you or anyone you know is having suicidal thoughts, please call the National Suicide Prevention Lifeline by dialing 988 or by calling 1-800-273-TALK (8255)​.
Elise helps a haunted Quinn
As hard as she tries, Elise is physically incapable of turning her back on someone who needs her. Quinn's nasty ghost has waged a full-on war against the young girl, and she's on the brink of death. Between the ghost trying to throw her out a window and injuring every part of her body, Quinn is in mortal peril, and Elise knows it.
Except now, Elise has to share the spotlight with a goofy fake ghost-hunting crew called Spectral Sightings. With the help of Spec's notetaking and Tucker's tech, Elise works with them to take down the spirit of an evil man that lived in Quinn's building.
He doesn't go without a fight, though. Quinn's soul is trapped between the human world and the Further, allowing the evil entity to take over Quinn's body. Well, at least he heals the many broken bones he caused. Naturally, this means that Elise has to fight through her fear of seeing Parker's ghost in the Further to get Quinn's soul back in one piece. Unfortunately for Parker, he has to fulfill his deadly promise to Elise some other time. The film ends with Quinn back in her own body and seeing her mother's benevolent spirit for one last goodbye. For whatever reason, Elise is charmed by the ghost-hunting con artists, offering to go into business with him. Which we guess is understandable: Taking on the spirit world as a 70-year-old requires some assistance.
Elise comes home
There's no place like home — unless it's haunted by the memories of a painful childhood and, you know, actual ghosts. In "Insidious: The Last Key," Elise has a flashback dream, which is the first glimpse fans have of her childhood. Elise's backstory is interwoven throughout the film, toggling back and forth between past and present. But no one can outrun their past, not even Elise. The psychic gets a call from the very freaked-out new owner of her old house, and after speaking with her Spectral Sightings sidekicks, she decides to confront her trauma head-on.
After she assesses the situation, Elise reconnects with the brother she left in the dust when she ran away from home. He's not exactly thrilled to see her, but she leaves him a picture of the whistle that his mom gave him so that he can contact her if he's in trouble. Meanwhile, Elise communicates with a frightened ghost who leads her to a chained-up young woman hidden in the basement, courtesy of the home's new owner. But Elise isn't the only Rainier trying to make peace with her past. Elise's brother drags his daughters back to the house to find his whistle, which leads to Melissa's hospitalization, leaving her body at risk for supernatural habitation.
Naturally, Elise wants answers. With the help of the terrified ghost, Elise realizes that her father was a serial killer and had suitcases with the skulls of his victims hidden in a crawlspace. She's even more horrified when she uncovers the fact that the scared ghost Elise saw in the laundry room as a teenager wasn't a ghost at all, and she might have been able to save her.
The next generation of psychics
It's not abundantly clear if Elise's father is the one who influenced the new homeowner to kidnap the nurse, or if the demon influenced both troubled men. But given the fact that Elise, her mom, and her brother didn't become immoral and murderous while living in the house, both men had to have had a significant amount of darkness that the demons and spirits could latch onto.
The demon takes that opportunity to launch out of one of the suitcases in the scariest moment of the franchise, successfully dragging Elise into the Further. Once she realizes that the demon feeds off her anger toward her father, she's able to fight him off, only to call on her mom's spirit with the help of the whistle. Elise may be around 70 at this point, but you're never too old to need your mom — especially if you feel responsible for her death. Elise finally gets closure when she sees that her mom is at peace, and the two tag-team the demon.
Three generations of women unite to bury the past: Elise's mom, Elise herself, and Charlie's daughters, Melissa and Imogen. As it turns out, Imogen also has the gift, so Elise's legacy will carry on into the next generation. After one hell of a trip down memory lane (literally), Elise makes amends with Charlie. But that's not the end of this story.
Dalton goes into the Further
Josh is all grown up with a family of his own, but as we've seen before, supernatural gifts tend to run in families. Elise's choice to make Josh forget his astral projection gift prevents him from clocking the signs with his son. After a nasty fall in the attic, Josh's son Dalton winds up in a coma — which is anything but medical. Josh's wife, Renai (Rose Byrne), is at her wits' end when she thinks the house is haunted. Between seeing mysterious entities and objects moving around on their own, Renai is ready to bail on her new house.
Things come to a head when she hears a creepy voice on the baby monitor and fears that something wants to take her daughter Cali. Well, she's not wrong. Josh is skeptical until that night when alarms begin going off, and they see a figure by the baby's window. In a well-executed twist, Josh is actually the one making all of that ruckus. Time in the Further works differently, and we learn in "Insidious: Chapter 2" that Josh's Further-trapped spirit is the one to fight with the entity that wants his daughter's soul. As a result, he pushes the spirit out of the window. Cue "The Time Warp."
In a rare move for horror movie families, the Lamberts pack up and get the hell out of dodge. But the hauntings continue. It's not the house that's haunted. It's Dalton. (Cue dramatic sting.)
Fulfilling a deadly promise
At the end of "Insidious: The Last Key," we learn that Elise has a dream about Dalton falling off a ladder and getting sucked into the Further. She startles awake right before Lorraine calls to ask for help. And that brings us to her return to the Lambert family's aid. While Josh thinks she's off her rocker at first, seeing Dalton's drawings match up with her claims gets him on board to rescue his son from the Further. Josh finally remembers why he hates getting photographed, as his photos offered tangible evidence that he was haunted by the Bride in Black.
The stressed dad struggles to retrieve Dalton from the Further, and the red demon that Elise saw in her house as a child finally gets his grip on the boy. Eventually, Josh grabs Dalton and saves him from the Further, but his own fate is much darker.
Parker finally accomplishes his goal to take over Josh's body, as his mother's spirit (or at least the memory of it) goads him into reclaiming his serial killer status. Elise immediately knows something is wrong, and Josh's body is completely overtaken by the Bride in Black when Elise snaps a picture. Well, Josh isn't Josh anymore. But he still doesn't like photos. Parker finally makes good on his promise to kill Elise, strangling her while acting as the puppet master of Josh's body. Meanwhile, Josh's soul is held prisoner in the Further.
New dad, who dis?
When a cop asks you to explain the death of a psychic, it's probably best not to tell them that your son was kidnapped by demons in another reality, and a ghost killed the nice old lady in the morgue. Apparently, Renai didn't get that memo. On top of completely ignoring the fact that her husband is very much not acting like himself, Renai makes more than a few bad choices in the second film.
Meanwhile, much of "Insidious: Chapter 2" revolves around the group's efforts to uncover the history of the Bride in Black to understand what's going on with Josh. Specs and Tucker enlist the help of Karl, another psychic who helped Elise with Josh's predicament back in the '80s. As a group, they put the pieces of Parker's life together. So, how many people does it take to figure out that Josh is actually the Bride in Black? Too many.
Of course, an "Insidious" movie wouldn't feel right without an Elise cameo. Her spirit shows up to help Josh protect Cali in the past and figure out the key to defeating Parker. The time component of the Further continues to be unpredictable when an adult Josh visits his younger self during his stint in the Further. Little Josh shows Big Josh the door to the Bride in Black's memories. Apparently, that's the key to defeating Parker. After an epic showdown, Josh and Elise destroy both Parker's memory and his mother's spirit, so he can finally get back to his family.
Mending a broken family (for now)
The events of the second movie come full circle when Dalton goes back to the Further to retrieve his dad's spirit — paralleling his father saving him in the previous film. Time is running out, but both of the Lamberts manage to make it back to their bodies. The family is reunited, and Josh finally convinces Renai that it's really him. But this is a horror franchise, after all. The main characters have to make the same mistake twice to keep the horror coming. 
For some reason, Dalton and Josh decide to get hypnotized to forget the spirit world (again) — because that worked  so well  the first time. Karl is there to get the job done, but at least the Lambert women get to keep their memories intact in case it happens again (of course it's going to happen again). 
Apparently, Tucker and Specs aren't quite done with ghost hunting, even though neither of them possesses any kind of supernatural ability. Though they don't know it, when the ghost hunters take their next case involving a young girl with the psychic gift, Elise is there in spirit form. Naturally, the film leaves off with something terrifying Elise's spirit. It would seem not all is well in Whoville.
The Lamberts grow apart
"The Red Door" may be a direct sequel to "Insidious 2," but it doesn't exactly pick up right where that movie left off. Instead, the movie jumps forward in time 10 years and introduces a Lambert family that looks very different than they did a decade ago. Dalton is an adult getting ready to head off to college, Josh and Renai have divorced, and Josh's mother Lorraine has passed away.
As the movie gets going, the Lamberts are all at some of their lowest points. As if the divorce weren't bad enough, Josh and Dalton have grown distant from each other, and neither of them has the memories that would explain exactly what's happened to their family. Without those memories, Dalton is completely unprepared when The Further slips back into his life.
It starts with Dalton painting the red door in his art class. He still can't remember why that image is in his mind, but as it resurfaces, demonic energy follows. Dalton starts to realize that he can astral project himself into The Further, though he doesn't know what it is. He starts playing around with his psychic powers, completely unaware that he's inviting more evil into his life. Eventually, a phone call from his brother reminds Dalton of the time their father attacked them. Dalton doesn't realize that Josh was possessed at the time, but once the memory is sparked, he gets pulled into the demon's home in The Further.
Sealing the Red Door for good
While Dalton is at college unlocking his memories through painting, Josh is desperately trying to piece his own life back together. Ever since erasing his memories at the end of "Insidious 2," Josh has lived in a constant state of mental fog. That's a big part of why he's been distant from Dalton all these years. On his own time, Josh tries to remember what happened, but it isn't until Dalton paints the red door that Josh starts seeing signs of The Further appearing in his own life.
Josh's search leads him to uncover his father's tragic past, but since he still can't recover his own lost memories, he goes to Renai for help. She breaks down and basically explains the events of the first two "Insidious" movies to him. Renai didn't have her mind wiped, and trying to live with Josh while still having those painful memories is what ultimately eroded their marriage.
Now that he knows the truth, Josh realizes that Dalton is in extreme danger. In The Further, the demon has possessed Dalton's body, so Josh astral projects himself into the spirit realm in order to save his son. The demon chases Josh and Dalton as they run through the Red Door, and then Dalton seals the demon in its room by painting over the door. Josh and Dalton escape, and it looks like the Lamberts might be able to get their lives back on track. But a flickering light above the red door tells us that this story might not be over yet.
Advertisement
Subscriber-only Newsletter
Read Like the Wind
Ghost stories.
A collection of spooky short fiction by Edith Wharton and a historical nonfiction narrative about a woman who claimed to be haunted.
By Sadie Stein
Dear readers,
We all have our forms of escapism.
Whenever something very difficult has happened in my life, I have taken refuge in ghost stories. In the case of bereavement, the reasons seem clear enough; and maybe in every other case too — the possibility of the unexplainable can be a balm when the world itself feels beyond our understanding. October is designated haunting season, but the uncanny is perennial. There are almost too many ghost stories to choose from — Sarah Waters's "Affinity, " Marghanita Laski's"The Victorian Chaise-Longue" and Virago's peerless collection of ghost stories have all gotten me through a lot — but your time is valuable, so I'll limit myself here to two of my favorite comfort reads.
"Ghosts," by Edith Wharton
Fiction, 1937
Ghost Story
Host Tristan Redman is a seasoned journalist who doesn't believe in ghosts. But weird things happened in the bedroom he lived in as a teenager. When he discovers years later that subsequent occupants of the same house have been visited by the ghost of a faceless woman, he's curious. Because it just so happens that Tristan's childhood home is right next door to the house where his wife's great grandmother, Naomi Dancy, was murdered in 1937 – killed by two gunshots to the face. Could there be a connection between the...
Follow Ghost Story on the Wondery App or wherever you get your podcasts. Listen everywhere on October 23rd or you can binge ad-free on Wondery Plus starting the same day. Join Wondery Plus in the Wondery App or on Apple Podcasts.
All Episodes
Introducing: ghost story.
Follow Ghost Story on the Wondery App or wherever you get your podcasts. Listen everywhere on October 23rd or you can binge...
Wondery and Pineapple Street Studios present Ghost Story — a seven-part podcast series about family secrets, overwhelming coincidences and the things that come back to haunt us.
See Privacy Policy at https://art19.com/privacy and California Privacy Notice at https://art19.com/privacy#do-not-sell-my-info .
More from M-W
To save this word, you'll need to log in. Log In
Definition of insidious
Did you know.
insidious , sinister , or pernicious ?
Few would choose to be associated with people or things that are insidious , sinister , or pernicious ; all three of these words have decidedly unpleasant meanings, each with its own particular shade of nastiness.
Insidious comes from a Latin word for "ambush" ( insidiae ), which is fitting, as this word often carries the meanings "deceitful," "stealthy," or "harmful in an imperceptible fashion." The first two meanings may be applied to people or things ("an insidious enemy," "an insidious plot"), while the last is usually applied to things ("insidious problems," "insidious sexism"), in particular to the gradual progress of a disease ("an insidious malignancy").
Sinister comes from a Latin word meaning "on the left side, unlucky, inauspicious ." Although it is commonly used today in the sense "evil" ("a sinister cult leader"; "a sinister plot"), it may also suggest an ominous foreshadowing of some unfavorable turn of events ("a sinister omen").
Pernicious has largely stayed true to its etymological root, the Latin noun pernicies "ruin, destruction." Its original meaning in English, "highly injurious or destructive," usually applies to things ("pernicious apathy," "pernicious effects") and medical conditions ("pernicious fever," "pernicious anemia" ). When applied to people, pernicious means "wicked."
Examples of insidious in a Sentence
These examples are programmatically compiled from various online sources to illustrate current usage of the word 'insidious.' Any opinions expressed in the examples do not represent those of Merriam-Webster or its editors. Send us feedback about these examples.
Word History
Latin insidiosus , from insidiae ambush, from insidēre to sit in, sit on, from in- + sedēre to sit — more at sit
1545, in the meaning defined at sense 2a
Articles Related to insidious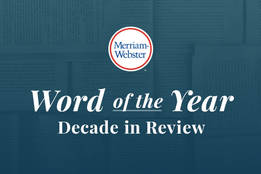 Words of the Year: A Decade in Review
Let's take a look at a decade in words.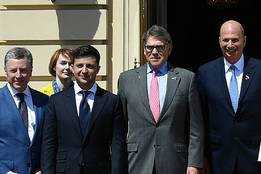 Trending: Sondland: Ukraine Effort...
Trending: Sondland: Ukraine Effort 'Insidious'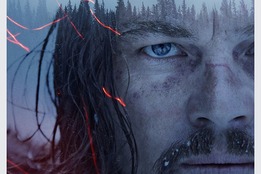 Red Carpet Words: Our Top 7...
Red Carpet Words: Our Top 7 Movie-Related Word Trends
Get ready for your close-up, 'revenant'
Dictionary Entries Near insidious
Cite this entry.
"Insidious." Merriam-Webster.com Dictionary , Merriam-Webster, https://www.merriam-webster.com/dictionary/insidious. Accessed 18 Oct. 2023.
Kids Definition
Kids definition of insidious, medical definition, medical definition of insidious, more from merriam-webster on insidious.
Thesaurus: All synonyms and antonyms for insidious
Nglish: Translation of insidious for Spanish Speakers
Britannica English: Translation of insidious for Arabic Speakers
Subscribe to America's largest dictionary and get thousands more definitions and advanced search—ad free!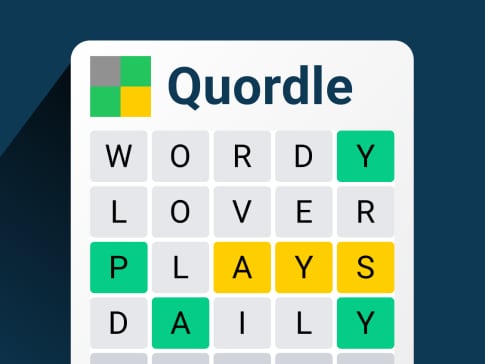 Can you solve 4 words at once?
Word of the day.
See Definitions and Examples »
Get Word of the Day daily email!
Games & Quizzes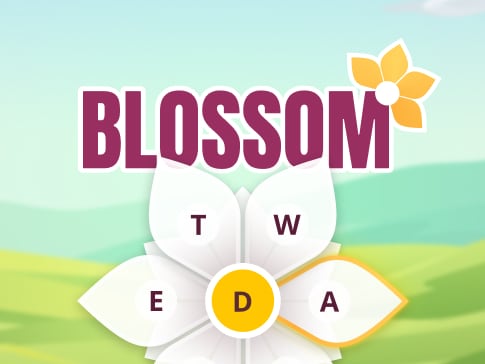 Skip to main content
Keyboard shortcuts for audio player
Music Interviews
Welsh musician ren's new album 'sick boi' is rooted in medical pain.
Ayesha Rascoe
NPR's Ayesha Rascoe asks musician Ren Gill, known simply as "Ren," about his new album, "Sick Boi."
REN GILL: I wake up. I take a bunch of medication. I go to the doctor's five days a week to get IVs.
AYESHA RASCOE, HOST:
That's Ren Gill. He has a number of chronic health problems. As the rapper Ren, he delves into the agony of his struggles on a new album called "Sick Boi."
(SOUNDBITE OF SONG, "SEVEN SINS")
GILL: (Rapping) I lay broken on the kitchen floor. I clawed at the laminate. Pain wandered my body - an uninvited guest. Bones of a home where the devil could rest. I cursed the gods, cursed my messiah, cursed my maker. I cursed all of creation. There I lay, feeble and thin, sick boi, sick boi, seven my sins.
RASCOE: Ren says his pain can be a gift.
GILL: It's a decision, at the end of the day. Like, I can either decide that this is the worst thing that could happen to me, and I can start pitying myself. Or I can go, OK, this has given me a perspective that most people don't have, and I can take that perspective and I can alchemize it, and I can turn that into music. I mean, after a while, you just adapt. And you're like, well, if I'm going to keep being the victim of this story, my life's not going to be a happy story. So you've got to take it, and you've got to change it into something that makes you feel like you're in control. Like, it helps you. It helps form the character that you are.
GILL: (Rapping) Pain that twists you, the heavens dismiss you. The Father, the Ghost, and the Holy Son.
RASCOE: You make many references to God in your music, and it seems like the illnesses you describe in your music aren't just medical, but maybe they're spiritual. Is that some of what you're delving into?
GILL: Yeah, I've always had quite a turbulent relationship with my idea of God. Obviously, because if you're waking up and your body's in pain every day, there's a lot of questions, do you know what I mean? So you want answers, and sometimes they're not right in front of you. So you have to create them for yourself. So I love the mythology behind a lot of different religions. I love diving into the stories 'cause I think there's a lot of powerful meanings that we can extract from them, and it helps me try and piece together whatever the hell I think that this weird thing called existence is all about, you know?
RASCOE: Is there a song on the album that you feel like exemplifies that to you?
GILL: The track called "Lost All Faith," which is actually a metaphor for losing faith in the medical industry, where you feel like you're not getting the answers or justification for something that's causing you a lot of suffering.
(SOUNDBITE OF SONG, "LOST ALL FAITH")
GILL: (Rapping) Oi (ph), I'm a charming fella. I like drinking cans of Stella. See, I'm living for the weekend, bad kebabs and salmonella. Cinderella story, rags to riches, spin it full propeller. I'm Nigella Lawson, stacking mozzarella. Only joking. I'm an introvert, alone inside my room because my insides hurt. I contemplate existence with consistence in my polo shirt then reassert my confidence with compliments I don't deserve. I calm my nerves by plotting for the day that I might leave this Earth.
RASCOE: I mean, you know, listening to your flow on this album, like, kind of calls back to earlier eras in hip-hop. I mean, I did think of battle rap. Like, I hear that you are from a small village in Wales. So how did you find your way to rap music?
GILL: (Laughter) Yes, it's a strange place to start, isn't it? I don't know. From a very early age, I just became obsessed with hip-hop and with drum and bass, as well. And obviously, growing up in a small village, there was nobody who was doing it. And I wanted to be a producer. So I'd sit at home making loads of beats and stuff? And I was like - being like, all right, mate, do you rap? And, like, nobody rapped, so I could never find anyone to do it. So I just started doing it myself. And when I first started, I was pretty terrible, I'm not going to lie. And I just - I was just persistent.
(SOUNDBITE OF SONG, "WHAT YOU WANT")
GILL: (Singing) I got what you want. I got what you need. Old-school kicks with a new school twist banging on my MP3.
RASCOE: Who were some of the people that you loved to listen to?
GILL: Back in those early days, man, it was, like, a lot of old-school stuff. Like, I really liked all, like, Tribe Called Quest, KRS-One, early Eminem stuff. I mean, one of the first albums that I bought was "2001" by Dr. Dre. And I just - there was the beats on that - particularly, I loved the beats on that. And then a lot of U.K. artists like Plan B, Dizzee Rascal, Ghetts and Skepta and stuff like that. It's just - yeah, all sorts of stuff.
RASCOE: You really seem to value, like, just telling stories, narratives.
(SOUNDBITE OF SONG, "MONEY GAME, PT. 3")
GILL: (Rapping) Let me tell you a story about a boy named Jimmy. One years old, and his first words were mine, mine, gimme (ph). Two years old, he was walking; 3 years old, walking quickly; 4 years old, he was running around the pavements of his city. Five years old, and his daddy told him, listen here, son. You got to learn to be a man, a man, he works for what he want. Six years old...
RASCOE: Who is Jimmy, and what does he represent?
GILL: Well, OK, the thing for me that I think movies do amazingly - right? - movies will create a whole character, make you emotionally invested in them, maybe more emotionally invested in those fictional characters than you are in characters in your real life - the movies like "Scarface" or the series like "Breaking Bad," where you have this story of, like, innocence to corruption, to the point where you almost emphasize with the protagonist, right? You almost feel like you're on that journey so you can see all the steps that happened that made that person end up into a life of corruption. And I hadn't seen that done in music very much. So for that song, I was like, you know what? I want to do the same thing. I want to create a character, and I want to start at the very start, at the moment of innocence, and I want to tell his story from the moment so that everyone can see the little steps that brought him to a life of corruption, a life of misery. And, yeah, it was a really exciting challenge. I thought I'd have a go at it.
GILL: (Rapping) Twenty-three - a life of luxury, crystal and cocaine. Twenty-four - he makes the Forbes list, they're applauding his name. Twenty-five, and his daddy told him, listen here, son. While you are sitting in that palace, that don't mean that you won.
RASCOE: What happens to him at the end of your song?
GILL: You're going to have to listen to it to find out. I can't spoil the ending. That'd be, like, telling you what happens at the end of "Breaking Bad."
RASCOE: You don't want to say. OK.
GILL: Yeah, 'cause if I just tell you the end, if I just give you the pudding without having the main course, then it's going to ruin the meal, do you know what I mean? So you've got to listen to the end.
RASCOE: Your album, you know, it really bares a political conscience that seems to criticize some of the darker aspects of human nature, like greed and pride and envy. I'm talking to you as there are major wars going on, raging right now. What do you hope people around the world will take from your music at this moment?
GILL: What I would hope is to just inspire a point of mediation, because I think there's so much hyper-polarization in the world at the moment. There's so many people in echo chambers with their hands over their ears, shouting at each other and not listening to each other. And all that does is push us further apart. And it doesn't matter what the viewpoint is on either the left or the right, or what even the debate topic is. The most insidious thing is that that division is happening in the first place, and we're not able to sit down, have a conversation that doesn't end up in even more division. Because topics that we're arguing about, really, at the end of the day, they're not going to matter if we become so divided that we can't even agree on how to progress as a species.
(SOUNDBITE OF MUSIC)
GILL: The human being - we're the most incredible species, and we've got so much - this potential. And I think sometimes we waste that potential when we don't try and figure things out and we bicker over things. What I'd really hope to inspire is just more open, compassionate and empathetic dialogue because I think the world's thirsty for it, man.
(SOUNDBITE OF SONG, "UNINVITED")
GILL: (Singing) It's a simple situation with an obvious equation - you and me collaborating for the night.
RASCOE: That's Welsh musician Ren talking about his new album, "Sick Boi." Thank you so much for joining us.
GILL: My pleasure. Thank you for having me.
GILL: (Singing) Came in uninvited, two planets colliding. I don't really like it being on my own.
Copyright © 2023 NPR. All rights reserved. Visit our website terms of use and permissions pages at www.npr.org for further information.
NPR transcripts are created on a rush deadline by an NPR contractor. This text may not be in its final form and may be updated or revised in the future. Accuracy and availability may vary. The authoritative record of NPR's programming is the audio record.
The main antagonists in Insidious
All items (13)