HOLIDAY SHIPPING
Nike Hypervenom Phantom 3 DF FG
MultiSelect: pick quantities of all variants in one go
Disable Multi Select
Product Details
The Nike Hypervenom Phantom 3 Dynamic Fit FG Men's Firm-Ground Soccer Cleat was created with the attacking goal scorer in mind. A player who has to change direction and strike when the perfect opportunity arises
Flywire technology provides increased support from cables that wrap around the foot and adjust to every move.
Flyknit construction combines second skin fit with breathability. The boot becomes one with your foot.
Dynamic-Fit technology integrates your foot and ankle with a sock-like fit over the ankle.
HyperReactive sole plate features a section of the forefoot which is flexible yet stable, allowing you to change direction and cut past your opponent.
Added texture to the striking area improve speed and touch on the ball.
Unique stud pattern allows for incredible traction, acceleration, and stopping power.
Asymmetrical lacing system increases the contact area for pure striking.
Firm Ground cleats provide exceptional grip on short-grass fields that may be slightly wet.
The Nike Hypervenom Phantom 3 DF FG - Available today at WeGotSoccer!
Coming soon.
Estimated Arrival:
If you would like to be notified when the product arrives just fill out the info below!
Thank you! We will notify you as soon as we have inventory.
SIGN UP FOR SPECIAL OFFERS
You'll receive info about the newest releases, deals and exclusive offers.
Login or Create Account
My WGS Rewards
Shopping Cart
Place a Return
Forgot Password?
Customer Service
Contact Info
Store Hours
Return Policy
About WeGotSoccer
In The Community
Team Uniform Inquiry
Soccer Shoes
Replica Jerseys
Nike Alliance Parka II
Nike Mercurial
Nike Tiempo
Nike Phantom GT
adidas Predator
adidas COPA
WeGotSoccer is owned and operated by Arocam Sports headquartered in Taunton, Massachusetts. WeGotSoccer is the nation's premier destination for everything soccer - available through our beautiful retail stores or on-line at WeGotSoccer.com. For over 25 years we have prided ourselves on delivering the very finest soccer shopping experience to all our customers both here in our backyard of New England and across the nation. The creation of our on-line EZ Kit Uniform ordering process provides our Team customers the easiest and most customer friendly ordering experience in the industry - this coupled with our recent expansion into a new 88,000 square feet production and distribution facility positions us to continue to provide the very best experience for our customers.
Retail Store Information   |   Returns   |   Jobs   |   Privacy Policy   |   Terms and Conditions Affiliate Program -->
WeGotSoccer Wrentham, 15 Ledgeview Way | Wrentham, MA 02093
WeGotSoccer Jacksonville, REOPENING SOON at 405 Durbin Pavilion Dr | St. Johns, FL 32259
WeGotSoccer Carlsbad, 5617 Paseo Del Norte | Carlsbad, CA 92008
WeGotSoccer San Diego, 3755 Murphy Canyon Rd, Suite K | San Diego, CA 92123
WeGotSoccer Tampa, 4507 Gunn Hwy | Tampa, FL 33624
© 1999 - 2023 WeGotSoccer All Rights Reserved
Team Uniforms - EZ Kit FAQ/Return Policy
Due to the customization of uniform kit purchases, payment is collected immediately
Orders may be adjusted or canceled within 24 hours of the order confirmation. Please call customer service with any adjustment requests
Selection of expedited shipping will only expedite the time in transit, it does not impact the processing time of uniform kit orders or customized items
Your uniform kit is selected specifically by your organization, modifications at your request cannot be made to alter the look or components of the uniform kit
Customized items are considered final sale items and may not be returned or exchanged. This includes any item with an organization's logo, player name or number
Non-custom items in your uniform kit may be exchanged for in-stock sizes, Please follow the 2-step exchange process below:
Step 1: Place an order for the new non-custom item within your organizations ordering page
Step 2: To return the non-custom item(s) that did not fit, email [email protected] for your return authorization. Once the returned item(s) has been received we will issue a refund to your original form of payment
Step 2 cannot be processed if Step 1 is not complete
The return of non-returnable/non-exchangeable items, without adhering to the stated policy will be returned to the customer with a $9.99 service and shipment fee to the original form of payment
EZ KIT Processing Information
The current processing time on custom orders is approximately 1-3 weeks for in-stock products.
Please note, orders will not begin to process until late June upon product arrival from the manufacturer. Orders are currently taking 2-3 weeks once they go into process.
Orders containing a back-order will ship in multiple shipments
Uniform Kit items are final sale, please select sizes carefully
Selection of expedited shipping will not change the processing time, only the time in transit
EZ KIT Limited Edition Processing Information
The current processing time on uniform/custom orders is approximately 1-3 weeks for in-stock products.
WEGOTSOCCER REWARDS CLUB
Enter your club's code at checkout to gain FREE lifetime entry into the WeGotSoccer rewards program. Membership benefits include:
10% off of all regular and clearance price merchandise. 10% off your favorite jerseys, uniforms or those new cleats you've been dreaming of.
EXCLUSIVE BENEFITS
On top of the savings, you will get access to special events, product promotions and exclusive discounts.
Product Delays and How They Impact Your Order
Turnaround times on your order may continue to be affected by the ongoing global supply chain delays we are all experiencing due to the Covid-19 Pandemic. While we have seen improved delivery from our suppliers with some items, a good deal of the products we rely on to fill your order are manufactured overseas and those delays are expected to continue well into 2023. This, combined with workplace shortages attributed to the most recent variant of the virus, keeps it a challenge to ensure the most timely turnaround of your order.
We are committed to delivering the best possible service we can and want to provide as much transparency as possible as we navigate the ongoing reality of our world and marketplace. Thank you in advance for your patience and willingness to allow us to do the best job we can to keep you on the field, geared up and playing the sport we all love.
Nike Hypervenom Phantom III Dynamic Fit Tech Craft FG - Black/Electric Green/Sequoia
Nike hypervenom phantom iii dynamic fit tech craft fg - black/electric green/sequoia black/electric green/sequoia, cleat class - elite.
Ground Type Guide Selecting the correct sole plate for the surface you are playing on is crucial, not only for the performance and longevity of your cleats, but also to avoid the risk of injury. Using an outsole that isn't designed specifically for the surface on which you are playing may cause premature wear and/or damage that will not be deemed as a fault of manufacture and will prevent the retailer accepting them for a refund or exchange.
Firm Ground Cleats with Firm Ground soleplates are only to be used on natural short-grass surfaces that is firm underfoot but may be slightly wet. Designed specifically for this playing surface, they offer acceleration, comfort and enhanced traction, dispersing stud pressure evenly across the foot. FG soleplates are fixed (not removable) and are used worldwide; wetter countries tend to use them spring to autumn. FG cleats are not to be used on artificial ground (AG) surfaces as the construction is not designed for the extra friction. FG cleats used on AG surfaces will invalidate the manufacturer's warranty.
Order Status
Dispatch and Delivery
Privacy Policy
Terms of Sale
Terms of Use
Send Us Feedback
Popular Search Terms
Top Suggestions
Nike Jr. Hypervenom Phantom III Academy Dynamic Fit FG
Younger/older kids' firm-ground football boot.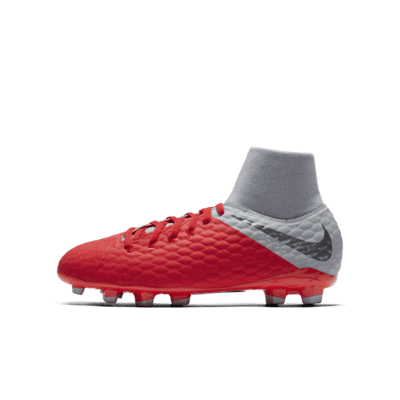 The Nike Jr. Hypervenom Phantom III Academy Younger/Older Kids' Firm-Ground Football Boot is designed for opportunistic goal scorers. It features durable, sock-like comfort and an expanded strike zone for deadly finishing.
Colour Shown: Light Crimson/Wolf Grey/Metallic Silver/Metallic Dark Grey
Style: AH7287-600
Reviews (2)
Write a Review
Recommended buy
Alocky000 - 15 Sept 2020
Great boot, snug fit more comfortable than traditional leather style
Kids Soccer Boots
Westyy - 22 Dec 2019
Offset laces and padded kicking surface make this one of the best feature boots for soccer
More Reviews
DEADLY FINISHING
Dynamic Fit collar wraps your ankle for sock-like comfort
Allover texture across the upper enhances touch and durability
Asymmetrical lacing creates an expanded strike zone
Removable foam sockliner provides lightweight cushioning
Lightweight cables interact with the laces to lock down your foot when moving side to side
Firm-ground (FG) studs for use on short-grass pitches
Country/Region of Origin: Indonesia
Firm Ground Cleats
Artificial Ground Cleats
Multi Ground
Indoor Shoes
Running Shoes
X Speedflow
X SpeedPortal
Field Player Gloves
Compression Gear
Sports Bras
Training Jackets
Training Jerseys
Training Pants
Training Shorts
Training Socks
Referee Gear
Atletico Madrid
Arsenal F.C.
Borussia Dortmund
C.F. Pachuca
C.F. Monterrey
Chivas de Guadalajara
Club America
Dorados de Sinaloa
FC Barcelona
FC Bayern Munich
Inter Milan
Manchester United
Manchester City
Olympique Marseille
Paris Saint-Germain F.C.
Pumas (UNAM)
PSV Eindhoven
Real Madrid
Santos Laguna
Tigres UANL
Tottenham Hotspur
Xolos de Tijuana
El Salvador
Ivory Coast
Netherlands
South Korea
Switzerland
Patches & Badges
Guard Stays
Running Vest
Shin Guards
Duffel Bags
Official Match Balls
Futsal Balls
Match Balls
Training Balls
Size 5 Balls
Size 4 Balls
Size 3 Balls
Size 1 Balls
Free Shipping on Orders $99+
Quick pickup, worldwide shipping.
Nike Men's Hypervenom Phantom III FG White/Black/Photo Blue
The Men's Nike Hypervenom Phantom III (FG) Firm-Ground Football Boot is the first low-top boot constructed with a full Flyknit upper. It features dynamic Flywire cables for lateral lockdown, and a plate with thin forefoot flex zones for agile movement.
Azteca Soccer has been serving the Southern California soccer community since 1979 with two locations. Our online shop offers a wide variety of items at the most competitive prices, including the latest releases in cleats, apparel and equipment.
Shipping Policy
Refund Policy
Start a Return
Military & Govt. Discount
AfterPay FAQ's
Price Match Policy
Privacy Policy
Terms of Service
Do not sell my personal information
Send us a message, we're happy to help!