Search all Sheet Music...
• ACT ONE •
At an auction of opera memorabilia at the Paris Opera House, an old man, Raoul, Vicomte de Chagny, bids for a strange musical box which seems to hold for him some special memory. The remnants of a chandelier are revealed and we are swept back to the time of Raoul's youth, when the chandelier hung in splendour from the dome of the Opera House.
A new opera, Hannibal, is in rehearsal. Lefèvre, manager of the Opera House, arrives and explains to the company that he is retiring. He introduces the new managers, André and Firmin. André asks the prima donna, Carlotta, to sing, but a backdrop falls suddenly from the flies, almost killing her. There are murmurs among the company that it must have been the work of 'the ghost'. Carlotta storms out, leaving the new production without a star. The new managers learn that there have been too many accidents. Madame Giry, the ballet mistress, hands the managers a note from 'the opera ghost' demanding a salary and a free box at the opera. Meg, Madame Giry's daughter, suggests to André and Firmin that her friend and fellow dancer Christine Daaé could take Carlotta's place. Christine has been taking singing lessons, but is unable (or unwilling) to say from whom. The managers grant her an audition.
Audition and performance merge and, from the managers' box, the young Raoul, patron of the Opera House, voices his enthusiasm for the new star. After the Gala, Meg asks Christine about her mysterious teacher, but Christine can only tell Meg that he is the Angel of Music whom her late father had always promised would one day visit her. Christine's performance is met with unanimous approval and Raoul goes backstage to congratulate her. The meeting becomes a reunion, both realising that they used to play together as children. As soon as Christine is alone, a figure appears behind the mirror. It is The Phantom, the teacher whom she has never seen – her Angel of Music. The Phantom draws Christine into the dark beyond the mirror and, when Raoul returns, the room is empty. Christine is led beneath the Opera House. They cross a lake and arrive at The Phantom's subterranean lair. The Phantom explains that he is a composer and she has been his inspiration. He is teaching her so that she can sing his music.
Christine falls into a trance, waking the following morning to the sound of the music box. Consumed with curiosity, Christine succeeds in uncovering The Phantom's face. His anger dissolves into self-pity and Christine feels herself almost reciprocating his affection. The Phantom agrees to return her to the outside world. Backstage at the Opera, Buquet, the flyman, catches sight of the two re-emerging from below. Madame Giry cautions him to hold his tongue.
Meanwhile the Opera has been thrown into confusion by Christine's disappearance. Everyone has received notes from The Phantom. The Phantom demands that Carlotta be replaced by Christine as leading lady in a forthcoming revival of the opera Il Muto. News arrives of Christine's return, but the managers assure Carlotta that no heed will be paid to The Phantom's demands.
The Phantom's voice is heard threatening 'a disaster beyond imagination'. Il Muto is performed with Christine cast in a silent role. The Phantom's voice reiterates his demands and, when these are ignored, he causes Carlotta to emit the croak of a frog instead of singing. As the indisposed prima donna is led away, André replaces her with Christine. But The Phantom is still much in evidence as the body of Buquet drops from the flies with a rope around his neck.
In the ensuing pandemonium Christine flees with Raoul to the safety of the roof of the Opera House. They agree to leave together that night. The Phantom emerges from his hiding place, where he has heard everything, and vows vengeance. As Christine and the cast take their bows, the chandelier crashes down from the ceiling.
• ACT TWO •
At a masked ball, all celebrate the New Year and the disappearance of The Phantom. Raoul and Christine have secretly become engaged. At the height of the festivities a strange figure descends the staircase. The Phantom has returned. He flings to André the score of his new opera, Don Juan Triumphant, commanding that it be performed. Backstage, Raoul interrogates Madame Giry about the identity of The Phantom. He is an escaped fairground freak – a physical monstrosity with a brilliant mind. Presumed dead, he in fact lives still, somewhere in the Opera House.
Raoul hits upon a scheme to ensnare The Phantom using his own opera as bait. If Christine agrees to sing the principal role, The Phantom is sure to attend. With the doors locked and guarded he will be unable to escape. Christine unhappily agrees to co-operate. The singers have immense difficulty learning the dissonant score, but their task is mysteriously facilitated when the piano magically takes over and the singers, mesmerised, begin to perform flawlessly.
Christine visits her father's grave. She knows that if she can free herself from his memory she will no longer be in thrall to The Phantom. The Phantom appears to her in the graveyard. His hypnotic influence, however, is broken when Raoul arrives on the scene. Enraged, The Phantom declares war on them both.
In the final scene of the opera, Christine becomes aware that The Phantom has taken the place of Piangi in the role of Don Juan. As her duet finishes, she tears the mask from his face. Surrounded by police, The Phantom is nevertheless able to escape, dragging Christine with him. The garrotted body of Piangi is revealed.
Madame Giry agrees to lead Raoul to The Phantom's lair. An angry mob follows. In the underground lair, Christine confronts The Phantom: his true disfigurement lies not in his face but in his soul. Raoul appears and The Phantom traps him. The Phantom offers Christine a bizarre choice: she must either stay with him forever or see Raoul killed. The mob drawing ever closer, The Phantom relents and orders them both to go. The mob descends towards the lair, but all that remains of The Phantom is a white mask.
See all city libraries
See all college libraries
Account Questions
Ask a Librarian
Catalog & Account Help
Get a Library Card
Give us Feedback
Suggest a Purchase
Log In / Register
My Library Dashboard
My Borrowing
Checked Out
Borrowing History
ILL Requests
My Collections
For Later Shelf
Completed Shelf
In Progress Shelf
My Settings
Get Curious About the Gothic Classics: The Phantom of the Opera
The Phantom of the Opera (1910)
Readers who are primarily familiar with Andrew Lloyd Webber's sweeping, swooning musical might be surprised to see The Phantom of the Opera suggested for the spooky season.
However, the original novel by French journalist and mystery writer Gaston Leroux is both extravagant and macabre, inspired both by rumors of a specter haunting the Palais Garnier and a real chandelier disaster .
Leroux describes his titular Phantom as a "living skeleton," a wraithlike figure in dress clothes who smells like death and wears a full mask to cover a face that looks like a skull. He's also a genius with the voice of an angel. And, unlike Dracula or Frankenstein's monster , he has no magical powers or origin—he is simply a dangerous, tortured man.
As he laments to voice-student-turned-captor, Christine Daaé:
"If I am the phantom, it is because man's hatred has made me so. If I am to be saved it is because your love redeems me."
Perhaps his pleas for Christine's love would elicit more sympathy if he hadn't just, you know, kidnapped her to his lair five stories beneath the Opera. And if he weren't a murderer. But, ah, c'est la vie. Or at least, such is gothic horror.
What Makes These Catacombs Worth Exploring?
The Phantom of the Opera is distinct among horror classics because of its surprisingly complex heroine, Christine. At turns naïve and manipulative, Christine is a damsel in distress who ultimately saves herself through one small act of compassion.
The novel is also truly weird and chock full of music, masked balls and drama. Why not go along for the ride?
Find The Phantom of the Opera i n our collection! (You might also want to check out the fantastic David Coward translation , opens a new window .)  
The Phantom of the Opera
Based on the Novel: Movies, Musicals and More  
The Phantom Of The Opera
The Phantom of the Opera at the Royal Albert Hall
Powered by BiblioCommons.
BiblioWeb: webapp01 Version 4.14.1 Last updated 2023/10/03 12:27
International edition
Australia edition
Europe edition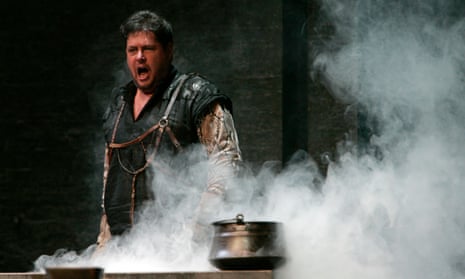 Stephen Gould obituary
In the summer of 2022 the American singer Stephen Gould was undertaking not just one but three taxing heldentenor roles at the Bayreuth festival: Tannhäuser, Tristan and Siegfried (in Götterdämmerung) with characteristic dependability. Invited back to the festival the following year, he had just entered the rehearsal period when he had to withdraw on health grounds. A fortnight after announcing his diagnosis, he has died aged 61 of bile duct cancer.
Gould was renowned for his apparent tirelessness on stage: however demanding the role he always seemed to have fuel to spare in the tank. But no less remarkable was the fact that he made his effective operatic debut (discounting a brief spell with the Lyric Opera of Chicago's Centre for American Artists) as late as 2000, in his late 30s.
For 10 years prior to this he had been making his living as a cast member of Andrew Lloyd Webber's Phantom of the Opera on a long-running US tour: he sang neither the Phantom nor Raoul, he told interviewers, but "almost every other male role" in the musical.
Close study for a couple of years with the singer and voice teacher John Fiorito, who steered him towards the German repertory, persuaded him to undertake in 1999 an audition tour in Europe, as a result of which the Linz Opera in Austria offered him the role of Florestan in Fidelio, which opened the following January.
His first big Wagner role was Tannhäuser (Linz, 2002), an unusual place to start, as he later admitted, but he attributed his success with it to his intensive study with Fiorito and the thorough grounding offered by a provincial theatre such as Linz, with rehearsals over a period of months.
It was in the role of Tannhäuser that he made his successful Bayreuth debut in 2004, though when he returned in 2006 to do Siegfried he considered himself insufficiently prepared for the different demands it makes. He nevertheless appeared again in the role in 2007 and 2008 and then every year from 2015 until 2022 (except 2020 when the festival was suspended), in various roles.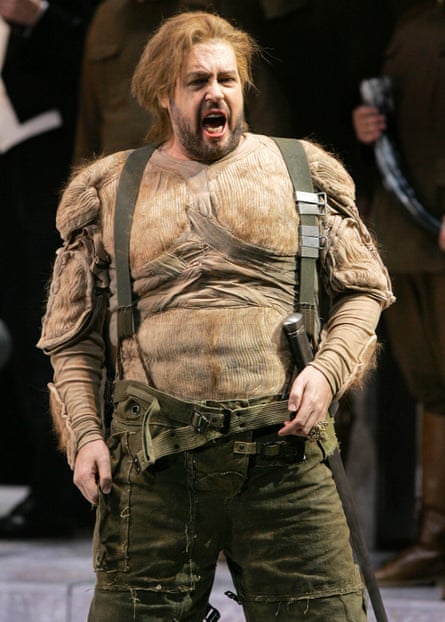 His performances were characterised, at their best, by the baritonal heft of his voice, a robust but attractive tone and a thrillingly heroic delivery.
His working relationship with conductors could greatly affect the quality of tonal nuance: there was a marked improvement, for example, in his Bayreuth Tristan of 2016 over the previous year as a result of further sustained work on the part with Christian Thielemann .
Considering his regular Bayreuth successes (some 100 performances over a period of 19 years), his many appearances at the Vienna State Opera (more than 100 in a variety of roles) and his reputation as one of the world's leading Wagner tenors, it is something of a mystery that Gould appeared only twice at the Met – once as Erik in a run of Der Fliegende Holländer and as a cover for the Götterdämmerung Siegfried – and twice at Covent Garden – as Paul in Die Tote Stadt in 2009 and in Christof Loy's production of Tristan und Isolde in 2014).
Born in Roanoke, Virginia, he was the son of Loren Gould, a Nazarene minister in the Wesleyan Methodist tradition, and Annie (nee Brown), a concert pianist. He studied, initially as a baritone, at the New England Conservatory of Music in Boston with John Moriarty, graduating in 1984.
As a member of the training programme at the Lyric Opera, Chicago, he got a break when he stood in at short notice for Chris Merritt in Rossini's Tancredi at the Los Angeles Opera. According to contemporary accounts, he more than held his own in the big Act II duet with Marilyn Horne in the title role, but it was not repertory in which he felt comfortable. Hence his auditioning for Phantom of the Opera, which he did more or less on a whim, but with consequences for the following decade. In that time he calculated that he had given more than 3,000 performances in musical theatre, mostly in Phantom.
In a career that took him to Berlin, Florence, Valencia and Tokyo, among other places, he specialised in Wagner roles, also undertaking those of Lohengrin, Siegmund and Parsifal. Non-Wagnerian roles in which he appeared, in addition to Florestan, included Peter Grimes, Otello, Bacchus in Ariadne auf Naxos, the Emperor in Die Frau ohne Schatten and Aeneas in Les Troyens – all roles in which his powerful tone and stamina served him well.
On the concert platform he sang the bass solo in Beethoven's Choral Symphony, the Missa Solemnis, Mahler's Symphony No 8, Das Lied von der Erde and Gurrelieder.
He once said that Wagner's work was "not entertainment: it's a meditation – a mantra". It's arguable that this philosophical approach was in part responsible for the frequently noted lack of mobility in his stage presence, a failing that he was able to overcome with the help of strong dramaturgical input from a director he respected.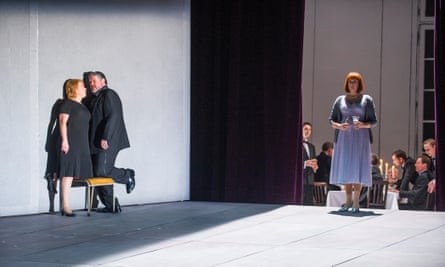 But it is a similar seriousness that characterises his penetrating thoughts on the major Wagner roles in a book, Performing Wagner, written with the assistance of F Peter Phillips, to be published next year. He speaks here on technical matters with the knowledge of one who has learnt from experience, advising singers of the need to "renew your own creative instincts again and again, while living with the voice in your body as it changes with time and circumstances".
An artist of "irrepressible curiosity", as Katharina Wagner, the director of the Bayreuth festival and a close friend, described him, he also offered valuable insights in the book into all the roles he sang. Tannhäuser, for example, he sees as on the road to "self-realisation": it is "only through death that Tannhäuser's soul and his circumstances will finally meet".
His idea of Tannhäuser as a social rebel enabled him to respond with alacrity to the concept of Tobias Kratzer in his last and most successful assumption of the role (Bayreuth, 2019–22). Here the distressed minstrel, dressed as a clown, is seen as an anarchist, existing outside society alongside a dwarf and a drag queen, having abandoned social norms.
Gould had been looking forward, in his 60s, to developing roles, especially that of Tristan. It was not to be, but there is a satisfying sense in which his career as a Wagnerian came full circle with a spectacularly successful Tannhäuser, the work with which it was launched two decades earlier.
Gould is survived by his sister, Roxanne, and niece, Nyssa.
Most viewed

Join StageAgent today and unlock amazing theatre resources and opportunities.
The Phantom of the Opera
Writers: Richard Stilgoe Andrew Lloyd Webber Charles Hart
Related Products
Useful Articles
Guide written by
Ellen Leslie
Cassidy McCleary
The Phantom of the Opera guide sections
Sign up today to unlock amazing theatre resources and opportunities.
Auditions & Jobs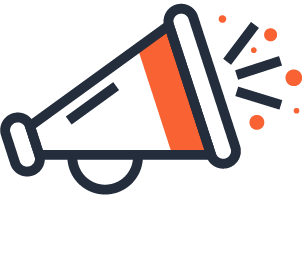 FROLIC New York, NY
New York, NY
The History of The Mystery of Edwin Drood New York, NY
It's A Wonderful Life: A Live Radio Play NY, NY
Half-Price Tickets
Jan 19 - Nov 9
Welcome To Greendale
Brooklyn, NY
Oops! This page is only accessible by StageAgent Pro members.
Take your performing arts career to the next level.
Gain full access to show guides, character breakdowns, auditions, monologues and more!
or log in to your account
You need a Pro account to access this feature.
UPGRADE TO PRO
or or log in to your account
The Phantom of the Opera
A young soprano becomes the obsession of a disfigured and murderous musical genius who lives beneath the Paris Opéra House. A young soprano becomes the obsession of a disfigured and murderous musical genius who lives beneath the Paris Opéra House. A young soprano becomes the obsession of a disfigured and murderous musical genius who lives beneath the Paris Opéra House.
Joel Schumacher
Gaston Leroux
Andrew Lloyd Webber
Gerard Butler
Emmy Rossum
Patrick Wilson
2.1K User reviews
149 Critic reviews
40 Metascore
See more at IMDbPro
7 wins & 42 nominations total
Carlotta's Maid
Carlotta's Wigmaker
All cast & crew
Production, box office & more at IMDbPro
More like this
Did you know
Trivia The doll in the Phantom's lair that is supposed to resemble Emmy Rossum is not actually a wax mold. It is Emmy Rossum. The production produced a mask of her face to use on the mannequin but when they put in the fake eyes it didn't look like her. She suggested to stand in as the mannequin instead. This was done by her being made up like a doll with waxy makeup on, and her standing very, very still.
Goofs When Raoul is on his way down the stairs to the Phantom's lair, he falls through a hole, down into a pit of water. Iron bars then lower from above, but since Raoul fell straight down into the water, it would be impossible for the bars to be there.
[as he leads Christine down the tunnels of the opera]
The Phantom : [sings] Sing once again with me our strange duet. / My power over you grows stronger yet. / And though you turn from me to glance behind, / The Phantom of the Opera is there, inside your mind.
Connections Featured in HBO First Look: The Phantom of the Opera (2004)
Soundtracks Auction at the Opera Populaire, 1919 (Prologue) Written by Andrew Lloyd Webber , Charles Hart , and Richard Stilgoe Performed by Patrick Wilson Produced by Andrew Lloyd Webber , Nigel Wright , Joel Schumacher , Simon Lee , and Guy de Villiers
User reviews 2.1K
emily_glenister
Dec 14, 2004
Everything New on Max in October
What is 'Phantom of the Opera' about?
Is this an opera?
What does "Hand at the level of your eyes" mean?
January 21, 2005 (United States)
United Kingdom
United States
Central Partnership (Russia)
Andrew Lloyd Webber's The Phantom of the Opera
London, England, UK
Warner Bros.
Odyssey Entertainment
Really Useful Films
See more company credits at IMDbPro
$70,000,000 (estimated)
$51,293,931
Dec 26, 2004
$154,674,241
Technical specs
Runtime 2 hours 23 minutes
Black and White
Dolby Digital
Related news
Contribute to this page.
See more gaps
Learn more about contributing
More to explore
Recently viewed
The Phantom of the Opera
Gaston leroux, everything you need for every book you read., carlotta quotes in the phantom of the opera.

Some claimed that it was a mark of immeasurable pride; others spoke of her saint-like modesty. Yet, as a rule, artists are rarely so modest; in truth I am rather tempted to ascribe her actions to sheer dread. Yes, I believe that Christine Daaé was frightened by what had just happened to her, and was as taken aback by it as everybody else around her. […] To suggest that Christine was taken aback or even frightened by her triumph is in fact an understatement: having reread the letter, I would say that she was terrified. Yes, yes, terrified. "I am no longer myself when I sing," she wrote.

Terror struck, followed by a general stampede. My intention here is not to revive the memory of that momentous event, for the curious reader can easily consult the accounts that appeared in the press at the time. Suffice it to say that many people were wounded and one died.
The chandelier had crashed upon the head of a poor woman who had come to the Opera that evening for the very first time in her life, and killed her instantly. She was the concierge whom Richard had chosen to replace Mme Giry, the Phantom's preferred attendant. The next day one of the headlines read: 'Two hundred thousand kilos hit concierge!' That was her sole obituary!
Carlotta Character Timeline in The Phantom of the Opera

Strange Way of Life + The Human Voice
Now Showing
Release date, accessibility, distributor.
Complete weekend showtimes are usually made available on Wed. for the upcoming Fri - Thurs.
Showtimes are coming soon! Tickets for this film are not yet available.
The Phantom of the Opera Cast & Creative
This lush romantic smash is Broadway's longest-running show.
This show is closed.
Performances ended on Apr. 16, 2023.
About The Phantom of the Opera
The longest-running show in Broadway history, Andrew Lloyd Webber's The Phantom of the Opera debuted in 1988, winning seven Tony Awards® including Best Musical. Based on Gaston Leroux's horror novel, it tells the enticing story of the Phantom, who haunts the stage of the Paris Opera and subsequently falls in love with a beautiful young soprano. Audiences are in for a thrilling night of spectacle and romance, accompanied by Broadway's most unforgettable score.
Broadway Shows
The Phantom of the Opera on Broadway
Cast & Creative