Pickens County Courthouse
Pickens County Courthouse in Carrollton, Pickens County, Alabama is currently a rebuilt courthouse after three times. It is reportedly haunted by a freed black slave—Henry Wells' ghost. The image of his face was naturally imprinted on a glass windowpane, due to a flash of lightening.
Background [ ]
The original Courthouse was built by the Confederate Army in 1830, after the County seat was moved from Pickensville to Carrollton. Pickens County was named after a Civil War hero named Andrew Pickens, and as a result, the county and the Town of Carrollton became a symbol of what the South could achieve. Due to this, the Unionist's burnt down the origional courthouse during 1865.
The Second Courthouse was built completely by volenteer's from the town (Since unionists had blocked off building resources to the town of carrollton). The People became even more proud of there new courthouse then they were of the last one since they had built it themselves. Only sixteen years later, the Second courthouse burnt down just like the first one had. Although it was not due to to the Unionist's, the second burning was thought to be a case of arson. Police decided that it was the result of a burglary gone wrong, the town blamed the incident on a man named Henry Wells.
The Third courthouse was rebuilt quickly, and is still active today. the Town of Carrollton is very proud of its courthouse, If you commit a crime in Pickens County then chances are, court precedings will take place in Pickens County Courthouse (Witch is coveniantly right in the very centre of the county, Crimes witch you can be tried for include Drinking alchohol, since prohabition is still in place in Pickens County, Alabama).
Henry Wells [ ]
Henry Wells was a freed black slave, who lived just outside the town of Carrollton. He was often discriminated against because of his skin colour, which is why he did not spend much time outside his home, or inside the town. Rumours also started going around about wells, People started to believe that Wells was planning something against the town. People also started telling other people to stay away from wells because they thought that he carried a razor blade wherever he went, and attacked people on sight. Although this was not true at all, although Henry Wells was badly tempered and got into fights often. He was not particullary dangerous or malicious.
When the courthouse burnt down a second time, in 1878, People naturally blamed wells. People believed that Wells had planned to burgle the courthouse and that the burglary had gone wrong and so he burnt down the courhouse (Although most people agree nowadays, that the courthouse burnt down either by natural causes or as an accident). After the new courthouse had been built, wells was arrested, He was charged with Arson, Burglary, Carrying a concealed weapon and attempted murder (although there was not much evidence to support any of these charges). He was 'Detained' In the sheriff's office.
Word spread of Wells arrest and the townsfolk grew more and more angry at Wells, the town sheriff knew that it was only a matter of time before a mob formed, and it did. One very stormy night, a Mob of men (Many of whom were drunk) Gathered outside the courthouse. The Sheriff hid Wells in the attic of the courthouse and told him to stay there until the Mob had left. The Mob did not leave however and only grew, they were demanding Wells so that they could lynch him. Henry Wells eventualy grew tired of this and moved to the window of the attic that faced the mob, he shouted "I Am an innocent man, If you kill me, I will haunt you for the rest of your lives!". At that moment, a bolt of lightning struck the window pane and flashed the image of Wells's face onto the window pane he was behind.
The Mob eventually broke into the courthouse, they grabbed Wells and carried him outside, where they lynched him. The Image of Henry Well's face, that was imprinted into the glass by a flash of lightning, is still there today. People have tried to clean the glass before but the face will not leave, during a violent hail storm that broke most of the windows in the courthouse. The only Window that did not break was that with Well's face in it.
Hauntings [ ]
Along with the Windowpane oddity, Henry's Ghost haunts the Courthouse. Many people say that they can feel his presence or hear his voice. A Grey mist has also often been sighted.
1 The Sallie House
2 Amityville Horror House
3 Spedlins Tower
Research Haunted Places
The Haunted Pickens County Courthouse in Carrollton, Alabama
A haunted location: Pickens County Courthouse in Carrollton, Alabama.
Details: The original courthouse burned down and everyone blamed Henry Wells.
He was a rowdy man who lived out in the county.
He was arrested and locked in the attic of the new courthouse.
As a thunderstorm was rolling in, a mob gathered outside demanding that Wells be turned over to them.
As Wells peered through the garret window at the mob outside thirsty for his blood, a lightning bolt struck the window, killing Henry Wells.
Written by: Jessica Street
Published on: September 25, 2022
Table of Contents
Do You Know The Haunted History Of The Pickens County Courthouse?
It has been rumoured that the Pickens County Courthouse in Carrollton, Alabama is a haunted location. We'll explain why people think this below. Do you think the rumors are true?
Why Is The Pickens County Courthouse Haunted?
The original courthouse burned down and everyone blamed Henry Wells.
From the strong electrical discharge, Wells' face was etched into the glass.
No amount of cleaning has been able to remove the face from the pane of glass.
It is still there today at the Pickens County Courthouse.
Do you love haunted spots? Check out other haunted places in Alabama below
Haunted Places In Alabama
Know Of A Haunted Place? Submit A Place Below
We're working on building the largest haunted database in the world. So we need people like you to help us document them.
Will you help us?
Submit A Place
View On Google Maps
What do you think about the haunted history of Pickens County Courthouse in Carrollton, Alabama?
Do you believe it's true?
We'd love to hear what you think in the comments below.
DISCLAIMER: We don't advocate that anyone goes here, this post is for informational purposes only.
Meet Jessica Street, a content creator at Scary HQ, a blog that delves into the world of the eerie and unexplained. Jessica is a true crime aficionado and an avid lover of all things terrifying. From true crime podcasts to horror movies, she devours anything related to the genre. But don't let her fascination with the macabre fool you, Jessica is a kind and compassionate individual with a heart of gold. In her free time, Jessica can be found exploring abandoned buildings, investigating local crime cases, and reading the latest crime novels. She's also a member of a local book club where they exclusively read true crime books. Her love for true crime and horror is matched only by her love for her audience, and she pours her heart and soul into every post on Scary HQ. Join Jessica on her journey as she uncovers the secrets of the scariest places and shares with you the stories that will keep you on the edge of your seat. With her sharp wit and unique perspective, Jessica is sure to make your experience at Scary HQ a wild and thrilling ride.
View all posts
Leave a Comment Cancel reply
Save my name, email, and website in this browser for the next time I comment.
The Haunted Old Public Library in Birmingham, Alabama
The haunted cry baby bridge in clanton, alabama.
Amanda just purchased Whispers Of The Past 20 Hours ago from Durham NC.

Hi, what are you looking for?
CVLT Nation
Avant Garde
Experimental
80s Hardcore
Hardcore Punk
Apocalyptic Blues
Black Death
Black Metal
Death Metal
Blackened Crust
Classic Punk
Power Violence
Graphic Design
Illustration
Mixed Media
Photography
CVLT Nation TV
Documentaries
Music Videos
Skateboarding
Social Justice
CVLT Nation Sessions
Seven Stories
The Haunting Face in the Alabama Courthouse Window

Pickens county, Alabama. Deep in the heart of the south, a newly constructed court house stands tall and proud as a beacon for the townsfolk as a symbol of the foundations of American justice. Once a symbol of pride for the town now is a beacon for a different reason, as it was engulfed in flames. Its light illuminated the old town on that fateful night in 1887. Men, women, and children all gathered to see courthouse, swallowed up in the bright red flame. Kerosene containers were found littered around the courthouse, and rumor began to spread amongst the townsfolk with one name coming to everyone's mind: Henry Wells. The sheriff of Carrollton knew of Wells unscrupulous record and concluded that if Wells did commit this crime, the reason was to destroy any documentation of his crimes that were housed in the courthouse. It wouldn't be until two years later Carrollton that would hear from Wells again.
Henry Wells, an African American man living in Carrollton, was said to be a lowlife with a mean temper. In the words of the late Charles Manson, he was a straight razor if you got too close. Rumor was Wells always carried that straight razor around in his pocket, and if you got too close to him on a bad night, he'd cut you quicker than look at you. Upon the townsfolk claiming Wells burned down the courthouse, he devised a plan to leave Carrollton, and went through with it. Wells carried around his homesickness like a weight all during his two-year absence. His heart yearned for the hot, humid Alabama summers where he spent his childhood. Playing with friends, swimming in the local creeks, and terrorizing the town as children often do. Most importantly though, he missed his grandmother. He wanted to apologize to her for all the wrongs he had committed during this time.
Wells made the journey back to Carrollton, believing his crimes would be forgotten at this time. As he walked through the center of the town, he saw a newly erected courthouse. A beautiful new building that outshined its predecessor. He looked up at a window near the very top of the building and felt as if the building and that window was mocking him. As if the building suddenly grew long, terrible claws that would trap Wells' soul there for all eternity.
Wells believed he could slip back into town undetected, but upon his arrival, someone saw him and reported it to the old town Sheriff. Rumors made their way all through the town, and the Sheriff had no choice but to investigate it. The sheriff, armed with the two-year-old warrant, went to the Wells' grandmother's home and informed him of his arrest in connection with the town arson. "Sheriff, I'll go with ya, but you know I ain't gonna get a fair trial in Carrollton. No black man can get a fair trial around here," Wells was nervous, which only made his southern drawl even more noticeable. "Henry, you see this badge? It means it is my duty to make sure you get a fair trial, despite your skin color." Wells, distrusting of the sheriff's promise, knew he had only one option, so he went with the sheriff in hopes that he would truly receive a fair trial. Despite his morally questionable character, Wells knew that even though he was no saint, his greatest crime was being a black man in Alabama.
Word began to spread that Wells was in the city jail, and a mob of men decided that the wheels of justice were moving too slow for their liking. They bore pitchforks and torches, made their way to the city jail, and demanded Wells face his crimes. The sheriff was a step ahead of the mob, and told everyone to go home, and that Wells was not here. The mob dissipated and reformed down the road. Jugs of whiskey and moonshine were passed around. "If they aren't keepin' that son of a bitch in the jail, I bet he's in the courthouse!" one man screamed. This reignited the mob, now fuelled by hatred and 90 proof whiskey, ran to the courthouse and broke down the door.
Wells stood in the garret room overlooking the town. The mob, illuminated by bright torches, quickly made their way to the front door of the court house. A loud crash of thunder filled Wells ears, and rain began to shower the town. Wells, helplessly staring out at the window as the mob began to fill the courthouse square, began to yell, "I am innocent, and if you kill me, I will haunt you forever!" That night, the mob crushed Henry Wells beneath the hammer of justice and beat him until he was an unrecognizable pile of gore. This, unfortunately, was the norm for many African Americans living the in the American south during this time period.
The next morning, one of the men in the mob walked passed the courthouse and looked up at the old garret window. A scream of terror erupted from his throat, as he yelled, "it's him! It's Henry Wells!" The men gathered in the court square and were haunted by what they saw. The face of Henry Wells stared over the town, as if he had ownership over the town and all who inhabited it. The sheriff went up to the room with a bucket of water and soap, and scrubbed so hard he almost broke the glass, yet the face remained.
This courthouse still stands today, and so does the face of Henry Wells, who despite cleaning, storms, window changes, and every other solution possible, still stares over his town. If you find yourself in the heart of Dixie near Carrollton, Alabama, stop by and say hello to Henry, because he will already be looking for you.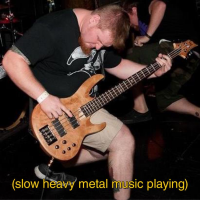 Lover of history, teacher of middle school children, banger of heads, reader of books, and interest in all things CVLT. I'm a recent transplant from Birmingham, AL to Seattle, WA where I live with my wife and our two fur-children: Thor and Buck. On a typical weekend, you can find us out exploring or hanging with friends, where I am SURE I am giving someone random facts about serial killers that they did not ask for. Some of my interests include Heavy metal, serial killers, historical biographies, fantasy role playing games, coffee, beer, and TV shows of white people renovating houses.

You May Also Like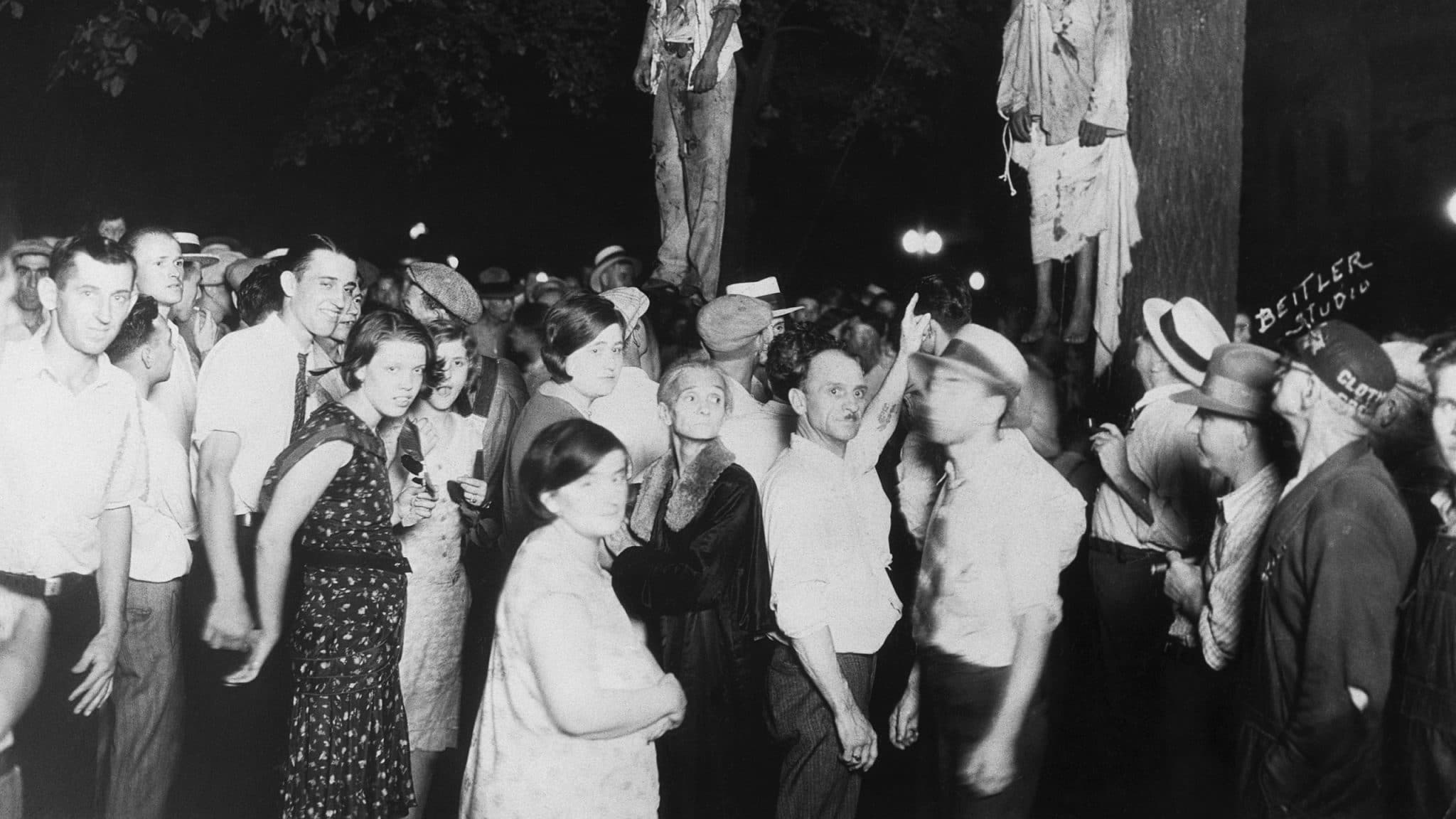 The Opposite of Poverty is Justice: How Racism has Corrupted the US Justice System
One of the main arguments of white supremacy is that the conditions we face today have no context in history. While white supremacy is...
When Lynchings were fun for the Whole Family
via Flashbak Even after the abolition of slavery in 1865, America's blacks were trapped. Nothing was equal. Whites had. Blacks had not. No more vivid picture...
American Terrorism… Lynching Postcards
Terrorism is defined as "the use of violence and intimidation in the pursuit of political aims." Western media likes to paint terrorists with a...
We Checked Out The 9 Most Terrifying Places In Alabama And They're Horrifying
Jennifer Young
More by this Author
There's no denying that Alabama has seen its fair share of ghosts. From haunted restaurants and scary hotels, to spooky battle sites and creepy ghost towns, there are many haunted places located throughout the state. Listed below are nine of the most haunted places in Alabama, and they're guaranteed to leave you with chills.
Have you been to any of these haunted places? For even more hauntings, check out our previous article: These 8 Disturbing Cemeteries In Alabama Will Give You Goosebumps .
OnlyInYourState may earn compensation through affiliate links in this article.
Want more Alabama in your inbox?
Get the latest on things to see, do, and eat around Alabama!
Thank you! You'll receive your first newsletter soon!
An error occured.
Related Articles
This Historic Hotel In Alabama Has A Haunting History That Won't Soon Be Forgotten
Stay Away From Alabama's Most Haunted Street After Dark Or You May Be Sorry
These 9 Haunted Cemeteries In Alabama Are Not For The Faint Of Heart
Stay The Night At One Of Alabama's Most Haunted Hotels If You Dare
There's Nothing More Terrifying Than These 10 Genuinely Haunted Places In Alabama
Here Are The 10 Best Places To Spot A Ghost In Alabama
This Haunted House In Alabama Will Terrify You In The Best Way
You'll Never Forget Your Stay At The Most Haunted Hotel In Alabama
Explore Alabama
Southern Ghost Stories
Pickens County Courthouse (the Face of Henry Wells) – Carrollton, Alabama
Posted on January 23, 2015
By belablack
In Alabama , Southern Ghost Stories
Leave a comment
History is what makes a cities character and government buildings are a major part of history.  Almost every city features sculptures and monuments but Carrollton's courthouse has something really special to add to it's character.  The Pickens County Courthouse in Carrollton has an unforgettable monument of freedom thanks to "The Lightning Portrait of Henry Wells."
All locals know the story of Wells.  Wells was a former slave and was accused of burning the old original Pickens County Courthouse to the ground.  Wells was arrested two-years later.  At the time of Well's arrest the courthouse had no jail cells and Wells was locked in the garret of the new courthouse.  A group of locals had caught wind that Wells had been arrested and created a mob just outside the courthouse.  The mob's intent was to lynch Wells but little did they know,  god had another plan in store for Mr. Wells. Wells heard the mob outside and peered out the garret window to see what was going on.  As Wells was peering out the window a bolt of lightning struck nearby and permanently etched the terrified expression of his face into a windowpane.  The spine-tingling bolt of lightning also broke up the lynch mob, saving Wells from immediate death. However, Wells met his death less than a couple of months later due to "wounds received while attempting to escape".  You don't have to be too smart to figure out what really happened there.
The photo etched by lightning can still be seen today but only from the outside. There is an arrow now bolted to the brick wall, three floors up, which directs you to the phenomenon of his face.
One local was quoted in saying that  "Through all the years, in spite of hail and storm, which has destroyed all the windows in the courthouse, this one pane has remained intact. It has been scrubbed with soap and rubbed with gasoline by those who doubt its permanence, but it has met every test and the face remains unchanged.  At close range the pane looks clear and flawless, but viewed from the ground where once gathered an angry mob, the fear-distorted face of Henry Wells can be clearly seen!".
The face is now over a century old and on the 130th anniversary of the "Face in the Window",  it passed without any type of recognition by the locals, apparenlty they don't find the face to be too flattering to their city, however others think it is indeed a remarkable phenomenon.  A clerk town said, "I don't think anybody took the time to realize that it's been 130 years".  "We just know it's there." The clerk also said that, regardless of reports they'd received from nervous tipsters, the Courthouse was never threatened with condemnation or demolition. As a matter of fact it was actually being renovated.  Carrollton would never demolish its most famous building, even if it is haunted by the curse of Henry Wells.
Local News Story of the historic window:
Haunted West High School - Anchorage, Alaska
Kennecott copper mines - alaska, recommended posts.
Marie Laveau,Voodoo Queen of New Orleans – Marie Catherine Laveau
The highway time travellers – abbeville, louisiana, the haunted room – hamlet, nc.
No comment yet, add your voice below!
Add a Comment Cancel reply
You must be logged in to post a comment.
Community FAQ
Membership Benefits
Community Guidelines
Terms and Conditions
Privacy Policy
Competitions Terms
Contribute to Us
Stronghold Crusader
Stronghold 2
CivCity Rome
Stronghold Legends
Stronghold Kingdoms
Stronghold 3
Stronghold Crusader 2
Stronghold Warlords
Walkthroughs
Troubleshoot Issues
Community Forums
Gaming Events
52 Weeks of Stronghold
Thru The Ages
Myths, Legends & Conspiracies
On This Day In History
History Quiz
Submit Image
All Submissions
Submit File
Download Statistics
Main Homepage
SHN Gallery & Images
SHN Downloads Section
History Through the Ages
Myths, Legends & Mysteries
Acre Fortress 4
Acre Fortress 3
Acre Fortress 2
Acre Fortress 1
Stronghold Warlords ...
The Pickens Courthouse Ghost
By Crusader1307
Sometimes referred to as " The Face in The Window", this strange Case and it's accompanying photograph is another Paranormal Classic. As the story goes, The Pickens County Courthouse is located in Carrollton, Alabama. The original building was badly damaged by Union Forces during The American Civil War. In need of a replacement, Townspeople set about building a new one in the 1870s. Enter poor Henry Wells. Henry was an ex-Slave still living in the racially charged Town. One night, the Old Courthouse caught fire and was burnt to the ground. Henry was seen in the area, and was naturally blamed. A fierce storm had just started when poor Henry wad pursued through the streets by an angry Lynch mob - eager to hang him. Taking refuge in the already completed basement of The New Courthouse, Henry lifted his head from his hiding spot to peer through the window. Suddenly, lighting bolt went through the window glass and struck Henry (turning him to a pile of ash and bone). However, Henry's face was "etched" into the pane of glass! Seen in both daylight and at night, "The Face" was a fixture in local legend until the glass wad replaced in the 1970s. However, although replaced (for some reason), Henry's "face" still appears! The original glass pane was examined several times. The glass is indeed 100 years old. As for the "image" it appears to have been electrically etched into the glass. Photos of "Henry" still surface from time to time.
Copyright © 2013 - 2023 Stronghold Nation.
Unauthorised Copying of any kind is strictly prohibited .
All rights, including images, downloads and articles are reserved.
Not Registered yet?
Sign in Faster
''Doll'' Hat
US M19 Multiple Gun ...
American Fiber Helme...
US Bell YFM ''Airacu...
Bergere Hat
US Grumman F4F ''Tig...
''Mad Minute''
The Silent Adventure
Modding Utilities
Archipelago
Tingis Valley
CivCity Rome Editor ...
Official AI Editor
STR2 The Throne's wa...
Journey of the Knigh...
About the Author
My Current Blog
Privacy Policy
Haunted Places
Historical Sites
Science Museums
Smaller Museums
National Forests
Scenic Drives
State Parks
Dams in Alabama
Military History
Plantations
Oldest Towns
The Best Kept Secrets
Alabama Agriculture
Little Known Facts
College Football in Alabama
The Beaches of Alabama
Auburn Day Trips
Birmingham Day Trips
Huntsville Day Trips
Montgomery Day Trips
Mobile Day Trips
Selma Day Trips
Tuskegee Day Trips
Tuscaloosa Day Trips
The Pickens County Courthouse Has A Very Strange Upper Window 
The Pickens County Courthouse is considered to be one of the most haunted places in the State of Alabama.
Located in Carrollton Alabama, it is about 35 miles west of Tuscaloosa, and it is the actual courthouse for the county.
It was originally built in the year 1878, and was the third courthouse in that city, and it has a very interesting story.
The reason for this story is quite simple; it has a ghostly image of a man in its upper window.
The Ghost Story of Pickens County Courthouse
The Ghost story of Pickens County Courthouse all centers on a "freedman" name Henry Wells and the burning of the second courthouse.
To set the stage for the story, it helps to understand some of the conditions and minds sets that existed in Carrollton Alabama at the time. 
This time frame was full of social as well as racial tensions in the South, and the town of Carrollton was no different.
The Civil War was over and the Federal Government had ended Reconstruction and pulled all of its troops out of the South.
In the State of Alabama, the Democrats had regained full control of the state Government, and one of the first things they did was to pass laws to impose "white supremacy".
Lynching was a very popular way for these groups to impose their own form of laws.
From the years 1877 through 1917, a total of 15 African Americans were reported to have been lynched in the county.
In fact, it has been reported that all of them were lynched in the courtyard of the Pickens County Courthouse, which adds some intrigue to the story.
Henry Wells was a "freedman", meaning he was a former slave that was released from slavery as a result of the war.
The common theme to this entire story goes like this.
The second courthouse was set on fire in the year 1876, and it was so bad, it destroyed the entire building.
This really upset that people in Carrollton, as the Union troops had ravaged their town and burned down the original Pickens County Courthouse in 1865, the last year of the war.
So they were mad as hell and seeking revenge for whoever did this.
As the citizens started to build the third courthouse in less than 12 years, they were looking for someone to blame.
Their frustrations soon turned toward Mr. Henry Wells.
Henry Wells was a former slave that was living at a time and in a place that had very little regard for ex-slaves.
However, he also had a history of getting into a lot of fights and according to the legend; he had just recently been on a series of burglaries.
Because of these facts, the white population naturally assumed that he was the one that had burned down the courthouse.
They came up with this reasoning because of two major facts.
The first was that he broke into the courthouse to rob it like he had other places, and then burned it down to cover his tracks.
The second reason was that he burned it down to hide any of the previous evidence against him, so he could not be charged with anything.
However, there was one major flaw with these two reasons; there was absolutely no evidence to back any of it up.
What Happened Next Is the Legend of Pickens County Courthouse
Regardless of these missing facts, Mr. Henry Wells was arrested and was taken to the newly finished courthouse to wait for his trial.
This is where this legend starts to get very interesting.
The Sheriff of the town at the time knew the history of the mob lynching's and tried to hide Henry Wells in the upper part of the Courthouse.
This is an important fact to this legend, as this is where the "haunted window" is located to this day.
The Sheriff was correct; the mob did show up just as he anticipated.
They began to scream and shout for the Sheriff to give Wells to them, and at this point, Henry Wells became absolutely terrified.
He went to this upper window and yelled out to the crowd the following: "I am innocent and if you hang me, I will always be here with you".
At that exact time, according to the legend, lightening stuck the courthouse.
The next day Henry Wells was found guilty of burning down the courthouse and was hung by the neck until he died.
The legend says that the moment he died, his face immediately surfaced in the new window in the upper part of the courthouse.
This image is still there to this day and can very easily be seen from certain angles.
However, the image can only be seen from the "outside of the building", not from the inside.
If you are on the inside looking out, there is nothing there.
The Alabama Historical Association erected a historic marker in 1974, that tells the story of Henry Wells and the Pickens County Courthouse.
There are also a set of permanent binoculars that have been installed directly across the street, for visitors that want to take a closer look at this image.
You might like these
Alabama Haunted Places
There are several Alabama Haunted Places too numerous to mention here, but there are ten that stand out more than the rest.
Sweetwater Mansion
The Sweetwater Mansion has several different strange stories about ghosts and apparitions, but it also has another unique story; the mystery room story.
Sloss Furnace Hauntings
The Sloss Furnace Hauntings are very real to anyone that has seen them, and if you have, they are something that you will never forget.
Prattvilles Lady in Black
Prattvilles Lady in Black is a lot more than just folklore to the people that live in the area and have visited the old gin.
Mythical Creatures
There have been numerous Mythical Creatures that have reported to been seen in the State of Alabama and on its backroads over the years, and to a lot people they are very, very real.
Ghosts of Fort Morgan
The Ghosts of Fort Morgan can still be seen and heard according to several witnesses, and if the legends are correct, there are more than just one.
Red Lady of Huntingdon College
The Red Lady of Huntingdon College is one of the most famous of all the Alabama haunted places.
Boyington Oak
The Boyington Oak is a very strange oak tree that is growing from a cemetery in Mobile Alabama, for several reasons.
Alabama  Gift Store
Numerous Items for You and Your Family to Enjoy
See it here at the  Gift Store
Copyright 2019-2023 Alabamabackroads.com
All Rights Reserved
Popular Articles
Caves in Alabama  
Amazing Waterfalls
Best Kept Secrets
Haunted Places in Pickens County, Alabama
Pickens County Courthouse
Carrollton, alabama.
A ghostly face appears in the window of this courthouse in Carrollton, Alabama. Legend attributes the face to a wrongly-accused man who was either lynched by an angry mob after being dragged from the courthouse or who died after being struck by lightning at the exact moment that he leaned ...
Post comment
or continue as guest
Bahasa Indonesia
Slovenščina
Science & Tech
Russian Kitchen
7 things you should NEVER do in the Moscow Metro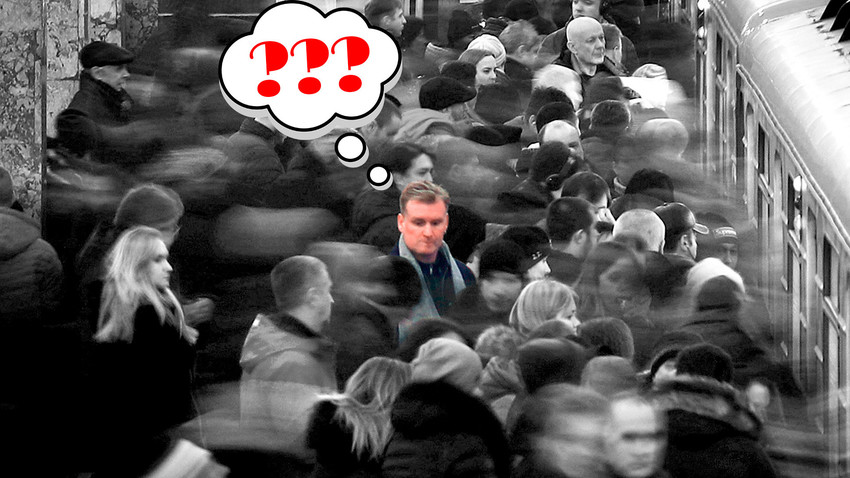 The Moscow Metro is the heart of the city, it's the concentration of urban life. Every day, millions of people go to work and back home. And as on any public transport, there are certain rules – official and unwritten.
1. Jumping over turnstiles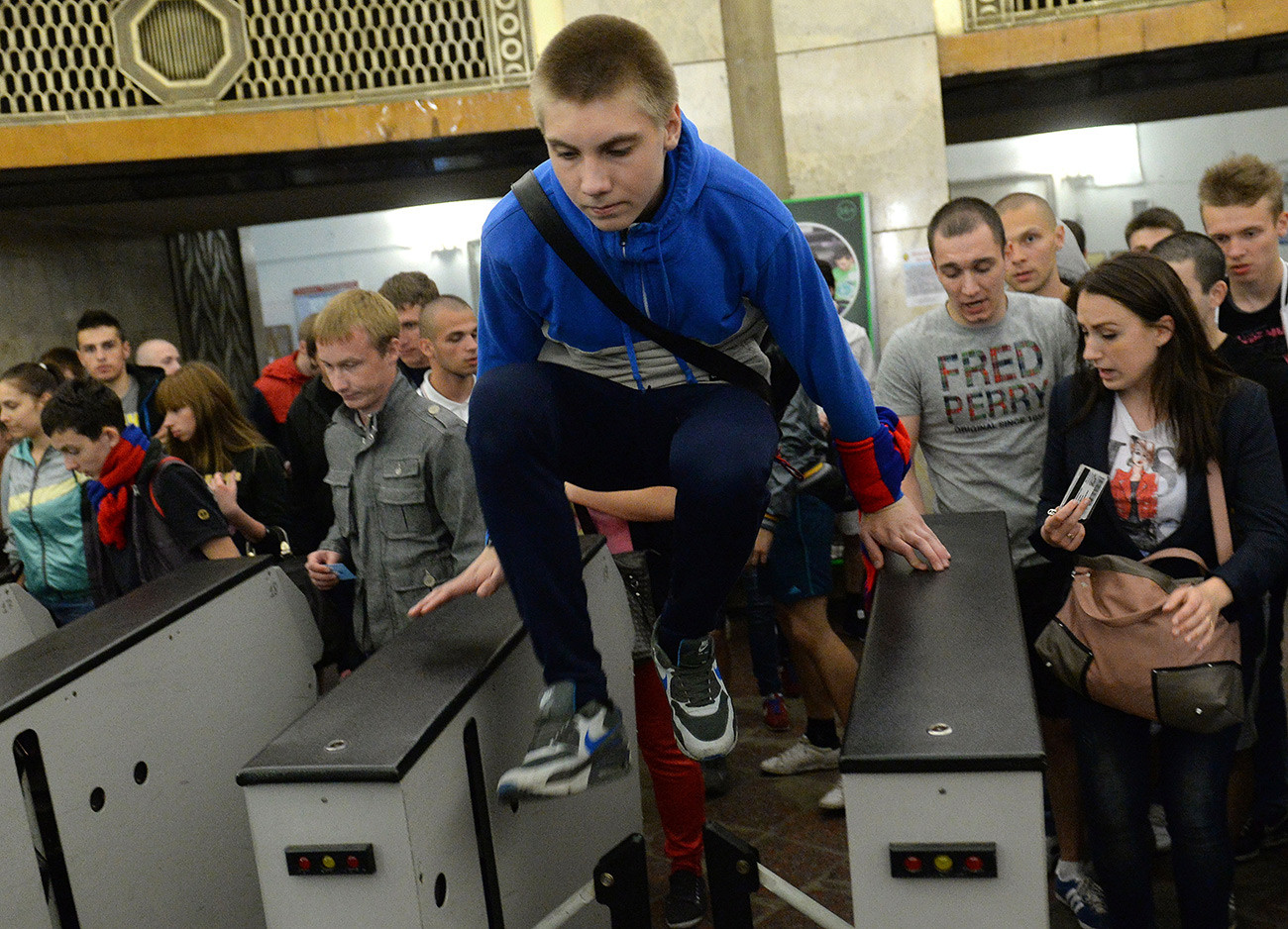 Passing without a ticket is a challenge, really. There are turnstiles everywhere, and even if there's a line for tickets (which cost less than $1!), you can now pay with Apple / Samsung Pay or a regular credit card. However, if you are a fan of extreme jumping, security and police on the other side of a turnstile are always ready to greet you.
And if you just don't know how to buy a metro ticket properly, just check out our guide .
2. Standing on the escalator's left side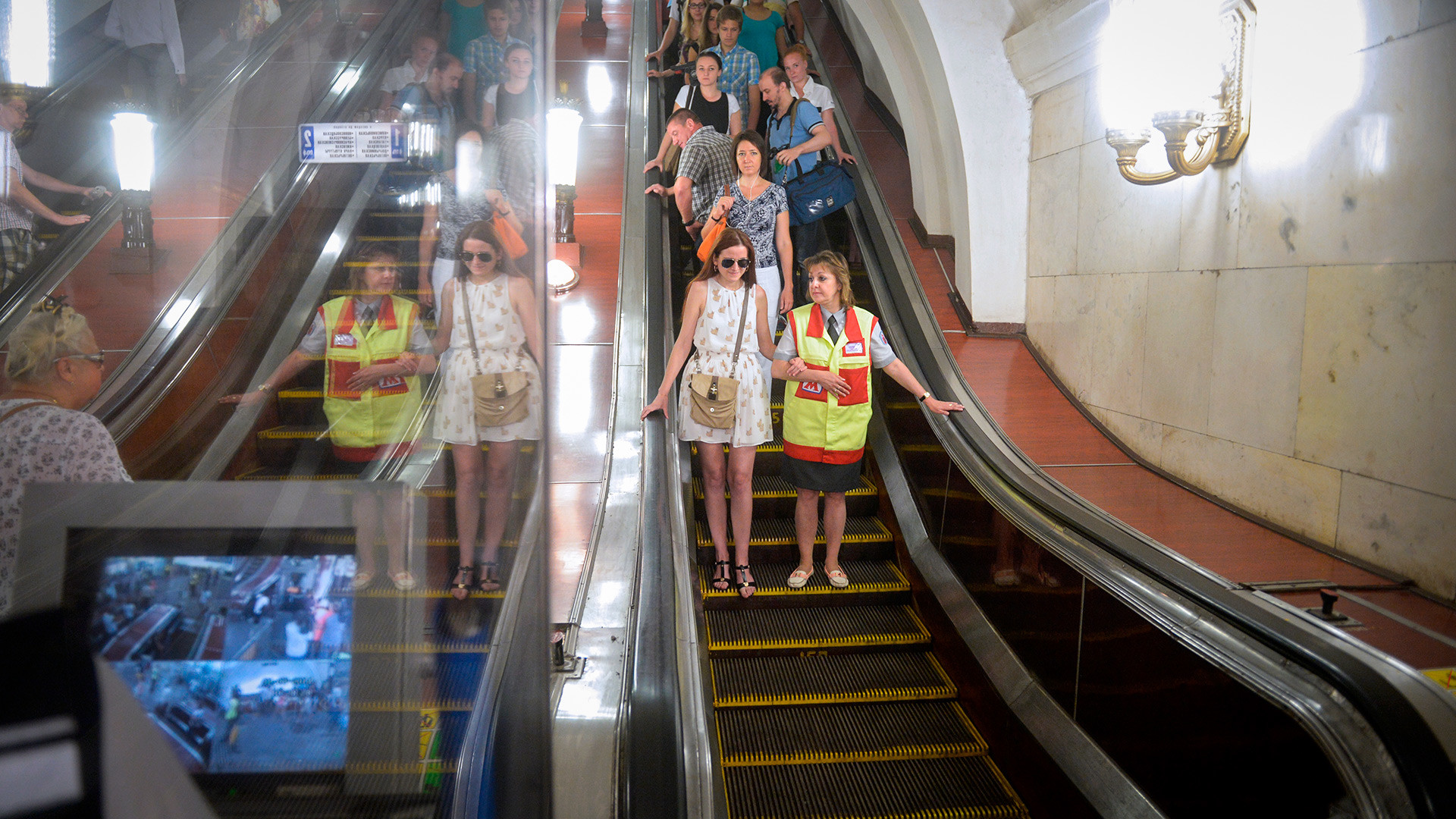 Every Muscovite knows from childhood: stand on the right side, pass on the left side. It's very annoying when people occupy the entire moving escalator, blocking the way for those who are in a hurry. Believe it or not, many people in Moscow are in a hurry! Some escalators can be very long, and passengers often walk up and down not only to save a few minutes and not to be late for work, but also for some much-needed cardio before 8 hours of sitting in the office!
3. Carry a big backpack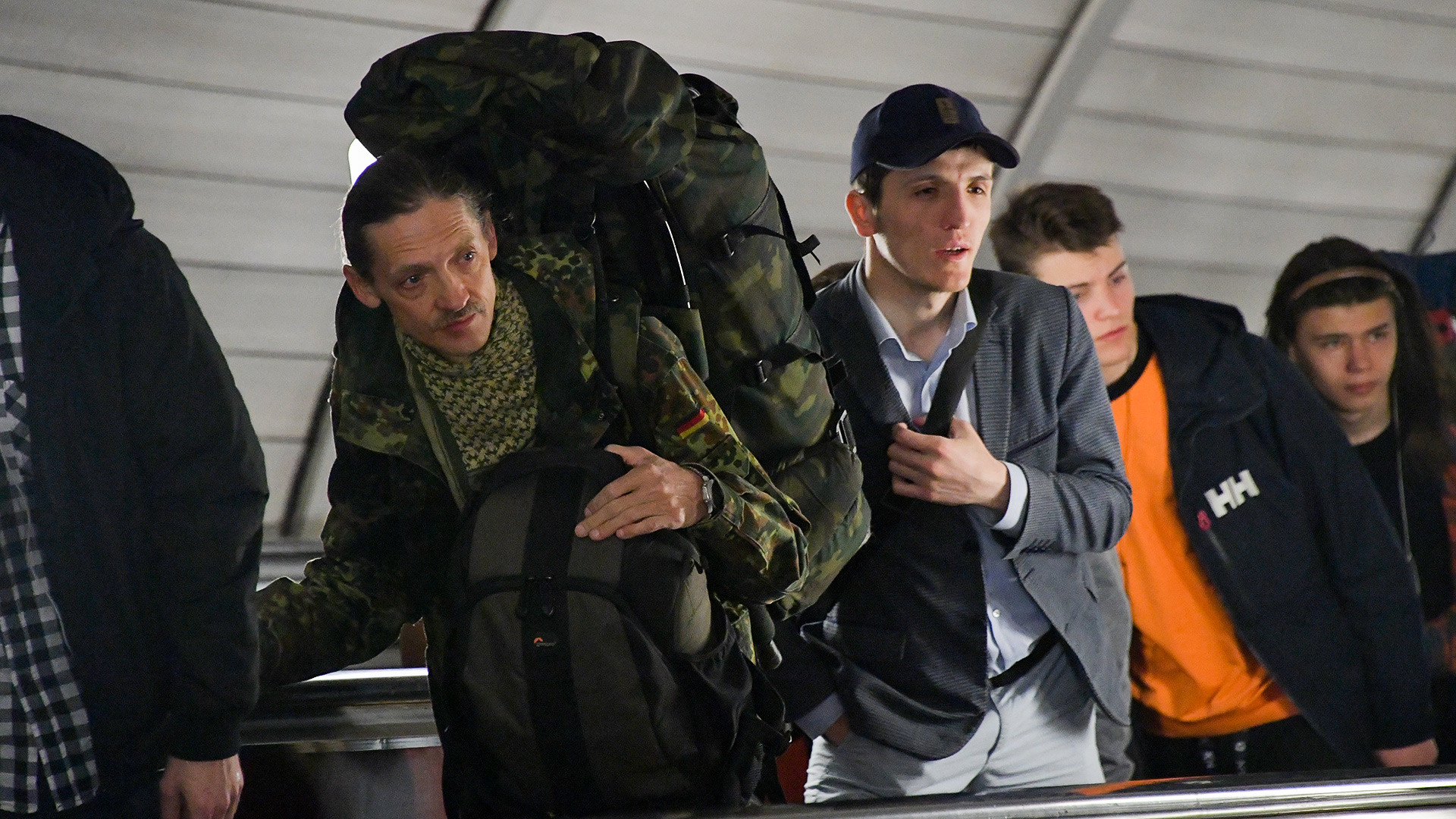 People who think their huge backpack or sling bag is OK to everyone, at least, totally underestimate the type of density passengers can be forced into on the train. So don't think any of them is happy to have to press up against your stuff! At least, try taking it off when entering the metro car, and maybe other passengers will kick you a bit less.
4. Taking two seats at once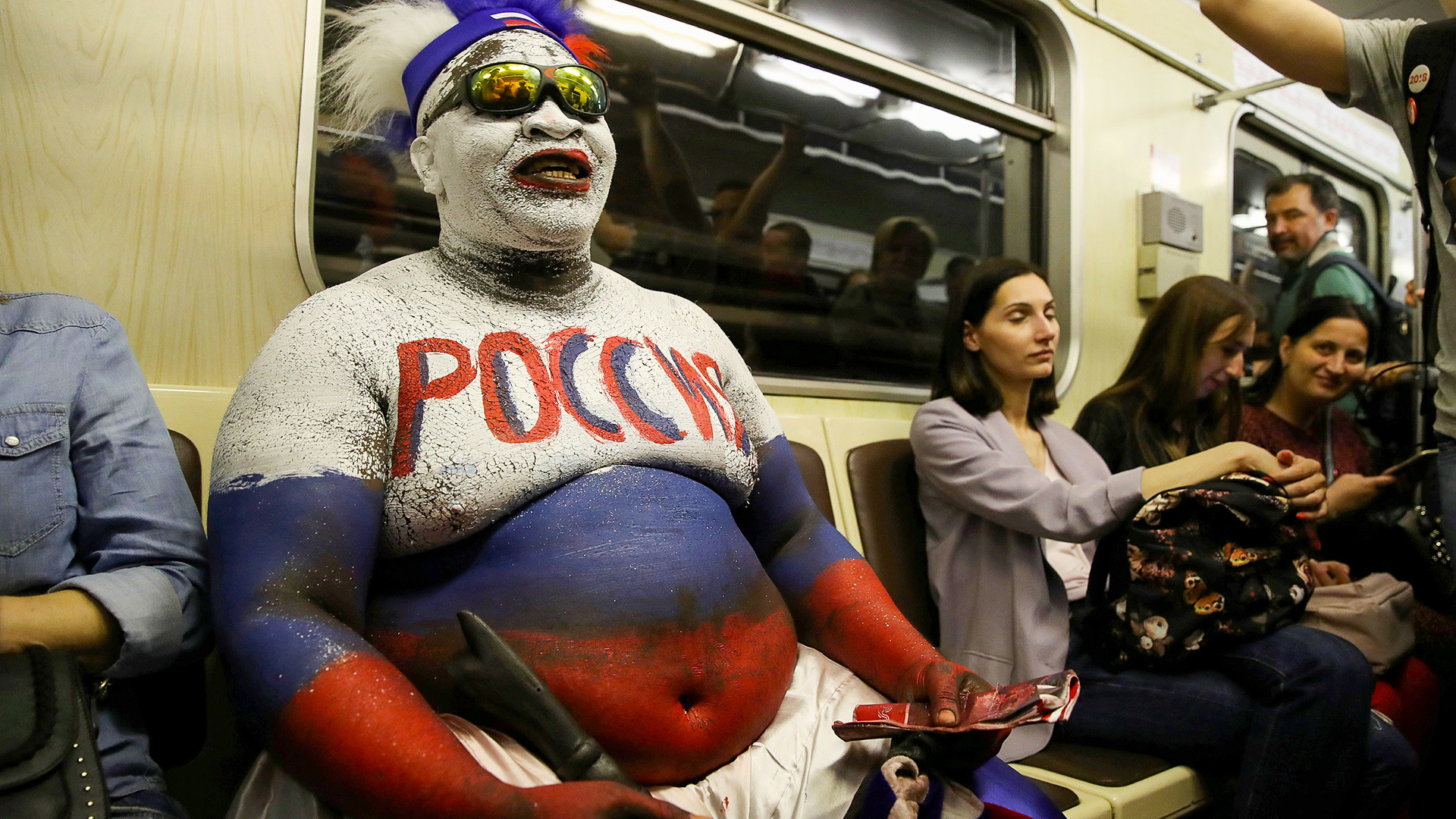 Some people want to take as much space as possible and put their bags on the seat next to them in a full train. Maybe they think they're worth more than 258 other passengers on board? Or that others should stand after sitting at work all day? Whatever it is, it's just rude!
5. Stopping to decide... in the middle of passageways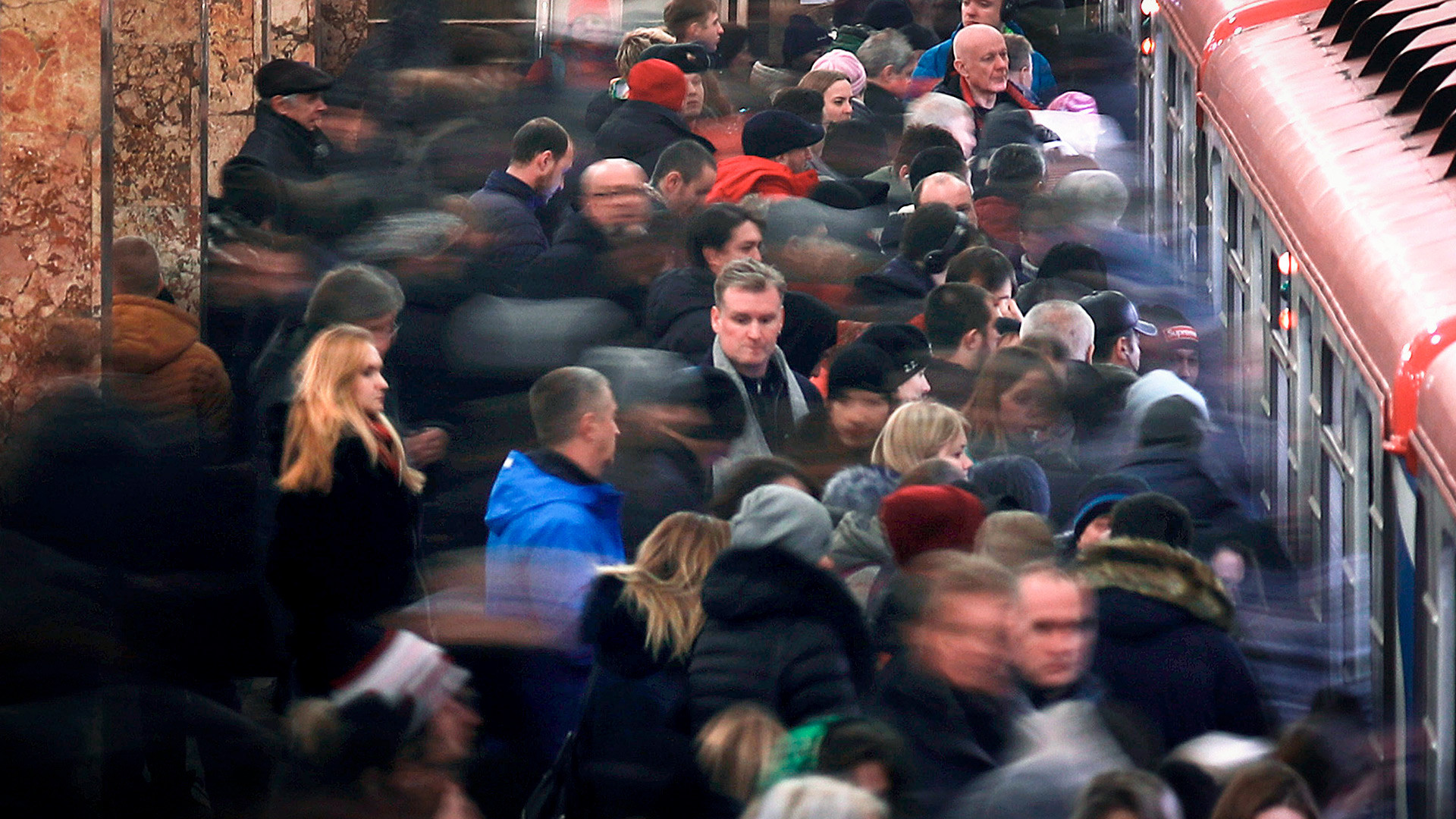 Do you know what infuriates Muscovites the most underground? Imagine being in a crowd getting out of the train and heading for the exit or changing the station. But there's a person who's standing in the very center of the passageway, blocking traffic, and trying to remember where he/she is and where he/she should go. Infuriating!
There's actually a life hack for newcomers! Check our guide to using the Moscow Metro map - in the train or online.
6. Watching/listening to your phone without headphones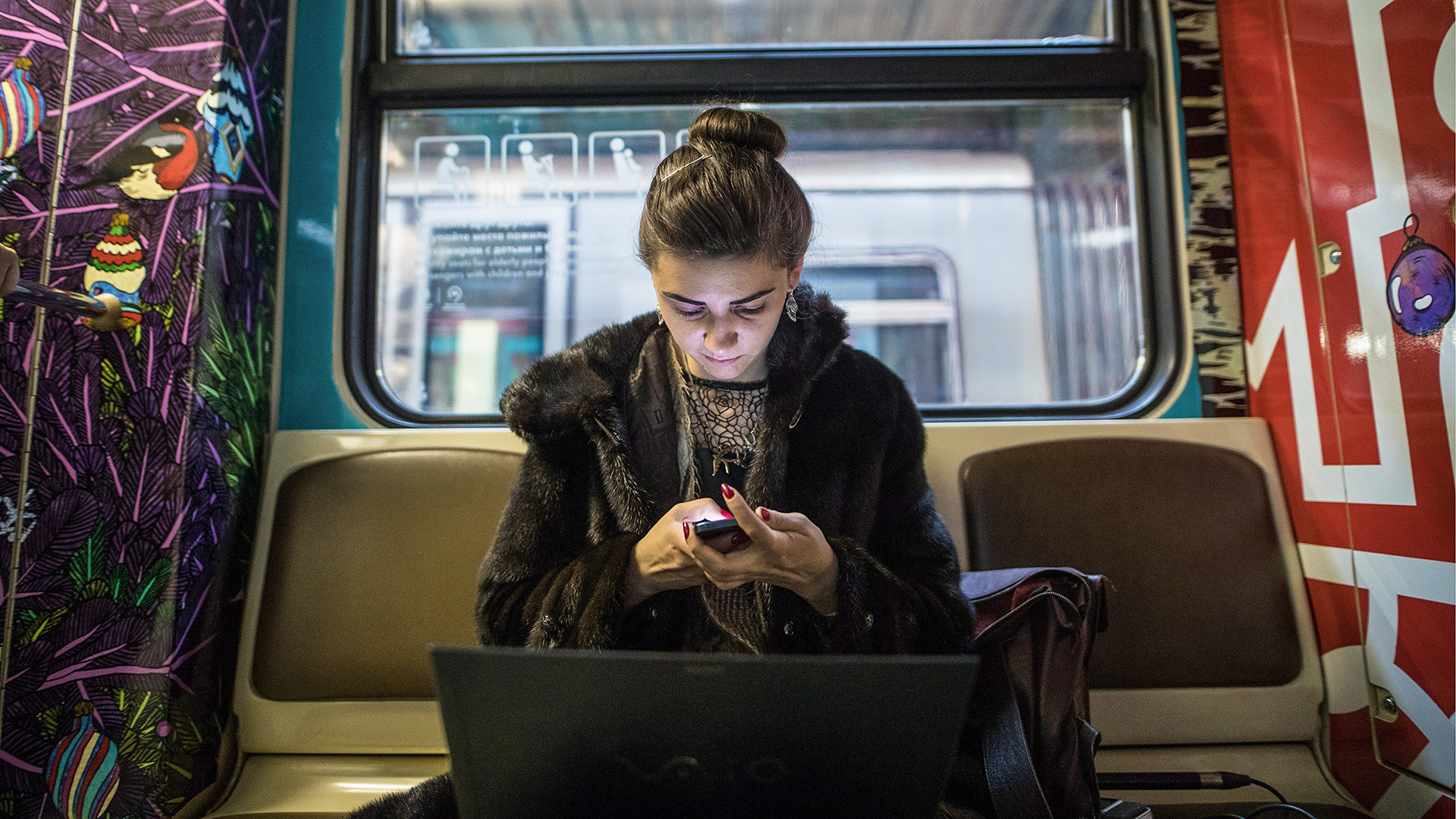 Yes, we understand, headphones are still a bit of a nuisance - even those earpods, but it's no excuse for listening to music or watching movies at full volume without them. Sure, you might think people around you also want to be entertained during the journey. Alternatively, just put your phone away and enjoy the ride, instead!
7. Jumping on a departing train
It happens everyday, especially when you are in a hurry. Trains often stop in tunnels before reaching the next station, but do you know why? When a passenger decides to jump on the train at the very last moment, when the doors are already closing, the driver has no choice but to open them again , thus delaying the train. As a result, there are other trains waiting in a line in the tunnels behind. That's why jumping on a departing train will make you even more late – as well as thousands in the following trains, too. You know, trains run every 90 seconds, so don't panic if you've just missed one! Keep calm and carry on!
If using any of Russia Beyond's content, partly or in full, always provide an active hyperlink to the original material.
to our newsletter!
Get the week's best stories straight to your inbox
How to use a Troika card on Moscow's Metro, and other ways to buy tickets
Why is the Moscow Metro so fast and efficient?
How to navigate the Moscow Metro – a brief guide
This website uses cookies. Click here to find out more.
StateCourts.org is not a consumer reporting agency as defined by the Fair Credit Reporting Act (FCRA), and does not assemble or evaluate information for the purpose of supplying consumer reports.
You understand that by clicking "I Agree" you consent to our Terms of Service and agree not to use information provided by StateCourts.org for any purpose under the FCRA, including to make determinations regarding an individual's eligibility for personal credit, insurance, employment, or for tenant screening.
You understand that license plate and VIN searches are only available for a purpose authorized by the Driver's Privacy Protection Act of 1994 (DPPA). The information obtained from our searches is not to be used for any unlawful purposes.
This website contains information collected from public and private resources. StateCourts.org cannot confirm that information provided below is accurate or complete. Please use information provided by StateCourts.org responsibly.
You understand that by clicking "I Agree," StateCourts.org will conduct only a preliminary people search of the information you provide and that a search of any records will only be conducted and made available after you register for an account or purchase a report.
Juvenile Delinquency in Pickens, GA
Unfortunately, in many areas of the Pickens County, juvenile delinquency issues are on the rise. There are many reasons for the rise in youth offenders. The juvenile sentence in Georgia often depends on the severity of the crime, the number of crimes, and other family matters.
A lot of counties, including, Pickens County, are focusing on family therapy and relationships rather than punishment for juvenile crimes. Future Pickens County juvenile delinquency numbers will show whether or not this approach is working.
Government of Pickens County, GA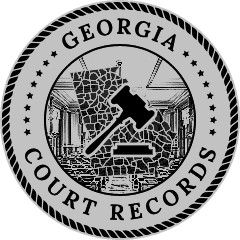 Pickens County, GA Courts
Pickens County Georgia Superior Court Address: 50 North Main Street, Jasper, GA 30143 Phone: 706-253-8763 More
Inmate Search
Accessibility Statement
Exercise My Privacy Rights
StateCourts.org uses public and private sources of information to supply you with search results. We do not originate, create, or control that information, and we cannot guarantee that the information will be accurate or up to date. You must review and accept our Terms of Service and Privacy Policy before using our services.
StateCourts.org is not a consumer reporting agency under the Fair Credit Reporting Act ("FCRA"), and does not supply consumer reports. Under no circumstances may you use our services for any purpose covered by the FCRA, including but not limited to tenant or employee screening.
County-Courthouse .com
Moscow city court.
14075 Highway 57 , Moscow , TN 38057 Fayette County
Phone Number: 901-877-3585 Website: http://www.moscow.id.us
Staff: Mayor - Gladys Kerchavel
*Not location specific. Call, or visit the court's website if listed above.
How was I chosen? - Jurors are picked at random from lists of registered voters, people with driver's licenses, or those with state issued ID cards.
What are the exemptions? Depending on local laws and specific court policies, exemptions MAY include persons over age 70, and those having recently served on a jury (usually within 1-3 years depending on county policy). In the state of Tennessee, there are possible exemptions for attorneys, teachers, pharmacists, doctors, sole proprietors, nurses, CPAs, clergy, and may include some government positions and occupations. If any of these apply to you, contact the court to verify they observe the exemption.
Go to our Jury Duty FAQ page for more on exceptions, requirements, pay, dress code, and other questions you might have.
Our FAQ page has general instructions on paying violations, or obtaining court documents or criminal records.
The Public Access to Court Records (PACER) US website can help you find case and docket information.
Visit our Links Page for websites providing Employment Listings, as well as US Government holiday closings.
*Please call to verify. Is any of the above incorrect? Let us know here
Nearby Courts:
Rossville City Court 360 Morrison Road 6.1 miles away
Somerville City Court 13085 North Main Street 7.7 miles away
Oakland City Court City Hall, 170 Doss Circle 8.1 miles away
Click Here for Large Map
Search City or Zipcode
Browse States
Connecticut
District of Columbia
Massachusetts
Mississippi
New Hampshire
North Carolina
North Dakota
Pennsylvania
Puerto Rico
Rhode Island
South Carolina
South Dakota
Virgin Islands of the U.S.
West Virginia
© 2023 Everything-Bytes | Terms of Use & Privacy Policy
New Terms of Use
New Privacy Policy
Your Privacy Choices
Closed Captioning Policy
This material may not be published, broadcast, rewritten, or redistributed. ©2023 FOX News Network, LLC. All rights reserved. Quotes displayed in real-time or delayed by at least 15 minutes. Market data provided by Factset . Powered and implemented by FactSet Digital Solutions . Legal Statement . Mutual Fund and ETF data provided by Refinitiv Lipper .
Idaho murder suspect Bryan Kohberger lands in Washington to face charges
Bryan kohberger arrived back in idaho wednesday to face a judge in the slayings of four college students.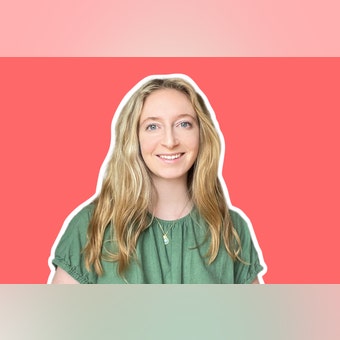 The plane carrying Bryan Kohberger arrives in Pullman, Washington
Bryan Kohberger is accused of killing Ethan Chapin, Xana Kernodle, Kaylee Goncalves and Madison Mogen.
MOSCOW, Idaho — Bryan Kohberger flew into Pullman, Washington, Wednesday evening and is expected to face murder charges in Moscow, Idaho , in connection with the brutal killings of four college students in an off-campus house in November. From the airport he was taken to the Latah County Courthouse in Moscow, Idaho, by truck.
Kohberger, 28, has been in custody since Dec. 30 when authorities raided his parents' home in Monroe County, Pennsylvania. He was flown to Idaho on a Pennsylvania State Police plane a day after he waived his extradition to Idaho on Tuesday.
The suspected killer left on a Pennsylvania State Police Pilatus PC-12 single-engine turbo-prop plane, which has a range of 1,800 nautical miles and a max speed of more than 300 MPH, out of Wilkes-Barre Scranton International Airport around 7 a.m. PT Wednesday, flight records show.
The plane then departed Champaign, Illinois, around 10 a.m. PT, likely to refuel, and then took off again headed west around 11 a.m. PT. There was another stop in Rapid City, South Dakota, and took off again around 3 p.m. PT. By 6:22 PT, police escorted Kohberger off the plane in Pullman, Washington, across the state line and just 7 miles from the Idaho crime scene.
UNIVERSITY OF IDAHO STUDENT STABBINGS TIMELINE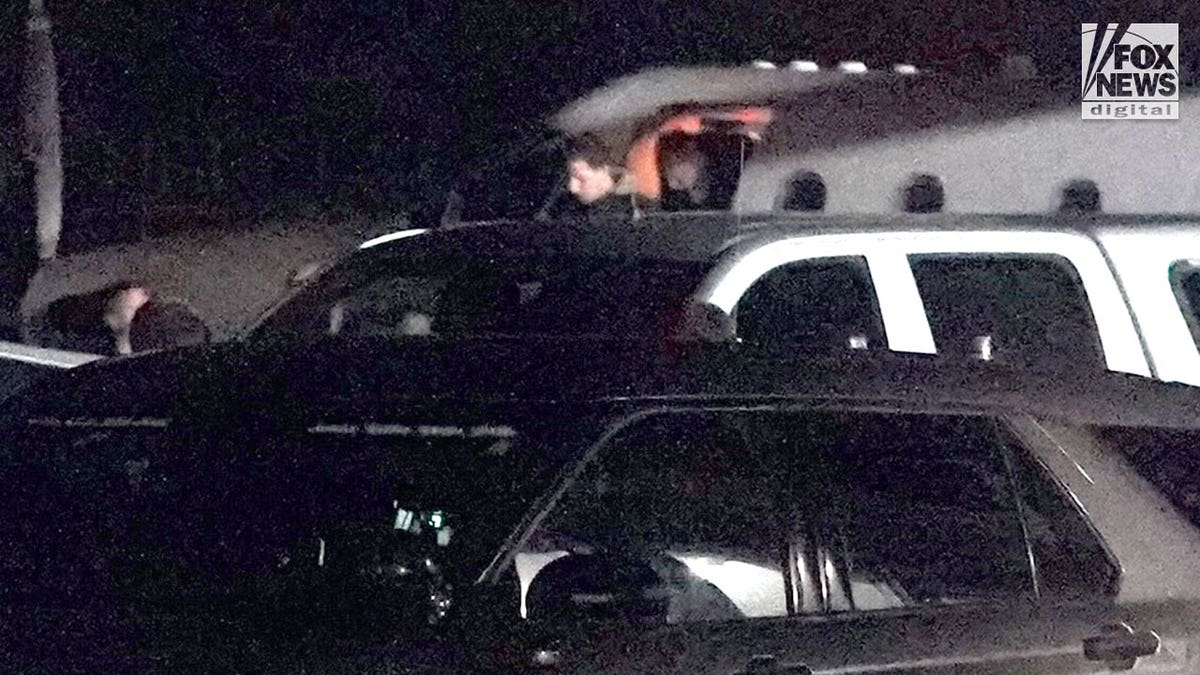 Bryan Kohberger is escorted off of a plane by law enforcement in Pullman, Washington on Wednesday, January 4, 2023. Kohberger has been extradited from Pennsylvania to face charges for the murder of four University of Idaho students in November last year. (Fox News Digital)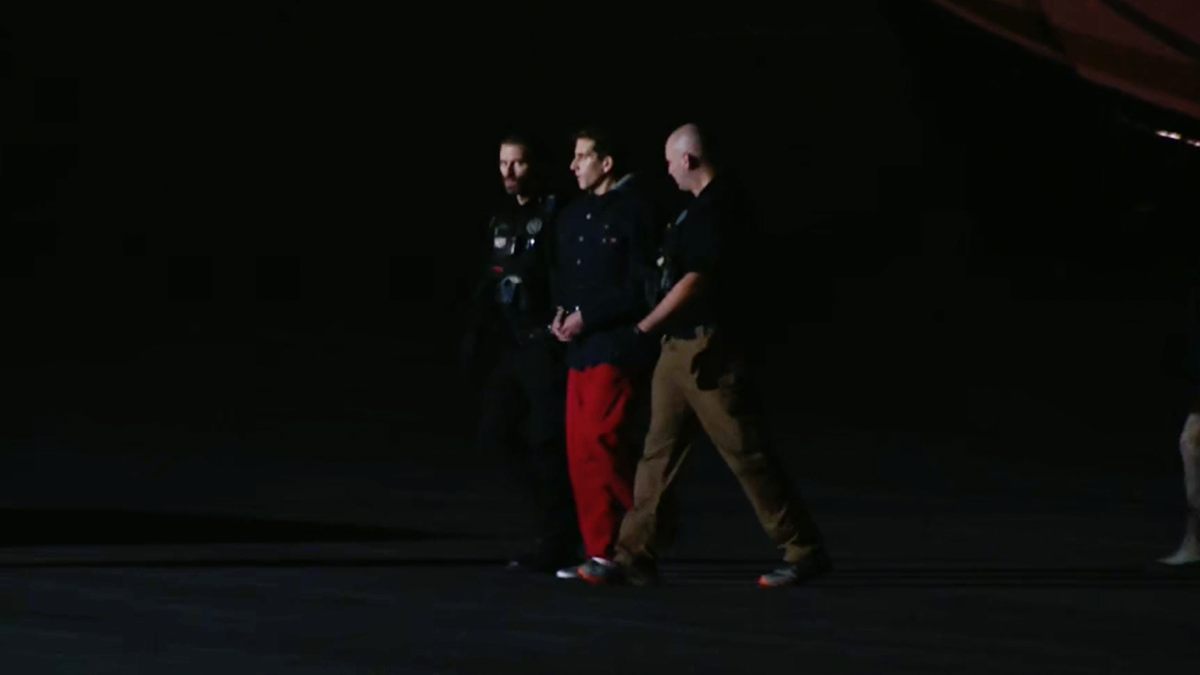 Bryan Kohberger being escorted by law enforcement officers after landing in Pullman, Washington.  (Fox News)
Internet sleuths from across the globe on Wednesday tracked the nearly 12-hour flight across three time zones from the time it took off to the time it landed. The flight had 19,000 viewers as of Wednesday evening on the Flight Radar app.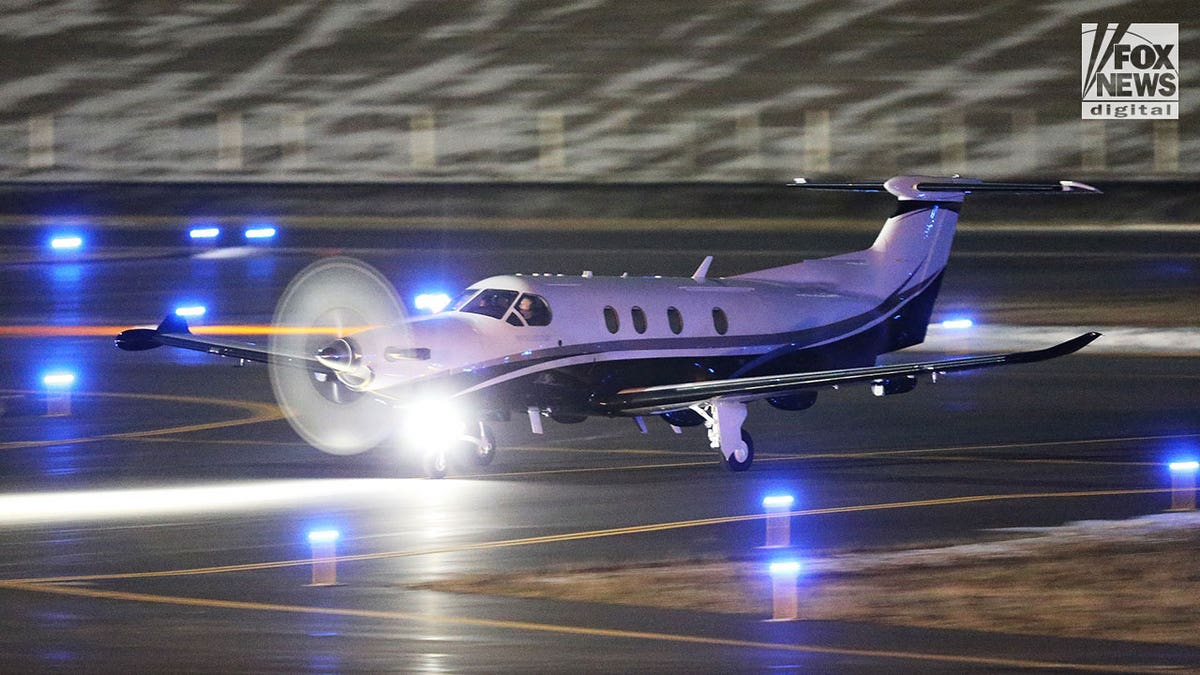 A plane carrying Bryan Kohberger is lands in Pullman, Washington on Wednesday, January 4, 2023. Kohberger has been extradited from Pennsylvania to face charges for the murder of four University of Idaho students in November last year. (Fox News Digital)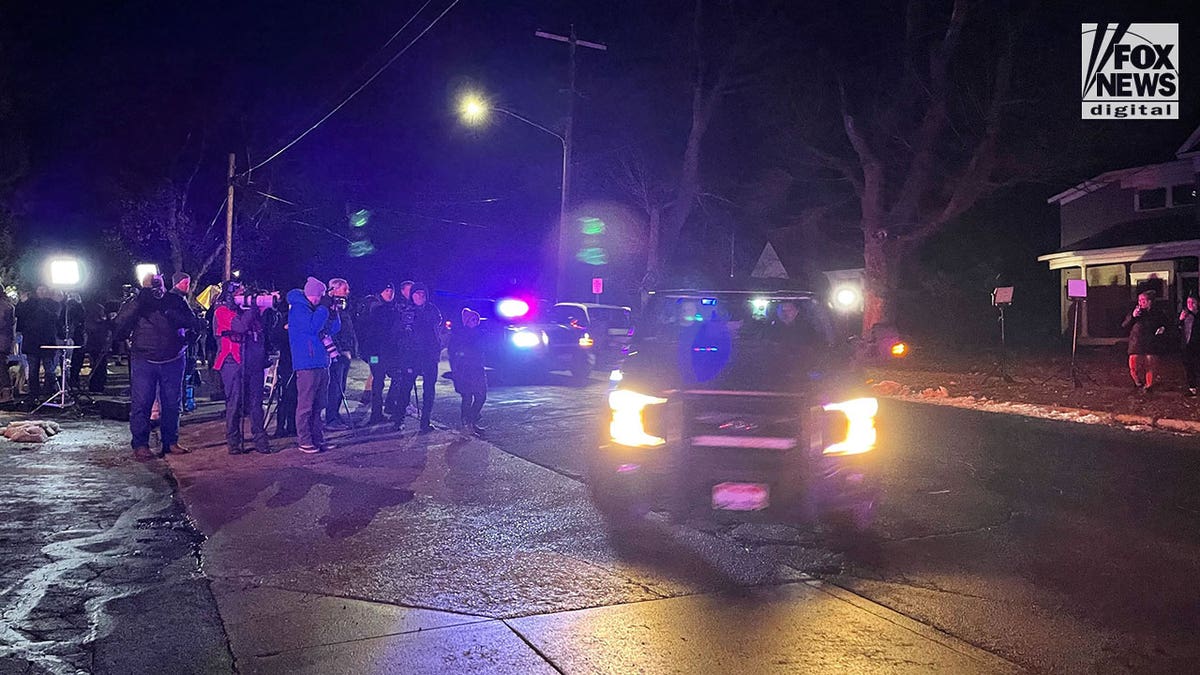 Media gathers outside Latah County courthouse as Bryan Kohberger is brought in on Wednesday, January 4, 2023  (Audrey Conklin/Fox News Digital)
The four victims, 20-year-olds Ethan Chapin and Xana Kernodle, who were in a relationship, and 21-year-olds Kaylee Goncalves and Madison Mogen, were stabbed multiple times, likely while sleeping, on the second and third floors of a six-bedroom house just steps off the University of Idaho campus, according to Latah County Coroner Cathy Mabbutt. Two roommates on the lowest level were not attacked. The victims and their roommates were students at the University of Idaho.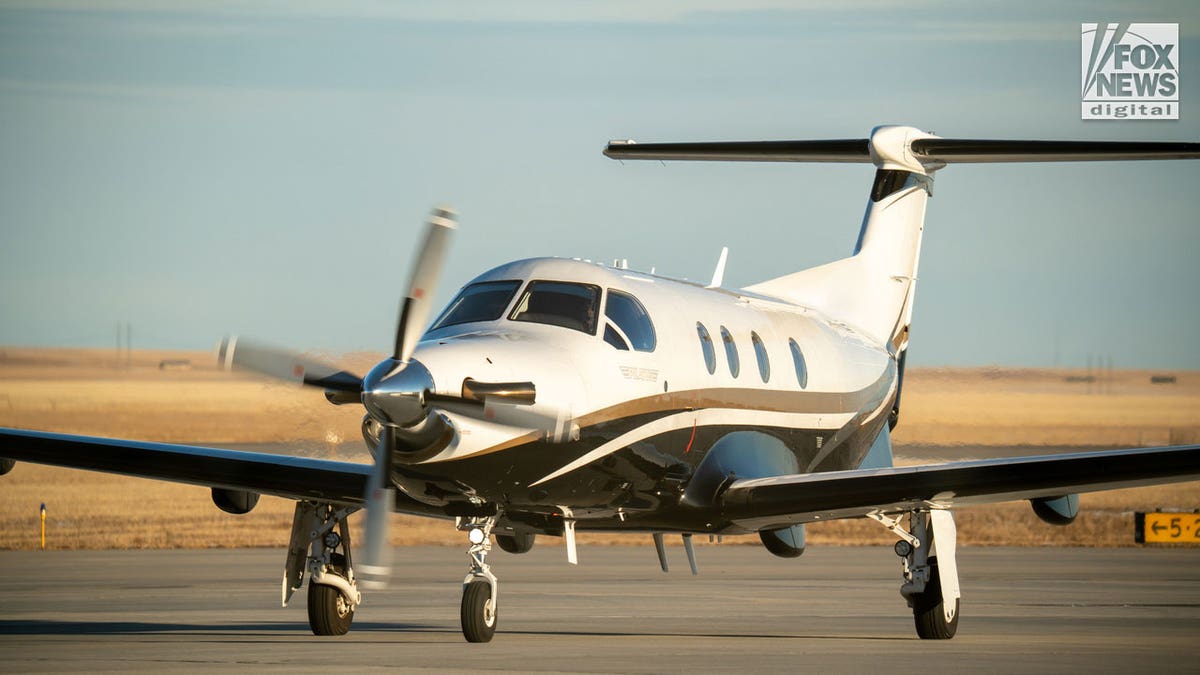 General views of the Pennsylvania State Police plane in Rapid City, South Dakota as it makes a refueling stop on Wednesday, January 4, 2023. (Kevin Eilbeck for Fox News Digital)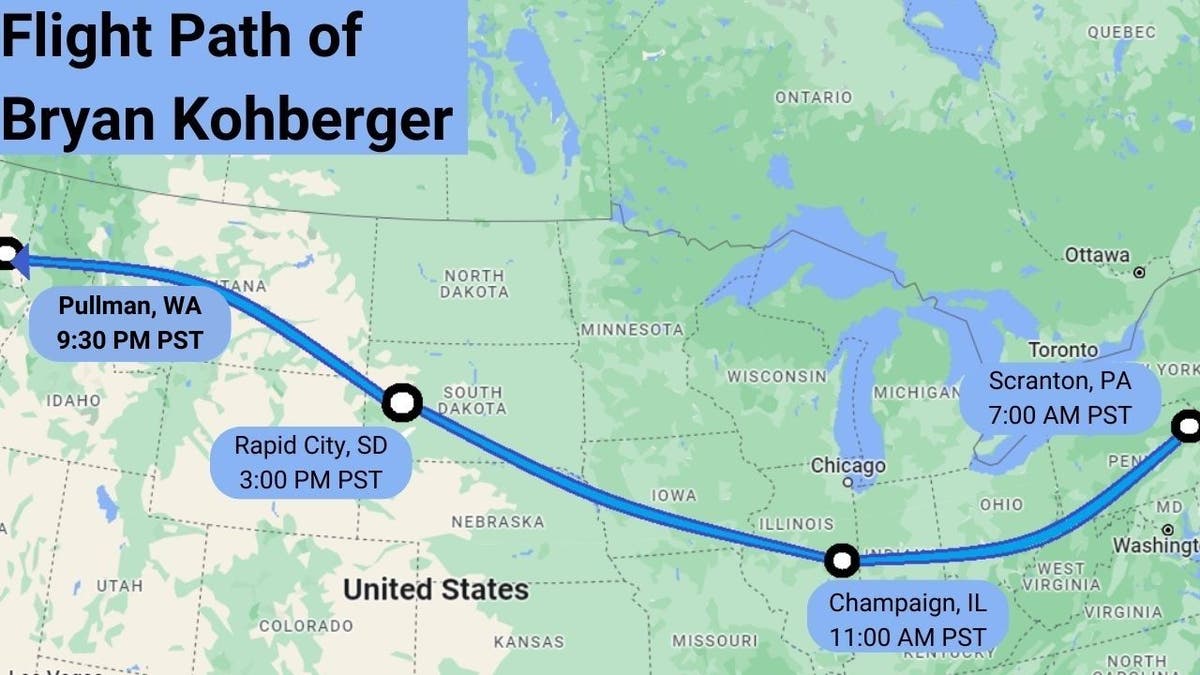 Idaho murder suspect Byran Christopher Kohberger's flight path from Pennsylvania to Pullman, Washington, on Jan. 4. (Fox News Digital)
Kohberger was pursuing a doctorate in the Criminal Justice and Criminology Department at Washington State University, 7 miles away from UI. He had driven with his father in a 2015 white Hyundai Elantra from Pullman, Washington to Pennsylvania before authorities caught up with him.
Police said they were looking for a 2011 to 2013 white Elantra that was believed to have been seen near the crime scene.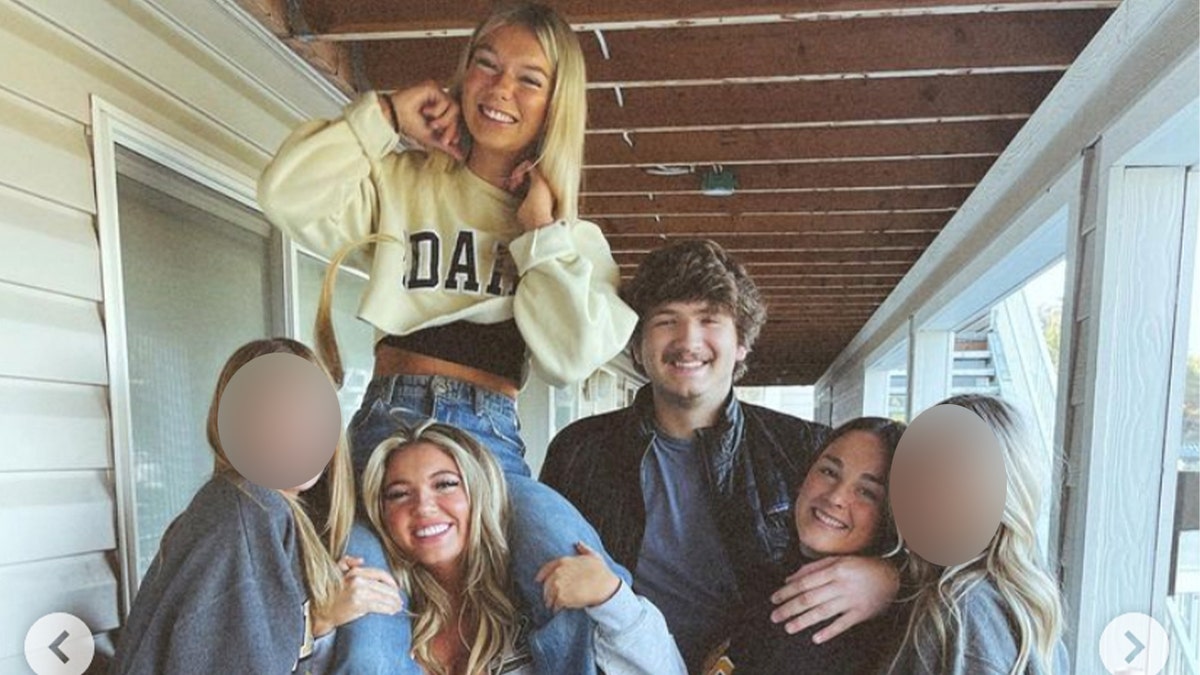 Ethan Chapin, 20, Xana Kernodle, 20, Madison Mogen, 21, and Kaylee Goncalves, 21, along with the women's two other roommates in Kaylee Goncalves' final Instagram post, shared the day before the slayings. (@kayleegoncalves/Instagram)
Local and federal authorities used DNA evidence to track down the accused killer nearly seven weeks after the four students were found killed in the early morning hours of Nov. 13.
CRIMINOLOGIST GRAD STUDENT HIT WITH FOUR COUNTS OF FIRST-DEGREE MURDER
Kohberger's family members said in a statement that they "have fully cooperated with law enforcement agencies in an attempt to seek the truth and promote his presumption of innocence rather than judge unknown facts and make erroneous assumptions."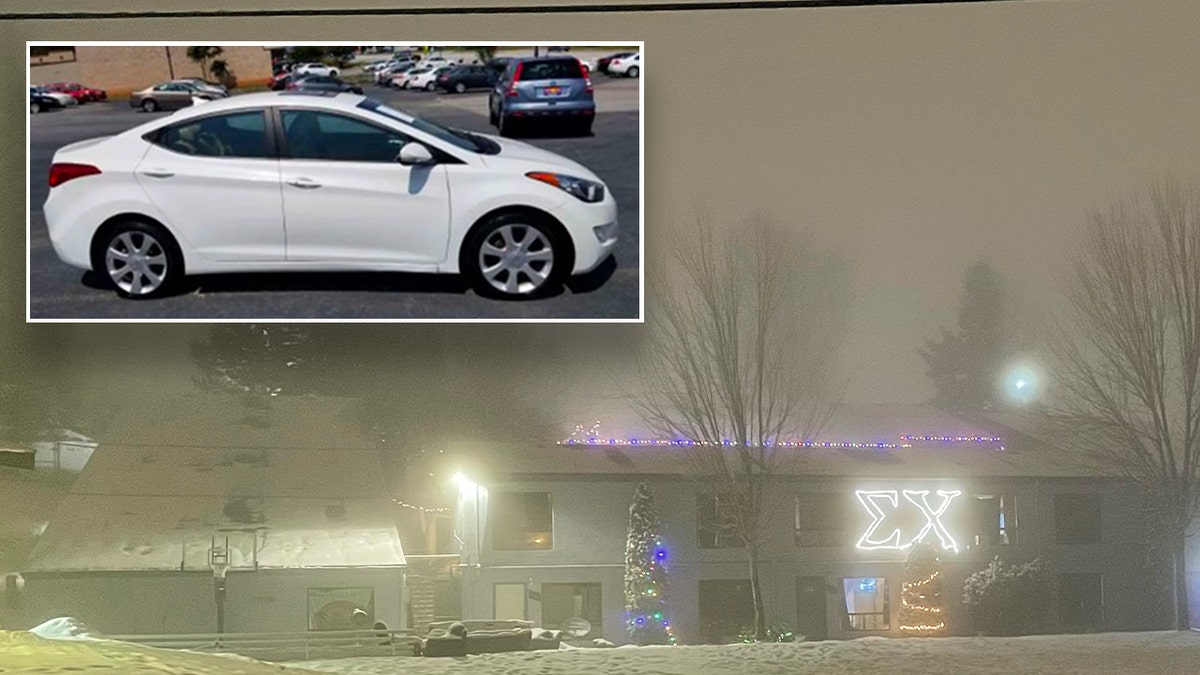 A view of the Sigma Chi house at the University of Idaho through fog on Dec. 13, 2022. Inset: A reference image showing the type of Hyundai Elantra police were looking for in their search for Bryan Kohberger. (Michael Ruiz/Fox News Digital. Inset: Moscow PD)
Prior to the attacks, Chapin and Kernodle were seen at a party at the university's Sigma Chi fraternity house on campus around 9 p.m. on Nov. 12, a Saturday. They returned home around 1:45 a.m. on Nov. 13. Goncalves and Mogen spent the evening of Nov. 12 in downtown Moscow, stopping at a popular college bar and then a food truck on the way home. The returned to the house around 1:56 a.m.
IDAHO MURDER SUSPECT KOHBERGER'S PENNSYLVANIA CLASSMATES SAY HE WAS 'BRIGHT,' AWKWARD, BULLIED IN SCHOOL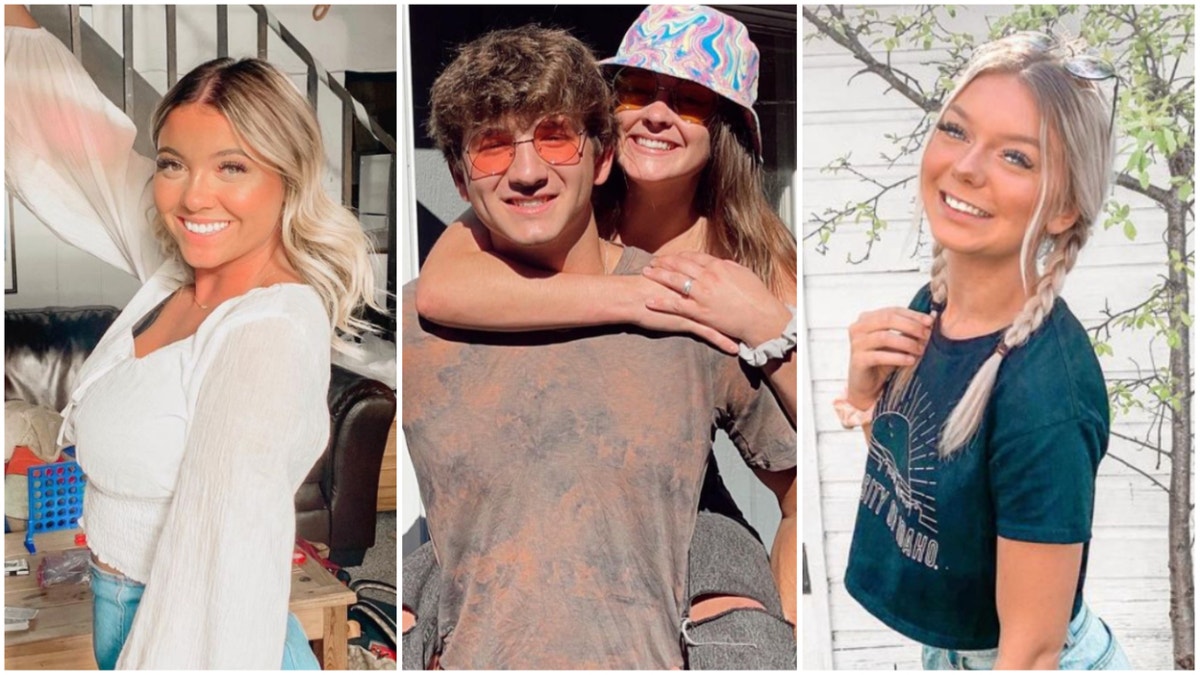 The victims of Nov. 13 University of Idaho massacre.  (Instagram @xanakernodle / @maddiemogen / @kayleegoncalves)
Officials believe the victims were stabbed between 3 a.m. and 4 a.m. that morning. Around noon that day, Moscow police officers responded to a 911 call reporting an "unconscious person" from the house where the murders occurred, but several people had gathered at the crime scene by the time police arrived, officials said.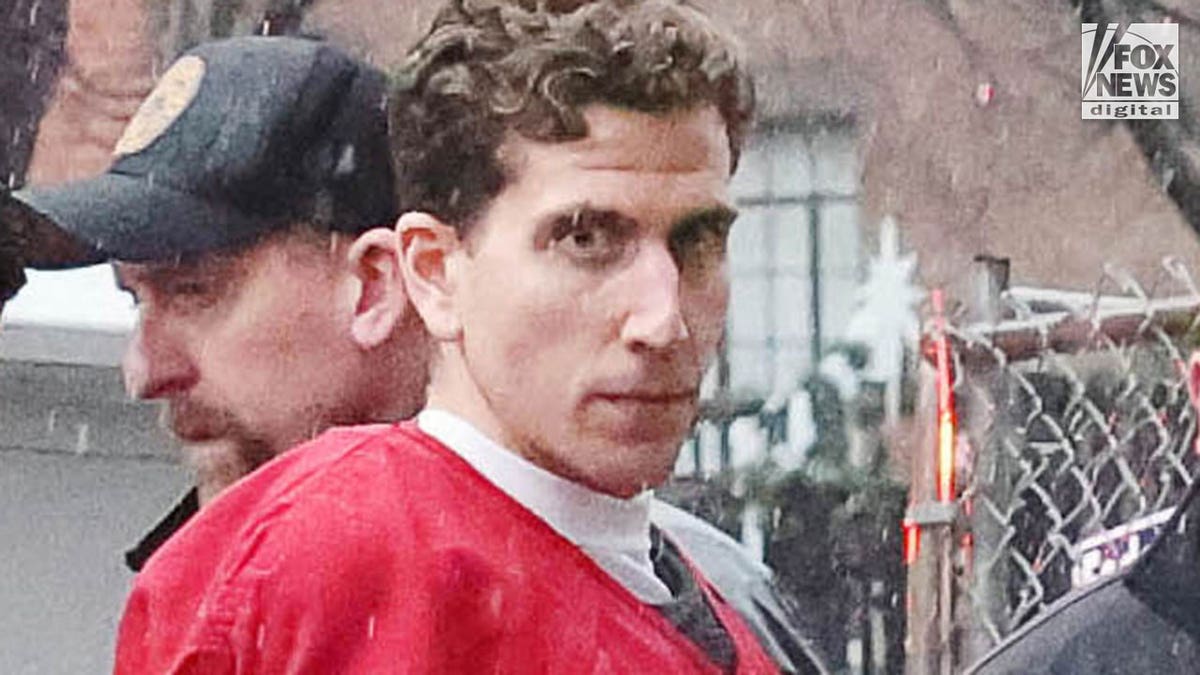 Bryan Christopher Kohberger is seen for the first time since his arrest Friday outside the Monroe County Courthouse in Stroudsburg, Pennsylvania. He's accused of the Moscow, Idaho, quadruple homicide. (The Image Direct for Fox News Digital)
CLICK HERE TO GET THE FOX NEWS APP
The Moscow Police Department continues to urge the public to submit any images or information that they think could be important or useful to their investigation. They can do so by calling 208-883-7180 , submitting tips through [email protected] and sending digital media here.
Fox News' Stephanie Pagones contributed to this report.
Audrey Conklin is a digital reporter for Fox News Digital and FOX Business. Email tips to [email protected] or on Twitter at @audpants.

Get all the stories you need-to-know from the most powerful name in news delivered first thing every morning to your inbox
You've successfully subscribed to this newsletter!