Hot Sauce Shop and Chili Pepper Store - SCOVILLESCALE.ORG - Your source for the hottest products in the world!
Hot Sauce Shop and Chili Pepper Store
On sale now.
Newest Products
Popular Products
All Products
Showing 1–12 of 347 results
[Pack of 3] [MEDIUM] Wing Time Traditional Buffalo Wing Sauce – 13 Fl Oz
#1 Dad Hot Sauce Gift Set by Elijahs Xtreme – 3 Bottle Hot Sauce Variety Pack Includes Pineapple Mango Habanero, Ghost Pepper Sauce, and Carolina Reaper Hot Sauces – Best Gifts for Dad (3 Bottles)
13 Angry Scorpions Jekyll and Hyde Hot Sauce 5.07 Fl Oz (Pack of 1)
365 by Whole Foods Market Organic Buffalo Wing Sauce, 12 Ounce
Adoboloco Hot Sauce Hamajang Hawaiian Spicy Chili Sauce 5oz – Very Hot Smoked Ghost Pepper Chili Sauce – Featured on Hot Ones!
Adult Swim RICK AND MORTY Hot Sauce Challenge Set, Officially Licensed, Flavors Include Chipotle, Habanero, Jalapeno, Garlic and More, Hot Sauce Variety Pack, Set of 6
After Death Sauce with Liquid Rage and Skull Key Chain
Aka Miso Ghost Reaper Hot Sauce By Bravado Spice FEATURED ON HOT ONES Gluten Free, Vegan, Low Carb, Paleo Hot Sauce All Natural 5 oz Hot Sauce Bottle Award Winning Gourmet Hot Sauce
Al Amin Foods MEXICO LINDO SALSA HABANERA VERDE( Green habanero Hot Sauce), 2 Bottles 5 fl.oz (150ml)
Ao Brds Valentina Salsa Picante Extra Hot Sauce, 12.5 Fl Oz
Badia Sauce Chili Sriracha, 17 oz
bibigo – Gochujang Sauce, Hot and Sweet Flavor, Perfectly Blended Flavors, Pantry and Party Must-Have, 11.5-oz
Badia Spices 2 2 products
Blair's Death Sauces and Snacks 8 8 products
Bravado Spice 2 2 products
Buffalo Wild Wings 7 7 products
Bunsters Hot Sauce 8 8 products
Char Man Hot Sauce 2 2 products
Cholula Hot Sauce 12 12 products
Da'Bomb 2 2 products
Dave's Gourmet Hot Sauce 12 12 products
Elijah's Extreme Hot Sauce 11 11 products
Encona Sauces 7 7 products
Frank's Red Hot 9 9 products
Gringo Bandito Hot Sauce 7 7 products
Heartbeat Hot Sauce 5 5 products
Hellfire Hot Sauce 11 11 products
Hot Honey 2 2 products
Hot Ones 23 23 products
Hot Sauce 345 345 products
Mad Dog 357 21 21 products
Marie Sharp's Hot Sauce 34 34 products
Melinda's Hot Sauce 12 12 products
Mexico Lindo Hot Sauce 6 6 products
Noble made by the New Primal 4 4 products
Pain Is Good 5 5 products
PuckerButt Pepper Company 7 7 products
Salsas Picamas Hot Sauce 9 9 products
Secret Aardvark Hot Sauce 8 8 products
Sriracha Sauce 23 23 products
Sweet Baby Ray's 8 8 products
Tabasco Sauce 7 7 products
Tapatio Hot Sauce 5 5 products
The General's Hot Sauce 3 3 products
Thoughtfully Gourmet Hot Sauce 5 5 products
Tony Pigg's Hot Sauce 4 4 products
Torchbearer Hot Sauces 15 15 products
Truff Hot Sauce 2 2 products
Josh on Marie Sharp's Smoked and Pure Mango Habanero Pepper Sauce 5 Ounce Combo (Pack of 2)
No categories
Corey B Collab
Goonzquad Collab
Spicy Cam Collab
Gift Card Balance
Military & First Responders
Store Locator

Search Store
Fries will never be the same again🍟
Hoff's smoken ghost ketchup.
Hoff's Smoken Ghost Ketchup - SG Ketchup 1pk is backordered. We will ship it separately in 10 to 15 days.
Great Taste
Hoff has always put hot sauce on his ketchup. So why not put hot sauce IN in his ketchup? Sweet and tangy with a smoky kick from chipotle and ghost pepper, Hoff's Smoken Ghost Ketchup is all killer, no filler. You won't find any high fructose corn syrup or thickeners here. Just great taste that'll play nice with burgers, fries, tots or whatever your heart desires.
Suggested Pairings:  Crispy Fries & Tots, Mama's Meatloaf, Chicken Nuggets, Grilled Burgers & Dogs, Corned Beef Hash, and sooo much more!
Ingredients:   Tomato Concentrate, Vinegar, Cane Sugar, Chiles (Red Jalapeño, Habanero, Chipotle, Ghost Pepper), Salt, Onion Powder, Spices
Heat Level:  Great Taste (Medium)
Shelf Life:   Refrigeration recommended but not required. Best if used within 1 year.
Customer Reviews
This was the perfect gift for someone that is hard to buy for. They love spicy/hot. Totally worked out.
Perfect combination of ketchup and heat. I've always mixed ketchup with whatever hot sauce I've had at home. Not anymore, this is perfect and the ketchup is made with real sugar instead of high fructose corn syrup and that gives the ketchup a great flavor. I used it to make the Hoff and pepper air fryer wings from the recipe on the website. Another go to recipe for me. Delicious!!
Our household is a huge fan of the Smoken Ghost Ketchup, and we kept buying the regular sized bottles at the store. I was so excited when I saw that I could order in bulk on the website. It was quick, easy, and efficient. I'll definitely do it again.
Let customers speak for us
Fantastic flavor and just enough heat. I really appreciate that the ingredients are simple and not full of crap I can't pronounce.
This stuff is delicious I ordered 3 bottles and I'm already down to one. I'll be ordering the jug soon. I put this on everything
What can I say. It is handcrafted in small batches by people that care. It is not made by the zillions in a factory and the taste and quality of ingredients reflect its "home-like" lineage. Try it, you won't be disappointed.
This one is perfect for me: a flavor that fits just about anything, and just enough heat to keep things interesting.
Just the right amount of heat, best tasting hot sauce out there! I know it's a matter of opinion, but this sauce is delicious!!!
Best sauce ever
I've never bought hot sauce by the half gallon before but this stuff is THAT good!!
This hot sauce gives you just the right ghost pepper heat along with an amazing smoky flavor. We are hooked!! Love It!
Excellent sauces!!! Great flavor and heat. Goes great on anything. Keep up the great work and will definitely be ordering more!!!
It's very good I'll only get this bbq sauce
I eat a lot of tacos and mean green is a must to any!!
JUST a drop can really add some flavor but I love adding it to soups and to ranch dressing before parties for some delightfully delicious dip. I don't think I could handle Ghost portioned the way I do with Original Hoffs or Wake Up Call but so, so good.
Similar to restaurants Brussels sprouts.
Guernsey (GBP £)
Isle of Man (GBP £)
Jersey (GBP £)
United Kingdom (GBP £)
Sauce Shop X Only Scrans Curry Ketchup 👀
It's here! The most banging Curry Ketchup you ever did need. Made in collab with Only Scrans, this is classic ketchup with the best bits of curry sauce.
Find a selection of our products on sale in Sainbury's, Asda, Waitrose and Aldi 🛒
Father's day gifts
Sunday 18th June
Browse the range
Over 35 varieties of hot sauce, BBQ sauce, ketchup, mayo, cooking sauce and seasonings. Made in the UK in small batches using natural ingredients.
From a home hob to the Supermarket shelves
We're Pam and James and we started Sauce Shop in 2014 from our home kitchen and a local farmer's market. We figured we'd try making sauces with more flavour and no weird additives. They were a hit and our products are now stocked in over 1300 stores across the UK. All made by our team in Nottingham.
ALSO AVAILABLE FROM
Build a custom box.
Choose a box of 6, 12 or 18 products and save up to 30%.
People & Planet
We plant 1 tree for every order placed through our website and have planted over 65,000 since 2021. Find out about how we're doing our bit for the planet.
BROWSE BY CATEGORY
Gift sets and collections, ketchup & bbq sauces, chilli & hot sauces, customer favourites, buffalo hot sauce, tomato ketchup, chipotle and lime aioli, carolina mustard bbq sauce, original bbq sauce, original hot sauce, sauce shop x 12:51 - scotch bonnet chilli jam, honey chipotle bbq sauce, save up to 30%.
Create a custom box full of sauces and seasonings and save on your sauce. *Save 30% when you subscribe to a box of 18 items
Join our Flavour Forum for recipe ideas.
Collections
Hot sauce challenge set.
from £19.99
Ultimate BBQ Collection
Simmer-sauce collection, best-seller collection, essential chilli collection, essential bbq collection, ultimate chilli collection, essential flavour box, what do other customers think.
This mustard is incredible!
A little disappointed in this . Tastes a little like tomato paste with some curry instead of tomato sauce.
Awesomeness in a bottle
This is the most amazing tasting mayo you can tell just how natural and real it is by its taste, structure and absolute yummy factor
Just give me a bloody spoon and let me eat it out of the jar. It's so nice it even makes hospital food taste good
I just love this ketchup. It is just tomato with no sugar or any other stuff you don't need it's alot healthier than normal ketchup.
I absolutely love this sauce. I have a sugar intolerance and haven't be able to find any decent sauces, but this is delicious!
I absolutely love this mayo. I have a sugar intolerance and haven't be able to find any decent sauces, but this is delicious!
Well I tried the hot tomato sauce and Wow I shall be using it in my mexican recipes
Beautifully made mayo with an authentic taste.
Tomato sauce that tastes solely of tomatoes - a delightfully fresh sensation that complements my bacon sarnies!
I have tried many hot sauces but the original hot sauce here was so much more natural than many others. It was very red but I used plenty on the dish as I like my sauce. Will get more at Christmas
My son was very pleased with his selection of sauces and rubs for his birthday. I look forward to sampling them when he invites us over for dinner next time! 😆
I tried this mixed in with tinned pilchards and rice to make a sort of paella and just loved the flavour. I also add this sauce to tinned Wild Sockeye Salmon mashed in with grated raw carrot and mayonaise which is eaten spread on petit pains every working day. Until I discovered this sauce I was using the Original Hot Sauce instead, but prefer to use Green Jalapeño Hot Sauce with fish dishes.
Sauces were a birthday gift for my son he is really enjoying them, for him the hotter the better. Would certainly buy again .
Feb 9, 2023
It's Not Just BBQ Sauce - Our Guide to Barbecue Sauces
Jan 17, 2023
Introducing Ghost Pepper Ketchup
Jan 10, 2023
6 Ways To Use Buffalo Hot Sauce
Jul 27, 2022
Make Your Own Maple Habanero Drizzle
May 24, 2022
Chilli Jam vs Chilli Sauce
Mar 18, 2020
Sauce Shop Store Cupboard Hacks
Subscribe for emails.
Get recipe ideas to your inbox. Be the first to hear about new sauces and keep up to date with all the news from Sauce Shop HQ.
Use this popup to embed a mailing list sign up form. Alternatively use it as a simple call to action with a link to a product or a page.
Age verification
By clicking enter you are verifying that you are old enough to consume alcohol.
Added to bag
Can You Have Tartar Sauce On The Keto Diet
How to make enchilada sauce, healthy pasta sauce to buy, sweet ray's barbecue sauce, pepper palace ghost pepper sauce scoville.
How To Make To Zieke Sauce
Is sriracha sauce keto friendly, sugar free sweet and sour sauce, best wing sauce in the world, where to buy kikkoman sweet soy sauce, how to get tomato sauce stains out of clothes, hottest hot sauces in the world.
Mankind has been heating up its meals with hot sauce for generations. In fact, experts agree that hot sauce goes back as far as Mayan times. However, just a mixture of peppers and water, the first sauces were far simpler and would be unrecognizable by todays standards.
The contemporary bottle of hot sauce didnt come until years later, however it was still quite some time ago. The first commercially available bottled sauces in America appeared in Massachusetts all the way back in 1807.
However, while the bottled sauces would certainly resemble the contemporary bottle of hot sauce, their flavor would be mild by todays standards. It wasnt until much later, when people began breeding pepper plants that hot sauce started to get really spicy. By the late 1980s, mankind had descended into a full blown arms race for extreme chili breeding. Unsurprisingly, this has resulted in the birth of dangerously spicy peppers, such as the Carolina Reaper and the infamous Pepper X, and even spicier hot sauces.
Were talking sauces made with peppers so unnaturally far off the Scoville charts, that they need warning labels just to be put on shelves.
Recommended Reading: Raos Sauce Costco
How We Chose These Products
This roundup consists of some of the hottest hot sauces on the market. Please believe us when we tell you that they will burndo not, under any circumstances, touch your eyes when handling them. But that was what we looked for when searching for what hot sauces to includethe spiciest, zingiest, most fiery hot sauces available on the market. A lot of them use the Carolina Reaper, officially the worlds hottest pepper , so you know we arent kidding around. We also asked some chefs to give us their favorite super spicy hot sauces to include on this list. Those options have a kick, of course, but also some serious flavor. Feel free to incorporate those into your dishes, test your strength with just a dab, or go full Hot Ones by buying them all and tasting them in order of hotness. Read the below of our recs for the hottest hot sauces with extreme caution. Its not for the faint of heart.
The Last Dab Triple X 2000000+ Shus
Now this is how you do a super-spicy hot sauce. The Last Dab Triple X hot sauce is meant to be used, not just to be a novelty. The strong cumin-forward flavor is addictive, and can actually be paired well with foods. We have tasted it many times , and we now have more than one bottle in our current inventory.
This is the sweet spot if you love super-spicy food, though we have some other super-hot sauces we love equally. Simply put, kudos to Hot Ones and Smokin Ed Currie for crafting an insanely hot sauce that actually tastes great.
The Last Dab Triple X comes in at a whopping 2,000,000+ SHUs on the Scoville scale. This is thanks to the Pepper X Pepper variety bred by Ed Currie of the Puckerbutt Pepper Company. Hes the guy responsible for creating the Carolina Reaper pepper. You know, the hottest pepper on the planet. NBD.
Also Check: Zatarain's Cajun Hot Sauce
Dawsons Original Hot Sauce 82000 Shus
As things heat up, the brands become less well-known. However, Dawsons creates some of the most delectable hot sauces out there, and their Original sauce is among them. We find some of the best sauces are simple, and this one is no exception.
The distinction here is that this hot sauce uses habanero peppers as the first ingredient. If you know about habaneros, youll understand why this brings significantly more heat than the first few sauces on our list. Read our full review of Dawsons Original hot sauce here .
Dawsons takes a significant leap up on the Scoville scale. This hot sauce comes in around 82,000 SHUs on the scale, meaning it is significantly hotter than the stuff you can buy at the store. It also comes at a much higher price tag, but we think it is well worth the price for the premium ingredients and the beautiful design and appearance.
*Save $10 on Heatonist when you spend $40 using our unique referral link here!
Has Anyone Died From The End Hot Sauce
In order to produce a super-hot sauce, Andrew Lee, 33, had utilized a bag of home-grown red chillies he had purchased. The forklift truck driver, who had recently passed a medical exam at his place of employment, challenged his girlfriends brother to take a tablespoon of the food before devouring a plateful of it himself. He died shortly after, as a result of a heart attack.
Read Also: What Sauce Is On Buffalo Chicken Pizza
Scoville Rating: The End Is Here
While at the Mall of Georgia with one of his clients, my friend and CEO of CablesandKits Craig Haynie , stopped by the Pepper Palace . While browsing the shop filled with hot sauce, they came across the hottest option in their shop.
The End. This sauce sits at 6 million Scoville units making it an insanely spicy sauce. In fact, the only way to make it this hot is by using extracted capsaicin, the element that makes us feel the burn. The End uses habaneros for flavor and the extract for the heat. The lid is secured by a wax security seal. There are no accidents when it comes to consuming this fiery blaze of a hot sauce.
The plan was for me to eat it at home and video myself doing it, but I wasnt making it happen. After talking with Craig, my friend who bought it, we came up with the idea to do it at the office while they filmed me. With the date set, Craig decided to join in and began inviting other team members in on it. We ended up with a small group of guys to participate in the challenge. After we paved the way, others in the company tried the sauce themselves.
The Worlds Best Hot Sauces According To People Who Know Hot Sauce
With over 90 unique hot sauces, Pepper Palace has the best hot sauce for every taste. Looking for something mild or fruity? Check out our mild hot sauces – the perfect blend of flavor and spice to complement any dish. Prefer a hot sauce that will light you up and make you breathe fire? Look no further – our x-hot and extreme hot sauces are reserved for only the most hardcore chili-heads. For everyone else, try our medium and hot hot sauces for that perfect balance of flavor with a kick.
Which hot sauce is best?
We dont want to toot our own horn, but our hot sauces have won multiple awards which we would say makes them, objectively, the best hot sauces in the world. Everyone has their own favorite, though, so why not go on a taste-test adventure to decide for yourself? Start with our best sellers or chat with a sauce boss for help picking the best hot sauce.
Is hot sauce good for you?
Rejoice, because your favorite condiment is not only delicious but its also good for you. The main ingredient in hot sauce is capsaicin, that devilish little minx that puts the hot in hot sauce. Fortunately, it does more than just torture unassuming frat boys – capsaicin is also reported to help with weight loss and appetite control, boost your immune system, and make you happier. So skip the fad diets, pour on the sauce, and cheers to your good health!
Does hot sauce go bad?
Who invented hot sauce?
Read Also: Capital City Mambo Sauce Recipe
Franks Redhot Buffalo Wings Sauce
Hot sauce and wings are an inseparable couple, I dare say divinely matched. When it comes to chicken wings, Franks RedHot Wing Sauce has been a timeless classic. Its ready-to-use out-of-the bottle sauce featuring the secret ingredient in the initial Buffalo Wings, made in 1964 in Buffalo, New York. If you want your wings extra hot, this is the go-to sauce.
Franks Redhot Buffalo Wing Sauce is a fantastic dipping sauce, perhaps the hottest hot sauce for that. That notwithstanding, you can also drizzle it on a wide range of meals. When its not doing the magic on wings, it can tastefully spice your drumsticks, veggies, chicken salad, beans, burgers, and just about anything and everything. It will bring out that definitive spicy restaurant-style flavor to your home meal.
Its gluten-free and Kosher certified. It delivers spice and heat with a memorable punch.
Dont Miss: Rao Sauce Costco
The Source Hot Sauce: 71 Million Scoville Units
At 7.1 million Scoville, The Source is to be used as a food additive only. It should not be eaten straight under any circumstances. When you dont have any real chilis on hand, one drop of this stuff will bring extreme flavor and heat. Its 1,000 times hotter than a jalapeño, and could land you a visit to the hospital if not used properly. One man said it was so hot he could feel his heartbeat in his tongue, and another called it death paste.
Don't Miss: The Boulder Hot Sauce Company
High River Sauce Thunder Juice Tequila
The Thunder Juice Tequila-Infused hot sauce delivers heat and flavor with an unforgiving blast that sets you on fire while leaving you asking for more. Blended from tequila-infused peppers, blueberries, peaches, chocolate ghost, and over half a dozen items that fuse to complete a fiery, mouth-watering condiment.
You May Like: Raos Sauce Recipe
Where Are The Hottest Peppers In The World
Back in November 2013, the Carolina Reaper pepper was declared the Worlds Hottest Chili by the Guinness Book of World Records. It remains the record holder to this day an admirable feat in an industry filled with record chasers who are in constant competition to breed hotter and hotter chilies.
None have managed to captivate the world quite like the Reaper. Its inspired countless videos of people brave enough to try eating one.
One intrepid Bon Appétit writer went so far as to consume three whole peppers in just under 22 seconds, then documented 14 hours of misery in the aftermath.
At more than two million Scoville heat units, the Carolina Reaper is hundreds of times hotter than the average jalapeño.
With such intense heat, it hasnt exactly been popping up on menus across the globe. But it does occasionally make an appearance, while some of its less spicy brethren have been torturing tongues for years.
Here, weve highlighted some of the spiciest chilis available for consumption around the globe just in case you want to head off on your travels, build your tolerance to Reaper-level, and conquer the pepper spice chart.
You May Like: Carolina Reaper Pepper Hot Sauce
Is The End Hot Sauce Any Good
As a whole, wed definitely recommend The End hot sauce to anyone who enjoys a strong kick with their meals as well as an enjoyable flavor from their hot sauce.
The End has been marketed to make you think that it is the spiciest hot sauce in the world. Even the name The End makes you think that youre about to meet your maker.
Reading the description, you might be put off from even thinking about trying the hot sauce:
The searing pain felt across your tongue brings tears to your eyes. You cry out for water. The panic sets in. How do I make it stop?!? Why did I do that? I should have listened to the warnings! You swear never again! 5 minutes, 10 minutes, 30 minutes later The End hasnt ended. R.I.P. My taste buds .
Weve reviewed The End in terms of three factors to help you determine if youre brave enough.
PRODUCT REVIEW
The ingredients within The End hot sauce are vinegar, habanero peppers, Carolina reaper peppers, extract, salt, xanthan gum.
This short but sweet ingredients list leaves a lot to the imagination when it comes to the flavor of this hot sauce.
When it comes to hot sauces, there tend to be two categories that manufacturers choose from. First is a hot sauce that is not only spicy but also flavorful. The second is just spice without flavor.
The latter tends to be hotter and you wont get much more from it than a burning tongue. Some prefer a more flavorful sauce while others just want the strong spice kick.
Consistency
Can carolina reaper kill you.
Carolina Reaper, as stated above is the hottest pepper in the world. It was created by a grower named Ed Currie. It has a fruity flavor and is similar to a 7 Pot chili pepper. Eating Carolina Reapers or other superhot chili peppers is not going to kill you. However, it has some side effects that you cant take out of the equation. It is of course possible to overdose on the ingredient, that makes a hot pepper.. well hot. It is called Capsaicin and you need to eat more than 3 pounds of Carolina Reapers to reach this level.
You May Like: Hot Delight Gourmet Hot Sauce
What Is The Hottest Hot Ones Sauce
An aspiring cook who challenged his friend to a chilli-eating contest died just hours later. Shortly after he had a heart attack and died. Andrew Lee dies after eating superhot chilli sauce. Mr Lee took a jar of the sauce to his girlfriends house last weekend, where he challenged her brother Michael, his family said.
Dont Miss: Pepper X Hot Sauce For Sale
Z Nothing Beyond Extremely Hot Sauce
Z Nothing Beyond Hot Sauce is a tasty concoction that certainly brings the heat. Ok, ok.. it wont kill you, but after trying it, you might wish it did! Made with 4 million Scoville unit pepper extract, this sauce should only be used with extreme caution! An award winning extract sauce that definitely brings fire to the delightful flavor.
Recommended Reading: Sun Dried Tomato Alfredo Sauce Classico
Meet Your Maker Retribution Sauce: 5 Million Scoville Units
Heavenly Heat makes Meet Your Maker Retribution Sauce with a blend of 5 million-Scoville-unit ghost pepper extract, fresh ghost peppers and dried ground ghost peppers. Hauntingly enough, it even comes in a coffin-shaped box. Use sparingly, as just three drops will add a huge dose of heat to eight quarts of chili. Dont be like this person on Reddit , who put three drops on one taco, making it the single spiciest mistake of my life even though they will probably do it again, for science and stuff.
You May Like: How To Remove Marinara Sauce Stain
Try The Worlds Most Intense Hot Sauces At Pepper Palace In Gatlinburg Tn
If youre a fan of spicy foods, youll definitely want to visit Pepper Palace during your next vacation in Gatlinburg, Tennessee! This hugely popular shop offers over 2,000 hot sauces as well as salsas, BBQ sauces, wing sauces, mustards, jams, jellies, and many other dips, marinades, and seasonings. Pepper Palace is famous for its free samples and tortilla chips, so you can try before you buy.
To help you make the most of your next getaway, Visit My Smokies has put together a guide to everything you need to know about visiting Pepper Palace in Gatlinburg TN.
Don't Miss: How To Make Homemade Tzatziki Sauce
How To Make Hot Sauce
Before we get into that, heres a quick explainer on what the hell is even in these hot sauces.
All hot sauces begin with a pepper. Youve likely passed most of these in the produce section of your grocery store. Habanero, serrano, fresno, jalapeño. But, some hot sauce brands opt for more obscure varieties like scotch bonnet, ghost pepper, or the dreaded Carolina Reaper.
In addition to one or a variety of spicy peppers, youll need some vinegar and some other aromatics like ginger, garlic, and of course salt and black pepper. Blend it all up and voila youve got your own homemade hot sauce .
Read Also: Hot Sauce For Weight Loss
The Worlds Spiciest Hot Sauces
If you use hot sauce on the regular, you know that all your favorite grocery store brands are relatively mild. Franks , Cholula , Tabasco, Crystal the whole gangs here, but none of them are especially face-melting. But true chiliheads know theres more to life than pepper sauce that doesnt make you sweat. So grab a gallon of milk and proceed with caution, because these are the spiciest hot sauces in the world.
You May Like: Lee Kum Kee Guilin Style Chili Sauce
Why Do Some People Tolerate Spicy Foods Better Than Others
Capsaicin activates a receptor found in your mouth and on your tongue called a TRPV1 receptor. The sensitivity of these receptors and even the amount of them varies from person to person. When someone says they dont like spicy food, its most likely because they dont have a mouth that can handle it.
Where Does a Jalapeño Fall on the Scoville Scale?
Jalapeños clock up between 2,500 and 5,000 units on the Scoville Scale, which is actually pretty low. If the jalapeño is enough to get your tongue numb, contrast that with the Caribbean favorite scotch bonnet at 350,000 units. Or worse still, the ghost pepper at one million!
Hot Sauce Scoville Scale
The Hot Sauce Scoville Scale lists numerous hot sauces sorted by their pungency and their amount of capsaicin in Scoville Heat Units . A hot sauce, also known as chili pepper sauce is a spicy seasoning sauce made from chili peppers and other ingredients such as various fruit and vegetables, vinegar and spices. In addition to changing the degree of spiciness, hot sauce is also used to alter the actual taste of a dish. The production of hot sauces can be done by cooking, fermentation, but also by using only raw ingredients.
Also Check: How To Make Great Barbecue Sauce
Popular Recipes
How to make marinara sauce, how to cook buitoni alfredo sauce, more recipes like this, bbq sauce of the month club, lillies q carolina bbq sauce, papa john's white sauce, how to make cheese sauce for philly cheesesteak.
SauceProClub.com. is a one-stop resource for everything you want to know about cooking and sauces. All in one place. Contact us: [email protected]
Subscribe to our newsletter
Latest healthy and delicious recipes
SauceProClub with Chef Laura.
Terms and Conditions
Privacy Policy

Fire Rating 1 – Mild Hot Sauces (0 – 1,500 Scoville Heat Units)
Fire Rating 2 – Medium Hot Sauces (1,500 – 15,000 Scoville Heat Units)
Fire Rating 3 : Hot Hot Sauces (15,000 – 50,000 Scoville Heat Units)
Fire Rating 4 – Hotter Hot Sauces (50,000 – 850,000 Scoville Units)
Fire Rating 6 – Hotter than the Hottest Hot Sauces (1,050,000 – 16,000,000 Scoville Units)
Fire Rating 5 – Hottest Hot Sauces (855,000 – 1,050,000 Scoville Heat Units)
Dave's Gourmet Ghost Pepper Hot Sauce
You litterally only need to use this bad boy one toothpick drop at a time! You have been warned chili-heads!
Scoville Heat Units (SHU) : 650,000
Hot Sauce Brand:   Dave's Gourmet Inc.
Origin: United States
Hot Sauce Ingredients:  Ghost Pepper/Naga Jolokia, Hot Pepper Extract, Salt, Vegetable Oil, Roasted Garlic Pulp, Acetic Acid.
Check out more products from:  Dave's Gourmet Inc.
There is nothing that can prepare you for the heat this sauce emits. The best way to describe it when you put a toothpick drop on your tongue is imagine a nail glowing red hot and placing the nail on your tongue. Really hot!!!
Ladies and gentlemen, I'm proud to present to you Tabasco's drunk and psychotic cousin. In the description, it states "you litterally only need to use one tooth pick drop at a time". That's not bullsh*t! The first time I tried it: It was like a mouth full of hornets stinging everywhere they can reach, and that was only one drop. I highly recommend it on pizza, to alter spaghetti sauce, or use in a very mean practical joke. Enjoy.
Just made hot wings with this. Well, hot wing. Wasn't confident enough to put more then one of my wings in it. I completely coated the wing in it then broiled both sides of the wing at 500 degrees for 1 minute to caramelize the sauce into the wing. It lit my mouth up. I tasted the ghost pepper and the garlic but it also has a bit of a chemically Tabasco flavor which I assume is from the hot pepper extracts. 7/10
I just "graduated" to this sauce. I will tell you one thing, this stuff is HOT. I'm good for about 5-8 drops per taco and it lights me up. The pleasant part about this sauce is the flavor before the burn. It's a bit smokey and that garlic shows up just before the burn. I think this sauce would be great blended with a bit of habanero for a little citrus-like flavor, but that is for next taco night. I recommend this to anyone who loves HOT sauces.
Wife brought this home, and I assumed it would be somewhere between Dave's insanity and the plethora of other ghost Pepper sauces I have tried.
It's not, and certainly feels like the 650000 shu it's advertised at.
I endeavored, determined not to be defeated by a "Dave's gourmet" product, as I didn't believe it could be this hot.
After adjusting to the heat, the flavors do start to come out. It's a very pepper forward sauce, followed by garlic that is about as intense as chewing raw garlic.
I'm a garlic lover and could enjoy the strong flavour, if it was not followed immediately by the acidic and foul aftertaste that is common with extract based hot sauces.
This for me is the only unforgivable sin committed by Dave's Ghost Pepper sauce. The garlic is an obvious attempt to mask the flavour profile of the extracts, and it does not succeed.
The uninitiated will experience this sauce as a "novelty" product, too hot to really enjoy. Those of us that are constantly looking to bring our food to the next tier of heat and flavor could likely find something at this heat range that is not so reliant on extracts.
Good flavor has some heat to it. Very nice sauce but don't use too much unless u want to shit fire, lol!
This is an awesome hot sauce. Just the right heat and flavor combo. I really don't like vinegar tasting hot sauces and this one gives really good flavor. I put it on almost everything. Beware of putting in soups and chili it intensifies by 10. Just a few drops add great taste to any sandwich, taco, or burrito.
Dave sauce is the best I have found. Great job!!!!
Leave a Comment
Save my name, email, and website in this browser for the next time I comment.
Next post: Dave's Gourmet Crazy Caribbean Hot Sauce
Previous post: Scorned Woman Sweet Majic Hot Sauce
This site rocks the Classic Responsive Skin for Thesis .
FREE SHIPPING ON ORDERS OVER $35 (Excludes Cheese and Seed Starting Supplies)

Item added to your cart
Open media 1 in modal
Open media 2 in modal
Open media 3 in modal
Open media 4 in modal

Very Hot BBQ Sauce
Ghost Pepper BBQ Sauce
(17) 17 total reviews
Couldn't load pickup availability
This made from scratch spicy BBQ sauce featuring one of the hottest peppers in the world doesn't need corn syrup, thickeners, or other artificial ingredients to send your mouth into a state of fiery euphoria. This sauce is perfect for first-time heat-seekers and long-time heat-lovers. Our beer-infused ghost pepper barbecue sauce provides a unique kick to your meals that will leave the whole backyard wanting more.
Go ahead, give this spicy bbq sauce a chance to send your tastebuds for a trip!
Bottle Size: 14 oz
Heat Level: Hot (7.5/10)
Ingredients: Tomato puree (tomatoes, citric acid), brown sugar, vinegar, tapioca syrup, molasses, tomato paste (tomatoes), sea salt, habanero powder, hickory smoke (water, hickory smoke flavor), onions, garlic powder, ghost chili powder, onion powder, black pepper, mustard powder, Jacki O's Mystic Mama ale (water, malt, yeast, hops, dextrose), cayenne, allspice.
CONTAINS: WHEAT
U.S. and Canada Only
Want to grow these peppers yourself? Buy Ghost Pepper Seeds or skip the germination process and buy Ghost Pepper Live Plants here!
Other Ghost Pepper Products: Ghost Pepper Hot Sauce , Ghost Pepper Dried Pods , Smoked Ghost Pepper Powder
Try our other Hot Sauce flavors: BLUEBERRY REAPER HOT SAUCE , GARLIC HABANERO HOT SAUCE , GHOST PEPPER HOT SAUCE, MANGGO SCOTCH BONNET HOT SAUCE , PEACH VIDALIA ONION HOT SAUCE , SCORPION HOT SAUCE , and PEPPER JOE'S HOT SAUCE 2 PACK .
Description:
Specifications:.

Customer Reviews
This is the best BBQ that I've found. Actually, about to do some ribs tomorrow with it again. If you like heat and flavor, go with this sauce. It's a little warm for my Wife but her ribs will have Pepper Joe's Jalapeño Cherry BBQ sauce. She loves it.
Spice up your inbox
Sign up for hot deals, growing tips, and more!
Choosing a selection results in a full page refresh.
Opens in a new window.
Your wishlist
Add to wishlist
Choose your wishlist to be added
Share List Via Email
Share my wishlist, subscribe and get alerts about your wishlist.
We will notify you on events like Low stock, Restock, Price drop or general reminders so that you don't miss the deal
See Product Details
Are you sure you want to delete this wishlist?
Are you sure you want to delete selected wishlist products, out of stock products will be not move. are you want to move selected wishlist products, wishlist management page.
This page allows you to manage and add wishlist items directly to the cart.
Share your public wishlist on social media, through links, and via custom email.
You can subscribe to get update about your wishlist items
You have been unsubscribed
You will no longer receive emails about wishlist activities from this store..
Popular Professionals
Design & Planning
Construction & Renovation
Finishes & Fixtures
Landscaping & Outdoor
Systems & Appliances
Interior Designers & Decorators
Architects & Building Designers
Design-Build Firms
Kitchen & Bathroom Designers
General Contractors
Kitchen & Bathroom Remodelers
Home Builders
Roofing & Gutters
Cabinets & Cabinetry
Tile & Stone
Hardwood Flooring Dealers
Landscape Contractors
Landscape Architects & Landscape Designers
Home Stagers
Swimming Pool Builders
Lighting Designers and Suppliers
3D Rendering
Sustainable Design
Basement Design
Architectural Design
Universal Design
Energy-Efficient Homes
Multigenerational Homes
House Plans
Home Remodeling
Home Additions
Green Building
Garage Building
New Home Construction
Basement Remodeling
Stair & Railing Contractors
Cabinetry & Cabinet Makers
Roofing & Gutter Contractors
Window Contractors
Exterior & Siding Contractors
Carpet Contractors
Carpet Installation
Flooring Contractors
Wood Floor Refinishing
Tile Installation
Custom Countertops
Quartz Countertops
Cabinet Refinishing
Custom Bathroom Vanities
Finish Carpentry
Cabinet Repair
Custom Windows
Window Treatment Services
Window Repair
Fireplace Contractors
Paint & Wall Covering Dealers
Door Contractors
Glass & Shower Door Contractors
Landscape Construction
Land Clearing
Garden & Landscape Supplies
Deck & Patio Builders
Deck Repair
Patio Design
Stone, Pavers, & Concrete
Paver Installation
Driveway & Paving Contractors
Driveway Repair
Asphalt Paving
Garage Door Repair
Fence Contractors
Fence Installation
Gate Repair
Pergola Construction
Spa & Pool Maintenance
Swimming Pool Contractors
Hot Tub Installation
HVAC Contractors
Electricians
Appliance Services
Solar Energy Contractors
Outdoor Lighting Installation
Landscape Lighting Installation
Outdoor Lighting & Audio/Visual Specialists
Home Theater & Home Automation Services
Handyman Services
Closet Designers
Professional Organizers
Furniture & Accessories Retailers
Furniture Repair & Upholstery Services
Specialty Contractors
Color Consulting
Wine Cellar Designers & Builders
Home Inspection
Custom Artists
Columbus, OH Painters
New York City, NY Landscapers
San Diego, CA Bathroom Remodelers
Minneapolis, MN Architects
Portland, OR Tile Installers
Kansas City, MO Flooring Contractors
Denver, CO Countertop Installers
San Francisco, CA New Home Builders
Rugs & Decor
Home Improvement
Kitchen & Tabletop
Bathroom Vanities
Bathroom Vanity Lighting
Bathroom Mirrors
Bathroom Fixtures
Nightstands & Bedside Tables
Kitchen & Dining
Bar Stools & Counter Stools
Dining Chairs
Dining Tables
Buffets and Sideboards
Kitchen Fixtures
Desks & Hutches
Office Chairs
Living Room
Armchairs & Accent Chairs
Coffee & Accent Tables
Sofas & Sectionals
Media Storage
Patio & Outdoor Furniture
Outdoor Lighting
Ceiling Lighting
Chandeliers
Pendant Lighting
Wall Sconces
Wall Mirrors
View All Products
Side & End Tables
Console Tables
Living Room Sets
Chaise Lounges
Ottomans & Poufs
Bedroom Furniture
Nightstands
Bedroom Sets
Dining Room Sets
Sideboards & Buffets
File Cabinets
Room Dividers
Furniture Sale
Trending in Furniture
View All Furniture
Bath Vanities
Single Vanities
Double Vanities
Small Vanities
Transitional Vanities
Modern Vanities
Houzz Curated Vanities
Best Selling Vanities
Bathroom Vanity Mirrors
Medicine Cabinets
Bathroom Faucets
Bathroom Sinks
Shower Doors
Showerheads & Body Sprays
Bathroom Accessories
Bathroom Storage
Trending in Bath
View All Bath
How to Choose a Bathroom Vanity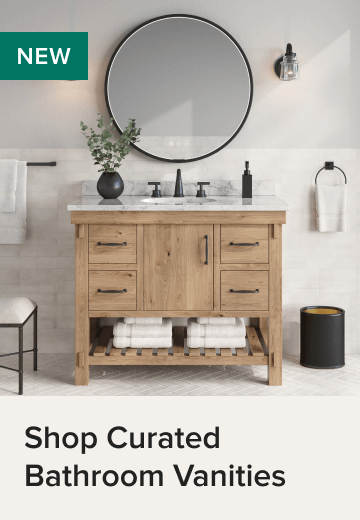 Patio Furniture
Outdoor Dining Furniture
Outdoor Lounge Furniture
Outdoor Chairs
Adirondack Chairs
Outdoor Bar Furniture
Outdoor Benches
Wall Lights & Sconces
Outdoor Flush-Mounts
Landscape Lighting
Outdoor Flood & Spot Lights
Outdoor Decor
Outdoor Rugs
Outdoor Cushions & Pillows
Patio Umbrellas
Lawn & Garden
Garden Statues & Yard Art
Planters & Pots
Outdoor Sale
Trending in Outdoor
View All Outdoor
8 x 10 Rugs
9 x 12 Rugs
Hall & Stair Runners
Home Decor & Accents
Pillows & Throws
Decorative Storage
Faux Florals
Wall Panels
Window Treatments
Curtain Rods
Blackout Curtains
Blinds & Shades
Rugs & Decor Sale
Trending in Rugs & Decor
View All Rugs & Decor
Pendant Lights
Flush-Mounts
Ceiling Fans
Track Lighting
Wall Lighting
Swing Arm Wall Lights
Display Lighting
Table Lamps
Floor Lamps
Lamp Shades
Lighting Sale
Trending in Lighting
View All Lighting
Bathroom Remodel
Kitchen Remodel
Kitchen Faucets
Kitchen Sinks
Major Kitchen Appliances
Cabinet Hardware
Backsplash Tile
Mosaic Tile
Wall & Floor Tile
Accent, Trim & Border Tile
Whole House Remodel
Heating & Cooling
Building Materials
Front Doors
Interior Doors
Home Improvement Sale
Trending in Home Improvement
View All Home Improvement
Cups & Glassware
Kitchen & Table Linens
Kitchen Storage and Org
Kitchen Islands & Carts
Food Containers & Canisters
Pantry & Cabinet Organizers
Kitchen Appliances
Gas & Electric Ranges
Range Hoods & Vents
Beer & Wine Refrigerators
Small Kitchen Appliances
Cookware & Bakeware
Tools & Gadgets
Kitchen & Tabletop Sale
Trending in Kitchen & Tabletop
View All Kitchen & Tabletop
Storage & Organization
Baby & Kids
Cleaning & Laundry
Pet Supplies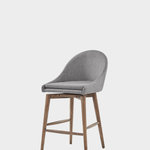 View all photos
Dining Room
Breakfast Nook
Family Room
Bed & Bath
Powder Room
Storage & Closet
Outdoor Kitchen
Bar & Wine
Wine Cellar
Home Office
Popular Design Ideas
Kitchen Backsplash
Deck Railing
Privacy Fence
Small Closet
Stories and Guides
Popular Stories
Renovation Cost Guides
Roof Replacement Cost Guide
Bathroom Remodel Cost Guide
Discussions
Design Dilemmas
Before & After
Houzz Research
View all pros
View all services
View all products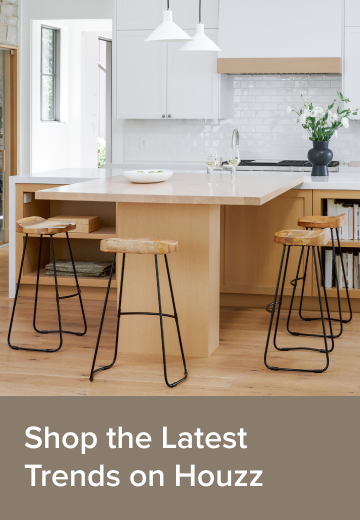 View all sales
Living Room Chairs
Dining Room Furniture
Coffee Tables
Home Office Furniture
Join as a Pro
Interior Design Software
Project Management
Custom Website
Lead Generation
Invoicing & Billing
Landscape Contractor Software
General Contractor Software
Remodeler Software
Builder Software
Roofer Software
Architect Software
Takeoff Software
Lumber & Framing Takeoffs
Steel Takeoffs
Concrete Takeoffs
Drywall Takeoffs
Insulation Takeoffs
Stories & Guides
LATEST FROM HOUZZ
HOUZZ DISCUSSIONS
SHOP KITCHEN & DINING
Kitchen & Dining Furniture
Sinks & Faucets
Kitchen Cabinets & Storage
Knobs & Pulls
Kitchen Knives
KITCHEN PHOTOS
FIND KITCHEN PROS
Bath Accessories
Bath Linens
BATH PHOTOS
FIND BATH PROS
SHOP BEDROOM
Beds & Headboards
Bedroom Decor
Closet Storage
Bedroom Vanities
BEDROOM PHOTOS
Kids' Room
FIND DESIGN PROS
SHOP LIVING
Fireplaces & Accessories
LIVING PHOTOS
SHOP OUTDOOR
Pool & Spa
Backyard Play
OUTDOOR PHOTOS
FIND LANDSCAPING PROS
SHOP LIGHTING
Bathroom & Vanity
Flush Mounts
Kitchen & Cabinet
Outdoor Wall Lights
Outdoor Hanging Lights
Kids' Lighting
Decorative Accents
Artificial Flowers & Plants
Decorative Objects
Screens & Room Dividers
Wall Shelves
About Houzz
Houzz Credit Cards
Privacy & Notice
Cookie Policy
Your Privacy Choices
Mobile Apps
Copyright & Trademark
For Professionals
Remodeling Software
Floor Planner
Contractor Leads
Trade Program
Buttons & Badges
Your Orders
Shipping & Delivery
Return Policy
Houzz Canada
Review Professionals
Suggested Professionals
Accessibility
Houzz Support
COUNTRY COUNTRY
Kitchen & Bathroom Designers in Elektrostal'
Design your dream kitchen and bathroom in Elektrostal' with the expertise of professional designers.
Location (1)
Popular Locations
Albuquerque
Cedar Rapids
Grand Rapids
Indianapolis
Jacksonville
Kansas City
Little Rock
Los Angeles
Minneapolis
New Orleans
Oklahoma City
Orange County
Philadelphia
Portland Maine
Salt Lake City
San Francisco
San Luis Obispo
Santa Barbara
Washington D.C.
Elektrostal', Moscow Oblast, Russia
What does an Elektrostal' kitchen designer or bathroom designer do?
Questions to ask an elektrostal', moscow oblast, russia kitchen and bath design professional:, find kitchen & bathroom designers near me on houzz, how do i find a local kitchen & bathroom designer in elektrostal'.
Reach out to the pro(s) you want, then share your vision to get the ball rolling.
Request and compare quotes, then hire the Kitchen & Bathroom Designer that perfectly fits your project and budget limits.
What services do Kitchen & Bathroom Designer companies provide in Elektrostal'?
Bathroom Design
Kitchen Design
Pantry Design
Handicap-Accessible Design
Outdoor Kitchen Design
Design Consultation
How many Kitchen & Bathroom Designers are in Elektrostal'?
What does a kitchen designer do.
A kitchen designer can offer valuable expertise and assistance in creating your dream kitchen. They bring together functionality and aesthetics to design a space that meets your needs and reflects your style. Here are some general functions that a kitchen designer can perform:
Assessing your requirements and understanding your lifestyle to create a tailored kitchen design.
Maximizing the efficient use of space by planning the layout and optimizing storage solutions.
Selecting appropriate materials, finishes, and fixtures that align with your desired style and budget.
Coordinating with contractors and tradespeople in Elektrostal' to ensure smooth implementation of the design.
Providing ongoing support and guidance throughout the entire kitchen design and installation process.
What is the most popular kitchen design?
Business services, connect with us.
FREE SHIPPING ORDERS £100+ | MIN ORDER £50 (£8 SHIPPING)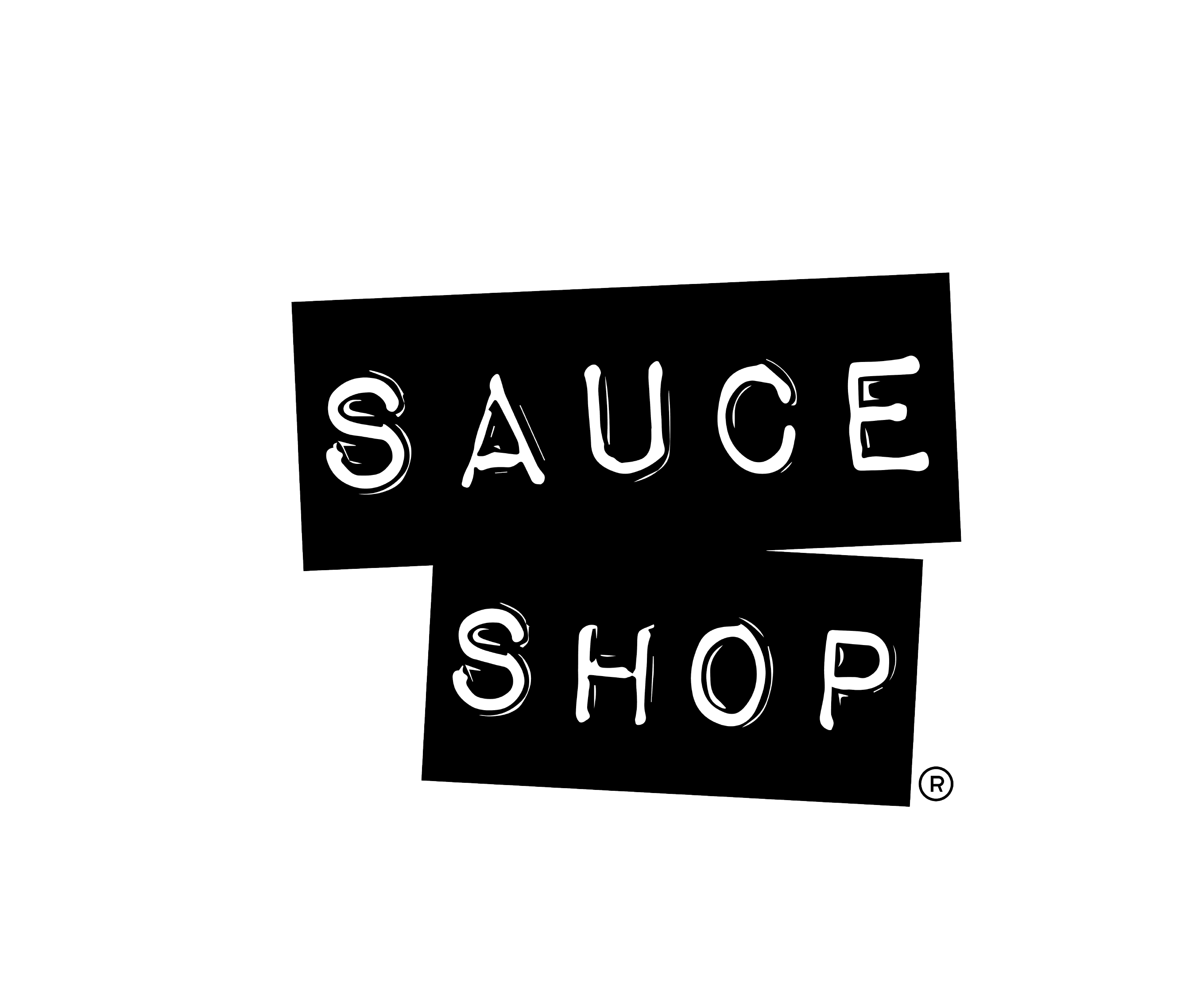 Item added to your cart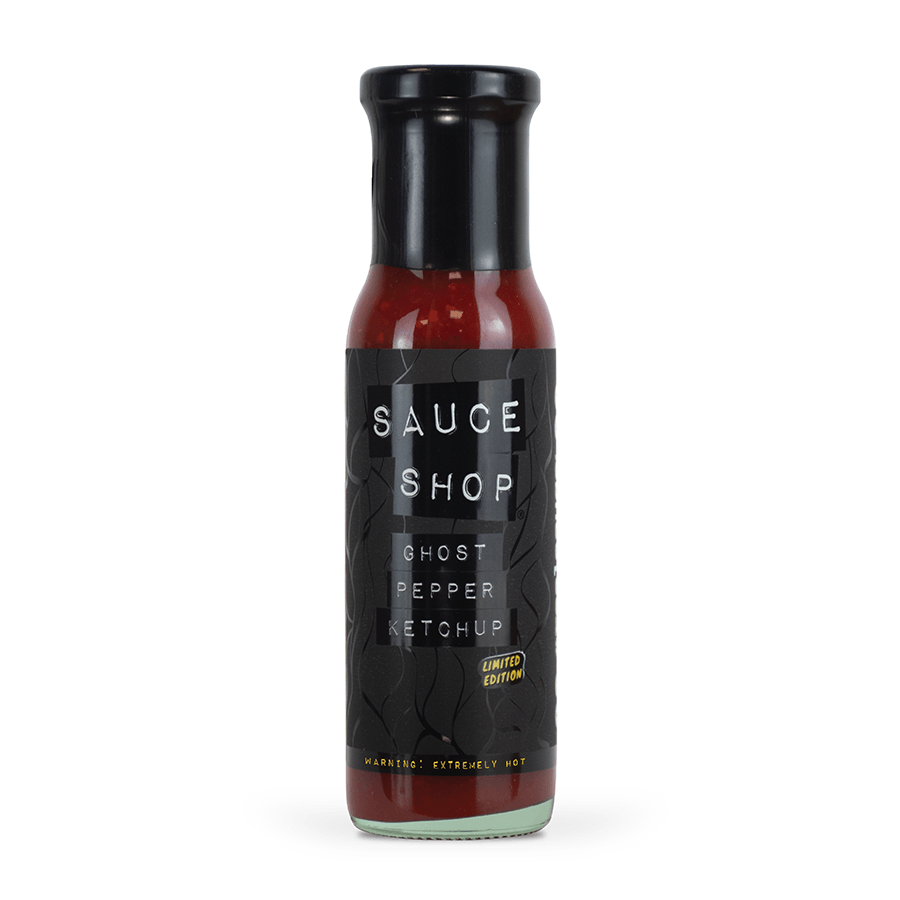 Ghost Pepper Ketchup
Rendering loop-subscriptions.
Couldn't load pickup availability
This is the hottest sauce we've ever made, be careful! Packed full of Bhut Jolokia (Ghost Pepper), you'll be met with a blast of fruity heat and the familiar sweet and sour balance of ketchup. Don't underestimate it, this obscenely potent ketchup contains 40% chilli. A must-have for any hot condiment fanatic… Embrace the Ghost Pepper.
Made using Ghost Pepper, one of the hottest chilli peppers in the world 
Heat level: Extremely hot
Suitable for vegans
Nothing artificial, just full-on flavour
Made in the UK
Ingredients and Nutrition
Ingredients: Ghost Pepper Chillies (40%), Sugar, White Grape Vinegar, Onion, Water, Salt, Garlic.
Nutritional per 100g: Energy 124kcal / 524kJ, Fat 0.1g (of which saturates 0.0g), Carbohydrate 28.5g (of which sugars 28.0g), Protein 0.4g, Salt 3.61g.
Storage Information
Store in a cool dry place, once opened keep refrigerated and use within 12 weeks. Shake well before use.
Customer Reviews
Subscribe to our b2b newsletter.
Be the first to know about new products, exclusive offers and all the news from Sauce Shop.
Choosing a selection results in a full page refresh.
Opens in a new window.
Skip to primary navigation
Skip to main content
Skip to primary sidebar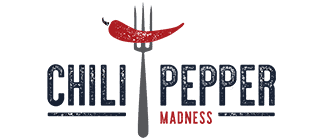 Recipe Index
All Recipes
Pepper Info
Chili Pepper Types
The Scoville Scale
Growing Chili Peppers
Chili Pepper Health Benefits
Frequently Asked Questions
Cooking Tips
Home » Recipes » Homemade Ketchup Recipe (+ Spicy Ketchup)
Homemade Ketchup Recipe (+ Spicy Ketchup)
by Mike Hultquist · May 26, 2022 · 33 Comments · Jump to Recipe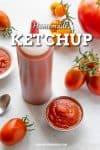 This homemade ketchup recipe is easy to make with tomatoes and spicy, and so much better than store bought, plus I'll show you how to make a spicy version!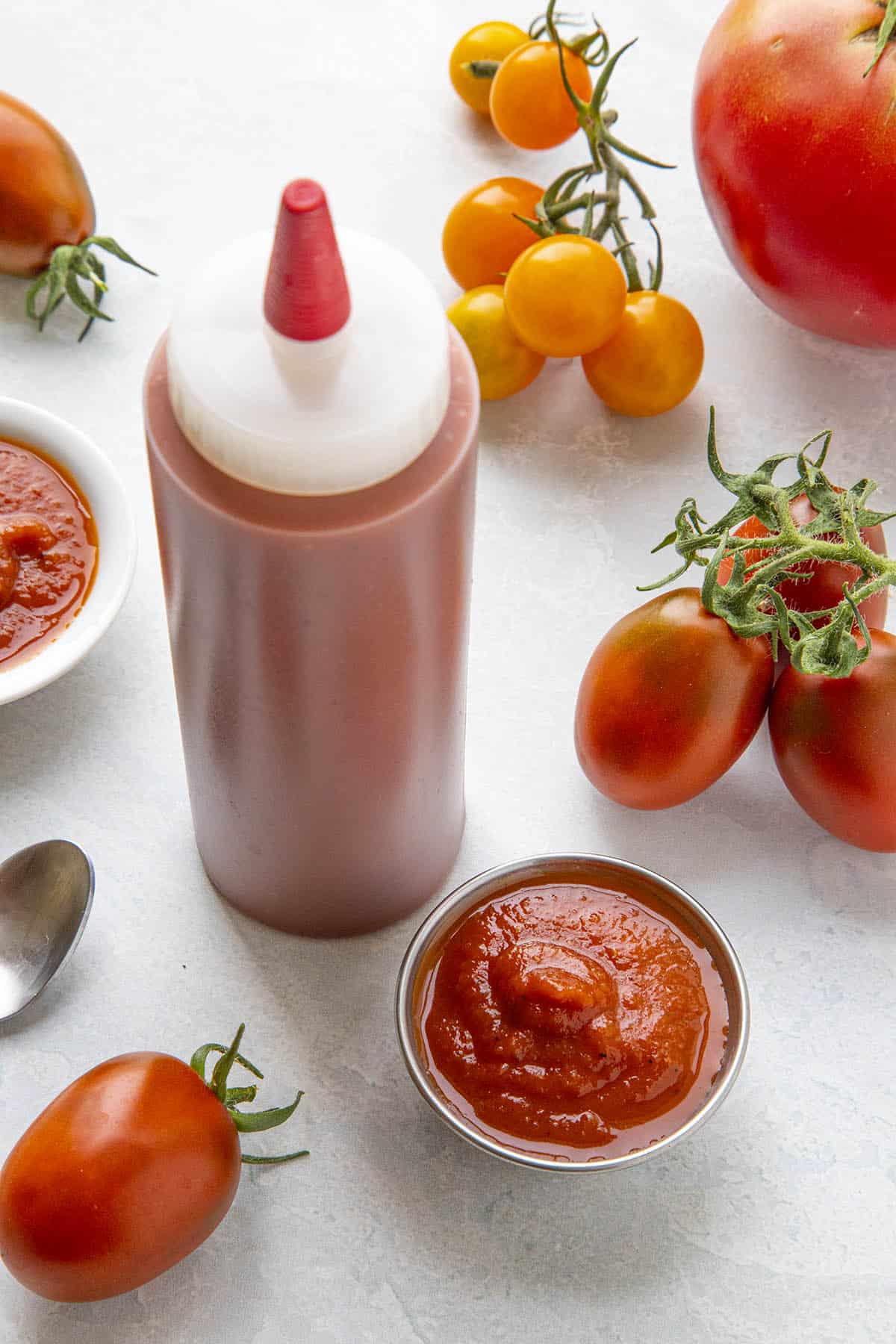 I am a sauce and condiment freak. If you've perused this web site, you'll probably pick up on that pretty quickly. I love cooking foods of all sorts, but when it comes to flavors, condiments are where it's at. A good condiment adds the final touch to many a great meal.
We're talking hot sauces , sauces , relish , pickles , as well as some of the most popular condiments we've known since we were kids - Mustard and Ketchup . I've been making homemade mustard for years, so it's time we made our own Homemade Ketchup to go along with it, right?
Of course I'm going to make a spicy ketchup as well, but you can very easily adjust that to your own preferred level.
Once you make your own ketchup at home, you'll never want to buy store bought ketchup again.
What is Ketchup?
Ketchup is the star of American condiments. At its core it is a seasoned and pureed tomato sauce with a somewhat thick consistency made for squeezing over burgers, sausages, hot dogs and sandwiches.
It's a versatile condiment and can be mixed with other ingredients to form new blends, like homemade bbq sauce . The pureed tomato sauce is typically flavored with vinegar, brown sugar, and a mixture of seasonings.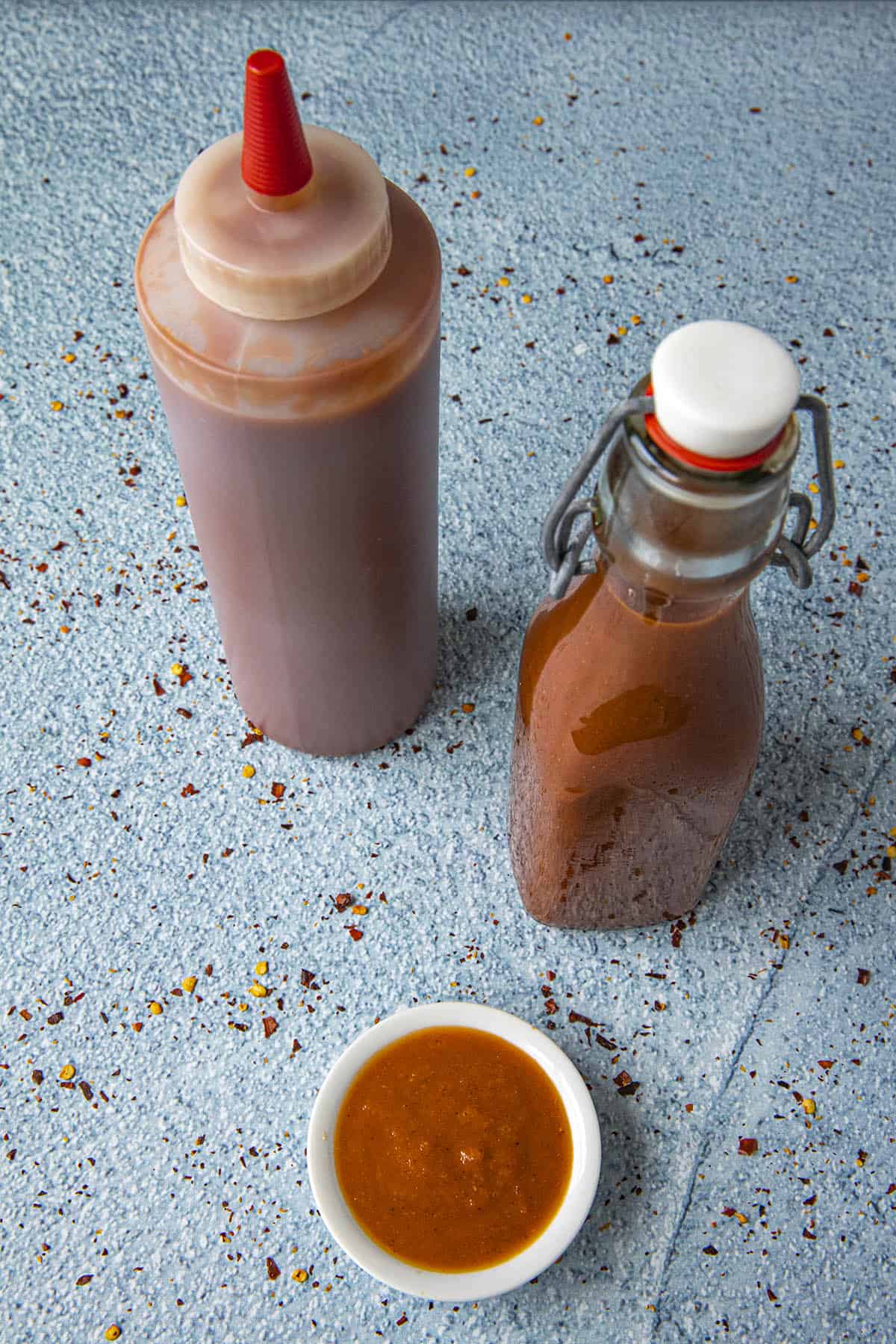 Why is it Called Ketchup?
The name "ketchup" is derived from the Chinese word, kê-tsiap , which is the name of a fermented fish sauce. It is likely that Vietnamese seafarers introduced this sauce to China.
The British discovered the sauce there and attempted to recreate this dark, fermented, flavorful sauce back home. Early failed attempts included ingredients like anchovies, walnuts and mushrooms, but eventually became the saucy condiment we know today when it was made with tomato.
Tomato ketchup is certainly popular in America and around the world. It's practically everywhere with mass market production, but like anything, it's so much better when you can make it at home and control the recipe.
So what do you think?
Let's talk about how to make homemade ketchup, shall we?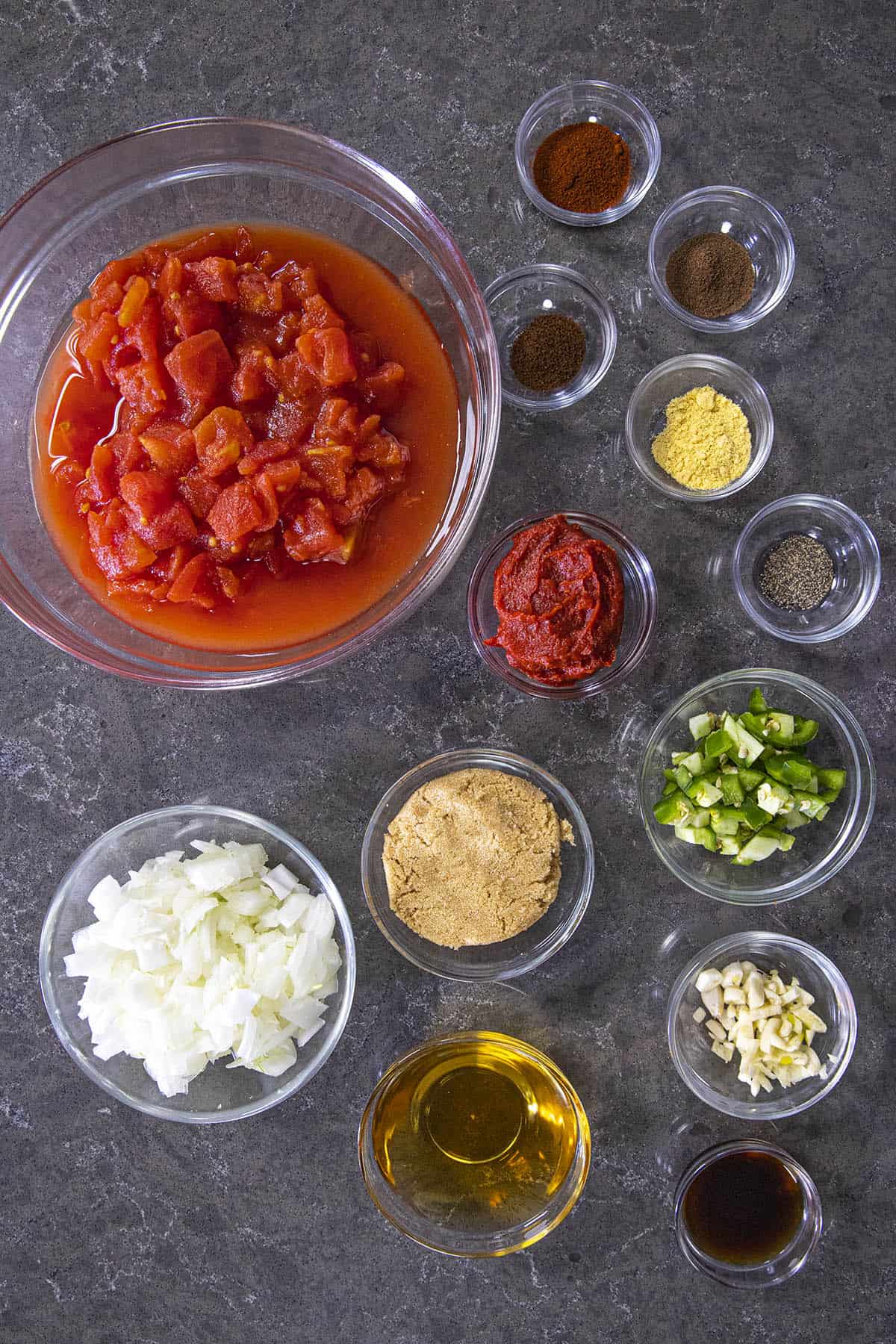 Ingredients Needed to Make Homemade Ketchup
Onion. You can use onion powder.
Peppers. Optional, for spicy ketchup. I enjoy a fairly mild jalapeno ketchup, but you can make habanero ketchup, ghost pepper ketchup, or as hot as you want.
Garlic. Fresh garlic, though you can use garlic powder.
Tomatoes. You can use fresh or canned tomatoes. Use the best quality for the best ketchup.
Brown Sugar. Honey or maple syrup are interesting swaps, for a nice touch of sweetness.
Vinegar. I use apple cider vinegar, though white vinegar is good, too.
Tomato Paste. As a thickener and flavor builder.
Worcestershire Sauce. This, along with the tomato and seasonings, gives ketchup its characteristic flavor.
Seasonings. Chili Powder (or use cayenne powder for a spicier kick), ground mustard, ground cloves, allspice, black pepper, salt.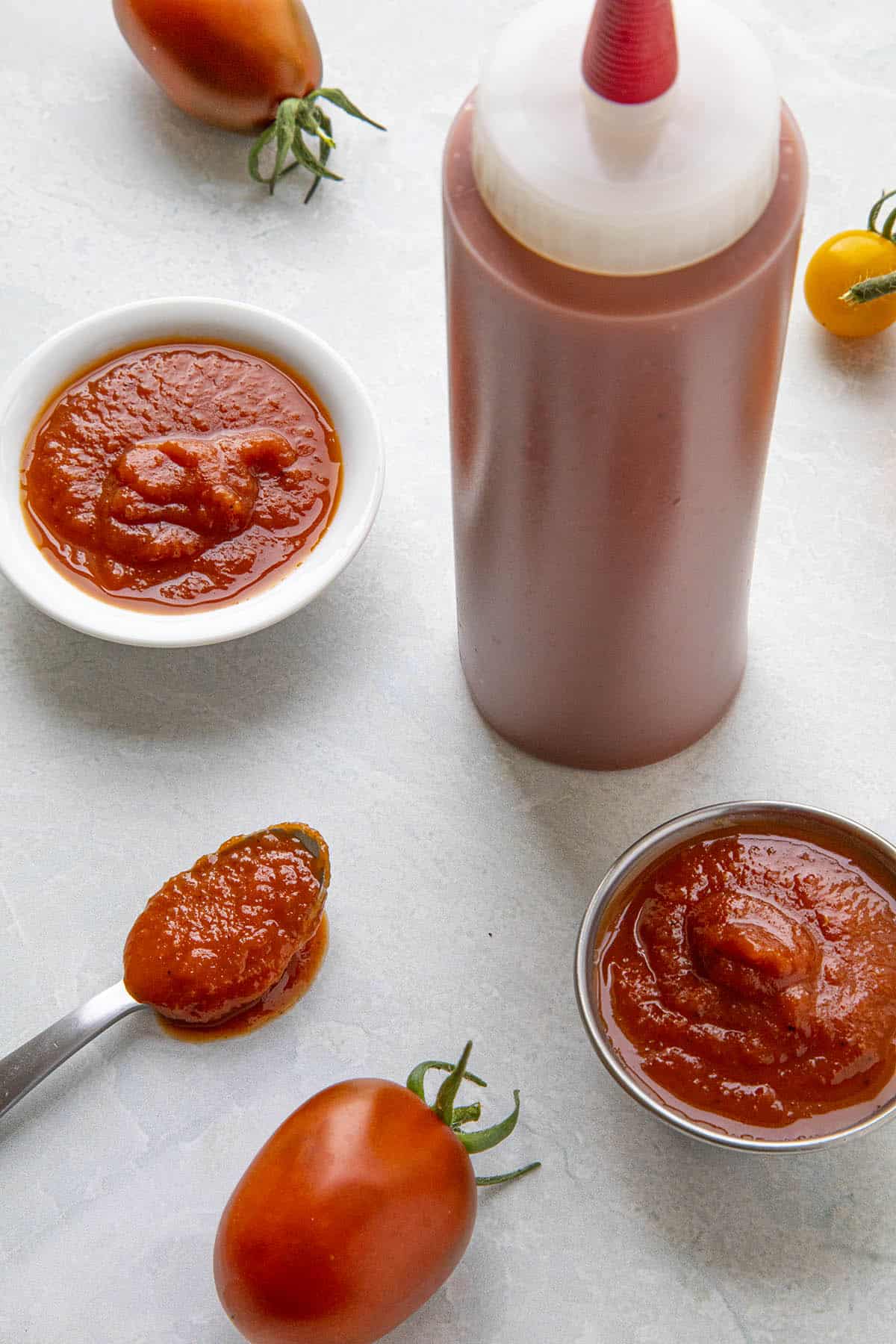 How to Make Homemade Ketchup
Cook the Peppers and Onions. First, heat the oil to medium heat in a medium sized pot and add the onion and peppers (if using). Cook them down about 5 minutes to soften them up.
Garlic. Add the garlic and cook for a minute, stirring a bit, until you can smell that gorgeous garlic.
Tomatoes and Remaining Ingredients. Add the tomatoes, brown sugar, cider vinegar, tomato paste, Worcestershire sauce, chili powder, ground mustard, cloves, allspice, black pepper and salt to taste. Give it a nice stir.
NOTE: If you're using fresh tomatoes , chop about 2-1/2 pounds of fresh tomatoes, add them to the pot, and proceed with the recipe.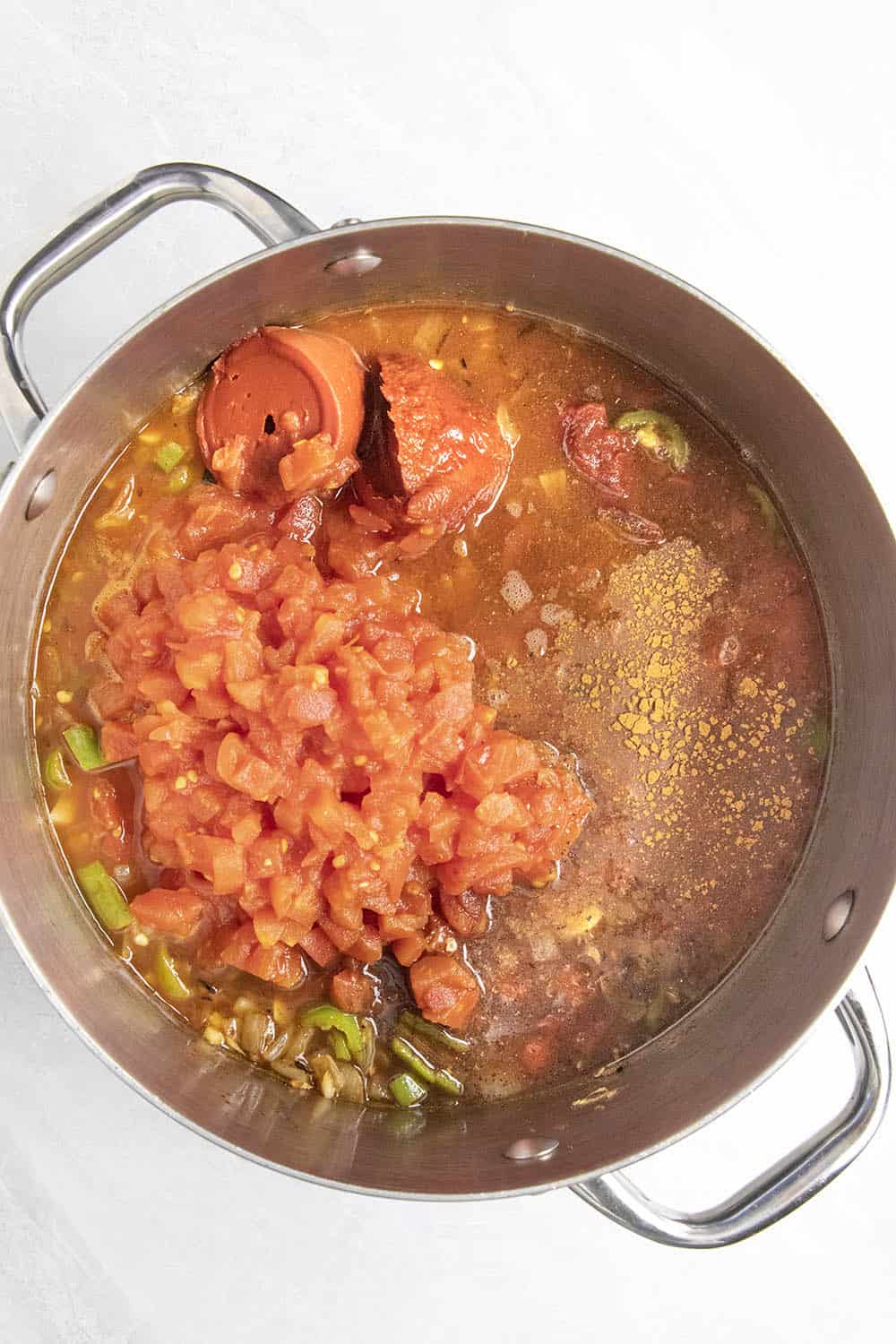 Simmer the Ketchup Ingredients. Bring to a boil, then reduce the heat and simmer for 45 minutes (or up to 1 hour/60 minutes) to let the flavors meld and develop.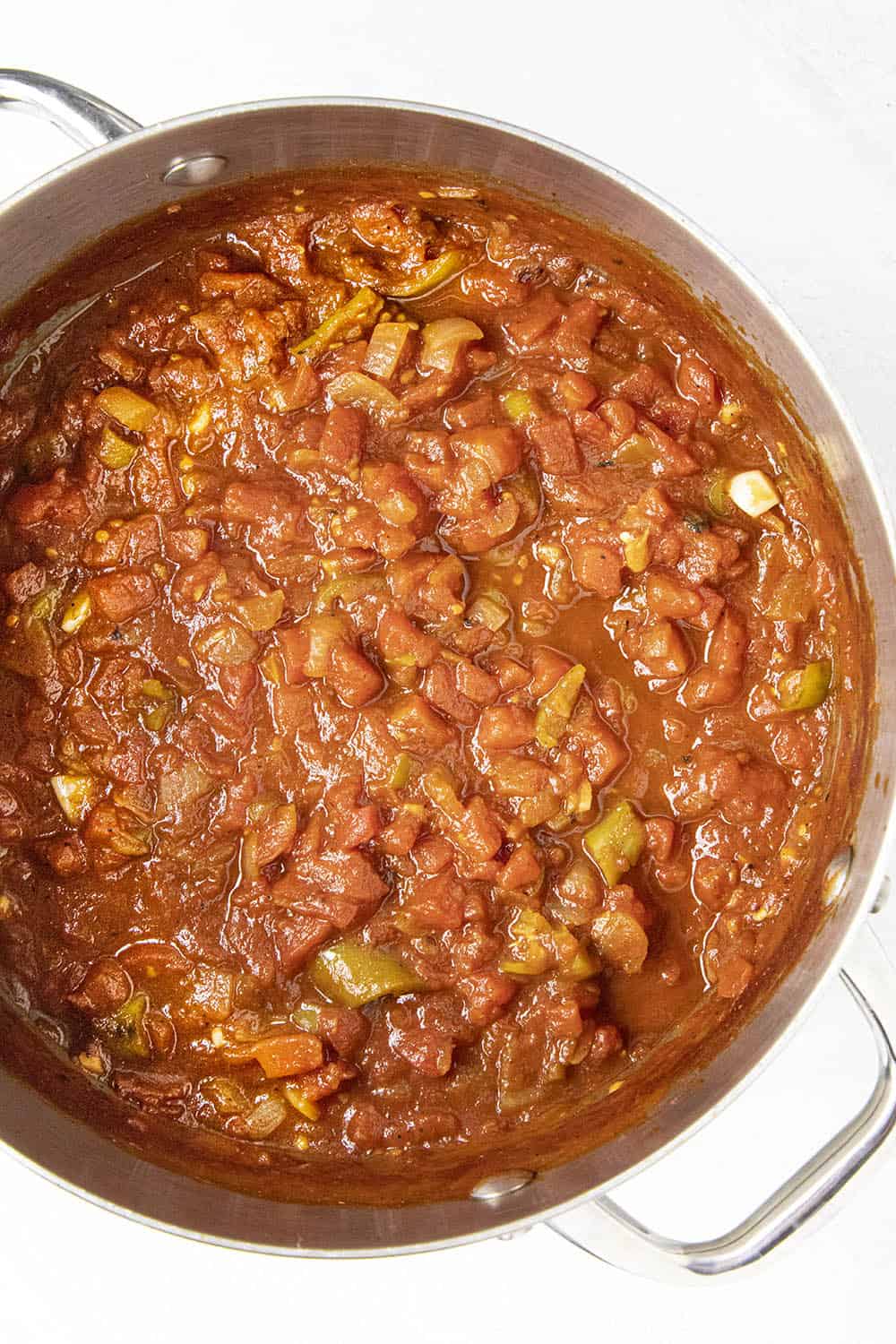 Process Until Smooth. Puree the ketchup with an immersion blender, or transfer it to a blender or food processor and process it in batches until nice and smooth.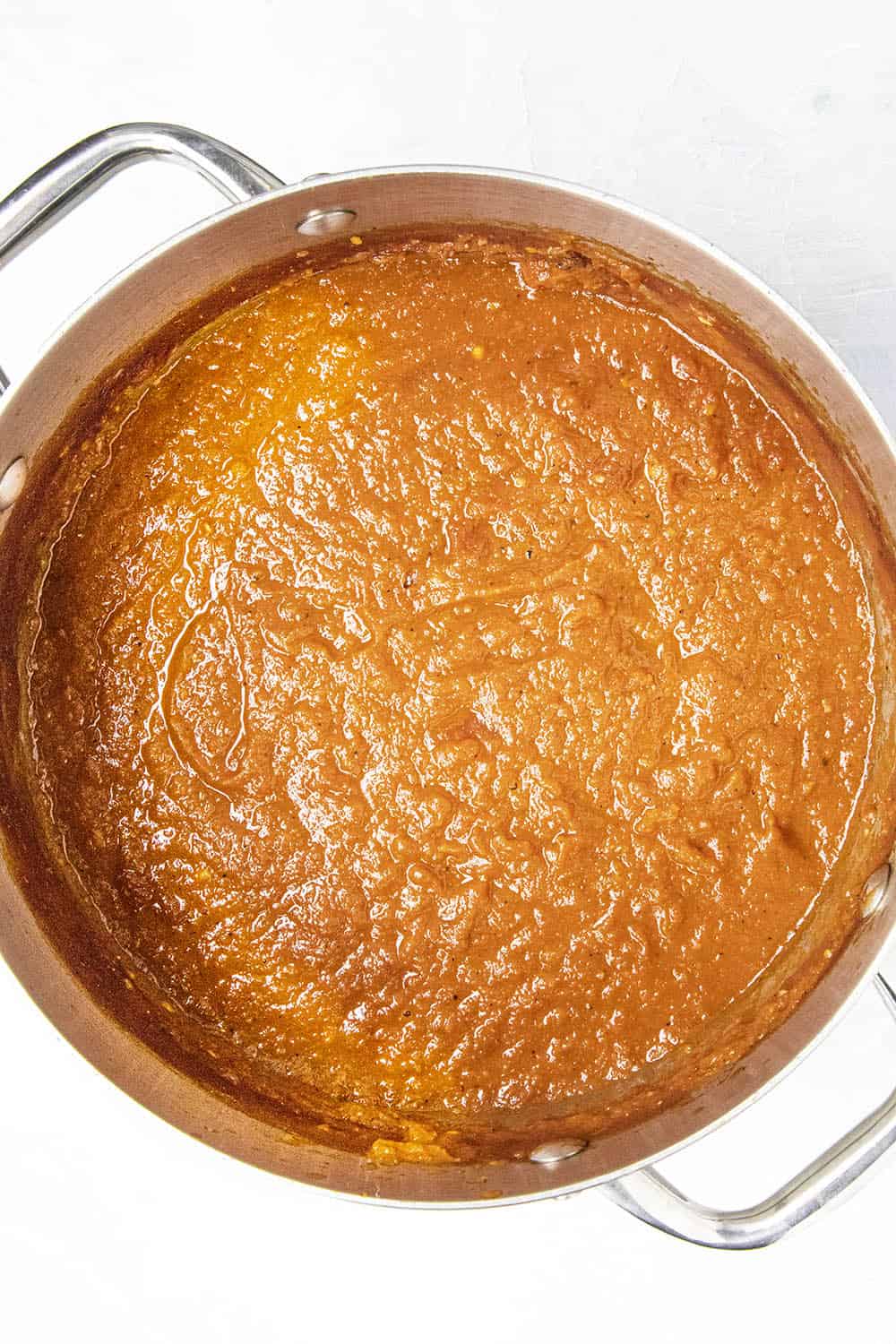 Strain the Ketchup to Thin. Strain the ketchup through a fine mesh strainer to give it a nice, smooth texture. Discard the remaining solids, or save them for another use.
You can swirl it into soups for added flavor, or dehydrate it to make a seasoning.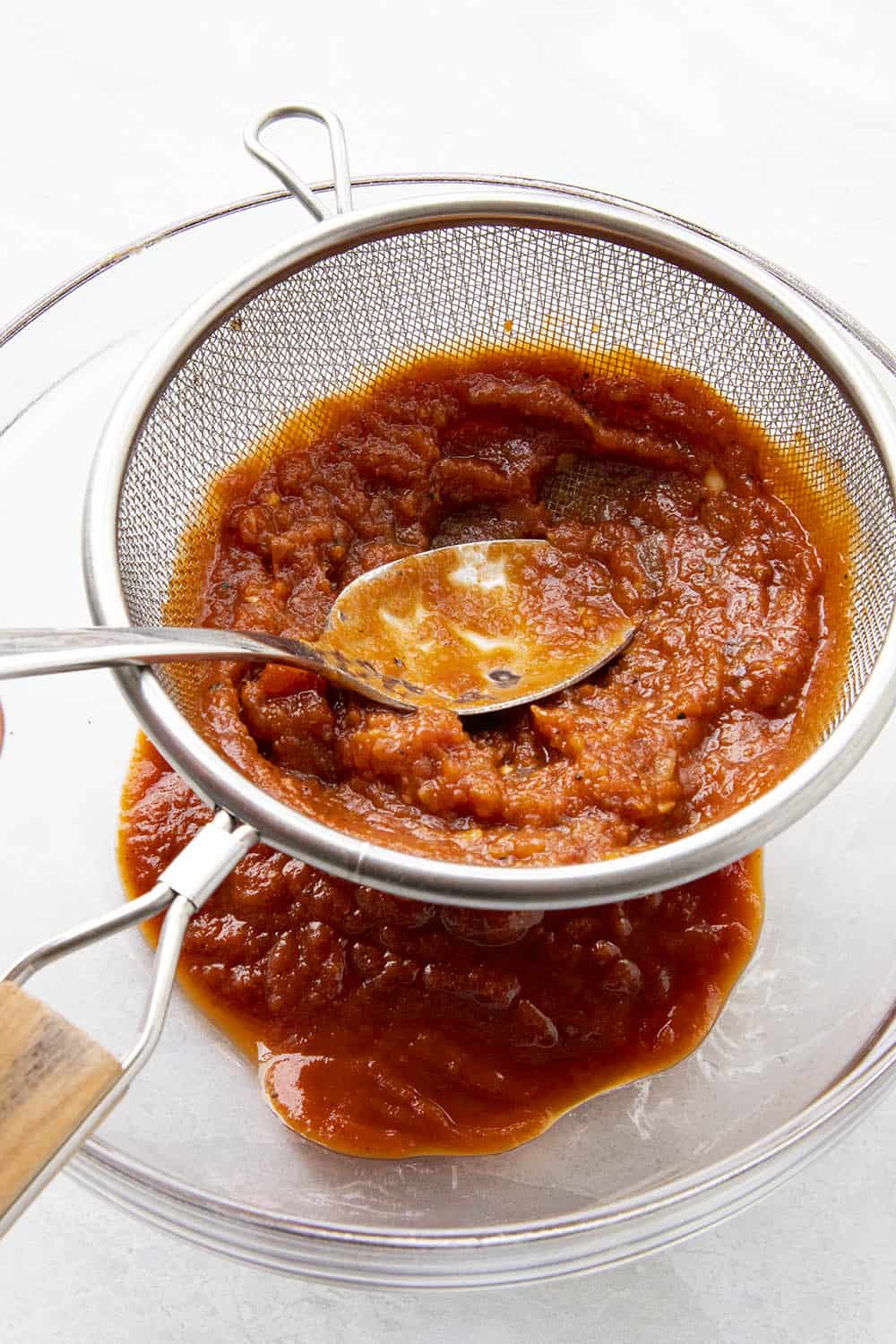 Store in airtight containers in the refrigerator and use as needed.
If you'd like to preserve the ketchup for longer term, process in a hot water bath for 15 minutes and store in a cool, dry place.
This recipe will make you about 3+ cups of homemade ketchup. Enjoy it however you'd like! Throw a ketchup party! Who's bringing the French fries? Such a great recipe.
Recipe Tips & Notes
Straining. Store bought ketchup is very smooth and that is what most people are used to. You don't have to strain it if you don't want to. Enjoy it as it is if you'd like. However, if your resulting ketchup is too grainy for your liking, strain it through a fine meshed sieve again after the initial strain, until you achieve your preferred consistency.
Thickness . If you're ketchup is too thick, thin it out easily with a bit of water. It will help it flow more easily from a squeeze bottle.
Tomatoes. I have made homemade ketchup with both canned and fresh tomatoes. I love both versions. Fresh tomatoes are great when you can pick them straight from your garden. I have used sweet cherry tomatoes as well as San Marzano tomatoes and thick, steaky heirlooms. If using canned, choose a good quality brand you love. Canned tomatoes are great because they are usually picked and preserved at the peak of ripeness.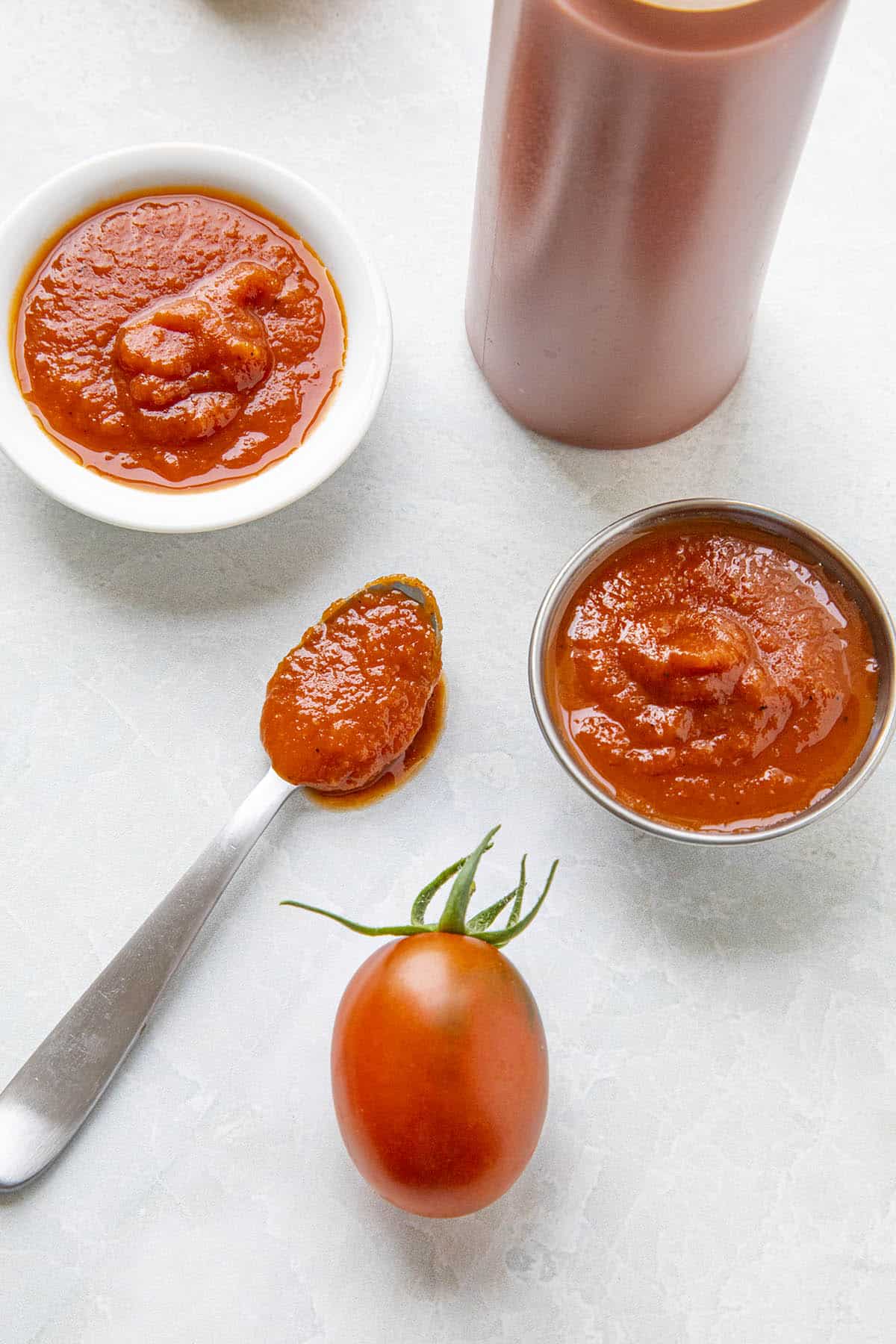 Spicy Ketchup Recipe
Make that ketchup spicy! I like my ketchup to have a KICK to it. Give me a spicy ketchup any day of the week. I've found a few spicy ketchup products in artisan shops, but not very often in grocery stores, so I make them at home myself.
Here are some ideas.
Spicy Ketchup . Swirl in a tablespoon or more of spicy red pepper flakes and or a tablespoon of cayenne pepper or spicier chili powder when cooking.
Jalapeno Ketchup . Incorporate jalapeno peppers at the beginning when cooking down the onion, like I did for this recipe.
Habanero Ketchup . Instead of jalapenos, use habanero peppers , which are much hotter, for a very hot ketchup.
Ghost Pepper Ketchup . Bring your spicy ketchup to a new level with the original superhot chili pepper, the ghost pepper .
Gochujang. Try using gochujang (spicy Korean chili paste) in place of the tomato paste for a spicy variation.
Of course you can go even hotter by using a collection of superhot peppers ! Go for it, my crazy chilihead friends! I know you want to! It's not just about the heat, but the ketchup taste.
How to Use Ketchup
I'm sure you have your favorite ways to enjoy ketchup! Try it with some of these recipes:
Baked Cajun Fries
Grilled Beer Brats
Great Hamburger Recipes
Homemade ketchup should be stored in the refrigerator in sealed containers or bottles. It will last 3-4 weeks or longer.
You can freeze homemade ketchup in freezer bags or containers, where it will last 6 months.
That's it, my friends! I hope you enjoy your homemade ketchup! Are you making a spicy version, like me? Or do you prefer a more traditional ketchup? Let's hear it!
Try Some of My Other Popular Condiments and Sauces
Homemade Chili Sauce
Ranchero Sauce
Peri Peri Sauce
Homemade Cocktail Sauce
Pickled Jalapenos
Homemade Buffalo Sauce
Hawaiian Chili Pepper Water
Homemade Sriracha
How to Make Mustard
Homemade Mumbo Sauce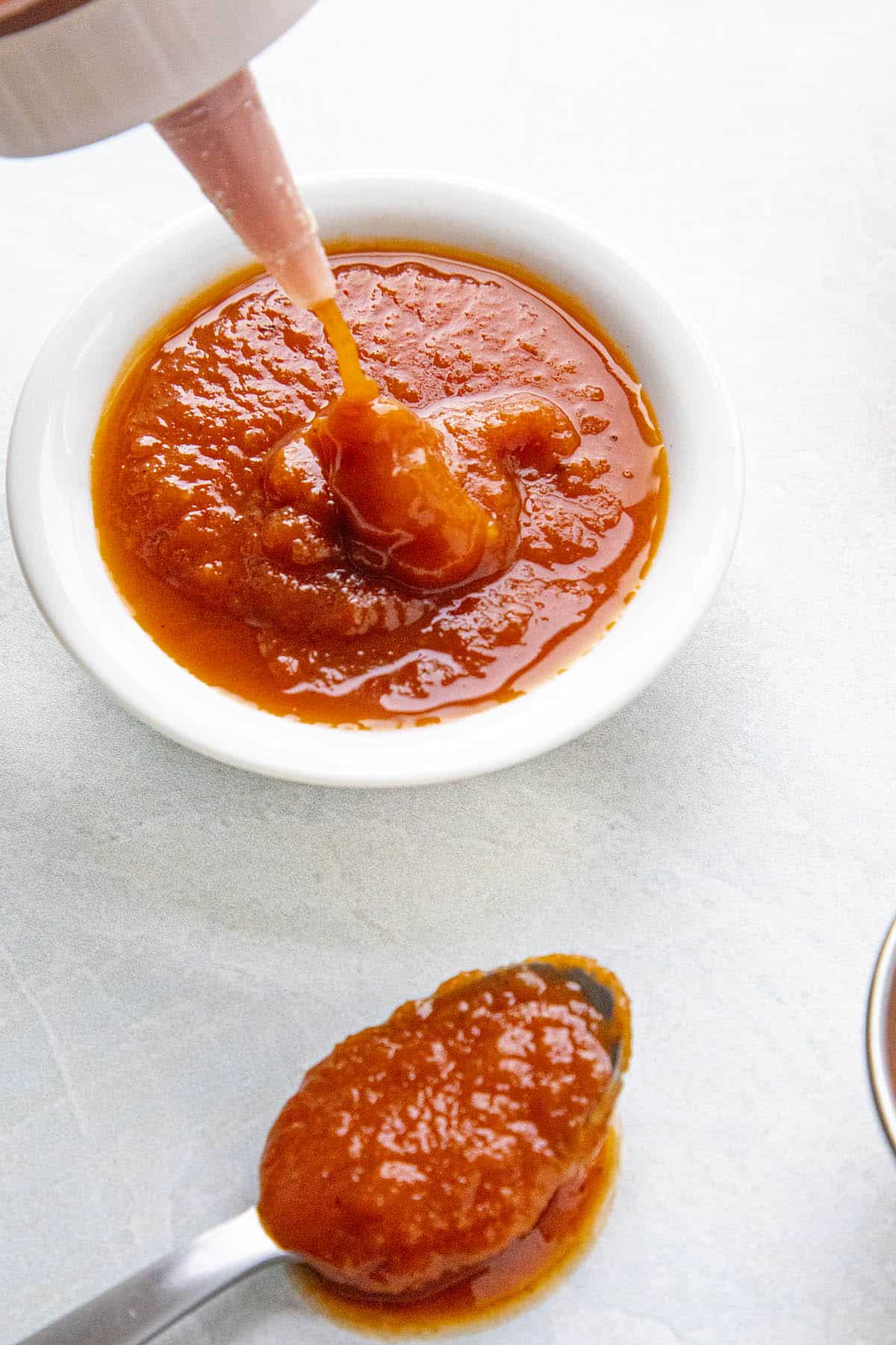 Got any questions? Ask away! I'm happy to help. If you enjoy this recipe, I hope you'll leave a comment with some STARS. Also, please share it on social media. Don't forget to tag us at #ChiliPepperMadness. I'll be sure to share! Thanks! — Mike H.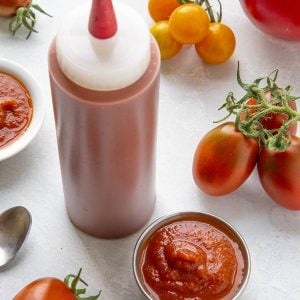 Homemade Ketchup Recipe (+ Spicy Ketchup!)
Ingredients.
1 tablespoon olive oil
1 medium onion chopped
1 jalapeno pepper chopped (optional for a spicy ketchup - or use a hotter pepper for a spicier ketchup!)
3 cloves garlic minced
1 28- oz can tomato diced tomatoes with juices, or use equivalent fresh chopped tomatoes
1/3 cup brown sugar
1/3 cup apple cider vinegar
3 tablespoons tomato paste
2 tablespoons Worcestershire sauce
1/2 teaspoon chili powder or use cayenne pepper, or both!
1/2 teaspoon ground mustard
1/4 teaspoon ground cloves
1/4 teaspoon allspice
1/8 teaspoon ground black pepper
Salt to taste I use about 1/2 teaspoon
Instructions
First, heat the oil in a medium sized pot and add the onion and peppers (if using). Cook them down about 5 minutes to soften them up.
Add the garlic and cook for a minute, stirring a bit, until you can smell that gorgeous garlic.
Add the diced tomatoes, brown sugar, cider vinegar, tomato paste, Worcestershire sauce, chili powder, ground mustard, cloves, allspice, black pepper and salt to taste. Give it a nice stir.
Bring to a boil, then reduce the heat and simmer for 45 minutes (or up to 1 hour/60 minutes) to let the flavors meld and develop.
Puree the mixture with a stick blender, or transfer it to a blender or food processor and process it in batches until nice and smooth.
Strain the ketchup through a fine mesh sieve to give it a nice, smooth texture. Discard the remaining solids.
Nutrition Information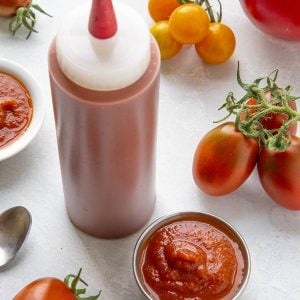 Note: This recipe was updated on 5/26/22 to include new information and video. It was originally published on 9/18/19.
Reader Interactions
Leave a reply cancel reply.
Your email address will not be published. Required fields are marked *
Chuck Rizzo says
October 07, 2023 at 3:54 pm
Tim Collins says
September 06, 2022 at 12:37 pm
I'll have to try you version. I always make my own at home and it's so much better. I always add honey for sweetness and Spanish Smoked Paprika that sends it out of the park! I never buy ketchup at the store anymore.
Mike Hultquist says
September 06, 2022 at 12:38 pm
I hear you, Tim. You can easily do a sort of mix up of mine and yours, see how you like it. Enjoy.
Martijn says
June 13, 2022 at 11:07 pm
June 14, 2022 at 5:45 am
Martijn, this will last many months or longer on the shelf when properly processed in a water bath. Check the acidity first, though. Shoot for a pH of 3.5 or lower for home preserving. Add more vinegar if you need to. Enjoy!
Greg R says
June 04, 2022 at 6:52 pm
June 05, 2022 at 8:27 am
Yes, so much better, isn't it? And I love how it can be updated as desired. Thanks for sharing, Greg. Glad you enjoyed it.
June 04, 2022 at 5:27 pm
Thanks again, Greg! Yes, garden grown tomatoes are AWESOME for this!
Cathleen says
June 04, 2022 at 2:18 pm
June 04, 2022 at 2:44 pm
Richard says
June 04, 2022 at 9:38 am
June 04, 2022 at 9:44 am
Thanks!! Glad you enjoyed it, Richard! I appreciate the comments. =)
June 02, 2022 at 8:06 am
June 02, 2022 at 8:50 am
Nice!! Glad you enjoyed it, Dave! I love to hear it.
Jérémie says
May 29, 2022 at 1:05 pm
May 29, 2022 at 3:37 pm
Thanks, Jérémie! I appreciate it! Great stuff!
October 18, 2021 at 2:36 pm
Michael Hultquist - Chili Pepper Madness says
October 18, 2021 at 2:48 pm
Awesome! Glad you enjoy it! Nice.
September 17, 2021 at 10:14 pm
I made the spicy ketchup. I used canned crushed tomatoes and 2 small Armageddon peppers that I grew in my garden. I have no idea what an Armageddon pepper is. I think it will be a hit.
September 18, 2021 at 7:21 am
Nice. You'll get some heat there for sure! Enjoy!
July 20, 2021 at 3:55 am
Hey Mike Haven't tried this recipe yet but it sounds amazing How long does the sauce last for? I know you mentioned preserving amd hot water bathing for 15 mins, but I'm not sure how to go about doing that? Can you explain the preserving method or point me in the right direction Cheers from the UK Dean
July 20, 2021 at 6:16 am
Dean, there is enough acidity to let it last several weeks in the refrigerator, covered, if not longer. It will lose freshness after a while, though. It's not made to last many, many months like store bought with all those preservatives. See my page on Canning Peppers ( https://www.chilipeppermadness.com/preserving-chili-peppers/canning-or-jarring-chili-peppers/ ) to get a better idea of how to do a water bath.
kasey jones says
October 14, 2020 at 3:07 am
Lol. For the cost of that and your time whataburger spicey at the dollar store kicks this to the curb. Sorry
October 14, 2020 at 5:51 am
LOL, Kasey. I mean, you have to actually enjoy cooking to make things like this. Besides, doing it on your own means you can be a true chilihead and make it as spicy as you want (like ACTUALY ghost peppers! Wow!). I'm sure you you could do better than they can! Best!
Patrick says
July 26, 2020 at 11:56 am
July 26, 2020 at 12:27 pm
Thanks, Patrick! Glad to hear it! You can save that pulp if you'd like for seasoning a soup or a stew. Another great use is to dehydrate it and grind it into a powder for seasoning. I do that all the time with my dehydrator. Enjoy!
December 16, 2019 at 4:46 pm
December 16, 2019 at 4:49 pm
Thanks, B. It's definitely difficult to get this homemade ketchup as smooth as the store bought stuff. They use big machines to churn everything down. You can always process it again with a very good food processor or blender, then run it through a sieve again. Glad you like the flavor. It's great with home grown tomatoes. Nice.
Gary Finch says
September 21, 2019 at 11:48 am
September 21, 2019 at 11:56 am
There you go! Awesome! Fatali peppers will give you some wonderful heat. I love it. Glad you are enjoying it.
Henri Boom says
September 21, 2019 at 4:02 am
Hi Mike, What do you mean by: 1/4 teaspoon gloves. Is this grinded garlicpowder? Greetings, Henri, Rotterdam, Netherlands.
September 21, 2019 at 11:15 am
Hi, Henri. Cloves are a spice made from the flower buds of an evergreen tree called the clove tree. It's a super unique spice. I suggest searching it out, but if you are unable to find it, try to use allspice. Nutmeg can work as well.
Metallurgicheskii Zavod Electrostal AO (Russia)
In 1993 "Elektrostal" was transformed into an open joint stock company. The factory occupies a leading position among the manufacturers of high quality steel. The plant is a producer of high-temperature nickel alloys in a wide variety. It has a unique set of metallurgical equipment: open induction and arc furnaces, furnace steel processing unit, vacuum induction, vacuum- arc furnaces and others. The factory has implemented and certified quality management system ISO 9000, received international certificates for all products. Elektrostal today is a major supplier in Russia starting blanks for the production of blades, discs and rolls for gas turbine engines. Among them are companies in the aerospace industry, defense plants, and energy complex, automotive, mechanical engineering and instrument-making plants.
Headquarters Ulitsa Zheleznodorozhnaya, 1 Elektrostal; Moscow Oblast; Postal Code: 144002
Contact Details: Purchase the Metallurgicheskii Zavod Electrostal AO report to view the information.
Website: http://elsteel.ru
EMIS company profiles are part of a larger information service which combines company, industry and country data and analysis for over 145 emerging markets.
To view more information, Request a demonstration of the EMIS service
Bahasa Indonesia
Slovenščina
Science & Tech
Russian Kitchen
5 Russian hotels haunted by ghosts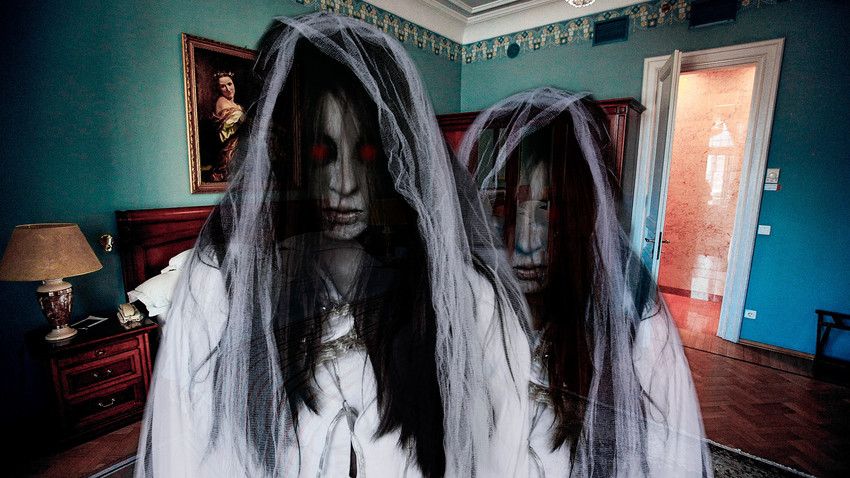 Paranormal activity isn't just something we see on TV - many people believe there are places where ghost sightings are real. Russia is no exception - Grigory Rasputin, Sergei Esenin and even Vladimir Lenin - are just some of the ghosts said to inhabit Russian hotels as well. Would you dare to spend a night there and check if these ghost stories are true?
1. Hotel National (Moscow)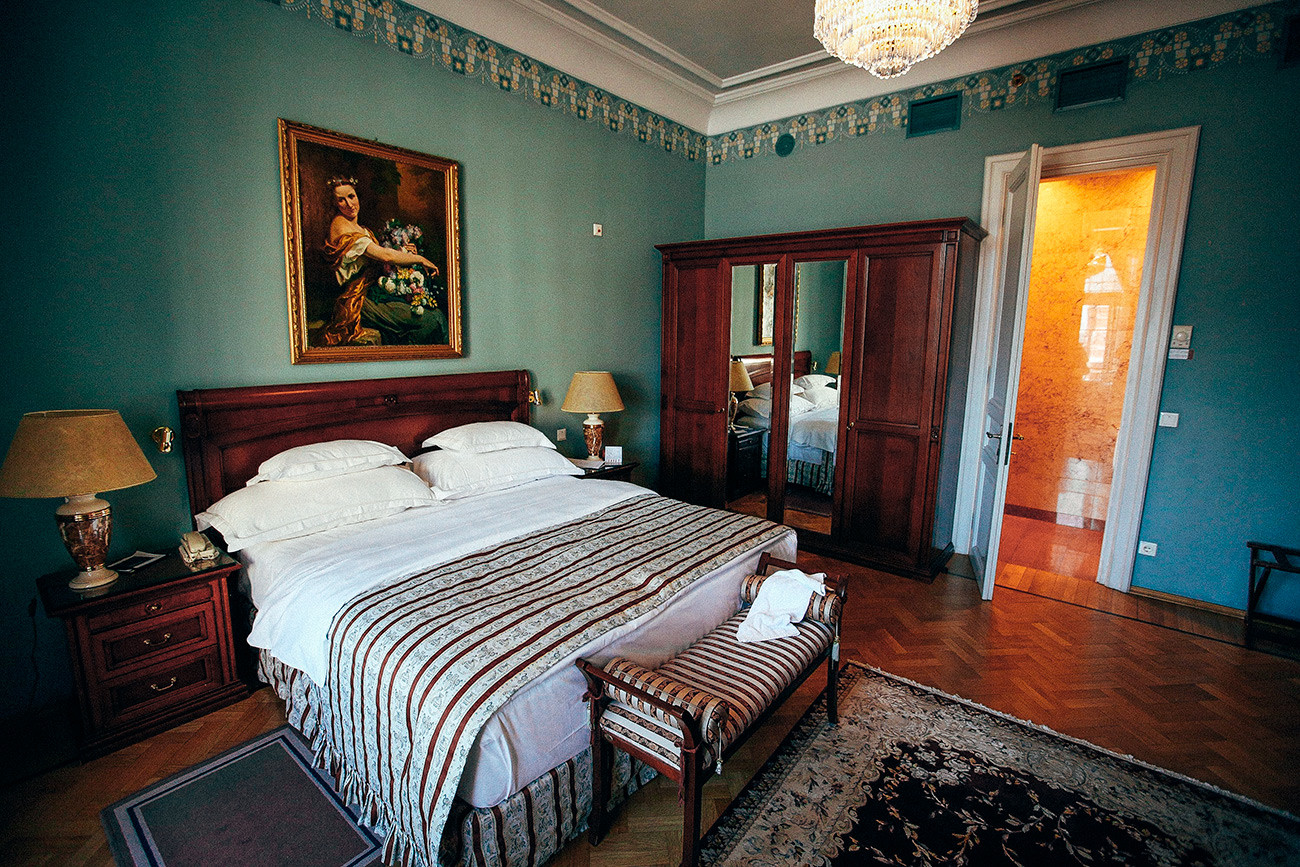 One of the most luxurious hotels in Moscow, Hotel National opened in 1903 and has hosted many well-known names over the years including prima ballerina Anna Pavlova, composer Nikolai Rimsky-Korsakov, French poet Anatole France, English writer Herbert Wells, and American pianist Van Cliburn. The leader of the Russian Revolution and the first head of the Soviet state, Vladimir Lenin, also lived here for a week with his wife - in room 107. According to rumors and the hotel staff's accounts, a figure of a man with a bald head and a beard is often seen at the hotel sipping tea, walking the corridors and turning the lights on and off - it seems the Soviet leader loved it here so much he didn't want to leave the place - even after his death!
2. Apartment Baltapart On Gorokhovaya (St. Petersburg)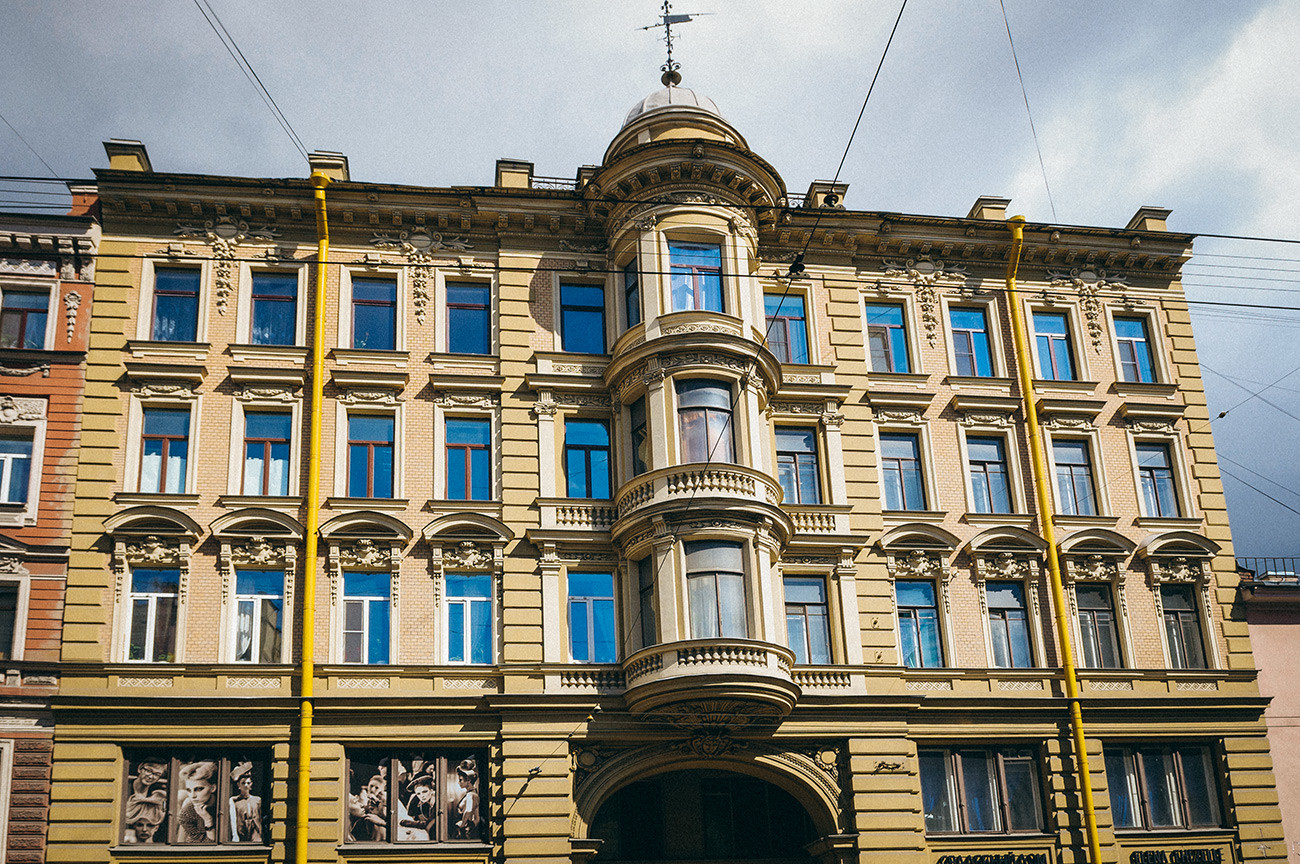 Want to get a glimpse of Grigory Rasputin , the famous mystic and friend of the last Romanovs? Try your luck at the hotel on Gorokhovaya 64 in St. Petersburg, a residential building that dates back to the early 20th century and has, at some point, hosted Rasputin on the third floor. Some of the guests share that they regularly see the white figure of Rasputin roaming around at night. Others think the ghost tends to visit those who are sad or in a bad mood. If he visits a man, he would stroke him on the back at night, or, if visiting a woman, he'd whisper something nice to comfort her.
3. Grand Hotel Europe (St. Petersburg)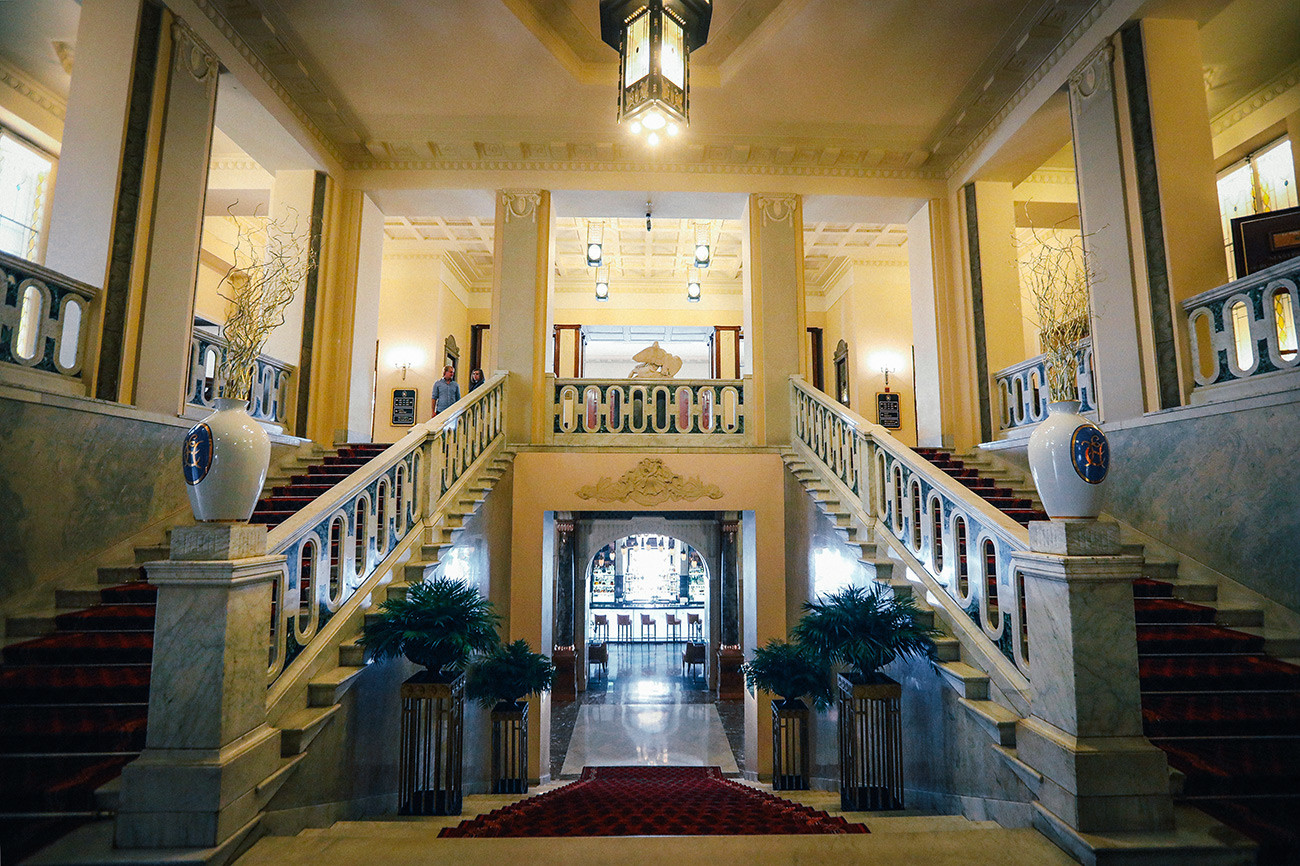 The five-star Grand Hotel Europe opened in 1875 on Arts Square in St. Petersburg. As the legend goes, it replaced an earlier inn situated on the same site - a lodge where since 1706 guests would hear and witness horrifying things like footsteps in the attic, moans, and squeaks. The story tells that once a brave resident went up to the attic once and saw a ghost of the killed officer Belyaev-Tolstoy - a thing that terrified the owner and prompted him to sell the inn. Later, the building was demolished and a new Grand Hotel Europe was built in its place, but it's believed that the ghost moved into the new hotel as well - there are stories of guests sometimes mistaking the ghost for a porter!
4. Angleterre Hotel (St. Petersburg)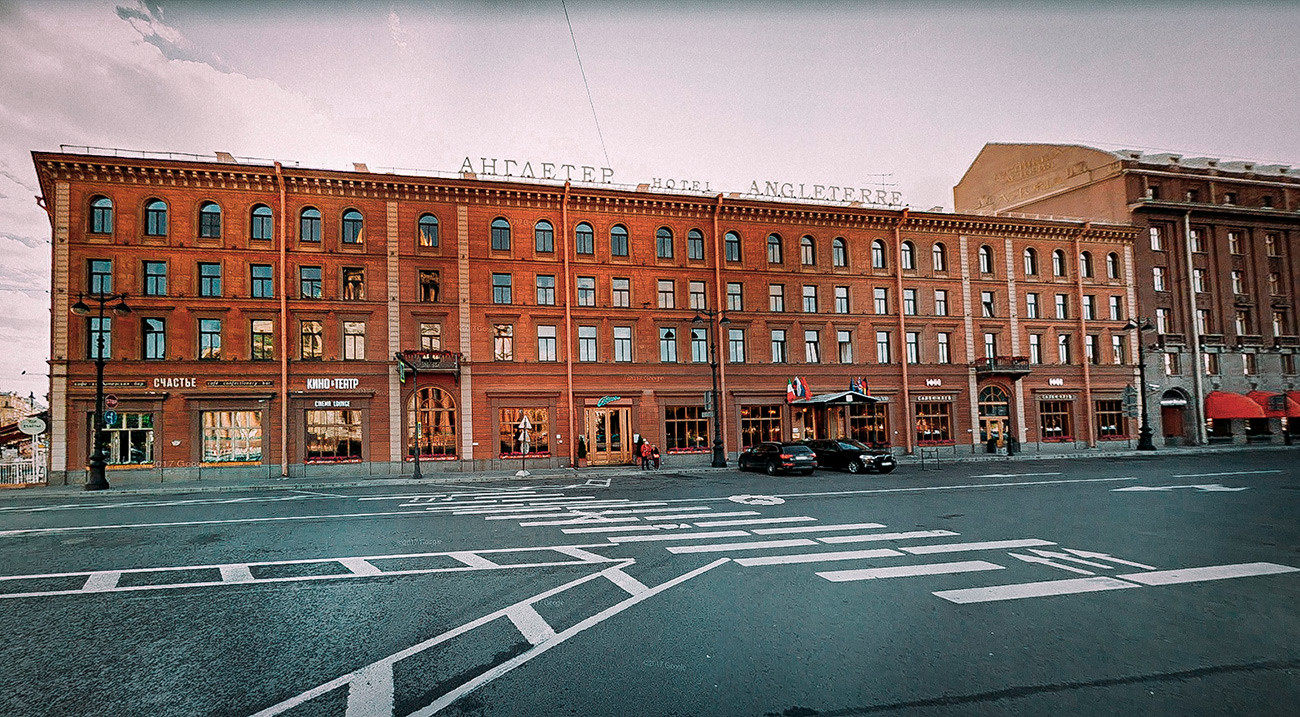 Another place believed to be inhabited by a ghost is the Angleterre Hotel in St. Petersburg - a place where the famous Russian poet Sergei Esenin was found dead in room No. 5 in 1925. Some believe he was suffering from depression and hung himself while others believe it was actually a murder and that suicide was a cover-up. Maybe that's why the soul of the poet has still not found its peace and is still seen within the hotel's walls.
5. Arkhangelskoye estate and sanatorium (Moscow region)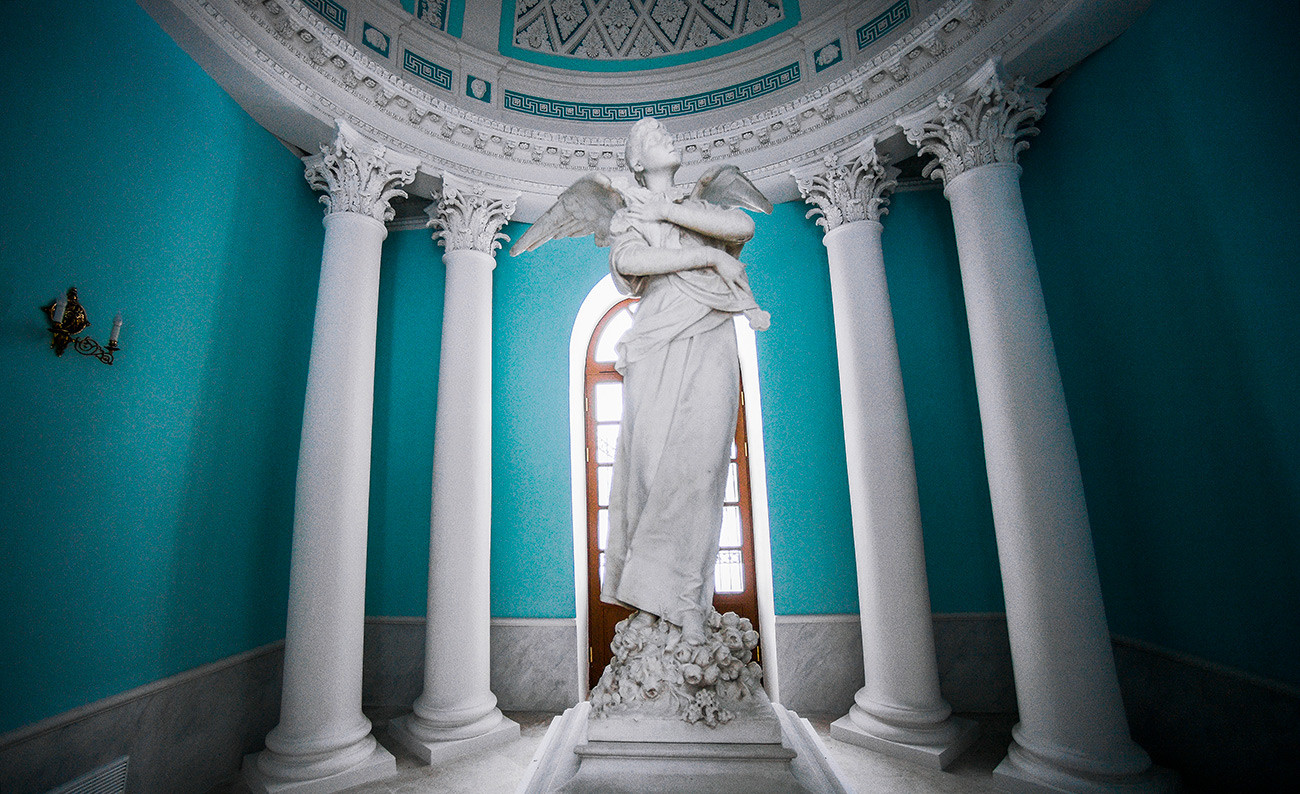 A monument in honor of Tatiana Yusupova in Arkhangelskoye.
The picturesque estate just outside of Moscow, Arkhangelskoye has seen many owners, including the Yusupov family, one of the wealthiest in the country. According to legend, the estate is inhabited by the ghost of Tatiana Yusupova, who died in 1888 at the age of 22 as a result of typhus. Her inconsolable father buried her here and ordered a marble angel to stand over her grave. After he died, the monument was moved to a nearby tea house and since then the ghost of Tatiana has been seen walking around the park searching for her father's present.
If using any of Russia Beyond's content, partly or in full, always provide an active hyperlink to the original material.
to our newsletter!
Get the week's best stories straight to your inbox
11 adventure ideas that will make you book a holiday in Russia in a heartbeat
7 best summer schools to master your Russian in the Motherland
Top 10 most unusual hotels in Russia (PHOTOS)
This website uses cookies. Click here to find out more.
Find a Store
Fruit BBQ Sauce
Fruit Salsa
Black Bean & Corn
Pickled Goods
Pepper Jellies
Dry Rubs & Seasonings
Pure Pepper Powder
Dried Pepper Flakes
Glazes & Marinades
Horseradish
Pepper Extract
Scotch Bonnet
7 Pot Chocolate Douglah
Very Low Sodium
Expert Tips
Ghost Pepper Hot Sauce
Calling all ghost hunters! Add the best ghost pepper hot sauce to your collection and enjoy something much more fun than an alleged dead president in Aunt Edith's attic. Not only will you experience the delicious flavor of tomato, garlic, and hand-selected spices in this extra-hot hot sauce —the perfect blend of habanero and ghost peppers makes for a ghoulish, frightfully spicy habanero hot sauce.
Added to your cart:
- Cases & Bulk
Sample sizes, sets & gifts.
Melinda's Ghost Pepper Hot Sauce 5oz
You want fire? That's easy. Anyone can strike a match, but few can strike a balance. A balance where heat and flavor find themselves on equal footing. At Melinda's, we pride ourselves on striking that perfect balance in every sauce we make. Get ready to set your mouth on flavor.
Melinda's Ghost Pepper. This sauce is made with the Bhut Jolokia chile from Northest India. It is hot, like 1 million Scoville units hot. Heat Level 5 out of 5: Yep, it's all the way up there. Made the Melinda's way with whole, fresh ingredients and the best peppers on the planet. Perfect on practically everything serious Chileheads eat.
Description
Additional information
Reviews (4)
Ingredients:  Bhut Jolokia Ghost pepper mash (Ghost Pepper, water), white vinegar, Habanero peppers, carrot, onion, lime juice, salt, garlic, citric acid, xanthan gum.
Allergy Information: May contain traces of tree nuts (coconut), egg, soybeans, wheat, milk.
Product of Colombia Imported & Distributed by Melinda's Foods, LLC Irving, TX 75038 800.886.6354
4 reviews for Melinda's Ghost Pepper Hot Sauce 5oz
N9NJ4 – June 24, 2020
SO good. not ridic hot and really does have good flavor
grekre – December 17, 2020
This was a sleeper of a sauce, for sure! Went in with low expectations and uncertain I'd enjoy the heat, but WOW! Now it's in my top 3 sauces of all time. The flavor is fantastic, and you get plenty of it to balance the heat. It's not even terribly hot –feels less hot and more flavorful than Red Savina — but the heat covers your whole mouth, which is super pleasant.
william scott (verified owner) – February 3, 2021
Love it best by far that i have found good heat and flavor. I will be back to buy more.
c.smithwick18 – June 7, 2021
I put this stuff on everything. Seriously. I even mix it in with mustard when I eat sausage. It's a sleeper. It's very mild for a couple seconds and then a bomb of heat explodes in your mouth. It's super tasty and super good. Just buy it.
You must be logged in to post a review.
Melinda's Original Habanero Extra Hot Sauce (12 pk Case)
Melinda's Jalapeño Pepper Hot Sauce 5oz
Melinda's Garlic Habanero Hot Sauce 5oz
Melinda's Original Habanero Extra Hot Sauce 5oz