Awards Season
Big Stories
Pop Culture
Video Games
Celebrities
"The Flight Attendant," "Slow Horses" and 7 other Spy TV Shows
Now that season two of The Flight Attendant — HBO Max's spy show starring and produced by Kaley Cuoco — is almost over, it's time to take a look at the genre of undercover agents and traitorous moles.
We'll miss Cassie (Cuoco), Annie (Zosia Mamet), Miranda (Michelle Gomez), Megan (Rosie Perez) and the rest of the bunch. But while we wait to see if we'll get a third season of this always-dressed-up-for-the-occasion romp with a very dark side to it, let's talk about some other must-watch spy shows. After all, we know you may be craving a few more international espionage antics.
Burn Notice (2007–2013), Hulu and Video on Demand (VOD)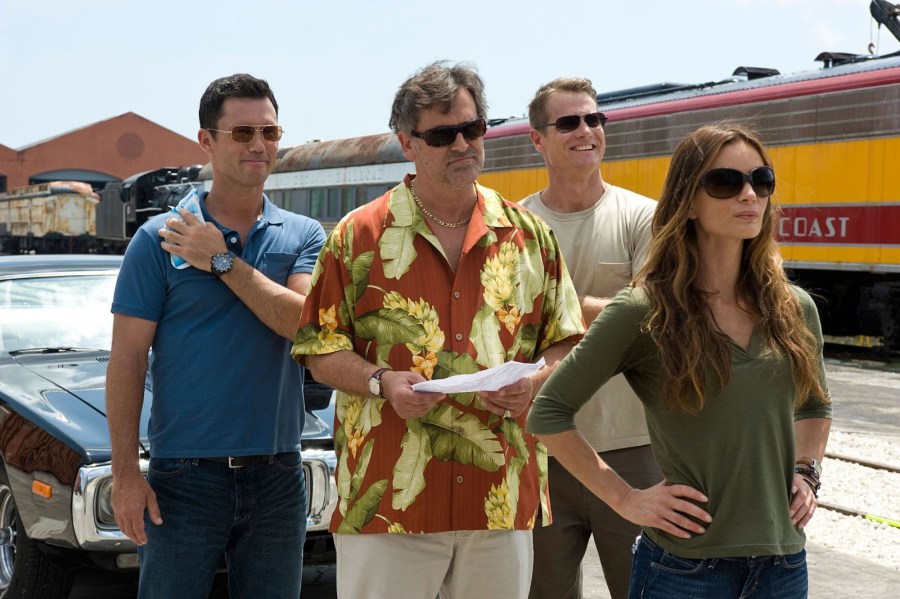 This USA network procedural show stars Jeffrey Donovan as Michael Westen, an agent who finds himself "burned" by his agency in the middle of an operation. Not only is he fired from his espionage job, but his reputation is also ruined, his assets are frozen and his identity is pretty much erased. He manages to more or less survive in his hometown of Miami — where the show was filmed on location — with the help of his ex-girlfriend Fiona (Gabrielle Anwar), buddy and fellow ex-agent Sam (Bruce Campbell) and his mom Madeline (Sharon Gless).
The show ran for seven seasons and a total of 111 episodes, so if you enjoy a comedic tone and a show that still packs a lot of action, you're in for a long ride. The series juggles the overarching story of Michael trying to figure out why he received a burn notice, with his work as a sort-of private investigator solving the customary case of the episode in an effort to make some money.
Homeland (2011–2020), Showtime and VOD
Even though this Showtime high-concept drama also ran for a long time (eight seasons for a total of 96 episodes) we could have long conversations about how much the Claire Danes-starring vehicle overstayed its welcome. So I'm not necessarily endorsing the whole duration of it, although I recognize I got hooked on seeing Danes as the high-functioning CIA agent Carrie Mathison.
Carrie has bipolar disorder, a condition that she hides from her superiors at the agency because it would endanger her career. Even if the tone of the show is quite extreme, Homeland was praised for its depiction of mental illness on screen .
The first — and arguably best — season deals with Carrie working in Washington after having been in the field in Iraq for an extended time. It was there that she received revealing intelligence from one of her informants about an American prisoner of war who may have been turned by the terrorist group al-Qaeda. When Marine Sergeant Nicholas Brody (Damian Lewis), who was believed to be dead, gets rescued and returns to the U.S., Carrie is convinced he's the double agent.
The Americans (2013–2018), Amazon Prime and VOD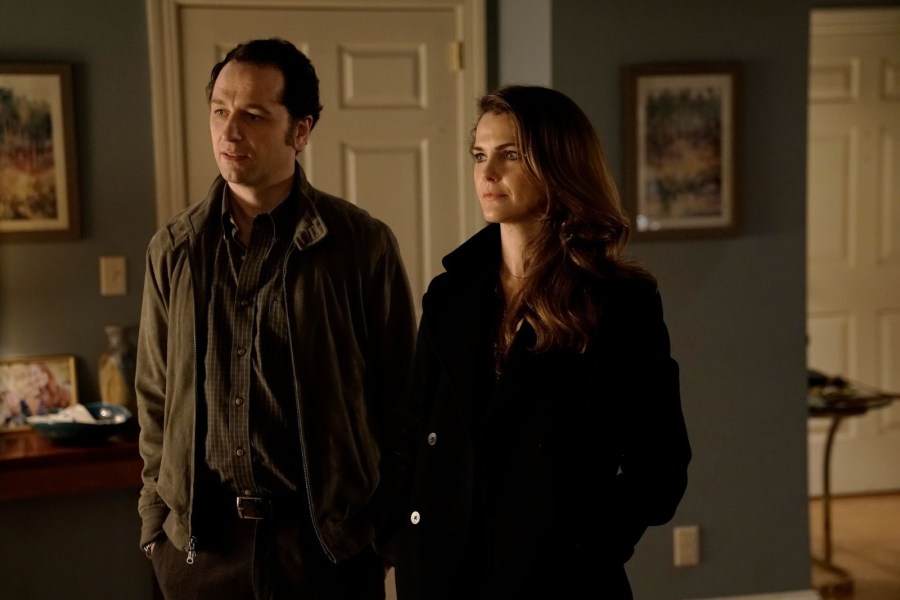 CIA-officer-turned-TV-screenwriter Joe Weisberg created this FX spy thriller starring Matthew Rhys and Keri Russell as Philip and Elizabeth Jennings. On the surface, they look like any other all-American couple with two kids and a house in the suburbs of Washington D.C. But, in fact, they're two KGB intelligence officers who've infiltrated American society to spy for the Soviets.
Set in the height of the Cold War, the show boasts a lot of 1980s fashion and hairstyles, plus a ridiculous amount of wigs and fake facial hair implements that Elizabeth and Philip use to disguise themselves as an array of characters.
The Night Manager (2016), Prime Video and VOD
The First Lady 's Susanne Bier directed all six episodes of this prestige TV miniseries starring Tom Hiddleston ( Loki ), Hugh Laurie , Elizabeth Debicki and Olivia Colman. Based on John le Carré's 1993 novel of the same name , The Night Manager features Hiddleston as Jonathan Pine, the titular night manager at a luxury hotel in Cairo and, later, in the Swiss Alps.
The intelligence officer Angela Burr (Colman) enlists Pine to help her uncover the arms dealer Richard Roper (Laurie), who is one of the guests at the Swiss hotel where Pine works. As with other titles on this list, there's the intrigue and thrilling aspects of the plot, but a unique part of the charm of this show is its international settings. The Night Manager shot on location in Switzerland, the island of Mallorca and Marrakech, which stands in for Cairo.
Bodyguard (2018), Netflix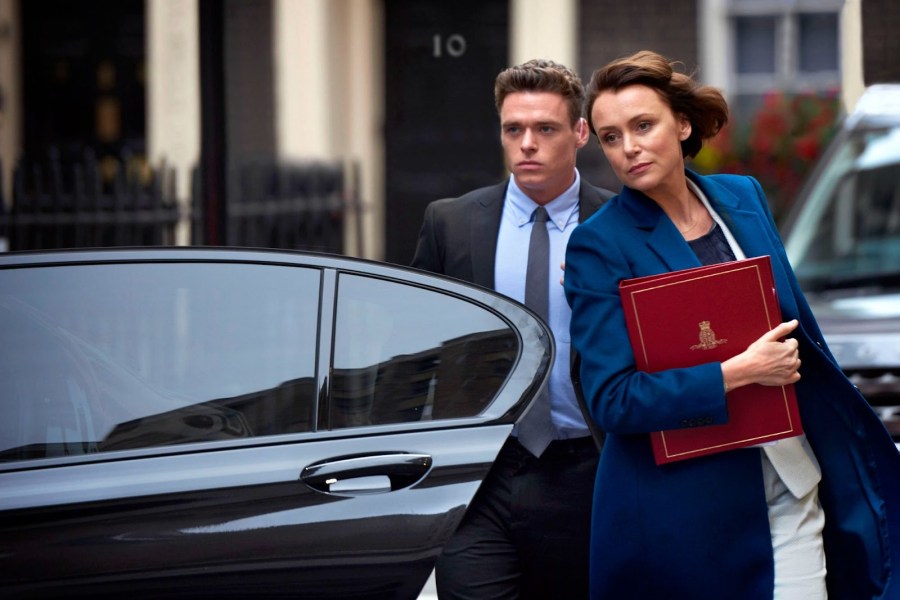 If you want a short and nail-baiting hit of intrigue and high-stakes, look no farther than this six-episode BBC series. Written and created by Line of Duty 's Jed Mercurio, Bodyguard stars Game of Thrones ' Richard Madden as David Budd. He's a Scottish war veteran with post-traumatic stress disorder (PTSD) who works as a government protection officer. He's tasked as the main bodyguard for Home Secretary Julia Montague (Keeley Hawes).
An ambitious Conservative Member of Parliament, Montague is shaping up to be a real contender for the party's leadership. As she gains popularity, she finds herself the target of a terrorist; David rises to the occasion, saving her life. But when suspicions arise about his possible involvement in the attack against Montague, David must clear his name.
Even though the rumors about a possible season two won't stop , we still aren't sure whether or not there'll be more David Budd stories coming to Netflix.
Killing Eve (2018–2022), Hulu and VOD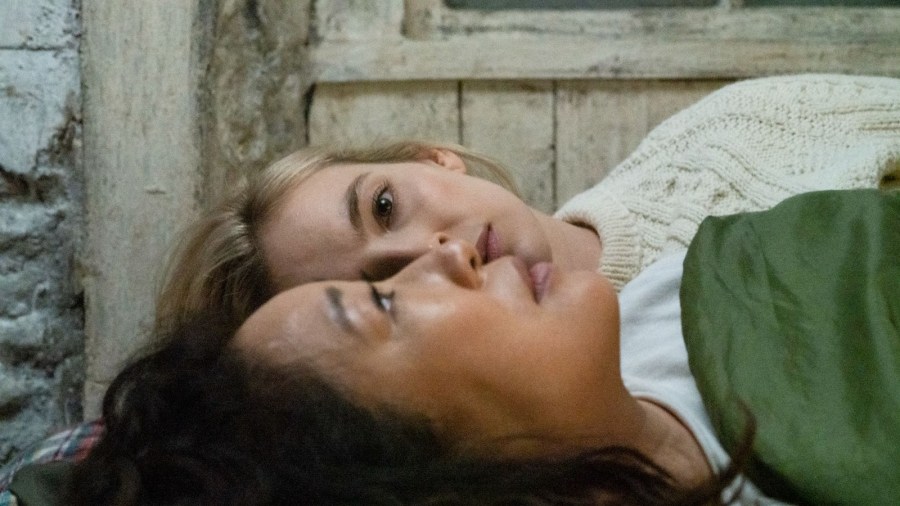 Even if we were a bit lukewarm on the fourth season of this show , and more than upset by its finale , that doesn't mean we don't still find its first three seasons engrossing and must-watch TV. Based on Luke Jennings' novel and developed for television by Fleabag 's Phoebe Waller-Bridge — she was head writer in Killing Eve 's season one — the series follows Sandra Oh as the often questionably dressed Eve Polastri. She's an MI5 operative going through a hard case of midlife crisis and boredom — until she crosses paths with the lethal Villanelle (Jodie Comer), which leads to the two women becoming enthralled with one another.
Academy Award winner Emerald Fennell ( Promising Young Woman ) served as head writer on season two of the show. ( Killing Eve featured a different woman at the helm each year.) But more than its sharp dialogue and inventive ways of getting rid of foes, the show really shined in showcasing international locations. Rome, Berlin, Paris, Barcelona and — of course — London, are just some of the cities where the TV show was shot, all on location, allowing the viewers to travel vicariously through its episodes and the always-cosmopolitan Villanelle. 
Tom Clancy's Jack Ryan (2018–), Prime Video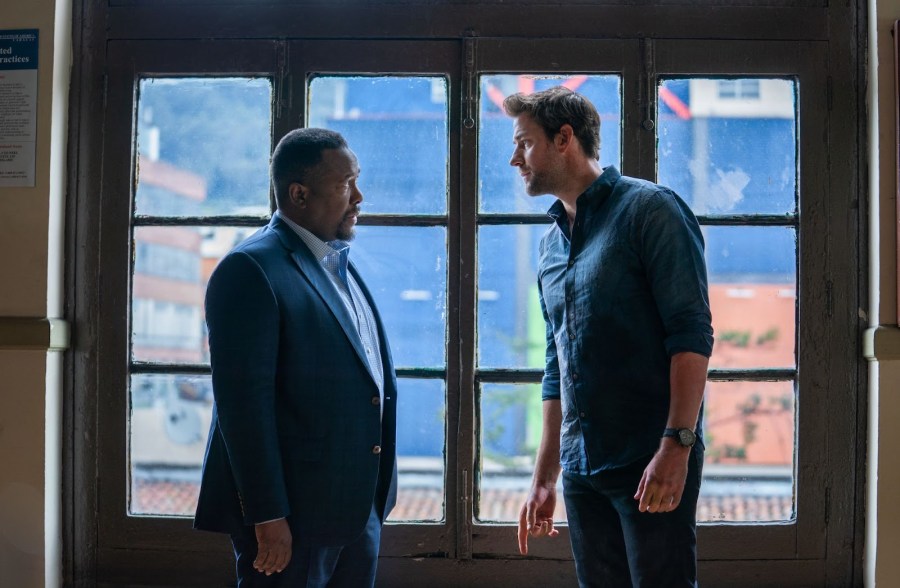 Amazon has a thing for adaptations of novels from bestselling series. There's Lee Child's Reacher , Michael Connelly's Bosch and Bosch: Legacy , and Tom Clancy's Jack Ryan . It's that last one that's the property with a more espionage-filled plot. John Krasinski ( A Quiet Place Part II ) stars here as the titular character, someone who has also been portrayed in several movies by actors like Alec Baldwin, Harrison Ford, Ben Affleck and Chris Pine.
For this TV iteration, the CIA-analyst-turned-reluctant-field-officer can always count on his boss James Greer ( The Wire 's Wendell Pierce) and his own intuition when it comes to spotting a geopolitical crisis in the making.
Slow Horses (2022–), Apple TV+
The newest addition to this list of espionage thrillers is Apple TV+'s adaptation of Mick Herron's Slough House series of novels . Gary Oldman stars here as Jackson Lamb, an echo of sorts of Tinker Tailor Soldier Spy 's George Smiley, if he hadn't aged well at all. Lamb is the head of Slough House, the place where disgraced MI5 agents are put to pasture when they make career-ending mistakes. But when the second-in-command at MI5, Diana Taverner (Kristin Scott Thomas at her most exquisite), finds herself confronted by a sticky situation, the "slow horses" in Slough House may prove more competent than first expected.
The series manages to pack a lot of humor and works simply as a workplace comedy , even if the job sometimes calls for quite the unusual tasks — like going through someone's trash or following them around town. Season two of Slow Horses has already been shot and is expected to be released later this year .
And if you're still feeling like you need an extra spy fix, look no further than le Carré's 2019 novel, Agent Running in the Field . I'll keep crossing my fingers for a prompt TV adaptation of this second-to-last of le Carré's novels.
MORE FROM ASK.COM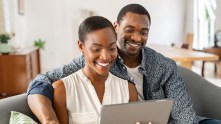 Play On Windows PC
Rollei SP Spy Ghost
Turn your android smartphone into a remote control for your sp spy ghost auto..
Advertisement
Latest Version
Rollei sp spy ghost app, trending searches.
The Best Android Emulator for PC
ChatGPT OpenAI · Productivity

LMC8.4 Hasli · Photography
Messenger Meta Platforms, Inc. · Communication
WhatsApp Business WhatsApp LLC · Communication

Google Play Store Google LLC · Tools
Love App HashStudios · Entertainment
PACIFIC RIM: KAIJU BATTLE Warner Bros. International Enterprises · Entertainment
Karaoke Lite: Sing & Record Aloha Std · Entertainment
Pro PS4 Emulator PhiloDay · Entertainment
DFD MAKE JOKE OF Agriglance · Entertainment
Hop Am Viet Steven Nguyen 161 · Entertainment
URLTV.TV ULTIMATE RAP LEAGUE LLC · Entertainment
Myasian TV Tho Dia Media · Entertainment
WannaDraw Audrey Hopkins / Audity Arts, Inc. · Entertainment
Hungry Pumpkin video - without internet SATIMAPP · Entertainment
How to install XAPK, APKS, OBB?
You May Also Like

Electric Scooter
Cool Inventions
Cart ( £ 0.00 GBP )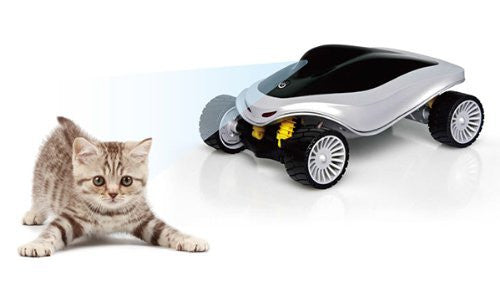 £ 84.99 GBP £ 0.00 GBP
Spy ghost app powered camera car wifi.
iConCar Spy Ghost Remote Control RC Car with Spy Camera
iPhone iPad iPod Touch Android Smartphone or Tablet
Photo and video synchonize function
Blue LED lights on when moving forward, Red LED lights on when moving backwards.
SPECIFICATION:
        Driving time: 10-15 mins         Charging time: 60-70 mins         Control distance: 10-15 m         Battery for iConCar: 3.7V Li-Po 550 mAh         Size: 16.4 cm 11.1 cm 7.8 cm       Weight: 374 g
App Controlled Spy Ghost WiFi Remote Car

App Controlled Spy Ghost Remote Car
Works with the latest iOS & Android devices!
USB charging | Built-in cam for pics & vids | Range up to 30m | 360° obstacle control | Independent suspension | 80cm Shock proof!
Great gift idea for kids - big and small!
Get the kids (and adults) hooked on fun with this quality made app-controlled car. Simply download the app from the App store or Google Play and you're in the driving seat - complete with 360° outdoor obstacle control, independent suspension, shockproof properties plus a commanding 30 metre range! And when it's time to refuel this baby uses a simple USB charge. It's great as a stocking stuffer, or even as a main present. But you'll need to put the pedal to the metal fast to score this one!
Works with all iOS & Android iPhone, tablet & iPod Touch devices
WiFi control, download the app (free from the App Store or Google Play)
Simple USB charging (or AC via smartphone adaptor - not included)
Forward, reverse, indicator & charging LED lights
0.3mp (640x480p) camera to take pics & vids while in motion
Range of up to 30m
Shockproof to 80cm
360° outdoor obstacle control
Independent suspension for capable, durable handling
Fast response time
Comes with USB charging cable & instructions
Dimensions: 16 x 11 x 8cm (LxWxH)
Weight: 360g (approx)
Protected by our 12 MONTH WARRANTY - see 'Warranty' tab with 12 Month Warranty Terms & Conditions for more info.
A Bit About The Brand / More Info
Works with: All iOS & Android iPhone, tablet & iPod Touch devices
USB charge (AC charge via smartphone adaptor - not included)
Charging time: 70-80 mins
USB charging cable & instructions included
Driving time: 10-15mins
0.3mp (640x480p) camera
MicroUSB jack
Control range: up to 30m
Protected by our 12 MONTH WARRANTY
Best Spy Apps for iPhone | Top 10 Reviewed In-Depth for 2023

Krishi is an experienced B2B and B2C content writer who reviews and compares different software to help both individuals and businesses find the right programs…
The best spy apps for iPhone let you monitor in detail all the activities of the target device, including calls, messages, and social media interactions. Apart from tracking the live location, you'll also be able to gain remote access to the target iPhone, be it of your child, spouse, or employee, and block certain apps when required.
Finding the best spy apps for iPhone is challenging. However, we've found and reviewed the best iPhone spy apps that work seamlessly on all devices based on criteria like pricing, number of features offered, customer support, remote functionalities, and others. Read our guide to discover why apps like mSpy and EyeZy are a notch ahead of the rest.
The Best iPhone Spy Apps | Top 10 Ranked
mSpy is easily the pick of the lot as far as the best phone spy apps for iPhone are concerned, owing to robust features and an easy setup and interface. See how it fares against the rest of our picks:
mSpy — Overall, the best iPhone spy app for discreet and comprehensive real-time monitoring of the target user's device activity — both online and offline.
EyeZy — A reputable, hiddle mobile monitoring app that boasts keyword alerts and discreet remote functionality for as little as $9.99/month.
uMobix — A highly-rated app that lets you view deleted calls and messages on the target device, plus remotely block websites, calls, and apps.
Cocospy — An undetectable tool that offers custom geo-fencing rules and covers more than the key social media and messenger apps — including Discord.
Spyic — Popular parental control and spouse spy app for iOS if you're looking for core functionality, such as social media monitoring, without the need to jailbreak the device.
Hoverwatch — The best choice for covering multiple devices and operating systems. One subscription lets you monitor up to 5 devices for as little as $6/device/month.
XNSpy — Top pick for advanced spyware capabilities, including remote camera and microphone access for full real-time insight into the user's surroundings.
KidsGuard — A top-rated tracker app with an accurate keylogger that'll give you insight into their searches, chats, and interests — all for just $9.16/month.
iKeyMonitor — The best free iPhone spy app for screen time management features, a multi-lingual keylogger, and robust social media monitoring capabilities.
TheOneSpy — A leading choice for tracking a cheating spouse — it boasts remote access to the target device's camera and microphone and accurate GPS location monitoring.
The Best iPhone Tracker Apps | Top 10 Reviewed
Are you eager to learn more about the best hidden spy apps for iPhone? Fret not. We've got you covered. Read on as we dive into the details of each of our top picks, including their best features, pros, cons, and pricing. Let's dive right in.
1. mSpy — Overall, the Best iPhone Spy App in 2023
mSpy comes with a free demo for all new users that makes getting started with the tool a breeze. You get a replica of the dashboard you'll have upon registering, which helps you learn your way around the platform in advance.
One of our favorite things about mSpy is that it covers a wide range of social media apps. This includes WhatsApp, Facebook, Instagram, Snapchat, Hangouts, Telegram, and more.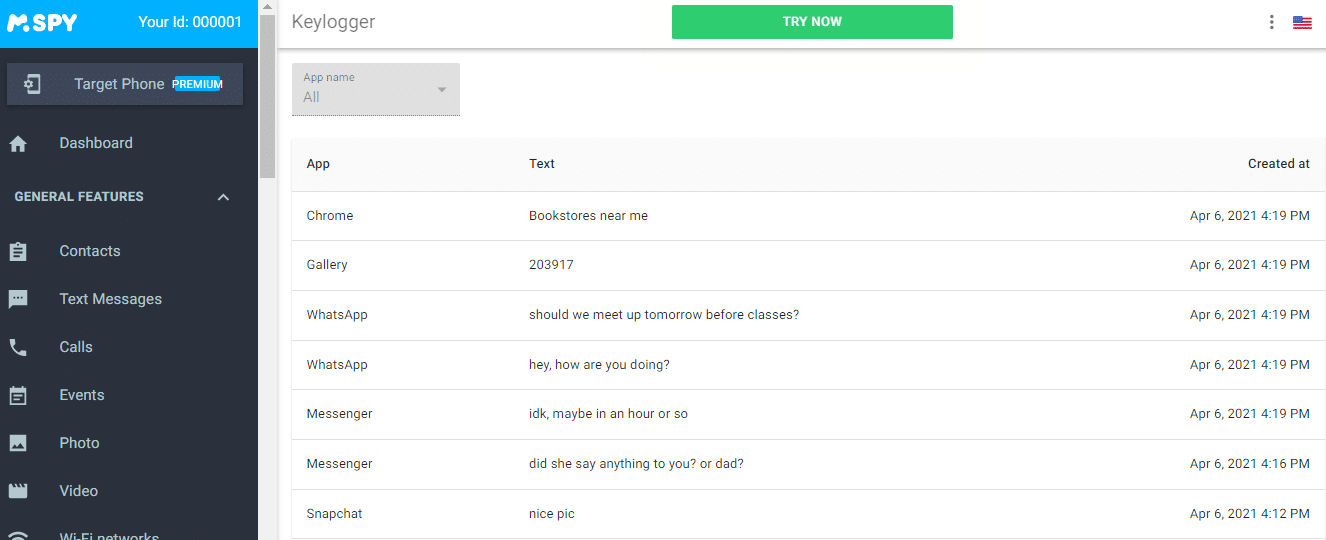 With mSpy, you can check all the messages exchanged on the above-mentioned social apps and even get a history of the call log of the targeted iPhone.
For apps like Instagram and Snapchat that have a disappearing message feature, you can use mSpy's screen recording feature to capture the messages before they vanish.
You also get uninterrupted access to photos and videos on the iPhone. This is a great way to check if your spouse, child, or employee is interacting with inappropriate content or not.
Even if your target is using a secret photo-hiding app, mSpy will dig out all the media files for you.
mSpy also gives you access to the complete app list on the target phone. You can check which of the downloaded apps are inappropriate for your child or spouse and delete them immediately.
This is a great way to keep unhealthy habits away — block a dating app if you find one on your child's phone, and identify cheating behavior if it's your spouse we're talking about.
Cannot be detected on the target device
Easy to set up and get started
Doesn't require jailbreak on the target device
Offers robust security with both symmetric and asymmetric encryption
Excellent live chat and customer support
Hasn't had any independent audits
One of the biggest reasons why mSpy tops our list is its affordable pricing. Its cheapest plan starts at just $11.67/month (billed annually).
If you need a shorter commitment, go with either its quarterly or monthly plans. That said, the best value-for-money package remains the annual one.
See why it's one of the best spy apps for iPhone risk-free with its 14-day money-back guarantee. No risk of losing any money. No hassle.
2. EyeZy — A Reputable, Cheap Mobile Monitoring App
EyeZy is a technology-heavy monitoring app that knows to stay a step ahead of your child or spouse and prevent them from outsmarting you.
For example, its invisible shield feature gives you extra protection and anonymity. You can track all their activities and even send a few remote commands without being detected.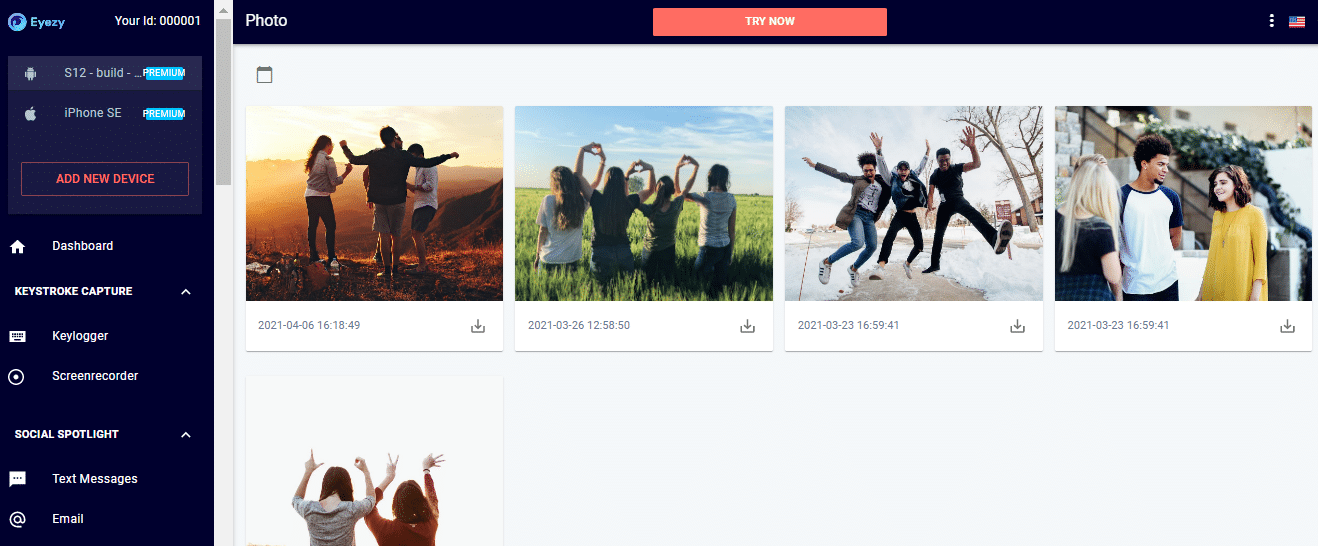 The app itself will hide so well inside their phones that even a spy detector app wouldn't be able to find it.
EyeZy also makes your life easy by sending magic alerts for inappropriate activities instead of forcing you to monitor your target 24/7.
For instance, if you don't want them to look up certain topics, you can flag those words beforehand.
From cyberbullying to inapproproate content and predation, the online world is riddled with threats that make children incredibly vulnerable.
With this, the next time they use any flagged words you choose — whether they type it in a search box or chatbox, you'll receive a notification immediately.
Speaking of flagged words, you can also know more about their interests through the Web Magnifier tool. Here, you'll get a detailed report of what websites they've visited and bookmarked and how often.
If your child has been frequenting adult websites, EyeZy will tell you so that you can take the right step.
With the phone analyzer tool, you can also check who they're closest to and who they talk with the most. A complete report of their call log, along with the call duration, is all you'll need to know about their social circle.
You can keep track of a child's message history
A walkthrough installation guide
Comes with bank-grade RSA-4096 encryption
Specific location and keyword alerts
Very light on system resources, hence difficult to detect
Doesn't offer any free trial
Only one device can be monitored per plan
While EyeZy can't surpass mSpy in terms of features, it certainly does in terms of affordability. You can get started with EyeZy for just $9.99/month on its annual plan.
A great USP of EyeZy is that it comes with a free demo, a free trial, plus a 14-day money-back guarantee so that you have all the opportunity to test the tool before committing to it.
3. uMobix — A Highly-Rated App, Perfect for Seeing Deleted Information
uMobix is best known for its remote control tools and ability to dig up deleted information — two of the most sought-after spy features.
uMobix specializes in zeroing in on deleted information, such as messages and calls. If your child or partner is trying to hide any controversial conversation from you, uMobix will alert you immediately.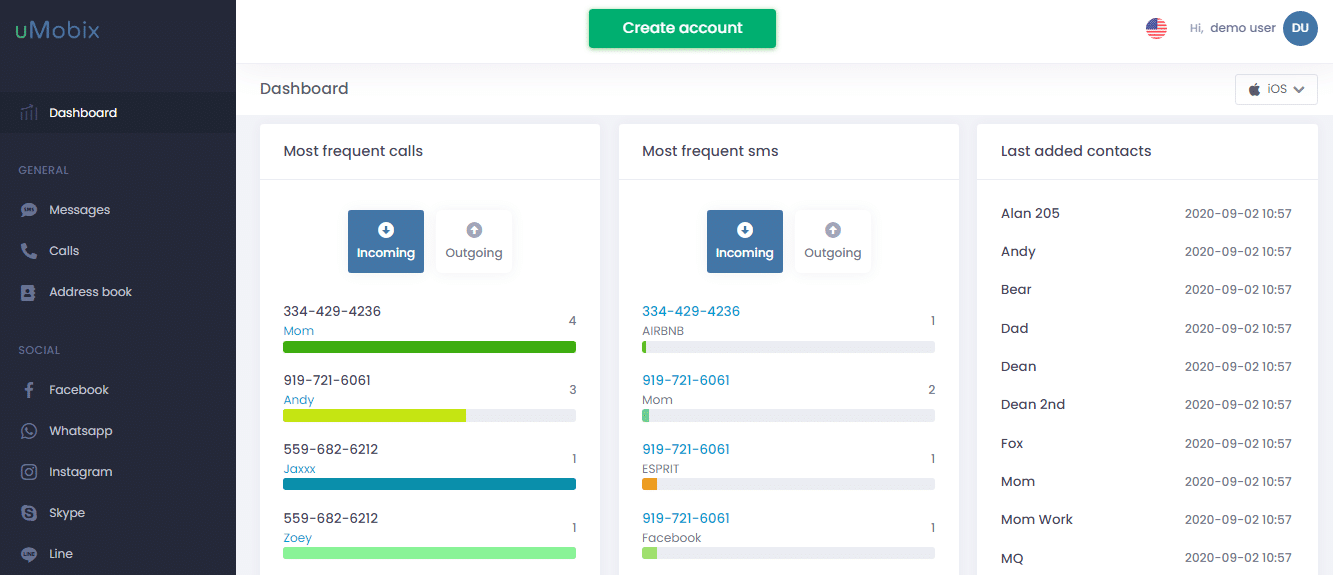 Similarly, if you ask your kids to delete a certain contact and they try to outsmart you by simply renaming it, uMobix will alert you and show you which contacts have recently been renamed.
uMobix is also quite adept in sending remote commands discreetly. For example, if you don't like the kind of apps and websites your child frequently interacts with, you can block them without even having to touch your child's phone.
The same goes for their social circle. If you don't want them to fall into the wrong company, simply disable their messages and restrict their calls. This feature will also help you during the exam season to help keep your child focused on the right things.
The best part? uMobix comes with a compact control panel, available on a browser as well as its very own mobile app — fantastic for working parents that want to monitor their kid's iPhone on the go.
Include advanced call logging and recording
Has a unique location-tracking feature
Boasts a comprehensive keylogger
Doesn't require any root or jailbreak access
Monitors social media platforms not typically covered by other spy apps
More costly than similar products
uMobix is slightly costly, with its plans starting from $12.49/month for a 1-year plan. That said, it's worth every penny, considering the premium spy features it tags along with, such as remote device control and access to deleted information.
Despite all the benefits uMobix brings, if you still change your mind post-purchase, you'll get your full amount back if you request a refund within two weeks.
4. Cocospy — Undetectable Tool for Discord Monitoring and Geofencing
Cocospy is one of the best parental control apps. Top-of-the-line features, a supportive team, and a navigable interface, what's not to love?
The biggest USP of Cocospy is Discord tracking. While all the other popular social media apps, such as Instagram and Facebook, are covered by most spy apps, Discord often goes unnoticed, but not with Cocospy.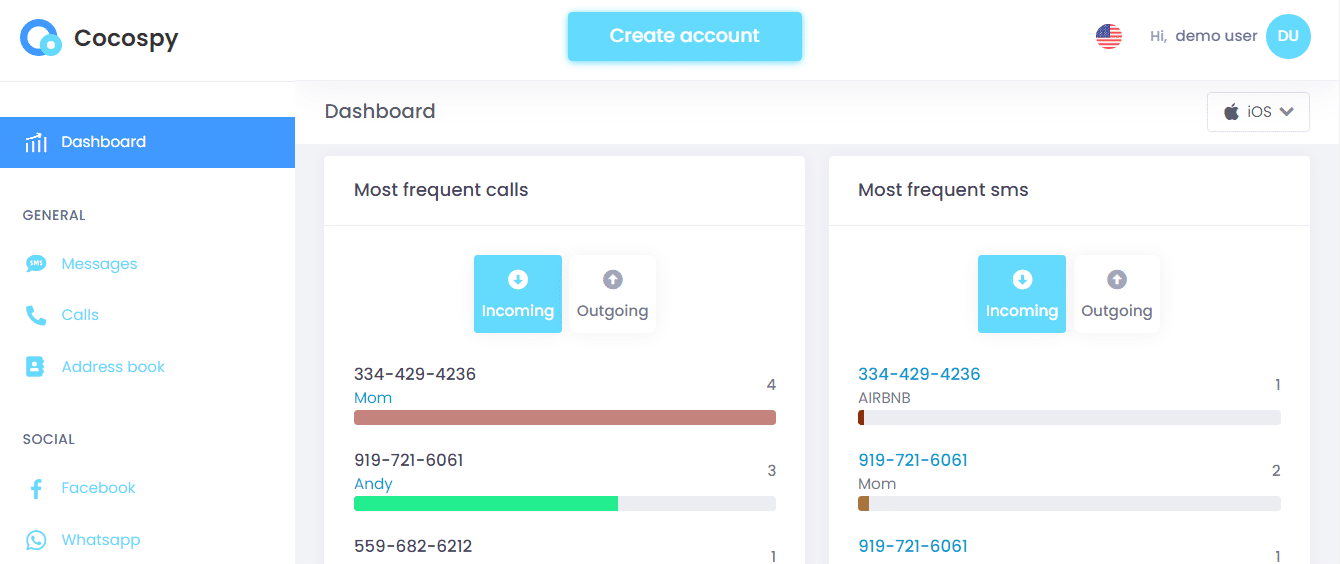 Even if your child is using a pseudo username, you can still read all their individual and group conversations and check the exchanged media files.
Another benefit of using Cocospy is the default geofencing feature. You don't have to track your target's location 24/7. Instead, you can just mark a boundary on the map and get notified only when they cross this region.
For example, if you're spying on your spouse who claims to be at work, you can mark the region around their office building and get notified anytime they leave the premises.
To top it off, the Duo Messenger feature not only lets you check all their calls, chats, and media files but also lets you see what the phone sees.
In simple terms, you can spy on their surroundings by remotely turning on the camera and spying through the lens.
The best part about Cocospy is its stealth mode, which is something you'll get with mSpy, EyeZy, and uMobix too. Get complete access to the target device without ever being detected. Cocospy guarantees 100% invisibility.
It's competitively priced
Allows access to detailed browser history tracking
Includes tracking of photos and videos shared by the target device
Allows for setting custom geofencing boundaries
User-friendly web dashboard for easy navigation
Limited iOS functionality
Some advanced features require jailbreak access
Cocospy's pricing is similar to uMobix, starting at $12.49/month for the 12-month plan. It might not be as feature-rich as uMobix, but it's easy to use and perfect for beginners.
Also, just like uMobix, you can use Cocospy risk-free with the 2-week money-back guarantee covering your hard-earned money.
5. Spyic — Popular No-Jailbreak iOS Spy App for Core Functionality
Spyic is primarily a parental control app designed for those who can't be physically present to keep an eye on their kids. That said, given its super detailed phone tracking feature, you might use it for other purposes as well.
For instance, Spyic's social media monitoring feature can be used to track both kids and unfaithful spouses. You can track popular apps like WhatsApp, Facebook, Instagram, Snapchat, and Viber.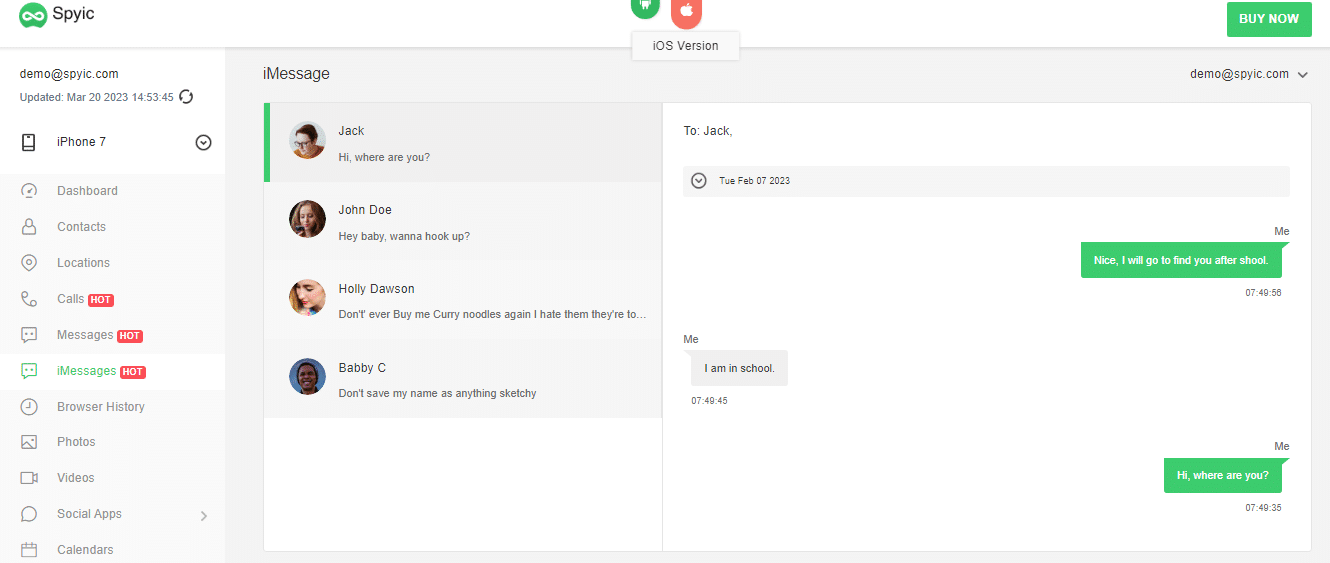 Yes, Spyic's social media apps catalog is fairly narrower than our top picks above. Still, on the brighter side, you can access their chats, call logs, and pictures on these platforms without rooting or jailbreaking, making it accessible to everyone.
The chat information also comes with additional details like the timestamps or contact information so that you can put together a more comprehensive report of their phone activities.
Spyic will also automatically put together a list of the most popular and frequently called contacts so that you don't have to waste time searching for their closest people.
Another benefit of using Spyic is that it lets you track SIM locations. This is a great way to track your child or spouse's current location or find the device in case it's lost, even when their GPS is turned off.
Offers a useful demo version
A visually appealing and clean dashboard
Can be easily navigated by non-tech-savvy people
An excellent call and SMS tracker
Excellent location tracking capabilities
No external audits yet
Requires rooting to access all features
Spyic offers separate plans for its Android and iPhone users. Its iPhone spying plans start at a nominal price of $10.83/month on the Premium tier.
Not ready to commit yet? No problem. You can try Spyic risk-free without fear of losing any money. There's a whopping 60-day money-back guarantee in case you don't find the tool suitable for your needs.
6. Hoverwatch — The Best Choice for Covering Multiple Devices and OS
Hoverwatch is the perfect spy app for multiple device monitoring. It lets you monitor up to 5 devices simultaneously from the same account. After all, most people these days have a laptop and a phone — two devices — at the very least.
Plus, it's compatible with all operating systems, including Mac, Windows, Android, and iPhone. No matter what device your child or spouse is using, you can track them with Hoverwatch.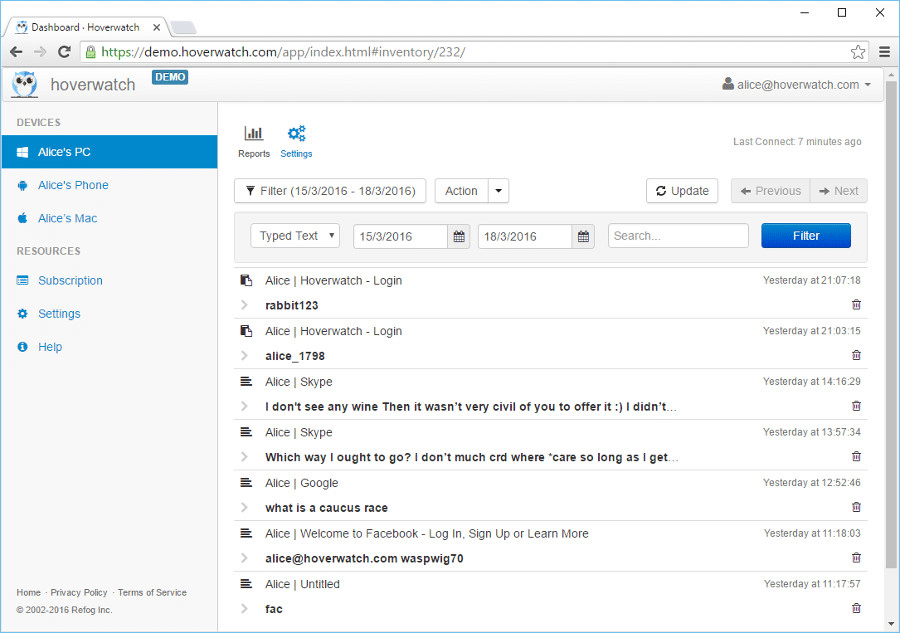 Another benefit of using Hoverwatch is SIM card tracking, which is quite similar to Spyic. If your child or spouse is changing their SIM card without telling you, they may be up to something.
Hoverwatch will inform you as soon as they change their SIM card so that you can catch them red-handed. In addition to that, replacing the SIM card doesn't alter its tracking capabilities.
You can still check their calls, messages, location, and social media just like before, even if they don't have their old SIM cards.
With that said, Hoverwatch's most unique feature is the automated front camera capture. Every time someone unlocks the phone screen, it'll silently take a photo of the user.
This feature can help you nab the perpetrator in case a family member's phone is stolen. Also, if you suspect your partner of cheating on you, this feature will tell you anytime someone else is using their phone.
Works in Stealth Mode
Requires PIN to be accessed on the target device
Allows call recordings, unlike most peers
Detailed SMS tracking along with timestamps
Lets you monitor multiple social media platforms
The dashboard is a little dull
No money-back guarantee
If you're looking for the cheapest spy app for iPhone, Hoverwatch is the one for you. It starts at a mere $6/device/month under its Business plan. Despite being this cheap, it lets you monitor up to 25 devices.
Perhaps a place where Hoverwatch loses points is a money-back guarantee — it doesn't offer any. However, considering its reputation and testimonials, you won't be taking any risk if you do choose to sign up for it.
7. XNSpy — A Top Pick for Advanced Spyware Capabilities
XNSpy is a dynamic spy app that lets you check on people both offline and online. For online tracking, you can get complete access to your target's call log and messages.
Plus, XNSpy also lets you monitor up to 12 different social media applications — where you can check who they talk to, how often, what pictures or videos they share, and much more.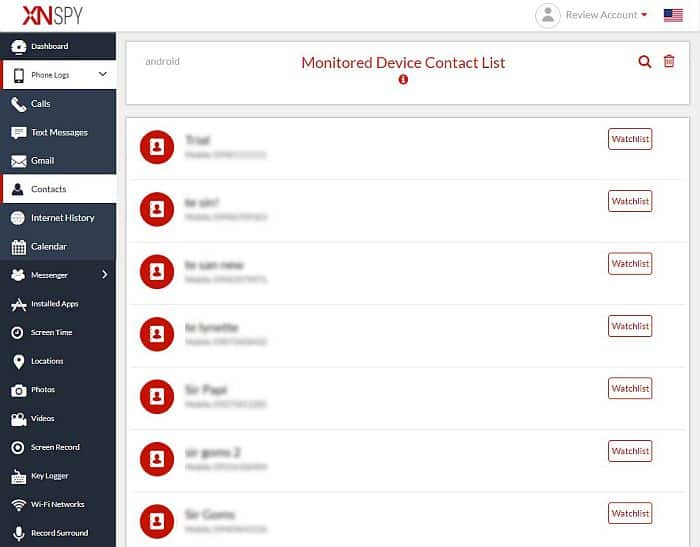 The best part is most of these features can be accessed without rooting. For offline tracking, XNSpy will give you access to the target phone's surroundings.
You can remotely turn on the microphone or camera and record everything happening around them. This feature has many benefits.
Firstly, if you're worried that your kid might be getting bullied in school, you can use this feature to keep an eye on them. Another benefit of using XNSpy is that it grants you remote access.
You can remotely turn on surround recording or block an app that you find inappropriate. You can also use it to take screenshots on the target device, reset it, or even lock it.
For example, if your kid's spending time on their phone instead of doing their homework while you're at work, you can remotely lock their device or at least block the app they've been wasting time on.
Provides quick and reliable real-time alerts
Offers seamless monitoring of phone calls and text messages
Enables remote wiping of device data to prevent unauthorized access
Gives you complete control over apps on the target device
Works in stealth mode, making it undetectable
Doesn't have a time control feature
The 10-day refund policy is restrictive
Listen to your child's call recording, browsing history, messages, and much more at just $7.50/month (billed annually) with XNSpy.
If you're looking for plans with shorter commitments, we recommend XNSpy's quarterly and monthly plans, priced at $20/month and $35.99/month, respectively.
Unsure? Test XNSpy yourself for 10 days; you won't lose your money if the tool isn't your cup of tea.
8. KidsGuard — A Top-Rated Tracker App for Just $9.16/Month
KidsGuard, as the name suggests, is particularly designed for parental control. Its features don't include anything you wouldn't get with our top picks, but fresh packaging at different pricing might just catch your eye.
First things first, KidsGuard is the tool's Android-compatible version, whereas KidsGuardPro is for iOS users.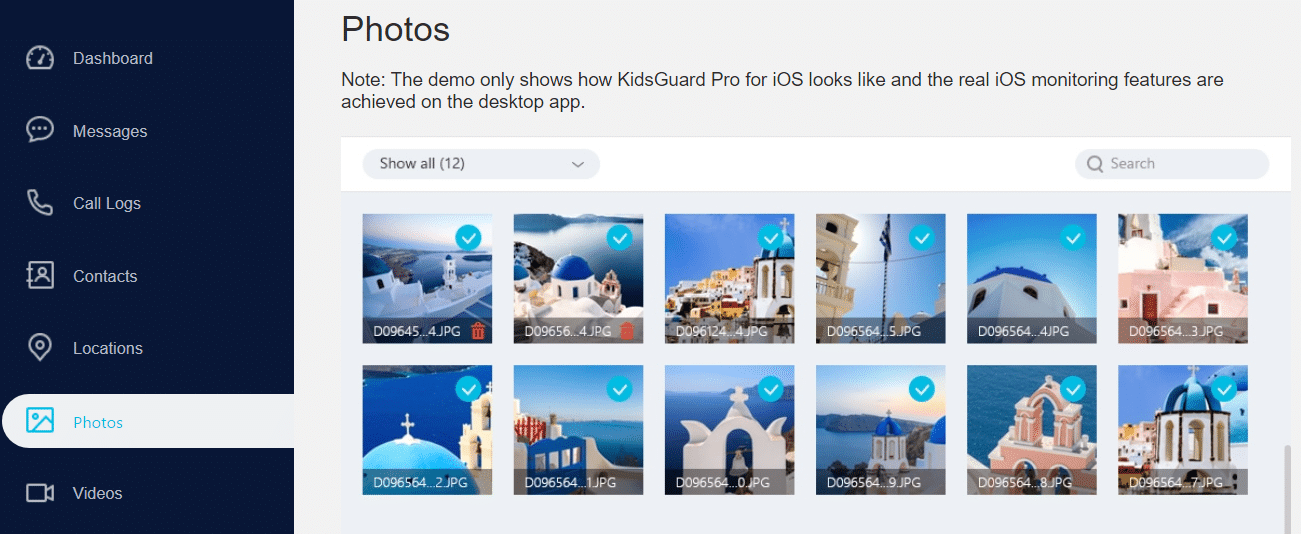 One of our favorite things about KidsGuard is the keylogger. This tool records everything your kid types on their device, even if they don't send what's typed.
This is a great way to know what's going on in their mind, even if they don't share it over text. For example, if you find them searching for adult content or talking about it with someone, you'll know it's time to sit them down and have a conversation.
You'll also know more about their interests and curiosity through KidsGuard's Web Content Viewer feature. Under this, you can check what websites they visit or have bookmarked and how often they visit these websites.
This information will help you monitor the quality of content they interact with and keep their screen time under check.
Another benefit of using KidsGuardPro is the Files Finder. Whatever you want to find on the target device, whether it's a photo, video, message, or call recording, this tool will dig it out for you.
A month-long guarantee
Three levels of web monitoring
Various options to set time restrictions
The dashboard is incredibly easy to use
The check-in feature allows children to send location alerts
Automatic logout after one minute of inactivity
KidsGuard has separate plans for Android and iOS users as well. For iPhone tracking, the cheapest plan is $9.16/month on an annual commitment.
What we really like about KidsGuard is that even its shorter-term plans are quite affordable — $16.65/month for 3 months and $29.95/month for the monthly subscription.
On top of that, you also get the benefit of its 30-day money-back guarantee. Check if KidsGuard can meet your needs without putting any money on the line.
9. iKeyMonitor — The Best Free iPhone Spy App
iKeyMonitor is an all-in-one parental control app trusted by over 400,000 parents in over 100 countries.
One of the biggest USPs of iKeyMonitor is its screen time monitoring tool. You can use it to stop your kids from spending too much time on their phones.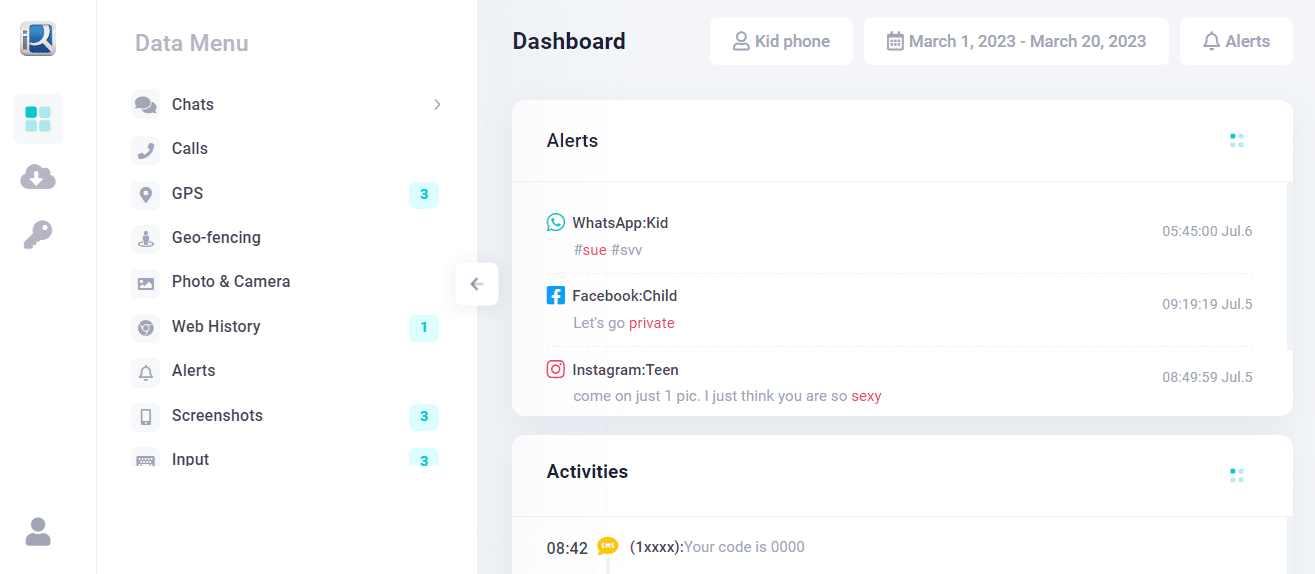 It lets you set automated locks that shut off the device once the daily limit is up. This is a great way to teach your child how to maintain a balance between their phone usage and real-life activities and prevent mobile addiction.
Another benefit of using iKeyMonitor is that it records voice messages sent over social media. A lot of spy apps only monitor text messages, but not iKeyMonitor.
It'll record every voice message sent from the target device with no limit on the total message duration. This feature extends to SMS, WhatsApp, WeChat, Hike, IMO, QQ, and others.
If simply getting transcripts of their text on your control panel isn't enough, you can also get a live recording of their activities.
Simply turn on the remote screen recording, and you'll get video evidence of everything they do on their phone.
In addition to that, you can also remotely take photos of their surroundings. This will help you check their location, company, and ambiance and, in general, keep an eye on everything that's happening around them to ensure that they're safe.
A feature-rich free version
Keylogger can even track foreign languages
Tracks a lot of social media platforms
Facilitates call recordings
You need a rooted device for more feature access
If you're looking for a completely free phone tracking app to monitor your kids' phones and ensure their safety without splurging any money on it, iKeyMonitor is the one you should get.
Say you want to monitor PCs and Mac devices. In that case, it'll cost you just $29.99/month/device.
The best part? The paid plan comes with a 30-day money-back guarantee. Try it risk-free today.
10. TheOneSpy — Leading iPhone Spy App to Track Cheating Spouses' Online Activities
TheOneSpy is exclusively designed to keep an eye on your spouse. If you suspect they might be cheating, TheOneSpy will help you gather enough evidence to confront them or reassure yourself that they aren't cheating.
For starters, you can access their phone logs and even record each conversation if needed. This applies to both outgoing and incoming calls.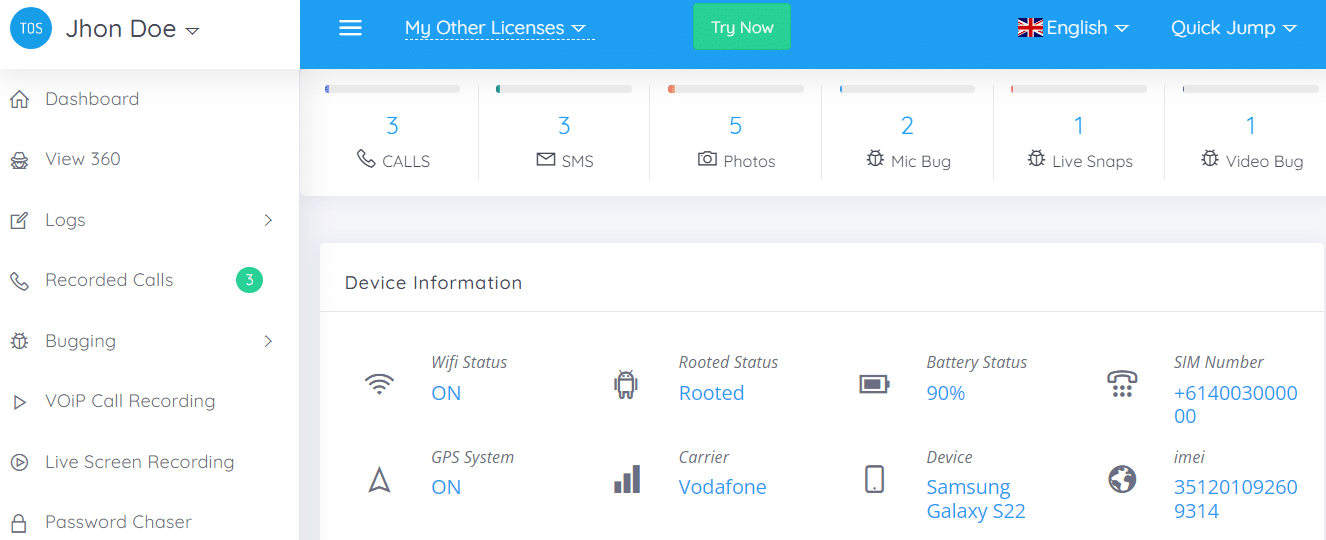 You'll agree that the complete recording of a conversation will give you a much wider context of what's happening than a simple call log entry.
TheOneSpy also lets you spy on their surroundings by remotely turning on their mic and camera. For example, if your spouse claims to be at work, you can spy on their surroundings to verify their claim. With this feature, your spouse can never lie about their whereabouts.
If you don't want to go overboard with tracking them, you can also use TheOneSpy's traditional location-tracking feature through GPS. You'll get live updates of your spouse's iPhone's current phone location.
Plus, the tool can even maintain a history of all the locations they've been at throughout the month to verify their claims if needed.
For the ones who want direct access to the phone instead of remote tracking, TheOneSpy is a solid bet since it lets you hack the target device's passwords.
Whether it's a code or a pattern, TheOneSpy can tackle both, with no difference in effectiveness if they're home screen passwords or app-specific passwords.
The installation process is simple, with just four steps
No rooting required
Retains a 30-day history
Allows for blocking specific contacts
Includes two-factor/OTP authentication for added security
You can record multiple app calls
Limited features on the basic plan
TheOneSpy is the costliest app on the list. Its iPhone spying plans start at $55.01/month and go up to $110/year. There are also other plans, the most reasonable of which is the 6-month plan at $125.
If you're unsure, you can try TheOneSpy risk-free with the 14-day money-back guarantee.
The 10 Best Hidden Spy Apps for iPhone Compared
We've composed the table below to highlight the key differences between the best hidden spy apps for iPhone. This will help you make a quick, informed decision:
Why Do I Need a Phone Spy App?
Phone spy apps can be used for various purposes, such as monitoring a child's activity, tracking a lost or stolen device, ensuring the safety and well-being of elderly parents, and protecting confidential data and work devices by employers.
Here are a few benefits of using spy apps:
Track Employee Activity
Employers who provide company phones to their employees often install phone spy apps on those devices to monitor employee activity. This helps ensure employees only use company phones for work-related activities or during work hours.
By 2025, it's estimated that over 36.2 million US individuals will be working remotely. This highlights one of the key reasons why it's becoming increasingly important for businesses to secure their work devices and confidential information.
Phone spy apps can also be used to record conversations between employees and customers automatically or to keep a record of all employee text messages.
Track Stolen Mobile Phones
Losing your phone or having it stolen can significantly threaten your privacy. It can put sensitive information and data at risk of falling into the wrong hands.
A phone spy app can help you locate your phone through GPS and location-based services and lock or wipe the device to prevent unauthorized access to your personal information.
Monitor Elderly Parents
Phone spy apps aren't only useful for tracking and monitoring but can also be used to ensure the safety and well-being of elderly parents who live alone or in a nursing home.
With these apps, you can regularly check your parents' whereabouts and receive emergency alerts if something is wrong.
Additionally, the apps can also provide you with the location of your parents in case of an emergency and can also be used to monitor their daily activities.
Spying on a Spouse
Getting cheated on can be a traumatic experience resulting in anxiety, sadness, emptiness, and depression. Many people turn to the more unethical way of using phone spy apps; to monitor their partners.
Phone spy apps offer a variety of features that can be used to monitor a spouse, including call tracking, text message tracking, location tracking, social media tracking, and internet activity tracking.
Overall, the most common reason for using an iPhone spy app is to protect your children online and offline. With no clear consensus on who should take responsibility for protecting youngsters online , parents feel the need to take matters into their own hands to safeguard their children.
Regardless of the 'why,' these tools offer peace of mind.
How Do iPhone Spy Apps Work?
Spy apps can work differently on iPhones in comparison to the best Android spy apps . The iOS operating system is closed, making accessing data on an iPhone harder.
Most phone spy apps for iPhones require the phone to be jailbroken, which is the process of removing the software restrictions imposed by Apple on the iOS operating system.
This allows installing apps and software unavailable through the official Apple App Store.
On the other hand, some apps that don't require installation work through iCloud and can only transmit online-related information.
These spy apps use the iCloud account associated with the target device to sync data from the device.
The spy app can then access this synced data, such as messages, call logs, GPS location, and more, and send it to a remote server where it can be accessed by the person using the spy app.
Do I Need Physical Access to the Target Phone?
Most phone spy apps require physical access to the target device for installation. This is typically the case for Android phones, as it's necessary to have access to the device to install the app.
However, some spy apps can be installed on iPhones without physical access through iCloud backup. This method requires:
The login credentials for iCloud backup on the target phone
The need to enter the two-factor authentication code sent to the target phone
It's important to note that once a spy app is installed on the target phone, it doesn't require physical access again.
How to Use an iPhone Tracking App | Step-by-Step Guide
Installing mSpy on an iPhone is a straightforward process, provided that you have a trusting relationship with the person whose phone you wish to monitor and have their iCloud credentials.
Before you begin, you'll need physical access to their phone to verify the confirmation code.
It's also important to ensure the backup is available on their phone, allowing access to all the necessary data. Here are the steps to install mSpy via iCloud sync:
Purchase a subscription
Select the iOS device as the target
Choose the iCloud sync installation method
Log in to your mSpy account
Enter the target users' iCloud credentials
After entering the credentials, you'll receive two notifications, one sent to the iCloud email address and the other to the target phone containing a 6-digit code for 2FA confirmation
Input the code from the target device to your mSpy account to complete the linking process. Note that collecting information may take 10-20 minutes
Once complete, you'll access data from the person's phone, including contacts, notes, calendar events, photos, emails (if synced with iCloud), files, reminders, and tasks.
iPhone Spy App FAQs
Are spy apps legal.
The legality of phone spy apps varies depending on the laws and regulations of the country or state where they're used. It's legal to use a phone spy app on a device you own or a device you've been permitted to monitor by the owner. It's illegal to use a phone spy app for unethical or illegal purposes such as stalking, harassment, or gaining unauthorized access to personal information.
What's the best spy app for iPhone?
mSpy is the best spy app for iOS devices. It offers many features, including accessing deleted content and every keystroke entered on the target user's phone. It's also almost impossible to detect and allows you to spy on an iPhone without installing software. The affordable pricing, user-friendly interface, excellent technical support, and comprehensive features make mSpy the best option.
Do I need to jailbreak the iPhone to monitor it?
It depends on the spy app you're using. Some spy apps require the device to be jailbroken to work, while others don't. Apps that don't require jailbreaking the device; instead, use the iCloud credentials of the target device and sync the data through it. However, you need access to the target device to verify the 2-factor authentication code sent to it.
Can you bypass iPhone's 2-Factor Authentication?
Bypassing two-factor authentication (2FA) on an iPhone is generally difficult. This would require high technical skill and knowledge and may involve exploiting the operating system or hardware vulnerabilities. Additionally, attempting to bypass 2FA is illegal and can lead to severe legal consequences.
Can you spy on an iPhone with just a phone number?
It's impossible to spy on an iPhone solely with a phone number. To monitor an iPhone, you typically need access to install a phone spy app or have iCloud credentials for the target device. Beware of fraudulent websites or individuals claiming they can help you spy on an iPhone with a phone number.
What's the best free iPhone spy app?
iKeyMonitor is regarded as the best free spy app for iOS, considering its ease of use and features. You'll have access to features like recording videos, taking screenshots, GPS tracking, and monitoring social media accounts.
Can spy apps be detected?
Many phone spy apps come equipped with stealth mode, which makes it difficult to detect their presence on the target device. However, it's possible to detect them. You can use specialized apps specifically designed to detect spy apps or check the permissions granted in the phone's settings.
Conclusion | What's the Best Spy App for iPhone in 2023?
Our list of the best spy apps for iPhone includes apps for all your needs.
Whether you want to keep tabs on calls and messages or extensively monitor various social media apps, we've got tools that specialize in each facet.
mSpy is at the top of our well-researched list due to features like seamless social media monitoring, complete call (and text) control, an easy-to-use dashboard, and responsive customer support.
Take advantage of its 14-day money-back guarantee. Try it out now without putting any money on the line.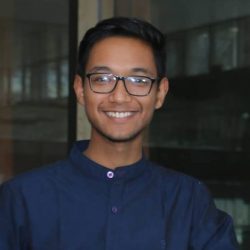 Krishi Chowdhary
Krishi is an experienced B2B and B2C content writer who reviews and compares different software to help both individuals and businesses find the right programs for their needs. Krishi's specialized writing educational material on customer relationship management (CRM) software and project management tools, but he also covers many other software topics for Techopedia, including antivirus programs.
Popular Categories Show All
Get techopedia's daily newsletter in your inbox every weekday..
Trending News Latest Guides Reviews Term of the Day
By signing up, you agree to our Terms of Use and acknowledge the data practices in our Privacy Policy. You may unsubscribe at any time.
/ Home & Hobby
/ Recreation
/ Rollei SP Spy Ghost
Rollei SP Spy Ghost 2.0.4
Free version.
Publisher Description
About rollei sp spy ghost, how to install rollei sp spy ghost on your ios device:.
Click on the Continue To App button on our website. This will redirect you to the App Store.
Once the Rollei SP Spy Ghost is shown in the iTunes listing of your iOS device, you can start its download and installation. Tap on the GET button to the right of the app to start downloading it.
If you are not logged-in the iOS appstore app, you'll be prompted for your your Apple ID and/or password.
After Rollei SP Spy Ghost is downloaded, you'll see an INSTALL button to the right. Tap on it to start the actual installation of the iOS app.
Once installation is finished you can tap on the OPEN button to start it. Its icon will also be added to your device home screen.
Program Details
Version history, version 2.0.4, posted on 2013-07-19.
Rollei SP Spy Ghost FREE With the SP Spy Ghost App you can connect your Rollei SP Spy Ghost Auto via WiFi to your Android smartphone or tablet - and use it quite simply as a remote control. And then it's out onto the racetrack - agile, fast and... Continue to app Rating:
Camera Car FREE With the Camera Car App you can connect your Camera Car Auto via WiFi to your Android smartphone or tablet - and use it quite simply as a remote control. And then it's out onto the racetrack - agile, fast and controllable... Continue to app Rating:
Rollei SP Auto FREE With the SP Auto App you can easily turn your iPhone, iPad or iPod touch to a remote control for your Rollei SP Auto. On track the car impresses with a quick reaction time and a reception up to 30 meters. Thanks to the... Continue to app Rating:
RECOMMENDED SOFTWARE
Backup4all pro.
Stay secure with CyberGhost VPN Free Proxy